Spiced Butter Steak and Peppers is an easy meal to make for nights when you want to indulge in a healthy dinner with a fancy garlic butter taste.
This simple, yet delicious, skillet meal is made in minutes. If you like this recipe try these simple skillet meals: Cheesy Mexican Skillet or Easy Lemon Garlic Chicken.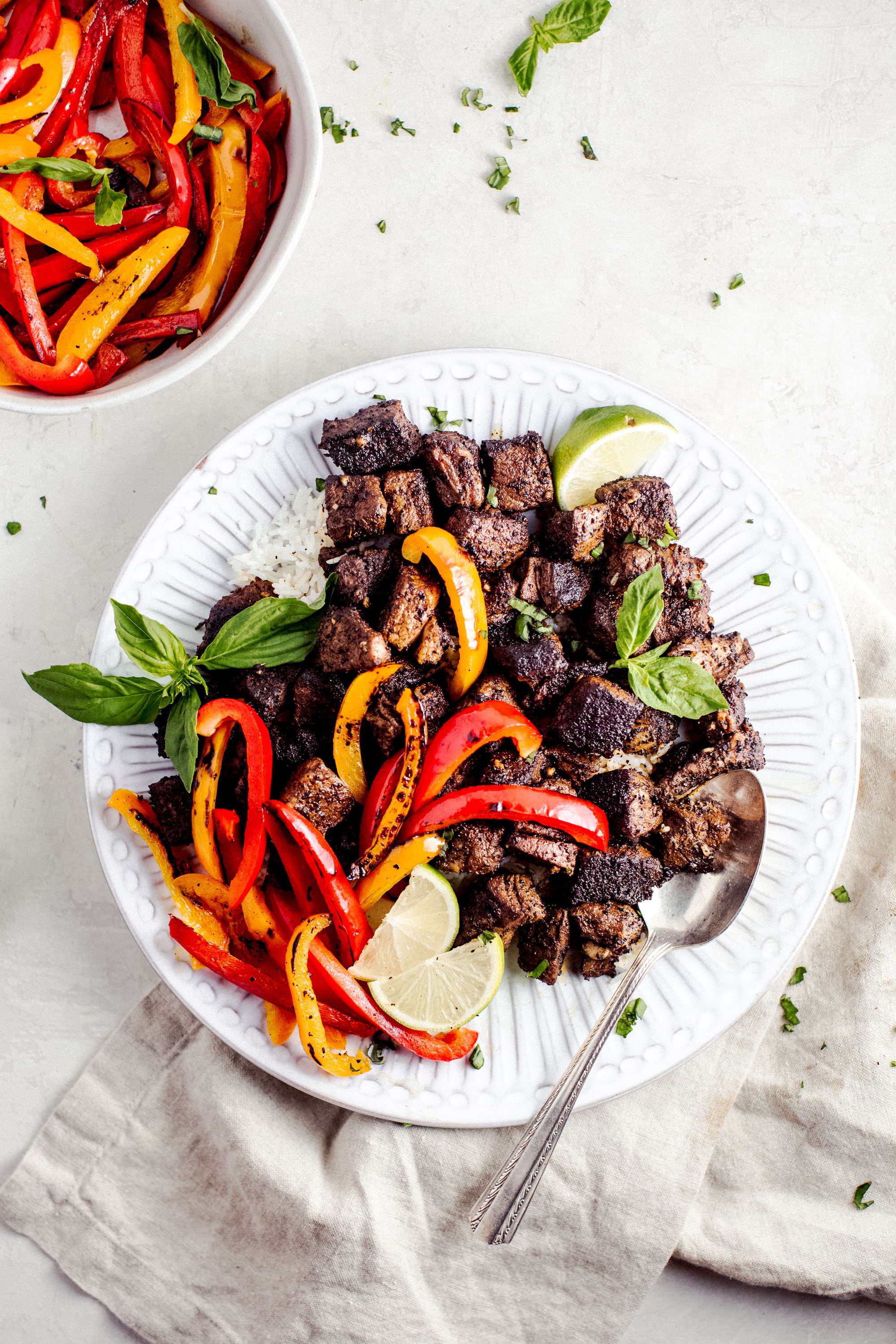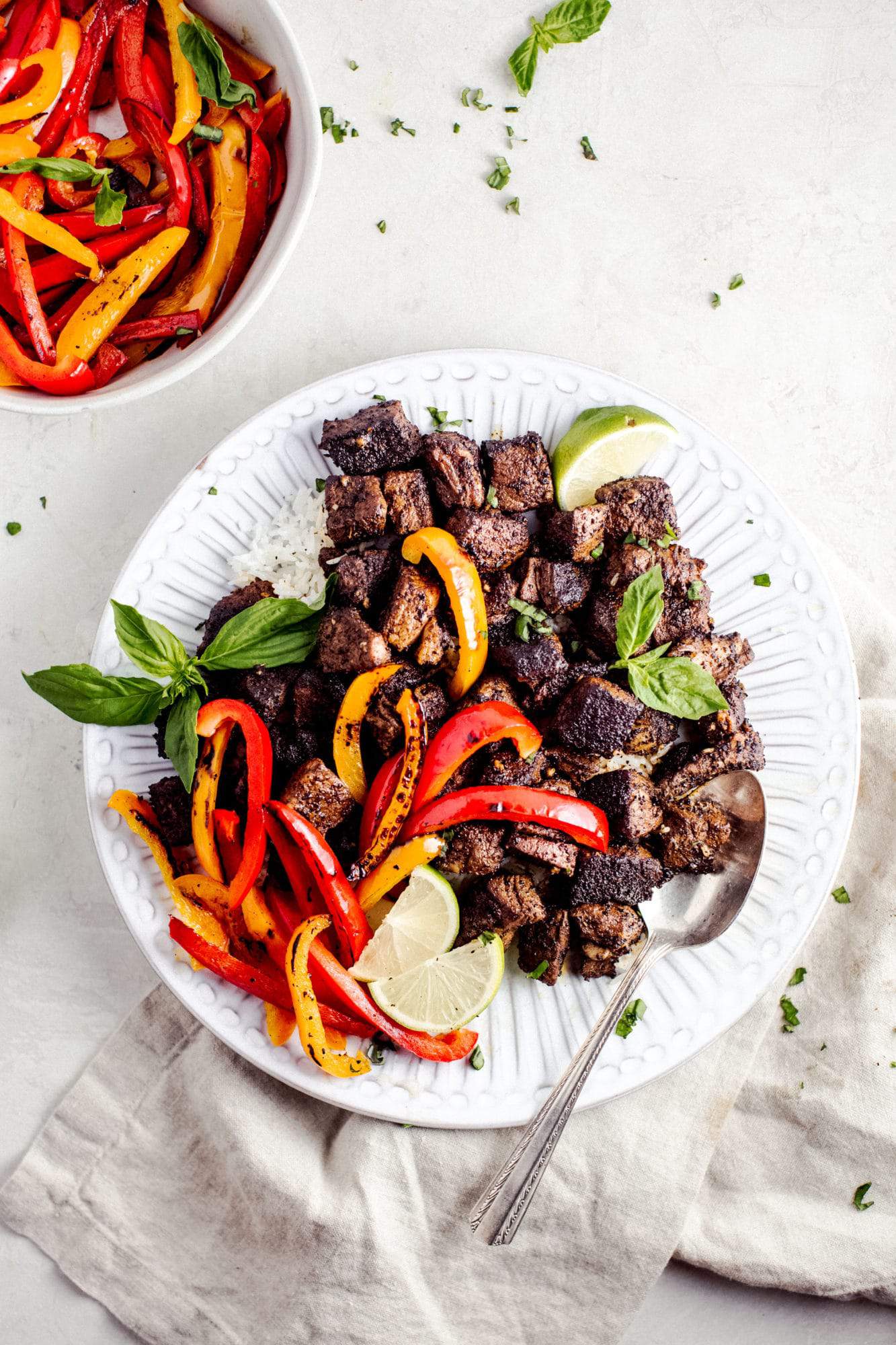 Spiced Butter Steak and Peppers
School is officially out for summer and almost all our activities, mine included, have come to a close leaving me with a wide-open schedule, two young children, and a house in the process of being built. I'd like to say I've reached a point of calm and am soaking up some much-needed relaxation, but truthfully all the thoughts and ideas I'd put in the back of my mind until a freer scheduled presented itself have come flooding in.
My mind is racing, likely my heartbeat has elevated, and I'm already trying to think of how to fit it ALL in these few months of summer. In the midst of my brain's chaos my phone begins to buzz with a reminder to breathe… I know myself (at this stage of life) to physically set up reminders to calm myself and my thoughts down and so I took a few deep breaths in and out. Leaving thoughts of doing it "all" with the exhale.
In the first week of our summer vacation, I don't have to know exactly what the path ahead looks like, I don't have to be perfect, dinner doesn't have to be restaurant quality, and teaching my kids to read can wait until next week or the week after. Deep breath in, exhale out…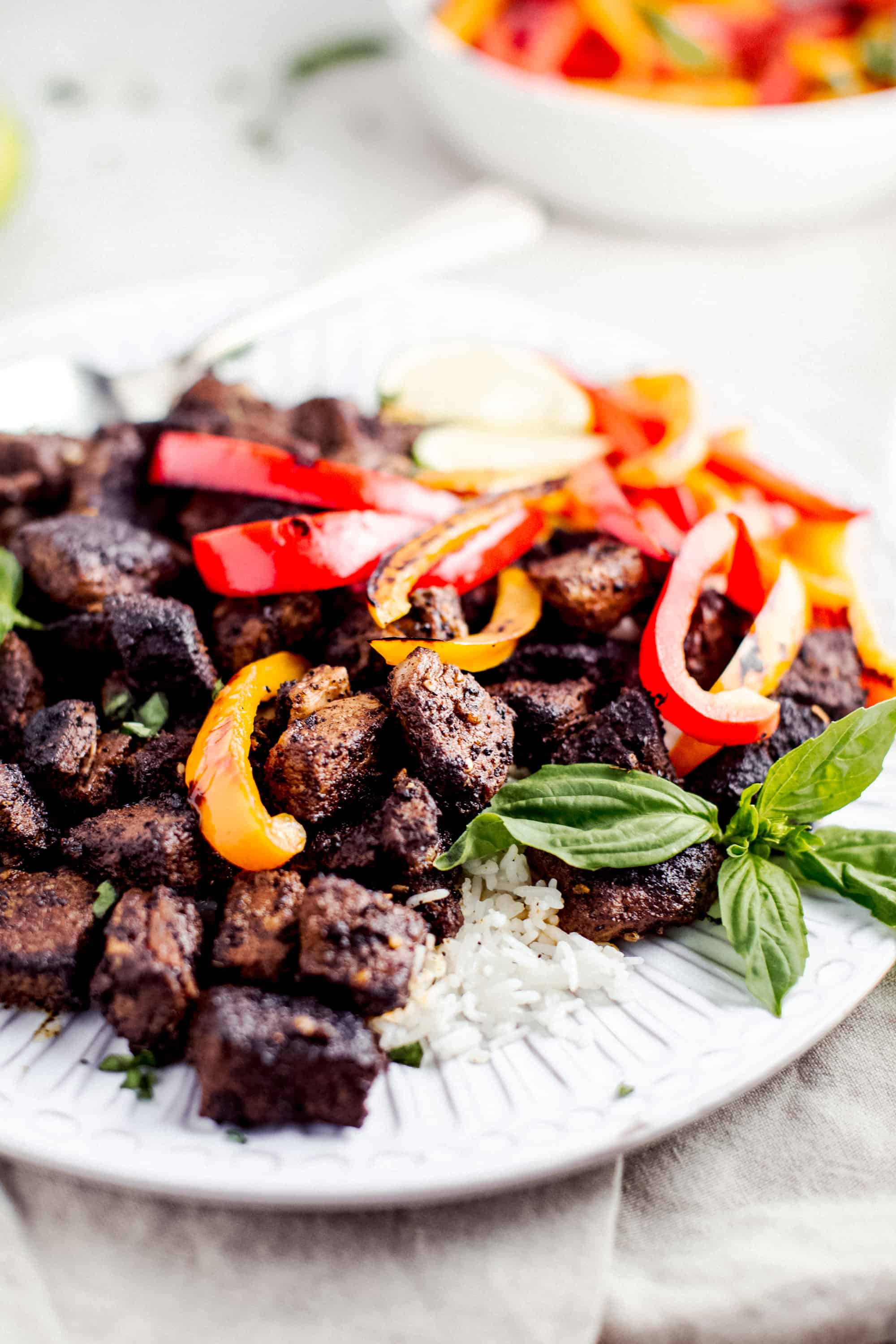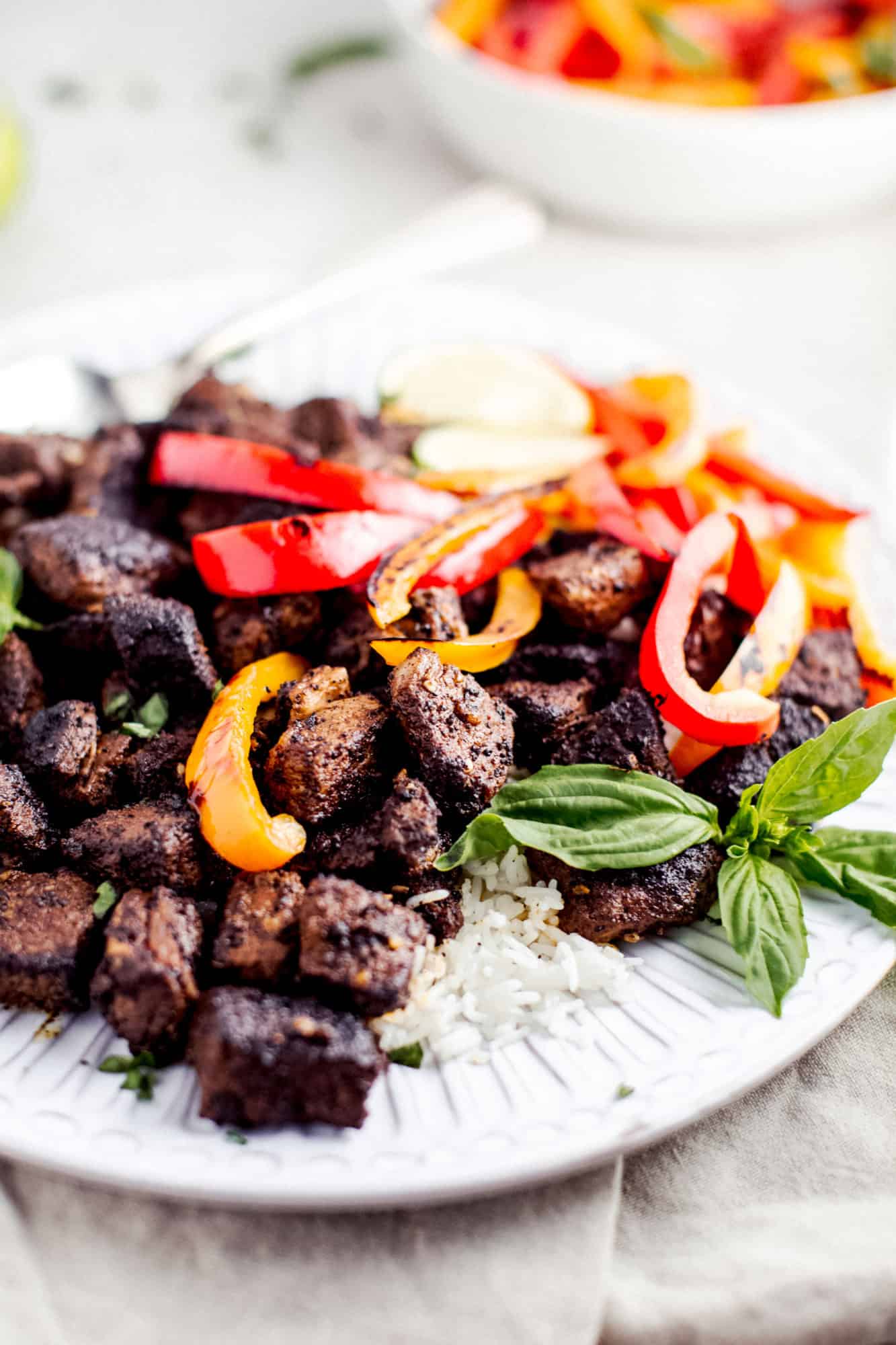 I read these words this morning "…it's the imperfect where things grow. Not despite the mess and tension, but right smack in the middle of it." Those words were the breath of fresh air I so desperately needed. Life, in general, is messy despite how many times you've overhauled your house to look like the Instagram feed of The Home Edit. In the mess, the chaos, the complete and utter failures, we grow. We grow in areas of our life we thought we couldn't.
Continued growth does require intention…
I've slowly begun to move towards a phrase that found a way through all my mind's recent clutter, which is "life with intention." Living with intent doesn't mean life won't be messy, kids closets and pantries included. It doesn't mean there won't be times of confusion and chaos. However, as Lara Casey says in her book Cultivate, "an intentional life is about serving the Lord for His purposes and growing what matters with Him." In all of life's, messiness there lies living with intention.
You don't have to do it all, or even keep up.
Saying no is okay. You don't always have to say yes.
No one has all the answers. You don't have to have it all figured out.
Listen. Be patient and seek out what you should be doing, and in doing so you'll find yourself growing on the path of intention. And before my brain begins to barrel forward I'll set another phone alarm to remind myself to breathe…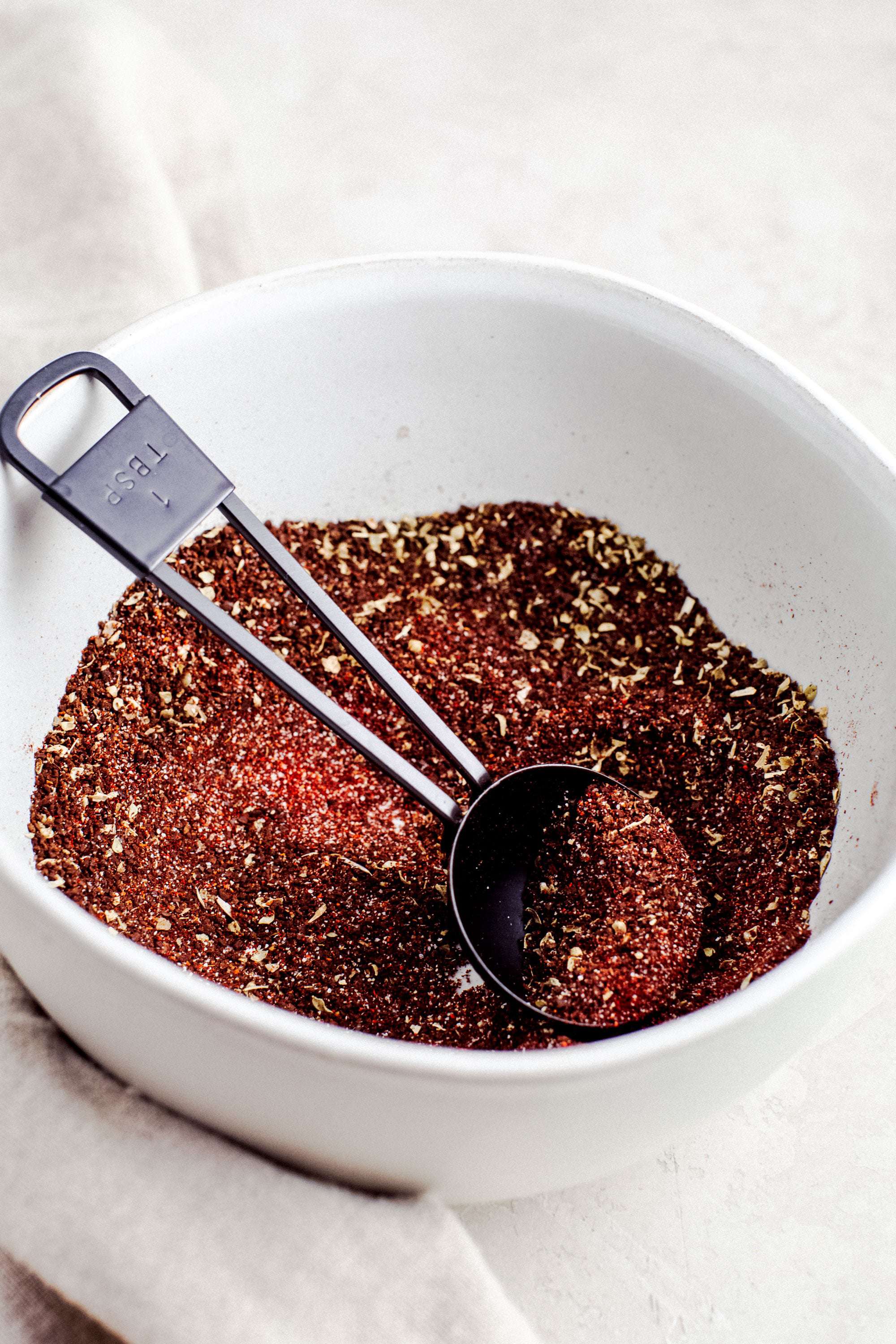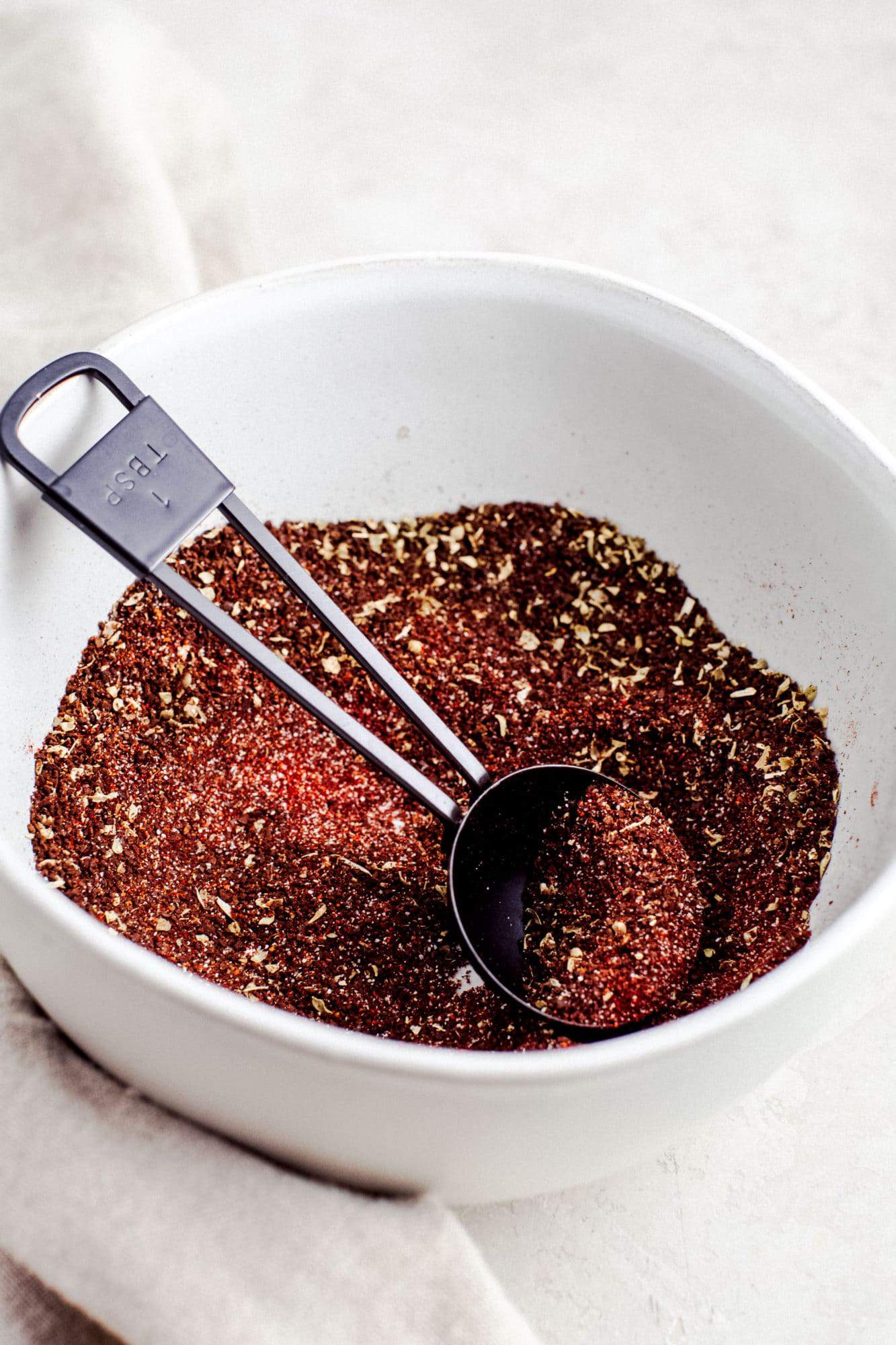 Can the Spices Be Omitted?
Yes, however, I would not omit them all but rather remove the one you don't like. For those of you who prefer a milder taste as opposed to a spicier hot one, I suggest removing the chili powder and adding to the garlic and oregano. Play around with them, but keep the measurements the same, meaning you'll want all your spices to equal out to 4 tablespoons plus 2 teaspoons.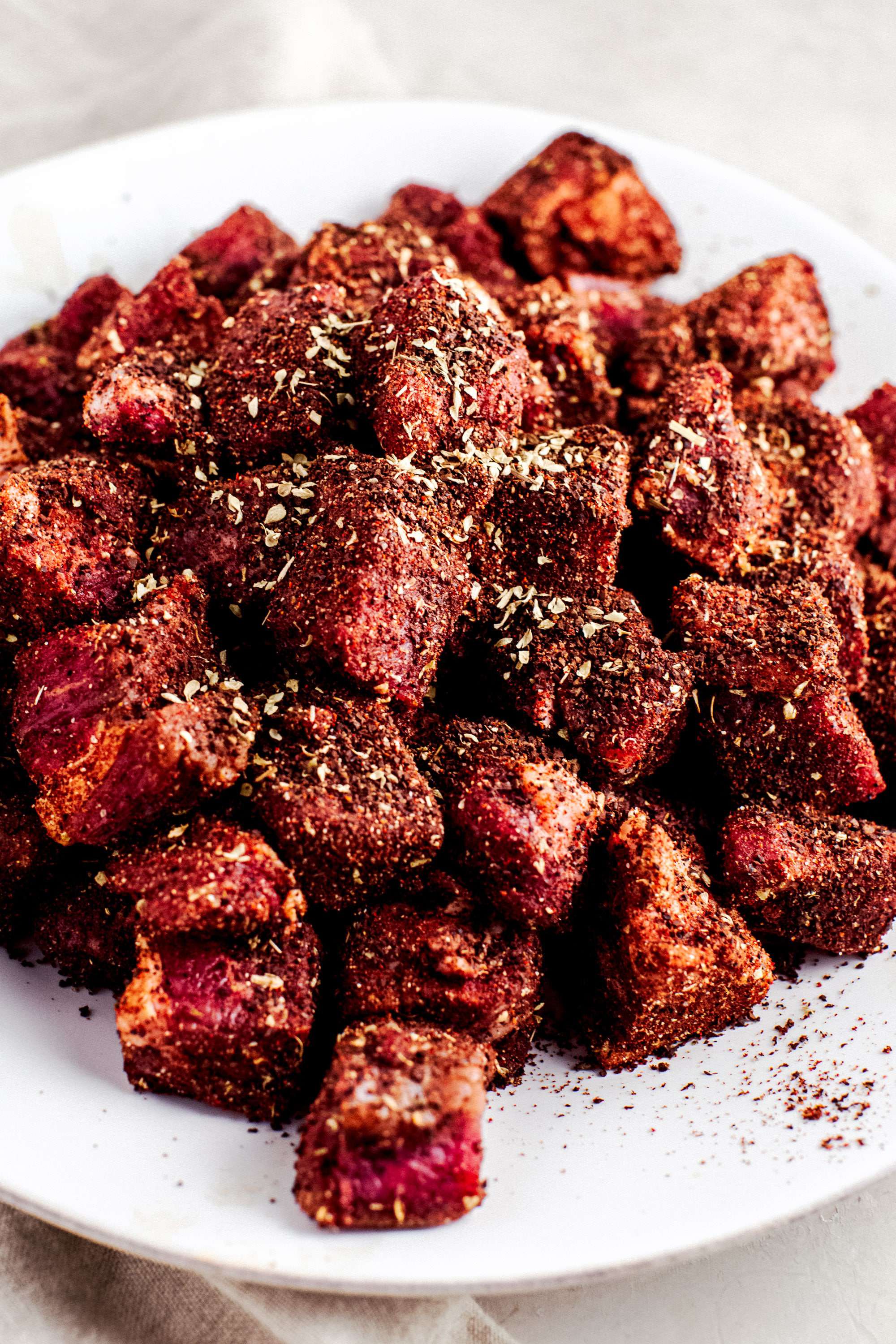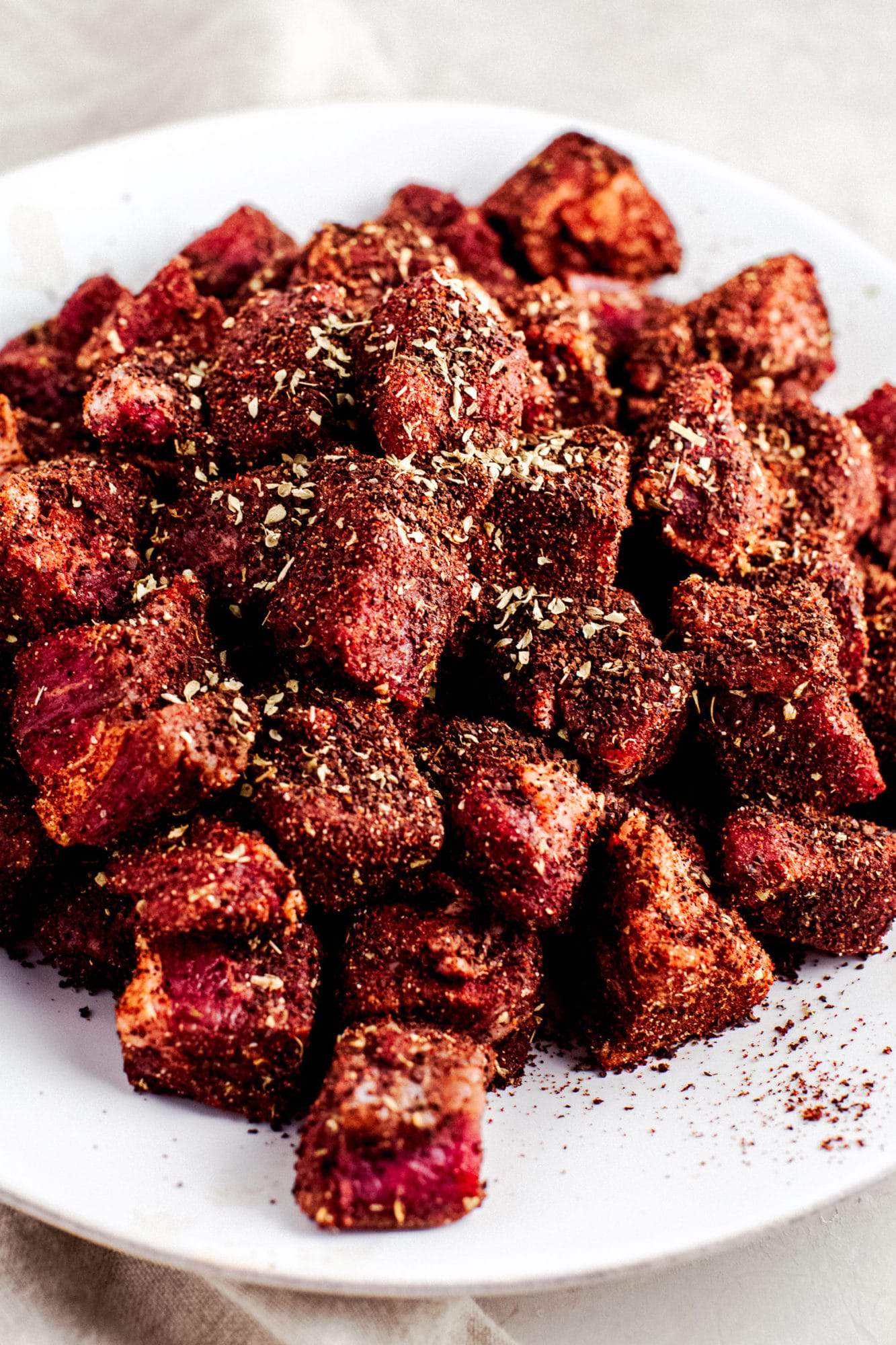 How to Make Spiced Butter Steak and Peppers
This spiced butter steak and peppers have 3 parts. To make the recipe preparation even speedier purchase pre-cut peppers or cube the beef and slice the peppers the night before (I love saving them in my new little stasher bags).
First, you mix the spice blend together and toss with the cubed steak, setting it aside to let it marinate in the spices while you cook the peppers.
Saute the peppers in oil and remove them from the skillet.
Cook the steak in the remaining oil and then add the butter and garlic. Tossing to combine.
Season the cooked ingredients with fresh lime juice and serve with steamed rice for a complete meal.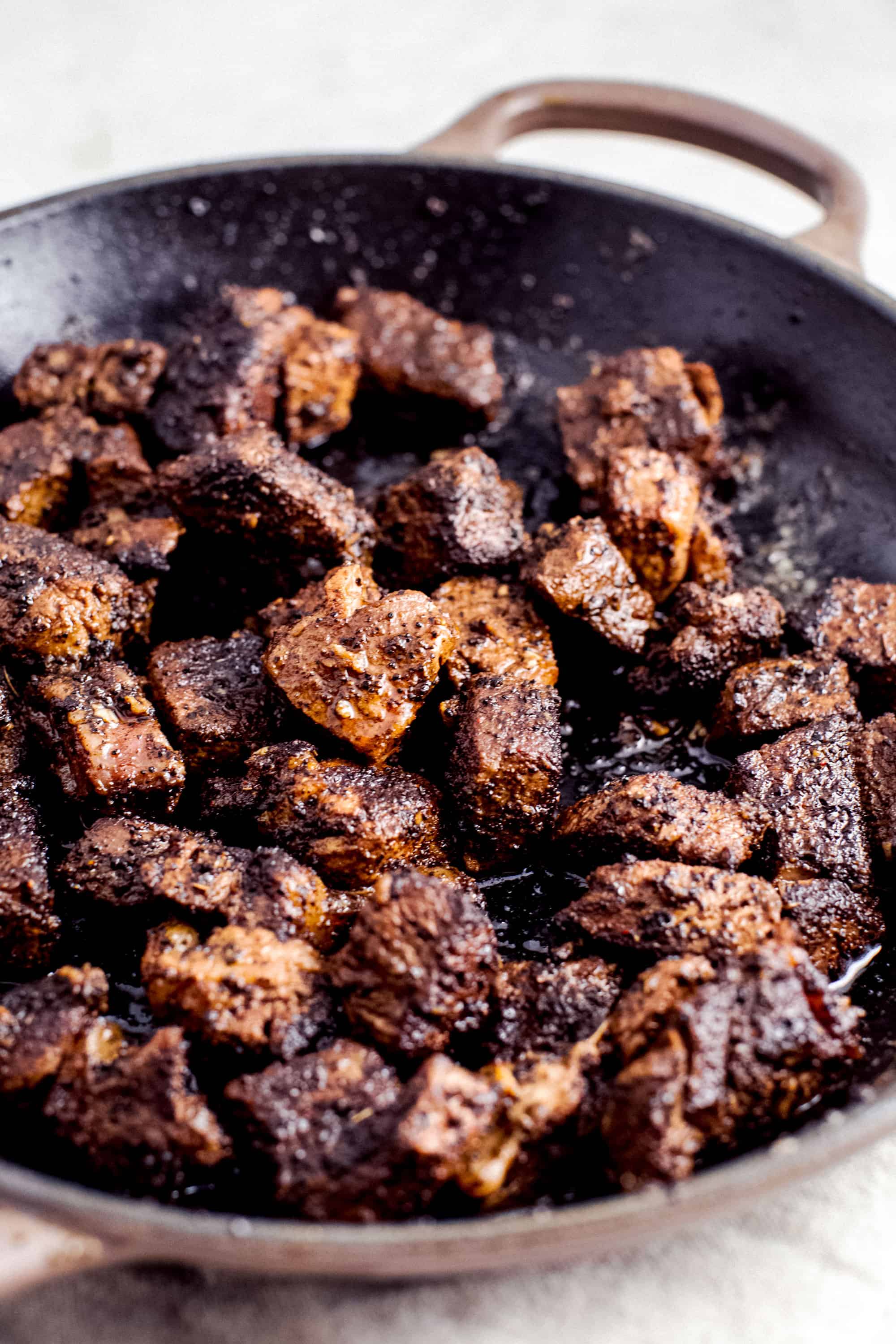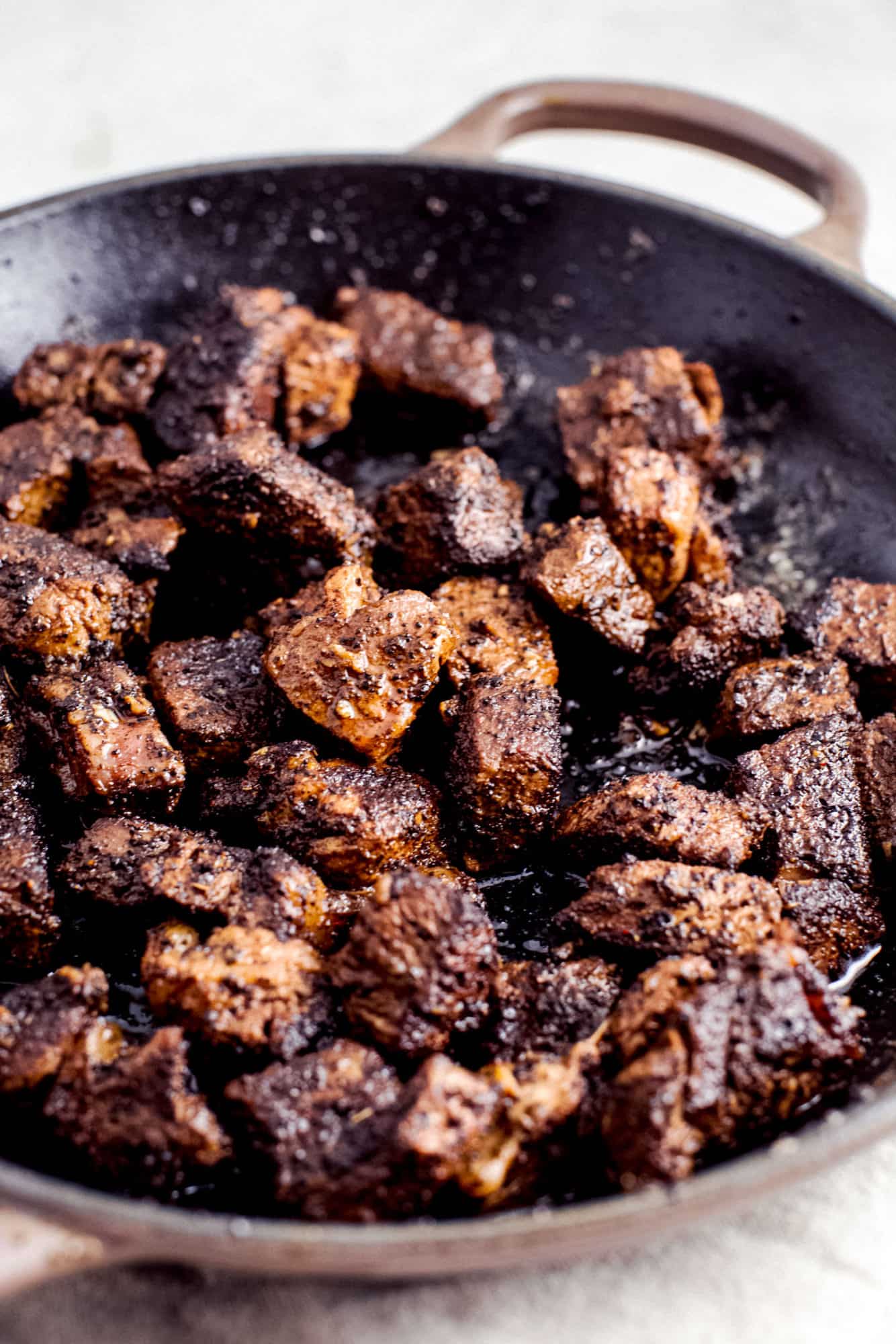 What to Serve with Spiced Butter Steak and Peppers
In the recipe card listed below, I suggest serving the Spiced Butter Steak with steamed rice, which I think is one of the best possible accompaniments. However, the rice can be swapped for bulger, quinoa, riced vegetables of any kind (my personal favorite being cauliflower), or you can keep this dish extra healthy and serve it over a bed of green.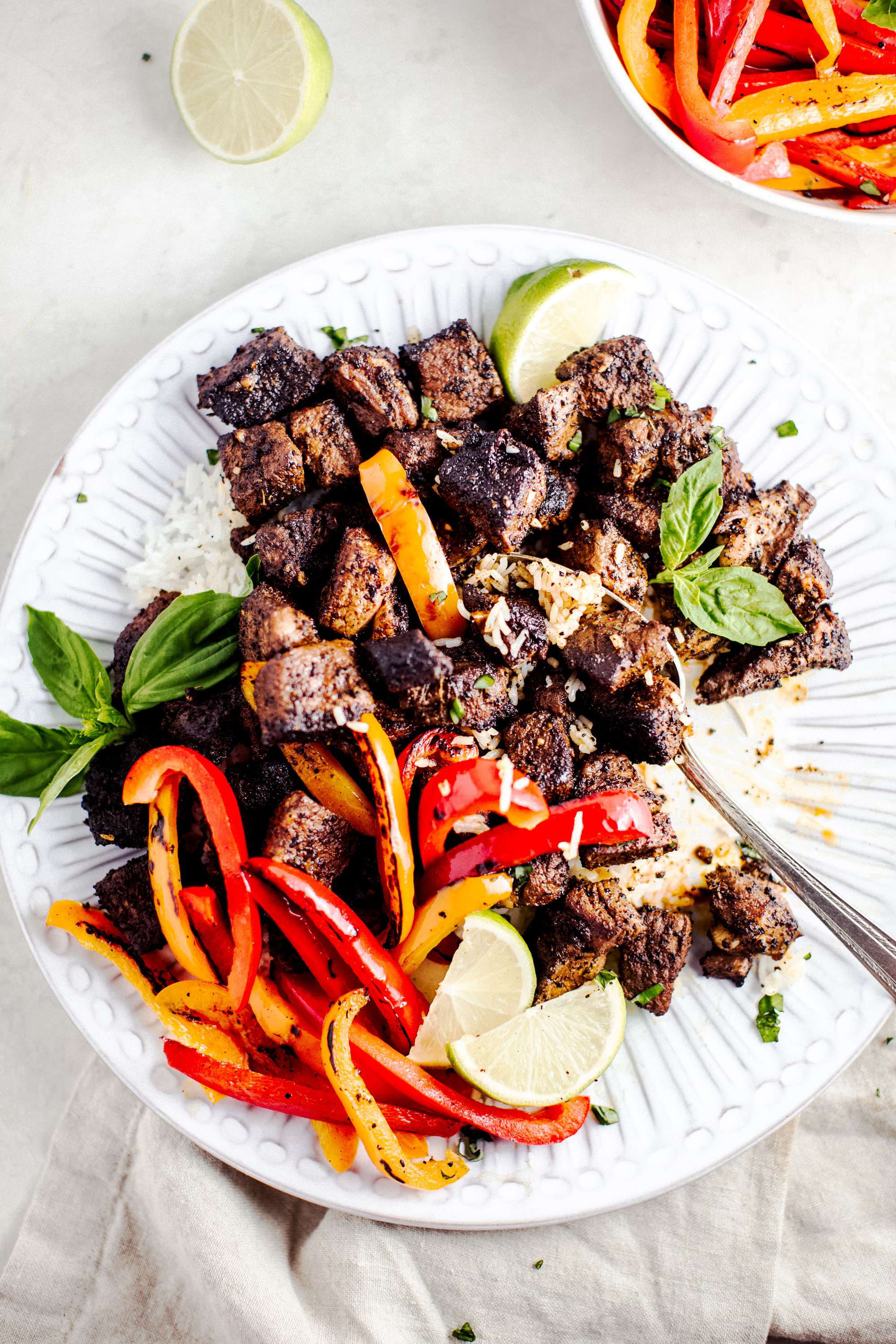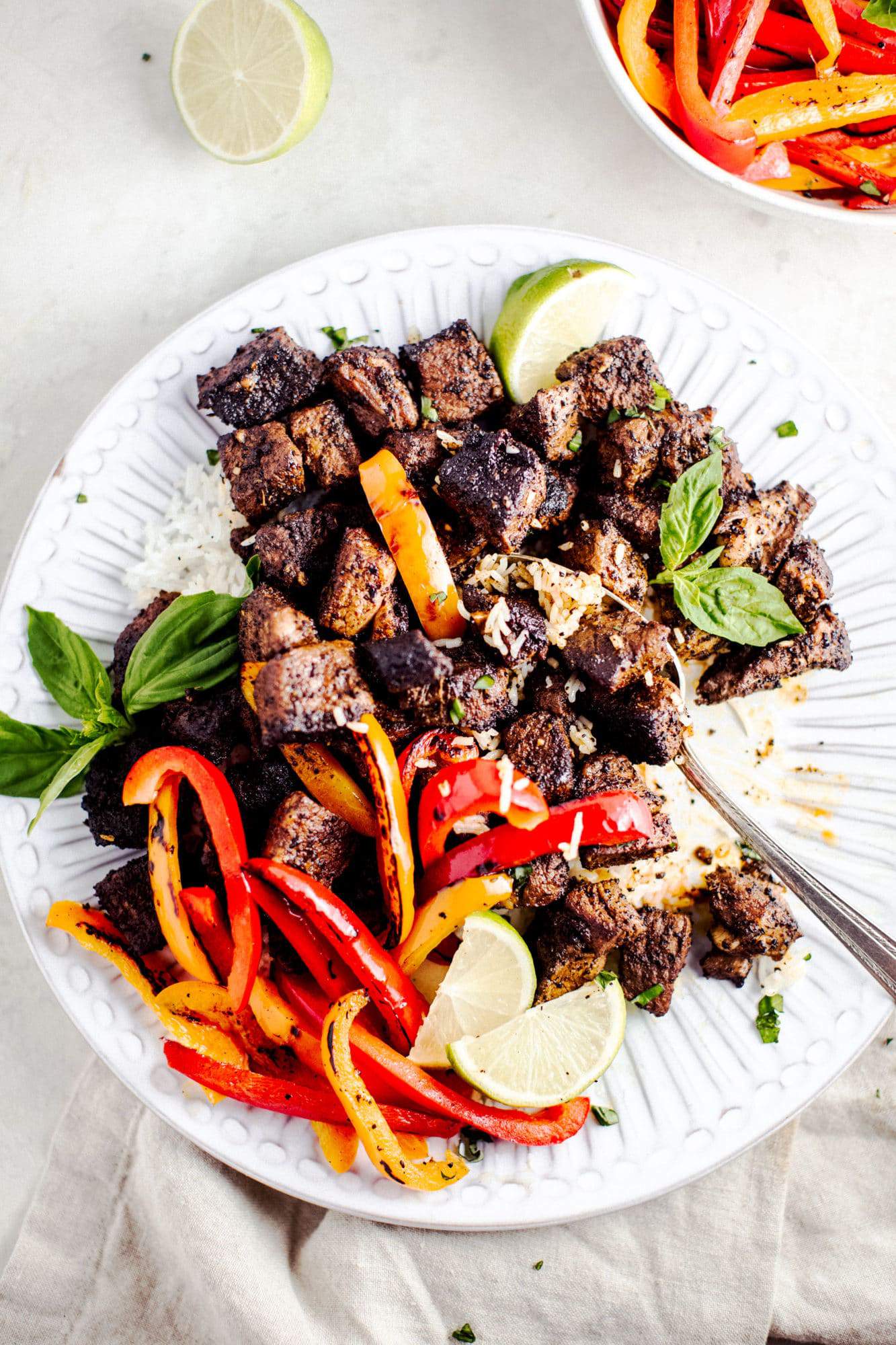 If steak is your jam then try out some of these recipes with steak as the main player!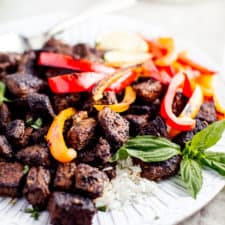 Spiced Butter Steak and Peppers
Spiced Butter Steak and Peppers is an easy meal to make for nights when you want to indulge in a healthy dinner with a fancy garlic butter taste.
Print
Pin
Rate
Ingredients
1½

lbs

Beef Ribeye

1

tablespoon

Paprika

2

teaspoons

Chili Powder

1

teaspoon

Dried Oregano

1

teaspoon

Garlic Powder

1/4

teaspoon

Salt

1/4

teaspoon

Pepper

2

tablespoons

Olive Oil

3

medium

Bell Peppers

seeded and sliced

4

tablespoons

Butter

6

Garlic Cloves

minced

1

Lime

Juiced

4

cups

Basmati Rice
Instructions
In a small bowl, whisk the Paprika, Chili Powder, Dried Oregano, Garlic Powder, and some Salt and Pepper together and toss, in a large bowl, with the cubed Beef.

Heat 1 tablespoon of the Olive Oil in a large skillet over high heat and add the Bell Peppers. Season with salt and pepper and let cook for 5 minutes, tossing occasionally. Remove from skillet and set aside.

Add the remaining 1 tablespoon of Olive Oil, let heat for about 30 seconds and add the Beef. Let cook for 3 minutes undisturbed. Toss and cook for an additional 3 minutes until the steak browns on the outside. Add the Butter and Garlic, toss with the steak and cook for 2 to 3 minutes more. Remove from heat and stir in the Lime Juice.

Serve with Steamed Rice.
Nutrition
Serving:
2
cups
|
Calories:
1243
kcal
|
Carbohydrates:
159
g
|
Protein:
49
g
|
Fat:
44
g
|
Saturated Fat:
19
g
|
Cholesterol:
134
mg
|
Sodium:
366
mg
|
Potassium:
960
mg
|
Fiber:
6
g
|
Sugar:
5
g
|
Vitamin A:
4328
IU
|
Vitamin C:
120
mg
|
Calcium:
102
mg
|
Iron:
6
mg