Try this Broccoli Cauliflower Spring Salad as well for another tasty meal.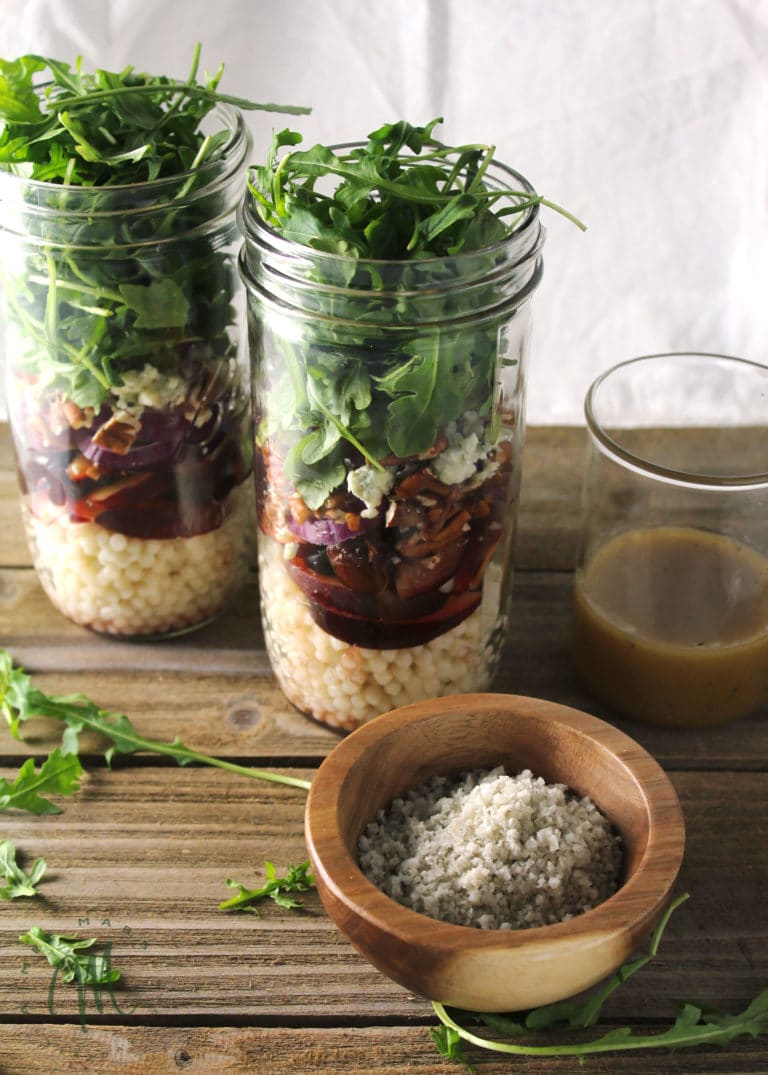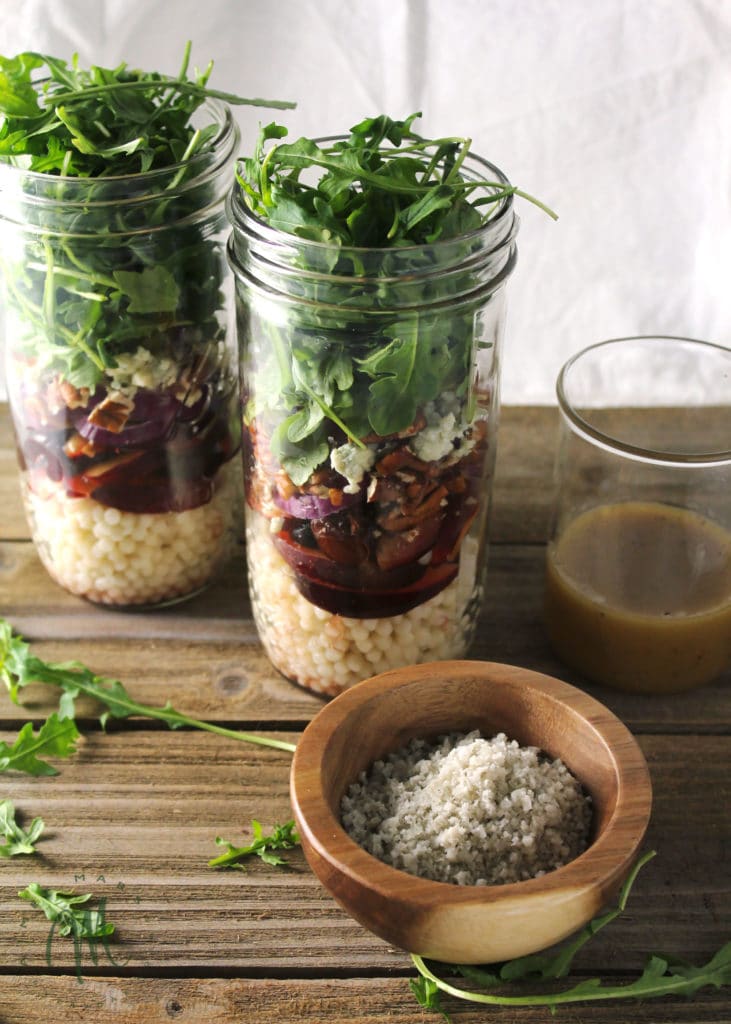 The other day I caught this post from Taylor at Food Faith Fitness who mentions how she's always late to the food party and I had to laugh cause that = ME! I just started singing the cauliflower praises (um, hi 2016 we are caught up!) and now here I am posting my first meal prep salad jar, which I'm sure at this point are so 2015.
In fact, I know they're soooo 2015 cause I actually bought these jars back in 2015! What? How do you know that… I'm superhuman! Seriously… No, actually they were one of the very last things I purchased in Manhattan, along with packing tape and boxes, before our epic move to Charleston (because anytime you're arriving or departing from NYC it's always epic in some form or fashion). So, yes I am a bit late to this salad jar party.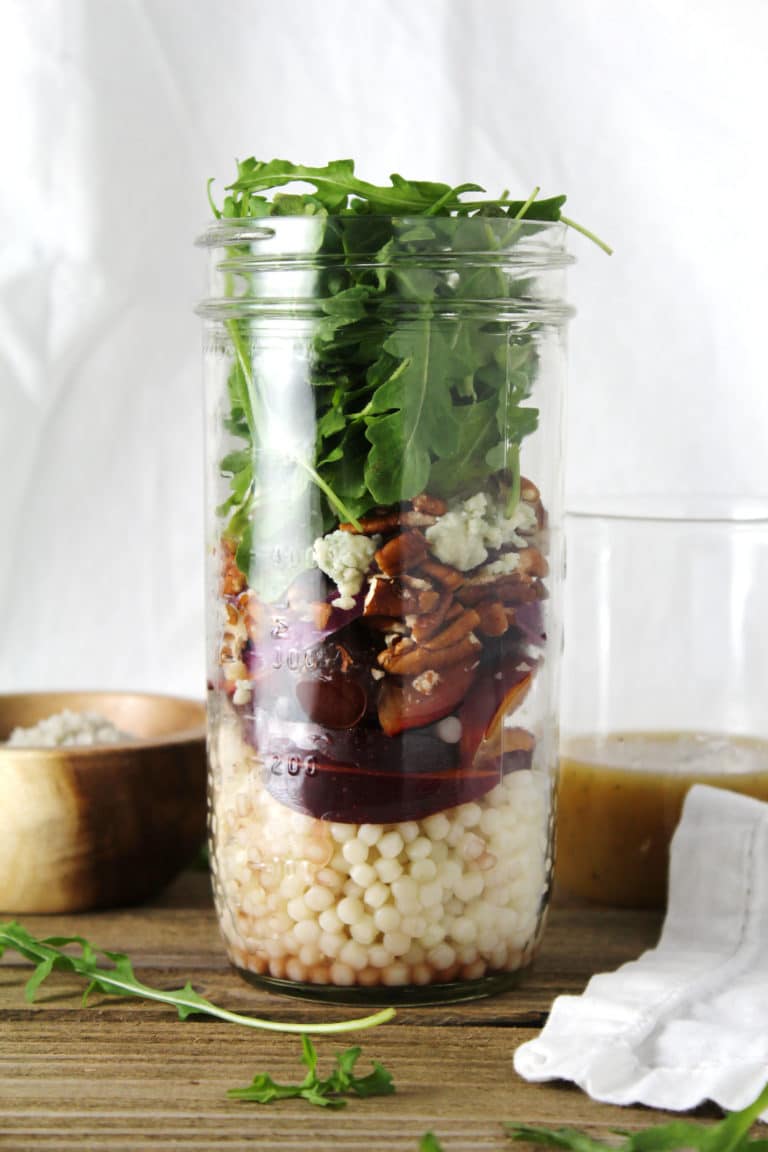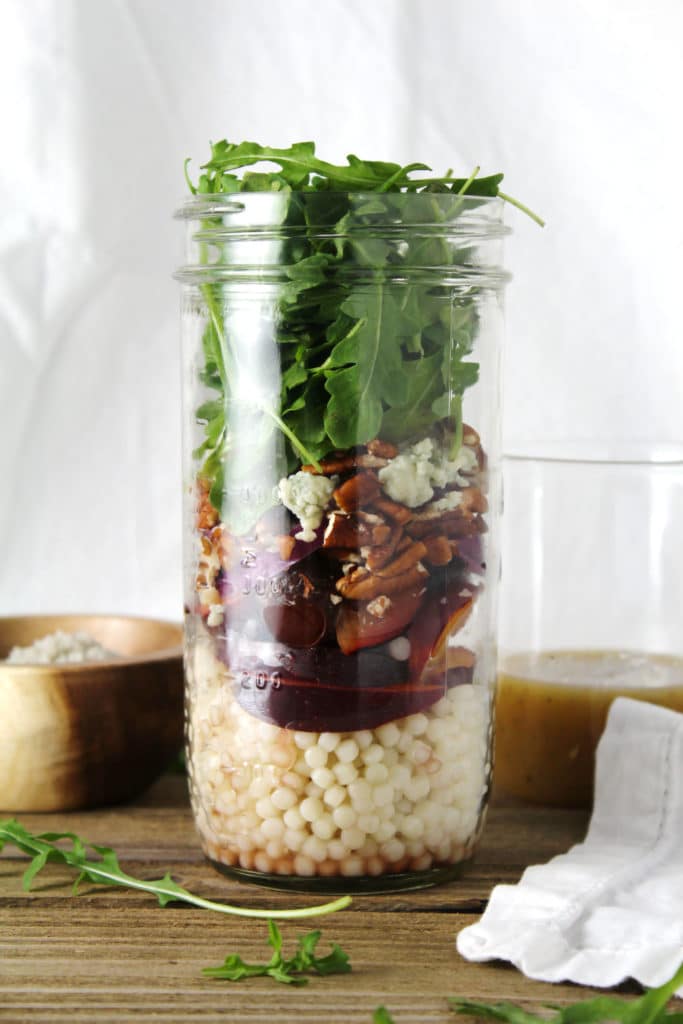 Well, I finally dusted these jars off last week as I caught myself picking at my kids' leftover lunch plates while simultaneously throwing the rest in the trash, which I would later consider my lunch. As I stood there eating scraps with my dog firmly planted next to me I looked down at her and realized something need to change ASAP!
See, I'm lacking in energy… I've always been an extremely energetic person and honestly not having energy kinda irks me. It irks me because not only do I lack energy, but I lack motivation (a direct result of no energy and low cortisol levels), which leads me down the rabbit hole of not accomplishing that wild and crazy list of goals, projects, daily to-do's etc. etc. etc. Eating scrap food is not only going to encourage this type of hormonal imbalance, but it's also going to send me down other rabbit holes that no one wants to go down.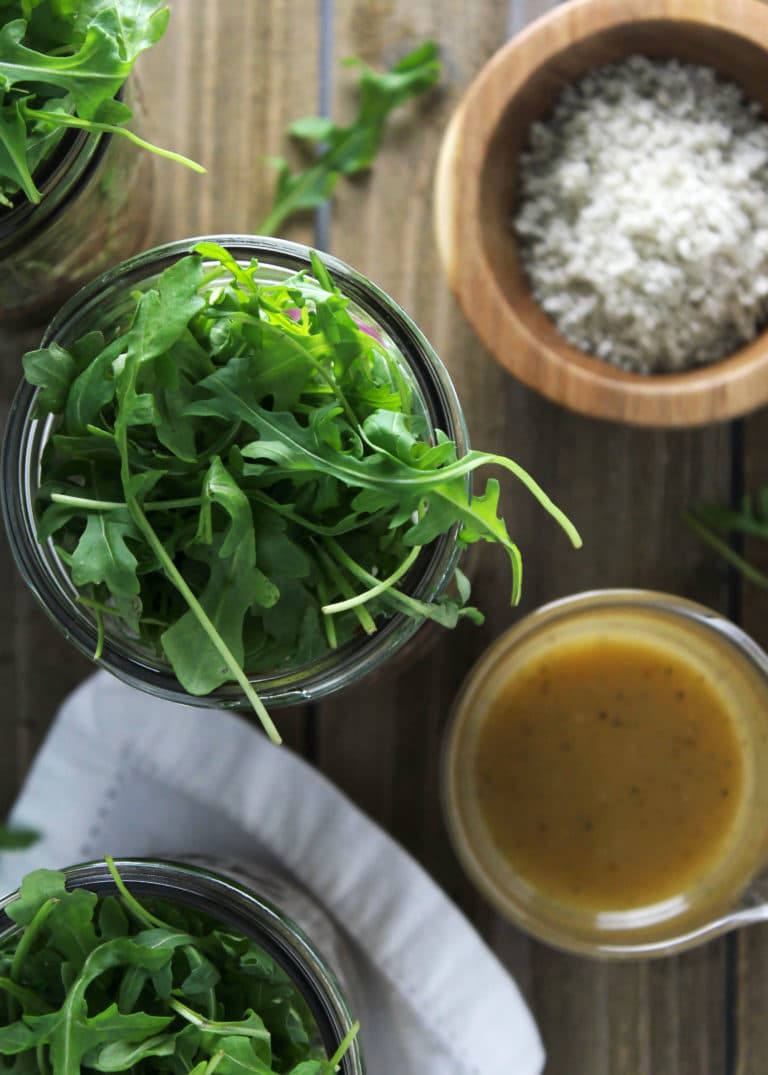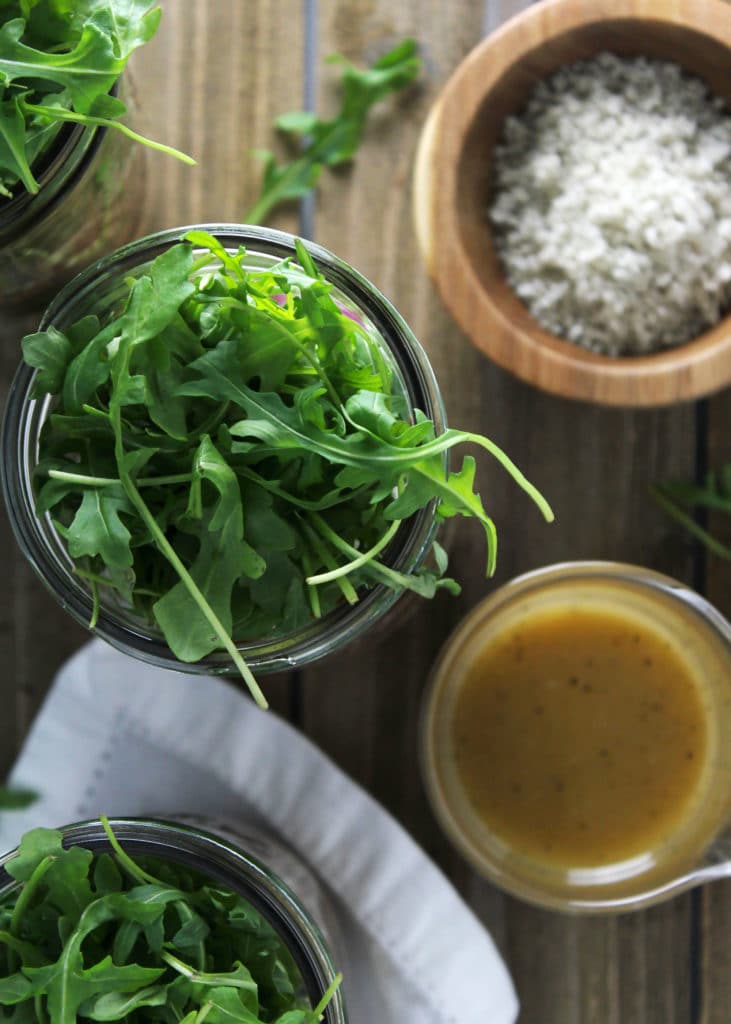 My answer in short? Meal Prep! Meal prep, which equals salad jars (this week) and conquering my bad lunch habits. Next week THE WORLD!
Going back to 2 paragraphs ago I mentioned hormones (Oh no, I know I'm getting all nutritionist on you and I'm not even a nutritionist! Gasp! Stay with me…), and I mentioned them because when you don't eat lunch, your metabolism (yep TOTALLY a hormone) slows down, which means YOU slow down. That's simple enough, right? In short, and without going completely off the nutritionist deep end, you need to eat throughout the day. Got it? (100% saying this to myself by the way).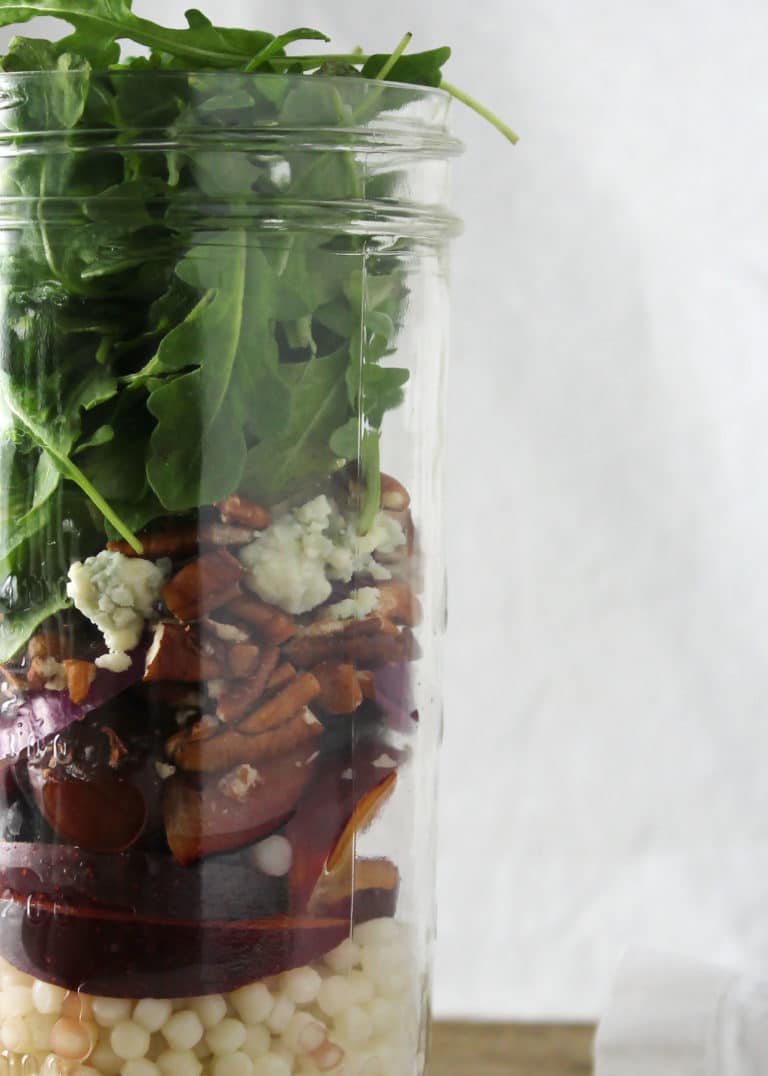 So let's all eat lunch.
Easier said than done. I get it!
Let's change that too… By meal prepping at the beginning of the week you can be prepared when life is speeding you by and requires you to speed eat too. There are many benefits to meal planning, but let's focus on eating lunch, which is what I'm doing this week too. The Spring Stone Fruit Salad is light, a bit sweet and a bit crunchy. You can easily shake it out onto a plate for lunch or just pour the dressing straight into the jar and shake up that way.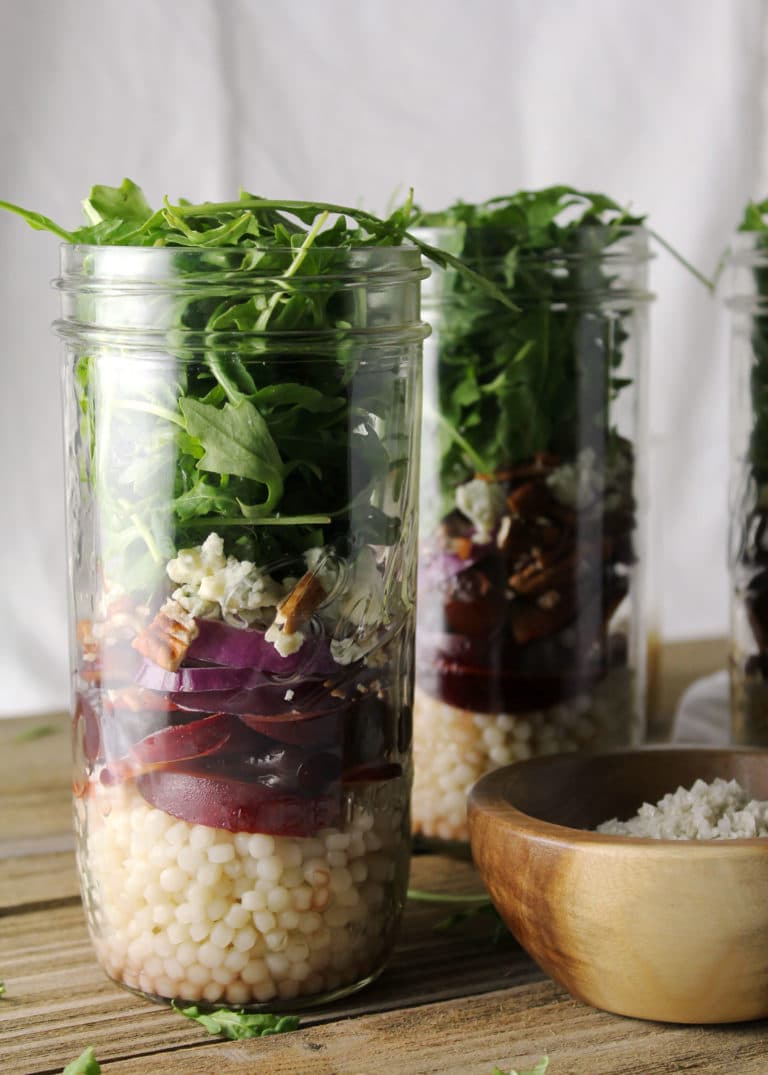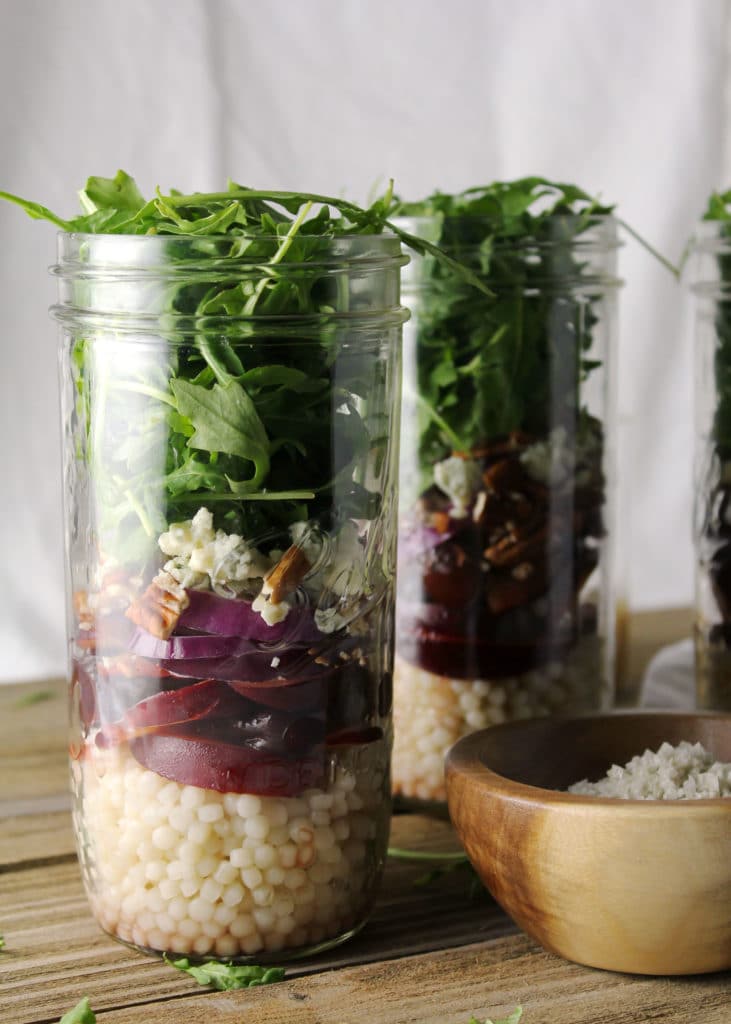 If you set it all up at the beginning of the week then you'll be ready to go each day and won't go hungry. So let's make a pact to each lunch this week if you aren't already.
Print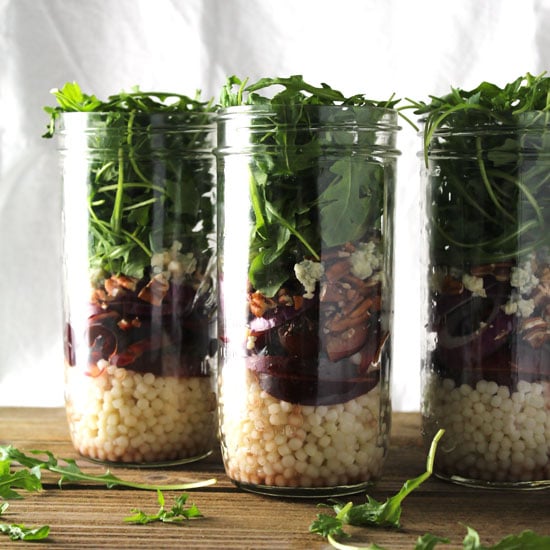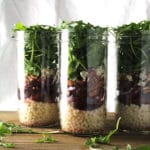 Meal Prep Spring Stone Fruit Salad Jars
Author:

Prep Time:

15 Mins

Cook Time:

15 Mins

Total Time:

30 minutes

Yield:

4

Servings

1

x
---
Description
The Spring Stone Fruit Salad Jars are the perfect clean eating option for your weekly lunch and great for meal prep. The salad is sweet and tangy and drizzled with a smooth vinaigrette.
---
Scale
Ingredients
Salad Jar
1 cup

Pearl Couscous (cooked)

2

Plums (sliced thin)

1 cup

Cherries (halved)

1/2

medium Red Onion (peeled and sliced)

1/4 cup

Pecans (chopped)

4 ounces

Gorgonzola Cheese (crumbled)

8 cups

Arugula
Vinaigrette
1/4 cup

olive oil

2 tablespoons

White Wine Vinegar

2 tablespoons

Maple Syrup

1 tablespoon

Dijon Mustard
Salt & Pepper
---
Instructions
Bring 1 1/2 cups of water plus 1/4 teaspoon salt to a rolling boil and add the Pearl Couscous. Reduce heat to low, cover, and let simmer for 10 minutes. Remove from the heat and let sit for about 2 to 3 minutes, then fluff with a fork. Set aside and let cook while prepping other ingredients.
Prepare ingredients as follows: slice the Plums into thin pieces, cut the Cherries in half (remove seeds in using fresh), and slice the Red Onion.
Set up the salad jar by layering the prepared couscous on the bottom of each of your jars (you will need 4 jars total*). Next top with the Plums, Cherries, Red Onions, Pecans, and Gorgonzola Cheese. Finish off each jar by filling completely to the top with Arugula. If you'd like more greens go ahead and stuff in some more Arugula.
Whisk the Olive Oil, White Wine Vinegar, Maple Syrup, Dijon Mustard, and Salt and Pepper together and store in a separte jar until ready to use. If you'd like the dressing to be a tad sweeter you can add additional Maple Syrup (just be sure to make note it will change the calories).
---
Notes
I used Bob's Red Mill Pearl Couscous and followed the directions according to their packaging.
The salad jars are 18-ounce wide mouth Ball Jars with screw top lids.
[nutrition-label]