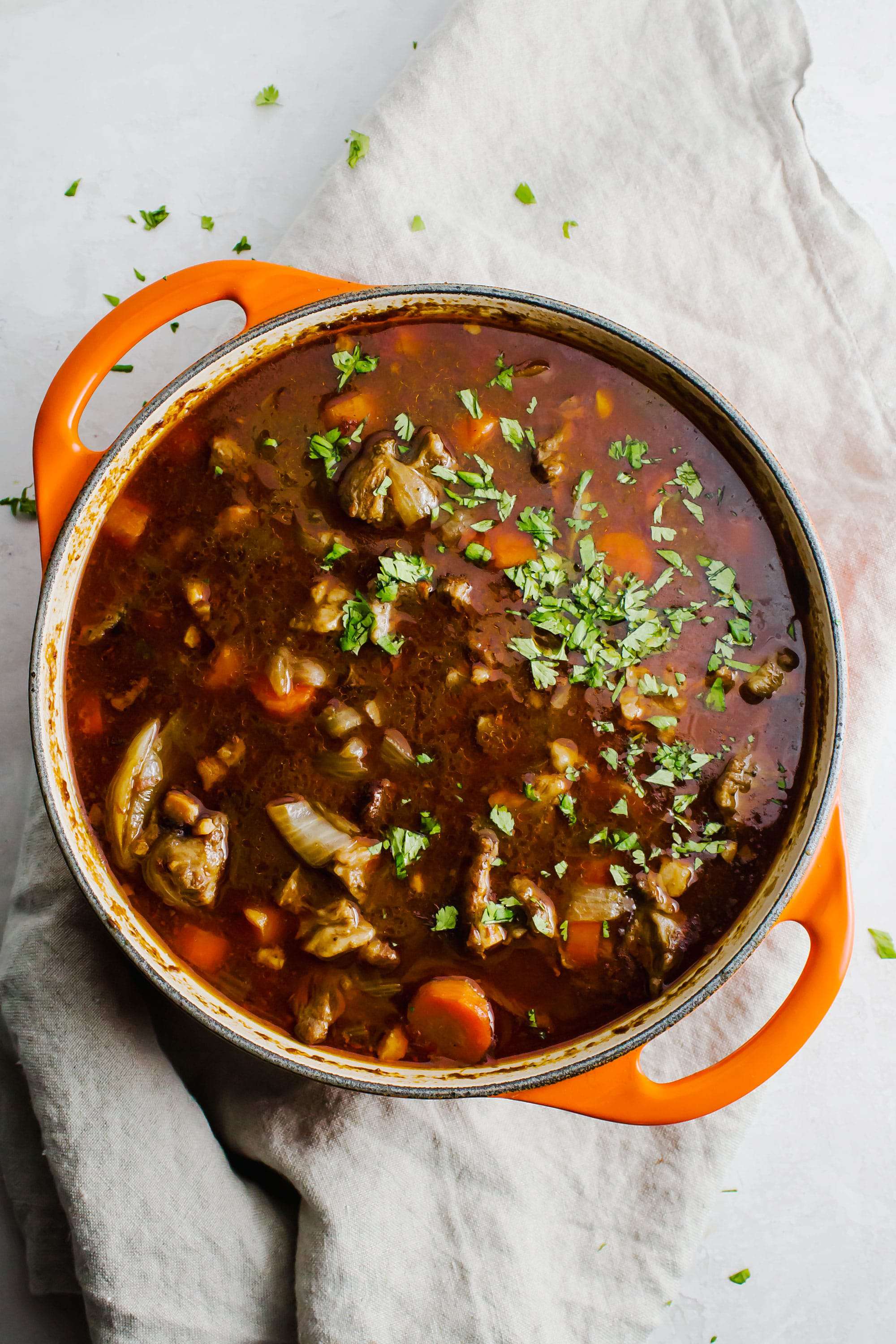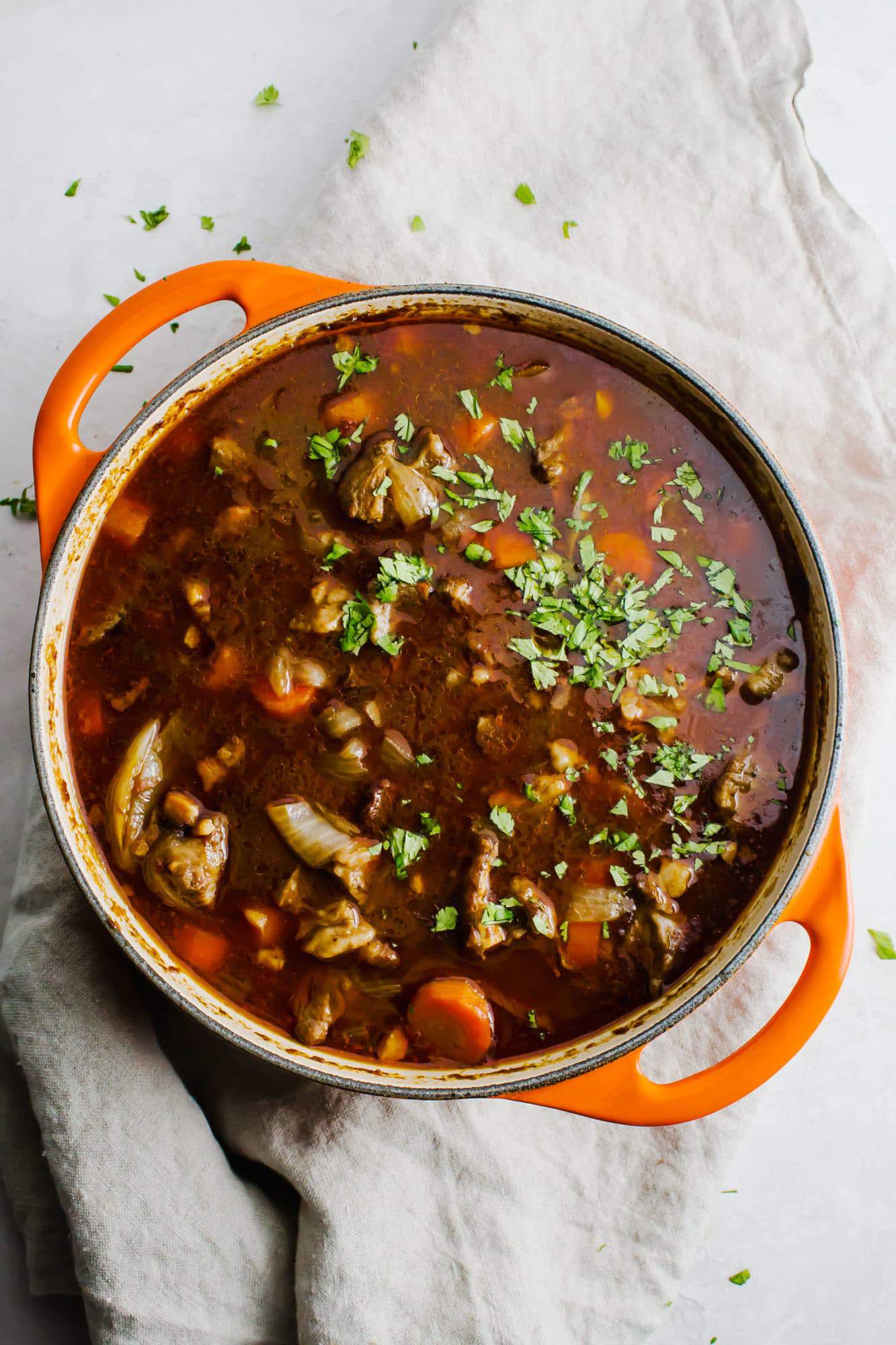 Beef Stew is the quintessential fall food along with the ever so celebrated (and for good reason) pumpkins, and "stout" be stew is infinitely more comforting. Pair this recipe with a gleaming fall-scented candle and you've entered into next-level fall bliss, even if it's still 90 degrees outside here in Charleston.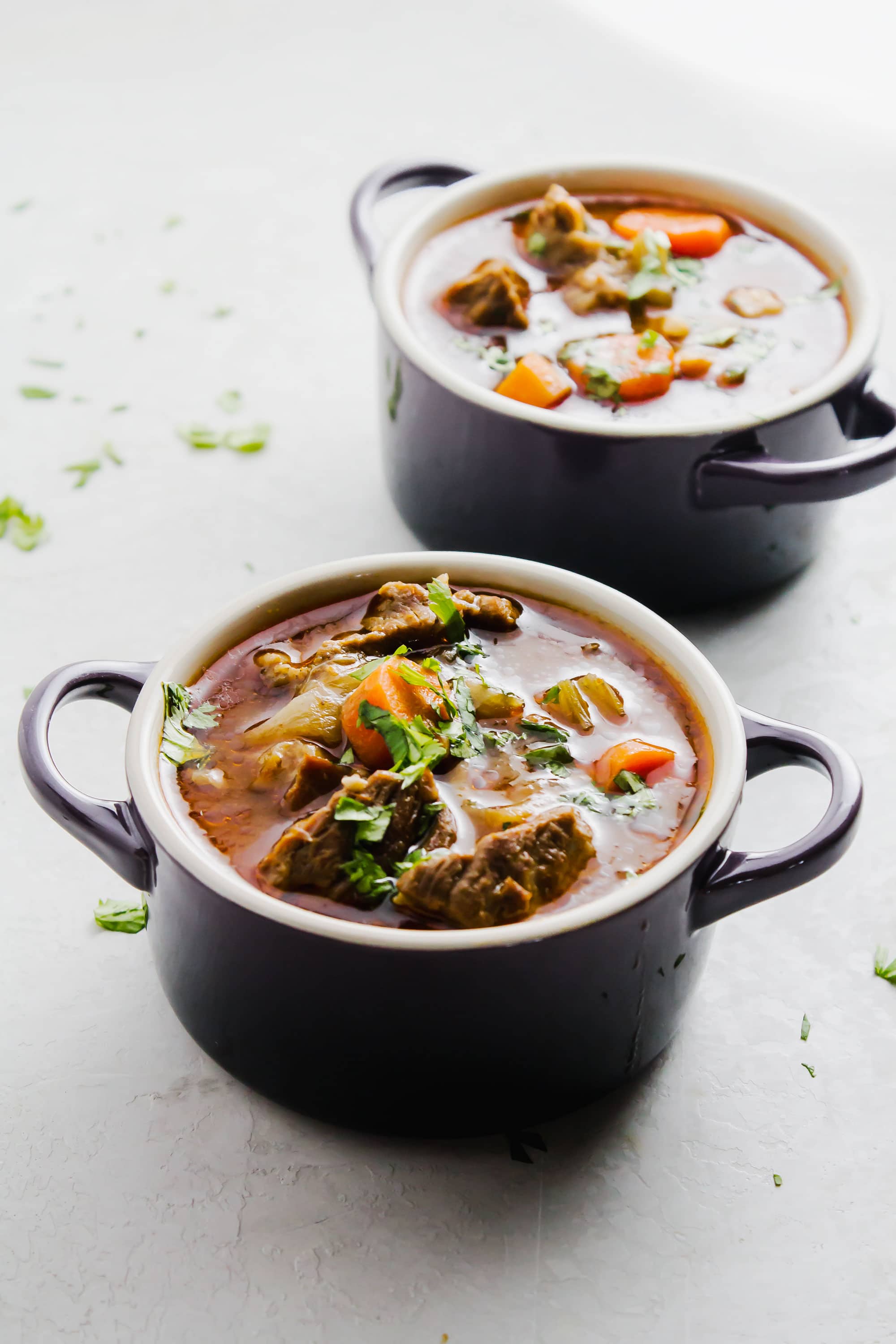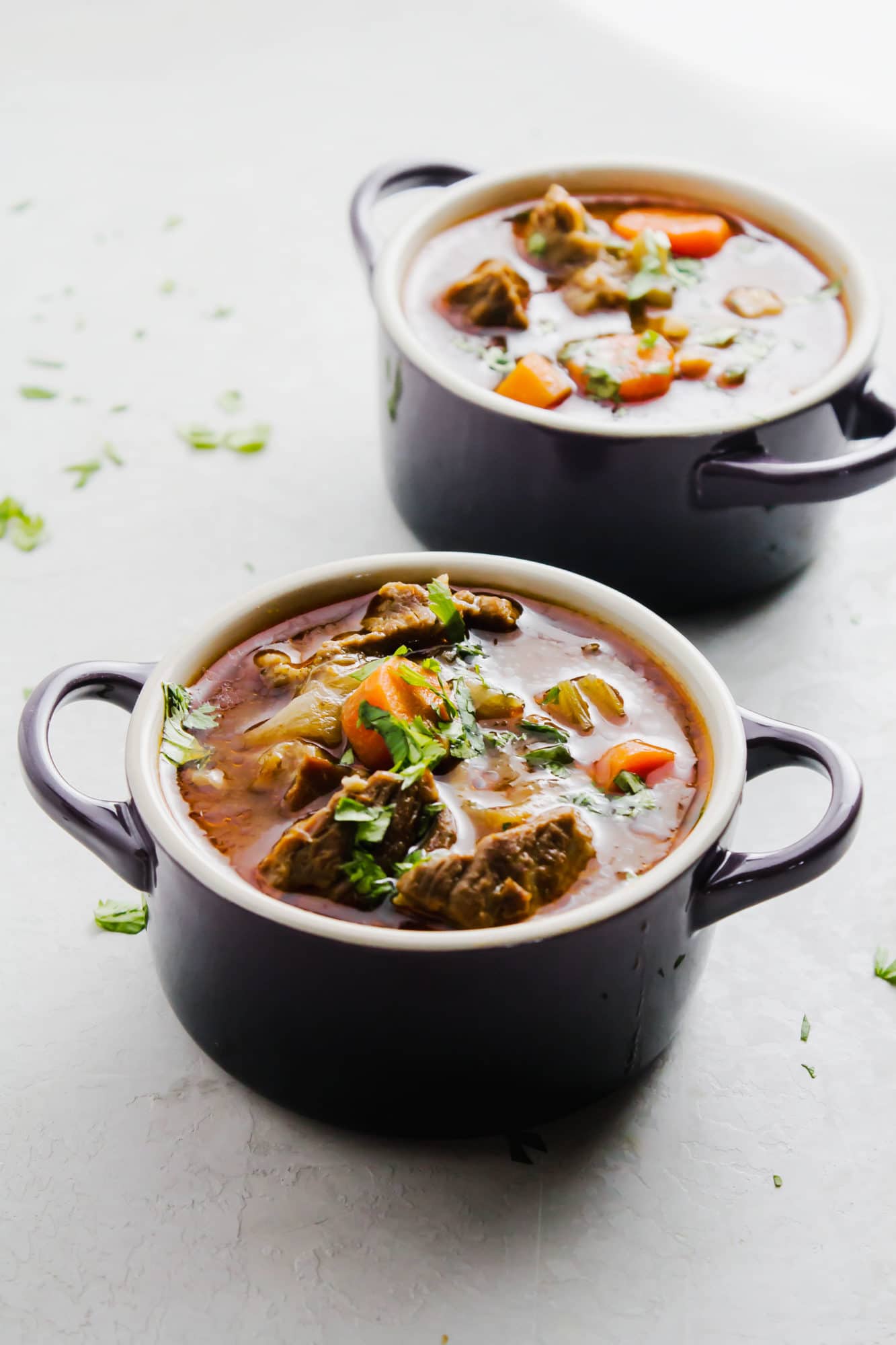 Speaking of which I ordered a fall candle today, which I get can be a risk via online, but after sniffing my Mrs. Meyer's Apple Cider surface cleaner multiple times a day and cleaning already cleaned surfaces to scent our place I decided I should probably take the risk. I've given up on crisp fall days and have resided to sipping pumpkin spice lattes in blasting air-conditioned spaces, which can sometimes rival that crisp air. I've decided I need to create my own fall and in doing so I'm incorporating SO many comfort foods like beef stew.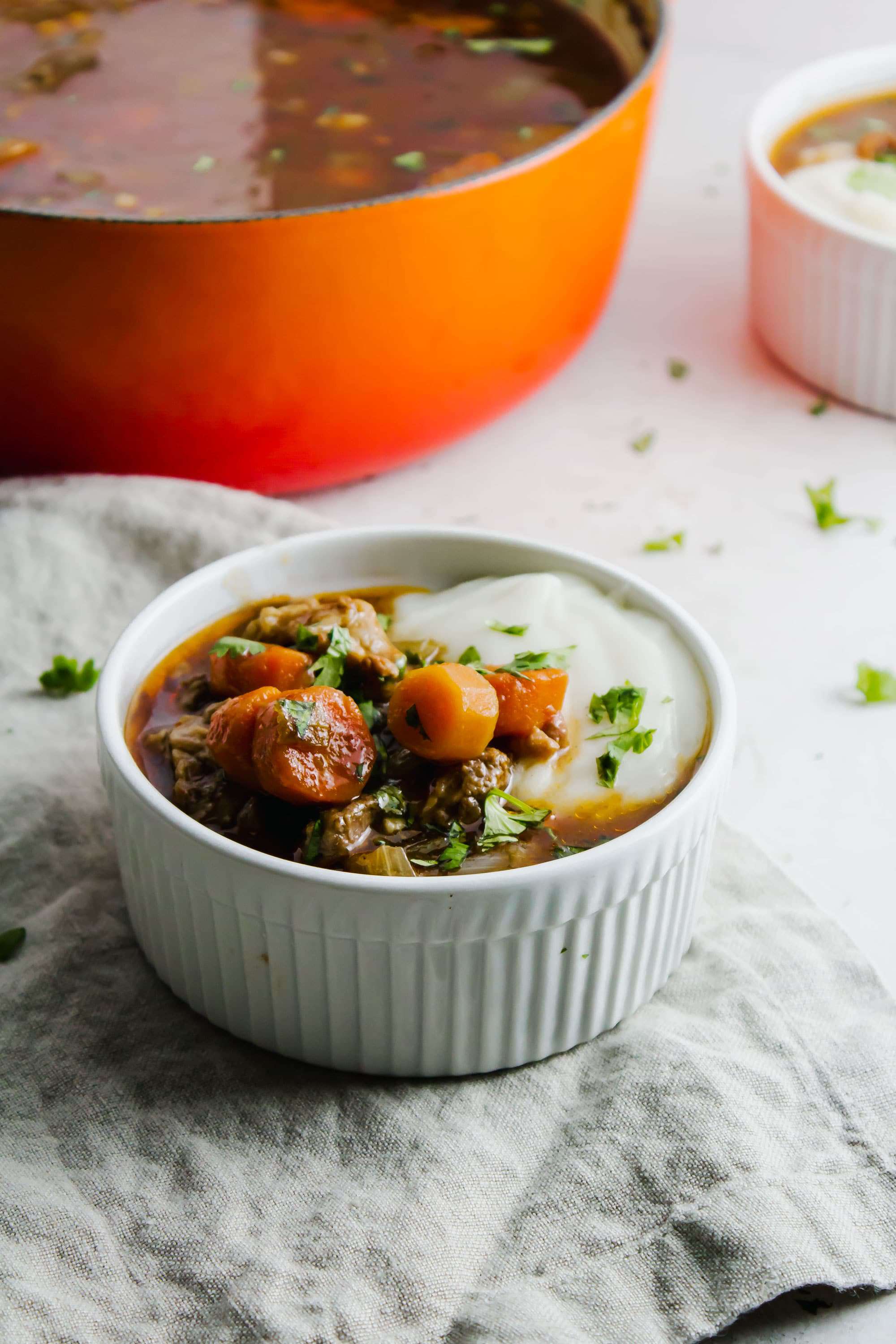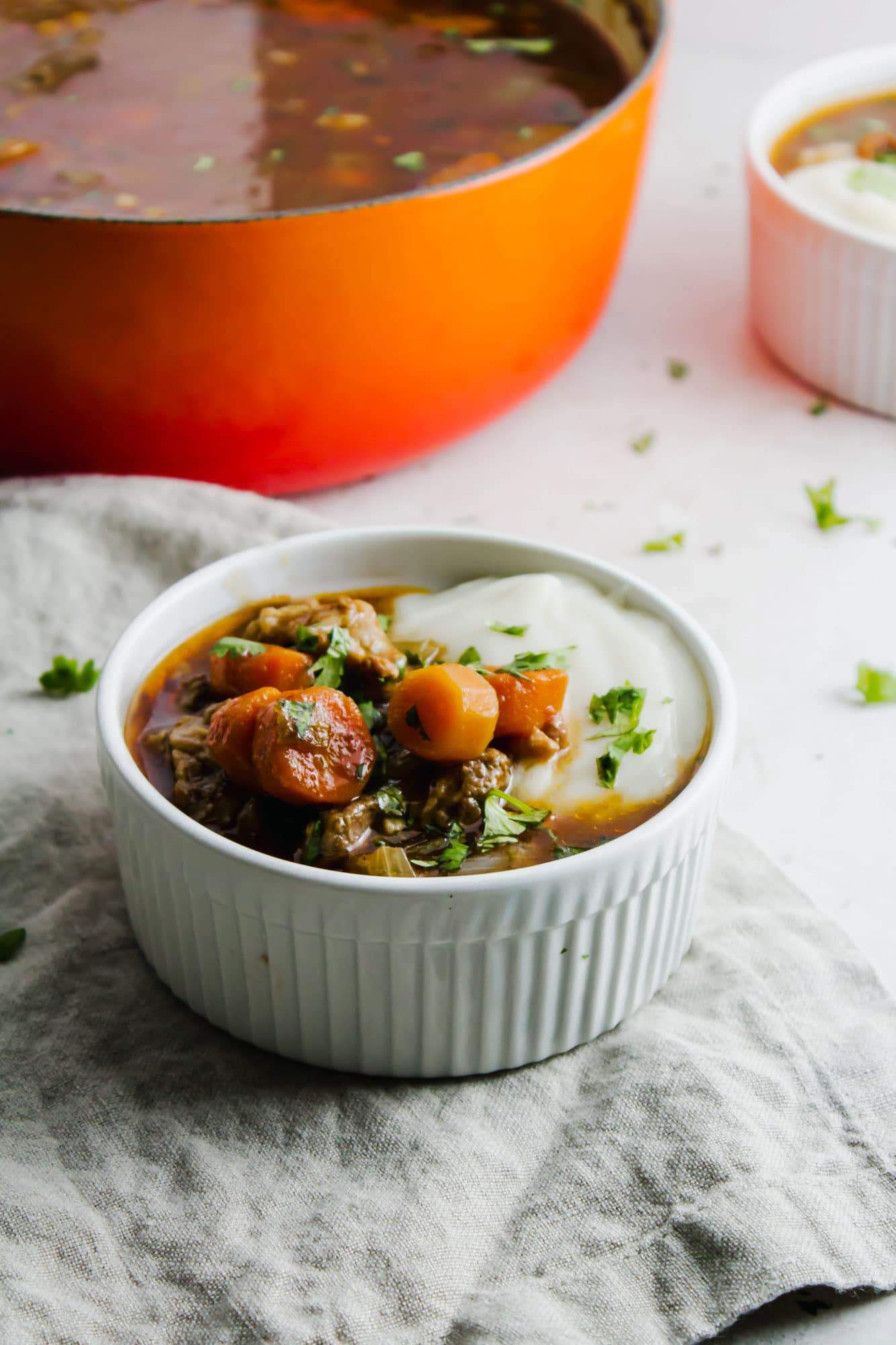 This recipe isn't limited to cooking it on your stovetop because I get some of you are on-the-go from start to finish in your day. This works just as well in a slow cooker or Instant Pot and I'll include the options down below. You do you, okay?
Since we're chatting all things fall, pumpkin included, I'm thinking a pumpkin beef stew might be pretty dreamy too, or is that weird? I'll try it and get back to you! I have gone a bit pumpkin overboard this year, but I think this a familiar statement I mention this time of year. Yesterday I decided to make a pumpkin cake with a pumpkin spiced buttercream frosting for absolutely NO reason other than it sounded good. You remember me droning on and on about being healthier, right? Why, why do I do this to myself…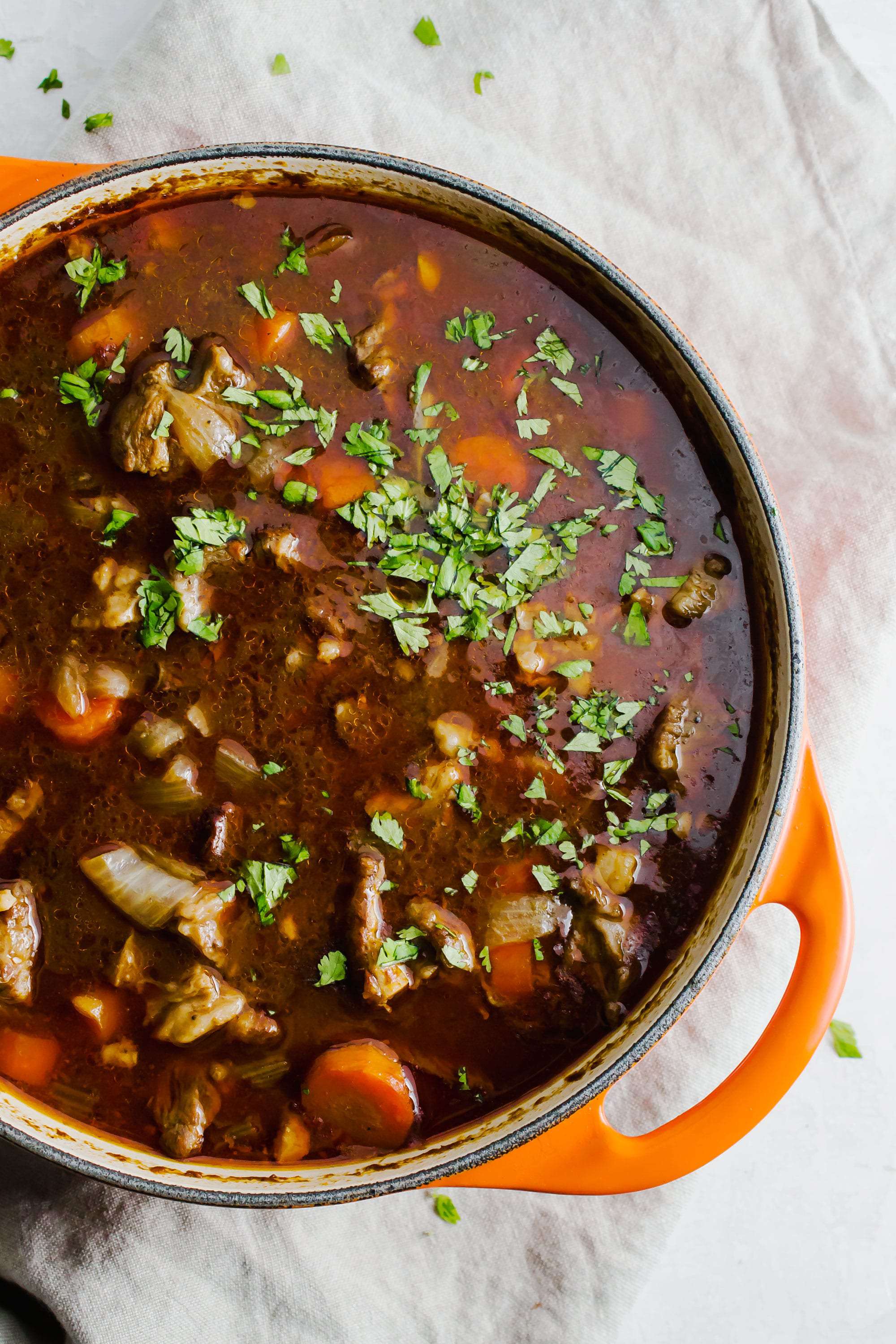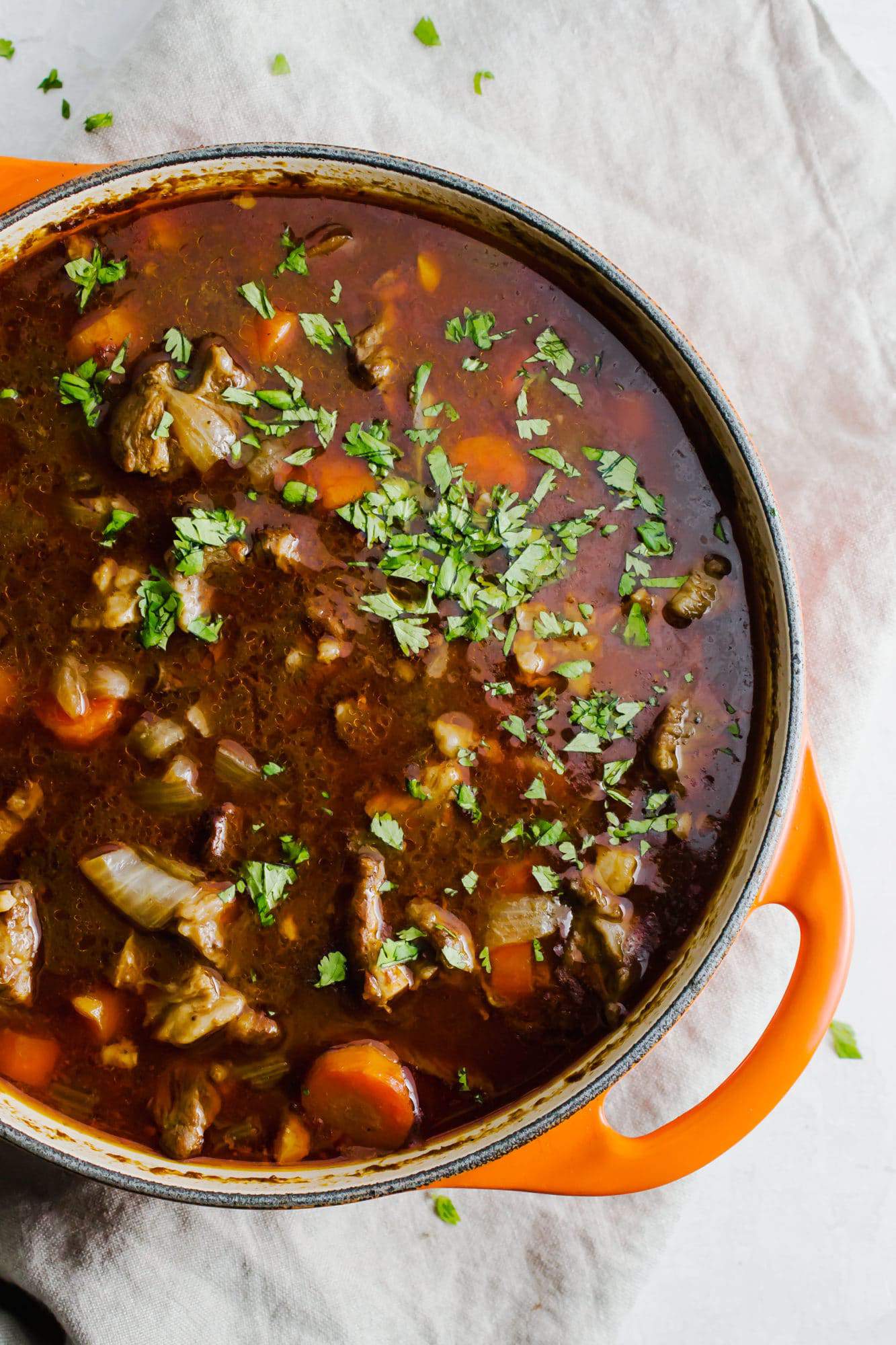 This Stout Beef Stew is healthy though! If you're searching for a meal that's good for you and crave (or want) a recipe that will fill the house with those delicious fall aromas this comforting stew will be your friend. It's that easy friend too that you know you can be yourself with too. I'm getting weird again, but I'm weirdly obsessed with fall-inspired meals and since this is the quintessential fall meal it's seasonally perfect.
Print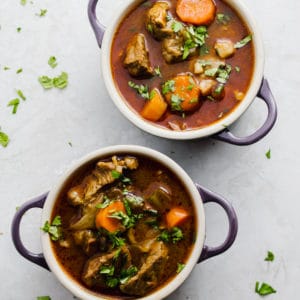 Stout Beef Stew
---
Description
A simple fall-inspired fall beef stew with a "stout" beer kick that makes it infinitely more comforting.
---
Scale
Ingredients
2 tablespoons

Olive Oil

2 1/2

lbs Beef Chuck

4

Garlic Cloves, minced

2

medium Onions, sliced

8

Bacon Strips, chopped

3 tablespoons

Flour

1

can Stout Beer (any kind)

1/4 cup

Tomato Paste

3 cups

Chicken Broth

4

Carrots, peeled, chopped

1 tablespoon

Oregano
Salt and Pepper, seasoning
---
Instructions
Cut the Beef Chuck into 2-inch sized pieces and season with Salt and Pepper.
In a 2 3/4 quart pot or dutch oven heat Olive Oil over medium heat. Brown the seasoned beef working in batches if necessary. Remove browned meat and set aside in a dish.
Add Garlic Cloves and Onion to the post and cook for 2 to 3 minutes or until fragrant. Place Bacon pieces into the pot and cook for an additional 3 minutes or until meat is browned. Stir in the Flour and toss to coat ingredients. Pour in Beer, Tomato Paste, Chicken Broth, Carrots, and Oregano.
Return beef to the pot and season with additional salt and pepper. Bring stew to a simmer and lower the heat to a low setting. Cover and cook for 2 hours. Remove lid and cook an additional 40 to 45 minutes or until the beef is falling apart easily.
Serve with mashed potatoes (see notes).
---