Fluffy quinoa mixed with crisp cucumbers, fresh peas, and bursting pomegranate seeds is the base of this wholesome chicken salad. Super Clean Chicken and Quinoa Salad is a healthy meal with a simple olive oil and squeezed lemon dressing.
Try this delicious Korean BBQ Steak Salad next or this Tuna Salad with Mustard Vinaigrette.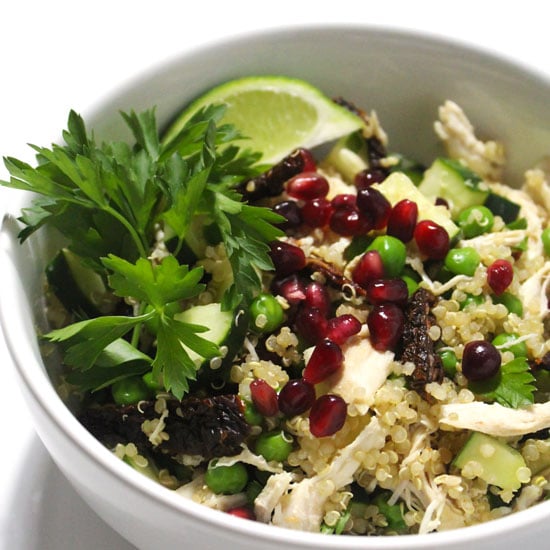 Super Clean Chicken and Quinoa Salad
There were noises all around me as a gingerly stepped out into the town of London, but this being my first trip away from my children all I heard was quiet. I soaked up the crisp Autumn sun and sought out a salad for lunch. It was just before the lunch rush but I noticed a line beginning to form outside of a place called Leon. The darling little lunch spot, which I later learned was known for their salads, would be one of my first meals in Europe.
I struggled between all their delicious easy options and eventually chose the "super clean chicken salad". The ingredients were simple, which is where clean in the name came from, yet bold in flavor. Even the dressing was simple with only freshly squeezed lemon juice and olive oil mixed together.
The lunch was memorable enough to draw me back later for more and I even purchased their cookbook. This super clean chicken and quinoa salad is my American take on a London favorite.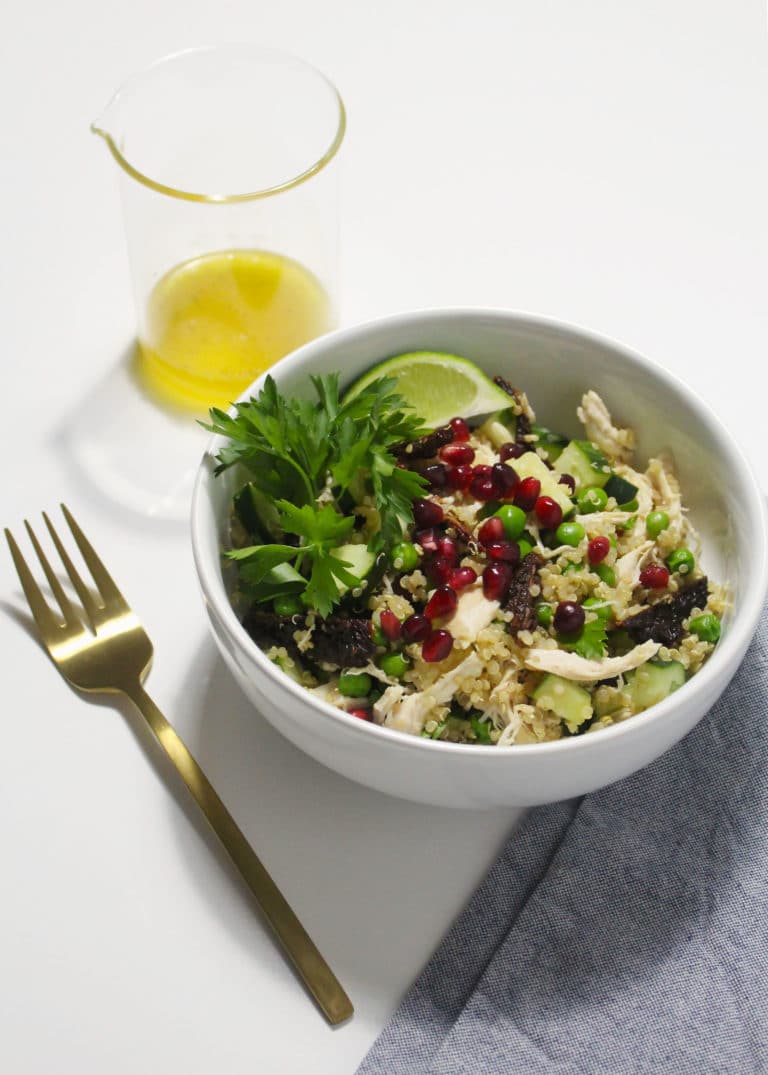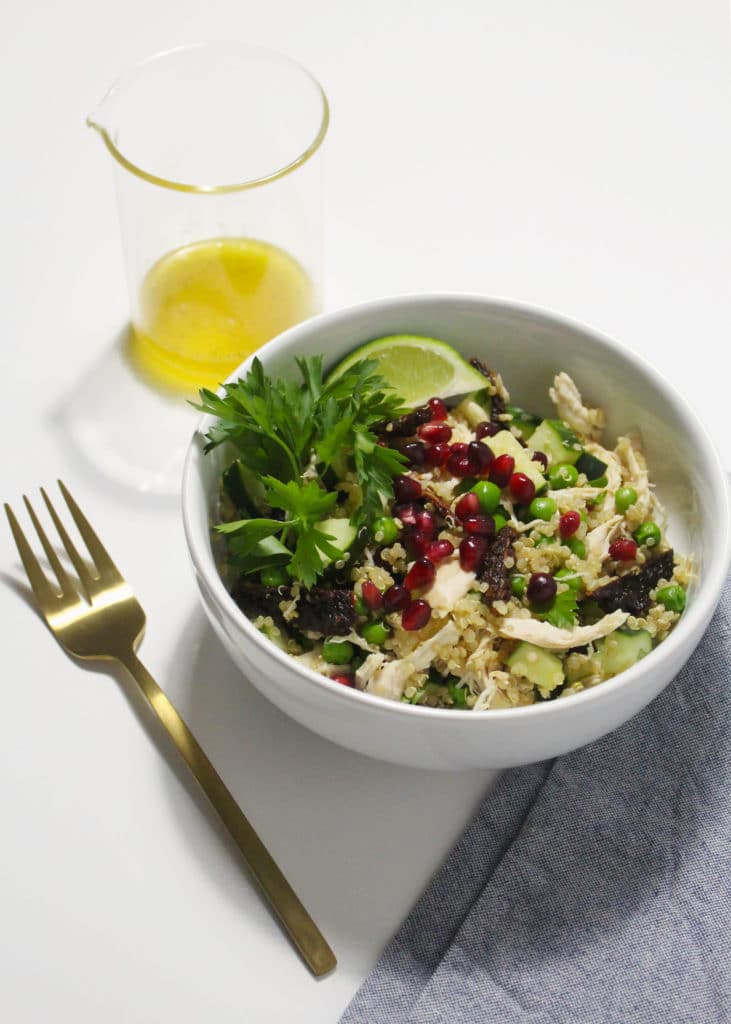 How to Make Quinoa
This quick quinoa guide makes 4 servings. You will need 1 cup of quinoa and 2 cups of water to prepare.
Soak

Place the dry quinoa in a medium-sized bowl and cover with water. Let soak for 2 minutes.

Rinse

Pour the quinoa into a fine-mesh sieve and rinse under cold running water until the water runs clear about 30 seconds.

Boil

Add the rinsed quinoa to a medium-sized pot fitted with a lid. Add 2 cups of water and bring to a boil.

Simmer

Once the water boils immediately reduce the heat to a low simmer and cover. Simmer for about 20 minutes, or until the quinoa absorbs all the water.

Cool

Turn off the heat, but leave the lid on the pot and let sit for 5 minutes before removing and fluffing with a fork.
Chicken and Quinoa Salad Ingredients
Quinoa: Quinoa is gluten-free, high in protein and one of the few plant foods that contain sufficient amounts of all nine essential amino acids. It is also high in fiber, magnesium, B vitamins, iron, potassium, calcium, phosphorus, vitamin E and various beneficial antioxidants.
Chicken Breast: The chicken, when grilled, adds a healthy amount of protein to this dish.
Sundried Tomatoes
Peas
Cucumber
Parsley
Pomegranate Seeds
Can You Use this Salad in Meal Prep
Yes. Prepare the salad according to the recipe directions, however, let the chicken and quinoa cool completely before tossing with the other ingredients. Add the dressing and toss to coat before portioning out into meal prep containers.
If you're looking for some amazing meal prep jars. These glass ones are some of my favorite.
If you like quinoa salads then try this Asian Sesame Quinoa Salad next.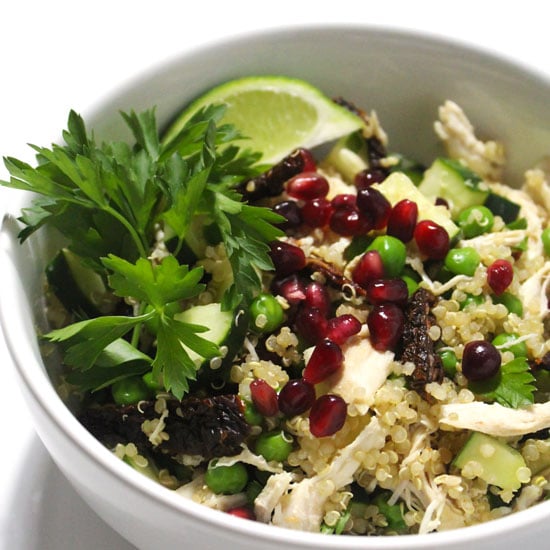 Ingredients
2

cups

Quinoa

4

cups

Water

1/2

teaspoon

Salt

3

Chicken Breast

1/2

cup

Sundried Tomatoes

chopped

2

medium

Cucumbers

peeled and sliced

2

cups

Peas

cooked and cooled

1/2

cup

Pomegranate Seeds

1

tablespoon

Fresh Parsley

chopped
Dressing
1/4

cup

Olive Oil

2

tablespoons

Fresh Squeezed Lime Juice

2

tablespoons

Dijon Mustard

1/8

teaspoon

Freshly Ground Pepper
Instructions
POACHED CHICKEN
Fill a large skillet with 1/2 inch of water, add about 1/4 teaspoon salt and pepper to the water and place over medium-high heat on the stove. Add the chicken breast and bring water to a boil. Cover and lower heat to medium, cook chicken for an additional 15 minutes or until it reaches an internal temperature of 165℉.

Remove the chicken from the skillet and set it on a large cutting board. Using 2 forks shred the chicken. Set aside.
QUINOA
Place the quinoa in a large bowl and cover with cold water, let sit for 2 minutes.

Transfer the quinoa to a mesh sieve and rinse under cold running water for half a minute, until the water runs clear.

Place the quinoa in a large pot fitted with a lid and add the 4 cups of water and salt to the pot. Bring the water to a boil over high heat and then once boiling reduce heat to low. Cover and let simmer for 15 to 20 minutes. If quinoa is still wt after, continue to cook, but watch for an additional 5 minutes.

Turn off heat and let sit for 5 minutes before removing the lid to fluff with a fork.
SALAD
In a large bowl add the shredded chicken quinoa, sundried tomatoes, cucumber, peas, pomegranate seeds, and fresh parsley. Toss to combine evenly.
DRESSING
In a small bowl whisk the dressing ingredients together until combined. Pour over the salad and toss to coat.
Nutrition
Serving:
2
cups
|
Calories:
605
kcal
|
Carbohydrates:
64
g
|
Protein:
44
g
|
Fat:
20
g
|
Saturated Fat:
3
g
|
Cholesterol:
87
mg
|
Sodium:
504
mg
|
Potassium:
1559
mg
|
Fiber:
10
g
|
Sugar:
11
g
|
Vitamin A:
706
IU
|
Vitamin C:
36
mg
|
Calcium:
86
mg
|
Iron:
6
mg