Take-Out Style Chicken Lo Mein is a healthier version of actual take out lo mein covered in a flavorful sauce and tossed with crunchy snow peas and peppers. The tender marinated chicken, sprinkled with sesame seeds makes this a deliciously complete meal.
Slathered in unhealthy oils, take out meals can often be worse for you than just making them at home. For some healthier versions of take-out favorites try these recipes: Crispy Honey Sriracha Wings, or Instant Pot Sticky Noodles.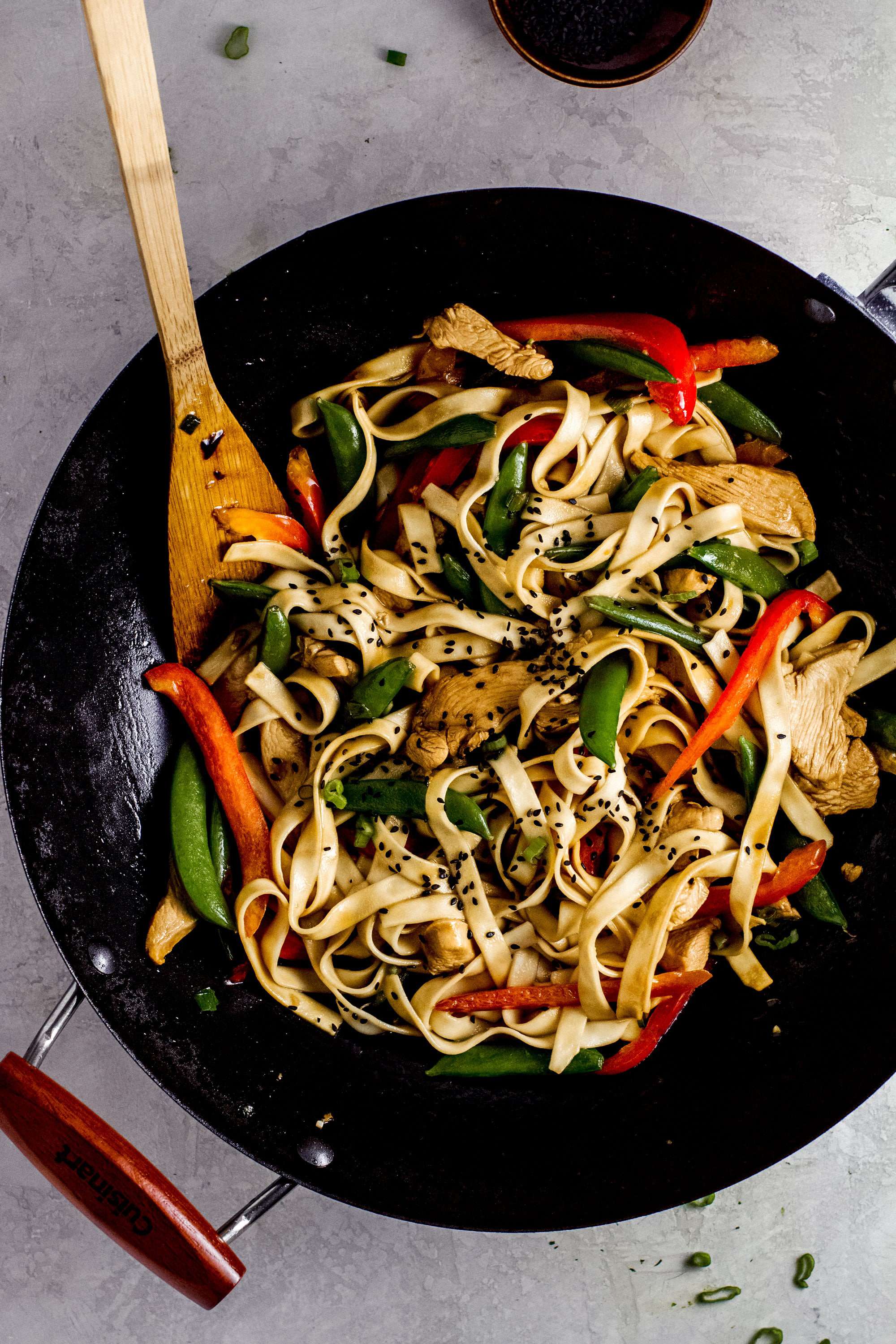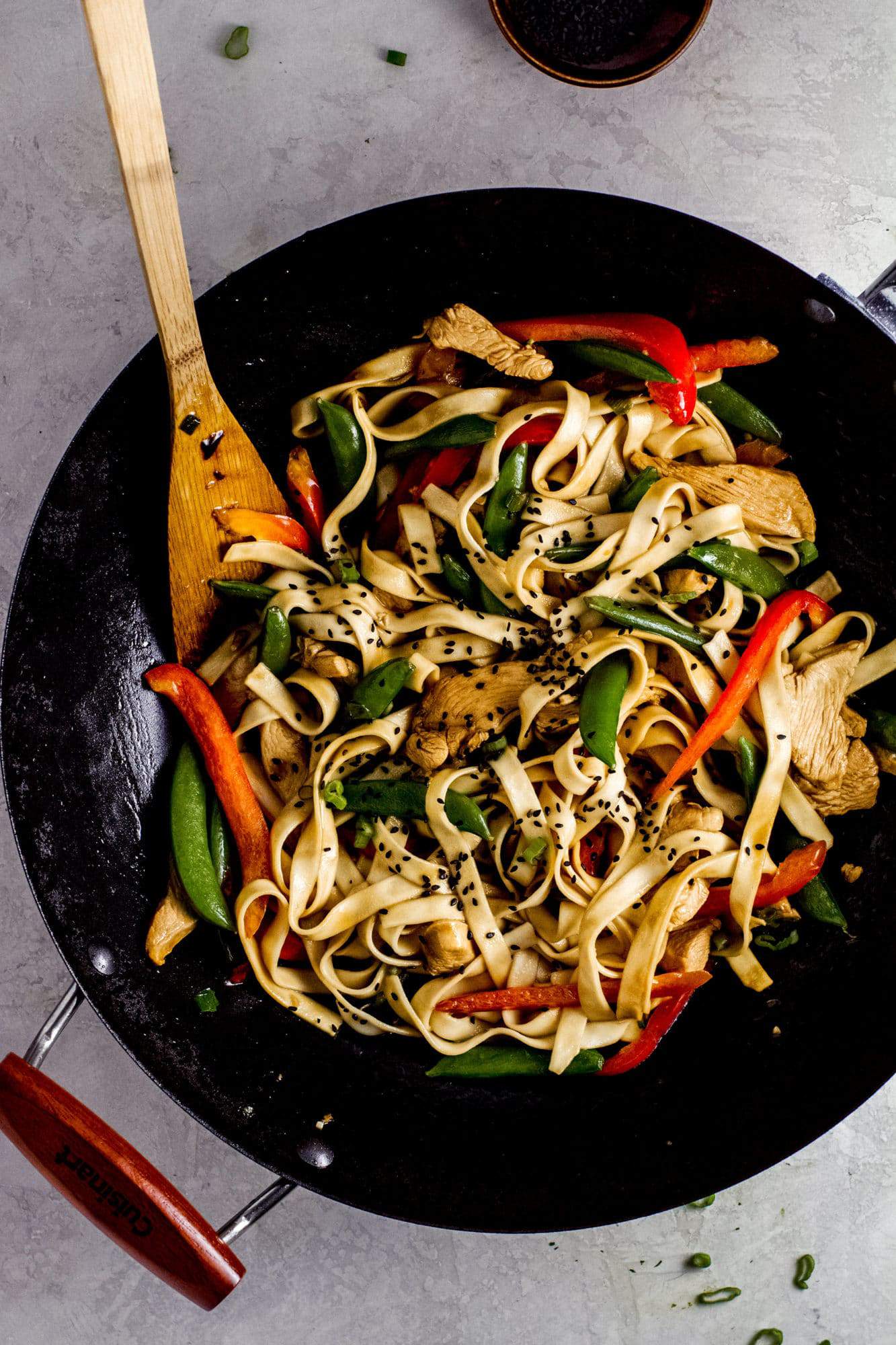 Chicken Lo Mein
Recently, my local Harris Teeter installed a new "Asian Bar" right next to the salad bar, which I frequent for easy lunches and sometimes to avoid a less than healthy drive-thru dinner. My life was just fine before.
I'd happily prepare my salads, swapping out different cheeses, or maybe going with walnuts instead of sunflower seeds, the usual healthy swap.
Then one day when I glided over toward the salad bar I couldn't help but be pulled in another direction. The direction of crispy fried wontons, piles of various lo mein, and dumplings I couldn't resist. The temptation became real…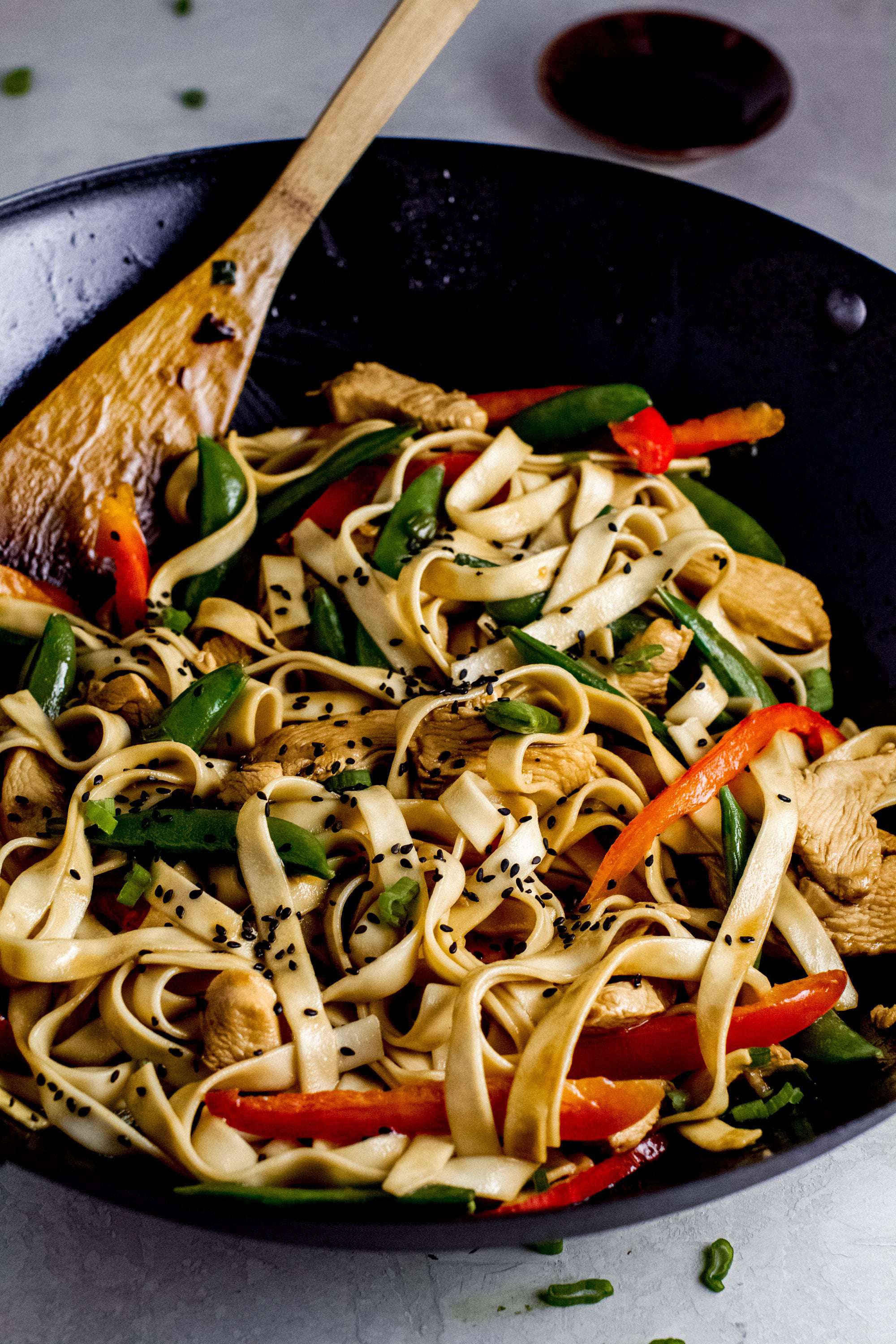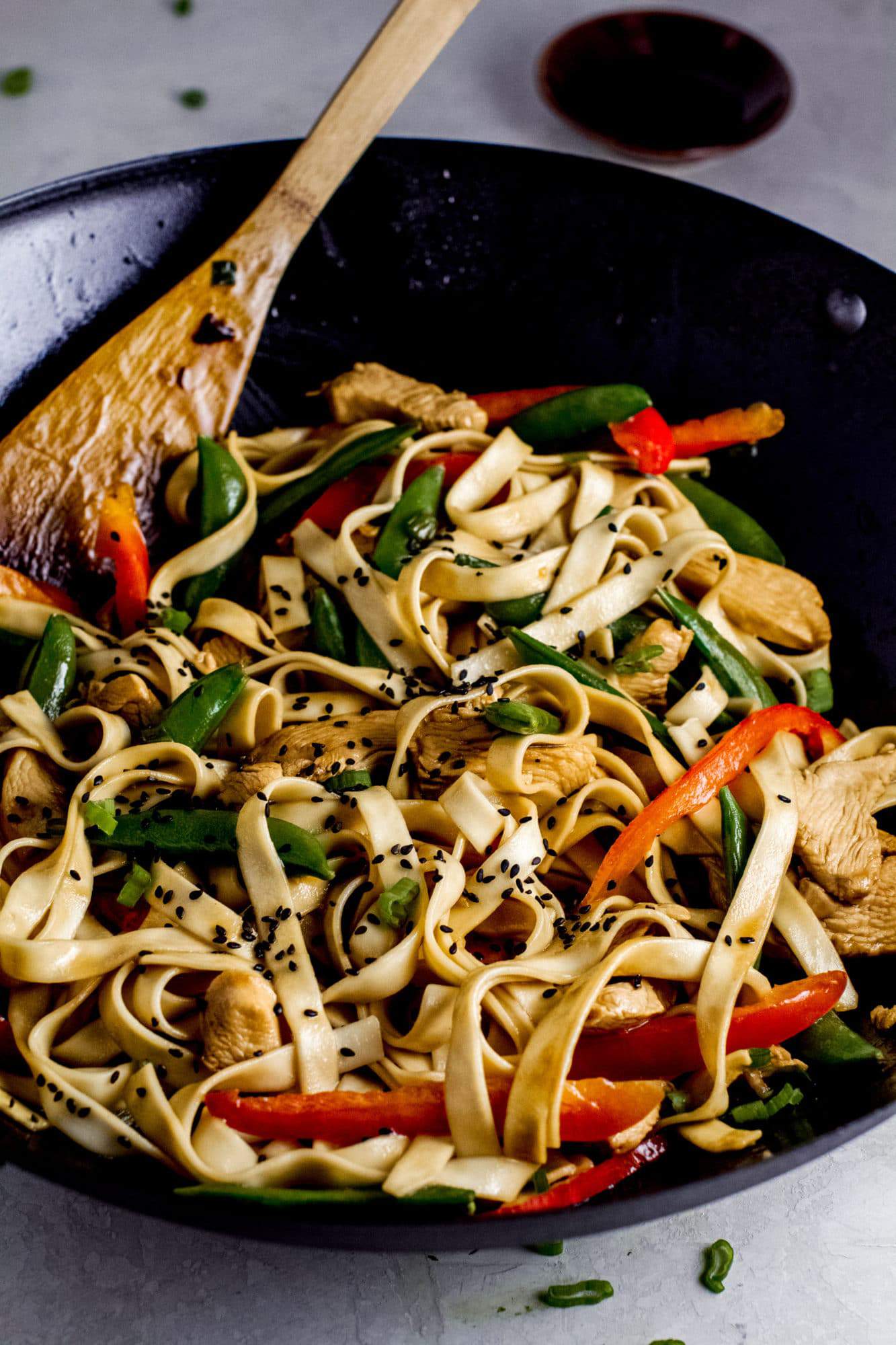 How to Make a Healthier Version of Take-Out?
I knew my salad bar days were forever changed when the new Asian Hot Bar popped up overnight, however, I also knew I could still enjoy these dishes if only I'd find a healthier way to make them without sacrificing flavor.
There are a few tricks to achieving take-out level type foods as well as a process when it comes to stir-fry, which is basically this recipe.
Here's the recipe how-breakdown:
First and foremost you want to marinate your meat, in this case, chicken.
Then you want to bring your wok or high rimmed skillet with the oil added to high heat before adding anything else in.
While the marinating and skillet warming is happening make sure to boil/prepare the noodles.
Sear the vegetables in the heated skillet and remove them.
Place the chicken and marinade into the skillet and cook for 1 to 2 minutes occasionally tossing.
Add it all back into the wok, including the drained noodles. Toss to perfection.
Making the entire recipe a healthier version comes down to the ingredients you choose for your marinade as well as for opting to use organic versions of the meat and vegetables. There are various types of lo mein noodles as well.
The round, somewhat like spaghetti, type of lo mein noodle is the most common one used in take-out restaurants, however, if you want to get REALLY healthy you could use a spiralized vegetable such as zucchini.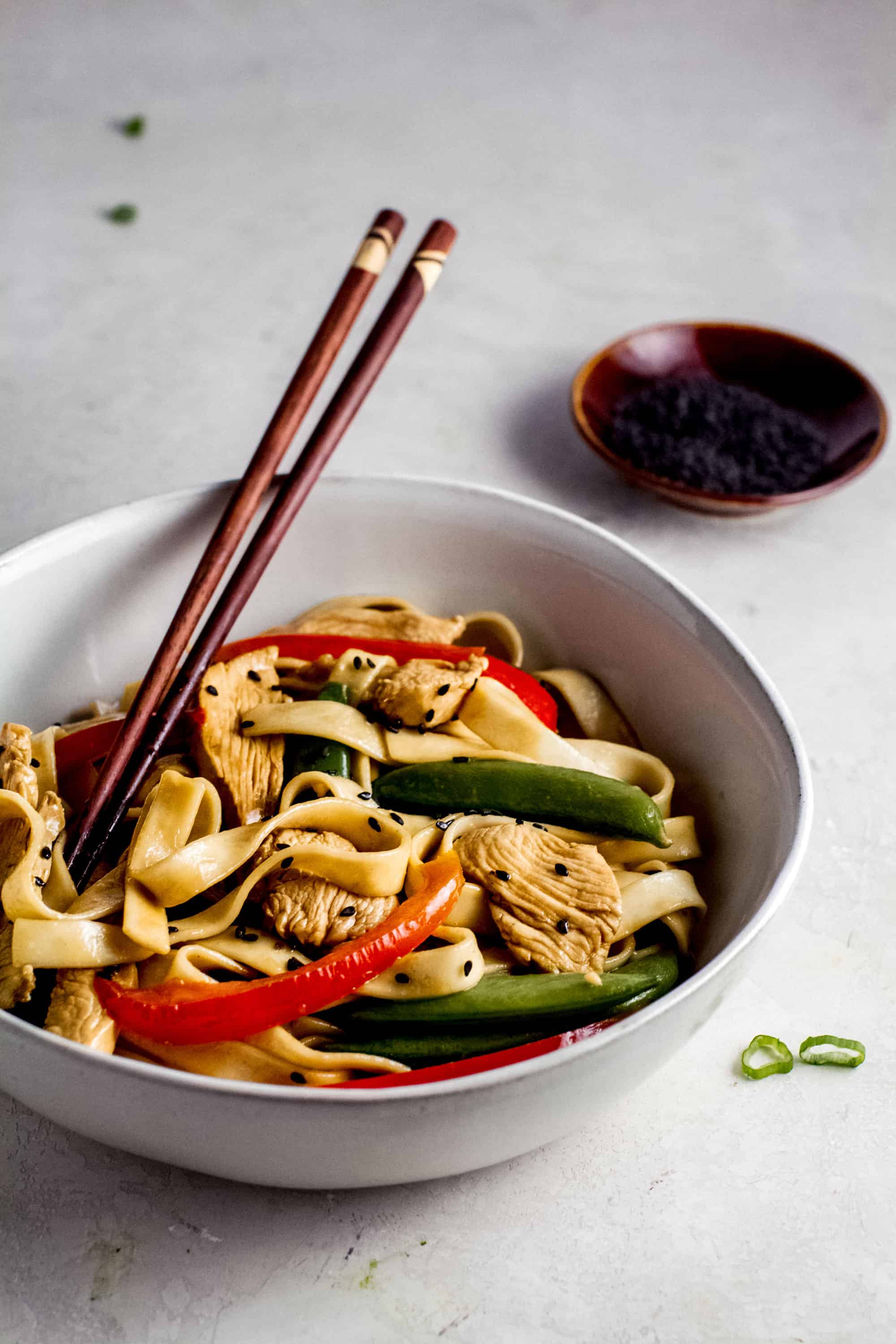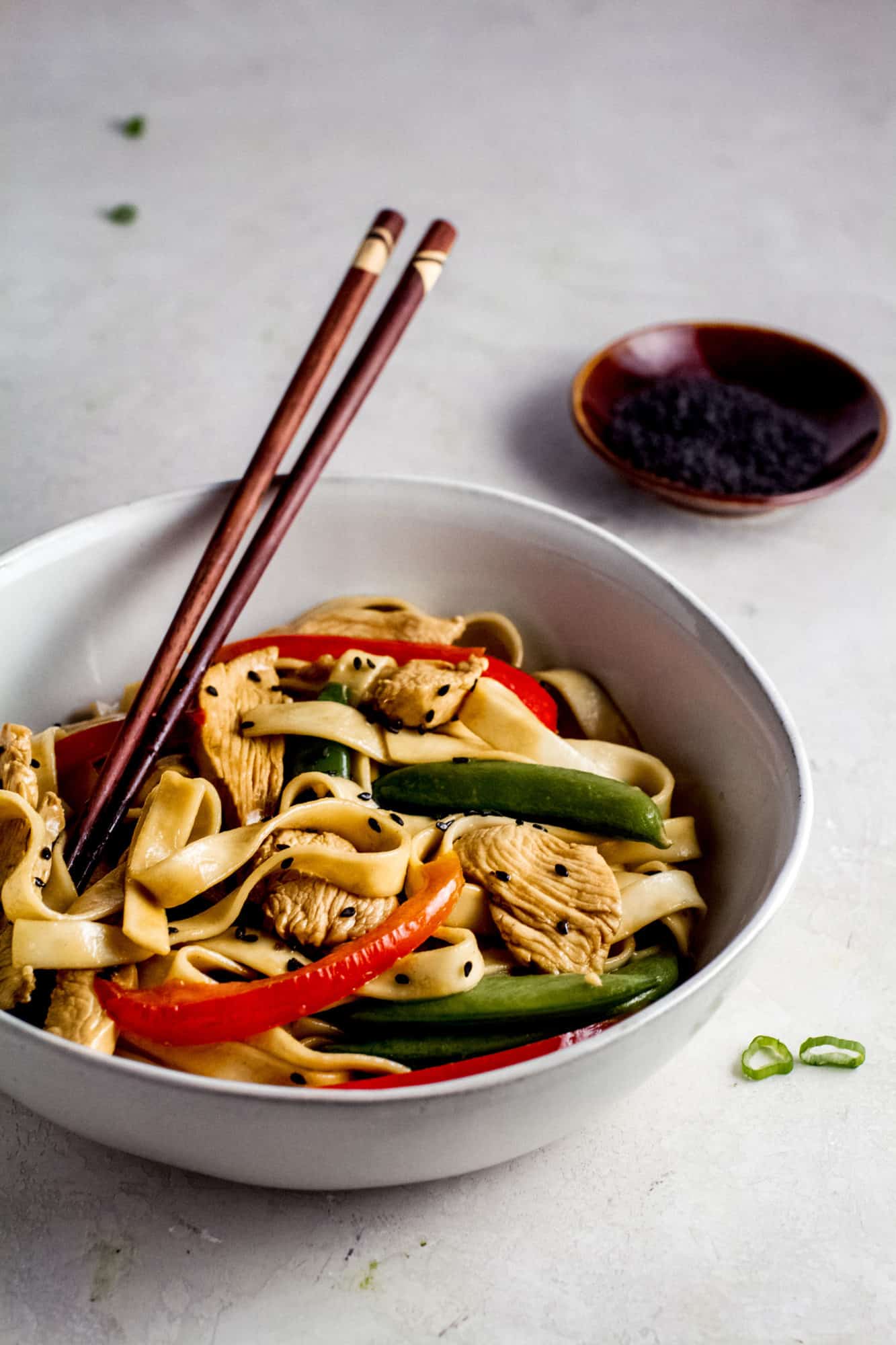 Can this be Made Gluten-Free?
Yes, and yes! Very easily in fact. Instead of using soy sauce pick up a bottle of tamari sauce (usually located right next to the soy sauce on the shelf), which is gluten-free. The next swap you'll need to make is with the noodles. There are gluten-free versions of lo mein noodles such as brown rice noodles. As always double-check the labeling!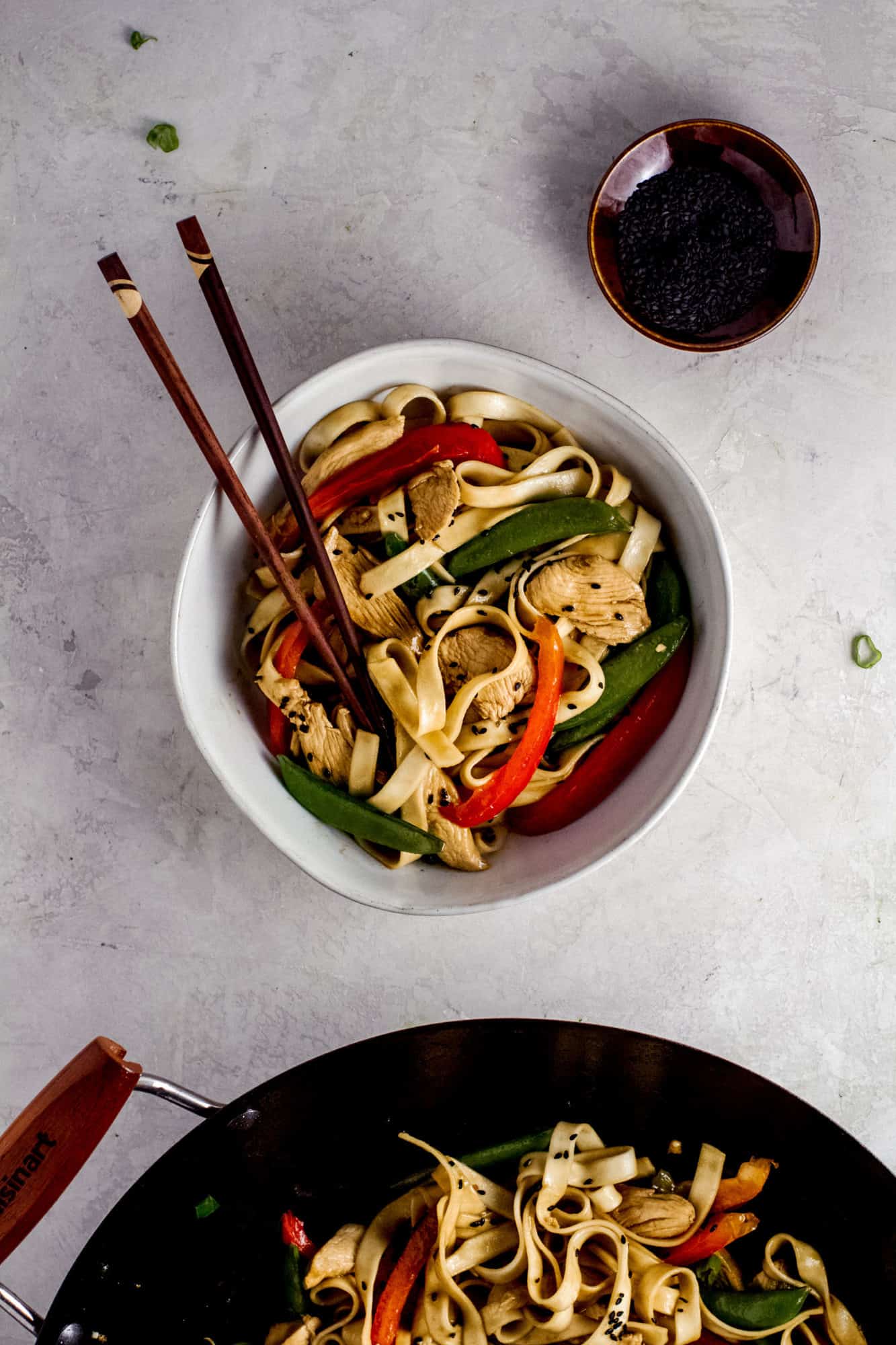 What is the Difference between Lo Mein, Chow Mein, and Spaghetti Noodles?
The main difference between chow mein and lo mein is that different methods are used to make these stir-fry noodles. Both chow mein and lo mein use wheat-flour egg noodles. More authentic chow mein noodles are fried to crispness, while lo mein noodles are boiled to softness.
As far as spaghetti goes it is a type of pasta of European origin. Lo mein noodles are a primary staple in Chinese cuisine. The two starches are similar in appearance because they are both long, thin noodles. However, they are made from different ingredients and are used differently in dishes.
Want More Noodle and Stir-Fry Recipes?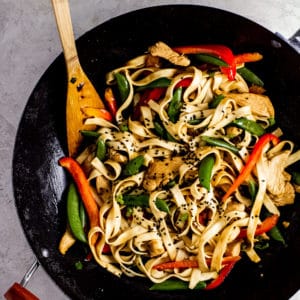 Take-Out Style Chicken Lo Mein
Take-Out Style Chicken Lo Mein is a healthier version of actual take out lo mein covered in a flavorful sauce and tossed with crunchy snow peas and peppers. The tender marinated chicken, sprinkled with sesame seeds makes this a deliciously complete meal.
Print
Pin
Rate
Ingredients
SAUCE AND CHICKEN
¼

cup

Soy Sauce

2

tablespoons

Dry Sherry

1½

teaspoons

Cornstarch

1

teaspoon

Brown Sugar

¼

teaspoon

Salt

1

lb

Boneless, Skinless, Chicken Breast
NOODLES
8

ounces

Lo Mein Noodles

3

tablespoons

Oil

4

ounces

Snow Peas

1

medium

Red Bell Pepper

sliced

2

Garlic Cloves

minced

2

Scallions

sliced
Instructions
Bring a large pot of salted water to a boil and prep your vegetables by slicing ahead of time.

Marinade and Sauce: In a small bowl whisk the soy sauce, dry sherry, cornstarch, brown sugar, and salt together until the cornstarch is completely dissolved. Slice the chicken breast in half, horizontally, and then slice diagonally into thin strips. Place the strips into the marinade mixture and set aside.

Place the Noodles into the boiling water and cook according to package directions (usually around 5 to 6 minutes), drain, and run cold water over to cool. Set aside as you're cooking the vegetables.

Vegetables: Heat 1 tablespoon of oil in a wok or large skillet. Add the peas, bell pepper, garlic cloves, and scallions and stir-fry, tossing occasionally, until tender, but still crisp, about 2 to 3 minutes. Remove from wok or skillet and set aside on a plate.

Chicken: Add the remaining 2 tablespoons of oil to the wok or skillet and using kitchen tongs pick the chicken out of the marinade/sauce and place in a SINGLE layer in the wok (or skillet). Keep the marinade/sauce on the side. Let chicken brown for 2 minutes before flipping to the other sides and cooking for an additional 1 to 2 minutes.

Stir-Fry: Add the cooked noodles, vegetables, and leftover marinade/sauce to the wok or skillet. Toss until the sauce evenly coats the stir-fry and cook for 2 more minutes to allow it to thicken. Garnish with sesame seeds.
Nutrition
Serving:
1
serving
|
Calories:
461
kcal
|
Carbohydrates:
48
g
|
Protein:
32
g
|
Fat:
15
g
|
Saturated Fat:
1
g
|
Cholesterol:
73
mg
|
Sodium:
1263
mg
|
Potassium:
586
mg
|
Fiber:
3
g
|
Sugar:
4
g
|
Vitamin A:
1333
IU
|
Vitamin C:
58
mg
|
Calcium:
28
mg
|
Iron:
2
mg