Tomato Galette is a savory pie bursting with fresh juicy tomato flavor and complimented with a sweet honey drizzle. The tart earthy taste of the goat cheese layered with the honey is the perfect sweet and savory combination; in addition, the galette achieves balance with the luscious tomatoes.
If you're looking for more recipes to use your summer tomatoes then try this Baked Balsamic Chicken as well as this Tomato Goat Cheese Frittata. Of course, this Hemp Seed Tabbouleh is a healthy summer dip.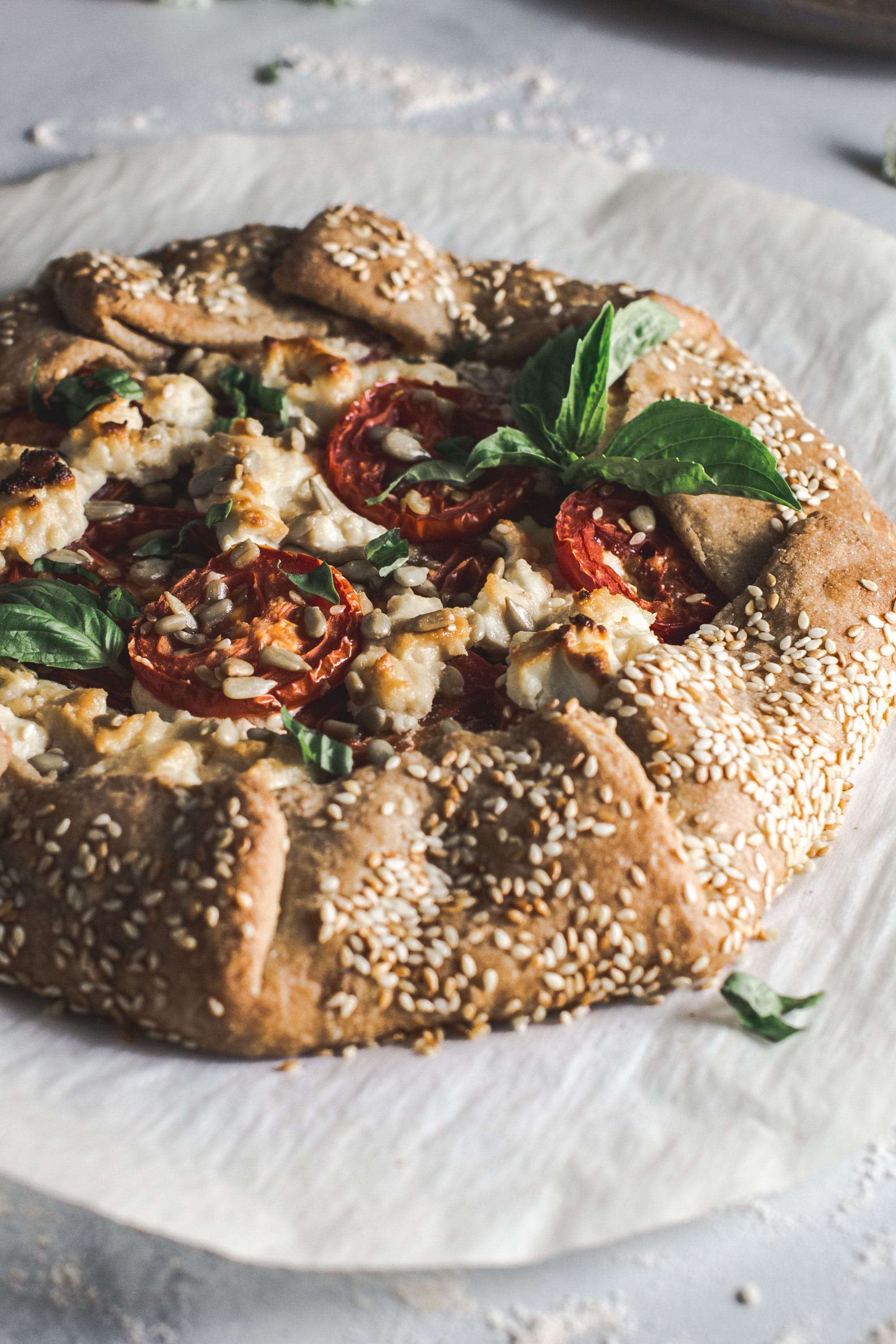 Tomato Goat Cheese Galette
With tomato season in full swing, I can't seem to purchase enough of these summertime beauties in all shapes and forms. Heirloom, plum, straight off the vine, I want them all. I want to preserve as much juicy delicious flavor as possible.
Recently I read the book "Dinner with Edward," about an elderly man, who takes great pride in preparing exquisite meals. As a result, I've been craving the pie-like treat he so lovingly preferred of course, and now want one.
Preparing a savory galette with juicy tomatoes filling the crusty edges is helping me indulge in my current cravings.
This sort-of-pie but sort-of-tart is bursting with flavor and the perfect combination balance of a slightly sweet and savory pie.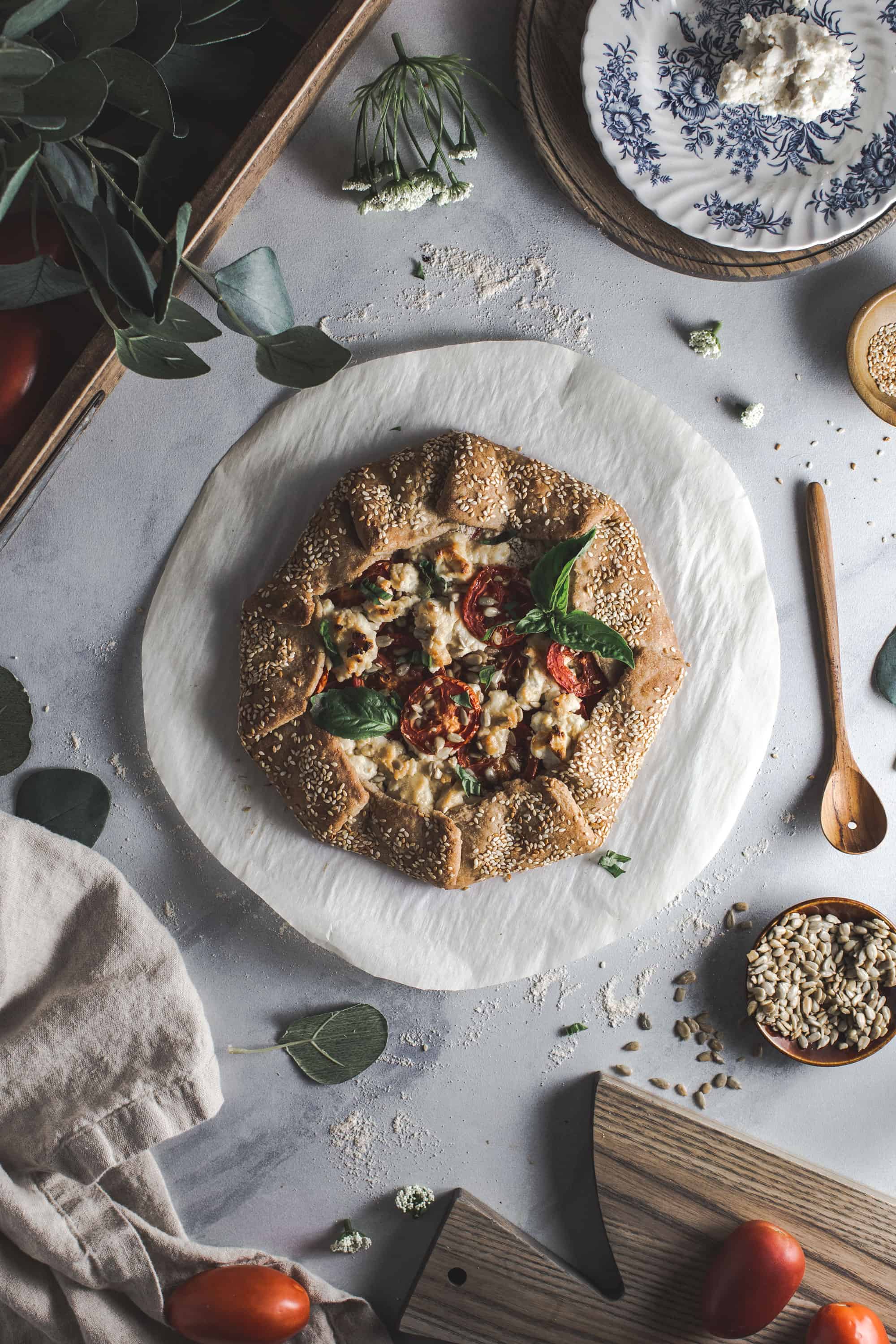 How to Make a Tomato Goat Cheese Galette
A tomato galette is simply a pie crust with tomatoes, which is exactly what you can make if you desire. If you're going to make this galette there are a few additional steps. All key for the extra levels of flavor.
First, prepare your sesame seed pie crust. Make a simple all-butter pie dough, which takes up to 2 hours to chill in the fridge. Roll the dough into a round disc and press the sesame seeds into the bottom side. You could also make this delicious buttermilk pie crust.
Bring the goat cheese to room temperature and press the honey in using a fork.
Begin to assemble the galette. Layer the goat cheese and half the parmesan in the center of the rolled-out pie dough. Place the tomatoes and remaining parmesan on top. Season.
To arrange the galette first fold the pie edges in while pleating, meanwhile, keeps the center open to form the galette. Second cook at 400 degrees for 35 to 40 minutes. Third, let rest for 15 before slicing.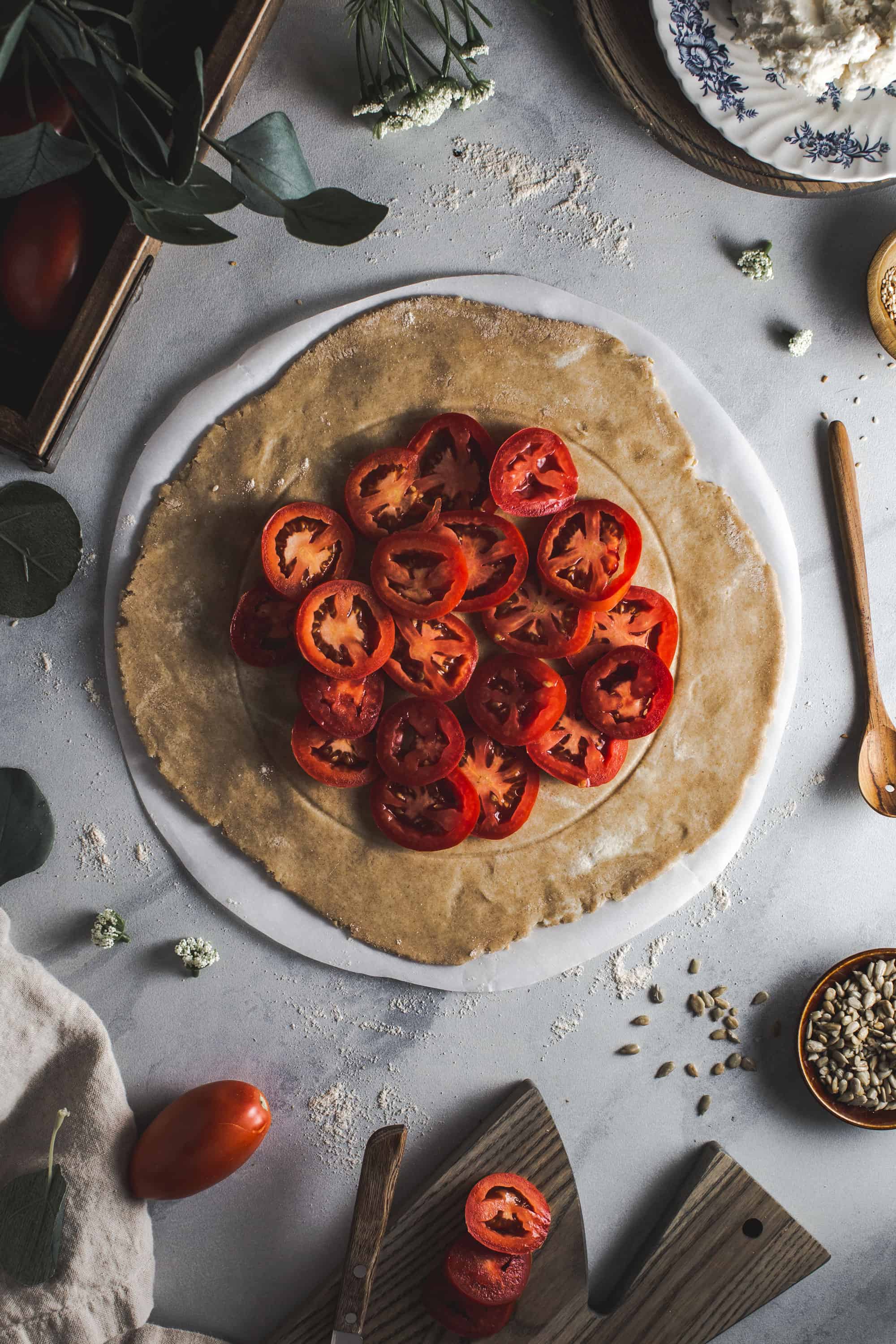 What is Galette?
The galette has French origins and is a round cake of pastry or bread. The galette requires no special prep dish. You won't need a pie dish or tart pan for baking, which allows for more crust with each delicious bite. If you're wondering (like me) how to pronounce galette, guh-LET and you'll be a step closer to speaking French.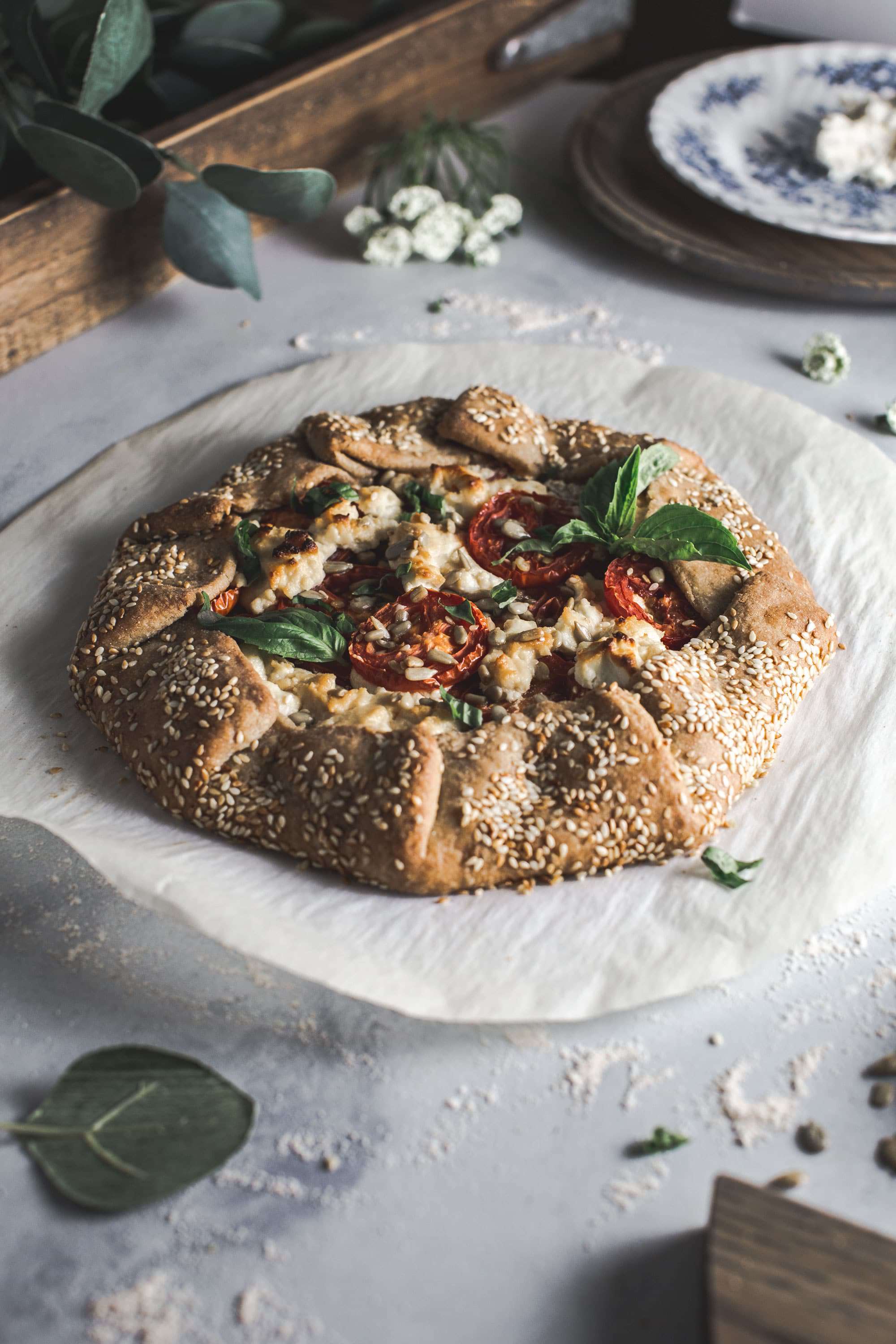 Which Crust is Best?
You definitely don't have to make your own pie crust. The store-bought version will work just fine, especially if you don't have 2 hours to chill the dough. Use what works best for you and your schedule.
Looking for more summer recipes? Try some of these: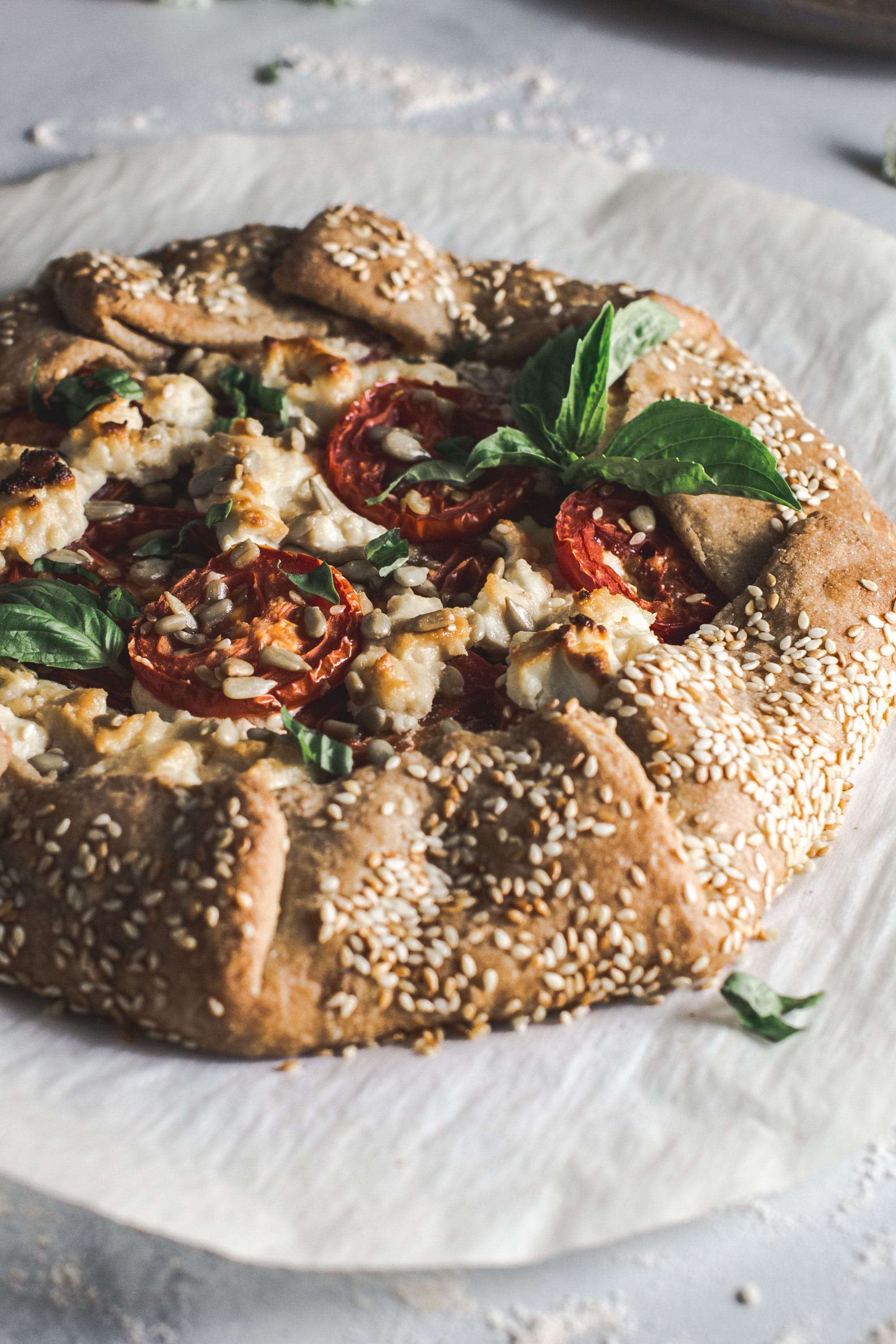 Ingredients
1

lb

Tomatoes

any type, sliced thin

4

ounces

Goat Cheese

2

tablespoons

Honey

1/4

cup

Grated Parmesan Cheese

1

Pie Crust

store-bought or see recipe below

1

tablespoon

Sunflower Seeds

optional
Sesame Seed All-Butter Pie Crust
1 1/4

cups

All-Purpose Flour

plus more as needed, spooned and leavened

1

teaspoon

Granulated Sugar

1/2

teaspoon

Salt

1/2

cup

Unsalted Butter

chilled and cubed

1/4

cup

Ice Water

plus more as needed

1

Egg

lightly beaten

1/4

cup

Toasted Sesame Seeds
Instructions
Tomato Goat Cheese Galette
Preheat the oven to 400 degrees F. Place the goat cheese in a small bowl and bring to room temperature.

Slice the tomatoes and set on top of a piece of parchment paper in a single layer to allow the juice to drain for about 10 minutes.

Using a fork mash the honey into the room temperature goat cheese (you can also use honey goat cheese, which can be found in most grocery stores).

On the prepared pie dough (see recipe instructions below) crumble the goat cheese and layer in the middle of the crust leaving a 2" edge. Top with a 1/8 cup of the parmesan cheese.

Layer the sliced tomatoes on top of the cheeses letting them overlap a bit. Add the remaining 1/8 cup of parmesan cheese, sunflower seeds if using, and season with salt and fresh cracked pepper.

Fold the edges of the pie crust towards the center and pleat them, leaving the middle of the pie open. Gently frush the beaten egg around the edge of the crust. Bake for 35 to 40 minutes or until the crust becomes flaky. Remove from the oven and let sit for 15 minutes before serving.
Sesame Seed All-Butter Pie Crust
In a large bowl whisk the flour, sugar, and salt together. Toss the cubed butter into the mixture.

Using a pastry cutter, two forks, or even your hands, cut the butter into the flour mixture until all the flour is coated and small round traces of butter remain.

Measure out 1/4 cup of water and add ice and stir to chill the water. From that measure out 1/4 cup of water since some of the ice will have melted. Adding 2 tablespoons at a time of the chilled water stir it into the flour and butter mixture until well combined. Stop adding the water once the dough forms a slightly sticky consistency, but not wet (about 1/4 cup is all you will need).

Place the dough onto a floured surface and using your hands press the dough into itself until the flour is fully integrated. Form it into a ball and using a rolling pin flatten into a 1-inch thick disc.

Cover the disc in plastic wrap and refrigerate for 2 hours before using. May be stored for up to 5 days in the fridge.

To roll out the dough using a rolling pin, start in the center and roll out evenly in all directions, turning dough between rolls. Lightly flour the work surface, rolling pin, and hands.

Lay a clean piece of parchment down and pour toasted sesame seeds on top and spread evenly. Gently lay the rolled pie crust on top of the sesame seeds and press the dough into the seeds. Proceed to prepare the rest of the galette.
Notes
Pie crust was inspired by Sally's Bake Blog All-Butter Pie Crust.
Nutrition
Serving:
1
slice
|
Calories:
391
kcal
|
Carbohydrates:
34
g
|
Protein:
10
g
|
Fat:
25
g
|
Saturated Fat:
12
g
|
Cholesterol:
60
mg
|
Sodium:
346
mg
|
Potassium:
213
mg
|
Fiber:
2
g
|
Sugar:
7
g
|
Vitamin A:
1030
IU
|
Vitamin C:
8
mg
|
Calcium:
119
mg
|
Iron:
3
mg