Healthy ingredients such as tomatoes and onions are the star of this Baked Vegetable Frittata, however, the russet potatoes add a filling starchy texture. This healthy breakfast or lunch will leave you satisfied until your next meal.
For more healthy breakfasts try this Turkey and Egg Casserole, Paleo Breakfast Casserole, or this Keto Breakfast Frittata.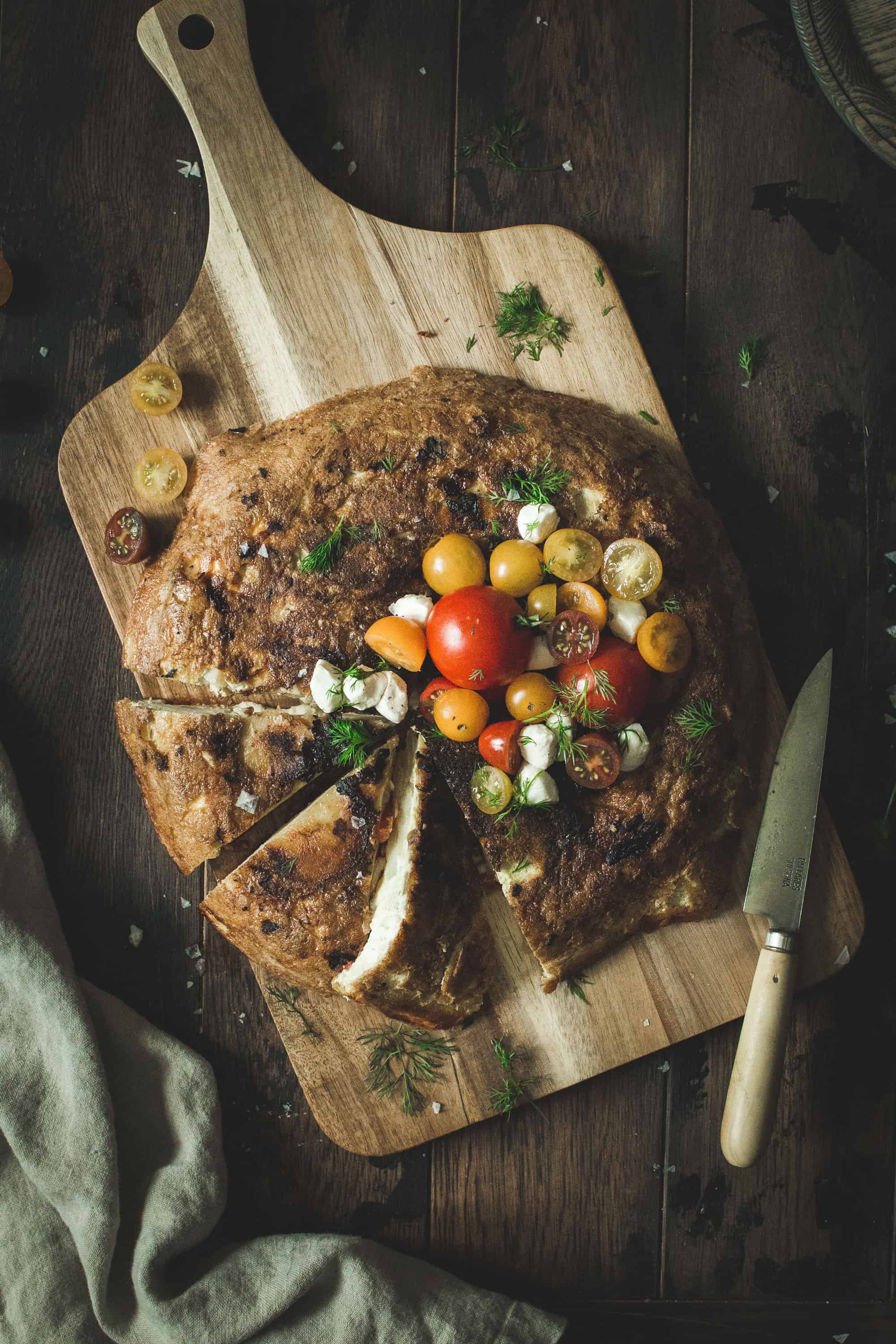 This post was originally posted as a tomato and goat cheese frittata but has been updated with tastier pictures and a better recipe.
Baked Vegetable Frittata
Frittatas are like omelets where almost anything goes and sometimes the more the better. With farm-fresh vegetables in every store and spreading across the outdoor markets an all vegetable frittata is a tasty and healthy breakfast treat.
The tomatoes and onions pack a tangy punch in this meal that makes enough to serve 8. However, the layers of soft potatoes mixed with melty mozzarella cheese bring the baked dish together. This breakfast will fill you up and won't leave you hungry later.
Though breakfast is one of my preferred daily meals I tend to keep it simple in our household. Most mornings simple scrambled eggs cooked in melted brown butter with a compliment of sliced avocado is our routine.
That routine though can sometimes, rarely, but sometimes become a bit dull. When it does I don't always need to ditch the eggs but rather change them up. Making a frittata with the ingredients I have on hand is one way to break breakfast boredom.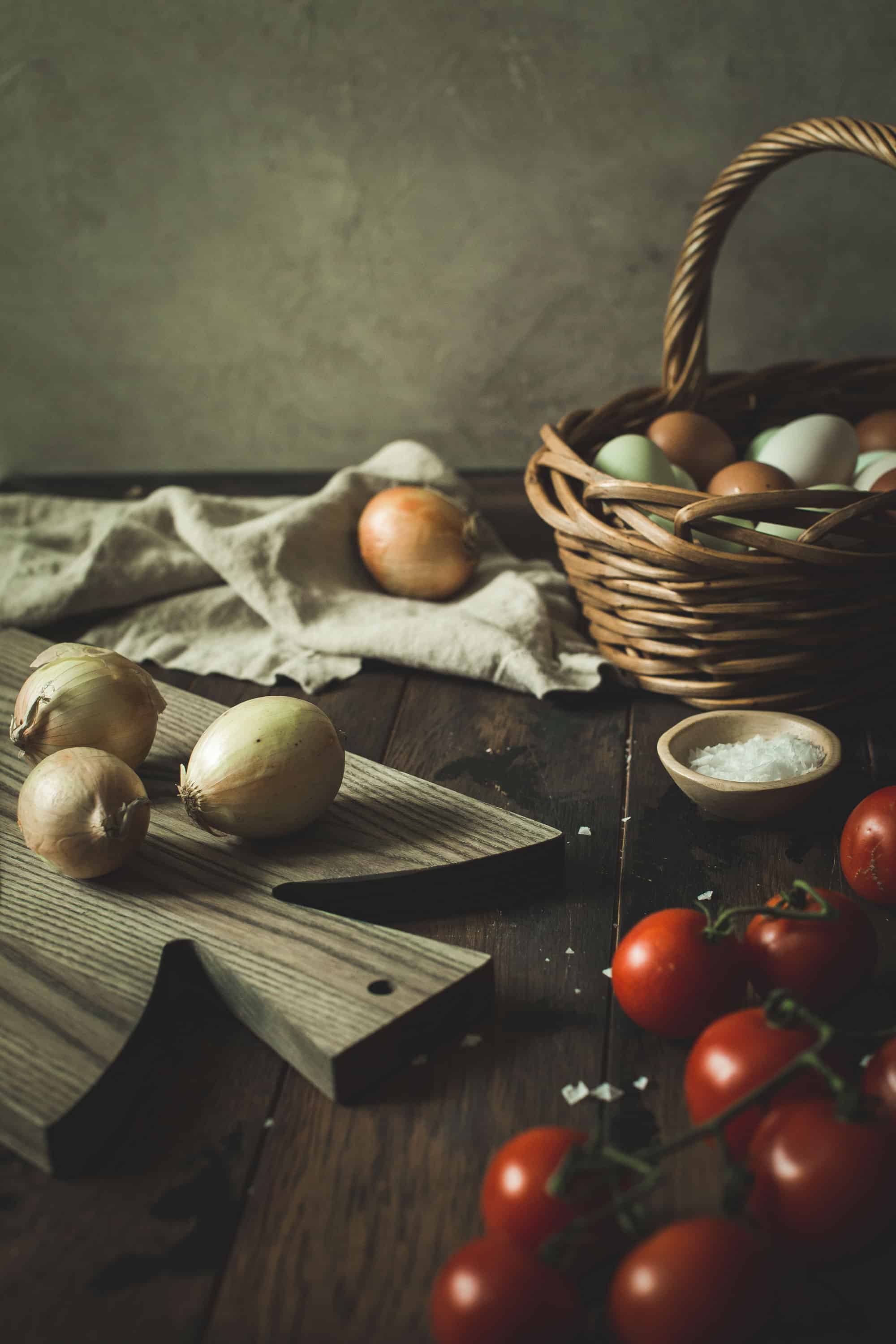 How to Make a Frittata
Though a frittata is extremely simple to prepare there are several variations of preparation, which comes down to ingredients. Below I've listed out the guidelines for each, which are baked frittatas, stovetop frittatas, and stove-to-oven.
Baked Frittata
A baked frittata is one of the simplest forms of preparing a delicious eggy dish. This method doesn't require much attention and is often cooked in a baking dish or muffin tin. Prep your ingredients and place them in a greased baking dish to cook in the oven.
Stovetop Frittata
A stovetop frittata is cooked in a skillet, usually a cast-iron one, and stays on the burner until firm and fully cooked. Using this method you can saute your vegetables first and then pour in the egg and cheese mixture. Let the frittata completely firm while in the skillet.
Stove-to-Oven Frittata
The vegetable frittata in this recipe is made using the stove-to-oven method, which requires a little more attention. Prep the vegetables and saute if needed and then cook on the stovetop. Once the vegetables have softened pour in the egg mixture and let cook a couple of minutes until it begins to firm, and then transfer to the oven to finish cooking.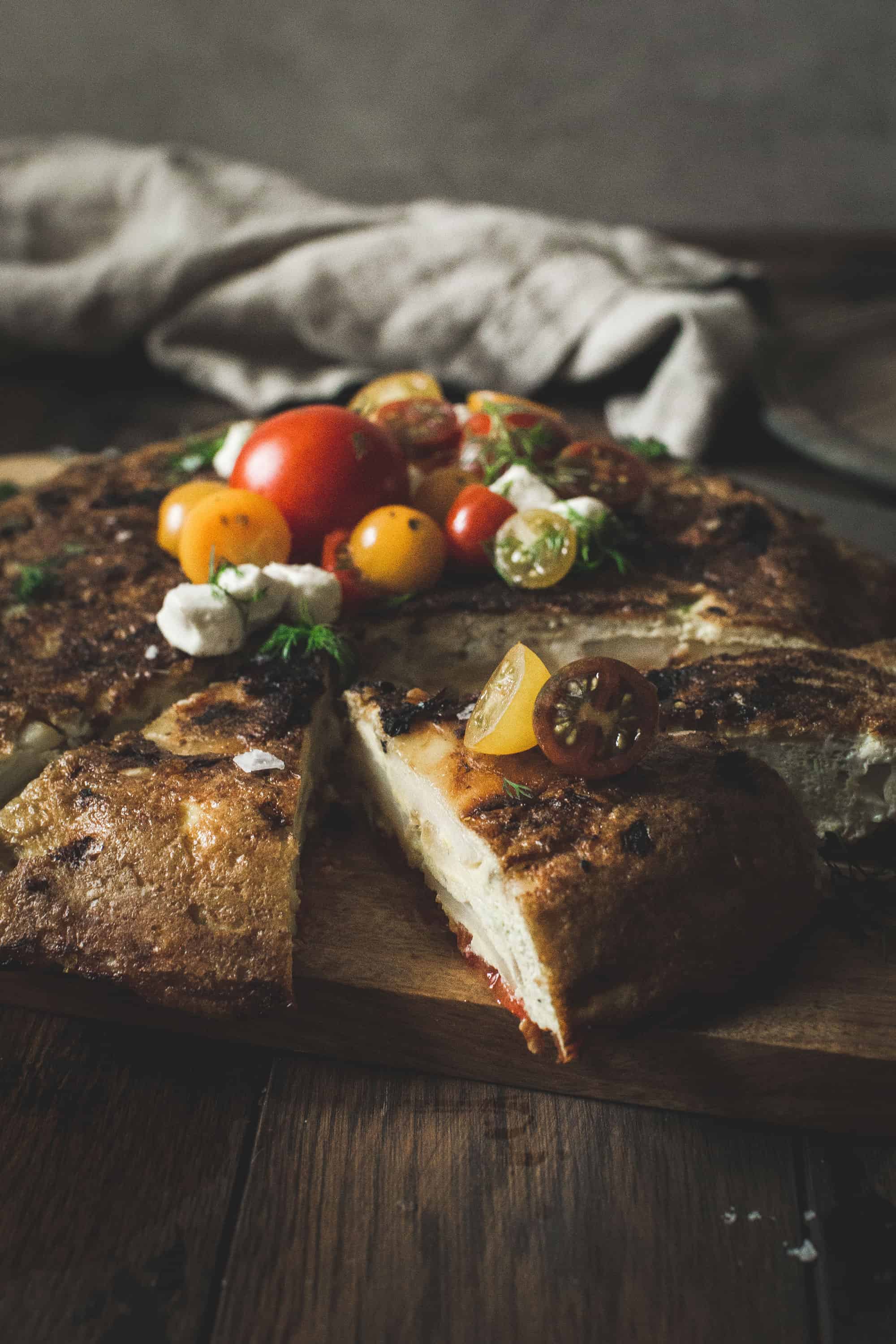 Other Frittata Combinations
Just as with omelets, frittata combinations are endless and can be used when you need to clean out your fridge or use up some leftover produce before it goes bad. Below are some of my favorite combinations and the method best for preparing each one.
Best for Baked or Stovetop Frittatas
Red Pepper + Onion + Black Beans + Colby Jack Cheese
Spinach + Cream Cheese + Artichokes + Mozzarella
Ham + Cheddar + Chive
Use the Stovetop-to-Oven Method
Sausage + Sweet Potato + Havarti Cheese
Potatoes + Corn + Cheddar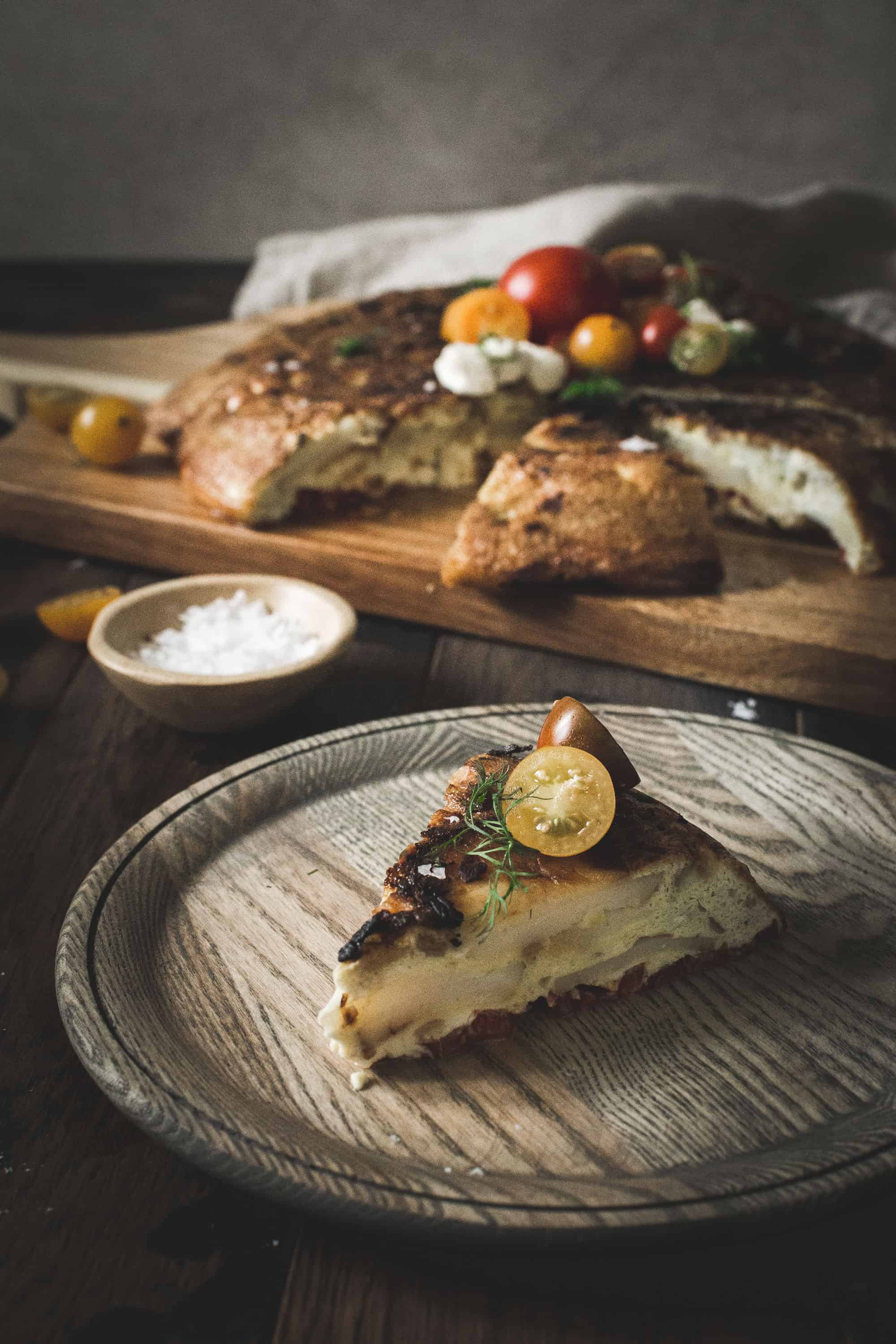 Looking for Similar Baked Vegetable Frittatas? Try These Recipes: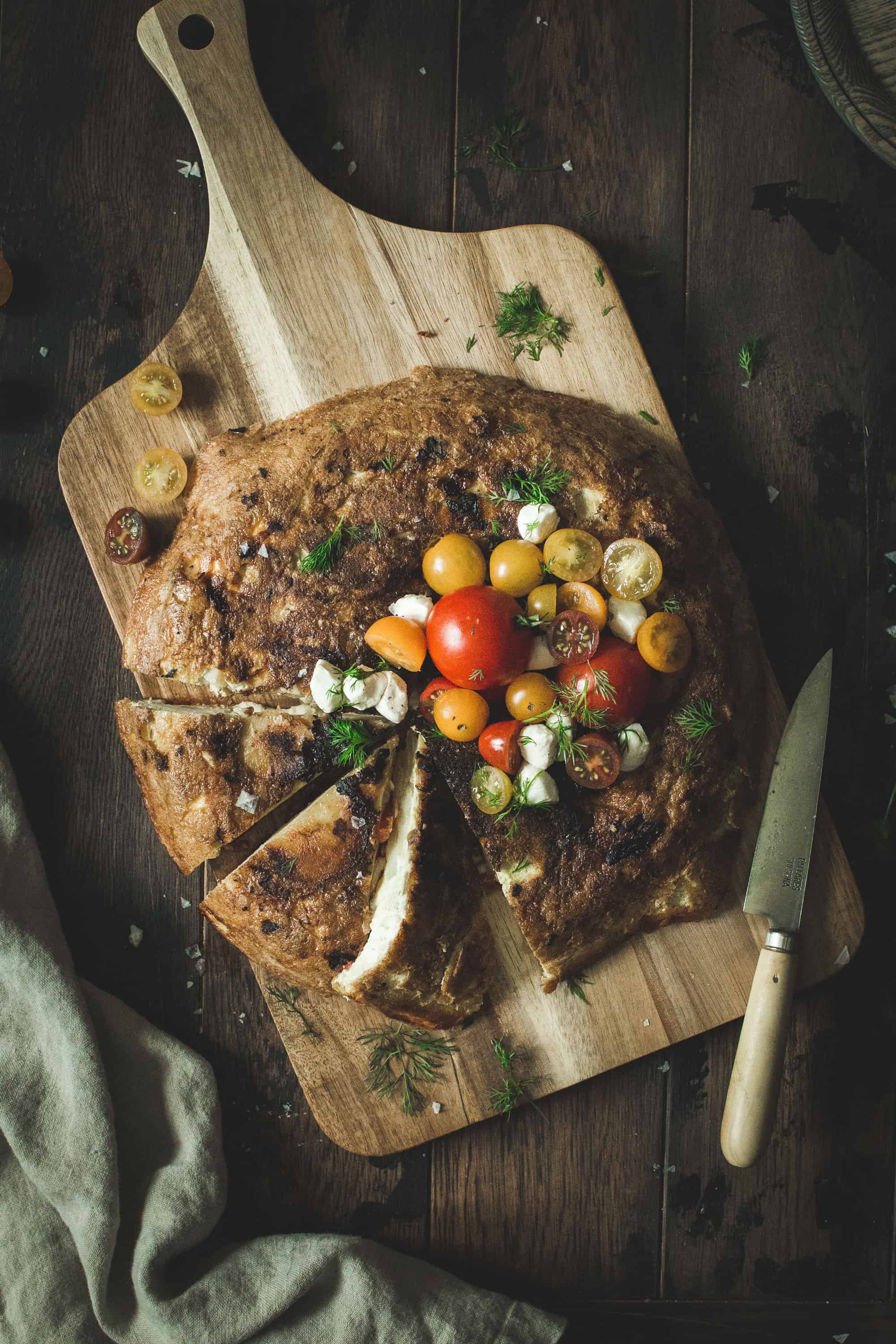 Ingredients
1/4

cup

Extra Virgin Olive Oil

2 – 3

small

Russet Potatoes

peeled and sliced very thin

1/2

Yellow Onion

diced

1

teaspoon

Salt

12

large

Eggs

1

tablespoon

Dried Oregano

1

tablespoon

Fresh Dill

chopped

4

ounces

Mozzarella Cheese or Goat Cheese

shredded, sliced, or mini balls

5 – 6

Plum Tomatoes

sliced thin
Instructions
Preheat the oven to 375 ℉.

In a large (preferably cast iron), oven-safe skillet, heat the olive oil over medium heat. Add the potatoes, diced onion, and salt. Cook for about 3 minutes and reduce heat to low and cook, stirring often, an additional 15 minutes. Place the frittata in the oven for 10 minutes to allow the potatoes to soften without burning.

In a medium bowl whisk the eggs, oregano, and dill vigorously. Stir in half the mozzarella cheese. Remove the skillet from the oven and return to the burner set on medium heat. Add the egg mixture and using a spatula loosen the onions and potatoes from the bottom of the skillet. Once the eggs begin to firm, about 5 minutes, layer the tomatoes and remaining mozzarella cheese on top.

Return skillet to the oven and cook for 15 to 20 more minutes until the frittata is completely firm in the center.

The frittata can be sliced directly from the skillet or it can be inverted onto a dish (as shown). To invert the frittata gently run a spatula along the edge of the skillet to loosen. Make sure to slide the spatula slightly under the frittata in case it's stuck near the center of the pan. Careful invert onto a serving plate and top with additional tomatoes and cheese.
Nutrition
Serving:
1
slice
|
Calories:
437
kcal
|
Carbohydrates:
33
g
|
Protein:
23
g
|
Fat:
24
g
|
Saturated Fat:
7
g
|
Cholesterol:
437
mg
|
Sodium:
681
mg
|
Potassium:
1055
mg
|
Fiber:
4
g
|
Sugar:
5
g
|
Vitamin A:
1701
IU
|
Vitamin C:
24
mg
|
Calcium:
204
mg
|
Iron:
4
mg