Last Updated on
Time to change up your traditional quiche with this Cauliflower Crust Mushroom & Leek Quiche, which has a crispy and cheesy crust to compliment the savory flavor of the actual quiche.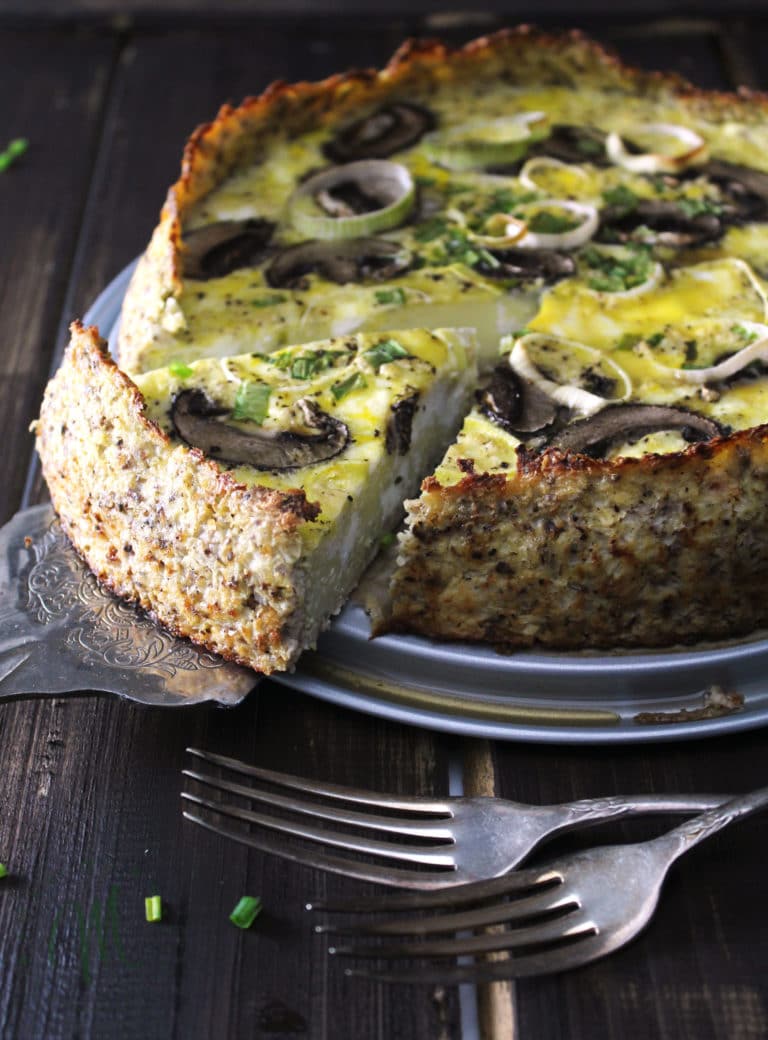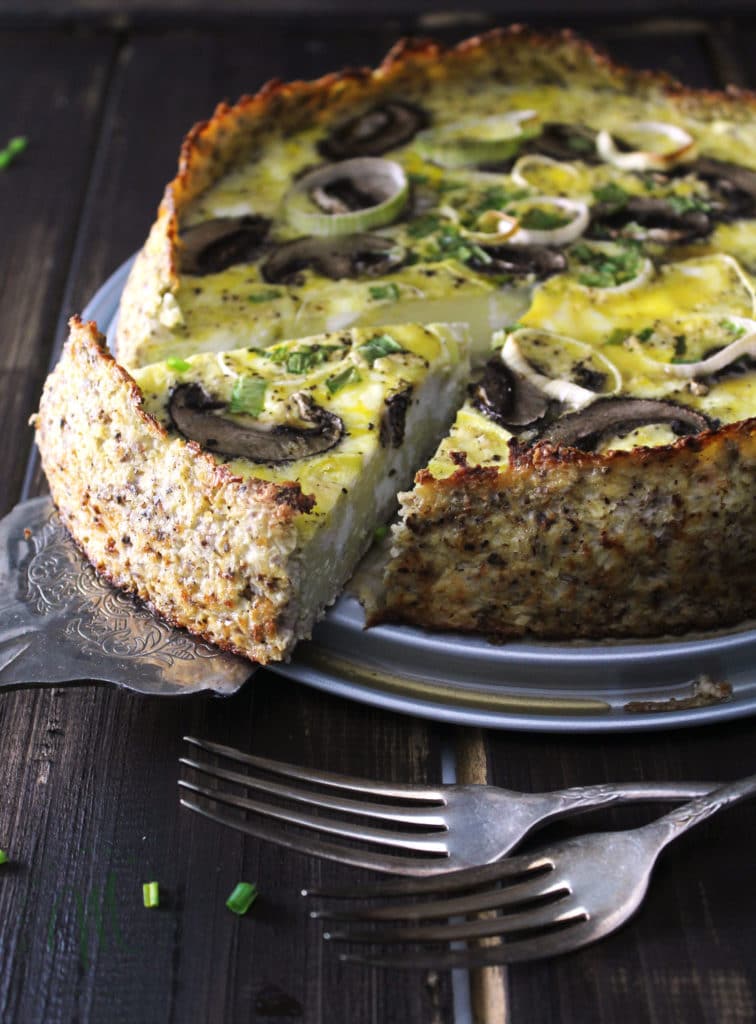 Apparently, the stars aligned this week and the beams of rainbows were shining down upon our house. My son, the insanely picky eater who refuses to eat normal kid food such as mac & cheese and pizza, chowed down on some asparagus one night at dinner and my daughter later kept asking for more broccoli!
Alas, my husband did not say "You know darling wife I do like onions. I really do!" Another day. The hope is still alive…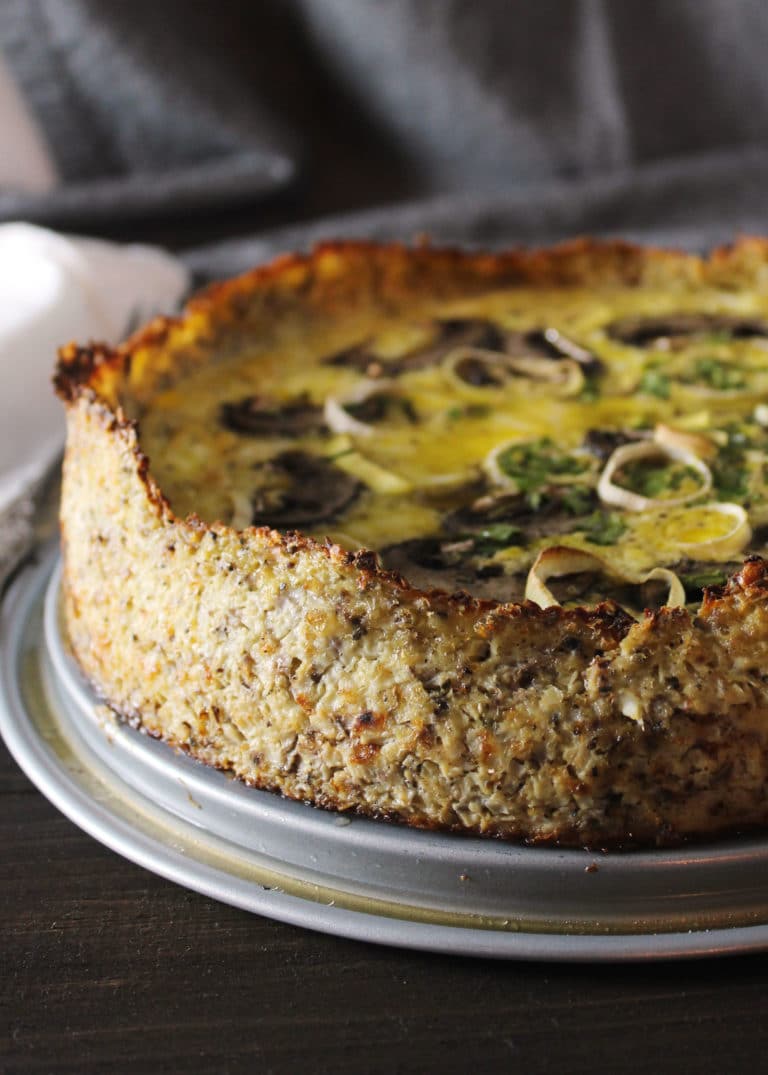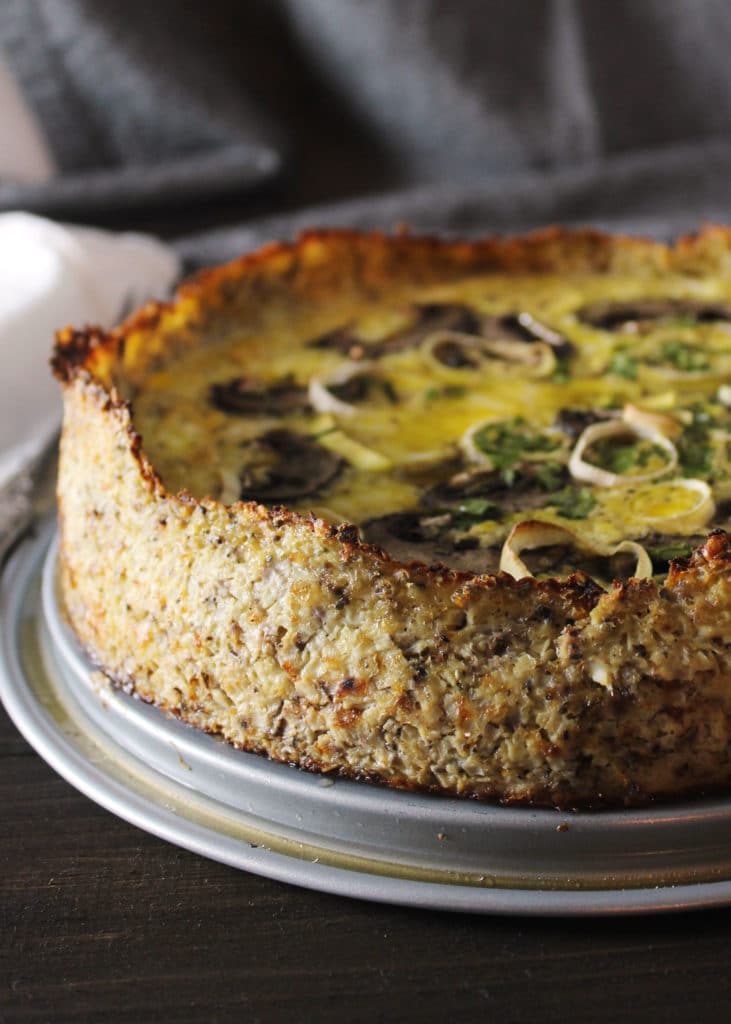 But you know what else? Cauliflower is trending right now! Well, it's trending in my kitchen at least and everyone is on board with this classic vegetable revival, which is awesome because I'm pretty much putting it in everything. Secretly, I'm doing this because I'm not sure how much longer I can get away with it (as in when the stars go out of alignment and that rainbow turns back into the daily food-like thunderstorm).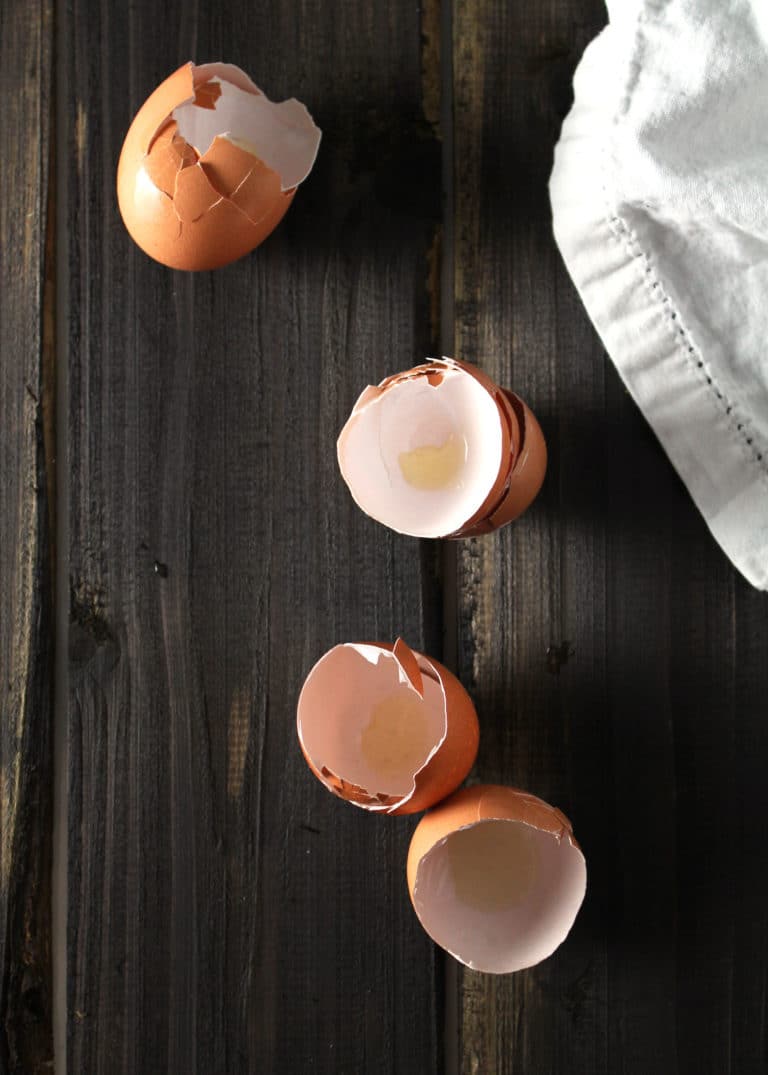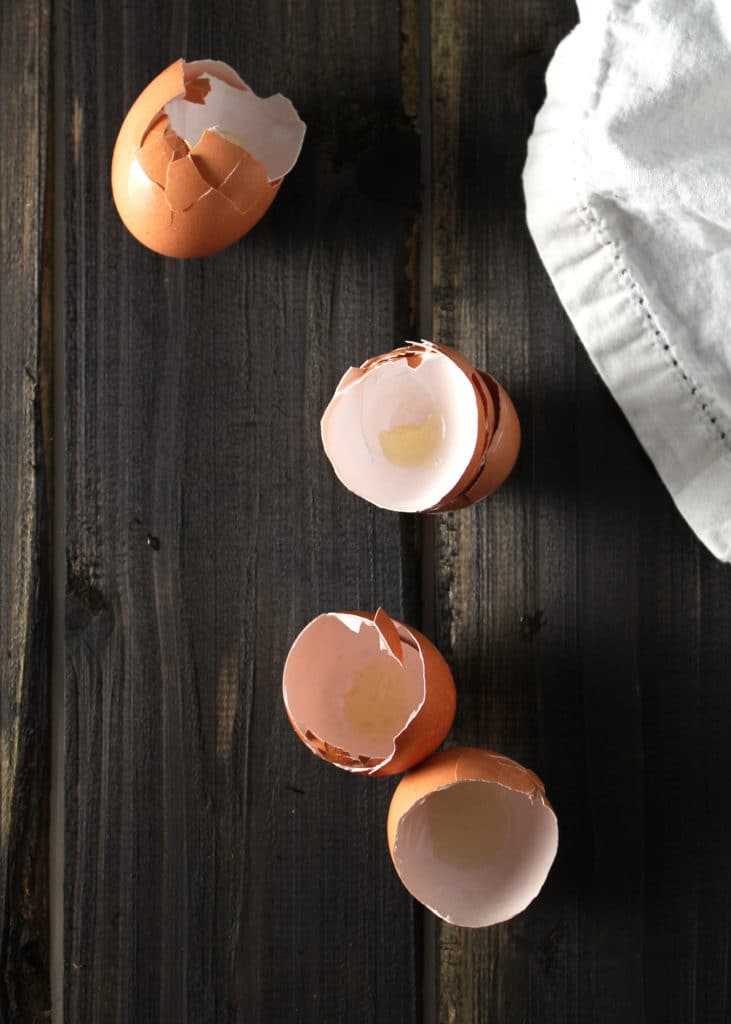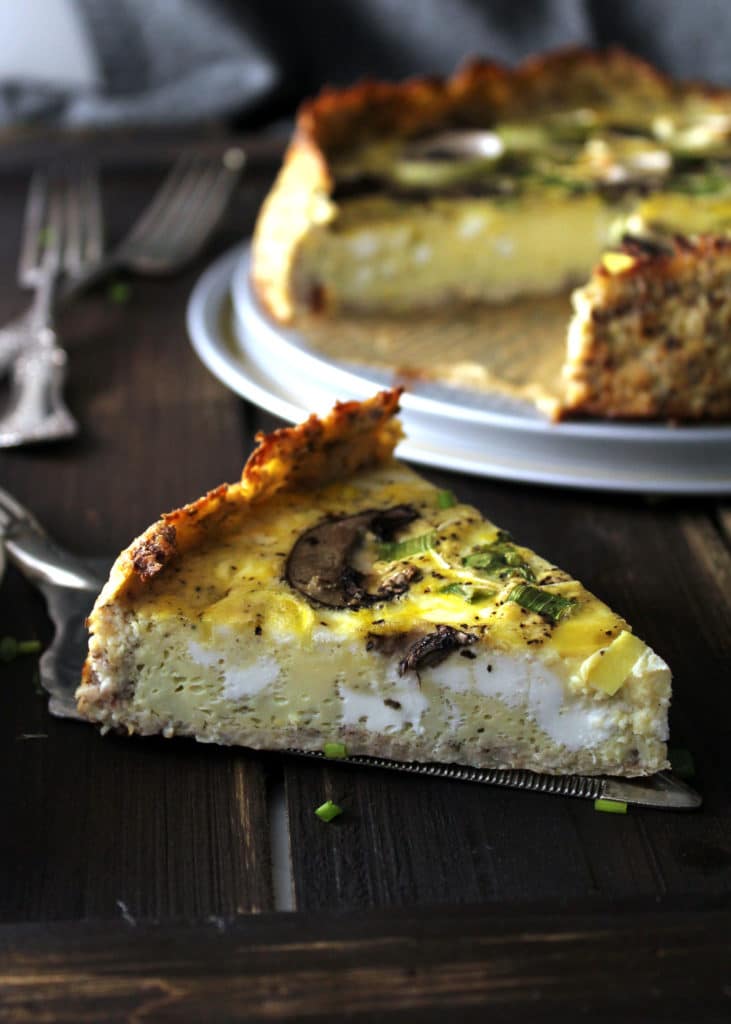 I'm a cauliflower fan from way back, but I'm not going to lie, I was of the "things that make you go hmm" mentality when everyone decided to go gluten-free and were singing the praises of cauliflower crusted pizza. No longer, though! I'm here to tell you I've since changed my ways or thoughts or maybe even tastebuds (that's totally possible by the way, ahem Husband).
And there's why I still have the hope Jonathan will one day come home to tell me he loves onions, or brussels sprouts, or zucchini, or peppers. I'm not picky. I'll take any of the above… Until then I always love a good challenge, even when cooking.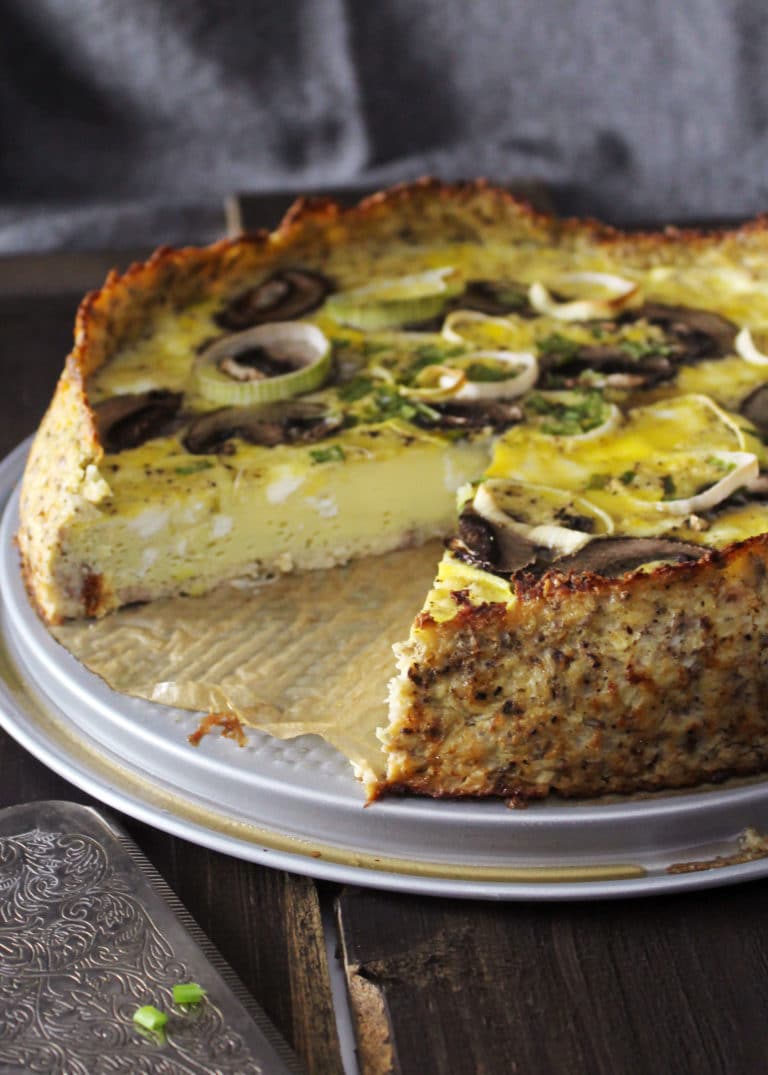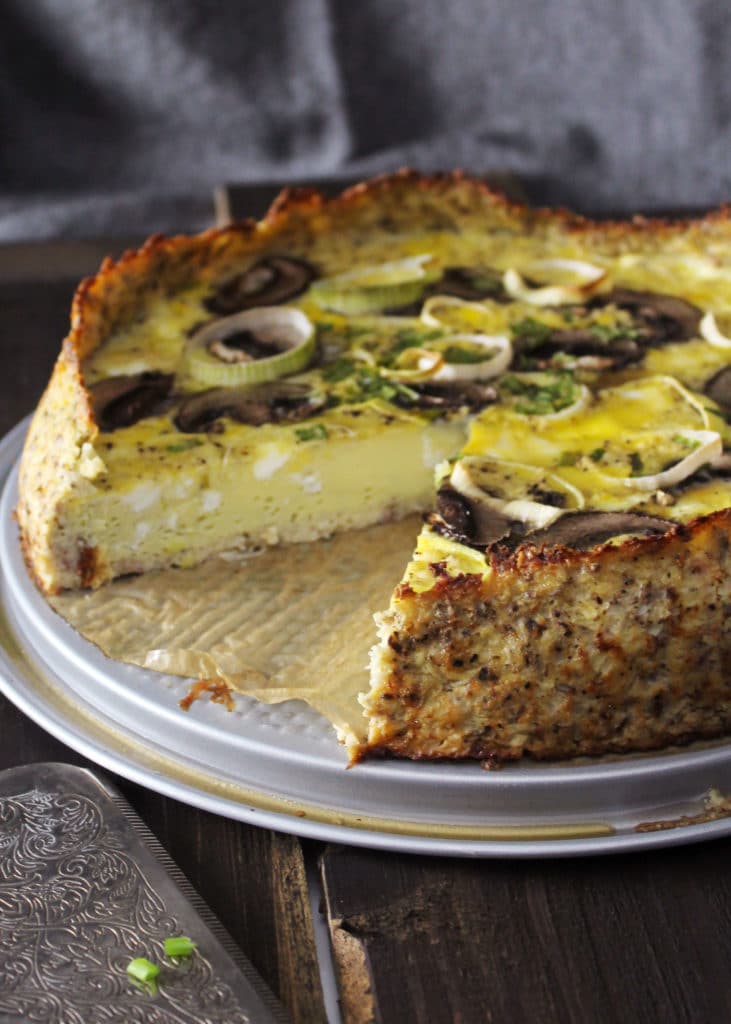 So what you have here is a cauliflower crusted quiche instead of a pizza, which takes an already delicious quiche to the next level, and who doesn't want to go to the next level?!? The actual filling comes out very creamy with goat cheese and is topped with mushrooms and leeks for an added savory flavor and healthy benefits.
I prepared this dish on Sunday night, well after the kids had gone to sleep and with glass o' wine in hand, and we ate it for breakfast the next morning, and the next, and the next! It was the breakfast gift that kept on giving folks. We're an eggy family and often have scrambled eggs and roasted sweet potatoes for breakfast, which I love, but can get a bit boring. I love to change it up (and hopefully expand some taste buds around here) and this quiche was just one of my wild kitchen creations that worked out.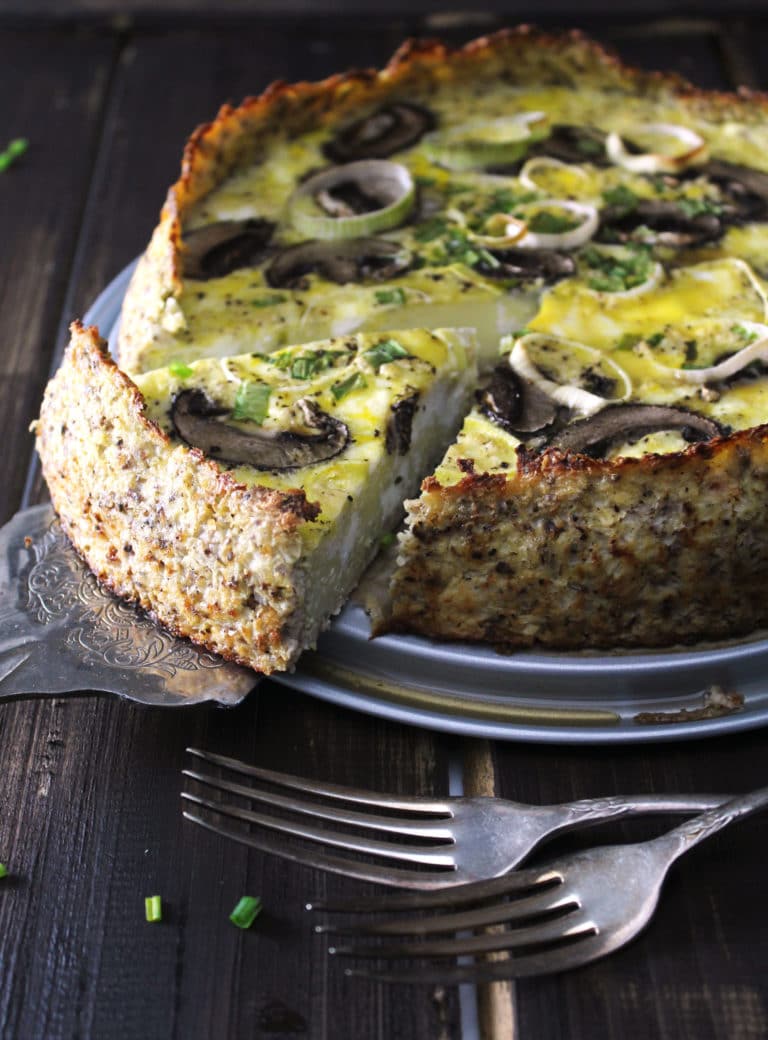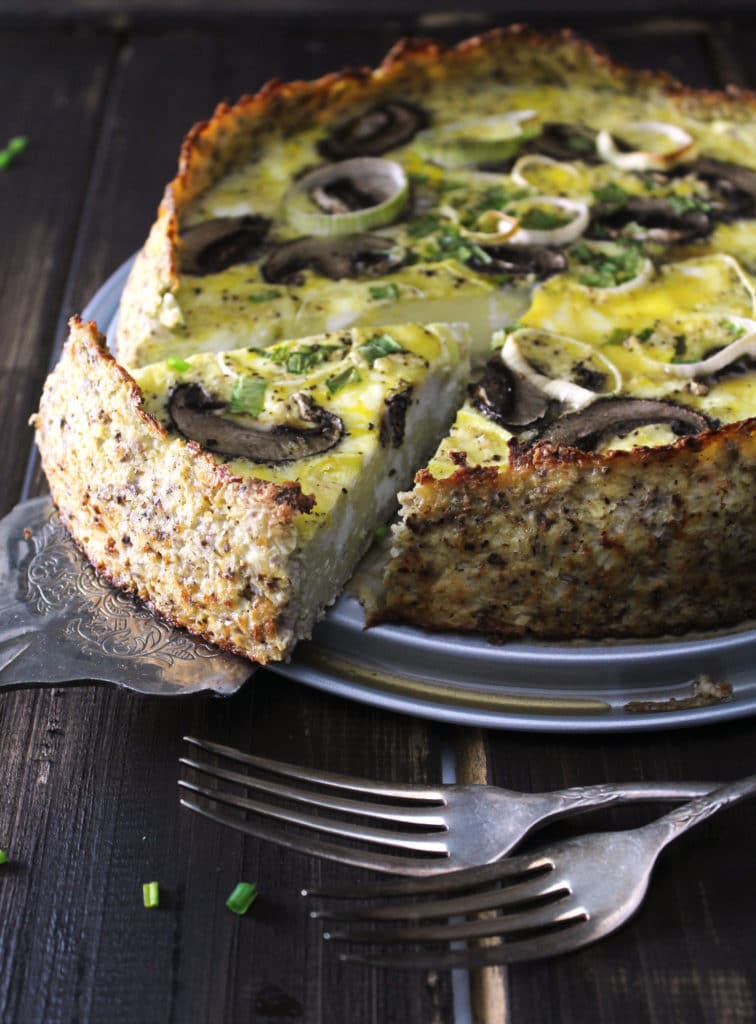 This dish did go over as a hit in our house, but before I'd even hit save on this post both my kids turned their noses up at the cheddar and avocado quesadillas I made them for lunch… (Are they really even mine?!? I kid, I kid.) Looks like the weather er food patterns are once again in rotation here…
Print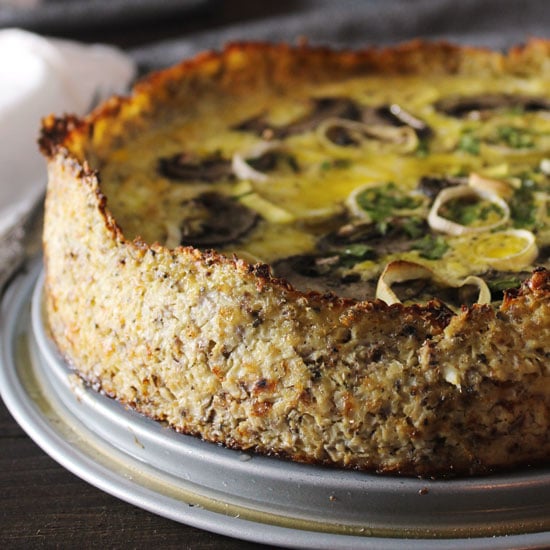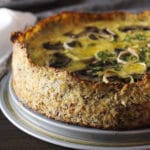 Cauliflower Crust Mushroom & Leek Quiche
Author:

Prep Time:

25 Mins

Cook Time:

45 Mins

Total Time:

1 hour 10 minutes

Yield:

8

Servings

1

x
---
Description
Time to change up your traditional quiche with this Cauliflower Crust Mushroom & Leek Quiche, who's crust takes it to a new level of serious flavor.
---
Scale
Ingredients
Cauliflower Crust
3 cup

s Riced Cauliflower*

1/2 cup

Parmesan cheese

1

large Egg

1/2 teaspoon

Dried Oregano

1/4 teaspoon

Garlic Powder

1/4 teaspoon

Salt

1/4 teaspoon

Pepper
Quiche Filling
11

large Eggs

2 ounce

s Goat Cheese

1/8 teaspoon

Salt

1/8 teaspoon

Garlic Powder

1/8 teaspoon

Pepper

1/4 cup

Mushrooms (sliced)

1/4 cup

Leek (sliced, white part only)

1 teaspoon

Chives
---
Instructions
Preheat oven to 450 degrees.
Depending on the type of cauliflower you're using either heat the frozen Riced Cauliflower in the microwave for 6 to 8 minutes or pulse an entire head of Cauliflower, chopped up, in a food processor, until it reaches a rice-like consistency. Then heat in the microwave for 8 minutes. One the cauliflower has heated place it in a towel and and twist it like crazy to release all the water. You want the cauliflower to be as dry as possible to avoid a mushy crust.
Place the riced cauliflower in a medium bowl and the Parmesan Cheese, Egg, Oregano, Garlic Powder, and Salt and Pepper. Mix until fully combined.** Transfer the cauliflower mixture to your baking dish and press in place using your hands. Be sure to cover the edges and bottom evenly. Place in the oven to bake for 15 minutes, or until crust begins to brown slightly.
Reduce the oven temperature to 350 degrees. In a large bowl whisk the Eggs, Goat Cheese, Salt, Garlic Powder, and Pepper together and pour into the prepared crust. Layer the Mushrooms, Leeks, and Chives on top of the egg mixture. Bake for about 25 to 30 minutes or until the center of the quiche is firm.
---
Notes
I used frozen Riced Cauliflower, which I found at Whole Foods, however, you can use one head of cauliflower. Chop up the entire head and pulse in the food processor until it reaches a rice-like consistency.
Since I used a 9″ springform pan for this recipe I doubled the ingredients for the Cauliflower Crust in order to cover the sides completely. If you're using a standard pie dish then you won't need to double it.