This Alabama White Sauce Recipe dates back to when barbecues became competitions and this sauce is as famous in the state as football. With its creamy and tangy taste, this unique condiment is the perfect pairing to any grilled meat.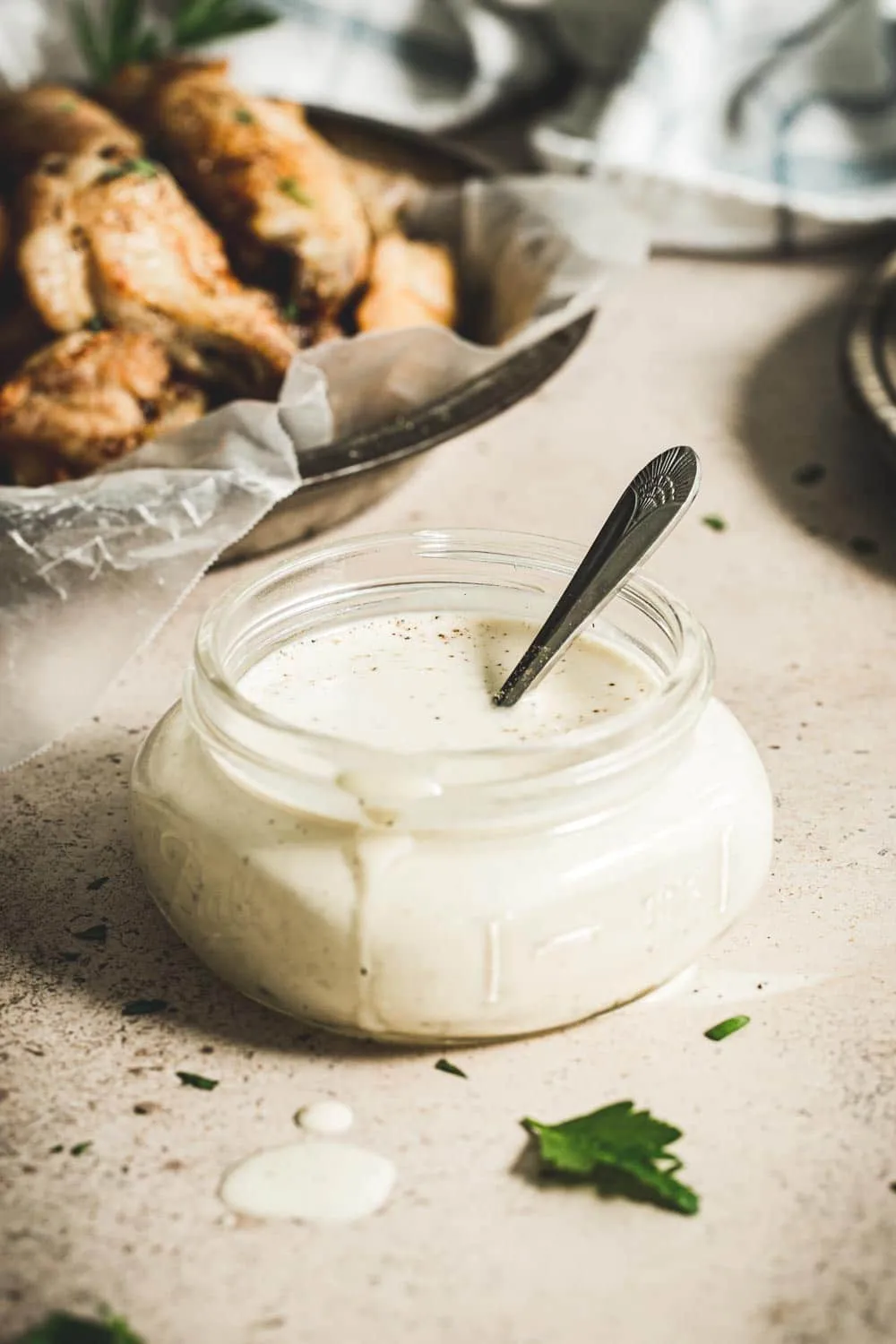 Alabama White Sauce
Growing up in the state of Alabama I knew the importance of football on Saturdays and that barbecue came drenched in white sauce. This creamy and tangy mixture always seemed to pair perfectly with anything from a pulled pork sandwich to grilled chicken. It wasn't until I'd grown up and moved to New York City that I realized this staple sauce was specific only to my home state.
As the barbecue culture has grown into a massive competition, so have bbq sauces, just ask someone who lives in the Carolinas whether they think all sauces should contain vinegar as Carolina BBQ Sauce does. This unique Alabama white sauce will always be one of my favorites. With its smooth and drippy texture, this sauce has a peppery and tangy taste and a soft finish.
Also made with some simple pantry staples, this sauce can be whipped up for your next outdoor grilling adventure in minutes.
What is Alabama White Sauce?
This mayonnaise-based condiment is credited with Big Bob Gibson of Gibson's BBQ in both Decatur, and Huntsville, AL, which is also my hometown. Gibson uses this sauce to baste and marinate, but with its now wide popularity, it has also become a table sauce.
It is most commonly used with smoked or grilled chicken but actually pairs well with just about any meat and even fish too. Drizzling some of this creamy condiment on grilled or smoked salmon is quite the treat.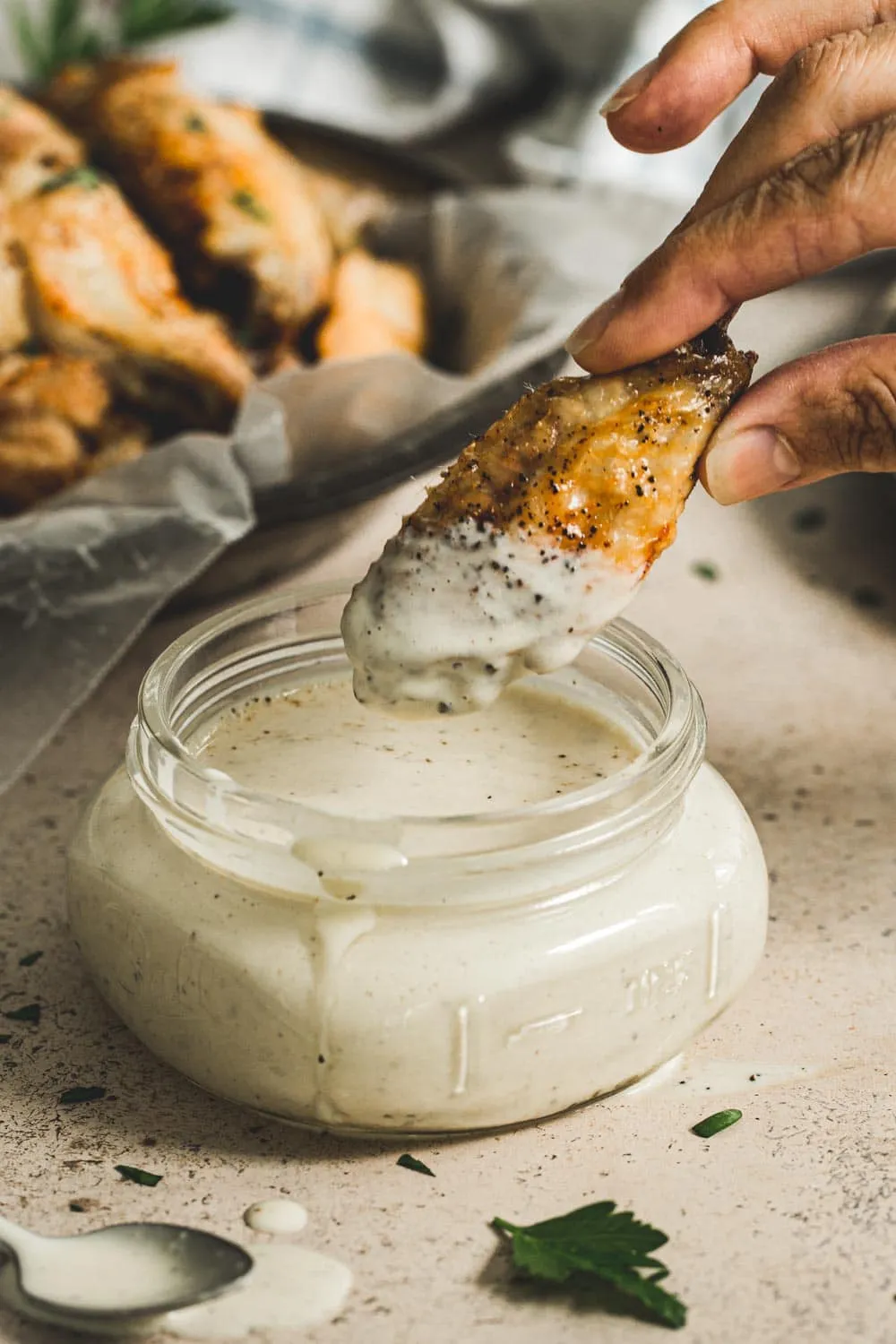 What Does White Sauce Taste Like?
This thin sauce has a smooth and creamy taste with a tangy finish. It's also seasoned with lots of freshly ground pepper. Some recipe versions contain horseradish, which gives the sauce more of a spicy kick, however, the original does not.
I'm a bit of a purist and prefer the original flavor, however, you can easily add in some of your favorite spices or kick it up with some hot sauce too.
What is Alabama White Sauce Made Of?
Just as with any true southern recipe, especially when it comes to barbecue, the ingredients are a bit vague. There are two main ingredients in this white sauce, which are mayonnaise and vinegar. The rest of the ingredients are my best guess and personally think it's pretty close to the original.
Mayonnaise: this ingredient is the base of the recipe and responsible for the creamy white color and smooth texture.
Apple Cider Vinegar: the vinegar in this recipe brings out the tartness as well as thins the mayonnaise.
Worcestershire Sauce: this southern staple sauce
Dijon Mustard: adding just a small amount of this bold condiment will add a wasabi-horseradish kick, but tone down the tanginess.
Garlic Powder and Onion Powder: these two spices blend together in this sauce and I've made a suggestion over how much to add, however, you can always add more.
Salt: always a key spice in just about any southern recipe. Add as much as you like.
Freshly Ground Pepper (lots): You really want to see the flecks of freshly ground black pepper in this sauce, so again, this one you can add as much or as little as you'd like.
How to Make Alabama White Sauce
There really is only one step in preparing this delicious and famous barbecue sauce. The rest is just getting the flavor perfect for your tastebuds.
Whisk all the ingredients together in a large bowl until smooth.
Adjust the spices and seasonings to achieve the desired flavor you prefer.
What to Use this Sauce On
This now-famous sauce has become popular in most barbecue establishments, however, it can easily be a marinade or simple table sauce too. Below are some of my favorite ways to use it.
Grilled, smoked, or chicken
Pulled Pork, brisket, or ribs
Beef
Grilled or roasted fish
Vegetable dip
Coleslaw dressing
How to Store this Sauce
I personally love to make large batches of this delicious sauce and then can it so I always have some on hand in the pantry. To store this delicious southern delicacy place it in an air-tight container and keep it in the refrigerator for up to 2 weeks.
Recipe Update
Originally I included canning instructions for this sauce, however, after much research, I've decided to remove them. Mayonnaise on its own cannot be canned. When combined with vinegar and made into a sauce it typically will be okay, but I'd rather you not take that chance.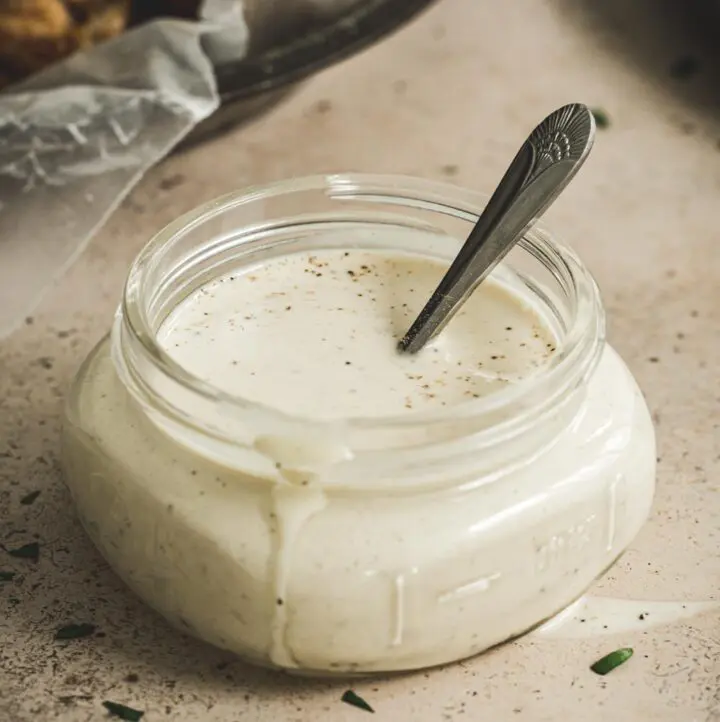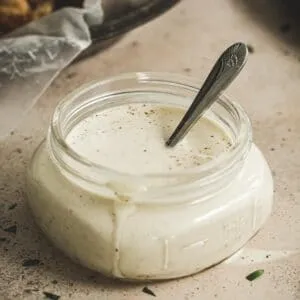 Alabama White Sauce
This Alabama White Sauce Recipe dates back to when barbecues became competitions and this sauce is as famous in the state as football. With its creamy and tangy taste, this unique condiment is the perfect pairing to any grilled meat.
Print
Pin
Rate
Ingredients
1

cup

Mayonnaise

1/4

cup

Apple Cider Vinegar

2

teaspoons

Dijon Mustard

1

tablespoon

Worcestershire Sauce

1

teaspoon

Garlic Powder

1

teaspoon

Onion Powder

1

teaspoon

Freshly Ground Black Pepper

1/2

teaspoon

Salt
Instructions
In a medium-sized bowl whisk all the ingredients together until smooth.

Continue to adjust the spices and seasonings to your desired taste. If the sauce is too thick add 1 additional tablespoon of vinegar and 1 teaspoon of worcestershire sauce until your preferred consistency is reached.
Notes
The calories listed are for an entire jar. If adding this sauce into a calorie-counting app divide it into 16 servings.
Nutrition
Serving:
1
tablespoon
|
Calories:
1584
kcal
|
Carbohydrates:
12
g
|
Protein:
4
g
|
Fat:
168
g
|
Saturated Fat:
26
g
|
Cholesterol:
94
mg
|
Sodium:
2872
mg
|
Potassium:
319
mg
|
Fiber:
2
g
|
Sugar:
6
g
|
Vitamin A:
146
IU
|
Vitamin C:
2
mg
|
Calcium:
56
mg
|
Iron:
2
mg