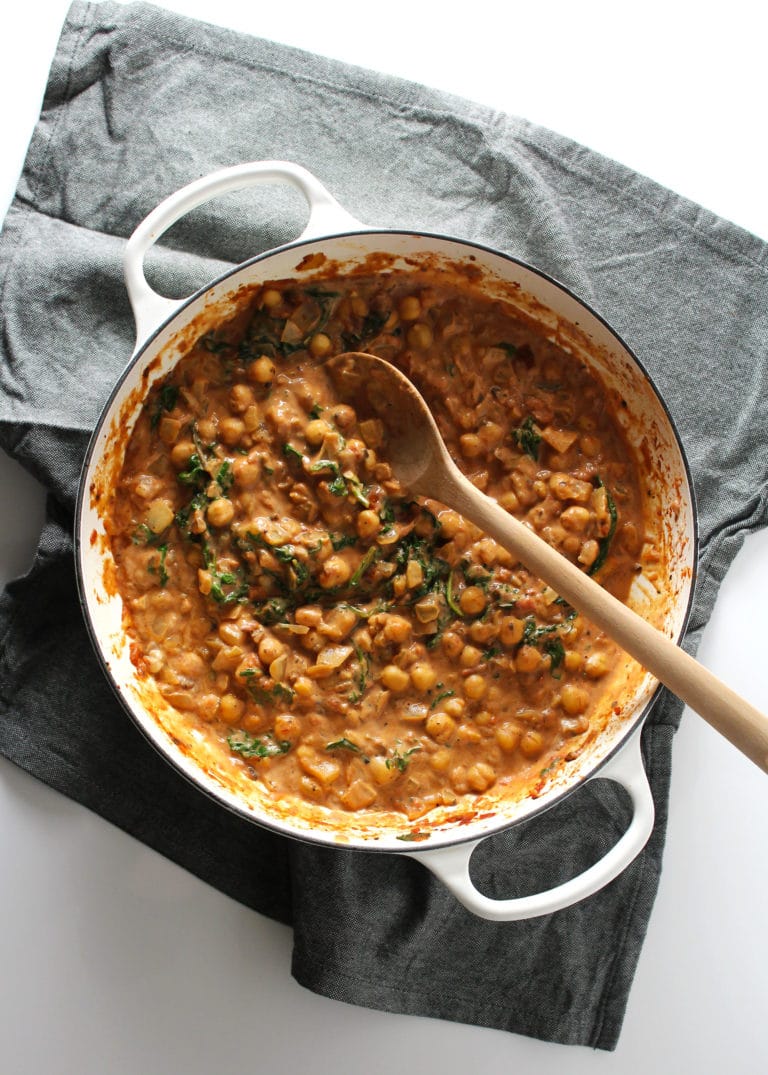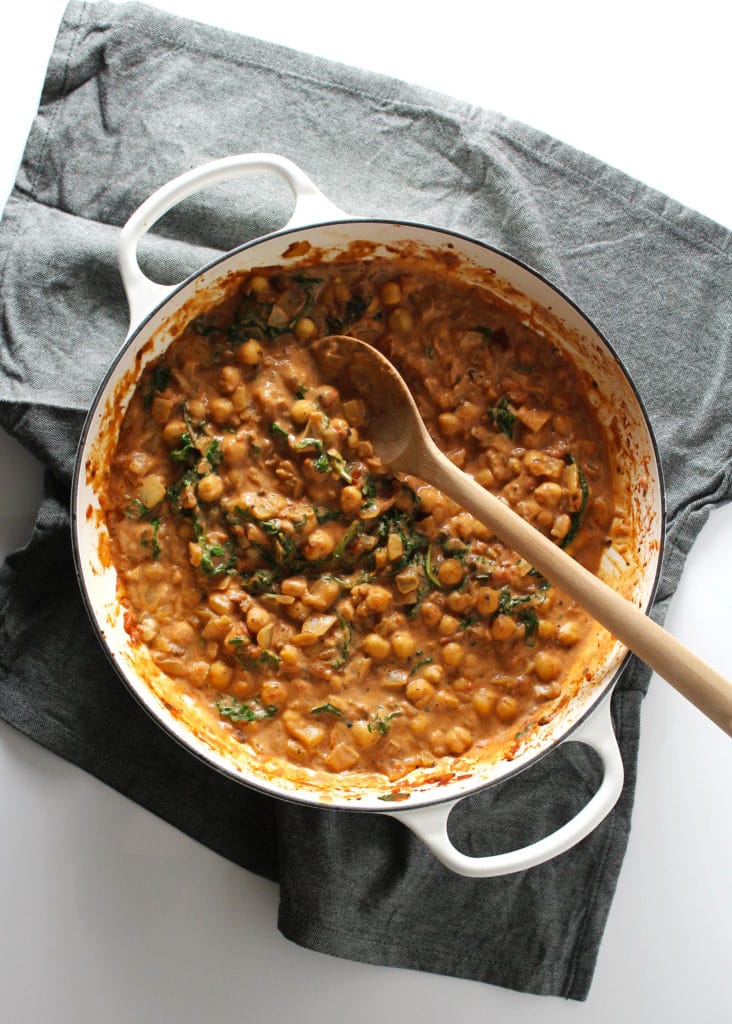 You know those dishes that always look super pretty and complex and yet are really simple to pull off? The ones you serve endlessly at gatherings or bring to parties, because, duh they look great with minimal effort! Well, this Chickpea Curry Over Cauliflower Rice is one of those recipes.
Add it to your recipe files friends!
Now, you may not be showing up to your next potluck get together with a curry dish (I get it, it's not for everyone), but how about replacing your #SadDeskLunch with this one? Spice up your afternoon (Oh, I so went there ????).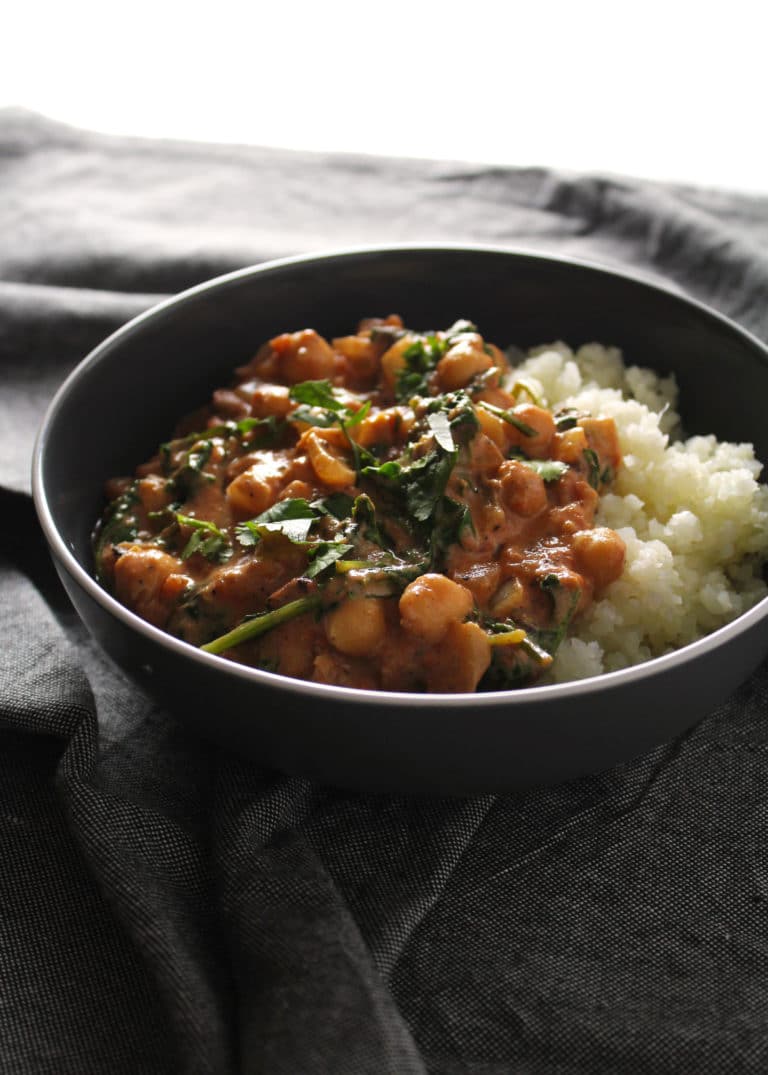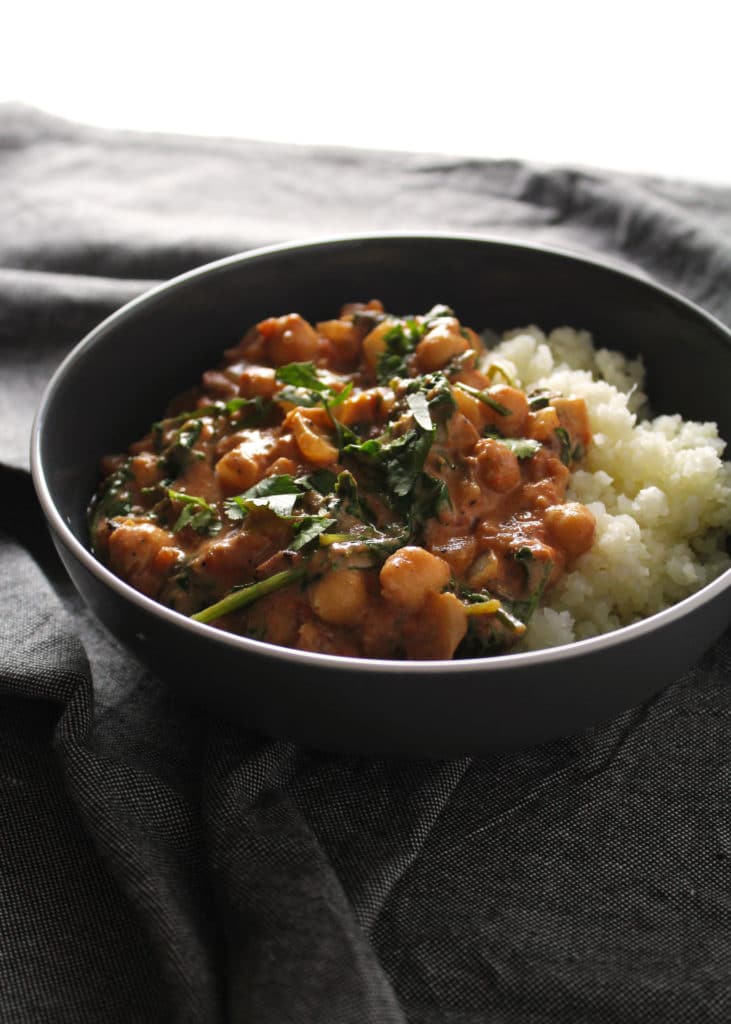 Since one of my very first post-grad jobs, I've always been a bit hesitant to try my hand at Indian cuisine. This stems from unfamiliarity with ingredients, that's obvious, but mainly because I've experienced true "authentic," not the Bangkok Authentic Curry House type either, but real deal homemade Indian food.
Y'all… homemade Indian is AMAZING!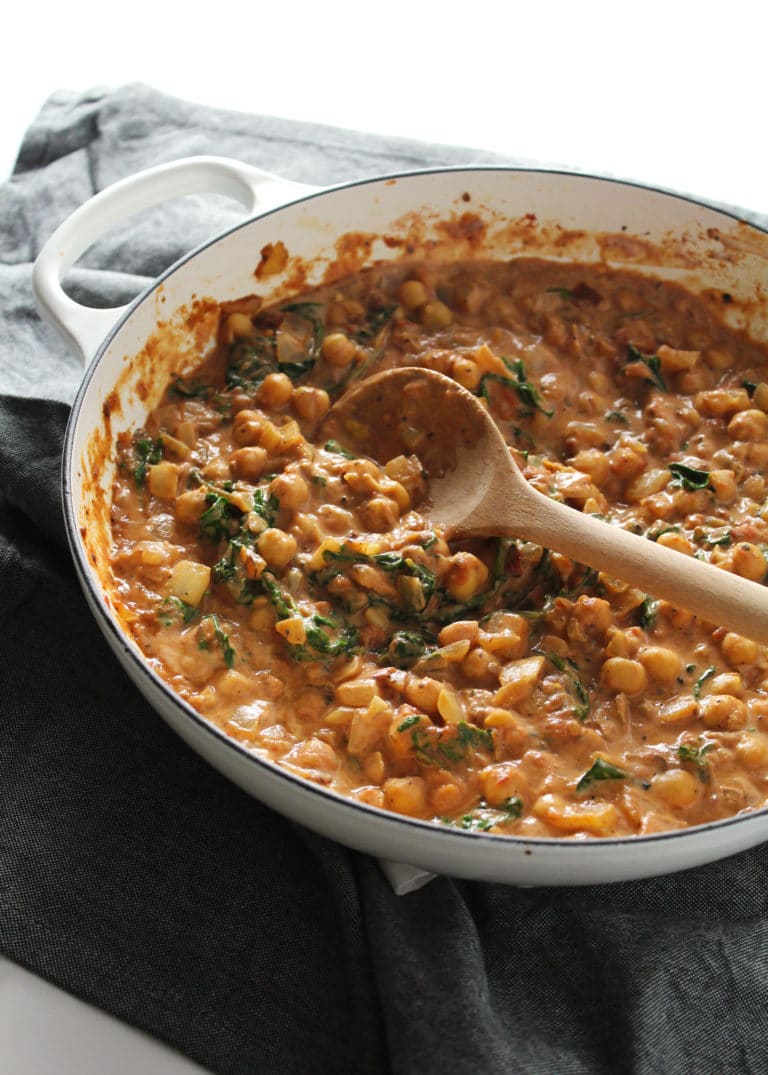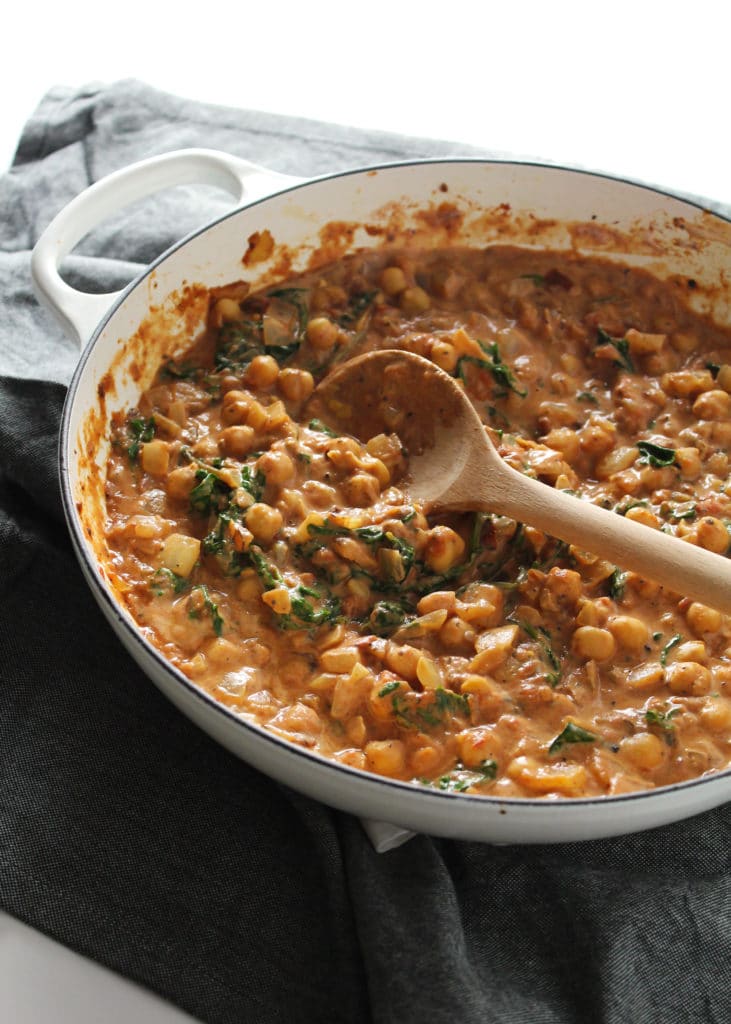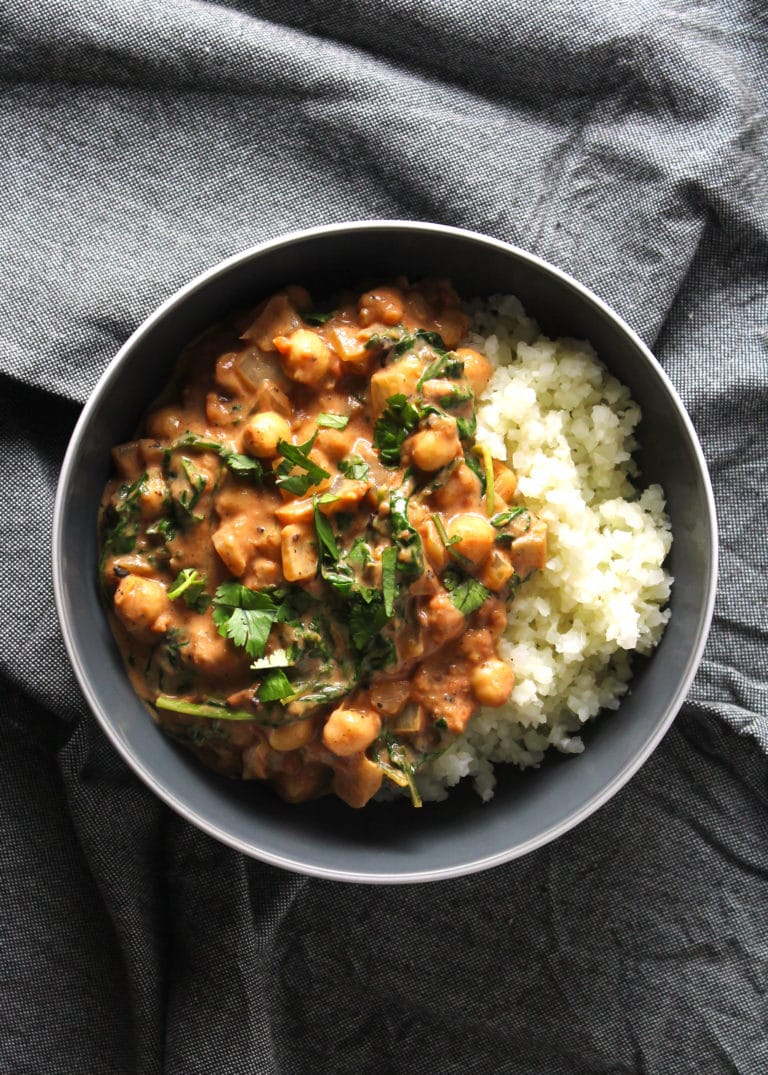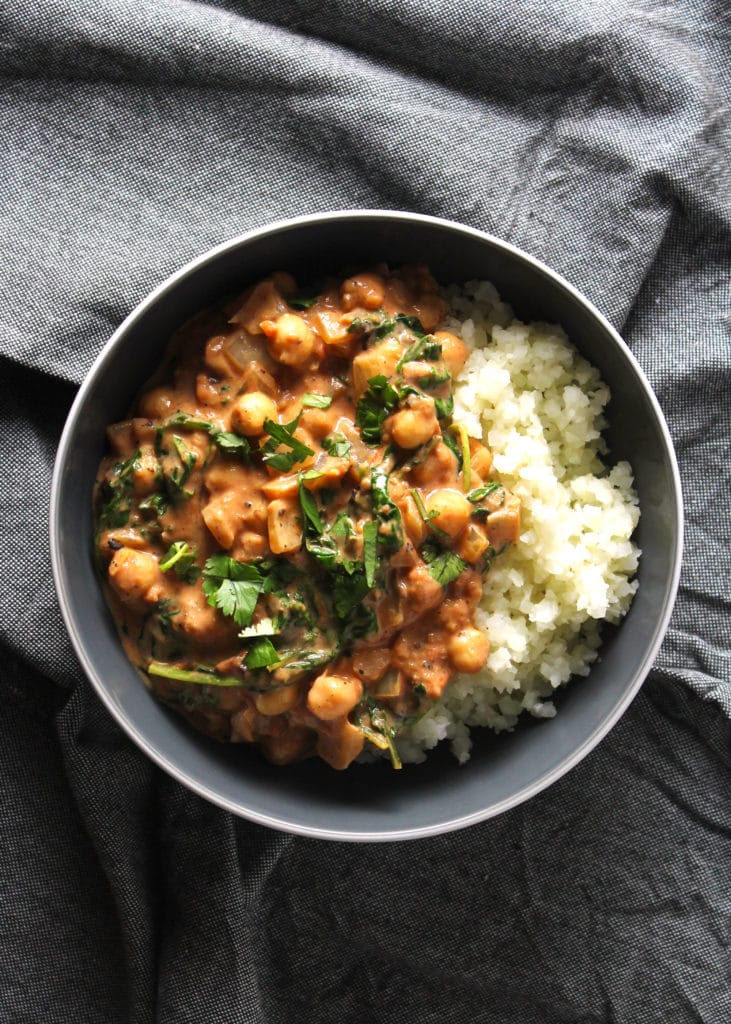 See I used to work for a watch brand that was very popular in the Indian culture, which is where my Indian cuisine obsession started. This job required me to travel to all the various stores who sold our brand, which also happened to be owned by people who were Indian. One such trip led me all the way to Jamaica (a tough job I know, but believe me it wasn't all sunshine and rainbows) to visit accounts.
We stayed at a villa overlooking the ocean and spent our evenings enjoying jerk chicken dinners and drinking our body weight in Ting and exotic mixed drinks. One such evening though a family who owned several of our accounts invited the team over to their house, or rather mansion in the hills of Jamaica, for dinner.
Prior to this dinner my only experience with what I thought was "authentic" Indian cuisine was the Bangkok Authentic Curry House so I was inevitably in for a real treat.
There was an entire buffet spread of several different dishes, curry included, and finished off with a dessert of Gulab Jamon, which became one of my favorites desserts ever!
As you might imagine this is where my hesitation stems from when it comes to preparing these types of dishes. I honestly didn't even know where to begin. Little did I know these dishes can actually be quite simple.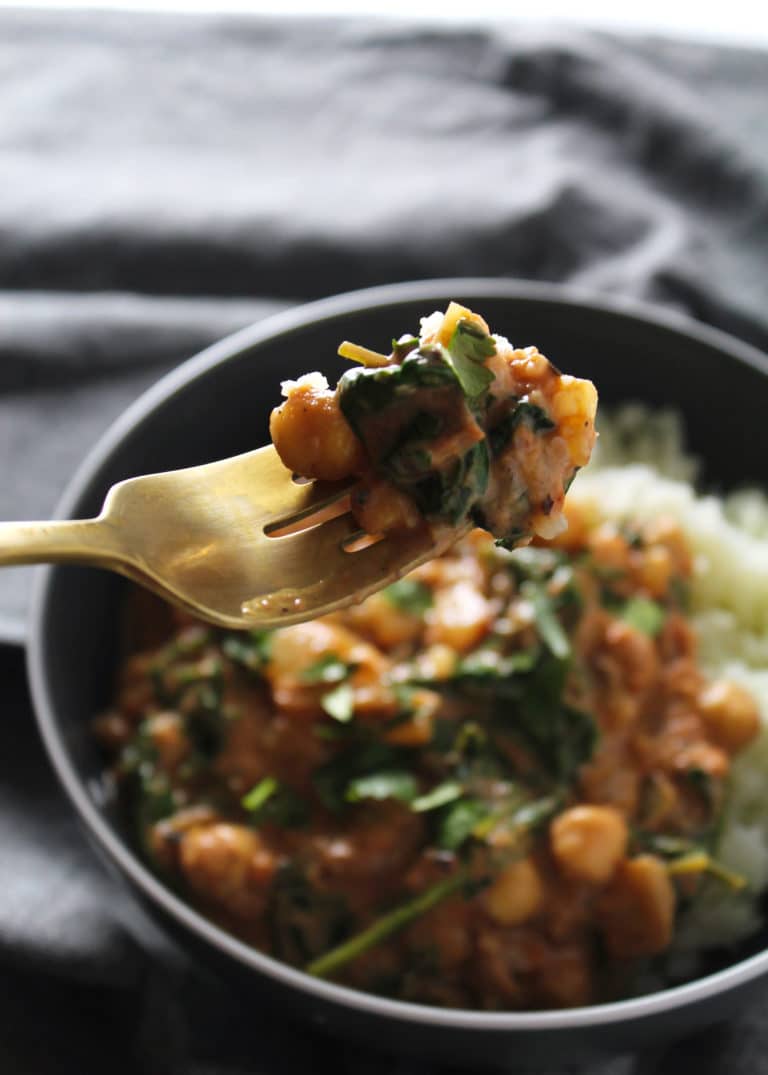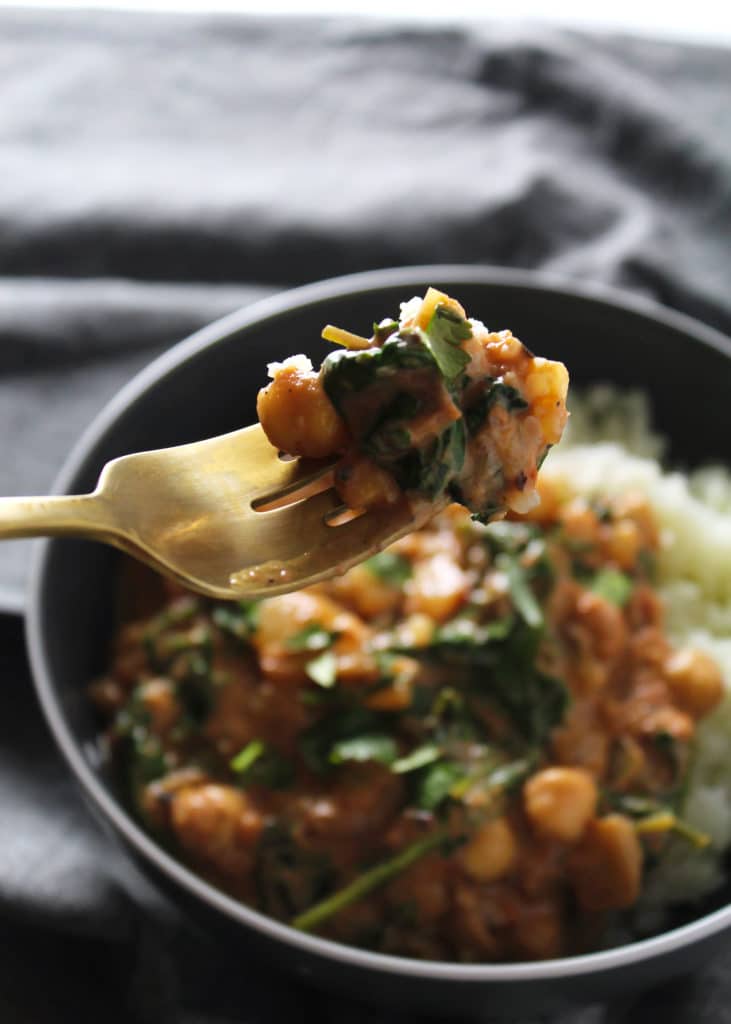 IRL this Chickpea Curry Over Cauliflower Rice is actually 16 minutes to make!! How is that for quick? You can't even get through a drive through in that time! I added in an additional 4 minutes for those daily interruptions that seem to always happen during meal prep (read: toddlers). So take your time making it, it'll still be under 20 minutes!
This simple curry dish is 100% vegetarian and low-carb!! It's low on the carb scale because it's over the riced cauliflower instead of actual rice. So I say Chickpea Curry Over Cauliflower Rice for the win, right?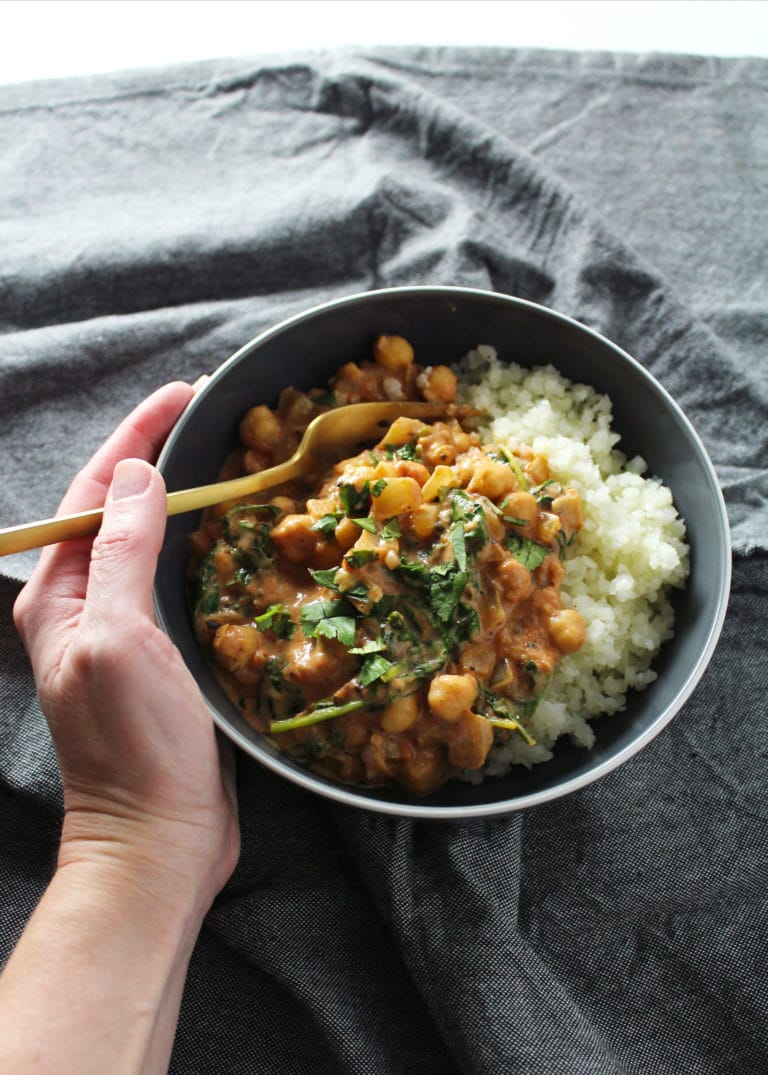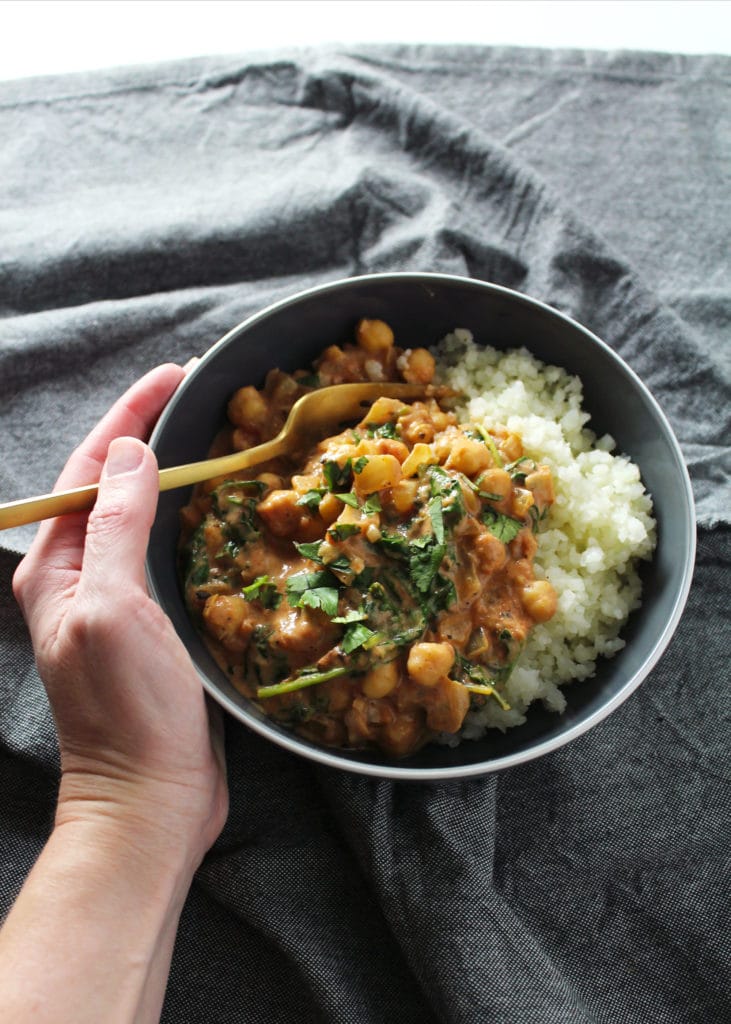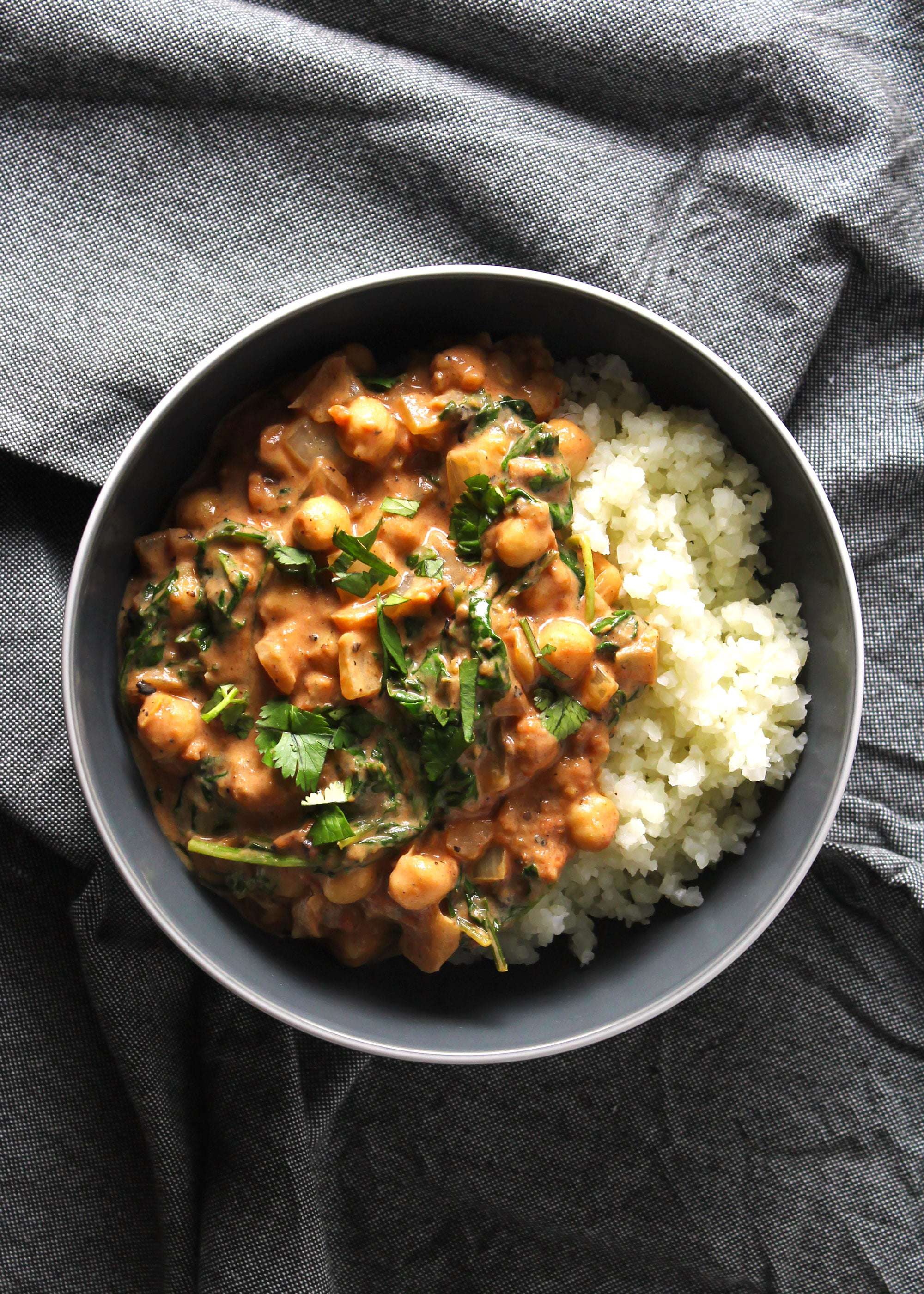 Ingredients
4

cups

Frozen Cauliflower Rice

1

tablespoon

Olive Oil

1

cup

Onions

diced

1

teaspoon

Garam Masala

1

teaspoon

Curry Powder

4

cups

Chickpeas

2 15-ounce cans rinsed and drained

2

cups

Crushed Roasted Tomatoes

2

cups

Baby Spinach

1/2

cup

Greek Yogurt

1/2

teaspoon

Salt

1/4

cup

Cilantro

chopped
Instructions
Cook Cauliflower Rice according to package directions.

While the cauliflower rice is cooking, heat a Dutch oven over medium-high heat. Add the Olive Oil to the pan. Place the diced onion into the pan and saute 5 minutes or until tender, stirring frequently. Stir in Garam Masala and Curry Powder; cook 30 seconds, stirring constantly. Add Chickpeas, Tomatoes, and Kale; cook an additional 2 minutes or until the kale wilts, stirring occasionally.

Remove from heat and stir in the Yogurt and Salt. Sprinkle with Cilantro. Serve over Cauliflower Rice.
Nutrition
Serving:
1
Serving
|
Calories:
417
kcal
|
Carbohydrates:
67
g
|
Protein:
23
g
|
Fat:
9
g
|
Saturated Fat:
1
g
|
Cholesterol:
1
mg
|
Sodium:
533
mg
|
Potassium:
1488
mg
|
Fiber:
19
g
|
Sugar:
19
g
|
Vitamin A:
1778
IU
|
Vitamin C:
98
mg
|
Calcium:
208
mg
|
Iron:
8
mg