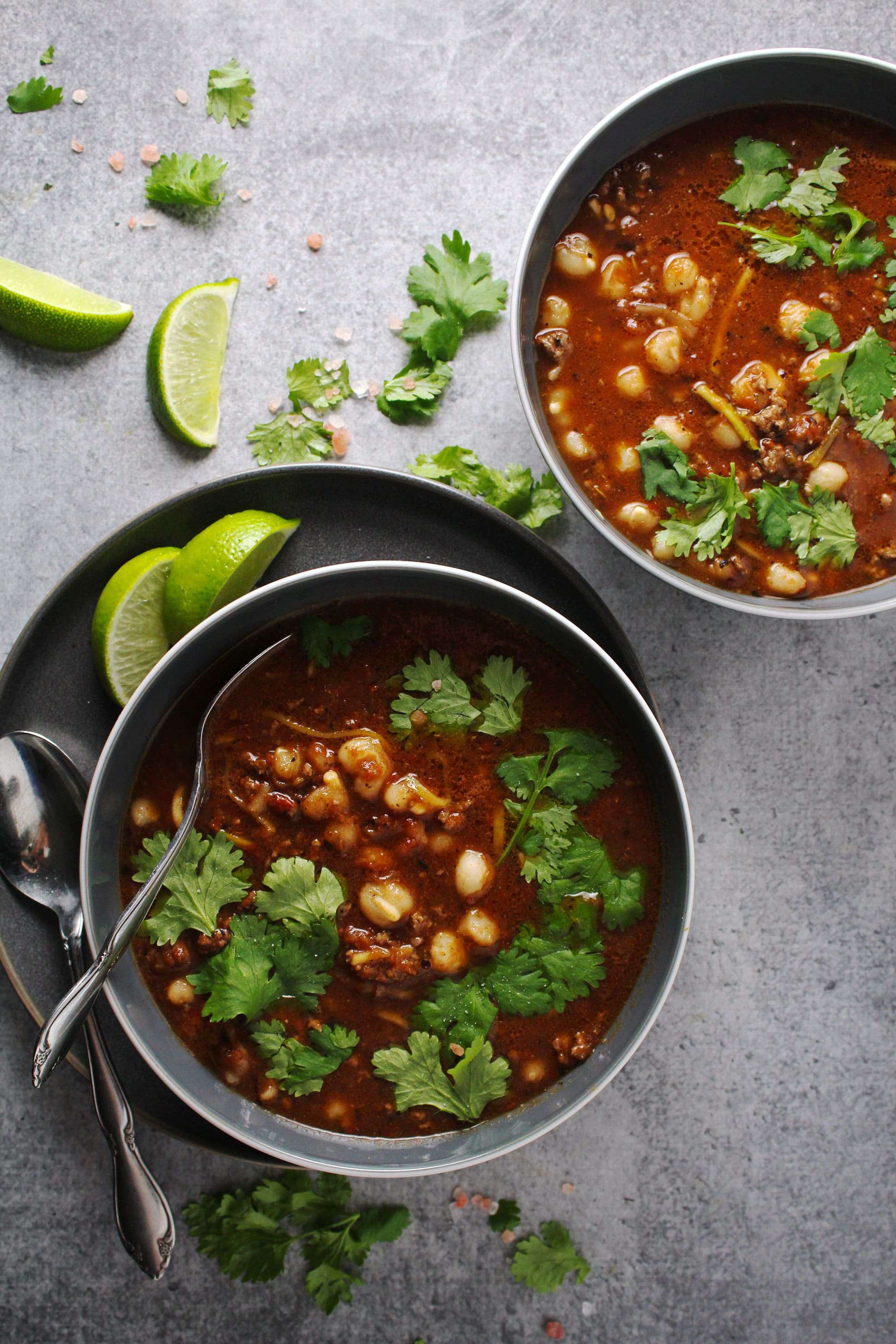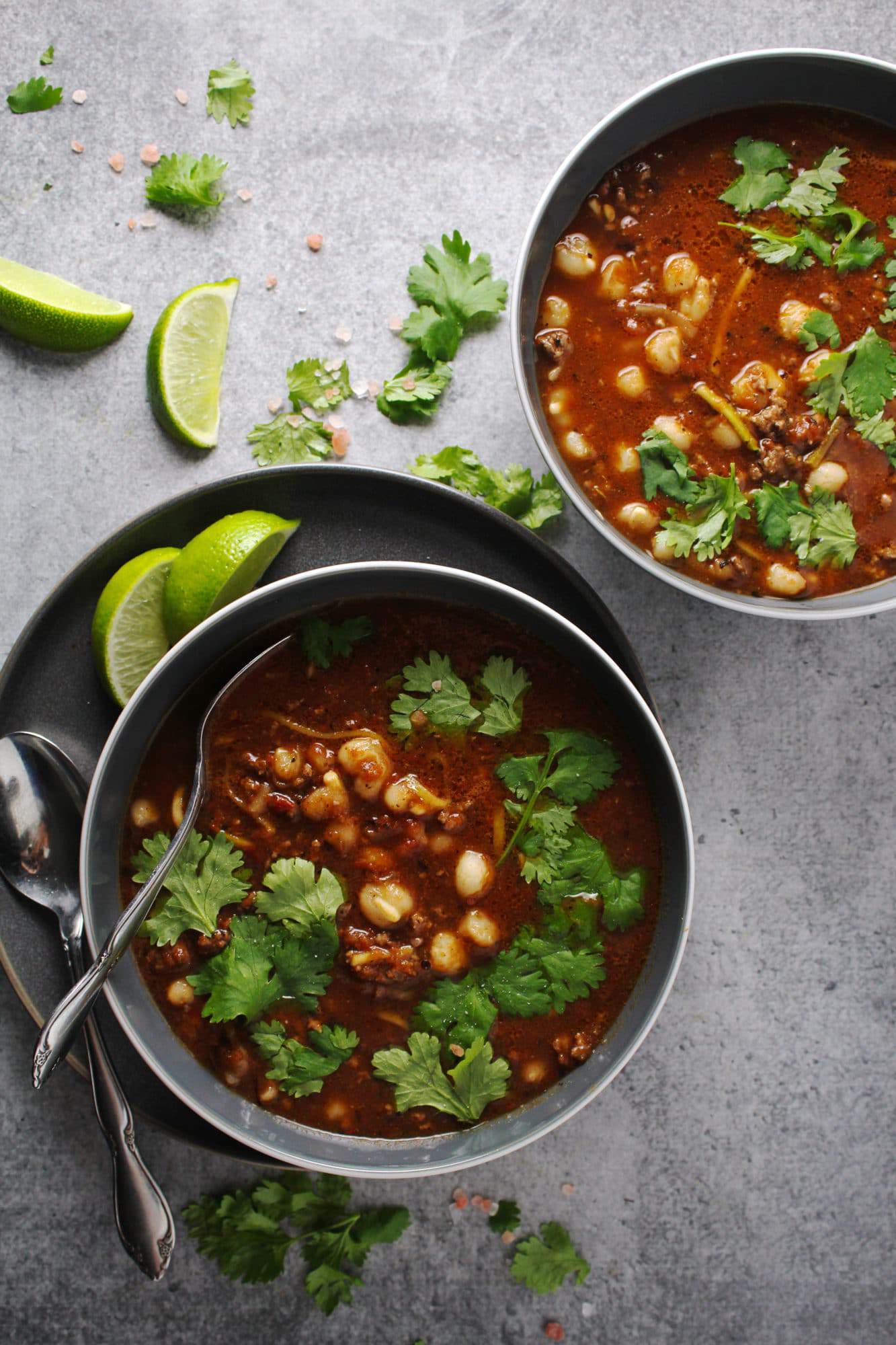 This beef pozole rojo is winning at life. It's how I'm winning at life! In fact, it's the very definition of winning and the reason #winning hashtags exist.
Extreme? Yes!
True? 100%
I made a huge pot of this Mexican stew last week unknowingly how it would go over with the toughest critics in town, my family. Love them, but they're tough. Keeps me on my toes (that's what I tell myself).
This is how just about every dinner goes over here since I'm ultimately trying to find a winning dish to share with you, as well as one my whole family (me included) will love. The more veggies and wholesome foods the better.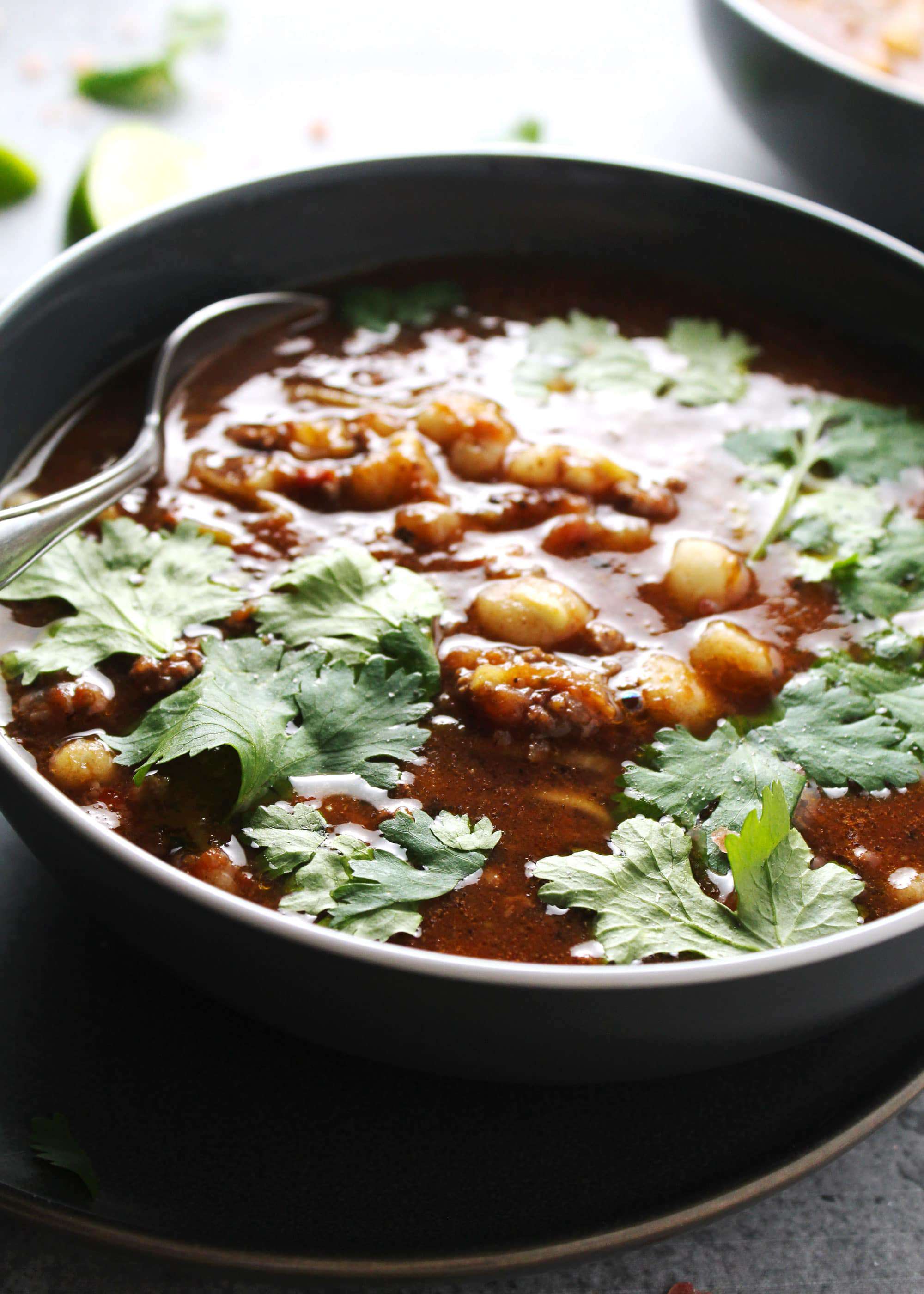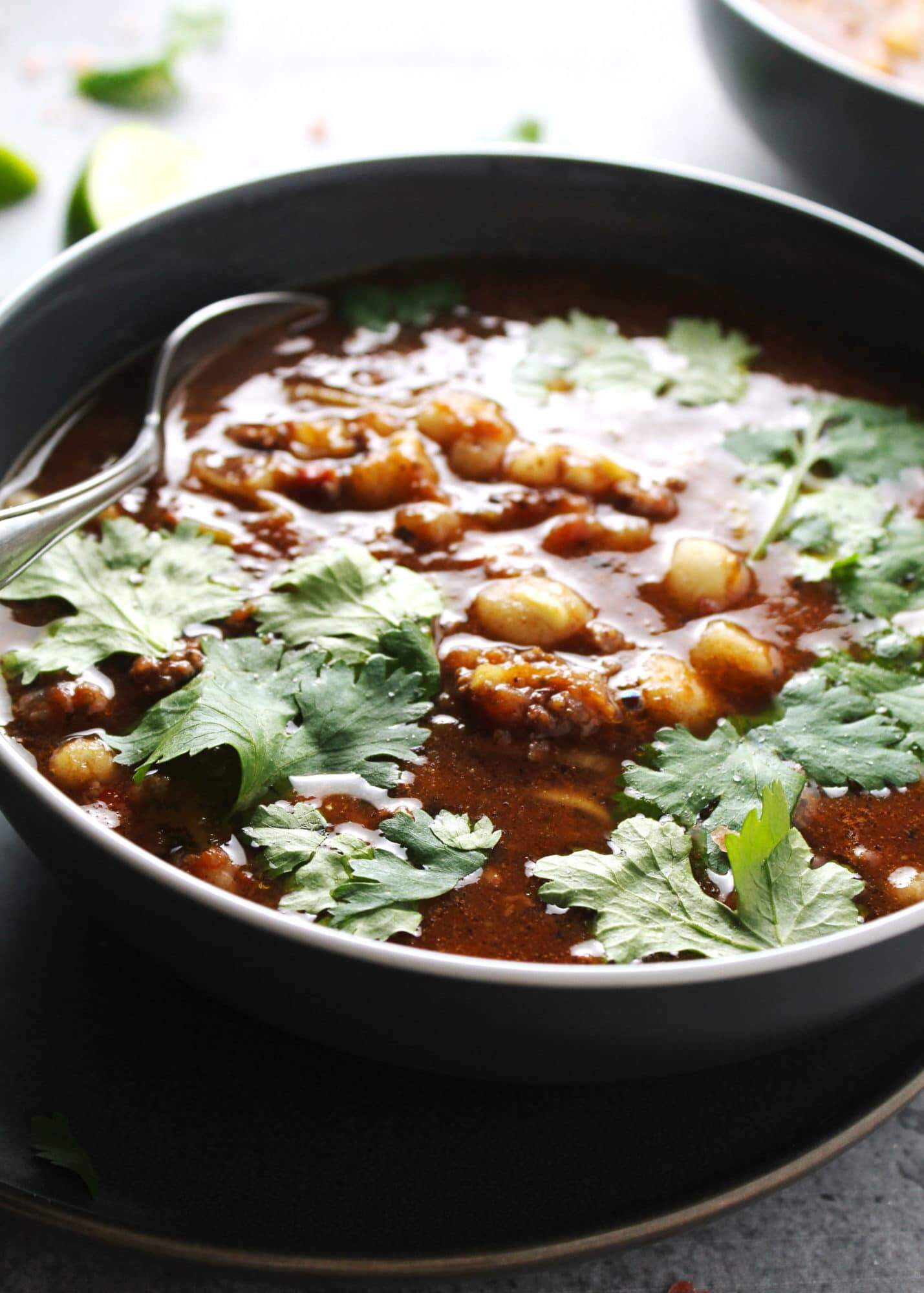 This dish is winning, did I say that already?
Now that we're officially in the new year we're in detox mode with everyone else in the world. It's not pretty given that we've been running on food fumes and living in sugar-induced comas for the past 2 months. In other words, a not so healthy state and an opportunity to get some vegetables into my kids is indeed a win. This is where my uncertainty came in with this beef pozole rojo. It's filled with vegetables, which usually incites upturned noses and food snuck to the dog eagerly waiting under the table (bless you Dixie for always loving my mess of a dinner no matter what!).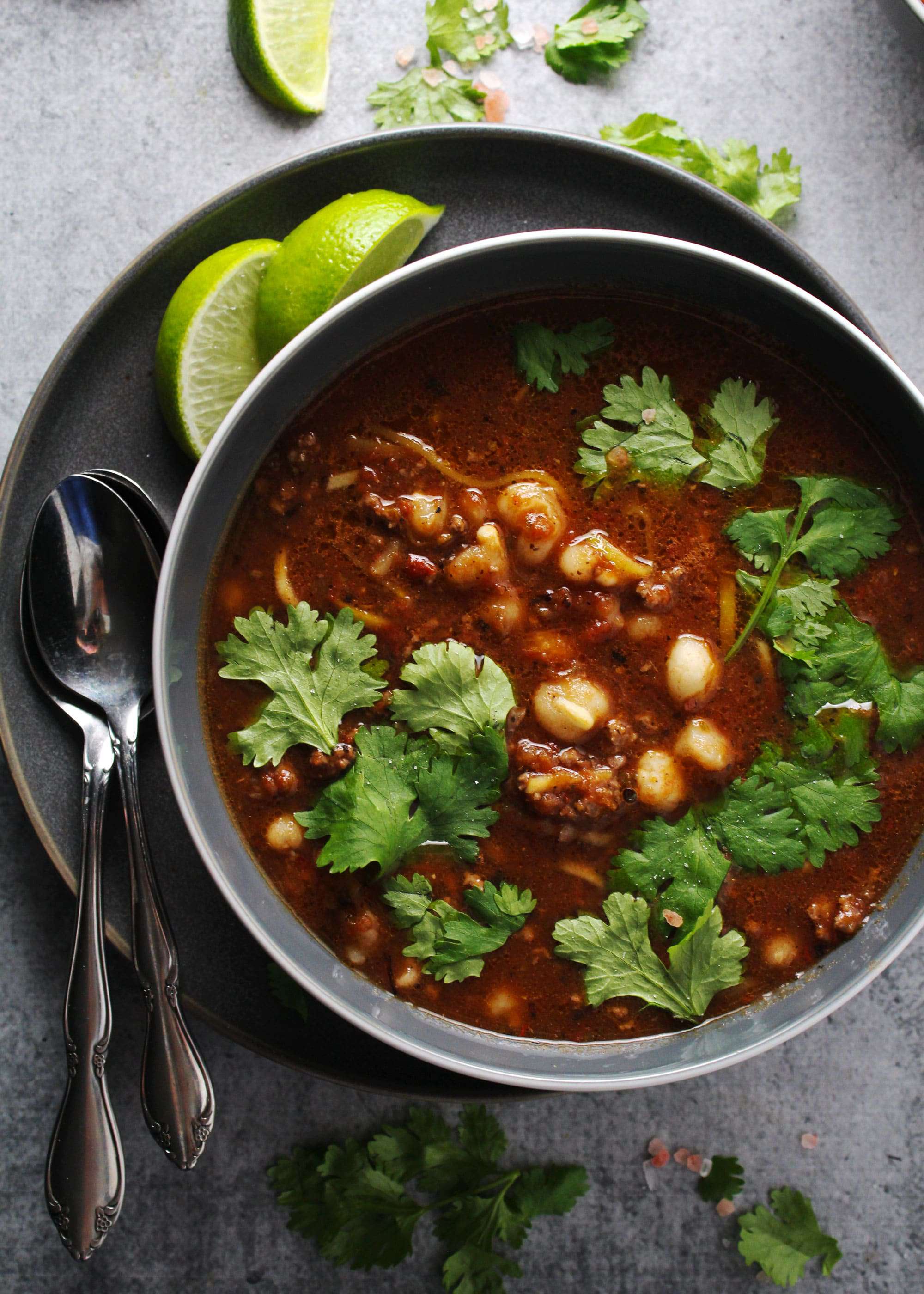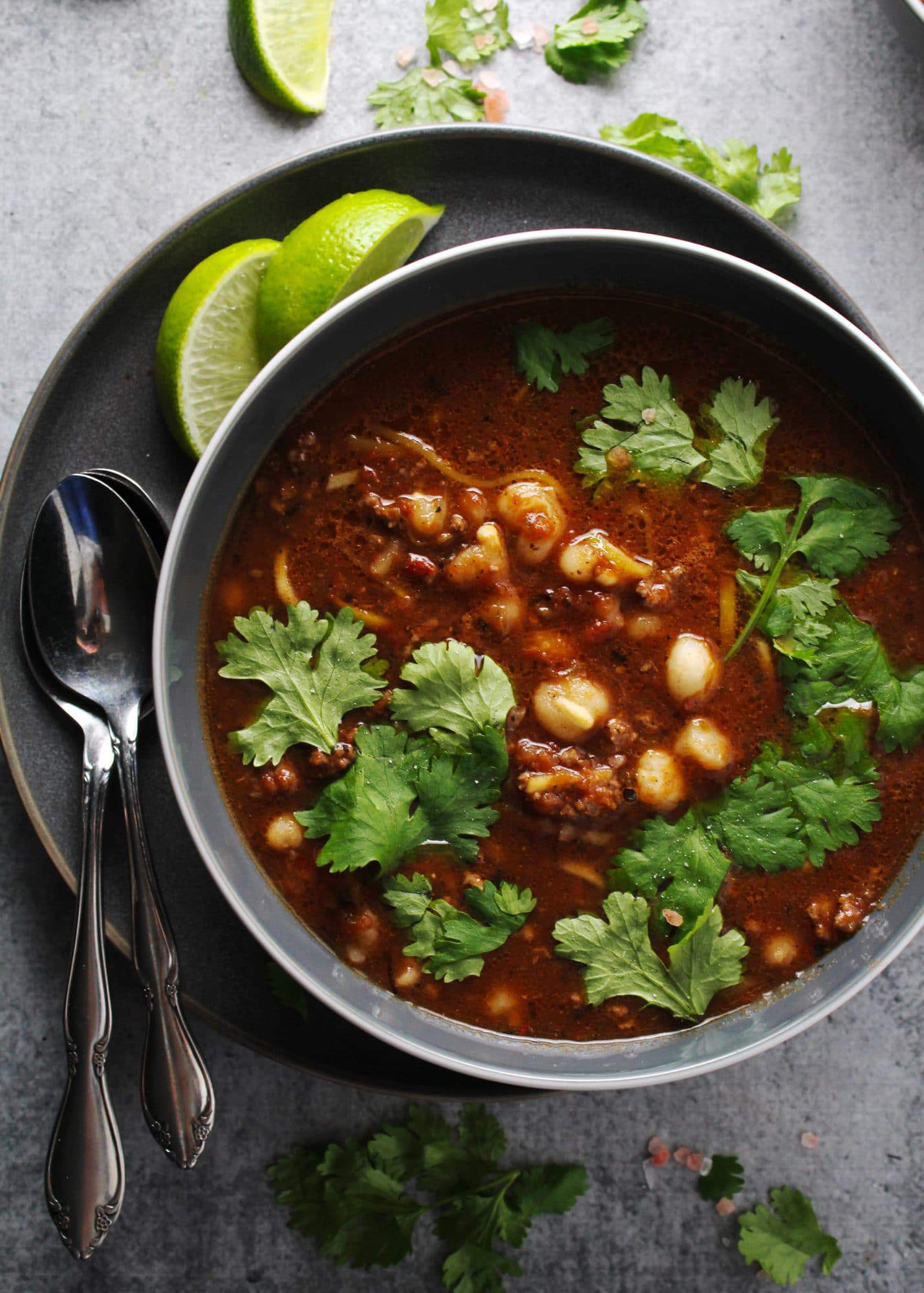 After setting the table with what I thought was a delicious beef pozole rojo, I tried to act normal, like most nights. To my surprise, everyone, except the dog, ate every last drop of this stew and asked for more. Wha??? I get it, I did that myself, but for both kids and my husband to do the same…! That's why this Meal is the very definition of winning.
Peppers, onions, and zucchini are your vegetables and then you've got this amazing ingredient called hominy, which is a version of corn all swimming in a broth-like base. The broth is made by blending water, the peppers, and cocoa powder! Yep, chocolate and it's everything!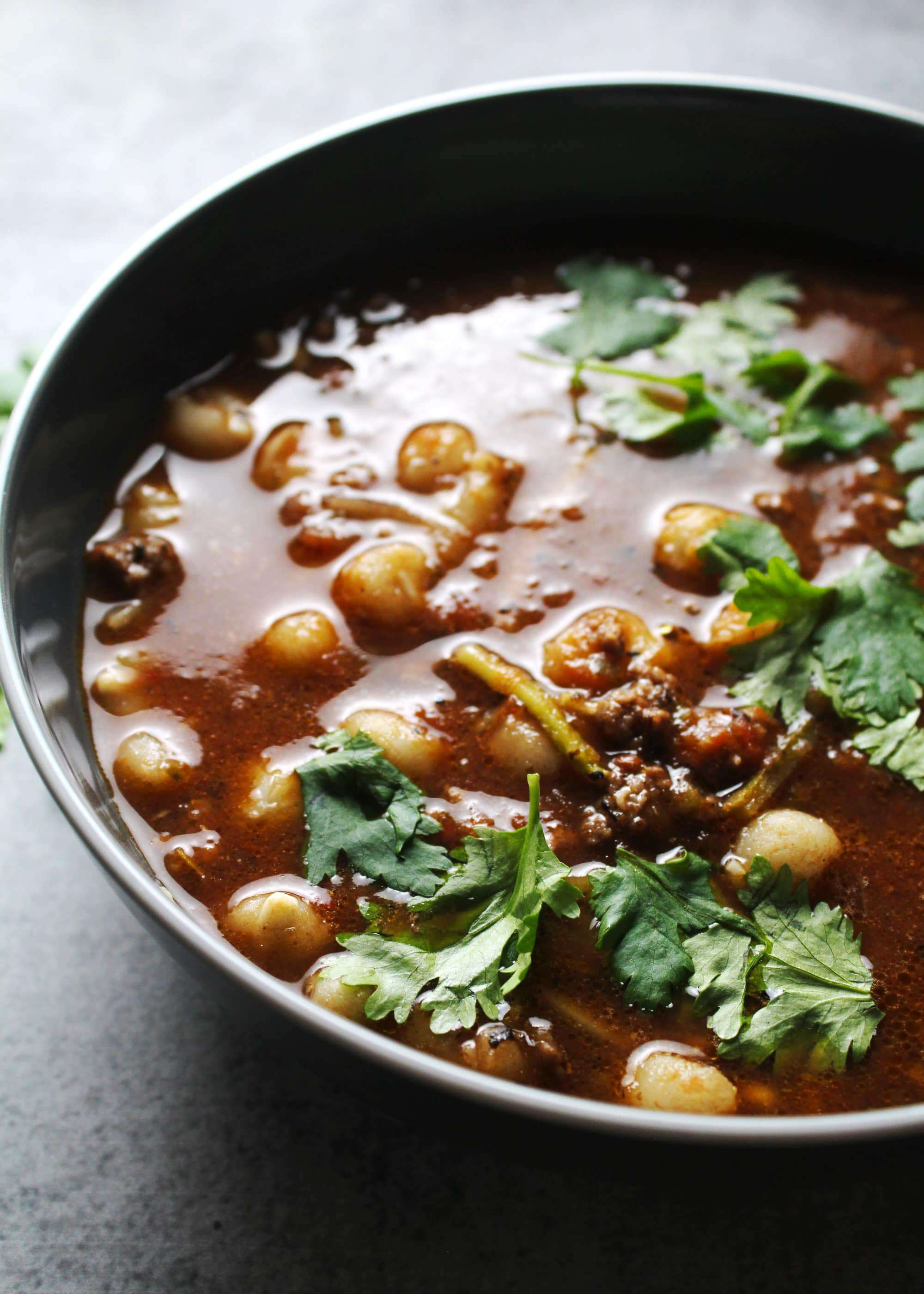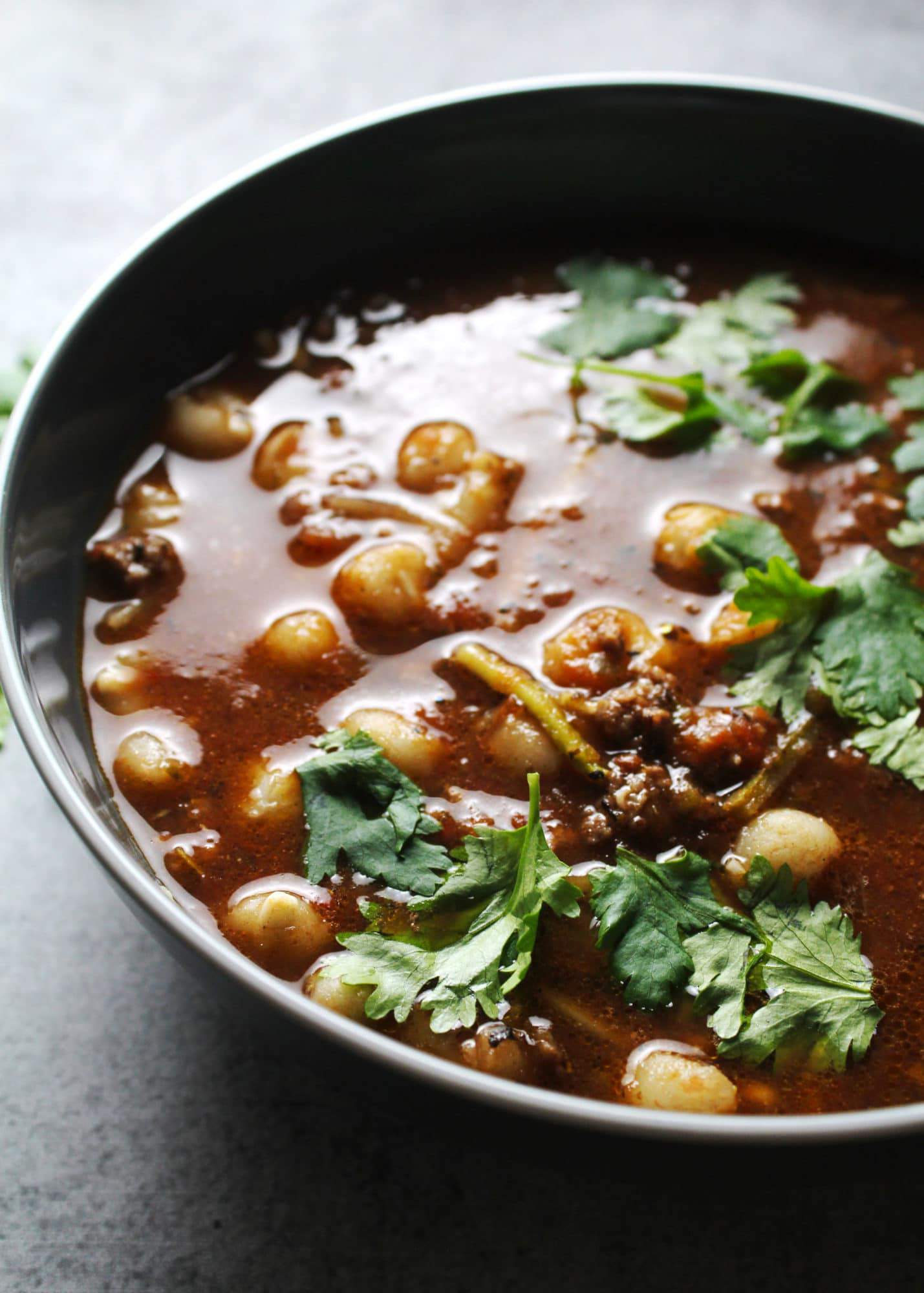 It's cold out, even here in Charleston, and this dish is what cold evenings, where you may or may not be secluded to the indoors is what's dinner dreams are made of.
Print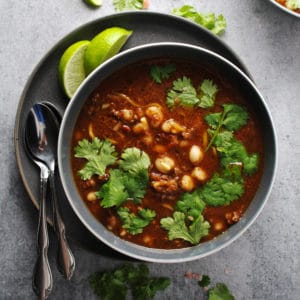 Beef Pozole Rojo
Author:

Prep Time:

25 Mins

Cook Time:

20 Mins

Total Time:

45 minutes

Yield:

8

Servings

1

x
---
Description
This recipe for Beef Pozole Rojo is a perfect stew for colder days. Packed with veggies with just a tad spiciness this is one the entire family will love.
---
Scale
Ingredients
4

large Pablano Peppers

2 cups

Warm Water

5

Garlic Cloves

2 tablespoons

Unsweetened Cocoa Powder

1 teaspoon

Olive Oil

1

Onion, chopped

1

lb Ground Beef

2

cans Hominy

1

Zucchini, chopped or spiralized

1 tablespoon

Dried Oregano

2 teaspoons

Cumin

1/4 teaspoon

Salt

5 cups

Beef Broth

1 teaspoon

Maple Syrup
Juice from

1

Lime
---
Instructions
Soak Pablano Peppers in Warm Water for 20 minutes. Remove from water and set water aside. Slice off the tops of the peppers* and remove the seeds before chopping up and placing in a blender. Add the Garlic, Cocoa Powder and 1 cup of the pepper water. Blend until smooth.
Heat the Olive Oil in a large pot or Dutch Oven over medium heat. Add Onion and saute for 2 minutes. Place the Ground Beef in the pot and brown, making sure to break apart using a spatula.
Add the Hominy, Zucchini, Oregano, Cumin, and Salt. Stir together, then add the chili-garlic paste from the blender. Toss ingredients to coat and then pour in the Beef Broth. Cover and let simmer for 15 to 20 minutes. Mix in the Maple Syrup and Lime juice as well as any additional spices (such as more oregano) you like.
---
Notes
Make sure you're wearing some kind of glove when removing the seeds and cutting the peppers (I use clean dish gloves). Even though these peppers aren't that spicy it will feel like your hands are on fire for days if you don't. Lesson learned…
Feel free to add some additional toppings. I added sour cream, avocado, and some shredded cheese to our dish, which may or may not have helped with the kids gobbling it up.