No grenadine? No problem! There are many replacements for this bright red syrup. Here's the best grenadine substitute to use.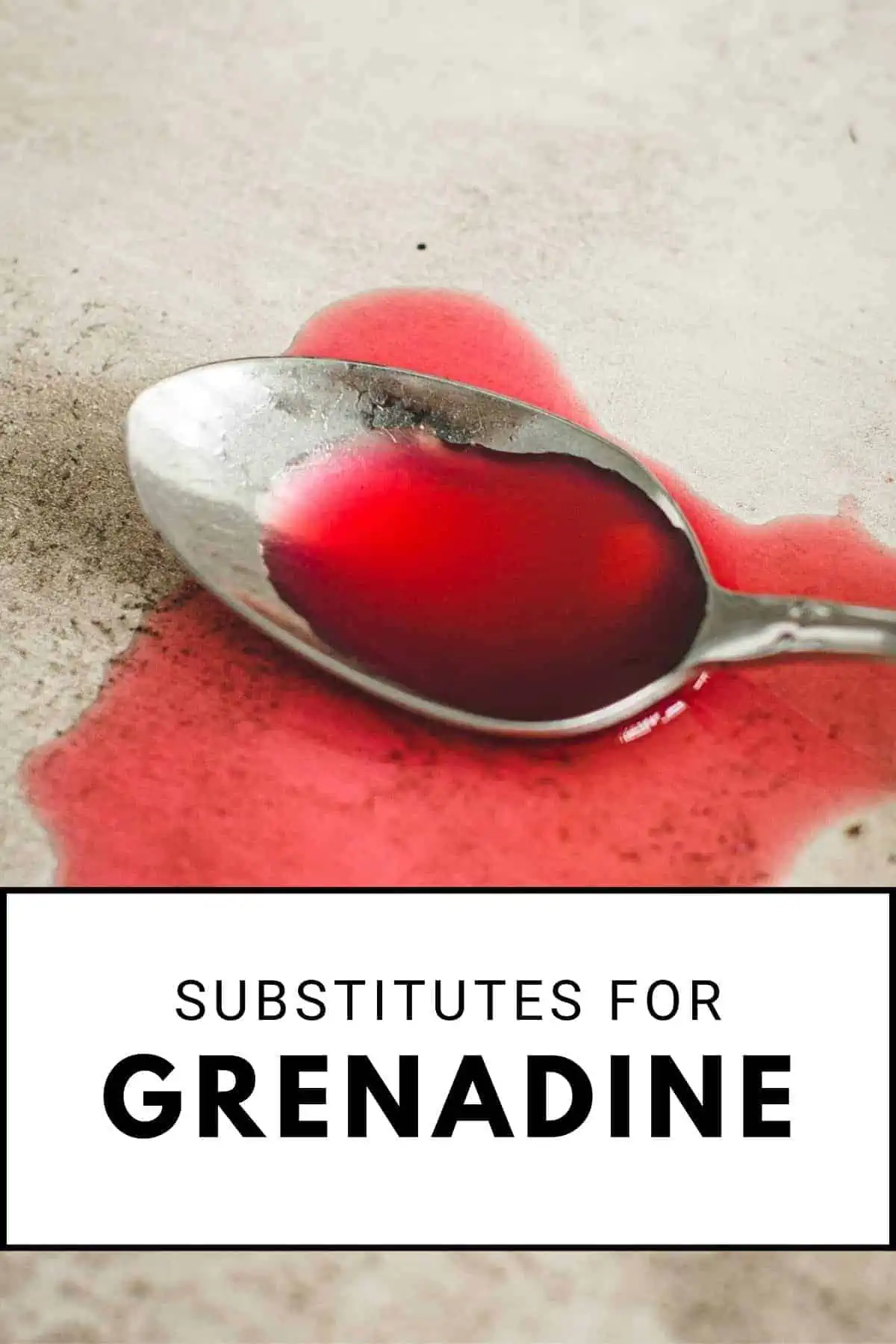 Substitutes for Grenadine
If your cocktail recipe calls for grenadine and you find you don't have any don't worry! There are many substitutes for grenadine, all of which are flavorful and add a similar taste. This bright red cocktail syrup, made using pomegranate juice, not cherry, can also come with additives such as high-fructose corn syrup and harmful dyes. If this is your reasoning for not using it there are other options as well as making homemade grenadine.
Most commonly used in the Shirley Temple, this cocktail syrup is also used to add color to drinks such as a Pink Margarita, or add beautiful layers like in a Tequila Sunrise.
1. Homemade Grenadine
The best substitute for grenadine is making your own Homemade Grenadine syrup. You'll only need 3 ingredients: pomegranate seeds or pomegranate juice, sugar, and lemon juice. It also only takes a few minutes to make. Find the full recipe below.
2. Pomegranate Juice
Since this tart syrup is made using pomegranate juice it also makes a great substitute. You'll need unsweetened pomegranate juice though. Just mix 2 parts Simple Syrup with 1 part pomegranate juice and you'll have something similar to grenadine.
3. Maraschino Juice
There's nothing fancy needed for this swap it's the juice you'll find in the maraschino cherry jar and it works great as a grenadine substitute. The color is similar and the taste is somewhat the same, in fact, some grenadine syrups do use cherry juice instead of pomegranate.
4. Raspberry Syrup
You can find some at a liquor store or you can just as easily make your own Raspberry Syrup. The result is a brilliant deep red syrup that's sweet. This will bring a different flavor to your cocktail or drink, but it will still be delicious.
5. Pomegranate Molasses
This is another option, which can be purchased in most grocery stores or made at home. Pomegranate molasses has the same ingredients as Grenadine Syrup but has a thicker consistency.
6. Strawberry Syrup
While its color is a brighter red and it tastes sweeter, Strawberry Syrup will still work as a substitute and can also be homemade. Using this syrup as a replacement is better in cocktails that are on the sweeter side such as a Pineapple Vodka Cocktail or a Mai Tai.
7. Crème de Cassis
This sweet and dark liqueur is made from black currants and has a fruity aroma. It can work as a substitute for grenadine, however, it is a liqueur and will increase the alcohol content of your beverage.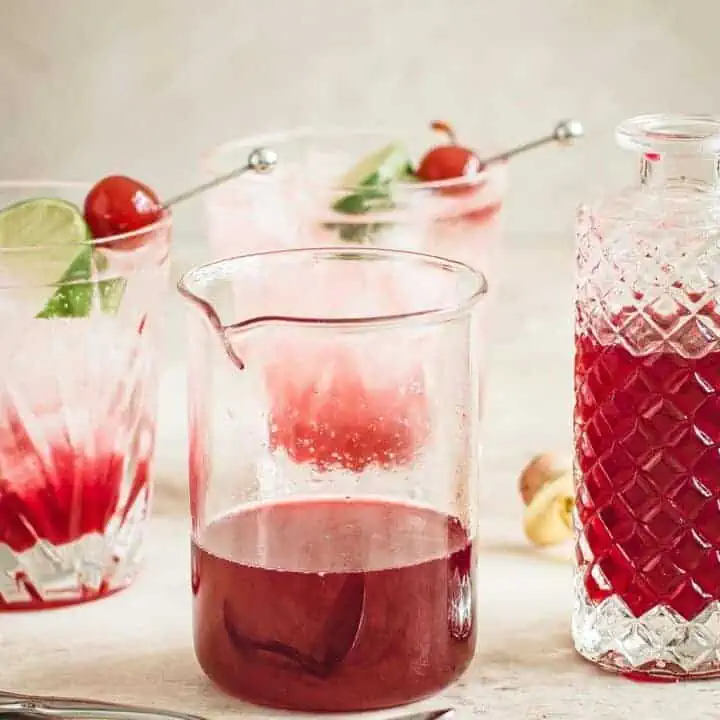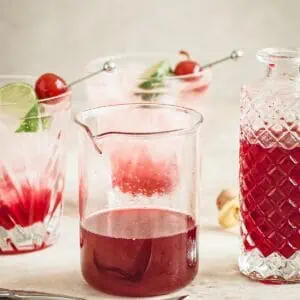 Homemade Grenadine
Made using pomegranate juice, sugar, and lemon, which makes a brilliant red Homemade Grenadine. It's a great substitute for grenadine in cocktails too.
Print
Pin
Rate
Ingredients
2/3

cup

Pomegranate Juice

or juice from 8 ounces of pomegranate seeds

1/2

cup

Sugar

1

teaspoon

Lemon Juice
Instructions
Juice the seeds. If you plan on using pomegranate seeds vs juice, place the seeds into a jar or glass and mash them with a wooden spoon or a pestle to extract the juice.

Strain. Pour the juice through a mesh sieve to remove any of the sediment from the seeds and then discard the sediment.

Heat the syrup. Pour the juice into a small saucepan over medium heat and add the sugar. Continue to heat the mixture until the sugar dissolves, stirring occasionally, about 1 to 2 minutes. Remove from the heat and let it cool before stirring in the lemon juice.
Notes
To quickly seed a pomegranate, slice it into quarters and fill a bowl with water. Place the pomegranate quarter under the water and remove the seeds using your hands. The pith will float the top of the water while the seeds will sink.
Don't let the syrup boil. You only need to heat the syrup mixture so the sugar dissolves. Once dissolved remove it from the heat otherwise it could break down the flavor.
Use unsweetened pomegranate juice. If you plan on using pomegranate juice instead of juicing the pomegranate seeds then make sure to use unsweetened juice. The sweetened kind will make the grenadine syrup turn out too sweet.
Storage Information
Standard Storage – pour the syrup into a jar or container with an air-tight lid. It will last for up to 1 month at room temperature or it can be kept in the fridge.
Extended Storage – to get a longer shelf-life out of your grenadine syrup add 1 ounce of vodka to the mixture and it will last for up to 6 months. It will still need to be kept in an air-tight container.
Nutrition
Serving:
1
serving
|
Calories:
59
kcal
|
Carbohydrates:
15
g
|
Protein:
0.03
g
|
Fat:
0.1
g
|
Saturated Fat:
0.02
g
|
Polyunsaturated Fat:
0.01
g
|
Monounsaturated Fat:
0.01
g
|
Sodium:
2
mg
|
Potassium:
45
mg
|
Fiber:
0.02
g
|
Sugar:
15
g
|
Vitamin A:
0.04
IU
|
Vitamin C:
0.3
mg
|
Calcium:
2
mg
|
Iron:
0.03
mg