I actually made these Chocolate Dipped Soft Ginger Cookies a while ago to take to a friend's house but figured today called for some chocolatey, spicy sweetness…
And since it is Valentine's Day, I kind of have to get all "sweet" (pun intended), and I'm not gonna lie I do love this faux Hallmark Holiday! Definitely bought myself, I mean my husband, of course, one of those giant red heart-shaped boxes of chocolates that I like, er he likes.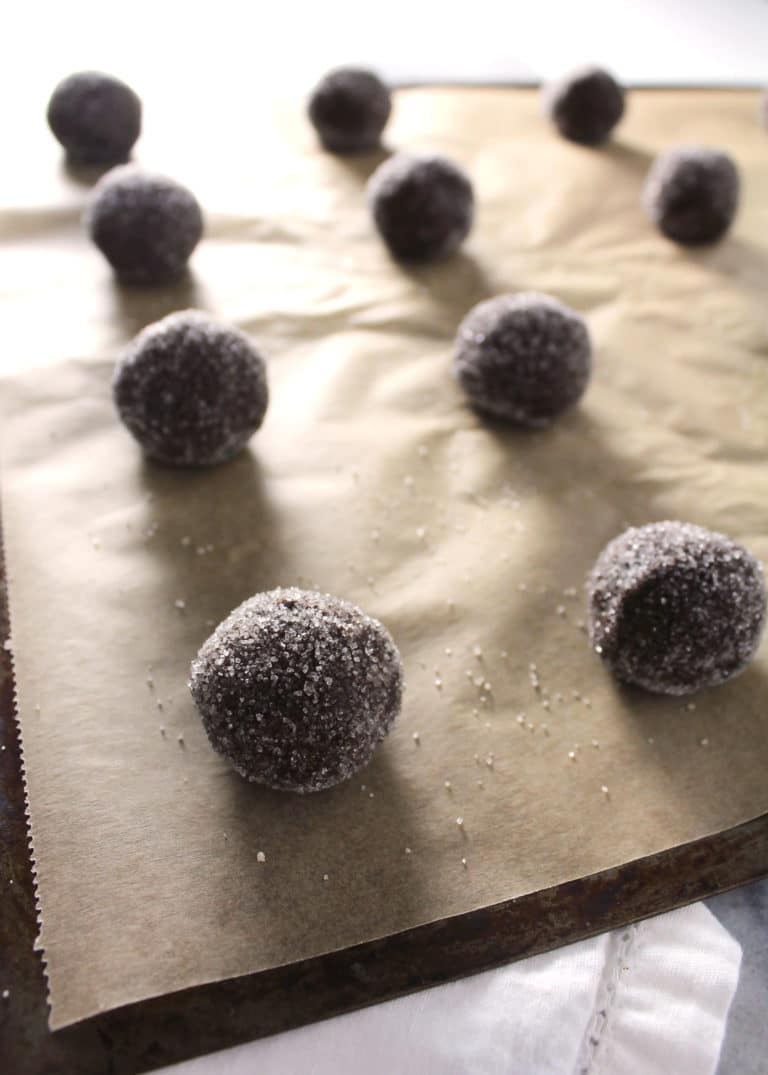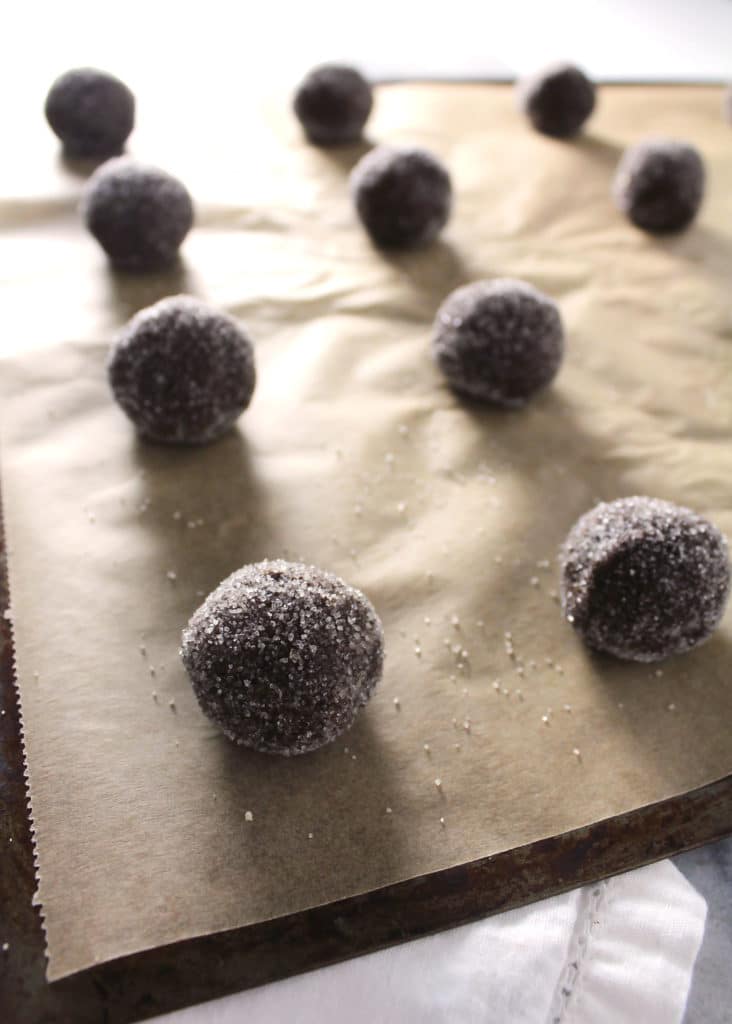 Many of my recipes start with the statement "So, this recipe actually started out as (insert something different than the end product entirely)," because I tend to take, what I consider an Iron Chef approach to cooking. Well, what I really mean is that it all starts with one random ingredient I likely have way too much of, in this case, it's molasses, and then end up on a pantry treasure hunt to find other ingredients to create something actually edible.
No, it's not really a competition with myself either but more of an I-have-leftover-molasses-from-holiday-baking-so-I-should-make-ginger-cookies kind of situation. Then my "shiny object syndrome kicks in and they go from simple ginger cookies to soft chocolate molasses cookies, to let's dip them in chocolate too!
So not really like Iron Chef at all, but it makes me feel more like a champion of my own kitchen with that label so we'll stick with it. Gotta pull for yourself right?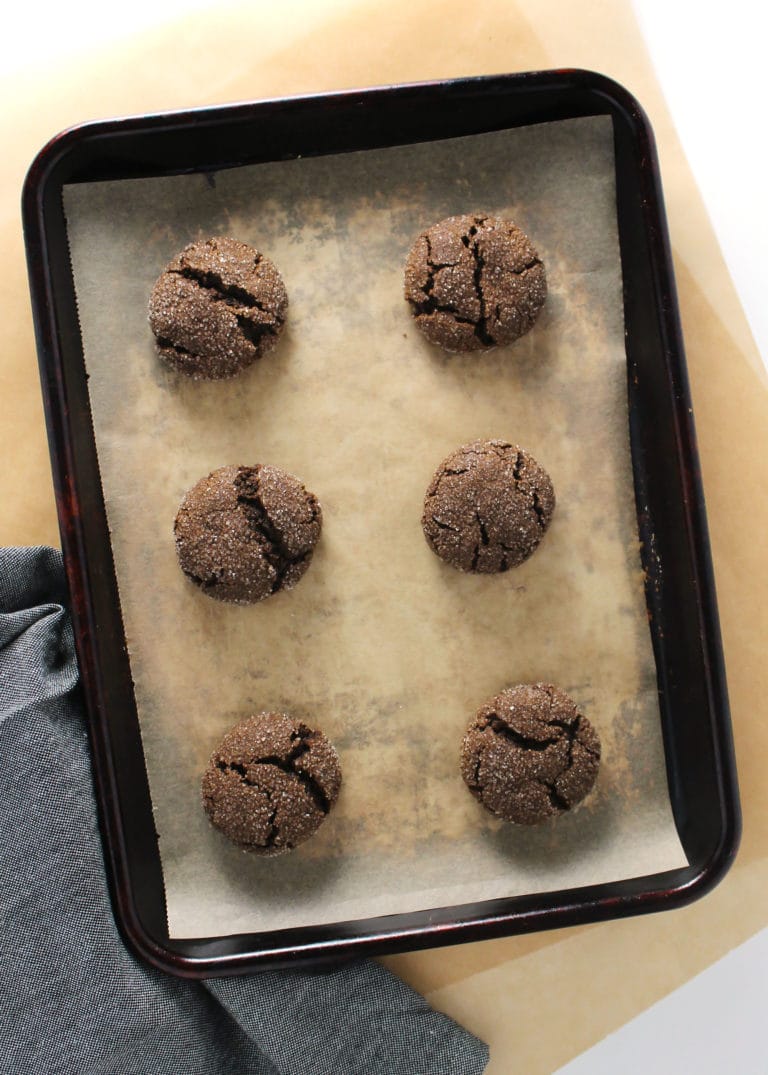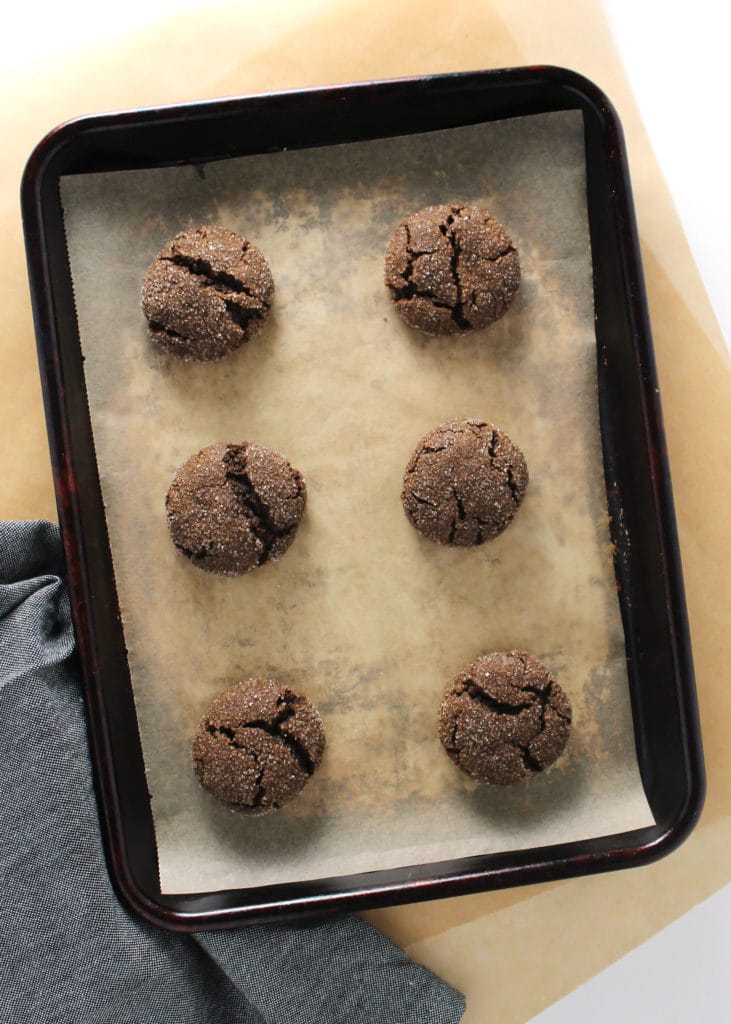 So Happy Valentine's Day friends!
I've always taken a silly approach to this holiday because, well, it's a silly holiday (in my humble opinion). Each year I've always seemed to celebrate differently, each one being just as great as the last, however…
This one epic Valentine's Days back in college…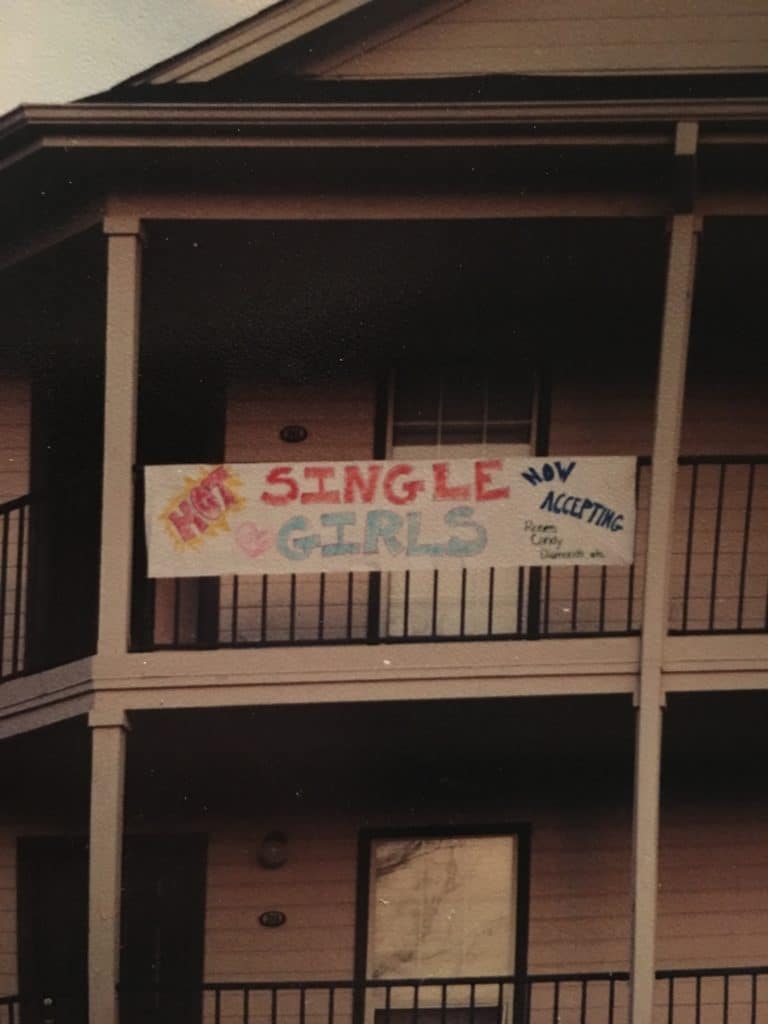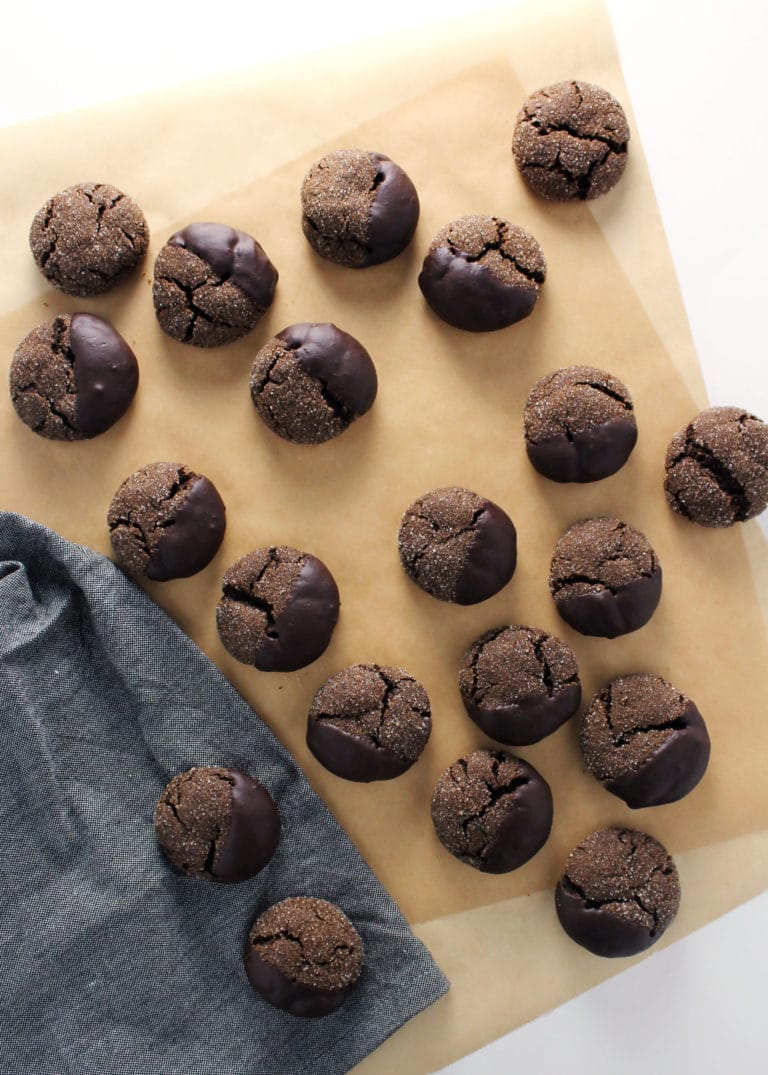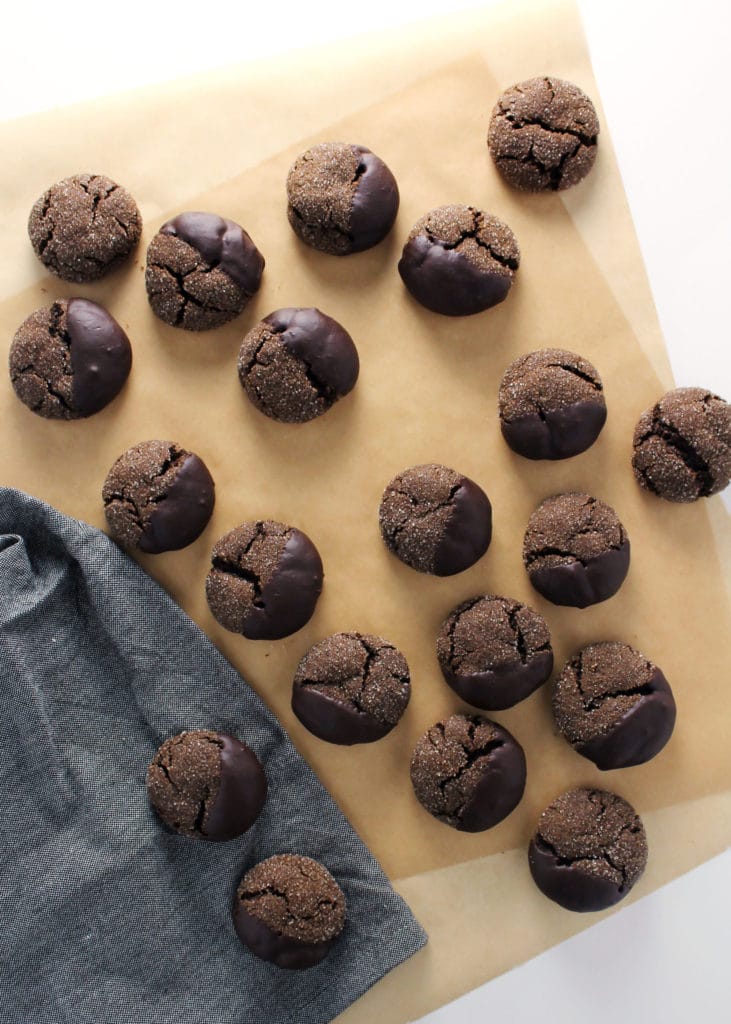 It all started while I was home studying (obviously!) and one of my roommate's boyfriend's, the only one of us who actually had one, came over to surprise decorate our apartment for the big day. Soooo cheesy, and believe me it gets better, but I went along with it and helped him out.
He placed a trail of Hershey's kisses on the floor leading from the door back to her room and then tied a bouquet of red (yep red) roses on the shower head with a note that read, "Now that I've kissed the ground you walk on and showered you with roses, will you be my Valentine?" Oh yes, yes that happened and we have video footage to prove it!
Of course, we were happy for her, but not wanting to be left out of Valentine's Day festivities we decided to take matters into our own hands and well, then this…
I'm not gonna lie, but the sign (made out of pattern paper from the sewing lab) was a hit! Friends, random people, and guys all knocked on our door to say how awesome they thought it was and again we do have video footage of everyone's reactions.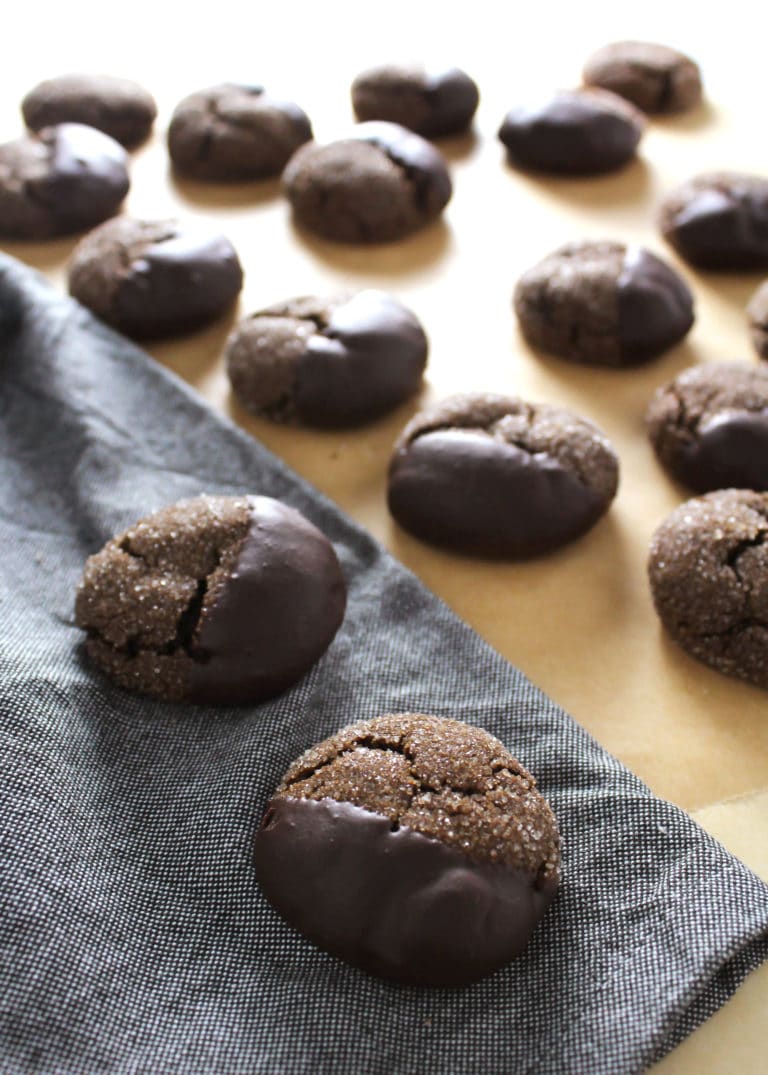 And with that, I want to wish you a very silly and happy Valentine's Day and to let you know I do love that you're here. Now go make some of this Dipped Chocolate Soft Ginger Cookies!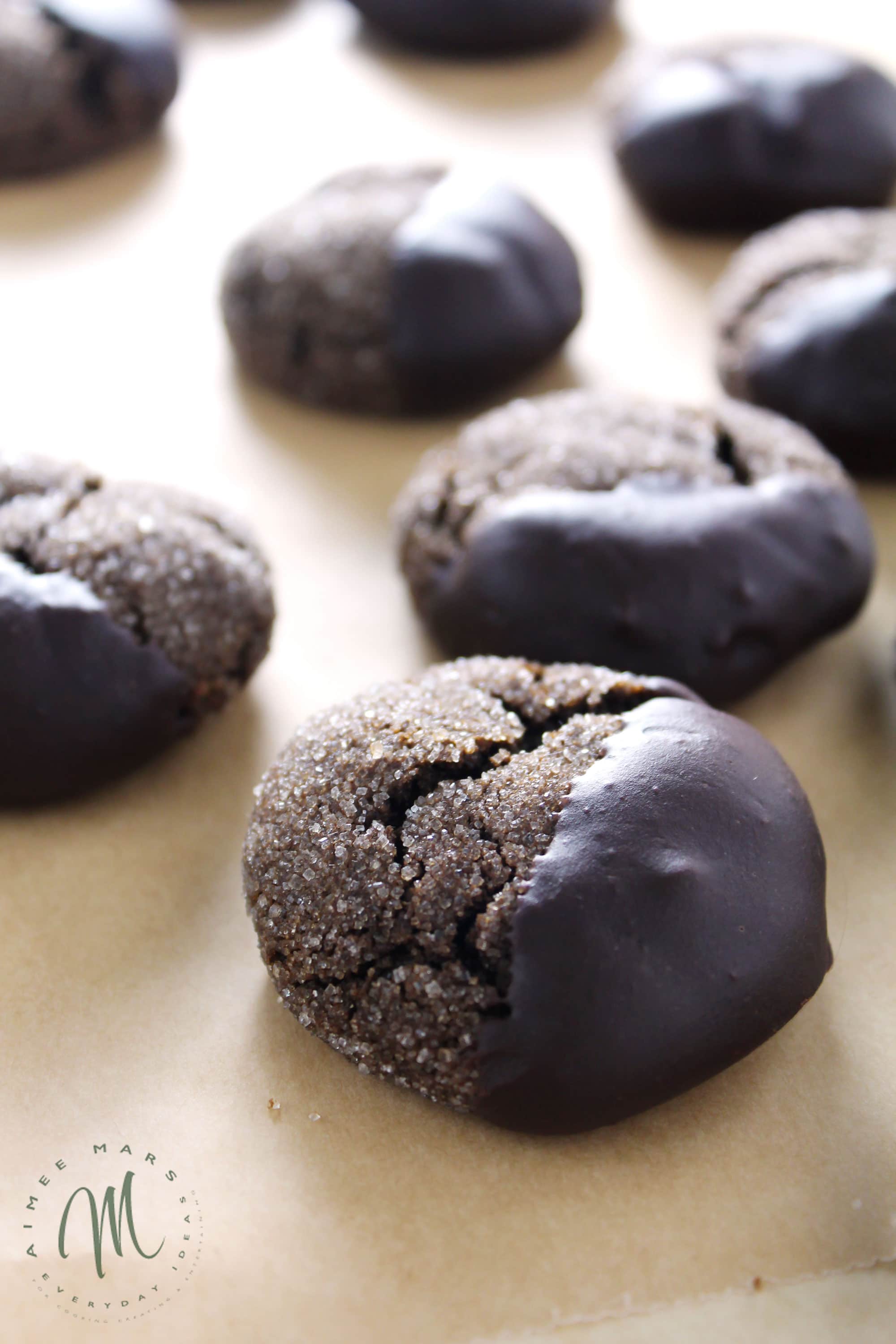 Ingredients
1¾

cups

Flour

1⅙

teaspoon

Baking Soda

1/2

teaspoon

Salt

1/4

cup

Cocoa Powder

1

teaspoon

Ground Ginger

3/4

teaspoon

Cinnamon

1/2

teaspoon

Ground Cloves

1/2

cup

Unsalted Butter

room temperature

1/4

cup

Sugar

1/4

cup

Brown Sugar

1/4

cup

Molasses

1

large

Egg
CHOCOLATE DIP
1/2

cup

Semi-Sweet Chocolate Chips

2

tablespoons

Unsalted Butter

1

tablespoon

Milk
Instructions
In a medium-sized mixing bowl, whisk the Flour, Baking Soda, Salt, Cocoa Powder, and Spices until fully combined.

In the bowl of an electric mixer beat the Butter and Sugars until light and fluffy. Turn off the mixer and add the Molasses and Egg. Beat until smooth, about 1 minute. Add about 1/3 of the flour mixture and mix on low until combined. Repeat with the rest of the mixture, scraping down the sides of the bowl after each addition. Cover and place in the fridge for 30 minutes.

Preheat the oven to 350 degrees. Line two baking sheets with parchment paper. Pour 1/2 cup of sugar into a small bowl. Using a cookie scoop or measuring spoon, scoop out 1 tablespoon of dough and roll into a ball. Dip the ball into the sugar and fully coat.

Place the dough balls onto the lined baking sheet about 2-inches apart. Bake for 10 minutes. Let the cookies cool on the baking sheet for about 5 minutes and then move to a cookie rack.

Once the cookies have cooled completely. Prepare your chocolate dip by placing all the ingredients into a small saucepan. Heat on medium heat and stir continuously until chocolate is completely smooth. Dip each cookie into the melted chocolate and return to the cookie rack to cool.
Nutrition
Serving:
1
cookie
|
Calories:
261
kcal
|
Carbohydrates:
33
g
|
Protein:
3
g
|
Fat:
13
g
|
Saturated Fat:
8
g
|
Cholesterol:
44
mg
|
Sodium:
218
mg
|
Potassium:
205
mg
|
Fiber:
2
g
|
Sugar:
17
g
|
Vitamin A:
320
IU
|
Calcium:
35
mg
|
Iron:
2
mg