Super soft with notes of sugar and spice, this Gingerbread Loaf Recipe is a decadent seasonal indulgence. The peppery sweet taste of ginger paired with a powdered sugar coating makes this snack perfect for Christmastime.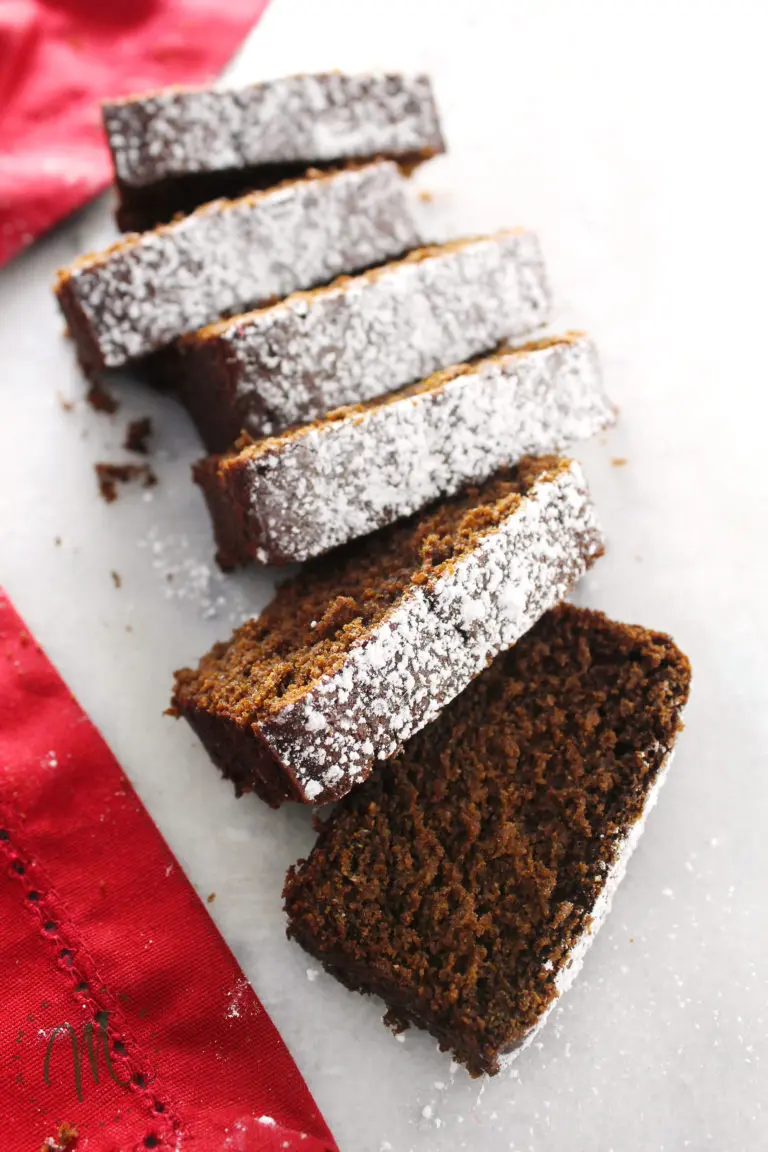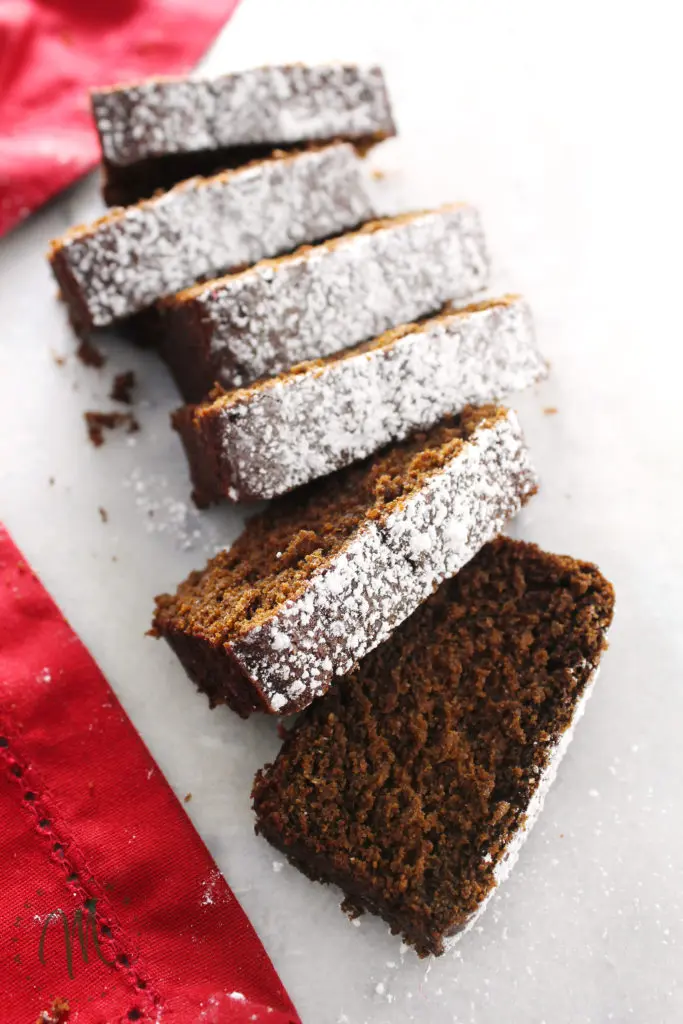 Twas the night before Christmas, when all through house
Not a creature was stirring, except for I and my spouse…
We'd laid out the "some assembly required toys" with care,
In hopes that some Spiked Egg Nog and Magic Christmas Elves would soon be there…
The children were nestled all snug in their beds,
While visions of the very same danced through our heads…
I was sporting my plaid Christmas pjs and socks,
While my Husband began to pour our drinks on the rocks…
When suddenly a toy caused such a clatter,
My Husband came running to see what was the matter…
Away to the toy I flew like a flash,
Tore open the packaging, and hit every button with a mash…
Once all was quiet our toy workshop began to flow
and somehow our "extra" pieces pile started to grow.
When, what to my heightened mom-sensory ears did I hear,
But a miniature person tip-toeing down the hall and coming quite near…
I jumped to my feet, quite sleepily, but quick…
a parenting feat that's quite a good trick.
Carrying a paci and sippie cup; down the hall I came…
Tucked her back in when only 5 minutes had passed, I'd done just the same.
She begged and she pleaded to watch one more holiday show
But I managed to convince her off to bed she must go!
A small Christmas Miracle that her brother did not wake…
I silently high-fived myself for buying him the best noise machine they do make.
Back in the den I thought I might cry…
When I saw the pile of unwrapped gifts reached to the sky.
Seeing that Elf on the Shelf was my one little cheer…
Knowing her box was waiting to pack her away for the year.
I thought I was dressed cute from head down to toe,
glancing back down I noticed I was covered in what I really did not know.
When I stood back and looked I saw a brilliant sight…
Perhaps it was sleepiness, or everything had turned out just right.
We dashed off to bed having finished our work…
Slid into our holiday bedding and turned with a jerk.
Catching a glimpse of the clock as I started to doze…
I suddenly realized it would be an hour before the kids rose.
Sprawled in my bed I thought I might as well get up…
Realized I should have asked Santa for just one hot coffee cup.
As I walked in the kitchen my eyes beheld a beautiful sight…
A steaming hot latte catching the first morning light.
To all parents alike who struggle to stay awake
I hope you take a minute for this Gingerbread Loaf to bake.
I wish you a day that is merry and bright…
"Merry Christmas to you all, and to you all a good sleep night!"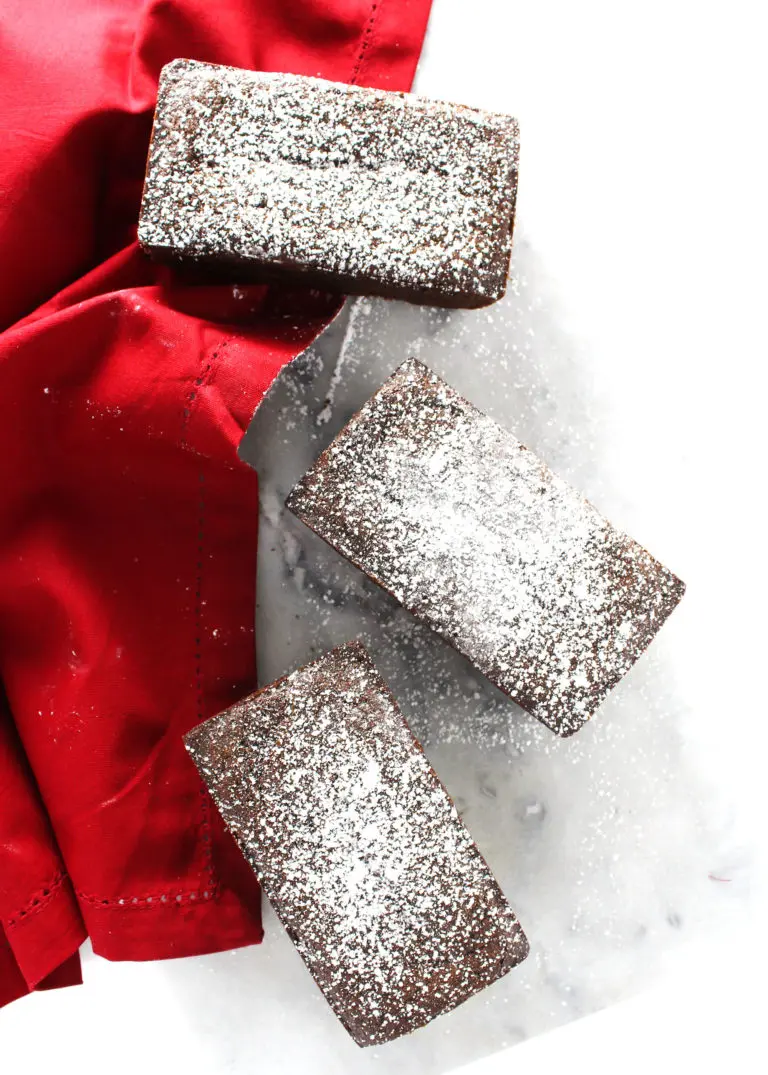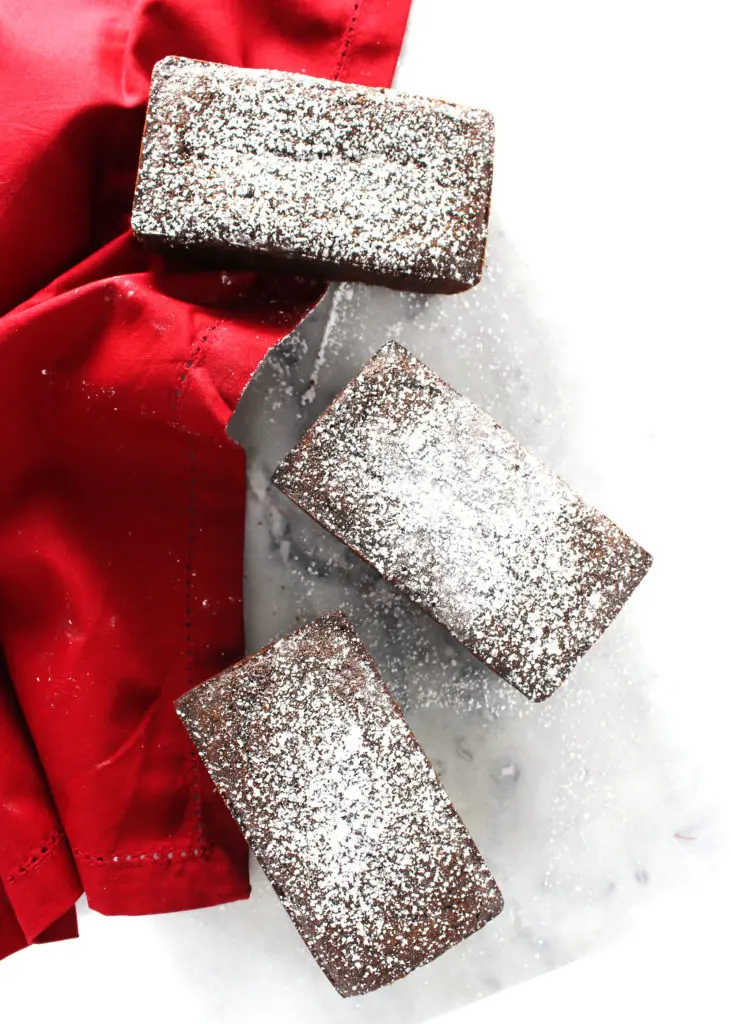 Okay, so I tried to get all super cute and write out a "Night Before Christmas" poem, but really I hope all of you, parents or not have a wonderful holiday season. I wish you the very best and want you to know what a gift it is to me that you stop by my site and take the time to read.
So from the bottom of my heart and from my family to yours I wish you a very Merry Christmas (or happy holiday that you might be celebrating) as well as a wonderful New Year!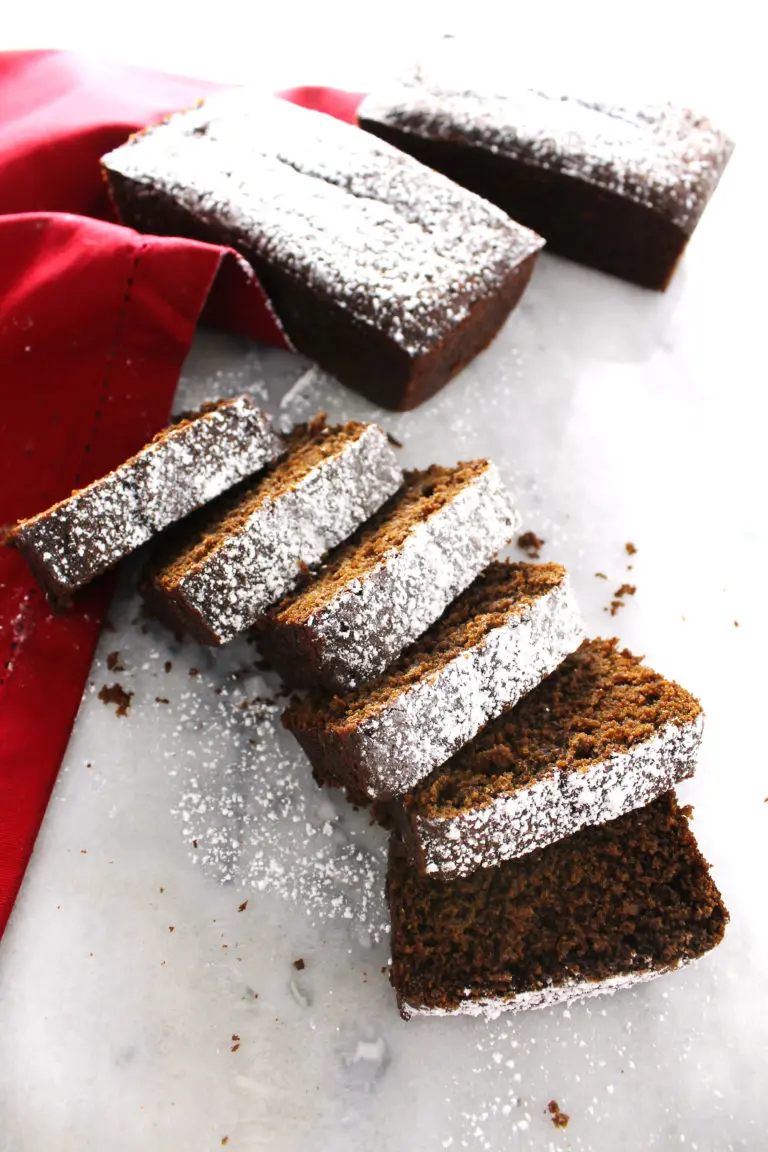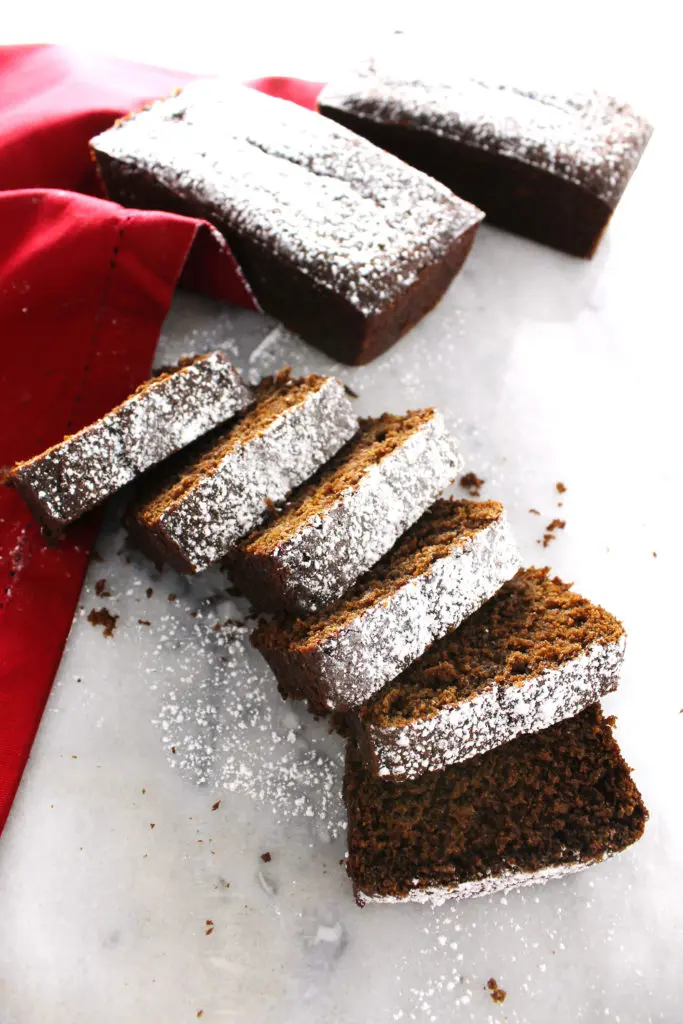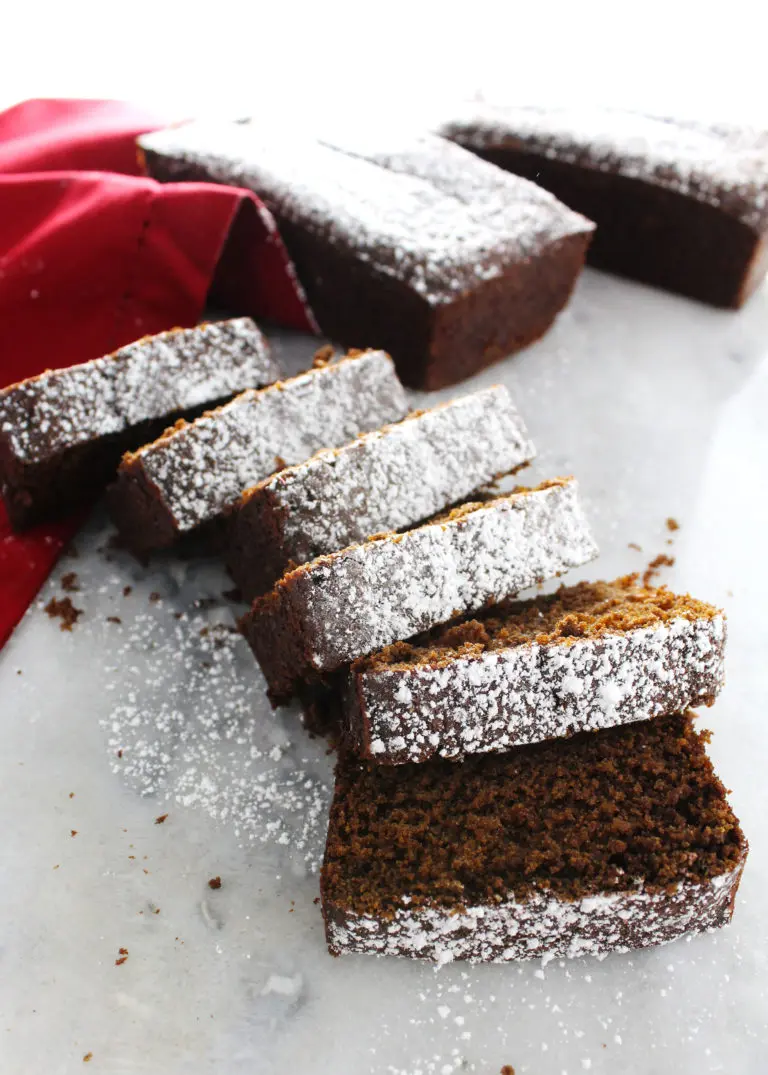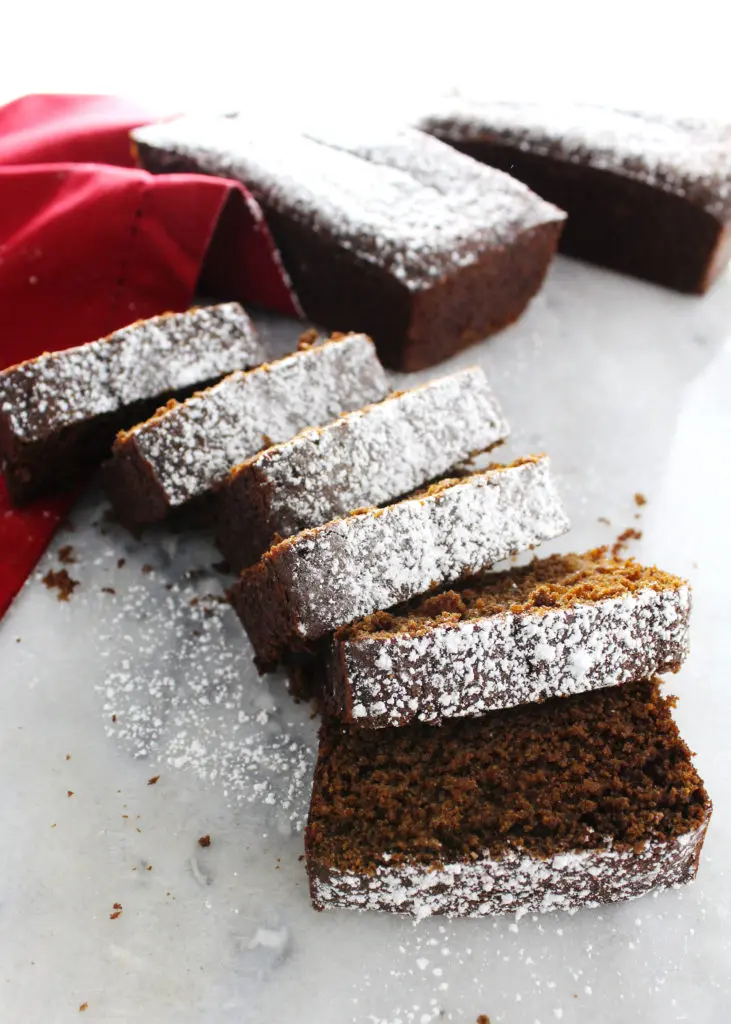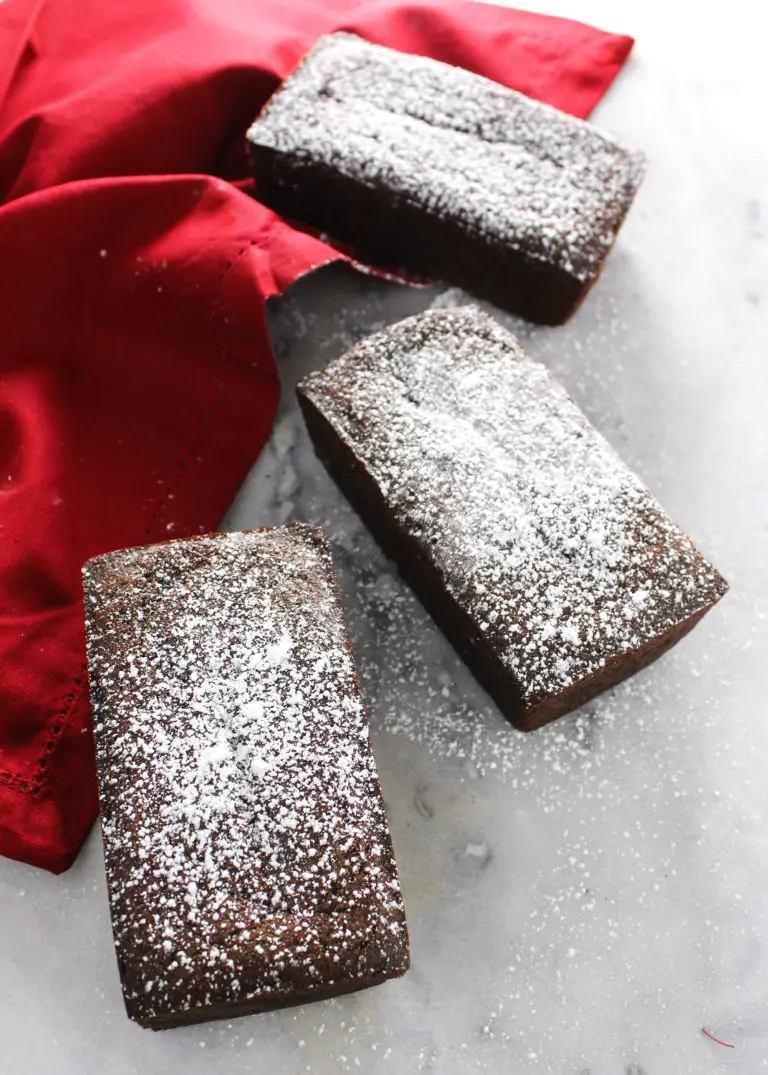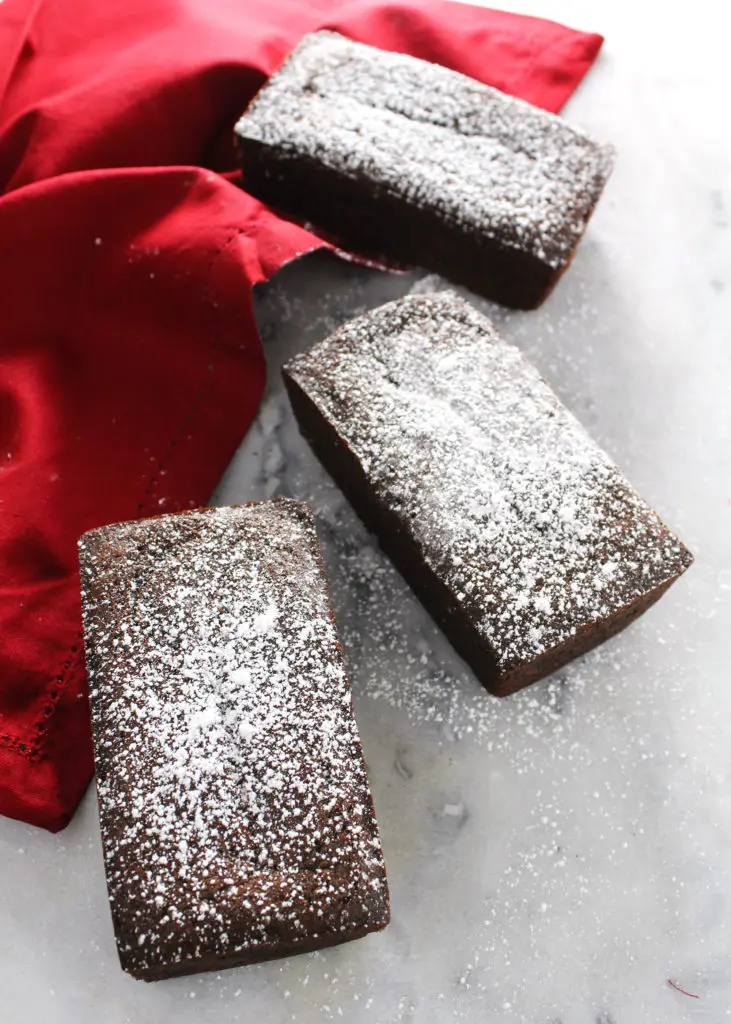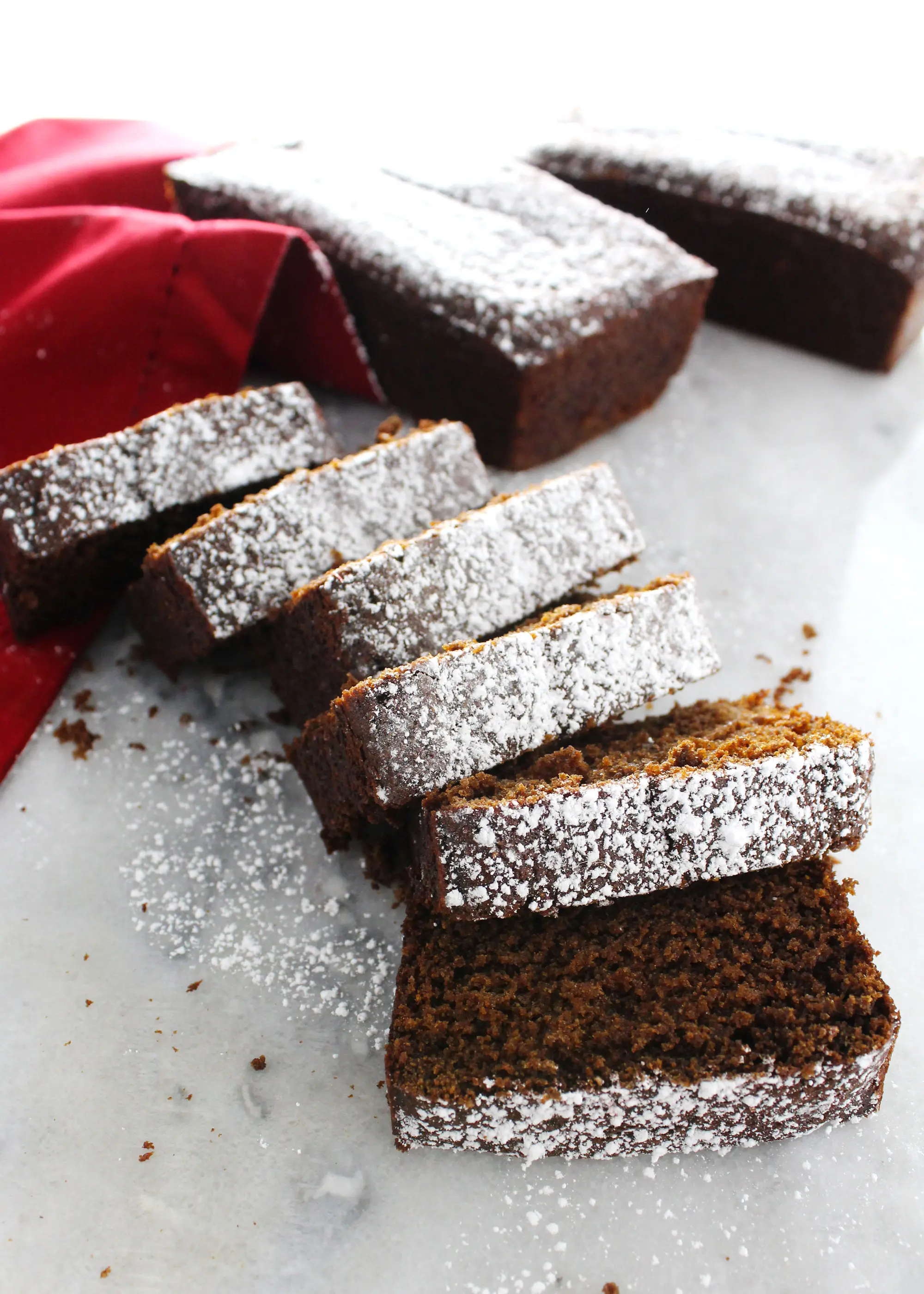 Gingerbread Loaf Recipe
Super soft with notes of sugar and spice, this Gingerbread Loaf Recipe is a decadent seasonal indulgence. The peppery sweet taste of ginger paired with a powdered sugar coating makes this snack perfect for Christmastime.
Print
Pin
Rate
Equipment
9×13 Loaf Pan or 3 Mini Loaf Pans

Mixing Bowl

Whisk

Electric Mixer or Handheld Mixer
Ingredients
2

cups

Flour

1

teaspoon

Baking Soda

1½

teaspoons

Ground Ginger

3/4

teaspoon

Nutmeg

1/2

teaspoon

Salt

1/4

cup

Sugar

1/2

cup

Butter

softened

1/2

cup

Molasses

1

teaspoon

Vanilla Extract

2

large

Eggs

1

cup

Buttermilk

1/4

cup

Powdered Sugar
Instructions
Preheat the oven to 350ºF and grease a 9×13 loaf pan or 3 mini loaf pans (I used coconut oil to coat my pan).

In a large mixing bowl, whisk the flour, baking soda, ginger, nutmeg, and salt together until well combined.

Using an electric mixer fitted with the paddle attachment or a handheld mixer, cream the butter and sugar together on medium-high speed until light and fluffy, about 5 minutes.

Turn the mixer off and add the molasses and vanilla then mix on low speed until incorporated. Add the eggs one at a time making sure they're mixed in before adding the next. Don't overmix adding the eggs is a quick step.

Pour the batter into the prepared pans and bake for 45 to 50 minutes until a toothpick inserted into the center comes out clean. Remove from the oven and let cool for 10 minutes before removing and placing on a wire rack to cool completely.

Dust with powdered sugar.
Notes
Make these as gifts: To turn this delicious treat into a gift use mini loaf pans and then wrap them in a plastic bag tied with festive string.
Nutrition
Serving:
1
slice
|
Calories:
284
kcal
|
Carbohydrates:
41
g
|
Protein:
5
g
|
Fat:
11
g
|
Saturated Fat:
7
g
|
Cholesterol:
64
mg
|
Sodium:
353
mg
|
Potassium:
324
mg
|
Fiber:
1
g
|
Sugar:
22
g
|
Vitamin A:
377
IU
|
Calcium:
74
mg
|
Iron:
2
mg