Healthy seeds and good for you fats rolled into one delicious bite that's bursting with chocolate and coconut flavor. These Coconut Energy Balls are the perfect snack to curb your cravings and boost your energy.
Healthy Bliss Balls
Whether you call them energy bites or bliss balls these delicious and healthy snacks are a great option for curbing cravings and helping with hunger. They're perfect for meal prep and a great grab-and-go option.
These snack bites are filled with healthy ingredients such as hemp and chia seeds, almond butter, and coconut oil, but you can also add in additional ingredients too. You can even turn them into a dessert bite by dipping them in chocolate.
All the ingredients come straight from the pantry and can easily be stored there for a healthy snack option. Not that kids need an energy boost, but they do make a healthy snack option for them as well.
And if you're looking for healthy snacks then you might also like this pomegranate mango smoothie or this healthy chocolate bark.
Ingredients in Coconut Energy Balls
The ingredients in these energy balls pack a powerful punch with all their health benefits. Below are just some of the goodness you'll find in this recipe, with so many more benefits I couldn't even begin to cover them all.
Oats: the oats add a filling element to the bites and are rich in antioxidants.
Hemp Seeds: These little seeds aid in digestion, and support healthy weight loss. They're also said to improve hair, skin, and nail health.
Sesame Seeds: These seeds are a good source of fiber and B vitamins, and have other potential claims to support healthy bones and reduce inflammation.
Chia Seeds: High in omega-3 fatty acids, high in protein, high in fiber. High in all kinds of great stuff, which makes them a perfect addition to this snack.
Cocoa Powder: this ingredient is rich in polyphenols which improve blood flow to your brain and brain function. Something we could also use a good bit of in the afternoons.
Almond Butter: this healthy fat holds the delicious ingredients of these bliss balls together with all kinds of added vitamin benefits.
Coconut Oil: believe it or not this healthy fat addition helps boost your energy and is good for blood sugar. It also aids in digestion.
Coconut Flakes: you can use sweetened or unsweetened coconut flakes, but if you want to keep these on the healthier side go for unsweetened.
Maple Syrup: this sweetener has an unexpected amount of essential minerals, and makes a great alternative to sugar.
How to Make Coconut Energy Balls
There's no cooking involved in preparing this healthy snack and they can be prepared in under 30 minutes following these simple steps.
Pulse Oats. Place the oats in a food processor or blender and pulse a few times until the mixture breaks down but is still grainy and has some flakes.
Combine. Pour the oats into a large bowl and add the remaining ingredients. Stir the mixture as best you can with a wooden spoon.
Mix. Using your hands, continue to mix the ingredients by mashing them together and then forming them into 2-inch sized balls.
Chill. Place the balls on a baking sheet and chill them for 20 minutes in the refrigerator to firm up.
Other Options for Mix-ins
The recipe for these coconut energy balls is just a suggestion and many of the ingredients such as the seeds can be swapped out for other mix-ins. You can also add any of the below options to the balls. If you're counting calories just be sure to add the additional mix-ins to your counter.
Dried Fruit: here you could do a mix of dried fruits such as cranberries and cherries or just keep it simple.
Sunflower Seeds: a salted version of sunflower seeds will give the balls a salty-sweet flavor.
Chocolate Chips: I recommend using the mini version of chocolate chips, which keeps the bliss balls together better.
White Chocolate Chips
Butterscotch Chips: if you're trying to keep your snack super healthy you may want to leave these out, but if you're looking to add a slight treat then this is a great option.
Flax Seeds: adding in some flax is a great way to increase your fiber intake.
Bee Pollen: This add-in will add all kinds of health benefits as well as a crunch.
Rice Krispie Cereal: add some crunch with this classic cereal.
Add spice: mix in some nutmeg or cinnamon or even a pinch of cayenne for some heat.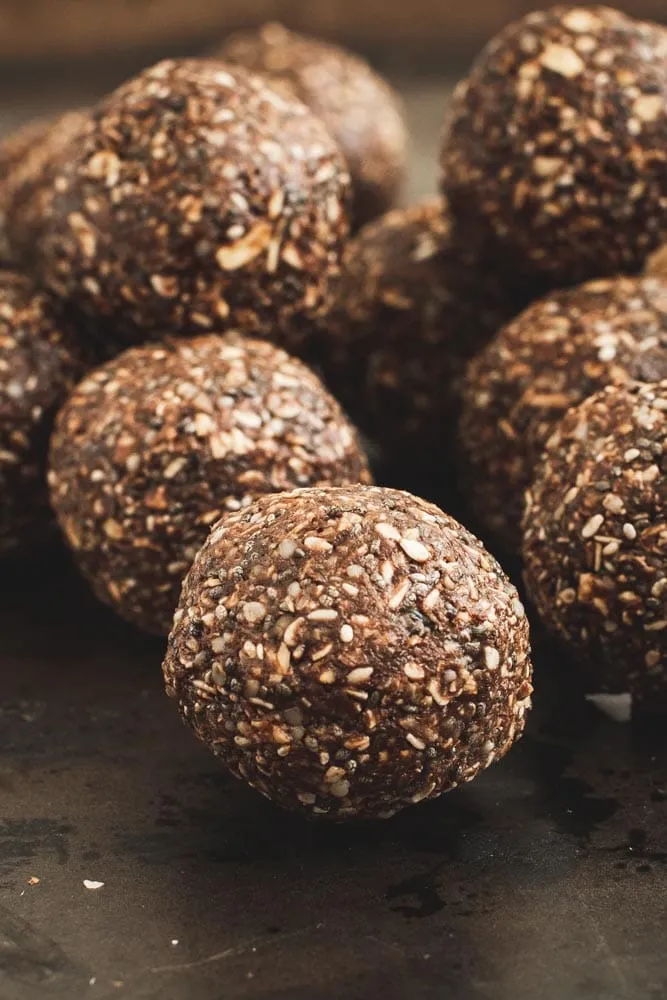 How to Store Healthy Bliss Balls
These can be stored in an air-tight container and kept in the pantry. No need to refrigerate them. A great way to ensure they're a super easy snack to grab on the go is to separate them into small snack-size zip-top bags.
If kept in an air-tight container the coconut energy bites will last up to 2 weeks.
Can These Be Made Gluten Free
As always, when trying to make anything gluten-free be sure to check your labels for any hidden ingredients. By swapping the oats for gluten-free oats you'll have delicious gluten-free coconut energy balls.
Can I use different nut butter?
Yes, absolutely! If you have a food allergy or dislike almond butter you can easily swap it out for a different version of healthy nut butter. Below are some other options to try.
Sun Butter: this is a great option for anyone who has a nut allergy.
Can I omit the coconut?
Yes, you can. There is both coconut flakes and coconut oil in these coconut energy balls, but it can be omitted. If you decide to remove the coconut then add an additional 1/4 cup of oats and 1/4 cup of peanut butter.
Can I swap out the oats?
Sure! You can swap out the oats for almond meals, ground flax seeds, or rice brands.
Can I use steel-cut oats?
Yes. The recipe suggests pulsing the oats in a food processor before mixing the ingredients together. This causes the oats to break down a bit and soften, which will work just as well with steel-cut oats.
How to Turn these Healthy Bliss Balls into a Dessert
Melt 1 cup of semi-sweet chocolate chips in a microwave-safe bowl in the microwave 30 seconds at a time, and stir in between. Take the finished energy balls and roll them in the melted chocolate until covered. Place on a parchment-covered baking sheet and store in the fridge for 5 to 10 minutes to harden.
You can also sprinkle some additional cocoa powder or coconut flakes on the outer chocolate layer of the coconut energy balls for an even more sweet flavor.
How to Turn these Coconut Energy Balls into Bars
Line an 8×8 square baking pan or dish with parchment paper and leave a 1-inch overhang on each side. Firmly press the energy bite mixture into the pan and use a spatula or wooden spoon to even out on top. Chill for 30 minutes to an hour and then slice into bars.
To take your bars to the next level melt 1/2 cup of semi-sweet chocolate morsels in the microwave and pour on top of the mixture before chilling it.
Some of my other favorite healthy snacks you can try: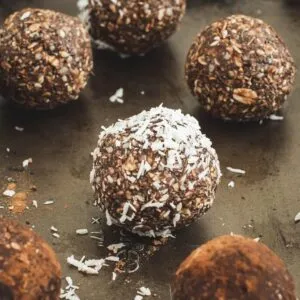 Coconut Energy Balls
Healthy seeds and good for you fats rolled into one delicious bite that's bursting with chocolate and coconut flavor. These Coconut Energy Balls are the perfect snack to curb your cravings and boost your energy.
Print
Pin
Rate
Ingredients
1½

cups

Oats

1/4

cup

Hemp Seeds

1/4

cup

Sesame Seeds

1/4

cup

Chia Seeds

1/4

cup

Cocoa Powder

1/2

cup

Almond Butter

1/4

cup

Coconut Oil

1/2

cup

Coconut Flakes

1/4

cup

Maple Syrup
Instructions
Place the Rolled Oats in a food processor or blender and pulse until slightly grainy. You sort of want the oats to be a powder, but still have some flakiness to them.

Place the oats in a large mixing bowl and combine with the rest of the ingredients.

Use your hand to roll the dough into 2-inch sized balls. Place in the fridge for about 20 minutes so the balls firm up a bit and either leave there in an airtight container or they will also work at room temp.
Notes
Any type of nut butter will work for this recipe.
Nutrition
Serving:
1
ball
|
Calories:
164
kcal
|
Carbohydrates:
12
g
|
Protein:
5
g
|
Fat:
12
g
|
Saturated Fat:
5
g
|
Sodium:
3
mg
|
Potassium:
137
mg
|
Fiber:
3
g
|
Sugar:
3
g
|
Vitamin A:
14
IU
|
Calcium:
74
mg
|
Iron:
2
mg