Desserts that are actually healthy sound like a myth, but surprisingly this sweet treat is actually good for you. This Healthy Chocolate Bark, with only 5 ingredients that are packed with nutrients, might just be your new favorite snack.
Healthy Dark Chocolate Bark Recipe
Outside of just grabbing an apple, sometimes healthy snacks can be hard to find. Even harder to find are healthy snacks that don't have a cardboard-like taste. Healthy Chocolate Bark is full of antioxidants and tastes like a chocolate bar, which meets my snack requirements. Those requirements being chocolate and chocolate.
The best part, outside of the delicious taste, is the simple preparation and the many different bark combinations you can make. Because the ingredients in this snack are completely healthy you can indulge comfortably and confidently, knowing you're eating something good for you.
Ingredients in this Dark Chocolate Bark Recipe
This dark chocolate bark recipe consists of melted chocolate topped with a host of healthy ingredients. The toppings are all interchange, and for this recipe, I've chosen the most nutrient-dense options.
If you'd prefer to use chocolate chips or are looking for a healthier option for chocolate chips then try these.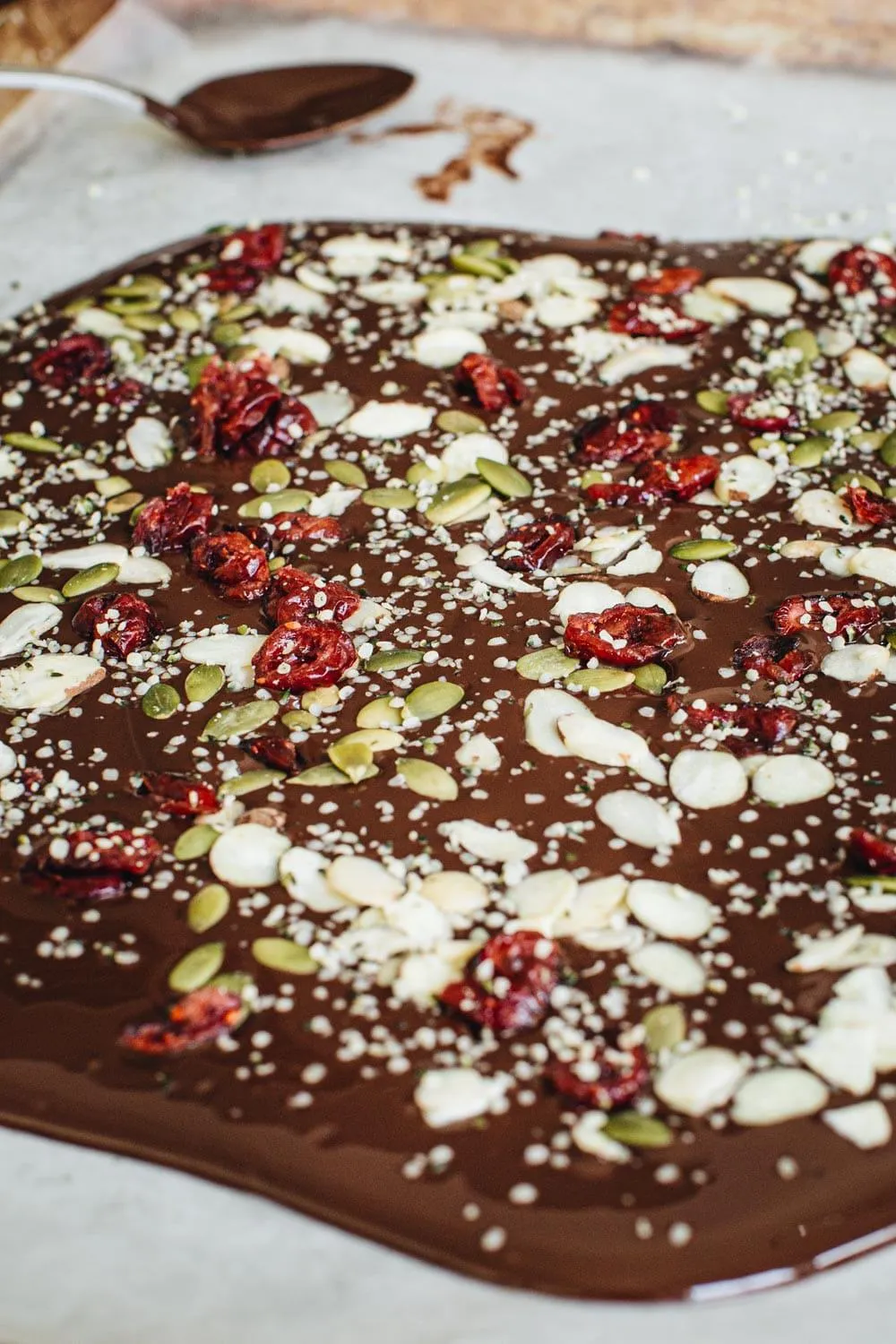 How to Make Healthy Chocolate Bark
Melt: place chocolate chips or chopped chocolate bars into a microwave-safe or heat-proof bowl and heat in the microwave in 30-second intervals. The heat-proof bowl can be placed over a saucepan with simmering water.
Spread: cover a rimmed baking sheet with parchment paper and using a rubber spatula spread the melted chocolate in an even layer.
Sprinkle: layer the toppings onto the chocolate and gently press them in.
Cool: allow the bark to cool at room temperature for 2 to 4 hours or place in the refrigerator for 15 to 30 minutes.
Break: using your hand break the firmed up bark into small pieces.
Other Ingredients to Add-in
Nuts: macadamia nuts, peanuts, cashews, or hazelnuts are all delicious options. You could even add them all.
Dried Fruit: dried cranberries, golden raisins, or especially cherries would be delicious, but you could also do dried mango or pineapple chunks.
Coconut Flakes: if you love the flavor of coconut then definitely add some flakes to your bark, and feel free to go crazy.
Goji Berries: These little berries provide immune support, protect the eyes, promotes healthy skin, and stabilizes blood sugar. They have so many health benefits making them a perfect addition to this healthy chocolate bark.
Cacao Nibs: made from crush cocoa beans, these little nibs are rich in antioxidants. If you're looking for more chocolate flavor add some of these to the healthy bark.
Chia Seeds: High in fiber, protein, and Omega-3 fatty acids, these seeds are also full of antioxidants.
Instant Coffee Grounds: for a little pick-me-up adding some instant coffee grounds will give you a slight caffeine kick as well as create a richer chocolate flavor.
Cocoa Powder: sprinkle some dark cocoa powder on top for a richer chocolate flavor, similar to a truffle.
Sesame Seeds: These seeds are a good source of fiber and B vitamins. Sprinkling these on top of your bark will add some extra crunch and extra health benefits.
Nut Butter: peanut butter, sun butter, pecan butter, or even almond butter. Add of a swirl of one of these options and you'll have a buttercup taste.
Puffed Rice: if you like a little crunch inside your chocolate then add some puffed rice for an extra crispy taste.
White Chocolate: You could easily switch out the dark chocolate for white chocolate in this recipe or you could make a swirled version using both. Make sure to melt them in separate bowls though.
Salt Flakes: For a salty and sweet flavor add some salt flakes to the top of your bark.
Overwhelmed with all the add-ins? Here are some delicious bark combinations:
There is no limit to the combinations of bark you could make, which can be overwhelming. Below are some of my favorite combinations, and personally I have no favorites, I love them all.
Tropical White Chocolate Bark: Dried Mango, Coconut Flakes, Macadamia Nuts, Sesame Seeds, Chia Seeds
Chocolate Peanut Butter Crunch: Puffed Rice, Creamy Peanut Butter, Cacao Nibs, Cocoa Powder.
Energy Boost: Cocoa Powder, Instant Coffee Grounds, Goji Berries, Hemp Seeds.
Sweet and Salty Bark: crushed peanuts, crushed hazelnuts, dried cherries, cacao nibs, salt flakes.
Black and White Bark: swirled melted chocolate and white chocolate, topped with hemp seeds, black and white sesame seeds, and cacao nibs.
How to Store Chocolate Bark
Depending on how you prefer your chocolate will determine how to best store it. If you like the colder, harder, type of chocolate (perhaps you prefer to keep your candy bars in the refrigerator), then you can place the bark pieces into an ait-tight container and store them in the refrigerator. It will last up to 2 weeks.
These bark pieces can also be kept in a zip-top bag or air-tight container and kept in the pantry for up to a week. Because the bark will be at room temperature it will be softer, similar to chocolate chips.
Note: if you're in a hurry this bark can be put in the refrigerator to chill. If you leave it in the refrigerator it will develop condensation that evaporates and then leaves behind sugar blooms. These sugar blooms are nothing more than dissolved sugar but change the appearance.
Tips for Preparing Healthy Chocolate Bark
Melt chocolate in the microwave: the microwave method is the quickest way to melt the chocolate. Using a microwave-safe bowl heat the chocolate in 30-second intervals, stirring after each one. Make sure to really stir the chocolate after each interval to avoid burning it.
How to melt chocolate on the stove: though this method is a little more involved it reduces the chance of burning the chocolate. Place the chocolate in a double boiler filled with heated water or in a metal bowl and set it over a pot filled also with heated water. Stir the chocolate until it melts and becomes smooth.
Chill the bark quickly in the refrigerator: if you'd like to speed up the time needed for the bark to firm up, place it in the refrigerator. In 15 to 30 minutes it will be ready.
FAQ's for Making Healthy Chocolate Bark
Can this bark recipe be made nut-free?
Yes! With all the topping options you can use whichever combination you prefer, leaving out nuts is definitely one of them.
How do you make chocolate bark vegan?
To make a vegan chocolate bark you will need to choose vegan chocolate and toppings that are vegan.
Can this dark chocolate bark recipe be made dairy-free?
Yes. You will need to use a dairy-free version of chocolate, but this recipe can easily be made without it.
Healthy snacks don't have to taste bad! Try some of the other delicious options.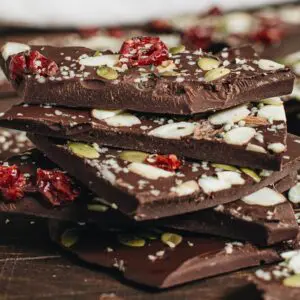 Healthy Chocolate Bark
Desserts that are actually healthy sound like a myth, but surprisingly this sweet treat is actually good for you. This Healthy Chocolate Bark, with only 5 ingredients that are packed with nutrients, might just be your new favorite snack.
Print
Pin
Rate
Ingredients
12

ounces

Chocolate Chips or High Quality Chopped Chocolate

3/4

cup

Hemp Seeds

1/4

cup

Dried Cranberries

2

tablespoons

Pumpkin Seeds

2

tablespoons

Sliced Almonds
Instructions
Place the chocolate in a microwave-safe bowl and heat in 30-second increments, stirring after each interval. Don't overcook the chocolate so you don't burn it. The key is to really stir it well after each interval. Conversely, you can also melt the chocolate in a heat-proof bowl set over a pot of slowly simmering water.

Place a piece of parchment paper on a large rimmed baking sheet. Using a rubber spatula spread the melted chocolate into an even later about 1/4-inch thick. The chocolate will not reach the edges of the baking sheet and you don't have create a perfect rectangle either.

Sprinkle the hemp seeds, cranberries, pumpkin seeds, and sliced almonds on top of the chocolate. Gently press the ingredients into the chocolate, making sure to just barely press it in.

Let the chocolate cool and firm up at room temperature for 2 to 4 hours. To quicken the process place the baking sheet on a flat surface in the refridgerator for 15 to 30 minutes.

After the chocolate and completely hardened, use your hands to break it apart into as many pieces and you'd like.
Notes
To store: Place the chocolate in an air-tight container for up to 1 week or keep chilled in the fridge for up to 2 weeks.
Nutrition
Serving:
1
pieces
|
Calories:
179
kcal
|
Carbohydrates:
11
g
|
Protein:
5
g
|
Fat:
13
g
|
Saturated Fat:
5
g
|
Cholesterol:
1
mg
|
Sodium:
4
mg
|
Potassium:
152
mg
|
Fiber:
3
g
|
Sugar:
6
g
|
Vitamin A:
51
IU
|
Calcium:
28
mg
|
Iron:
4
mg