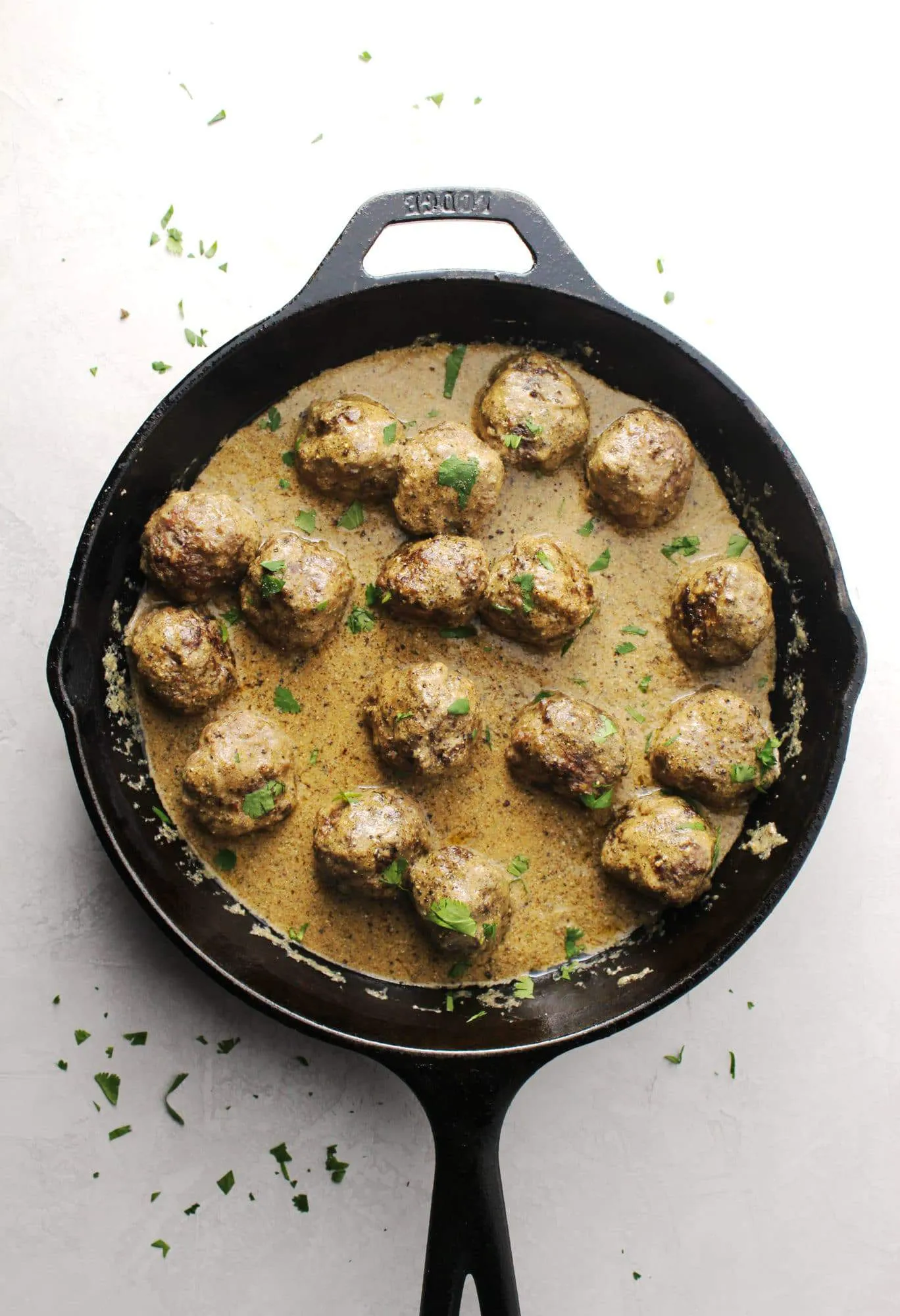 Oh, this recipe for Swedish Meatballs is nothing new. It's nothing new at all, but it's one of those recipes I hope my kids will one day tell their friends or spouse, "My Mom makes the BEST Swedish Meatballs," as their eyes dreamily glaze over and can practically taste the delicious meatballs in their creamy sauce.
I've got some time to figure out the exact details of how I'll achieve such a challenge, but I do feel consistency is key here, and so far this recipe is winning at our dinner table.
I have placed it on repeat…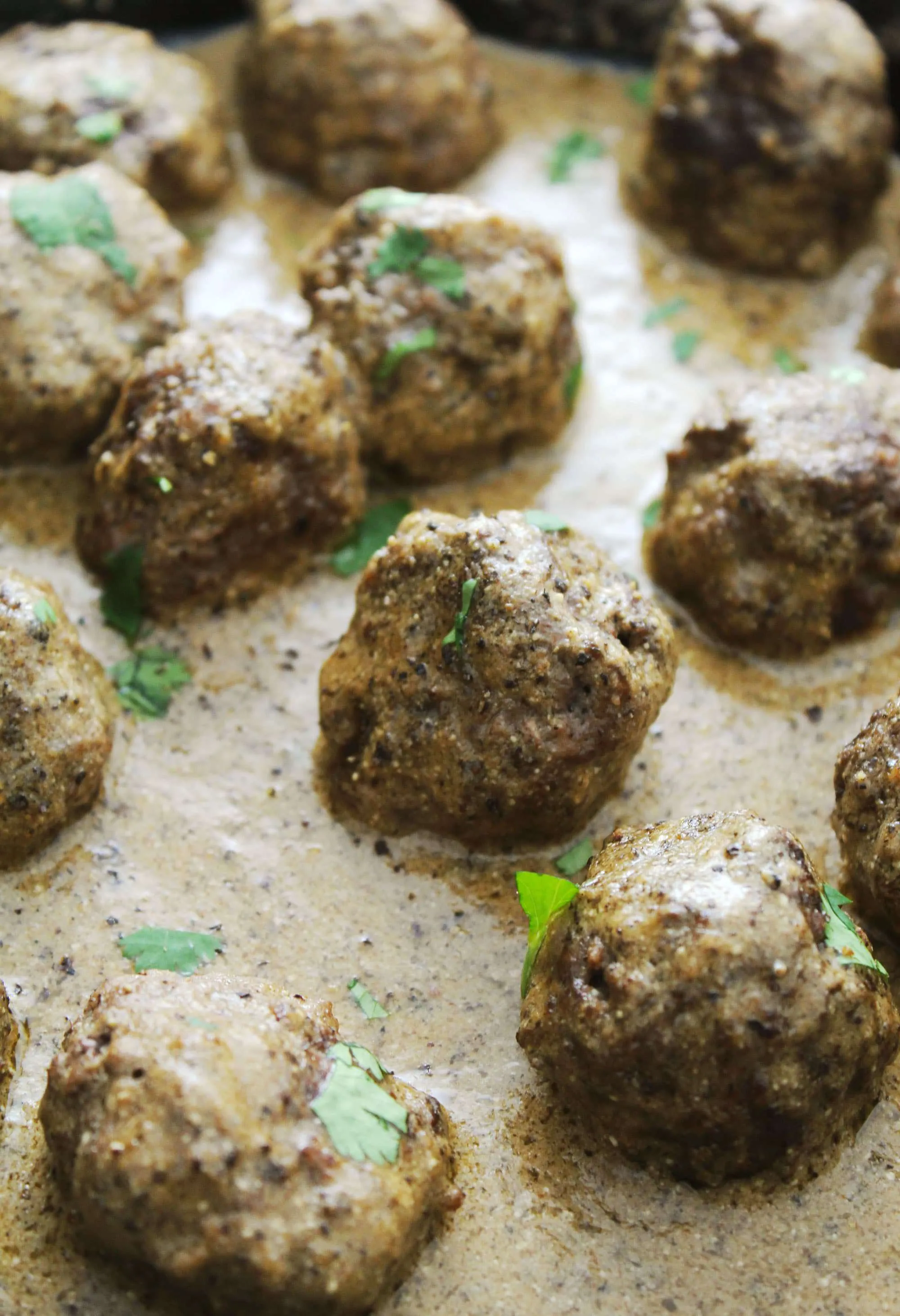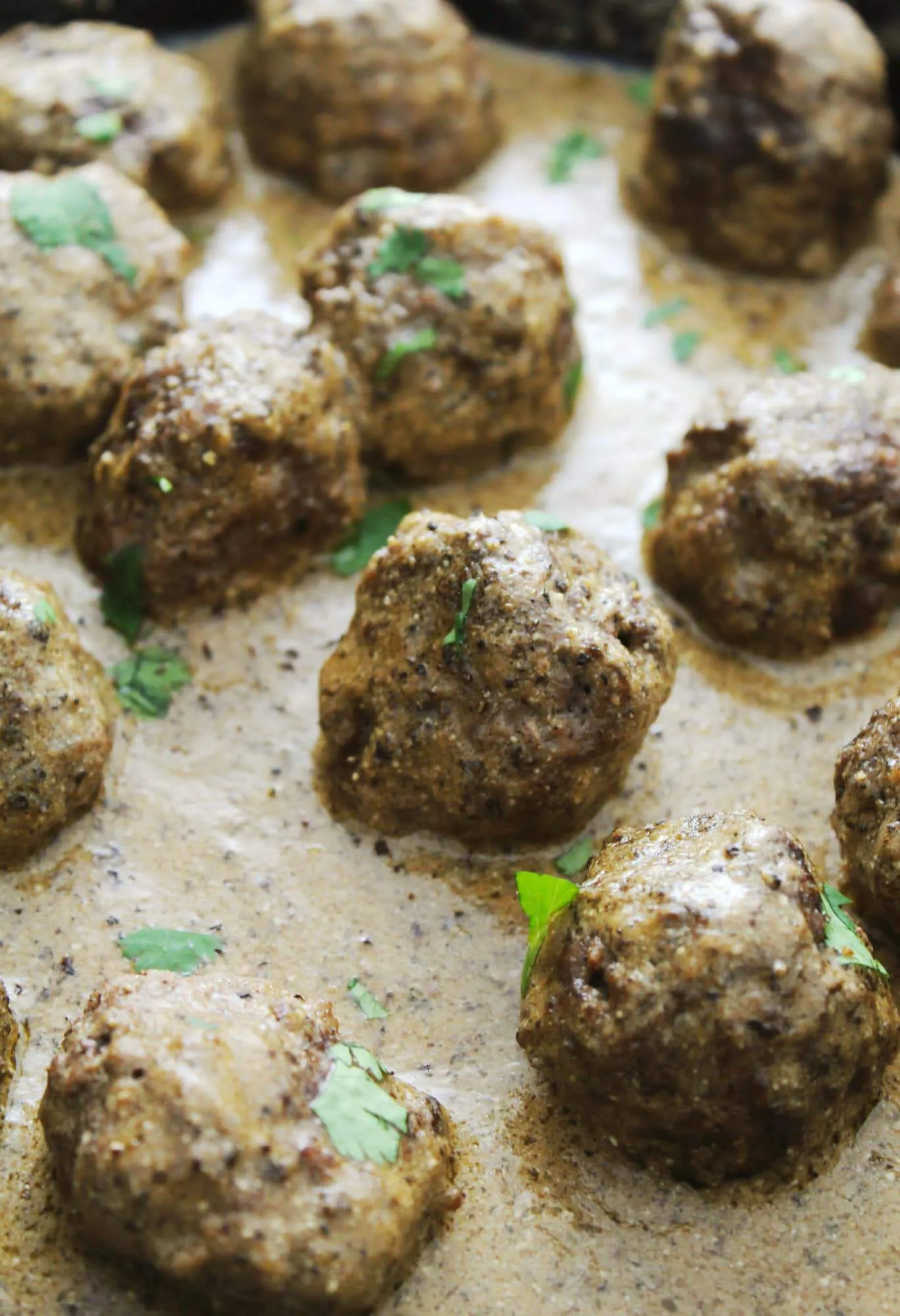 In addition to achieving my meatball dreams I have one sentiment for our dinner table to be a scared space where memories are made, challenges are solved, and moments are cherished. This sentiment I realize is one Mom's likely share everywhere and the basis for it all is food. Good food. Simple, familiar food.
Swedish meatballs are unique, but they're nothing new, familiar even and so I've decided they'll be one of those meals I keep in our meal plan rotation. Dinner to me means slowing down, even if for only 20 minutes, and hopefully, good food slows everyone at the table down just a little bit longer.
Meatballs are easy and basic, but what makes these unique is the addition of nutmeg and allspice spices for a slightly sweeter flavor. Pair them with a simple roux-based sauce with hints of Worcestershire sauce and Dijon mustard makes for a pretty epic version of Swedish Meatballs. One that future kids might rave about.
If you're looking to entertain your kids, then by all means, get them to help you make this recipe (certainly the meatballs) – it's that easy.
I think I said "Happy New Year," blinked and then it was May. The May where school is out and my kids are home, with me, all day, every day and in need of entertainment (they're toddlers). Making dinner is one form of entertainment I plan on enlisting.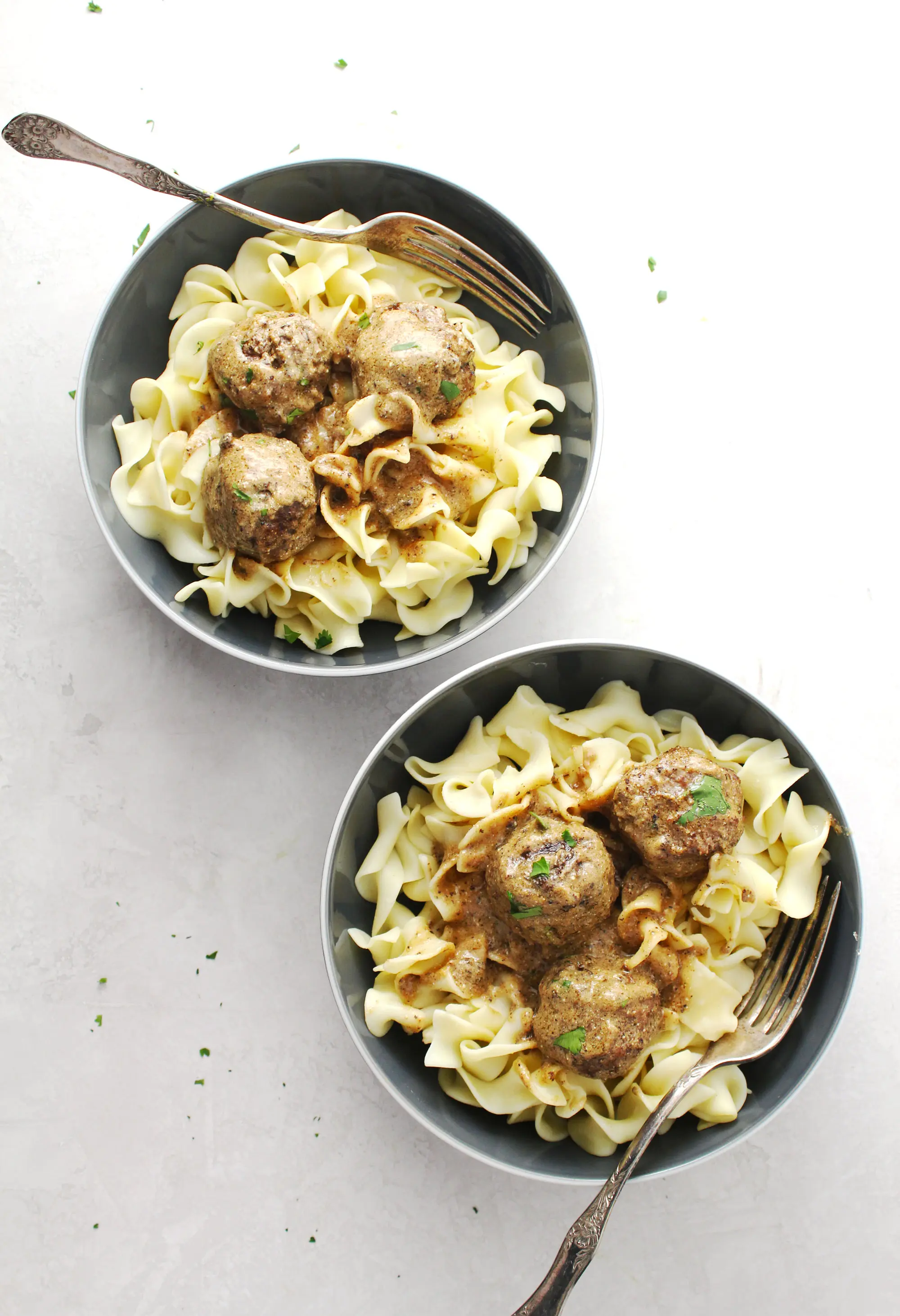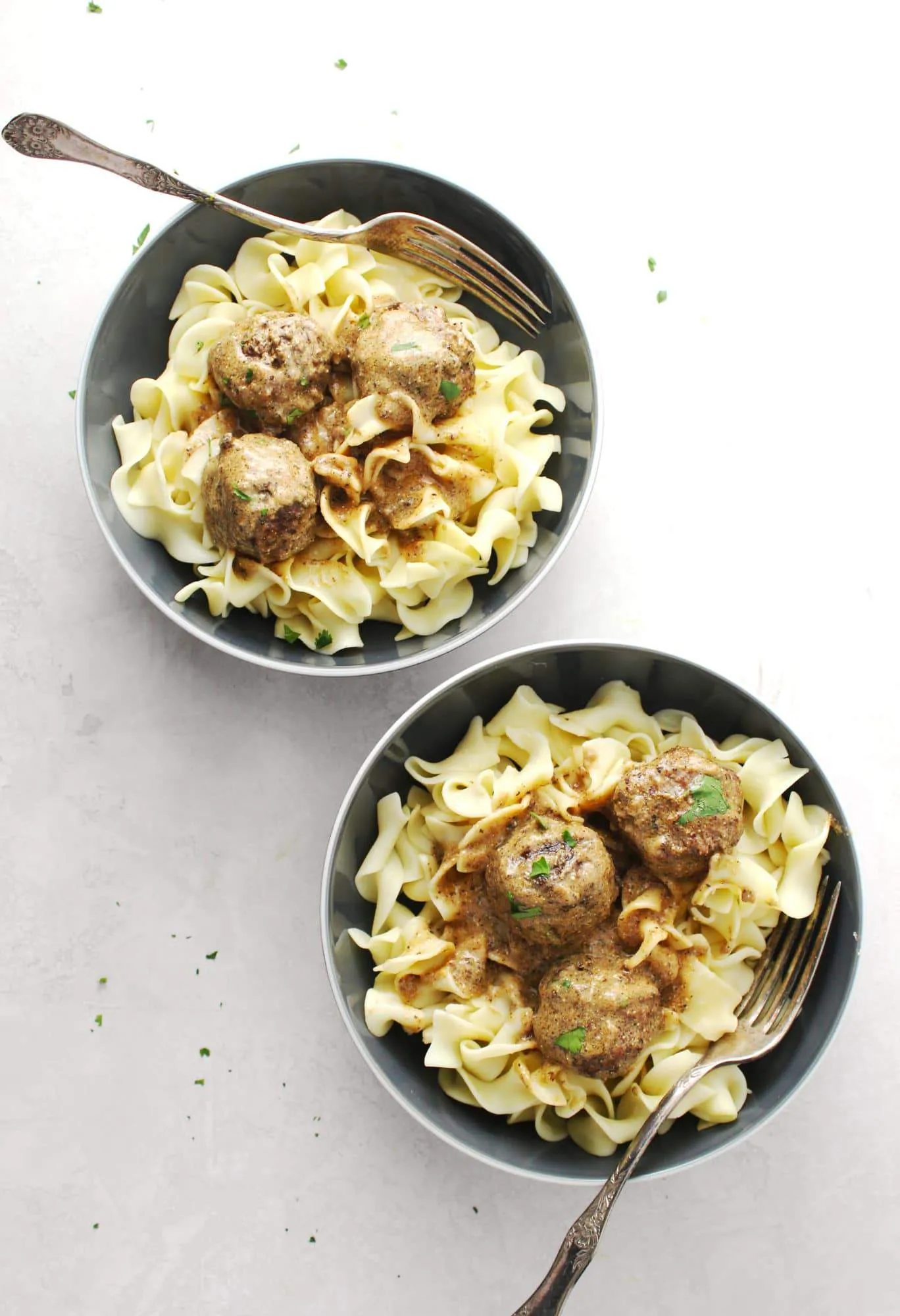 Dinner to me means slowing down, even if for only 20 minutes and as the days begin to ease into those long summer days, I hope to draw out dinner time as much as possible. Making savory meatballs is only the beginning…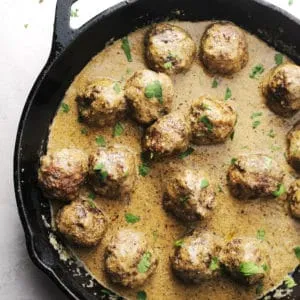 Easy Swedish Meatballs
This Swedish Meatball recipe is covered in the perfect roux-based sauce and perfect for a family dinner no matter the age. It's a quick and easy recipe to prepare, which leaves everyone happy.
Print
Pin
Rate
Ingredients
Meatballs
2

lbs

Ground Beef

1/3

cup

Breadcrumbs

1

large

Egg

1

teaspoon

Salt

1

teaspoon

Ground Black Pepper

1/2

teaspoon

Ground Nutmeg

1/2

teaspoon

Ground Allspice

1

tablespoon

Butter
Sauce
3

tablespoons

Butter

1

tablespoon

Oil

2

tablespoons

Flour

1/2

teaspoon

Garlic Powder

1

tablespoon

Worcestershire Sauce

1¾

cup

Beef Broth

1/2

cup

Sour Cream

2

teaspoons

Dijon Mustard

8

ounces

Egg Noodles
Instructions
In a large bowl combine the ground beef, breadcrumbs, egg, salt, pepper, nutmeg, and allspice together until thoroughly mixed. Shape ingredients into meatballs that are 1 to 1 1/4-inch in diameter.

In a large skillet heat 1 tablespoon of butter and 1 tablespoon of oil over medium-high heat. Add the prepared meatballs and cook for 9 minutes, turning occasionally to ensure even browning. You can use a wooden spoon to move them around. Remove the meatballs and set them aside.

Add the remaining 3 tablespoons of butter to the skillet. Sprinkle in the flour and whisk for 1 to 2 minutes, or until the mixture turns golden brown.

Add the garlic powder and Worcestershire sauce and stir. Slowly pour in the beef broth, whisking continuously.

Set the heat to medium and whisk in the sour cream and dijon mustard. Allow the sauce to come to a simmer and continue cooking for 8 to 10 minutes or until the sauce begins to thicken.

With 5 minutes left in the sauce simmering add the meatballs back to the skillet. While the sauce and meatballs are simmering cook the egg noodles in boiling water until al dente and drain. Serve with meatballs and sauce.
Notes
If you don't have a big enough skillet to hold them all just work in 2 batches and add a tablespoon of butter each time you add a new set of meatballs. Avoid overcrowding them.
Nutrition
Serving:
1
Serving
|
Calories:
710
kcal
|
Carbohydrates:
35
g
|
Protein:
35
g
|
Fat:
47
g
|
Saturated Fat:
20
g
|
Trans Fat:
2
g
|
Cholesterol:
200
mg
|
Sodium:
942
mg
|
Potassium:
628
mg
|
Fiber:
2
g
|
Sugar:
2
g
|
Vitamin A:
427
IU
|
Vitamin C:
1
mg
|
Calcium:
91
mg
|
Iron:
5
mg