These super thick and fudgy Pumpkin Swirl Brownies have been a family favorite with their pumpkin pie-like swirl layer and thick brownie base. They're the perfect fall indulgence.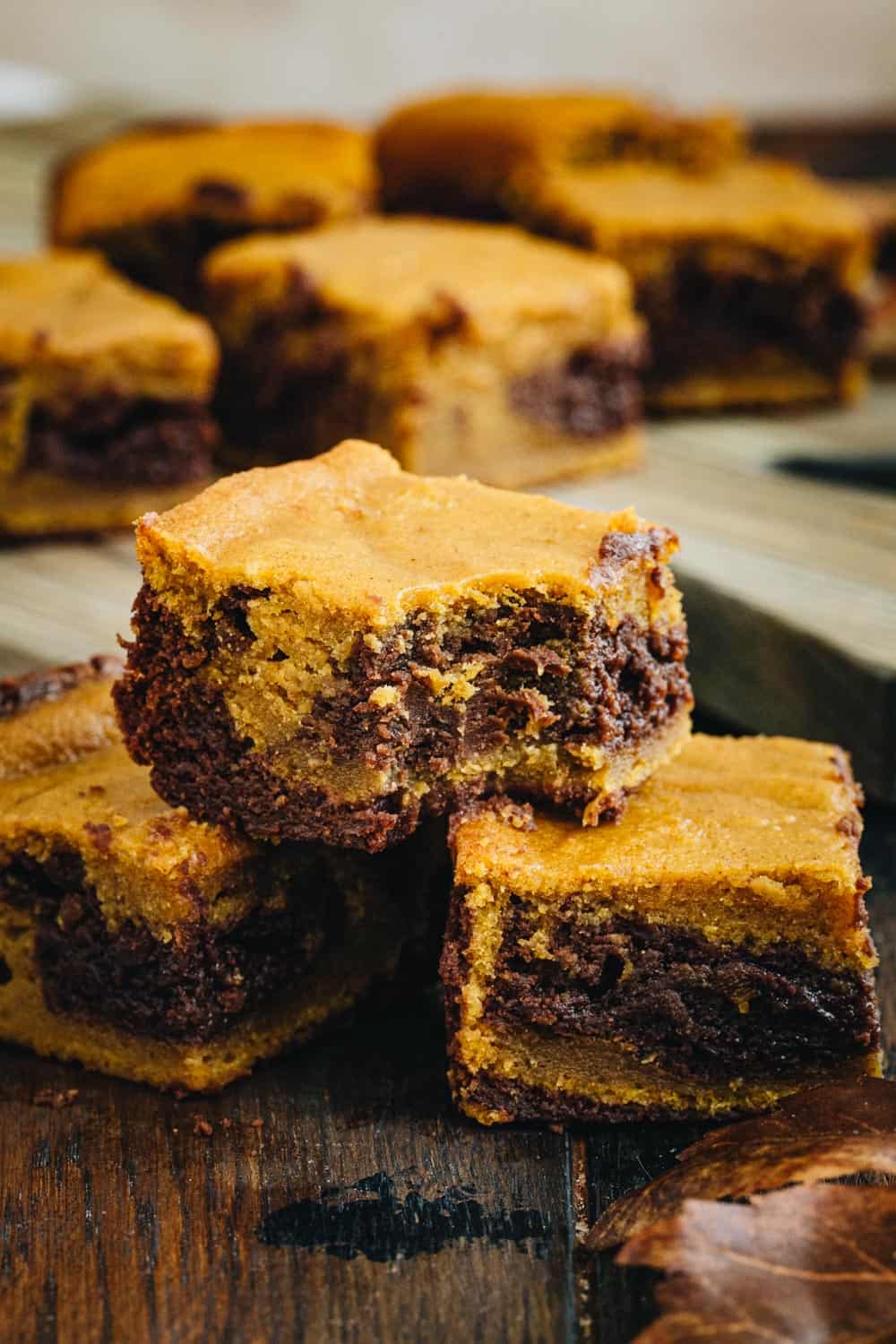 Pumpkin Swirl Brownies
Years ago when my husband and I were first married I got the itch to entertain. When we had family in town to visit our tiny New York City apartment I would also fill it with flavor, to distract from its close quarters. Sort of.
Really, I enjoyed cooking and baking, and when anyone came to visit I used it as an excuse to spend some time in the kitchen. I always broke one of the main rules of entertaining and prepared a new recipe too. Though there were many recipe flops, it was how I first learned how to cook.
One of the very first recipes I prepared was Martha Stewart's pumpkin swirl brownies. They were such a hit that I made them many more times and each time I experimented and changed up the recipe a bit. This version here is my favorite way to make pumpkin swirl brownies, which I've now been baking for well over a decade.
Pumpkin Layer
The base of both the pumpkin layer and the brownie layer is similar, however, the pumpkin layer includes the oil, pumpkin, and pumpkin pie spice. This mixture yields a pumpkin pie-like consistency and flavor, which blends, or swirls, perfectly with the brownie layer.
Brownie Layer
The chocolate brownie layer of these pumpkin swirl brownies is a rich fudge-like consistency that is intensified by the espresso powder. The rich flavor balances the pumpkin layer making them a perfect combination.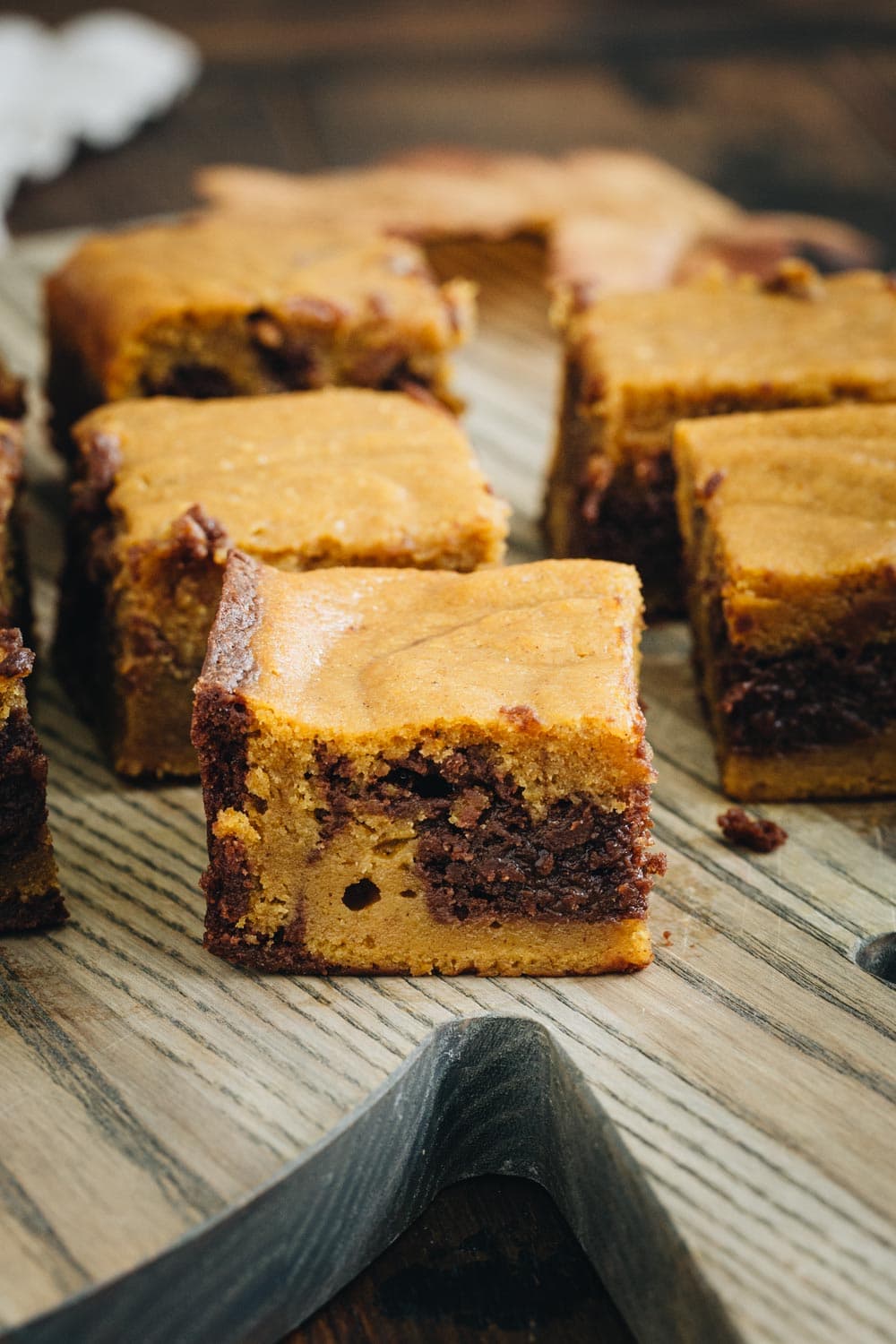 Ingredients in Pumpkin Swirl Brownies
Unsalted Butter: adding butter to baked goods, brownies included, is important because the fat adds flavor and helps bind the dry ingredients together. You also want to use unsalted butter because salt will be added later.
Bittersweet Chocolate: I prefer to use 80% dark chocolate bars for this recipe and just chop them up with a knife. You can use whatever version of baking chocolate you like, however, milk chocolate does not work as well for this recipe.
Espresso Powder: this ingredient is purely optional, however, the espresso increases the flavor of the chocolate.
Flour: the flour provides the structure for the brownies and therefore is an important ingredient in baking.
Baking Powder: the baking powder is used to increase the volume and lighten the texture of baked goods. Though these brownies are extremely dense the baking powder helps to give them that slightly cakey brownie texture.
Salt: the salt helps to balance the sweetness of the recipe to the flavor is even.
Sugar: since this recipe calls for bittersweet chocolate you'll need to add some sweetness by mixing in some sugar.
Eggs: the eggs create structure and stability in the brownies and also helps bind the other ingredients together.
Vanilla Extract: the vanilla adds an important flavor to baked goods that would often taste bland without it. Though there is the pumpkin spice flavor you also need the vanilla to boost it.
Pumpkin Puree: this key ingredient is mixed into the pumpkin swirl layer of the brownies and brings part of the pumpkin pie taste and texture.
Oil: these brownies have a fudge-like consistency to them and the oil is responsible. You can use whichever oil you prefer, but vegetable oil tends to work best.
Pumpkin Pie Spice: by adding this fall spice blend to the brownies you'll get a pumpkin pie taste mixed with the brownies. You can purchase pumpkin pie spice from your grocery store or make your own.
How to Make Pumpkin Swirl Brownies
Melt the Chocolate: place the butter, chocolate, and espresso powder into a small saucepan and carefully melt over low heat, stirring continuously.
Mix Dry Ingredients: whisk the flour, baking powder, and salt together and set aside.
Beat: in the bowl of an electric mixer (or using a handheld mixer) beat the sugar, eggs, and vanilla together until fluffy. Pour in the flour mixture and mix until smooth.
Divide: divide the batter between two medium bowls. In the first bowl stir in the chocolate mixture. In the second bowl whisk the pumpkin, oil, and pumpkin pie spice until smooth.
Layer: Pour half of the chocolate batter into the bottom of a greased 9×9 baking pan and spread out with a spatula. Pour half of the pumpkin batter over the chocolate and gently spread out with a spatula too. Repeat with the remaining chocolate batter and then the pumpkin.
Swirl: using a butter knife carefully place the knife into the brownie batter and swirl the batter together.
Bake: Bake at 350ºF for 40 to 45 minutes and let cool on a wire rack completely before slicing.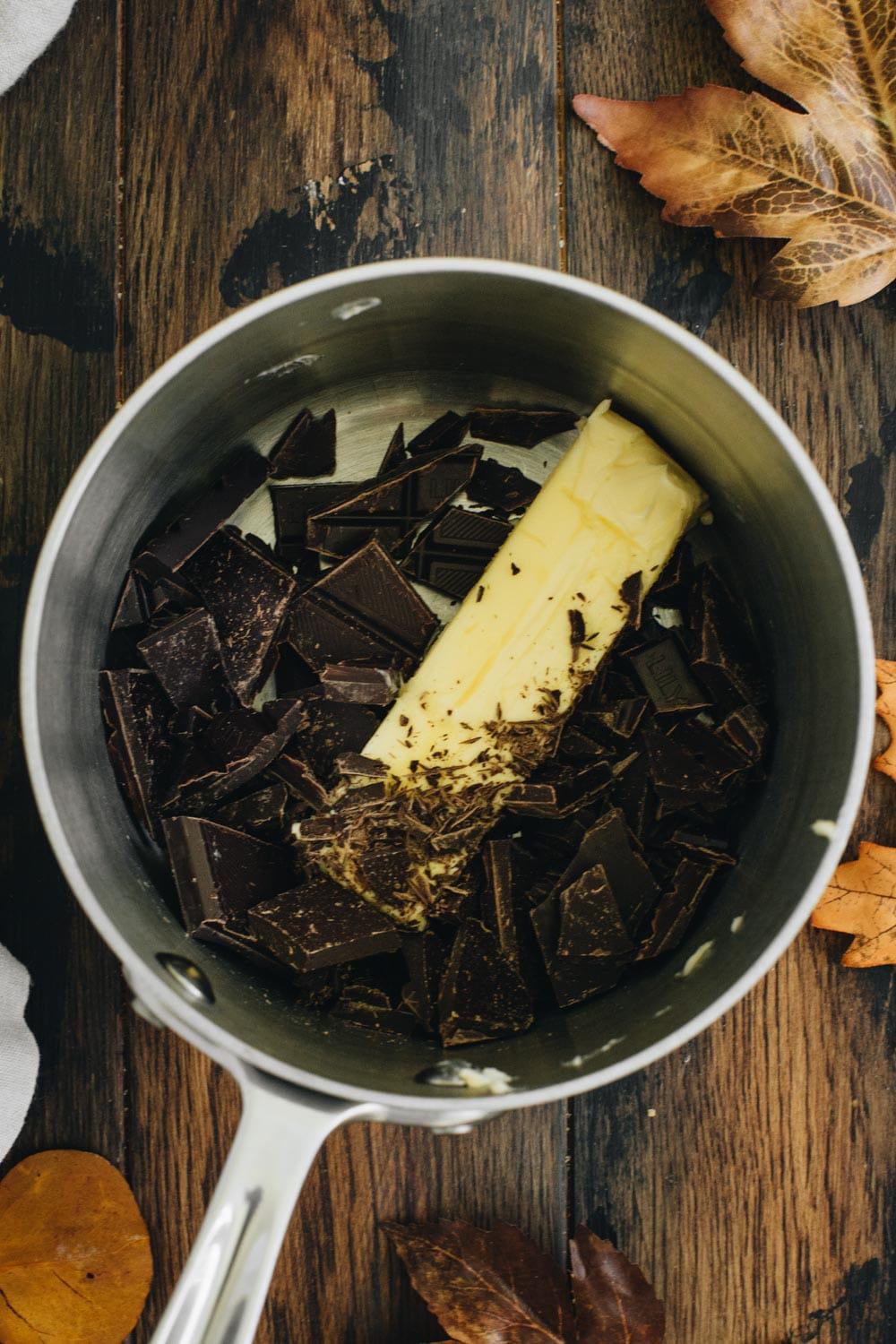 How to Store Pumpkin Brownies
The pumpkin swirl brownies can be kept in an air-tight container for up to 1 week. There's no need to place them in the refrigerator unless you like your brownies a little chilled.
How to Cut Brownies Perfectly
Make sure the brownies are completely cooled (To hurry this process along you can pop the pan into the refrigerator for about an hour).
Use a plastic knife (yes you read that right), because the plastic slides easily between the brownies and cuts them perfectly. If you don't have one a super sharp knife will work.
After each slice carefully clean the brownie bits off of the knife blade.
FAQ's for Making Pumpkin Swirl Brownies
Below are some of the most frequent questions regarding making pumpkin brownies. If you have any additional questions leave a comment below and I'll get back to you as soon as possible.
Can these pumpkin brownies be frozen?
Yes! In order to freeze these brownies follow the recipe in its entirety and let the brownies cool completely. Wrap them in foil and then place them in a zip-top bag or double wrap them in foil. They will last up to 2 months in the freezer. To thaw place them in the refrigerator overnight.
Can these brownies be made ahead?
Of course! These brownies can be made the night before you plan on serving them or even up to 2 days ahead of time.
Consider Making these Other Sweet Pumpkin Recipes: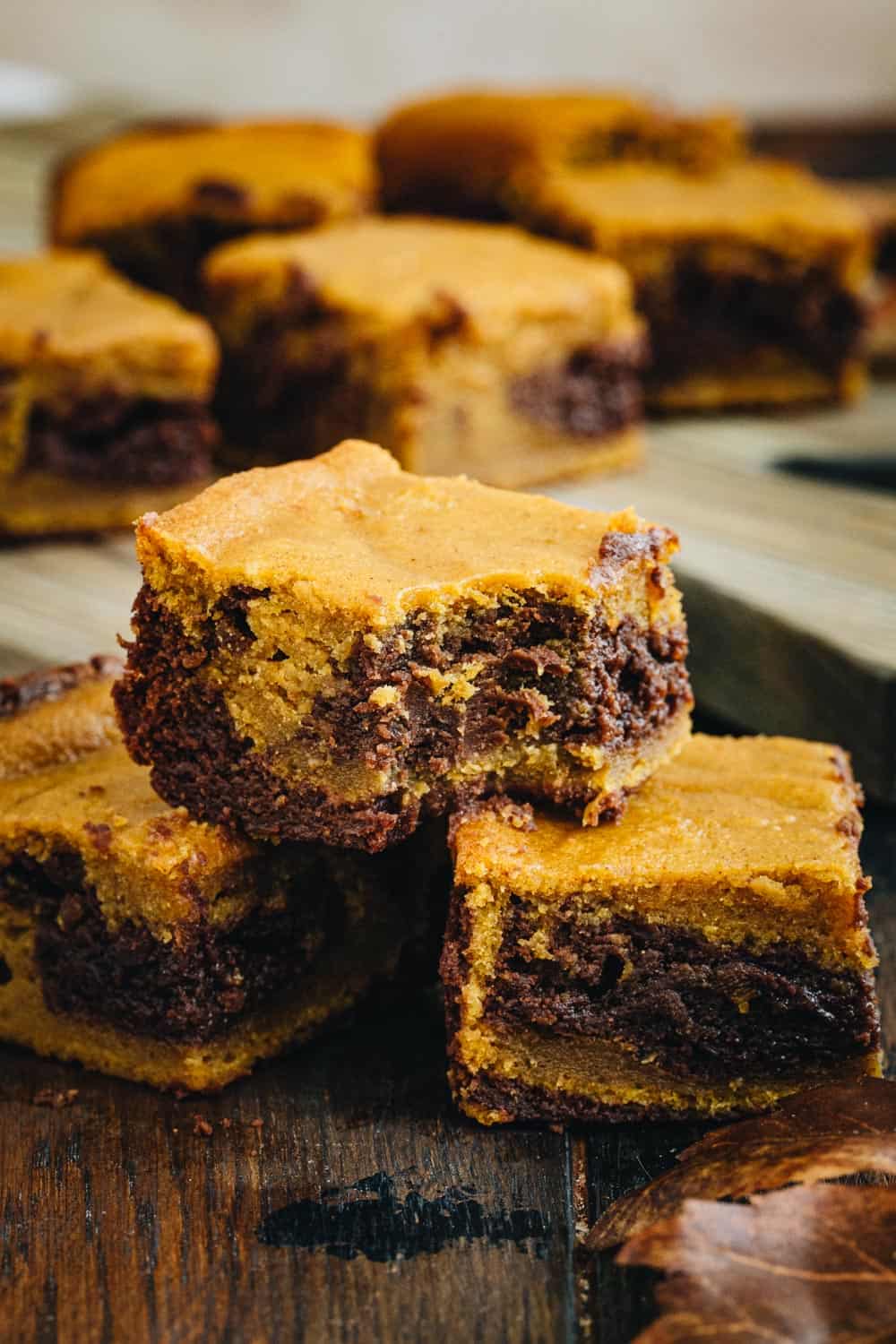 Equipment
9×9 Baking Pan

Mixing Bowls

Electric Mixer or Handheld Mixer

Rubber Spatula
Ingredients
8

tablespoons

Unsalted Butter

6

ounces

Bittersweet Chocolate

chopped

1

teaspoon

Espresso Powder

optional

2

cups

Flour

1

teaspoons

Baking Powder

1/2

teaspoon

Salt

1¾

cup

Sugar

4

large

Eggs

1

tablespoon

Vanilla Extract

1¼

cup

Pumpkin Puree

1/4

cup

Vegetable Oil

1¼

teaspoon

Pumpkin Pie Spice
Instructions
Preheat the oven to 350ºF. Line a 9×9 baking dish with foil and lightly coat with cooking spray.

Place the butter, chocolate, and espresso powder into a small saucepan and melt over low heat while stirring constantly until smooth and fully melted.

In a medium mixing bowl whisk the flour, baking powder, and salt together until well combined.

In the bowl of an electric mixer (or using a handheld mixer) beat the sugar, eggs, and vanilla extract together for 3 to 5 minutes, or until fluffy. Add the flour mixture and continue to mix until smooth and well combined.

Divide the batter between two medium bowls (about 2 cups in each bowl). Mix the chocolate mixture into the first bowl and set aside. In the second bowl whisk in the pumpkin, oil, and pumpkin pie spice until smooth.

Pour half of the chocolate mixture into the prepared baking dish and use a spatula to smooth and spread out. Top with half of the pumpkin mixture and carefully spread it out with a spatula as well. Repeat with the remaining chocolate mixture and pumpkin mixture.

Using a butter knife place it into the batter and gently swirl it all around the pan to create a marble effect. Work quickly so the layers don't set.

Bake for 40 to 45 minutes and let cool on a wire rack before slicing.
Notes
To Make Your Own Pumpkin Pie Spice: Mix the following spices together.
2 teaspoons Cinnamon
1/2 teaspoon Nutmeg
1/2 teaspoon Ground Ginger
1/4 teaspoon Ground Cloves
Nutrition
Serving:
1
brownie
|
Calories:
414
kcal
|
Carbohydrates:
55
g
|
Protein:
5
g
|
Fat:
19
g
|
Saturated Fat:
12
g
|
Cholesterol:
83
mg
|
Sodium:
126
mg
|
Potassium:
215
mg
|
Fiber:
2
g
|
Sugar:
35
g
|
Vitamin A:
4302
IU
|
Vitamin C:
1
mg
|
Calcium:
46
mg
|
Iron:
3
mg