Celebrate Thanksgiving in style with our curated collection of 25 exquisite Thanksgiving Cocktails that will transport your taste buds to a world of delectable flavors and seasonal joy.
Thanksgiving Cocktails
While the holiday season certainly revolves around food, the beverages that pair with them are equally worth savoring and remembering. I love preparing Fall Cocktails. Below is a list of the best Thanksgiving cocktails to pair with your meal.
1. Amaretto Coffee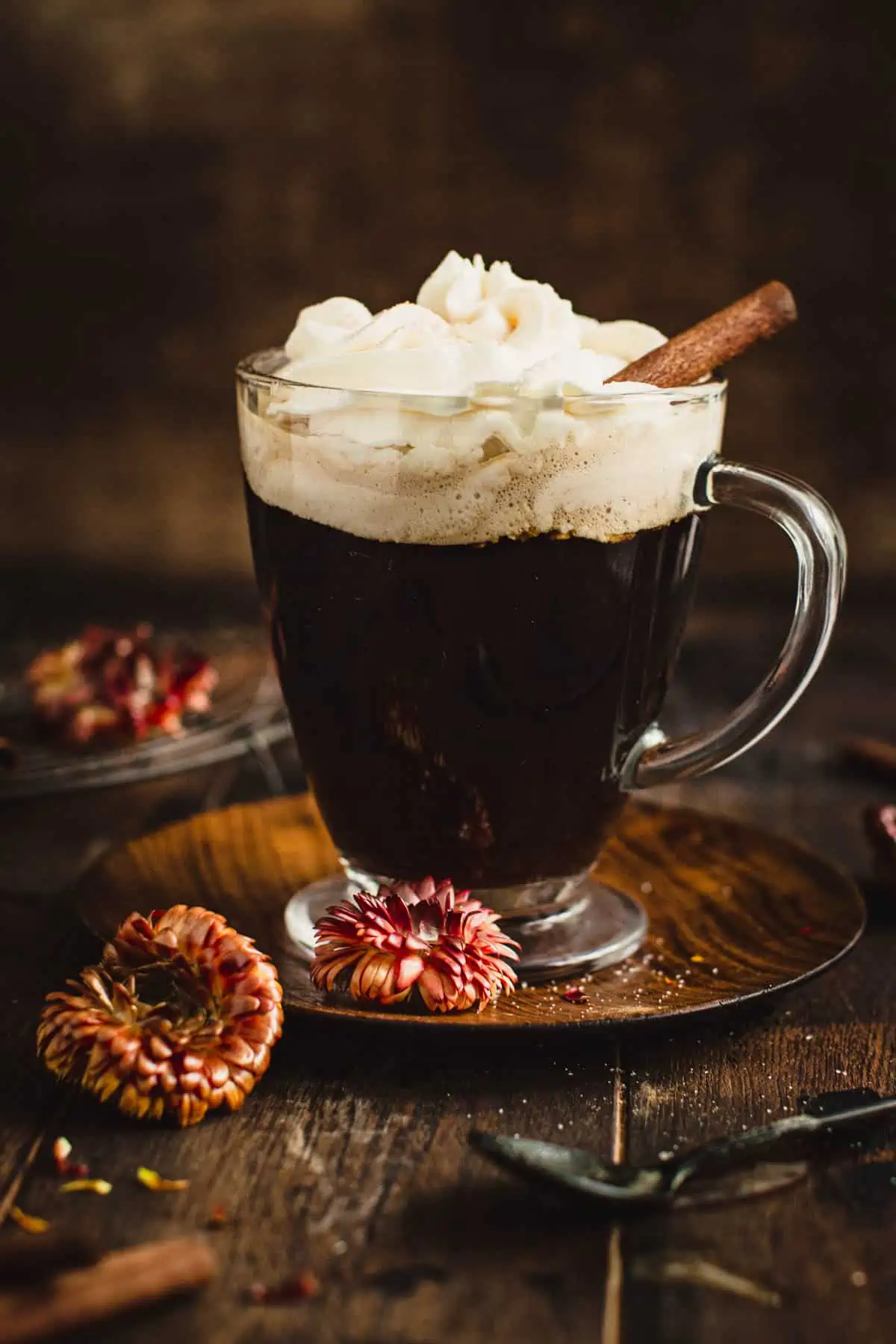 Experience the heavenly flavors of Amaretto Coffee! Delight in the decadent blend of rich, nutty undertones in this beloved coffee-based concoction, enhanced by the irresistible sweetness of amaretto liqueur. A harmonious pairing in the world of coffee, Amaretto Coffee promises a sensory delight for your palate.
2. Apple Cider Bourbon Cocktail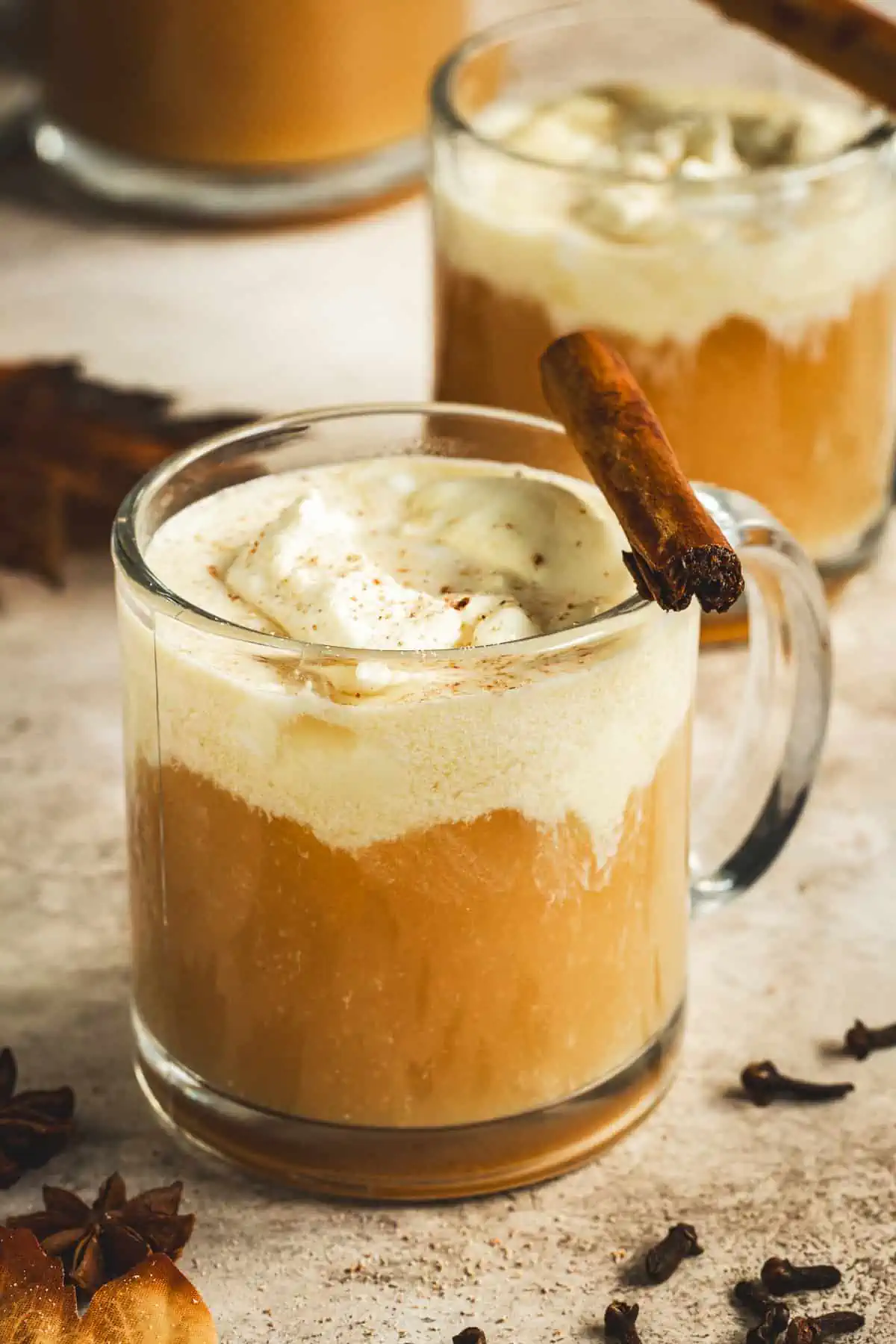 Enjoy the cozy embrace of autumn with the Apple Cider Bourbon Cocktail. This toasty fall libation is infused with both vodka and bourbon, and features a delightful infusion of caramel sauce and cinnamon sticks. Topped with whipped cream, this comforting spiced drink is ideal for leisurely sipping by the fireside or sharing with friends.
3. Apple Cider Hot Toddy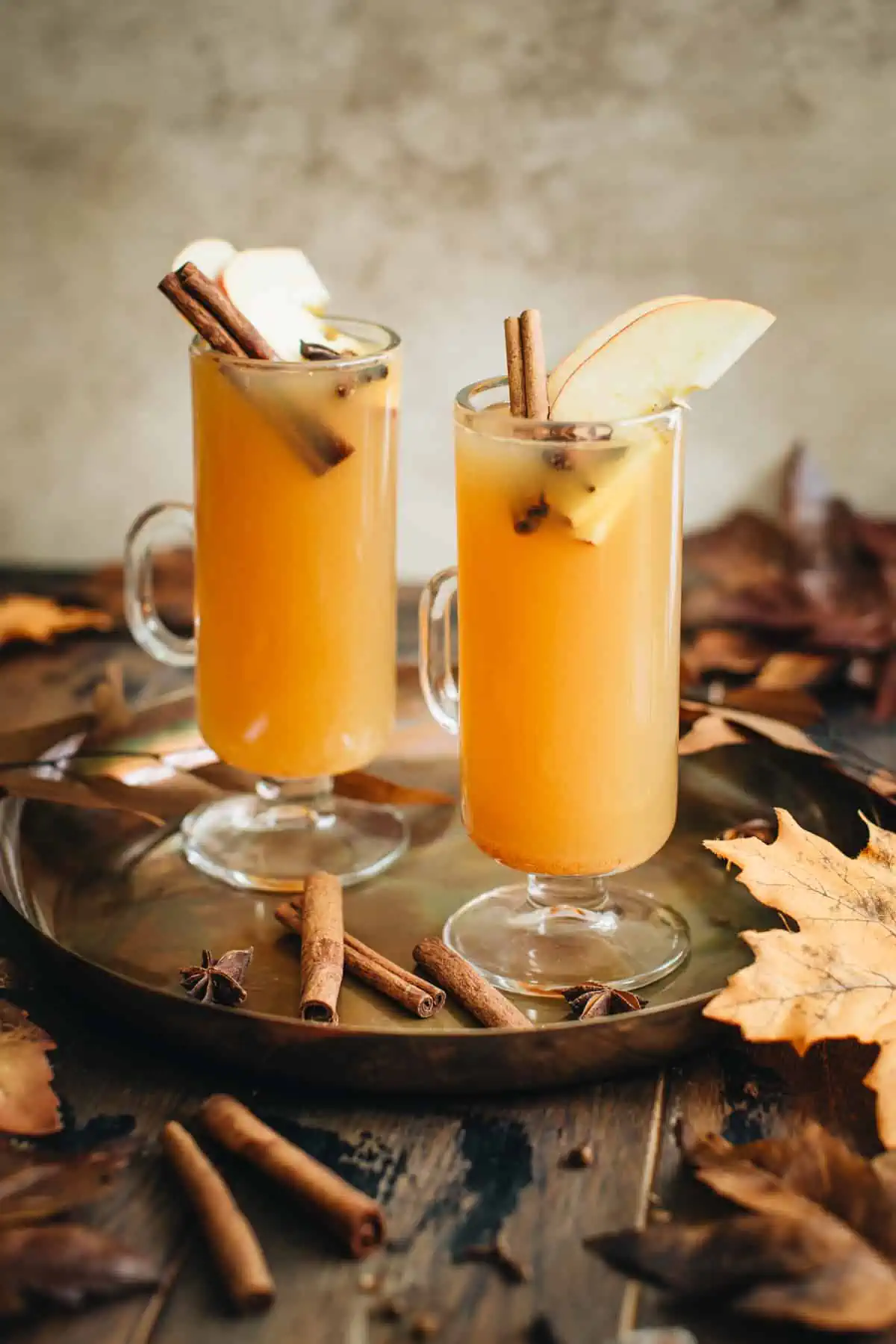 Embrace the heartwarming charm of the Apple Cider Hot Toddy, a delectably spiced elixir akin to a comforting embrace for your spirit. Warm apple cider infused with honey, lemon, and a medley of spices, crowned with whiskey, is an ideal choice for those seeking a delightful beverage on cozy autumn evenings.
4. Apple Cider Margarita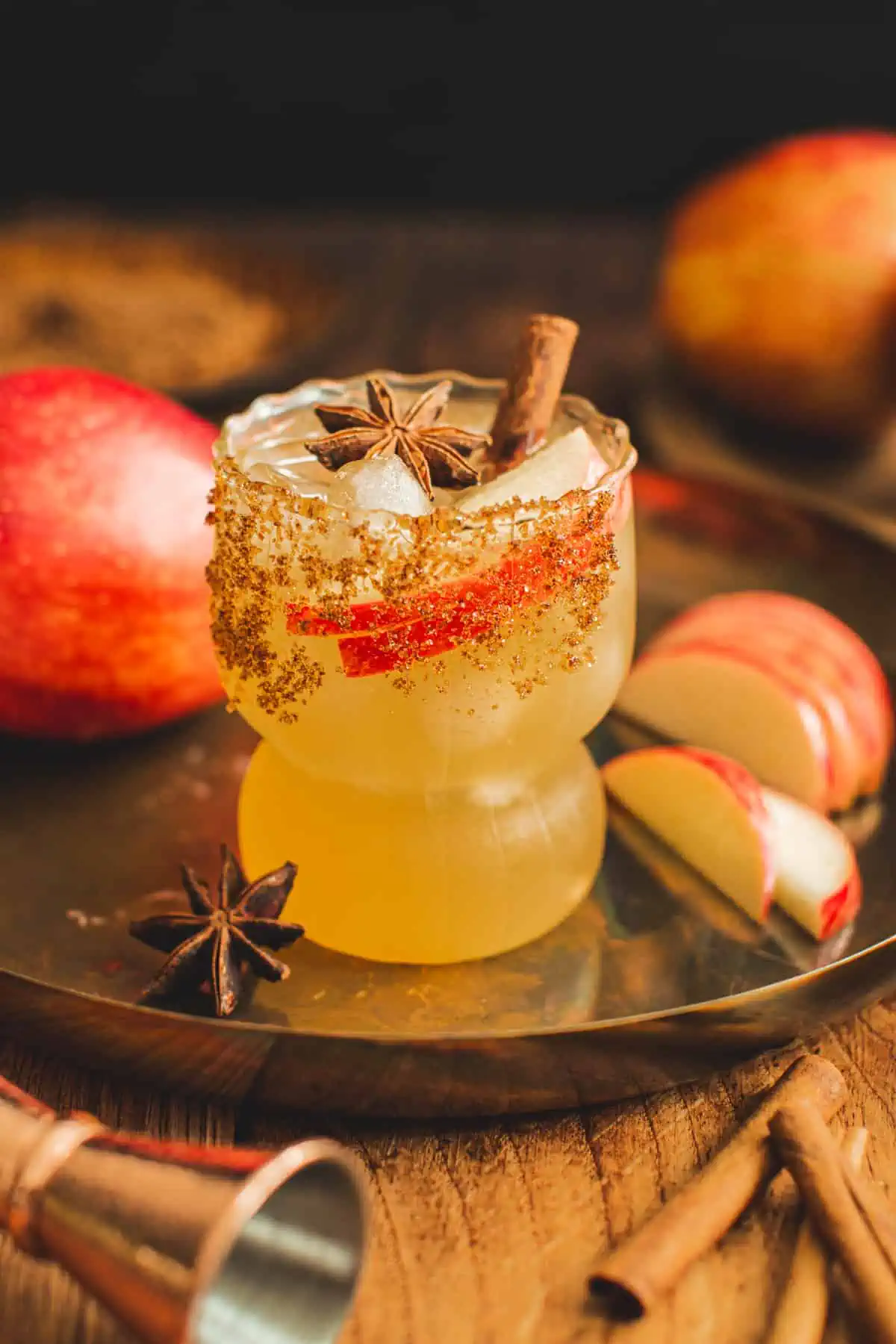 Experience the refreshing spirit of autumn encapsulated in a glass with the Apple Cider Margarita. This captivating cocktail combines the zesty notes of fresh apple cider with the robust character of tequila, all harmoniously balanced with a hint of citrus.
5. Apple Cider Martini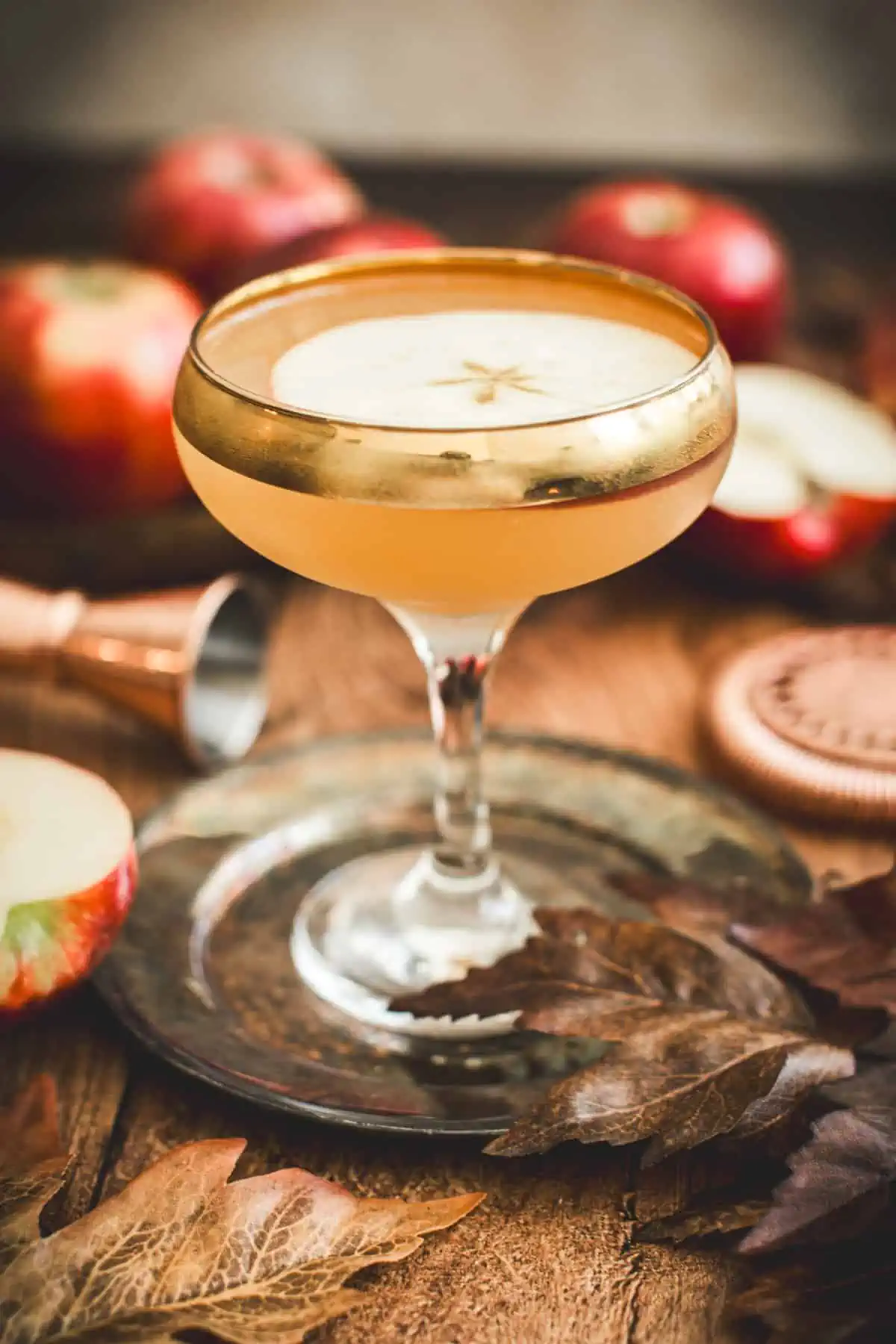 Embrace the autumnal allure with our Apple Cider Martini, a concoction of apple cider, vodka, triple sec, and orange juice. This harmonious blend captures the very essence of fall in each and every sip.
6. Apple Cider Slushie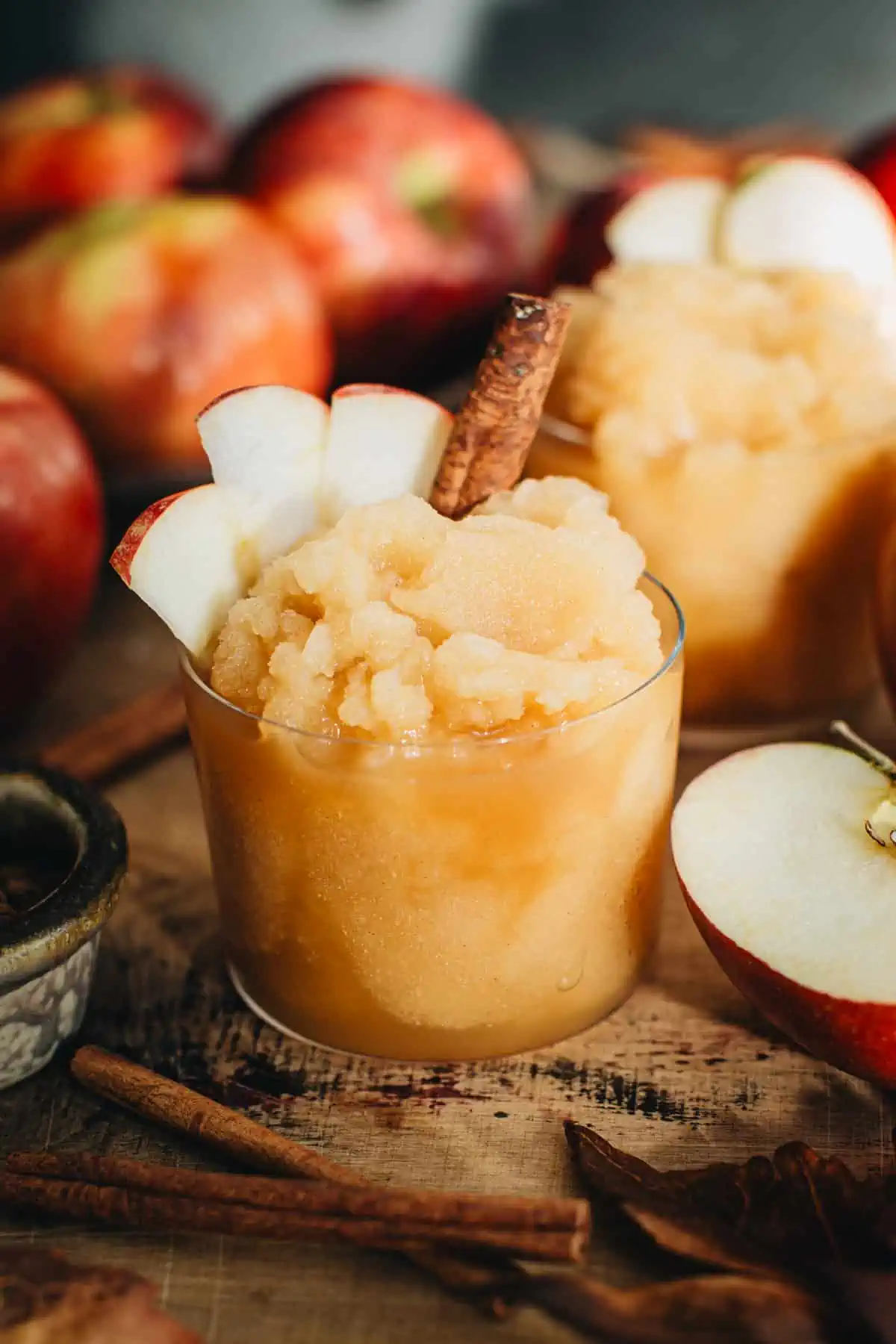 Embrace the authentic taste of autumn with an Apple Cider Slushie, where the essence of fresh apples meets the icy refreshment of a frozen treat.
7. Apple Sangria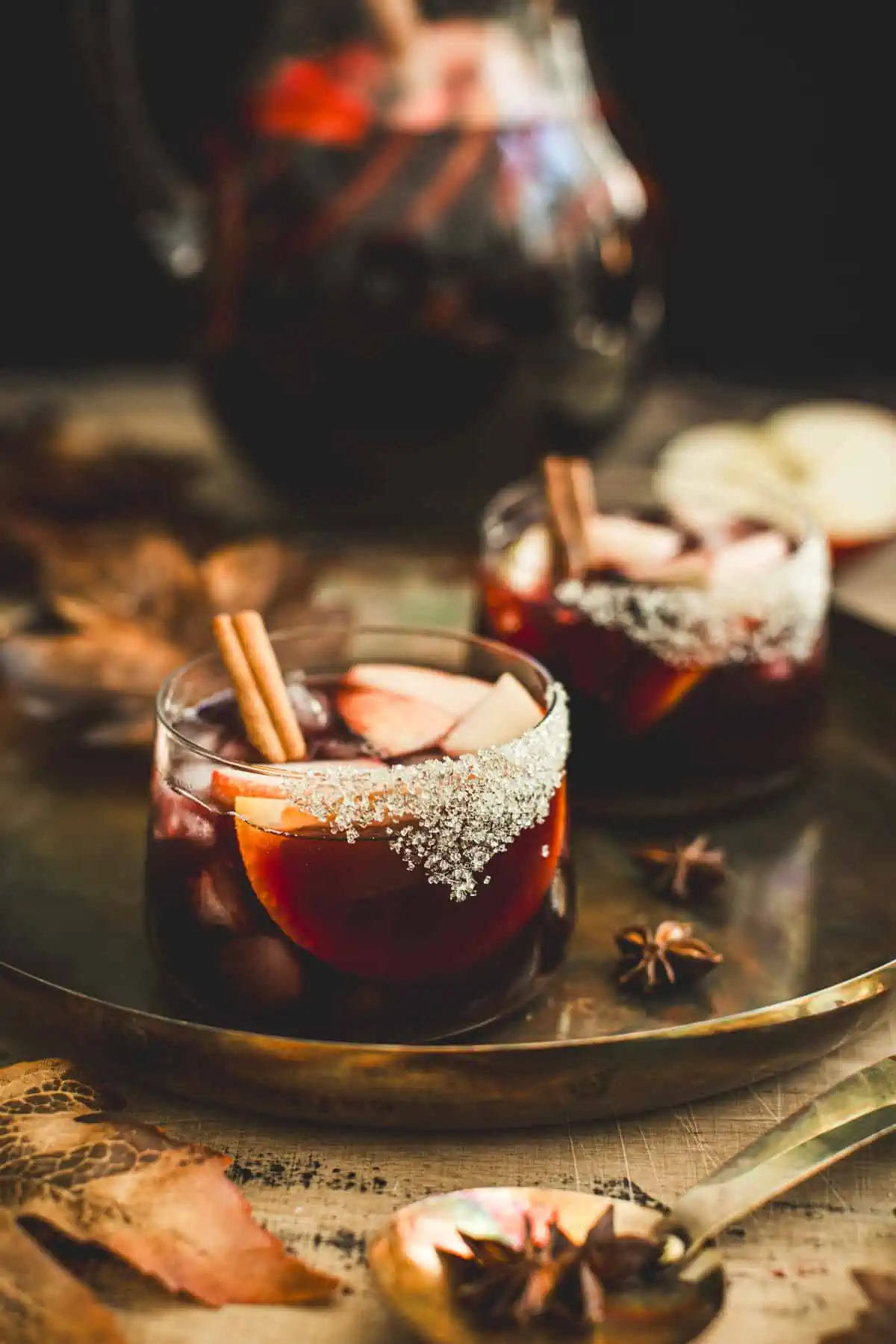 Experience the delightful blend of crisp apple slices, sweet apple cider, and a zesty citrus hint in Apple Sangria. Carefully crafted with robust red wine, premium brandy, and a selection of autumn spices, this concoction offers a tantalizing flavor profile.
8. Black Manhattan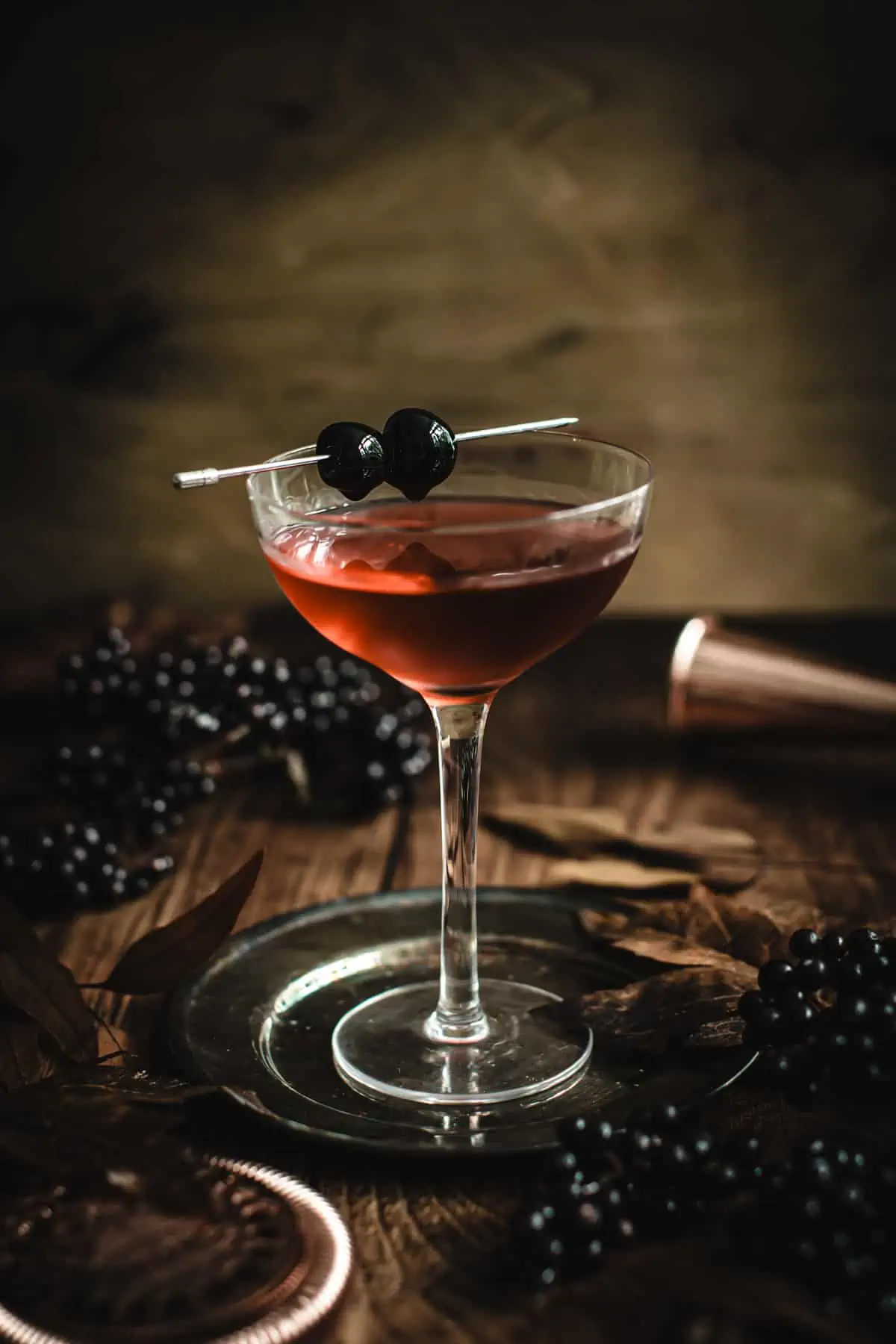 Discover the charm of the Black Manhattan cocktail, as the robust, smoky flavors of rye whiskey blend harmoniously with the intricate complexity of Averna Amaro and a dash of aromatic bitters. This refined libation epitomizes timeless sophistication, encouraging you to appreciate each and every sip.
9. Caramel Apple Martini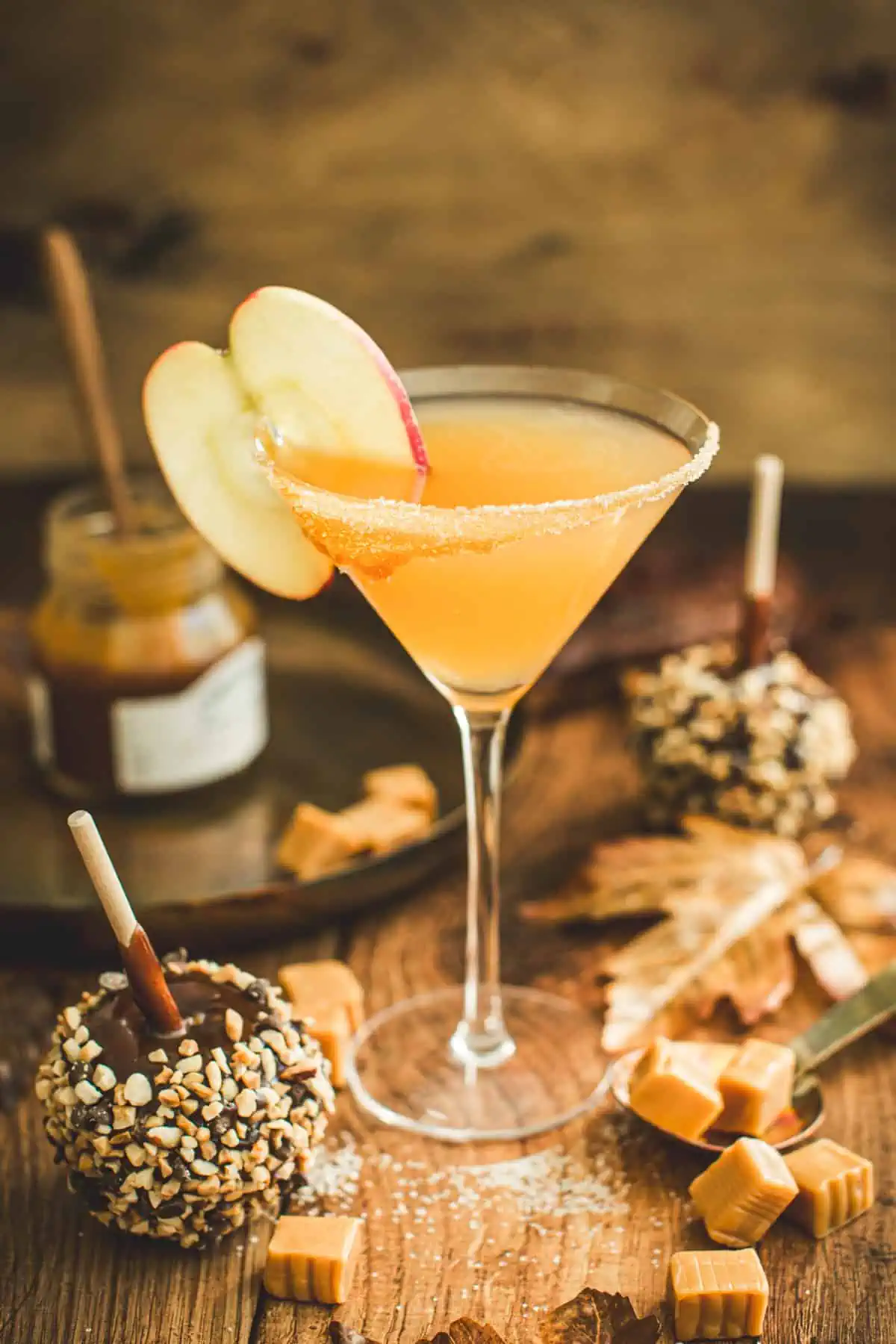 Enjoy the autumnal taste of the Caramel Apple Martini, where smooth caramel meets the fresh essence of apple. Relish the captivating blend of apple cider, caramel vodka, and butterscotch schnapps in a delightful medley of flavors that's undeniably enticing.
10. Caramel Apple Sangria
Caramel Apple Sangria is a slightly sweet and bubbly fall beverage filled with apple cider, white wine, fresh fruit, cinnamon sticks, and so much more.
11. Cosmopolitan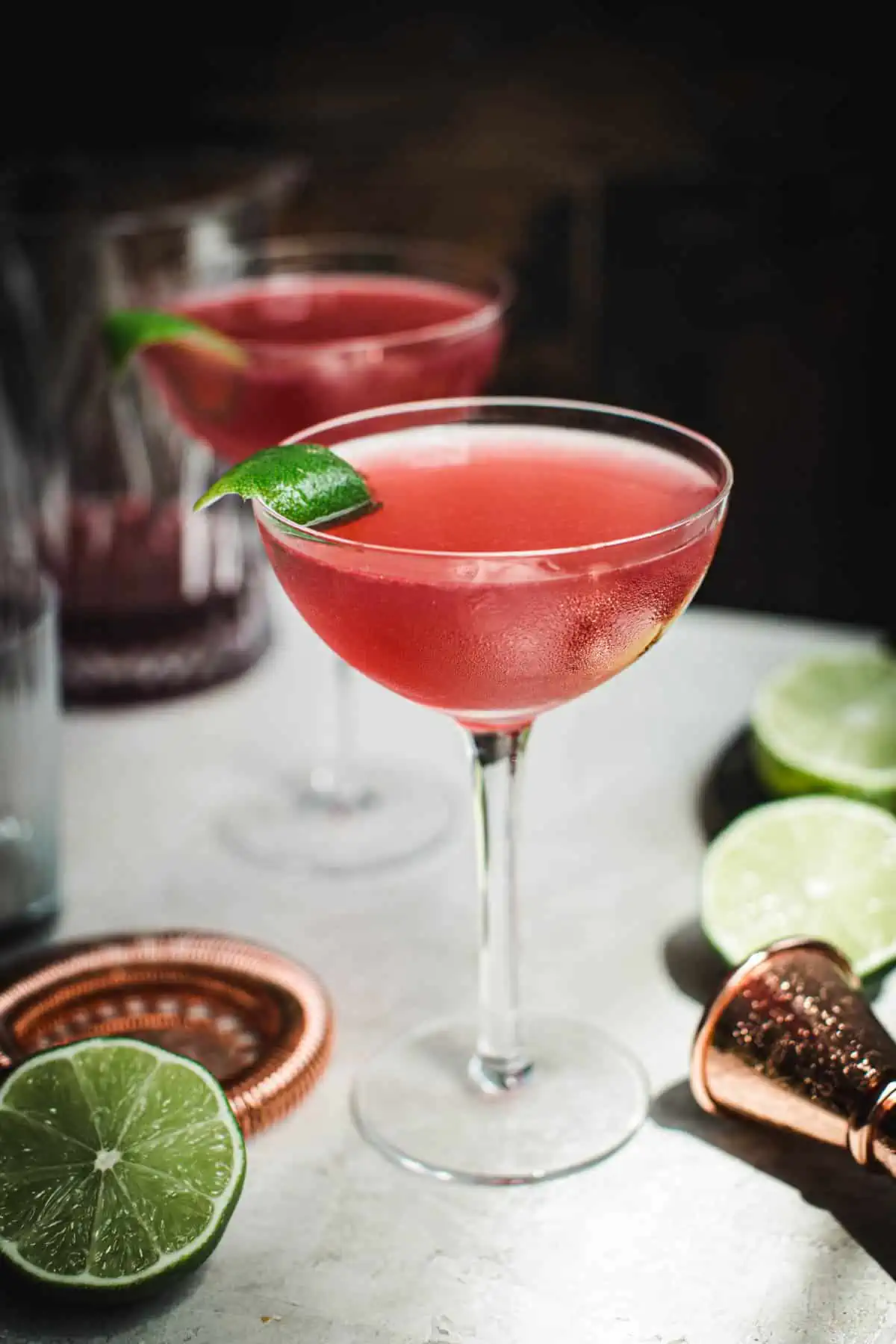 Elevate your sophistication with the party-perfect Cosmopolitan Cocktail. This drink makes the perfect Thanksgiving cocktail because of the zesty citrus, the gentle embrace of cranberry, and the seamless fusion of vodka that effortlessly combines.
12. Cranberry Bourbon Cocktail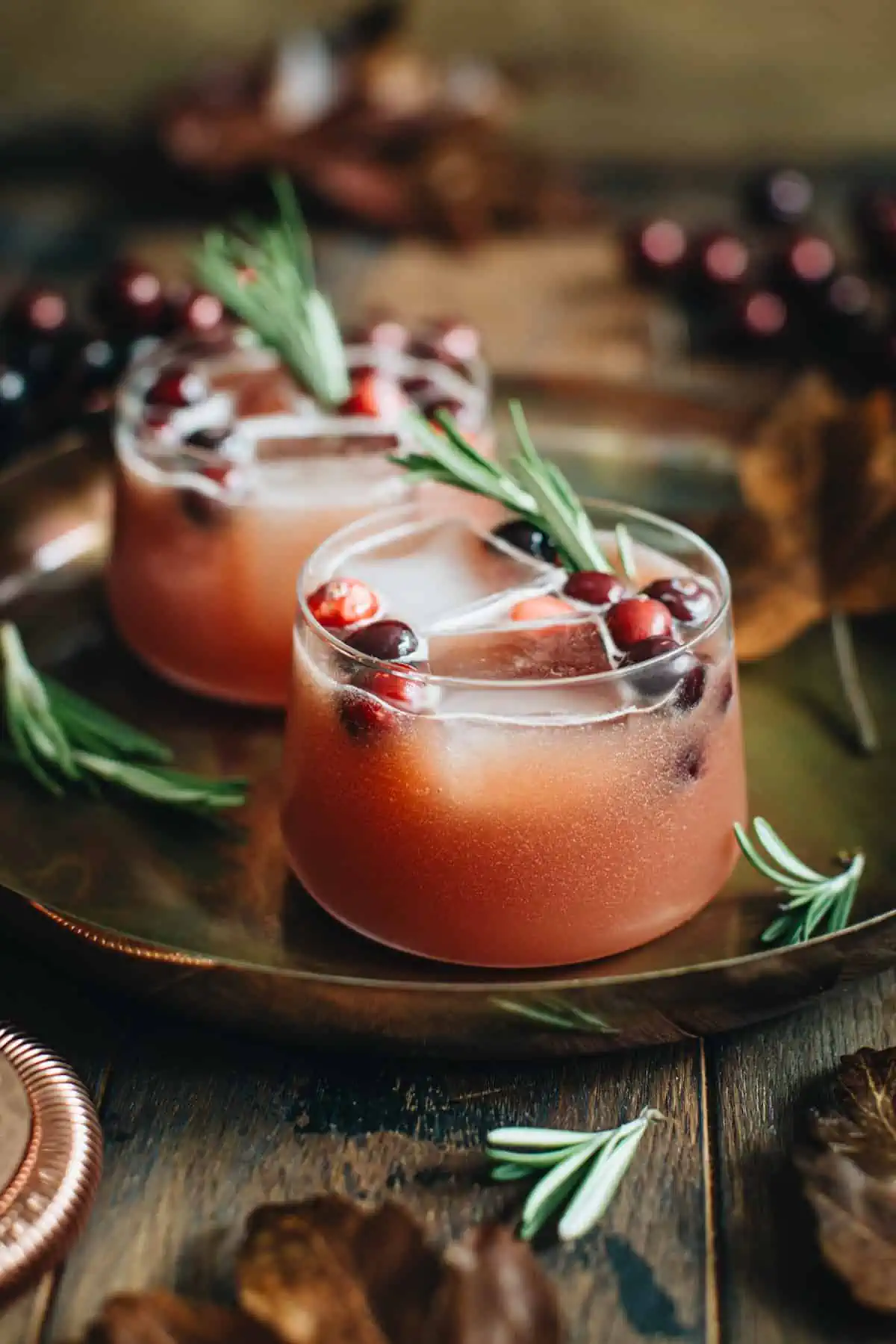 Discover the pleasing combination of tangy cranberries and the comforting touch of bourbon in the Cranberry Bourbon Cocktail. Relish the ideal balance between the sweet and savory notes of cranberry and orange juice, complemented by the addition of maple syrup and bourbon.
13. Cranberry Martini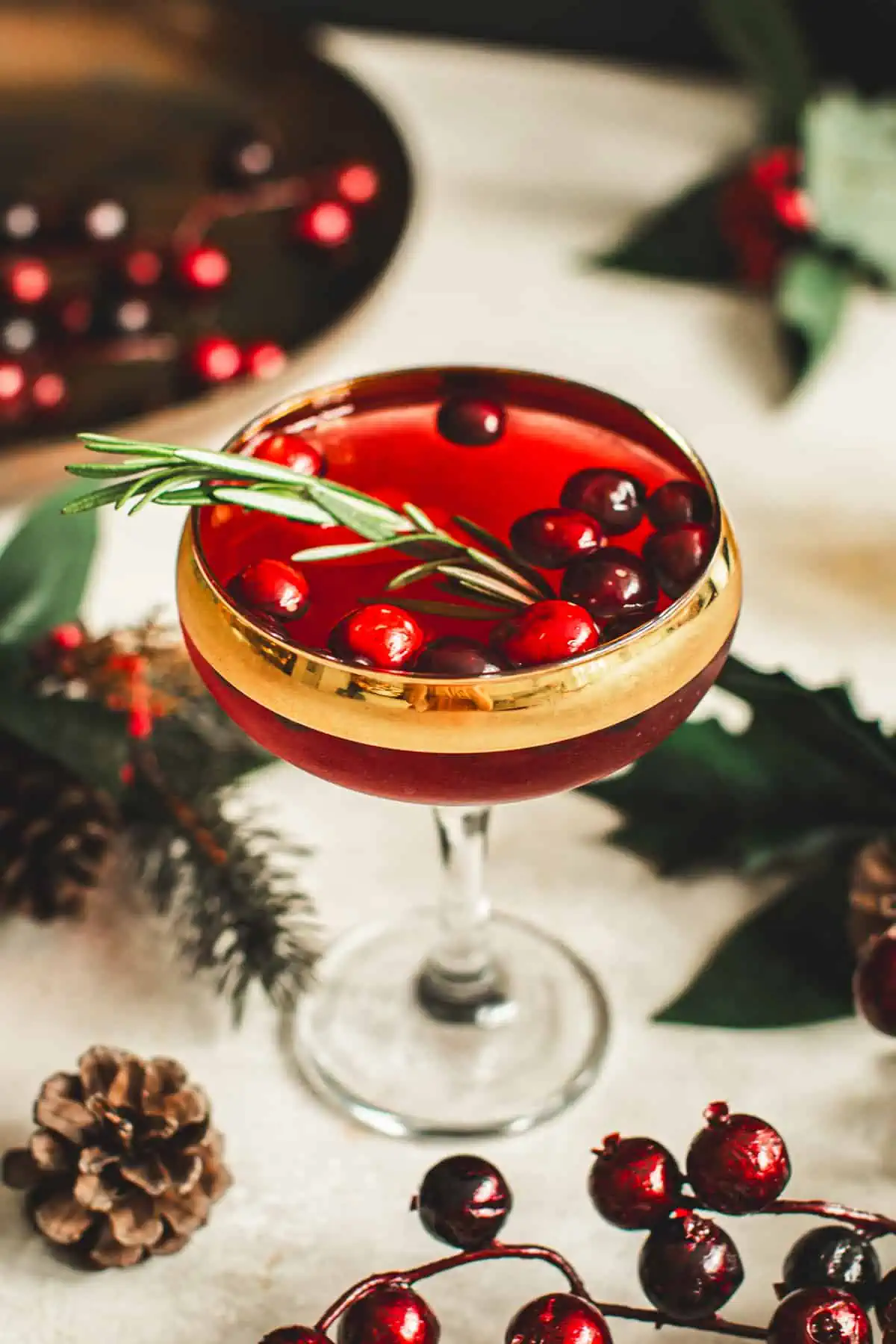 Enjoy the Cranberry Martini, a captivating blend of cranberry juice, Cointreau, and vodka sweetened with simple syrup. Savor the elegant equilibrium of sweetness and tartness in this festive cocktail.
14. Hot Buttered Rum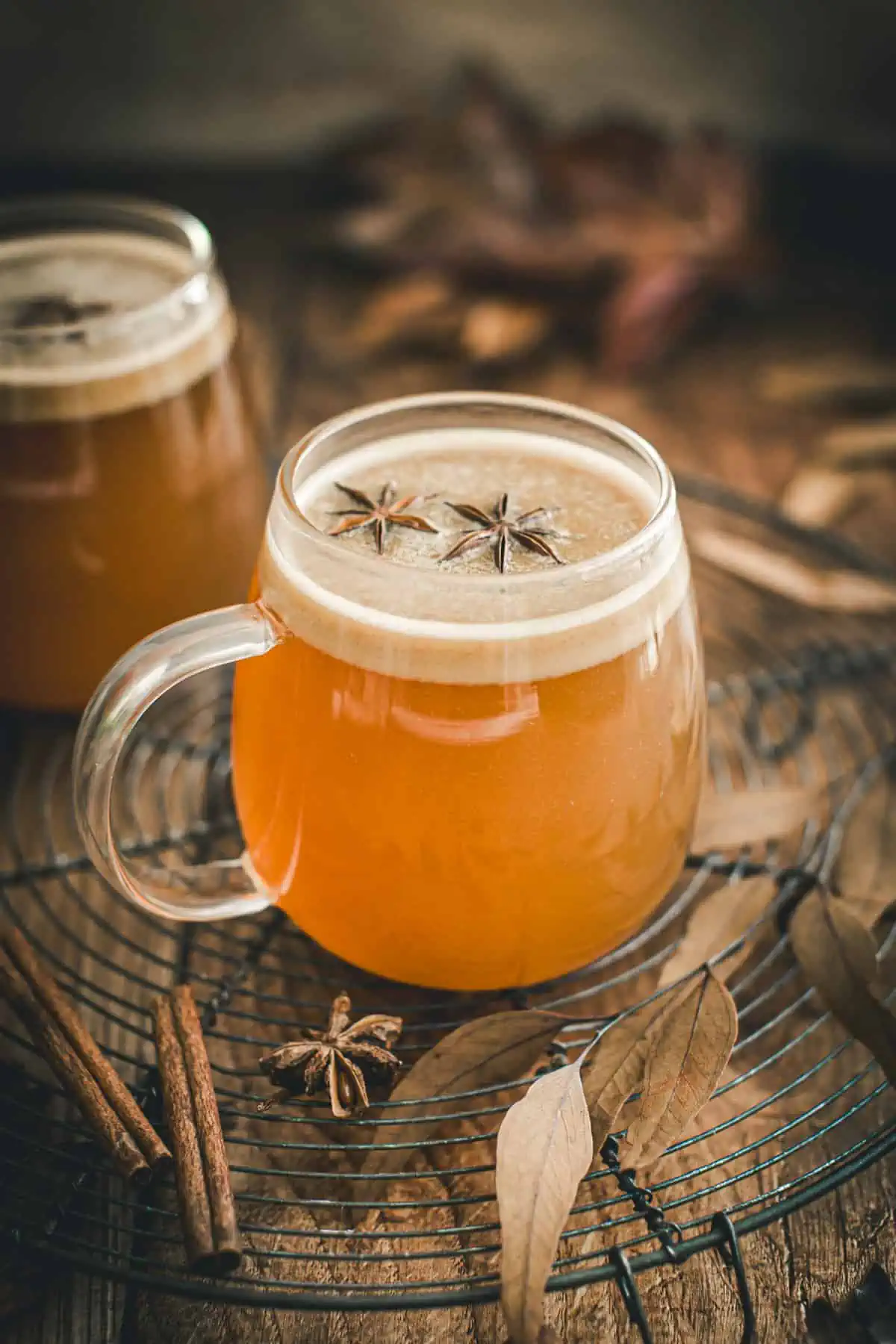 Enjoy the comforting, velvety warmth of this timeless classic – Hot Buttered Rum. A medley of cozy spices and rich butteriness harmonize with rum in this recipe, offering a fireside retreat in every sip.
15. Maple Old Fashioned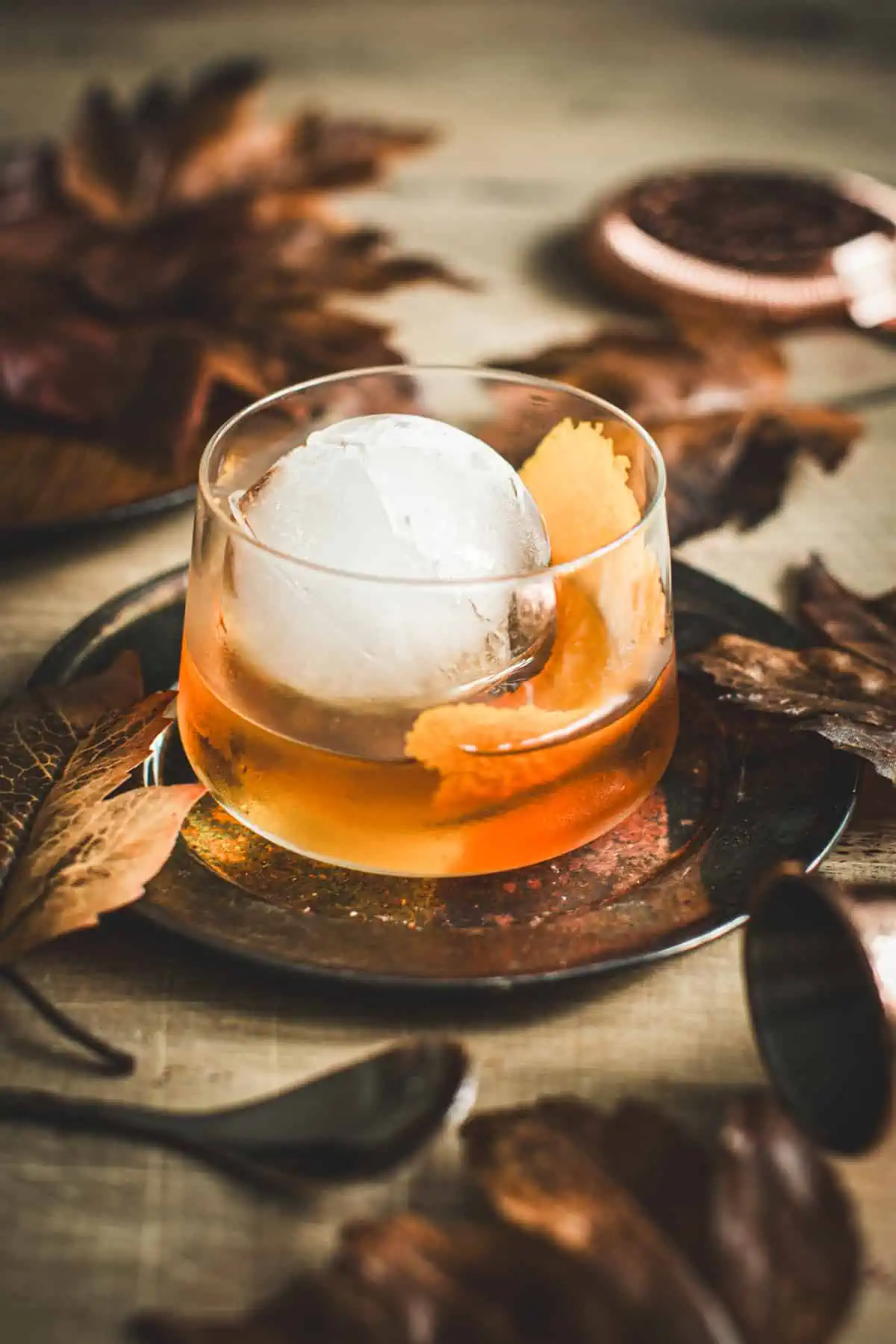 Discover the captivating blend of robust bourbon and the comforting presence of pure maple syrup in our Maple Old Fashioned. Crafted with premium bourbon, a hint of bitters, a subtle infusion of maple syrup, and garnished with a twist of orange peel, this cocktail offers an enchanting experience.
16. Mulled Wine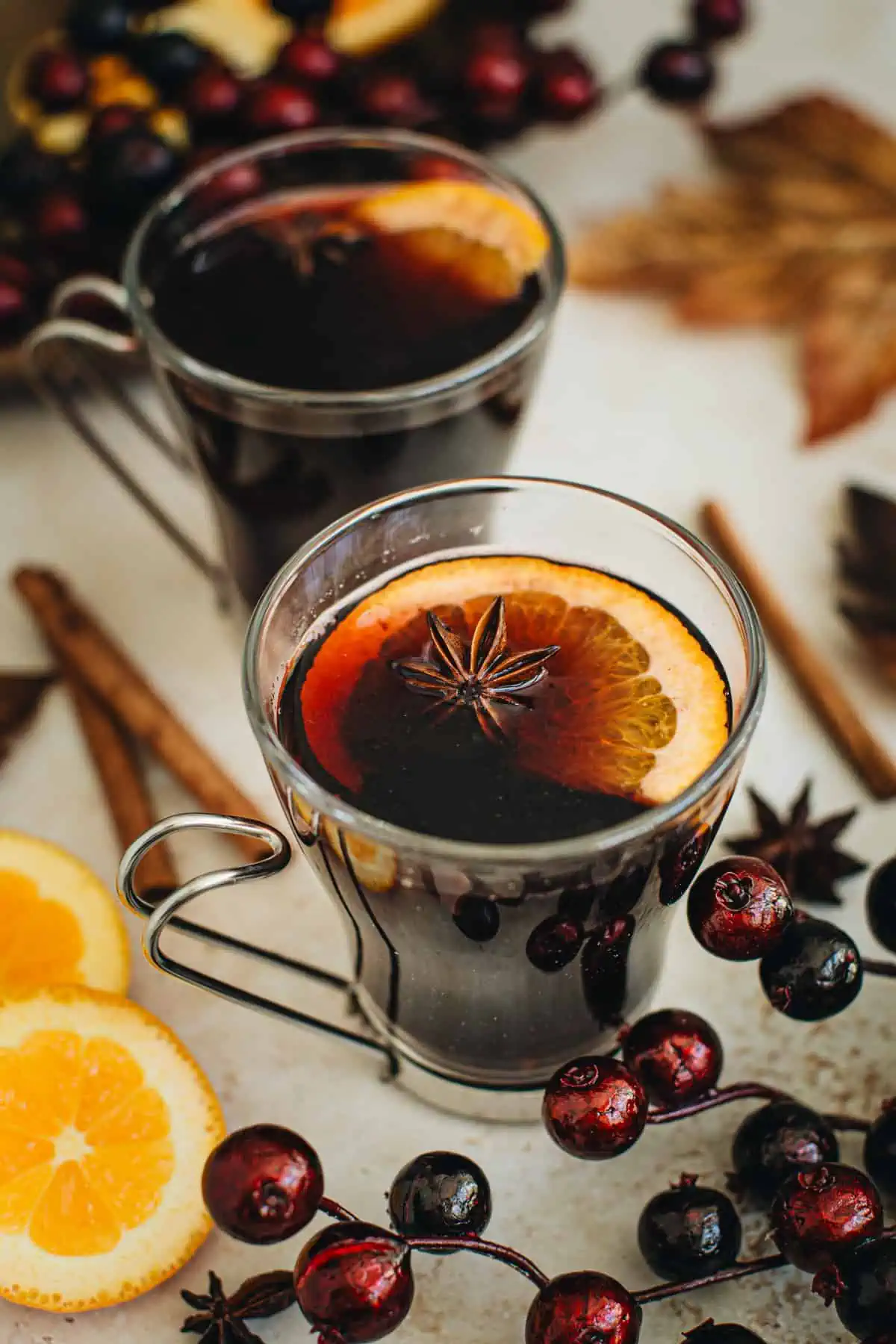 Embrace the timeless allure of classic Mulled Wine, a delightful combination of spices and red wine that can be prepared in less than 20 minutes. Immerse yourself in the alluring fragrances and rich flavors, perfect for those warm and cozy moments. Include this one in your Thanksgiving cocktails menu.
17. Pear Martini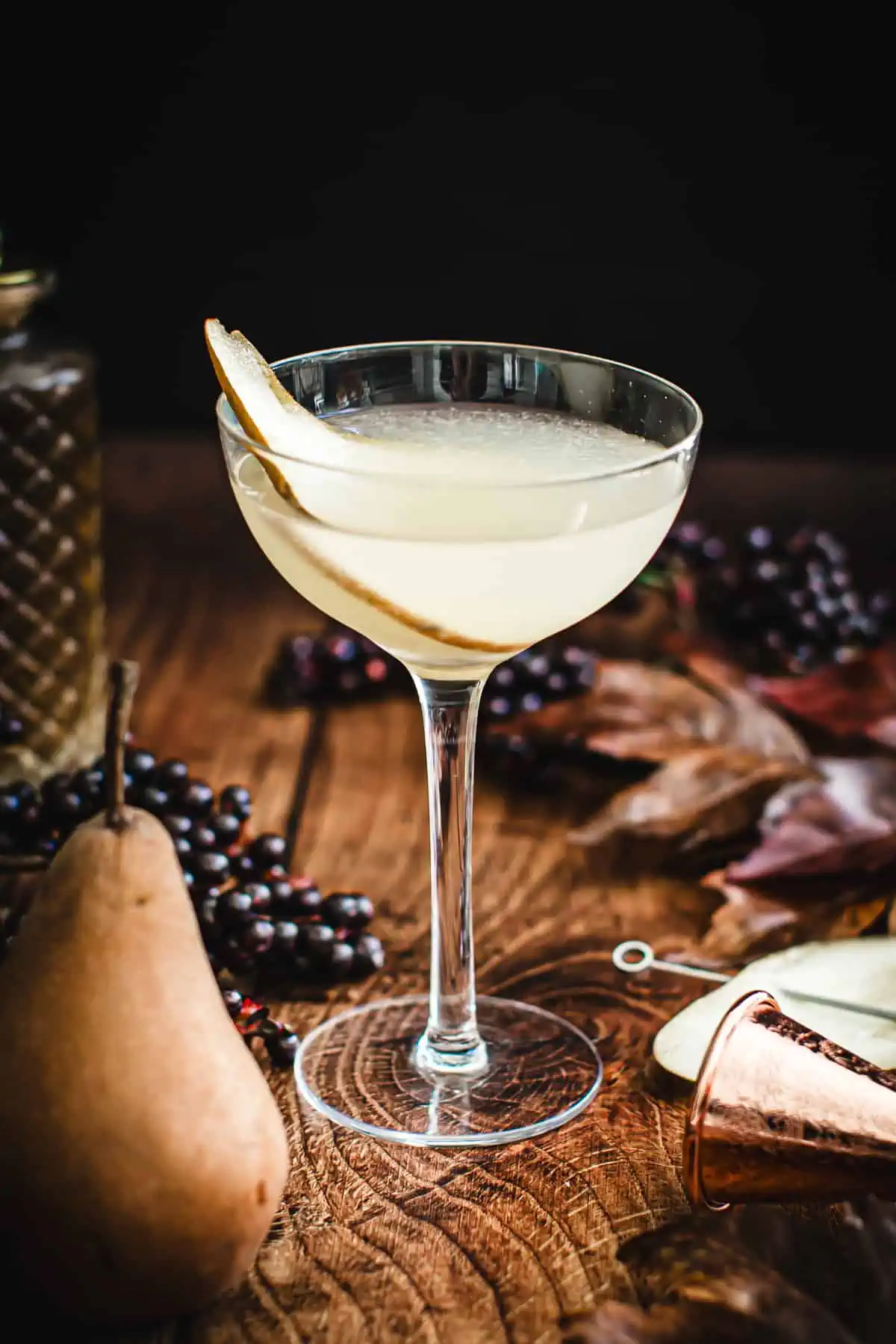 Enjoy the Pear Martini, a harmonious fusion of vodka and the luscious, fragrant essence of ripe pears, sweetened with simple syrup and brightened with lemon juice.
18. Pomegranate Martini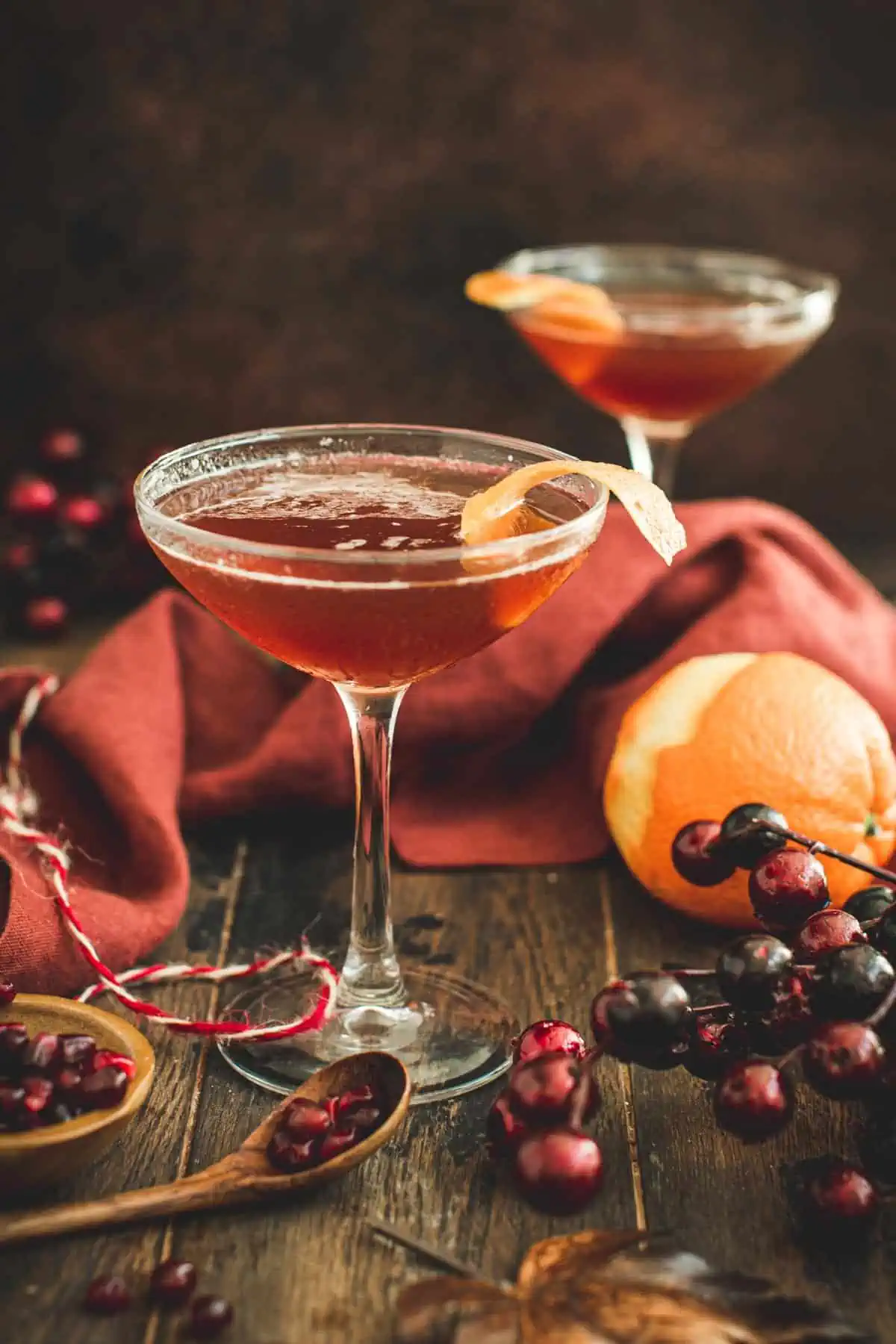 This Pomegranate Martini is an excellent choice for enthusiasts of vodka-based or fruity cocktails. With its beautiful jewel-like red color and crisp, invigorating taste, it's a perfect addition to any celebration.
19. Pumpkin Pie Martini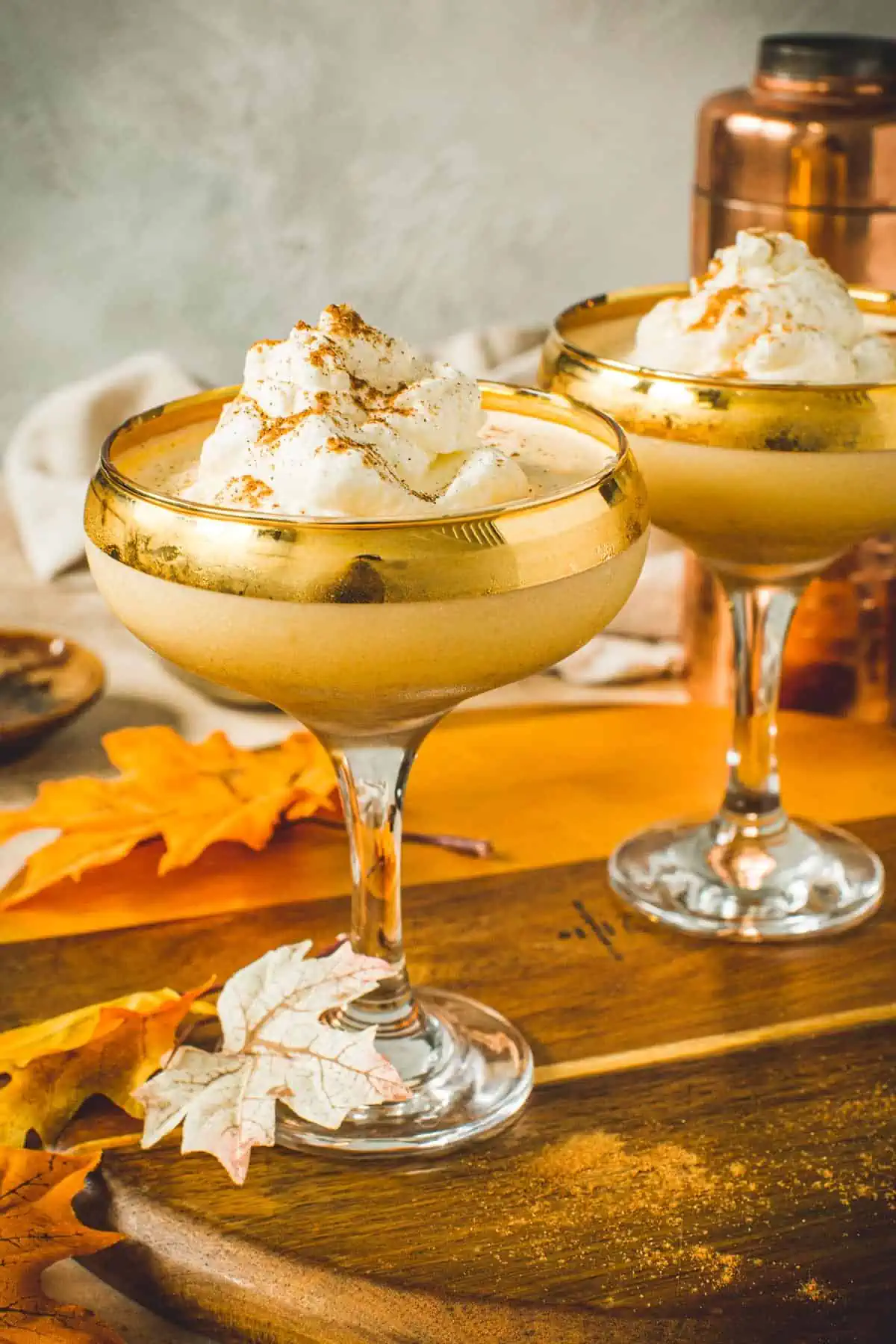 Celebrate the essence of autumn with the Pumpkin Pie Martini – a delightful blend of fall-inspired elements like spiced real pumpkin, cream, and a touch of maple syrup. Elevate your taste buds to a higher level of seasonal delight with this straightforward fall cocktail.
20. Pumpkin Spice Margarita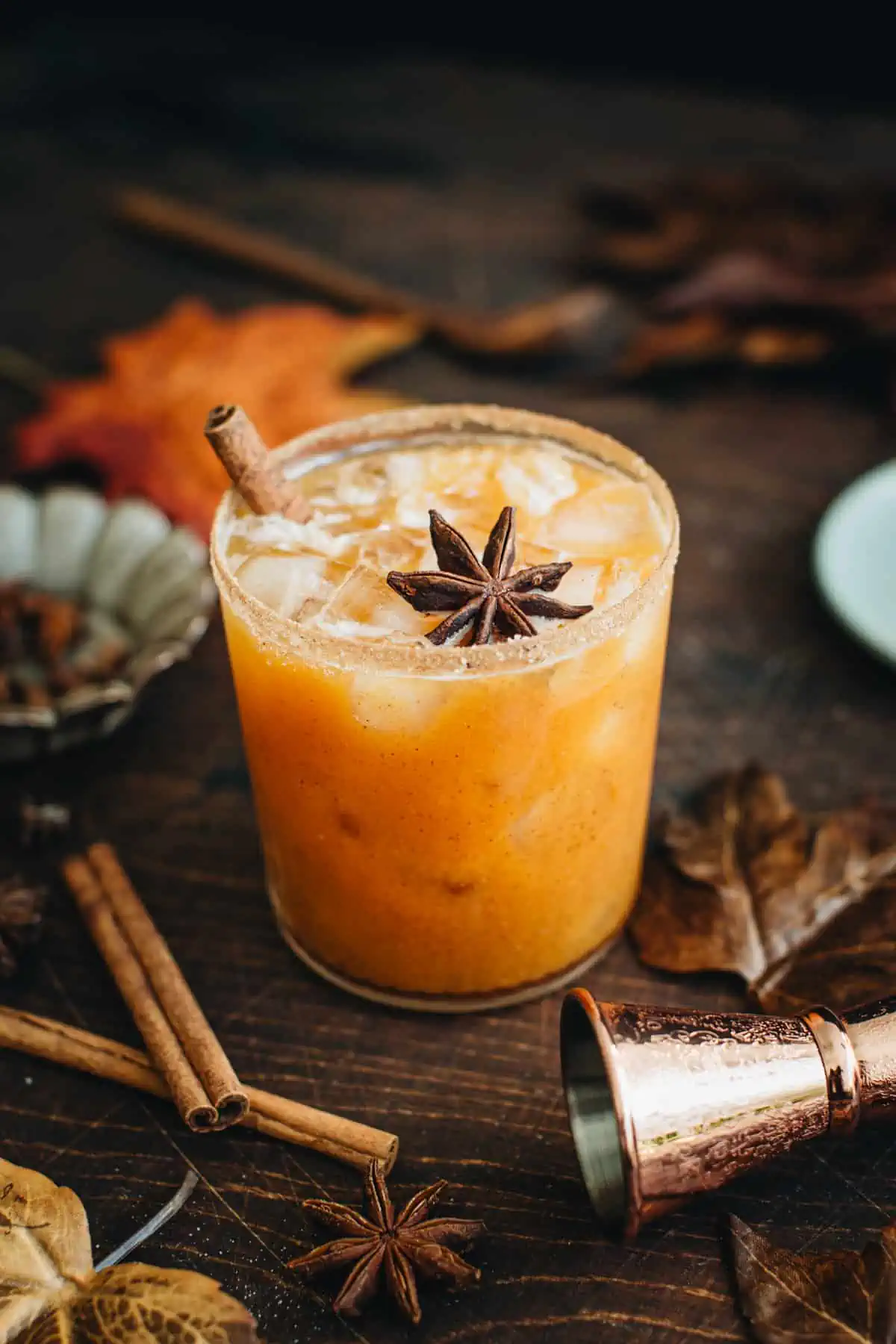 Enjoy the flavorful essence of autumn with the Pumpkin Spice Margarita. This cocktail captures the essence of fall in a glass, combining the classic margarita with seasonal spices and pumpkin for a unique twist.
21. Pumpkin Spice White Russian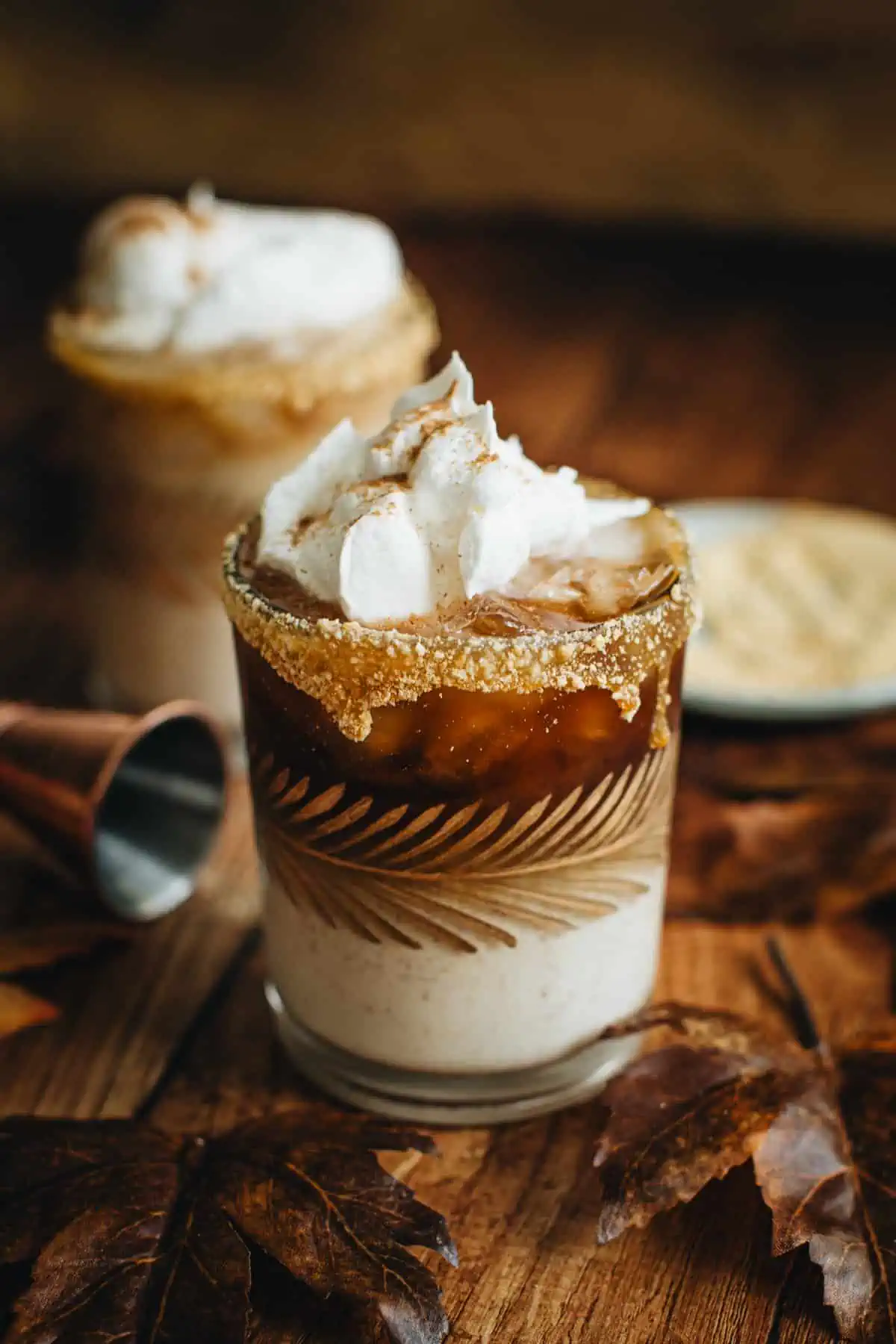 Celebrate the autumn flavors with a Pumpkin Spice White Russian. This fall cocktail incorporates the essence of pumpkin into the traditional White Russian by using pumpkin spice creamer. Experience the warm and welcoming atmosphere of the season.
22. Spiked Apple Cider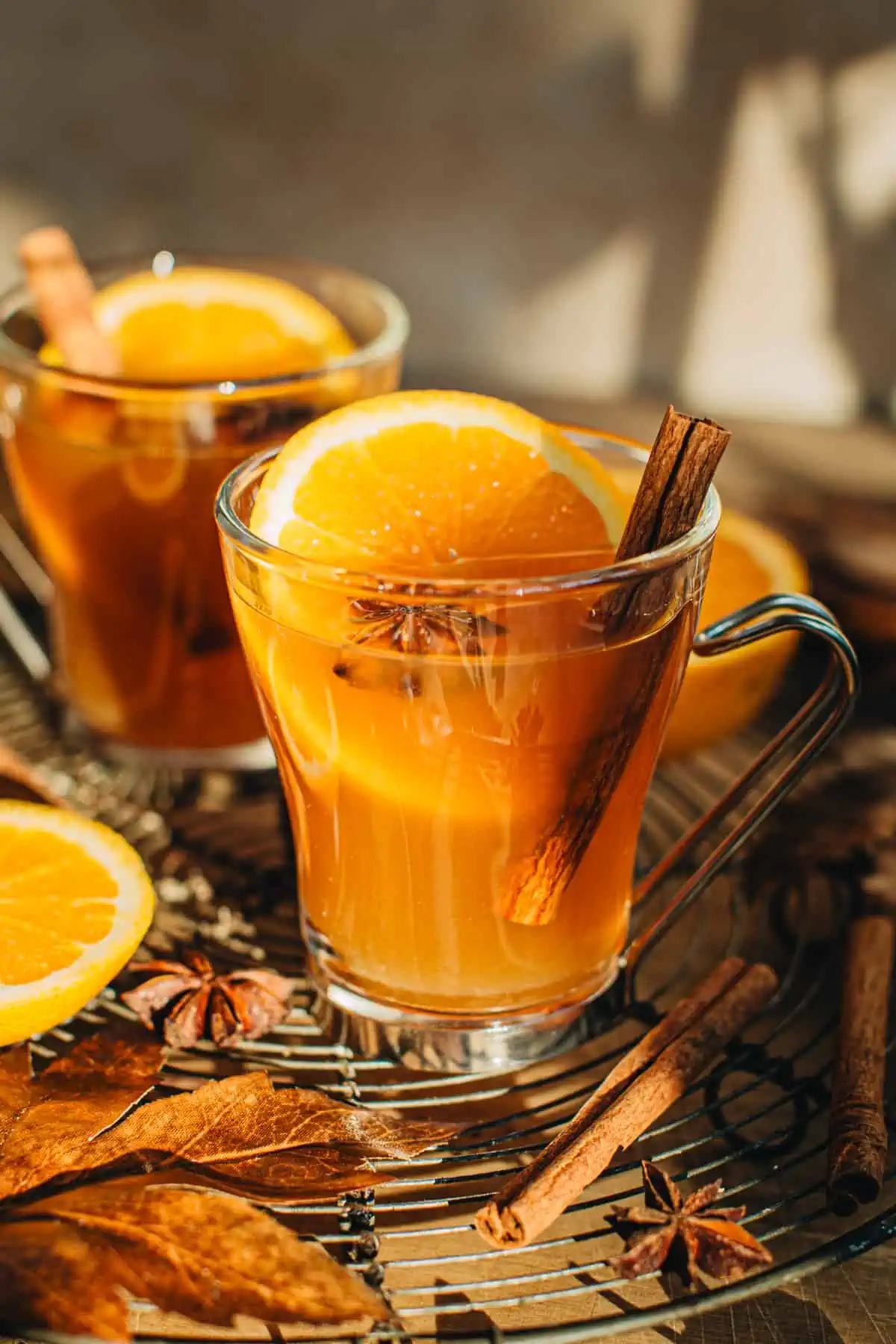 Immerse yourself in the rich, autumnal harmony of flavors with Spiked Apple Cider. This seasonal concoction features a balanced combination of dark rum alongside cinnamon sticks, star anise, and cloves, crafting a delightful medley of fall-inspired tastes. It's the quintessential cider experience.
23. Thanksgiving Punch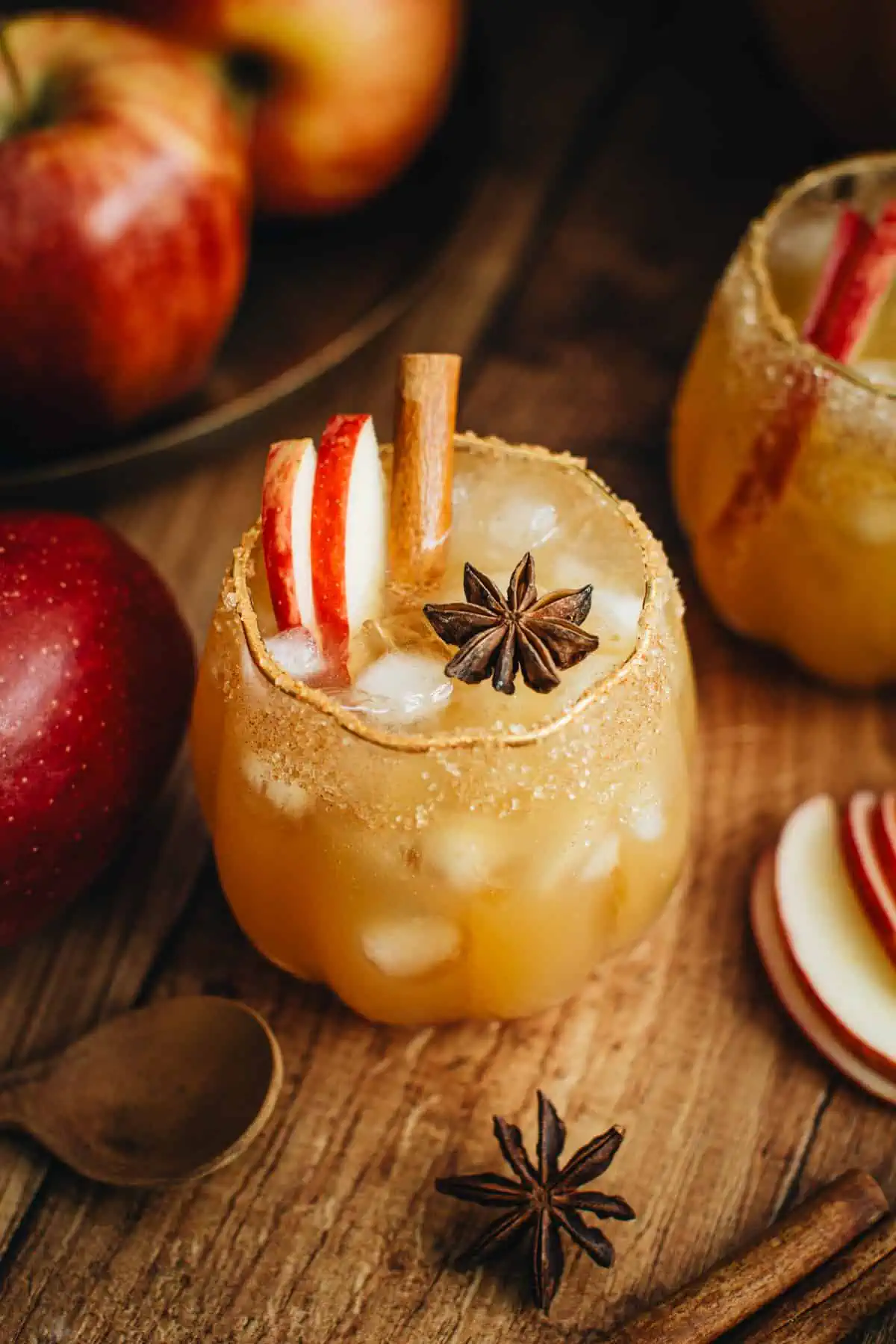 Embrace the cozy essence of autumn in every sip of our Thanksgiving Punch, artfully prepared with apple cider and imbued with the warmth of pumpkin pie spice. This delightful beverage provides a comforting and inviting taste of the season and is ideal for serving a group of people.
24. Thanksgiving Sangria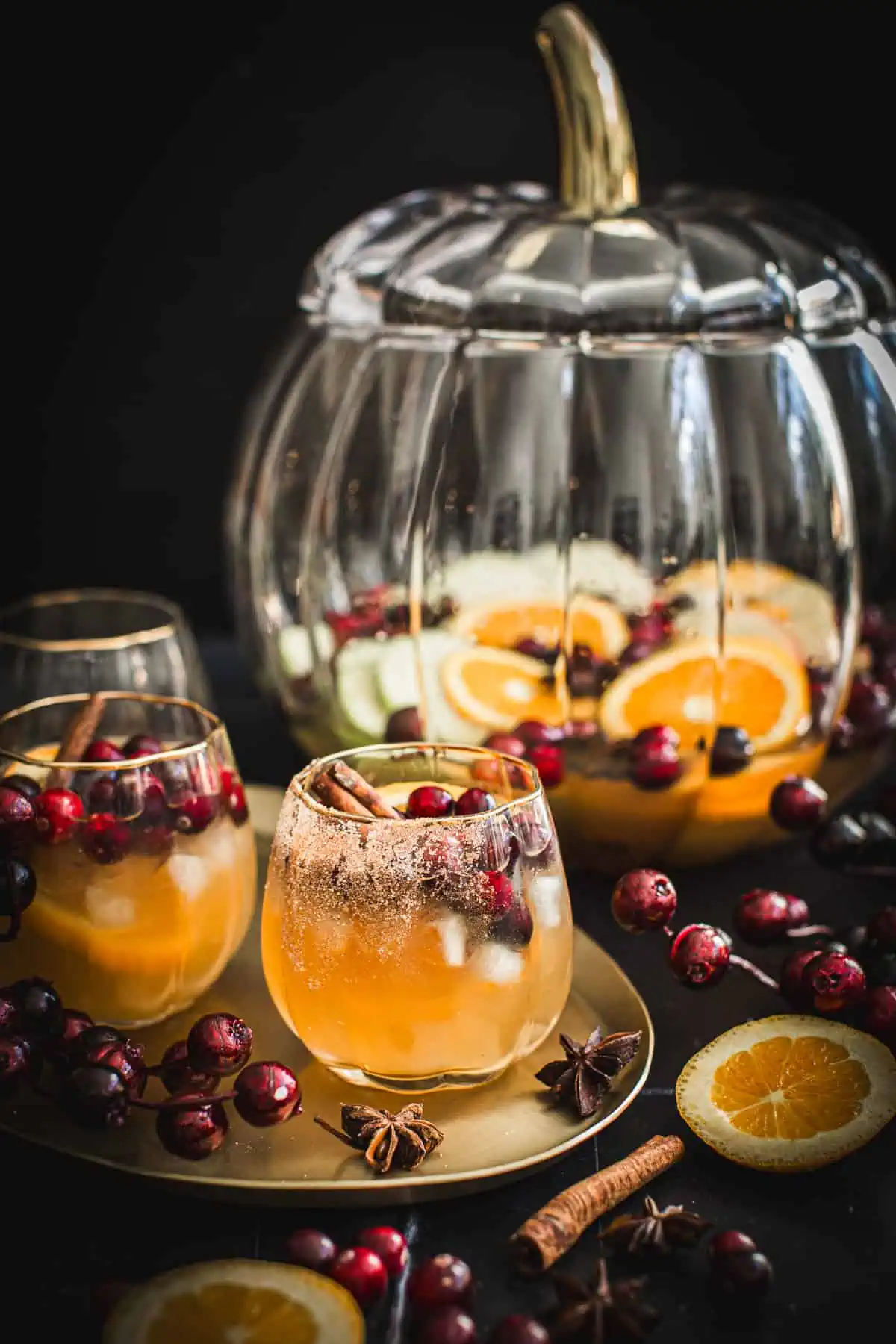 Capture the essence of the holiday season in a glass with Thanksgiving Sangria. A fusion of white wine and brandy, complemented by the gentle sweetness of apple cider and maple syrup, with a cozy twist added by delicate notes of cinnamon. This needs to be one of your Thanksgiving cocktails.
25. Wassail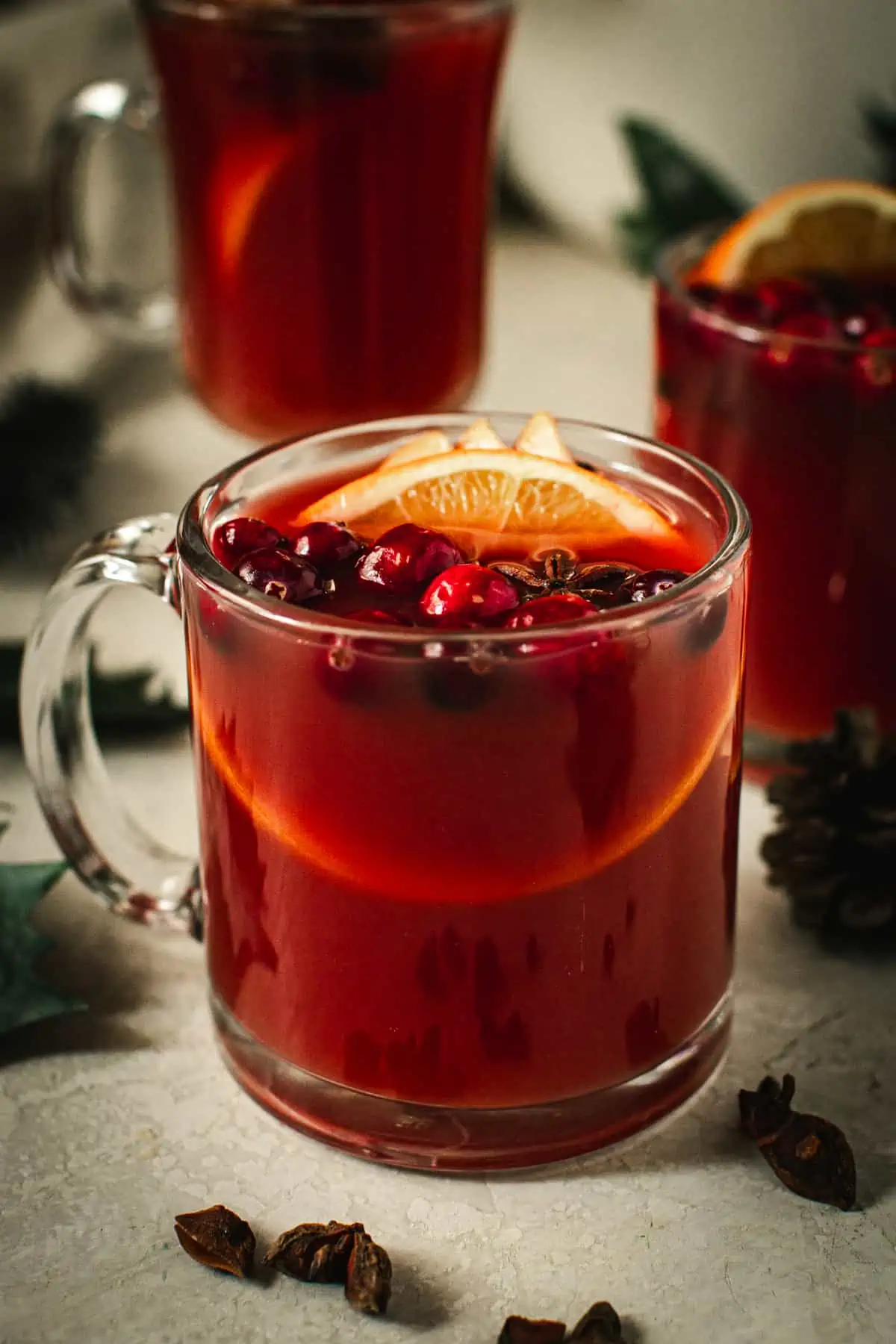 The delightful aroma of cinnamon and allspice fills the holiday air thanks to this wonderfully straightforward beverage, known as The Best Homemade Wassail. Created with apple cider, cranberry juice, and orange juice, and infused with fresh-cut fruit and spices, this heartwarming drink is a must-have for raising toast during heartwarming moments.