A deliciously decadent coffee is taking social media by storm with a sweet nutty flavor and fluffy caramel whipped top. This Whipped Coffee Recipe also is known as Dalgona Coffee is a tasty alternative to your morning coffee and can be made at home easily.
Homemade Whipped Coffee
Coffee or some form of espresso has been part of my morning routine since I was in high school. I've easily lured many of my friends to the caffeinated clutches of this popular beverage. While in college cheap gas station coffee was a mainstay, and then in my early 20's working in New York City I upgraded to the greek deli version of joe.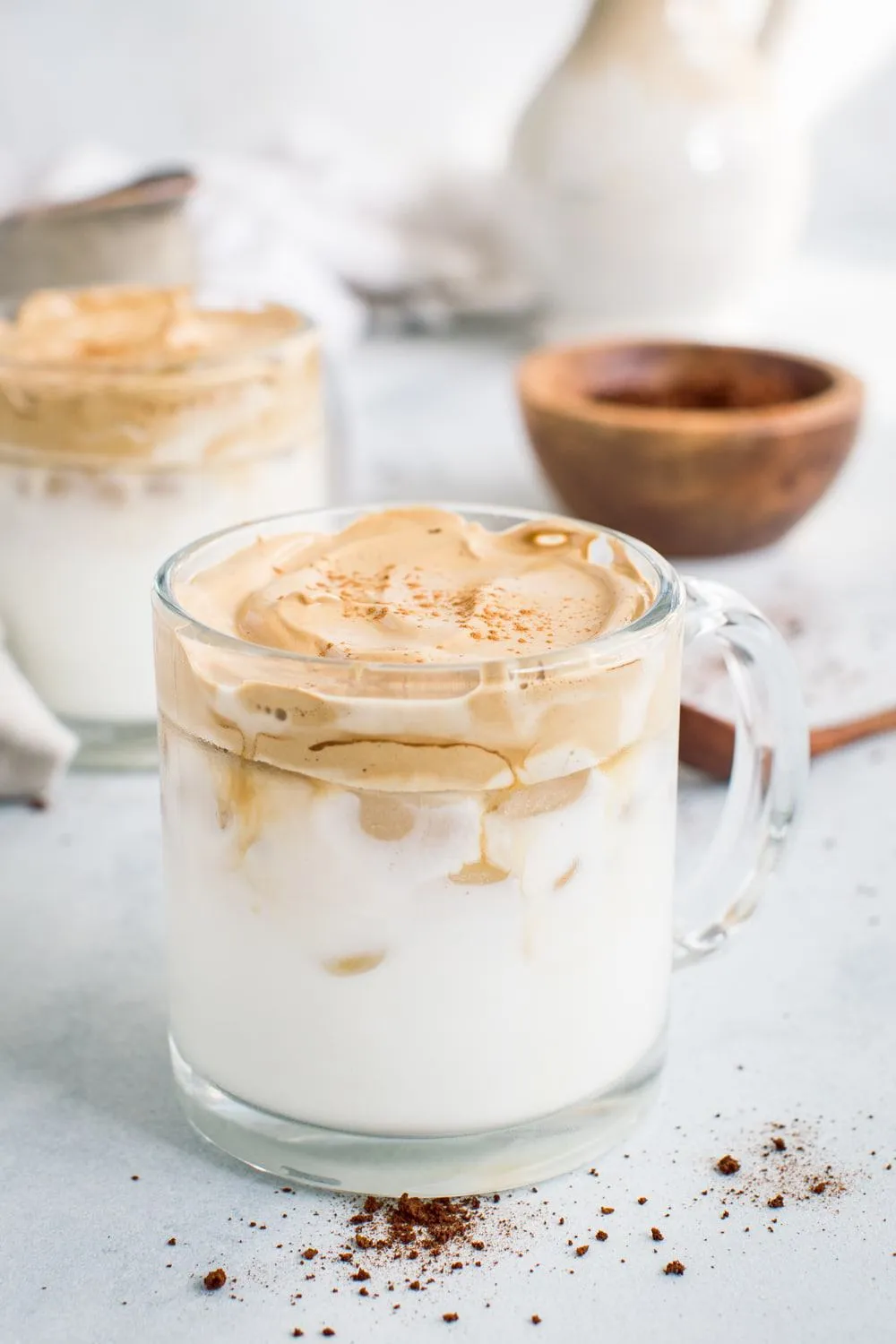 It was in New York City though that I really learned the art of coffee. I'll never forget the first time a friend made my homemade Turkish coffee and read my horoscope in the cup after. While living there I got to try many variations of the beverage and even met my husband while purchasing a soy latte at Starbucks.
Last night while scrolling through Instagram I came across a pic of "whipped coffee" and became instantly intrigued. I started to research this newfound coffee drink and began craving it instantly. Had it not been 11 o'clock I'd likely have tried to make it then and there.
I waited until this morning to test out this new fluffy and sweet cup of caffeine and just as when I saw my future husband after ordering that soy latte, it was love at first sip. Whipped coffee is definitely something to try and is surprisingly easy to prepare.
This new coffee craze, which recently took South Korea by storm over social media is one you can make at home. There are a few options for how you whip this whipped coffee, but personally, I prefer the simplest one, which is detailed here.
What is Whipped Coffee
Whipped coffee is quite literally coffee that has been whipped, however, it requires you to use instant coffee powder. By whisking instant coffee powder, sugar, and water together you end up with a frothy and delicious whipped mixture. The coffee mixture is then poured over milk creating a reverse latte.
It has also been a social media craze lately where Instagramers or those on Tick Tock will film themselves literally whisking the coffee into a fluff. It is said to take about 400 strokes, but in reality, you'll likely be whipping it good for a good 20 or so minutes if you use this method.
I prefer to use an electric mixer, which also allows you to double, triple, etc, the recipe and not get carpal tunnel in the process.
Ingredients in Whipped Coffee
Instant Coffee Powder
Sugar
Hot Water
Milk
How to Make Whipped Coffee
Making this drink only takes minutes, which might even be faster than your standard percolating coffee machine.
Mix: Place 1 tablespoon of instant coffee powder, 1 tablespoon of sugar, and 1 tablespoon of hot water into a large bowl.
Whip: Using an electric mixer set to a low setting whip the mixture continuously for 3 to 5 minutes (If opting for the popular social media preparation then use a whisk to whip the ingredients for about 20 to 25 minutes. Good luck!).
Continue to Whip: The mixture will begin to turn a lighter color and thicken as you keep whipping it. If doubling the recipe it will likely take a couple of minutes longer to achieve the fluffy whipped cream texture.
More Whipping: Once the mixture has reached a thick and frothy consistency and is a golden brown color it's ready.
Assemble: Pour 1 cup of milk into a tall glass over ice. Using a spatula gently scoop the whipped topping of coffee on top of the milk. Sprinkle with cinnamon if you like.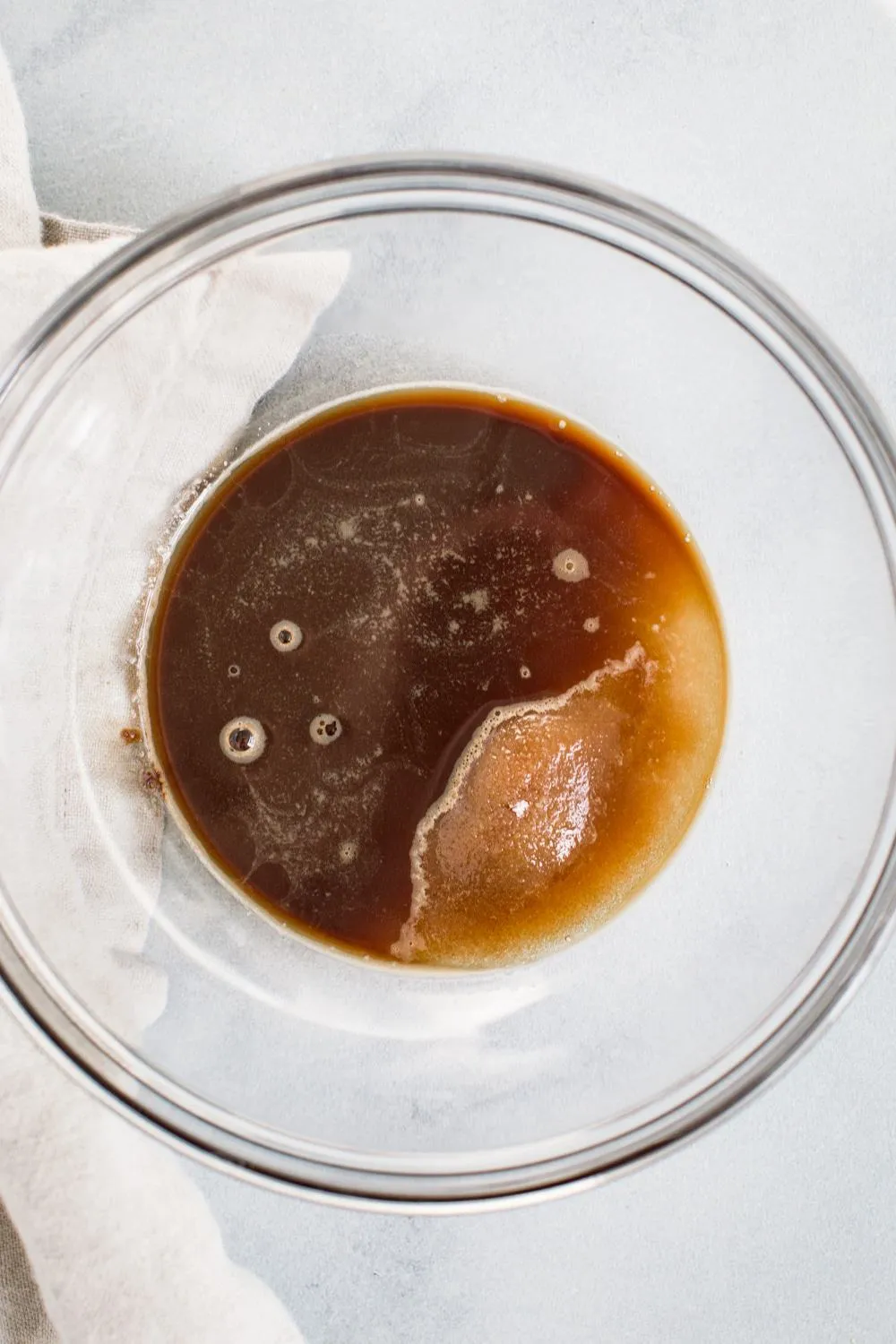 PRO TIP: Use a large bowl to prepare this recipe. Initially, the ingredients will spatter everywhere. A spatula will help you get all the fluff out and into your drink.
Can I use a Milk Alternative?
Yes. The dalgona coffee is somewhat of a reversed latte. Any milk, whether it's dairy or non-dairy, oat, or coconut will work for this drink.
Can a Whipped Coffee be Made Hot?
Yes. Omit the ice in the glass and steam your milk before pouring it into your glass. Then spoon the whipped mixture on top of the steamed milk.
Can You Use Starbucks Via to Make Whipped Coffee?
UPDATE: I have heard from many of you who have tried this recipe using a plain Starbucks Via that it works. I used the flavored latte version and couldn't get the right consistency. If you have some Via's then definitely try it!
Unfortunately no. I tried using a flavored Starbucks Via and tried to get the mixture to whip for over 30 minutes and it never turned the correct consistency. I have not tried a plain coffee Via though, which could possibly work.
Can You Double this Recipe?
Yes. The ratio of this recipe is 1:1:1. That is there are equal parts of instant coffee, sugar, and hot water. By simply doubling or tripling the recipe you'll get either more fluff or make extra cups.
Can Dalgona Coffee be Made Caffeine-Free?
Yes. You can use a decaf instant coffee or even hot chocolate powder for a creamy chocolate version. Below I've even detailed out some other non-coffee versions of the beverage to try.
Can I use Different Sweeteners Other than Sugar?
Yes! I have also heard from some of you that other sweeteners will work for this recipe and it doesn't have to be powdered. Just make sure to keep the measurements the same.
Whipped Coffee Variations
Updated: The instant coffee, sugar, and water Dalgona Coffee whip up the best, with that being said there are some ways to achieve a similar whip using other recipes. I've tested the below recipes but would LOVE to hear from you on what has worked as well.
Below are some variations of dalgona coffee or tea you can also whip up. I've included links (which are affiliate links) to some of the versions I like to use. Not all the recipes listed below have the same process as the actual dalgona coffee recipe. For example, the matcha powder doesn't whip well so additional ingredients need to be added.
More Delicious Drink Recipes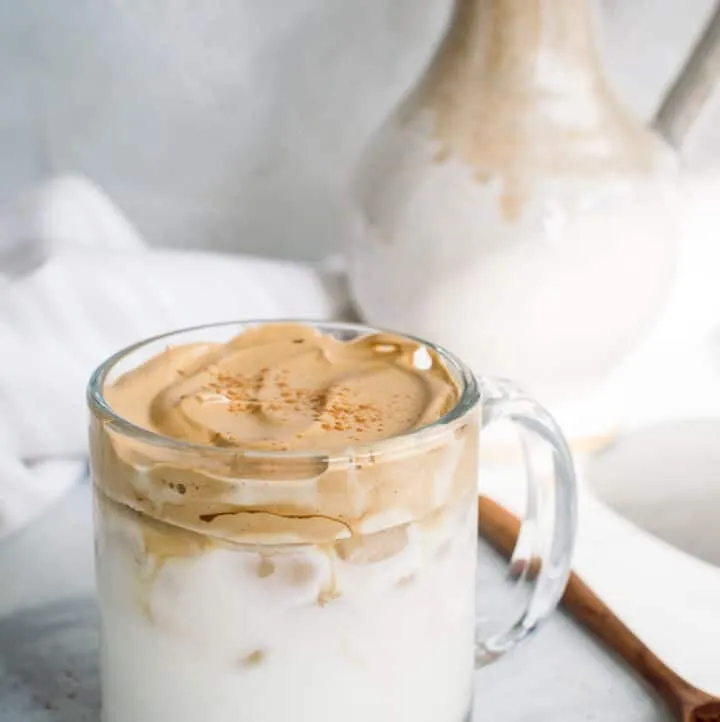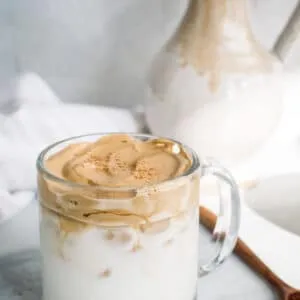 Whipped Coffee Recipe
This deliciously decadent coffee is taking social media by storm with its sweet nutty flavor and fluffy caramel whipped top. Whipped Coffee also is known as Dalgona Coffee is a tasty alternative to your morning coffee and can be made at home.
Print
Pin
Rate
Ingredients
1

tablespoon

Instant Coffee Powder

1

tablespoon

Sugar

1

tablespoon

Hot Water

1

cup

Milk

or milk alternative

1/8

teaspoon

Ground Cinnamon

optional
Instructions
Place the instant coffee, sugar, and hot water into a large mixing bowl. Using a hand mixer on a low speed, beat the mixture for 3 to 5 minutes, until it begins to turn a gold brown and becomes a thick and fluffy consistency.

Pour the milk over ice in a tall glass and scoop the mixture on top using a spatula.
Notes
The nutrition calculations are for a cup of whipped coffee using whole milk.
Use a large bowl for preparing this whip because it will spatter everywhere initially while beating the ingredients together.
Nutrition
Serving:
1
cup
|
Calories:
213
kcal
|
Carbohydrates:
27
g
|
Protein:
8
g
|
Fat:
8
g
|
Saturated Fat:
5
g
|
Cholesterol:
24
mg
|
Sodium:
108
mg
|
Potassium:
499
mg
|
Sugar:
24
g
|
Vitamin A:
395
IU
|
Calcium:
276
mg
|
Iron:
1
mg