Last Updated on
The Traditional Irish Coffee with Coconut Cream is a dairy-free version of the Irish favorite and prepared how the Irish traditionally make it.
There is not one Irish thing about me… German, oh yes, Scottish, perhaps, Southern 100%, New Yorker, definitely earned it and married a Dutchman. So no, there is no Irish blood in there (I think).
I have spent many a good time in traditional Irish pubs, experienced several Hoboken St. Patrick's Day's  (certainly an experience you should try under the age of 27) and never missed the New York parade. I've also had a true Irish pub bartender prepare a traditional Irish Coffee for me once. So even though I'm not the least bit Irish I feel I can obviously pour a cup as good as the next Irishman given my experience. Right? Probably not…
I'll still try!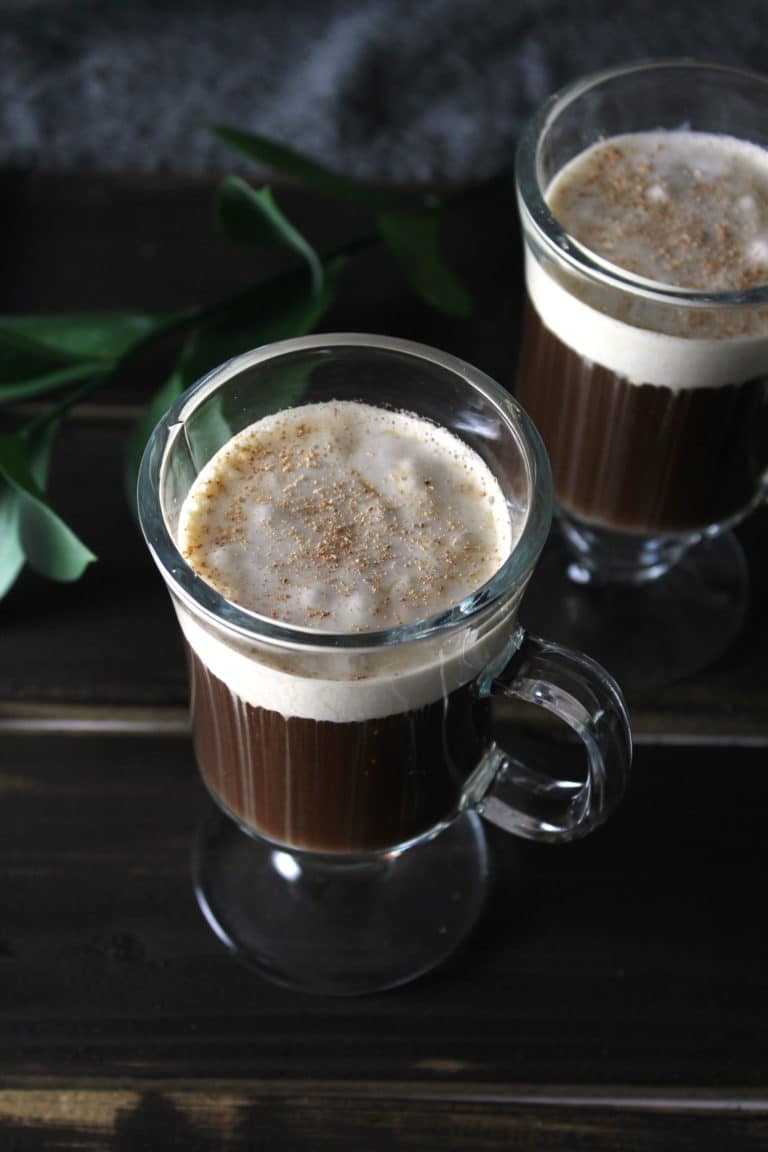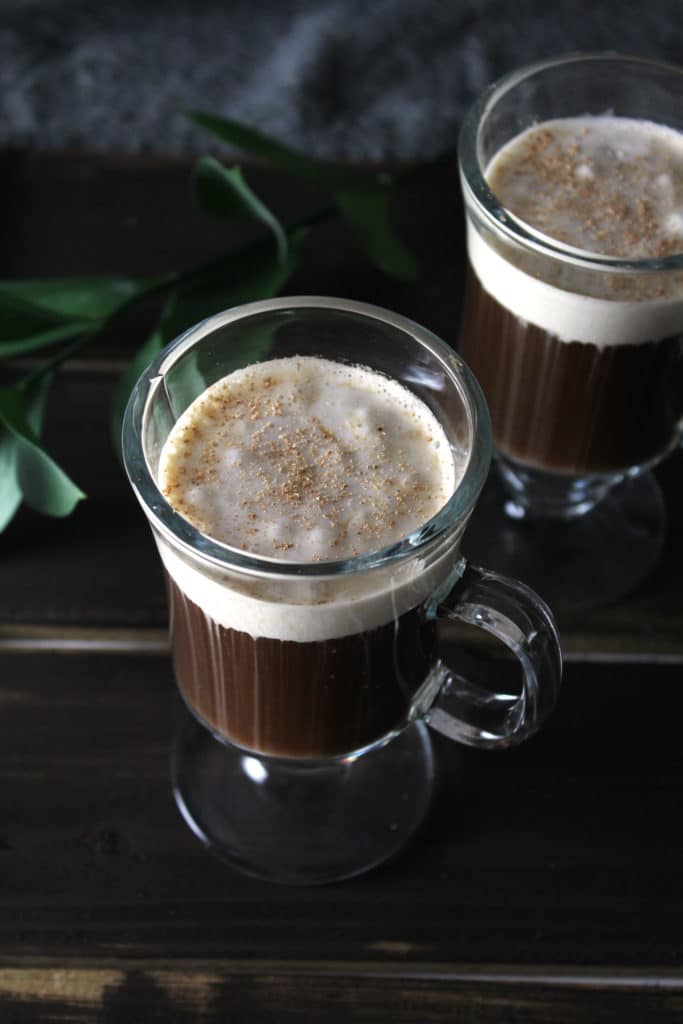 The very first time I sipped an Irish coffee, the one also prepared by the true Irishman in the traditional Irish pub, football was on (aka soccer, not American football) and previously I was sipping a beer and not an Irish one either, in a quiet dark Irish pub. The Irishman, aka the bartender, asked if I'd like to try an Irish Coffee since he was making one for himself.
Ummm, yes, please!
This particular pub was known for making Irish Coffee since it was an unlikely place to get one, even though it was a pub since it was tucked away on a side street and very small. It also didn't serve food. I washed as he began to vigorously grate the nutmeg into the small skillet. Then he sprinkled in some brown sugar, which began to bubble and then turned into a sweet smelling caramel-like substance. Next, he slashed a tiny amount of coffee before pouring in the Jameson, which a small he did so he tipped the pan ever so slightly to set it alight. Hello, showmanship!! The remaining coffee was added, swirled and then poured into the traditional Irish Coffee serving glass and topped with whipped cream.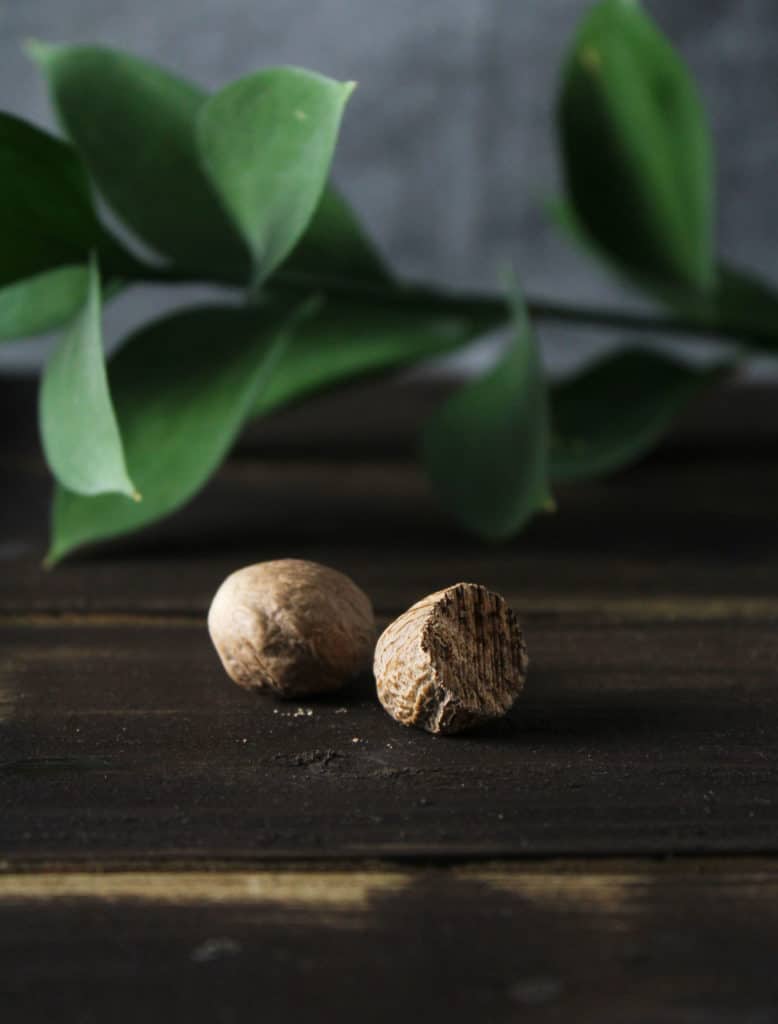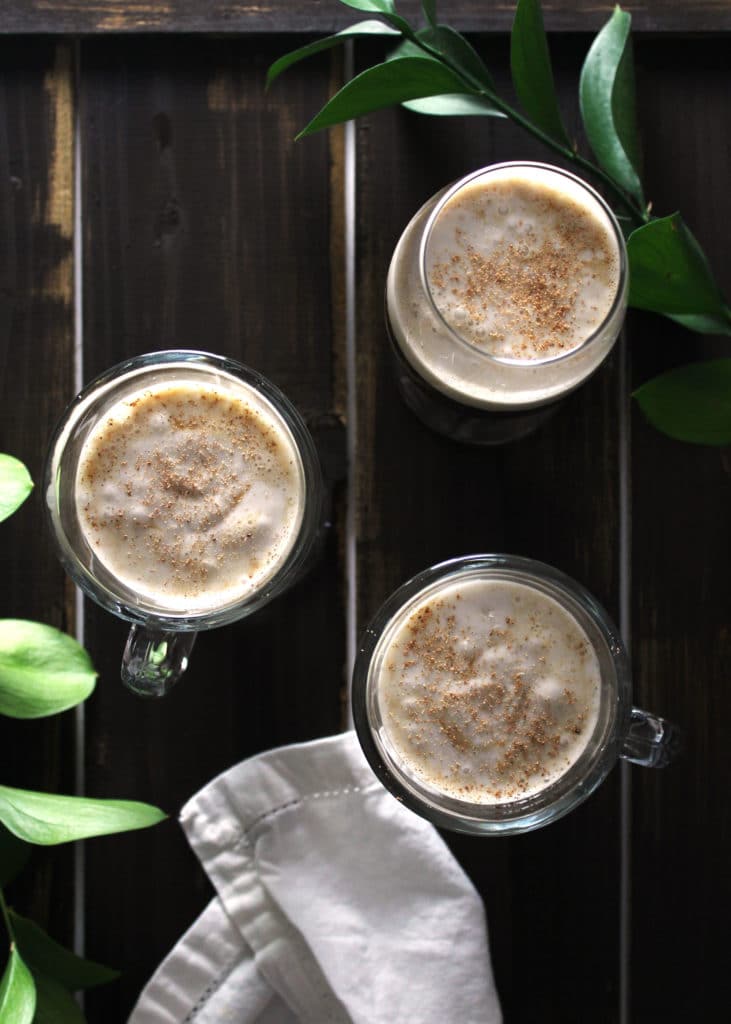 So yes, this is my only prior experience in preparing a true Irish coffee, and I was only a spectator but I absolutely love this drink and so I set out to learn how to make it and make it my own in doing so. This is where the Coconut Milk whipped cream comes in…
Around here I try to get creative when it comes to food, which is why I like to "make it my own" as I say. Usually, this is a small tweak but often adds a tiny enough change to make the dish or drink, in this case, unique. I've been wanting to try out Coconut Milk whipped cream and when it came time to think about St. Patrick's Day type recipes and Irish Coffee popped into my head, I knew it would be the perfect mix.
This slight twist on the traditional beverage gives it a slight coconut flavor, which makes the drink a little bit sweeter and adds a nice touch in my humble opinion ???? So if you're looking for a simple way to celebrate St. Patrick's Day this year, as I usually am, then prepare yourself a nice cup of this Irish Coffee.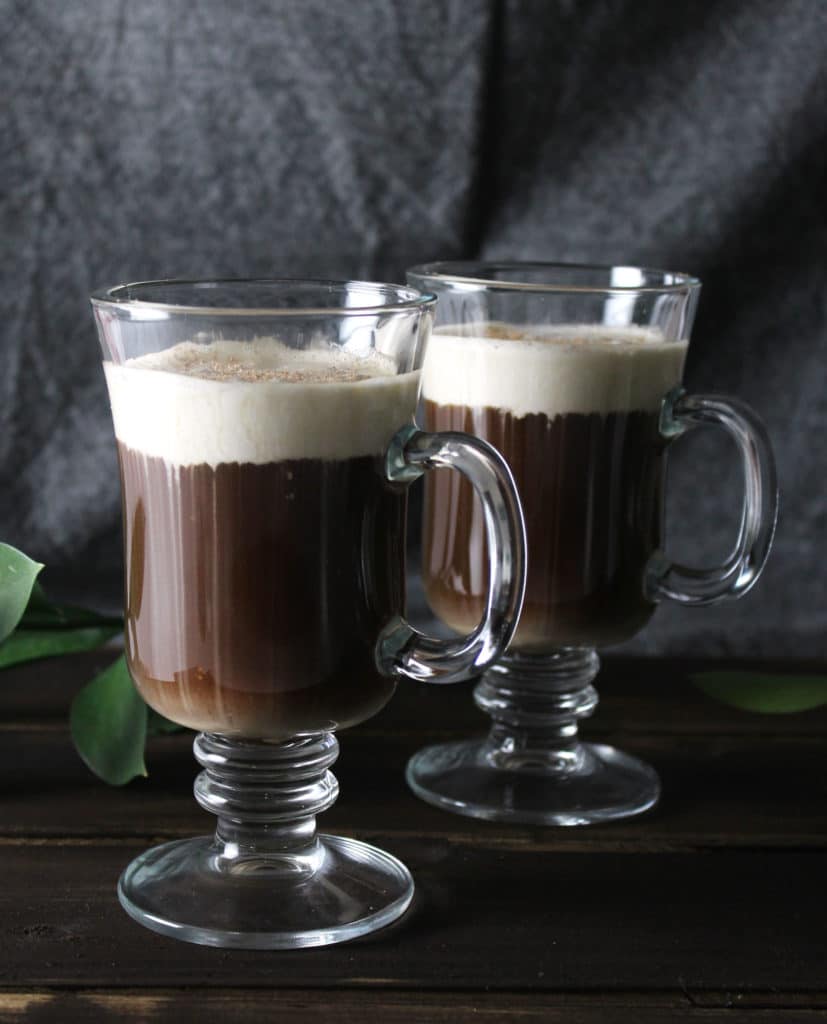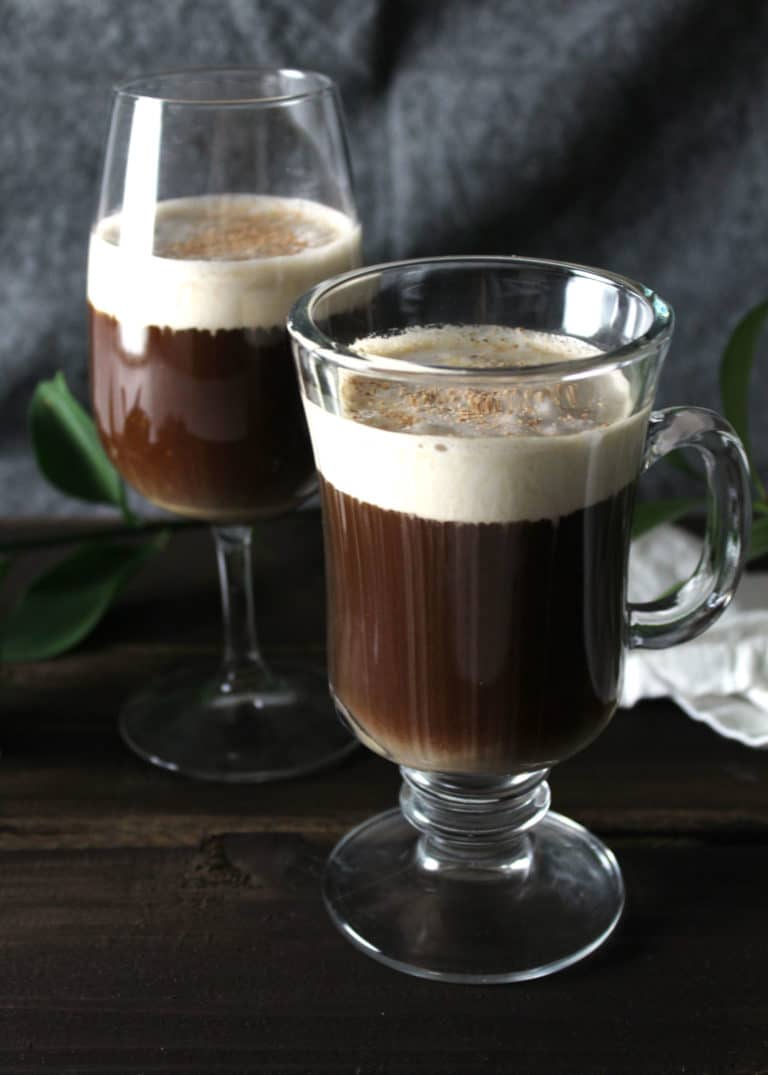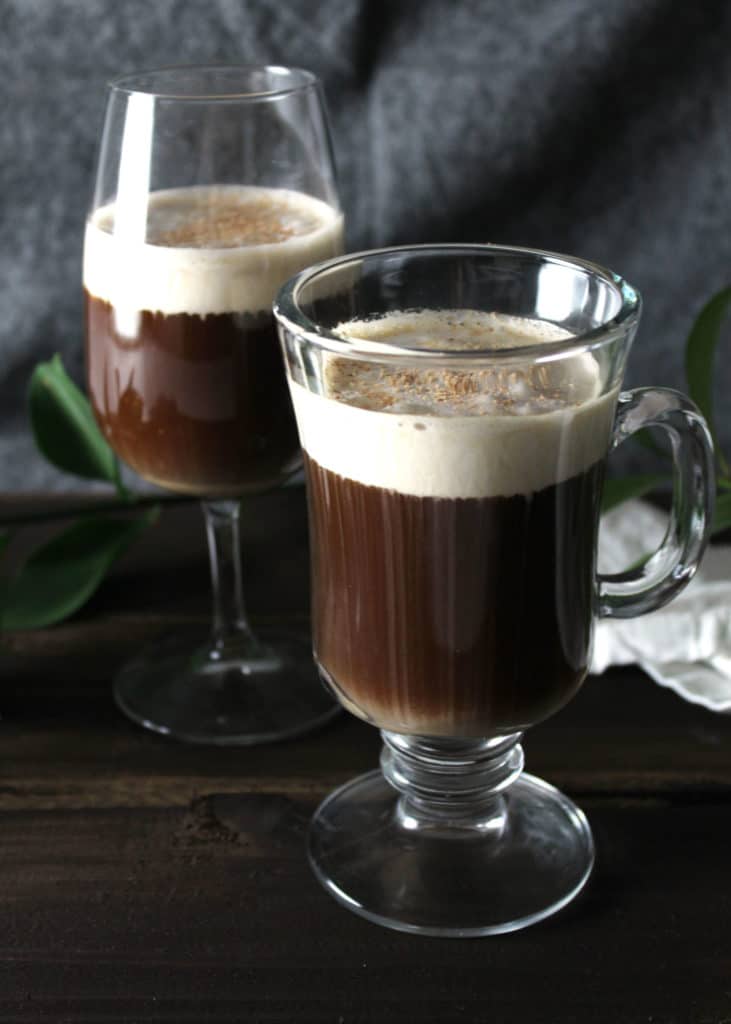 What are your favorite foods to make around St. Patrick's Day?
Print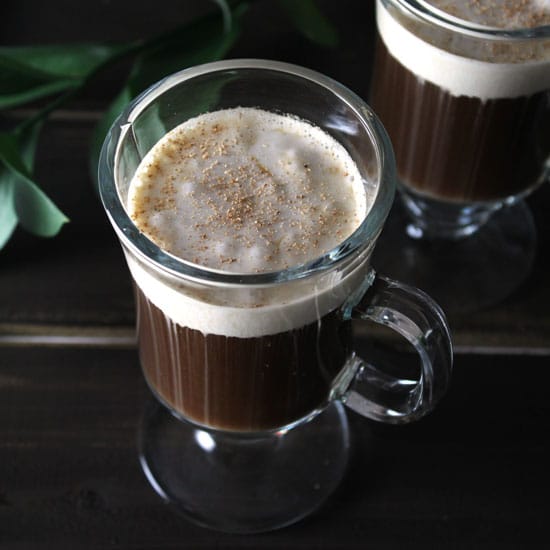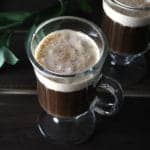 Traditional Irish Coffee with Coconut Cream
Author:

Prep Time:

10 Mins

Cook Time:

2 Mins

Total Time:

12 minutes

Yield:

2

Servings

1

x
---
Description
The Traditional Irish Coffee with Coconut Cream is a dairy-free version of the Irish favorite and prepared how the Irish traditionally make it | via aimeemars.com | #IrishCoffee #StPatricksDayDrinks #CoconutCream
---
Scale
Ingredients
Irish Coffee Base
Fresh Nutmeg

1 1/2 tablespoon

s Coarse Brown Sugar ((i.e. Brown Cane Sugar))

1

measure Whiskey (preferably Jameson)

1 cup

Hot Coffee
Coconut Milk Whipped Cream
1

14-oz can Full Fat Coconut Milk (or Coconut Cream)

1/4

–

3/4

cup Powdered Sugar

1/2 teaspoon

Pure Vanilla Extract
---
Instructions
Heat a thick-bottomed saucepan over medium heat. Grate fresh Nutmeg into the pan with a micro plane grater. Sprinkle 1 1/2 tablespoons of Coarse Brown Sugar evenly across the pan. The sugar will begin to melt and caramelize.
Once the sugar has caramelized, add two tablespoons of Hot Coffee and swirl around the pan. Slowly, add a measure of Jameson (or other Whiskey). Pour in the remainder of the hot coffee and mix.
Chill your Coconut Milk overnight in the fridge, being sure not to shake or tip the can.
The next day chill your mixing bowl for 10 minutes before whipping. Remove the coconut milk from the fridge without tipping or shaking and remove the lid. Scrape the top, thick cream out and leave the liquid behind. Place into the chilled mixing bowl.
Beat for 30 seconds with a mixer until creamy. Add the Vanilla Extract and Powdered Sugar and continue to mix until creamy and smooth, about 1 more minute. Place on top of Irish Coffee.
---