15 minutes is all you need to prepare a skillet filled with delicious Chicken and Shrimp Jambalaya. I'll show you how to quickly cook this cajun comfort food dinner using simple short cuts so you have dinner on the table in no time.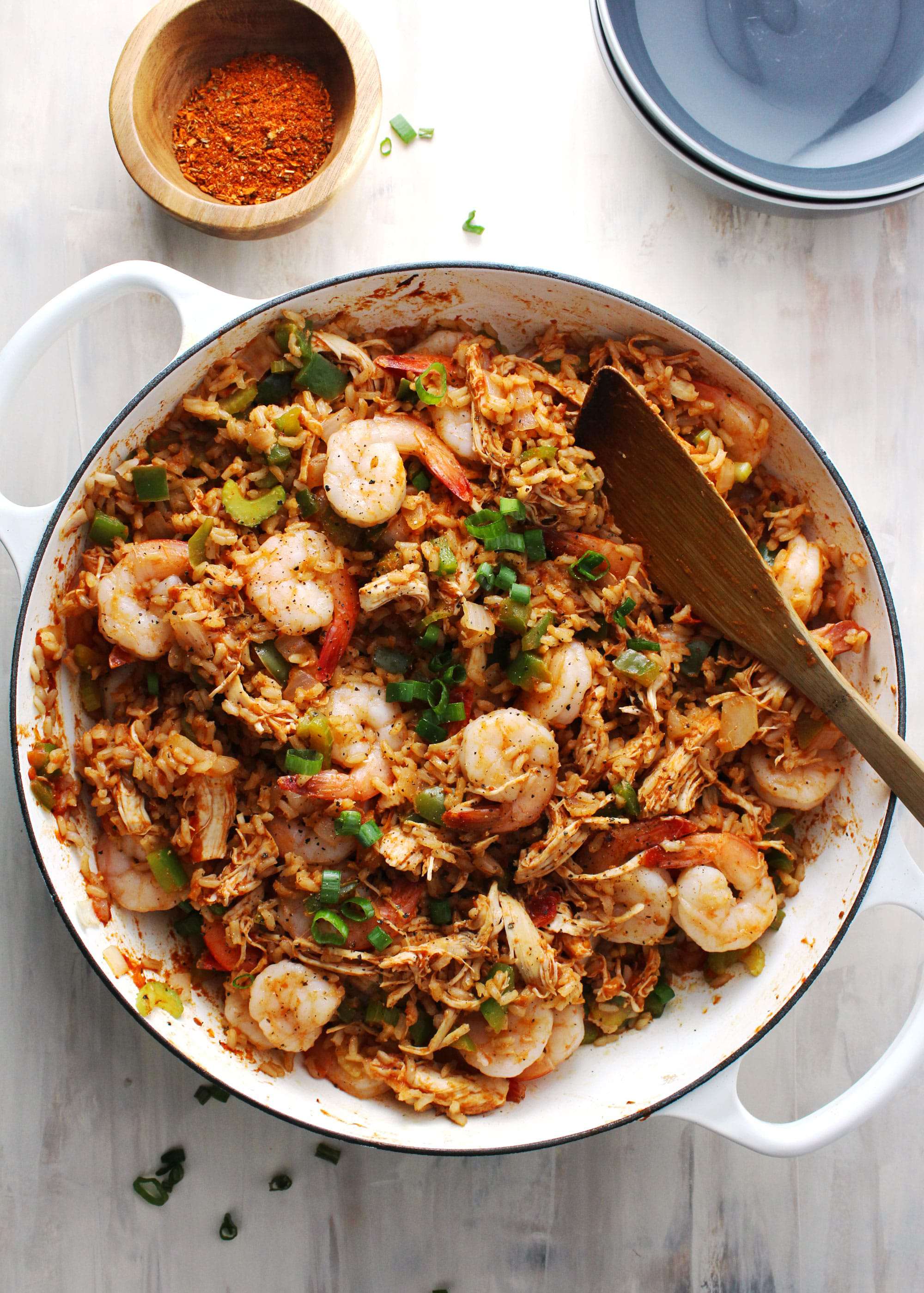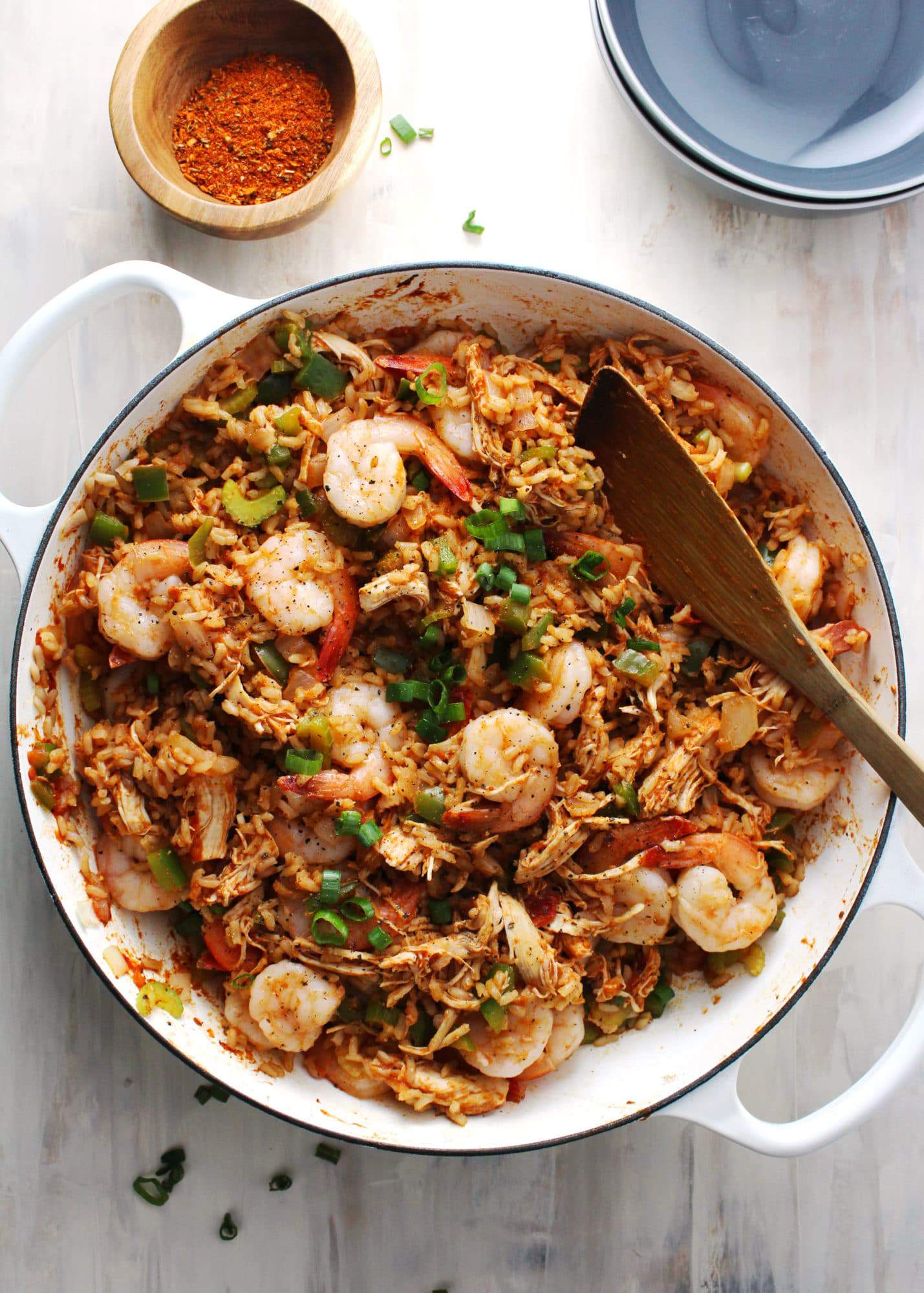 Quick Jambalaya Recipe
In no way is this an authentic jambalaya recipe, which many of my New Orleans friends will quickly attest to, however, it's quick. Sometimes getting a delicious dinner on the table quickly is of utmost importance no matter where you come from.
If you follow the recipe guidelines for cutting prep corners you can have this recipe prepared in 15 minutes (I timed it myself). This one-pot skillet meal is filled with all the traditional ingredients such as chicken, shrimp, Holy Trinity mix, crushed tomatoes, and all the seasonings so though it's not authentic it still tastes delicious.
What is Quick Jambalaya?
This simplistic and quick jambalaya recipe is inspired by the traditional one-pot dish that comes from West African, French, and Spanish influences, and has two widely popular varieties known as Cajun and Creole.
Quick jambalaya takes all the traditional ingredients such as sausage, pork or chicken, seafood, vegetables, and seasonings and swaps them out for pre-cooked and pre-cut options. By cutting down on prep time and using pre-cooked ingredients such as microwavable or quick rice, you can cut the cooking time into a fraction of the original.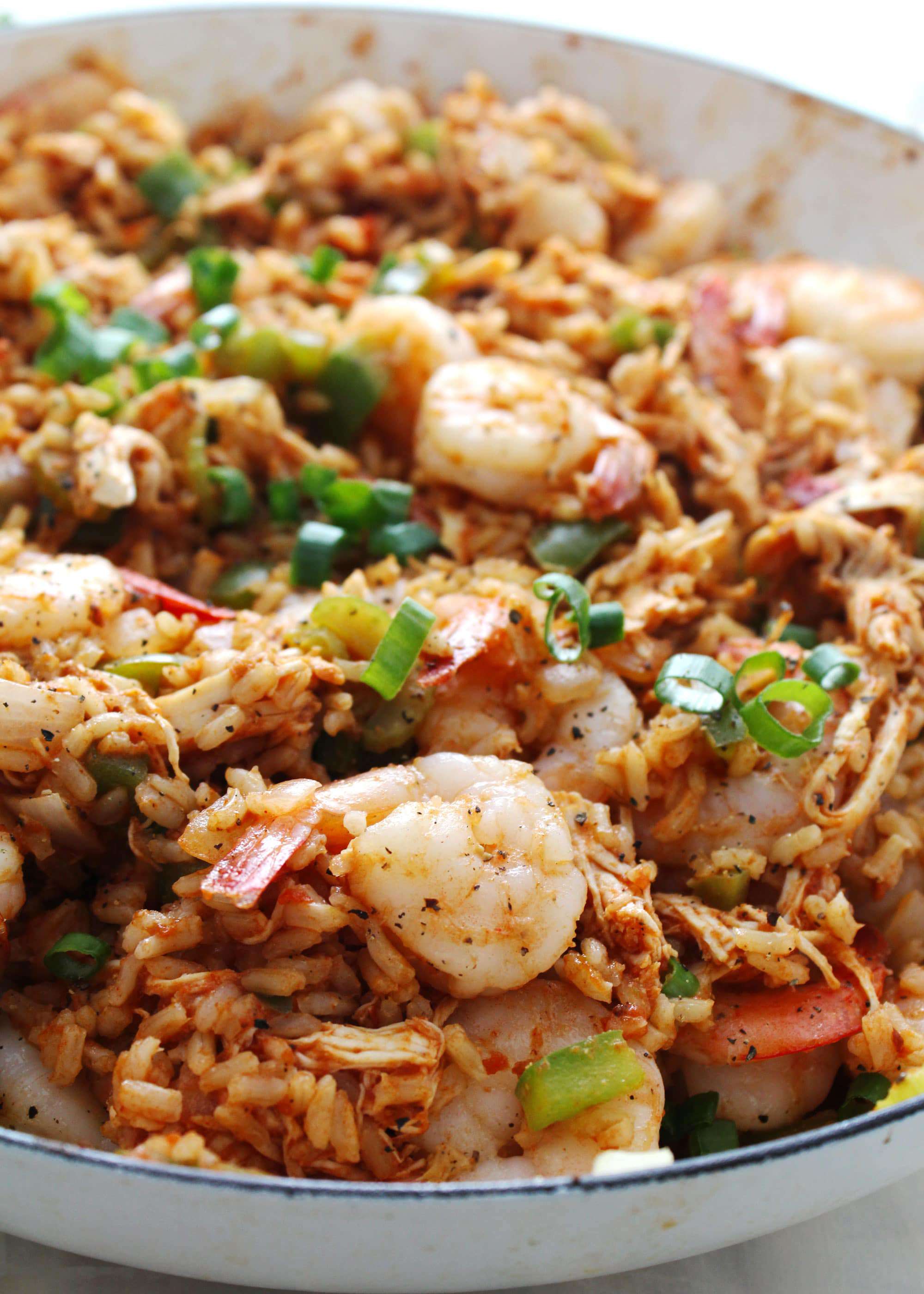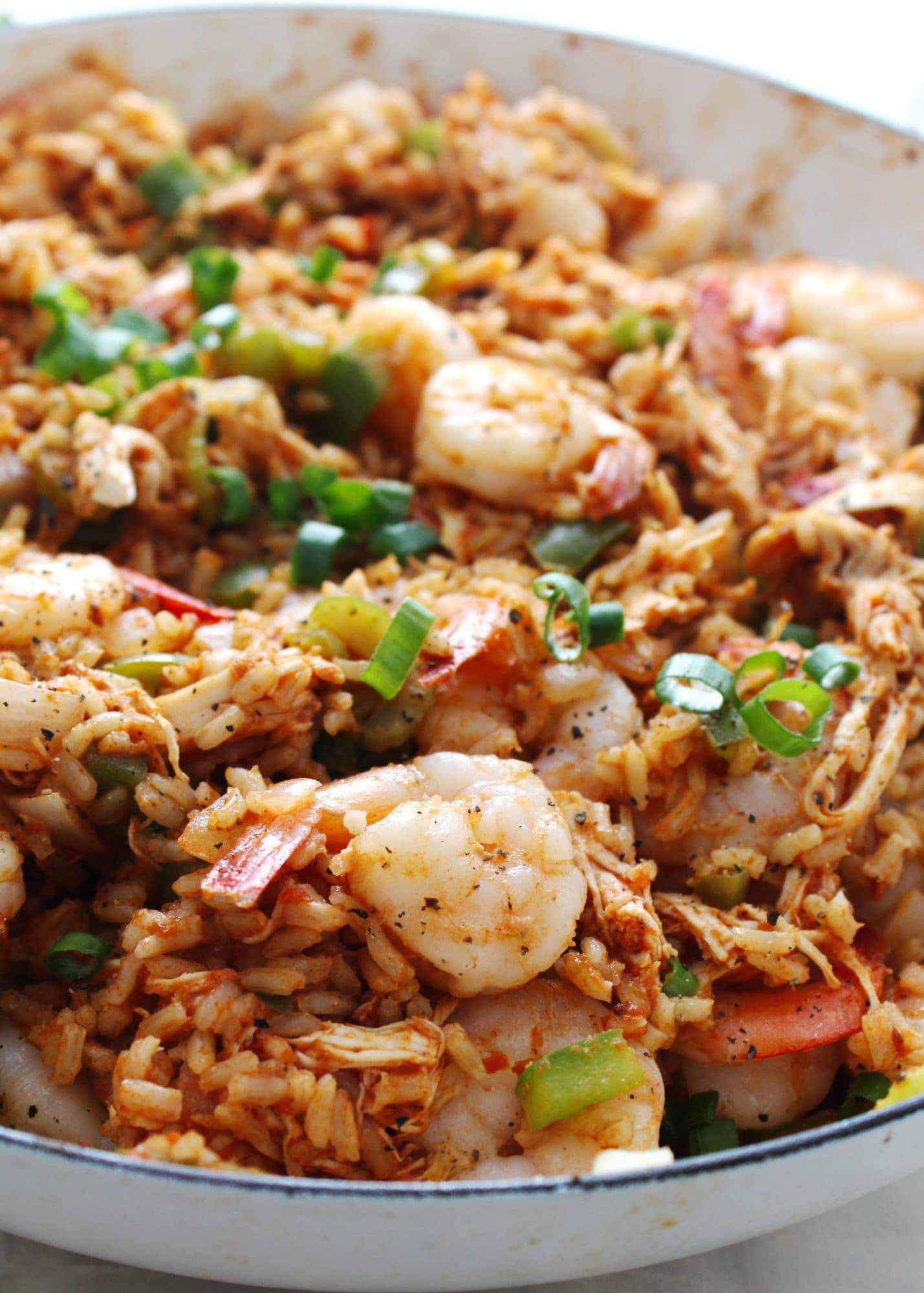 Ingredients in 15-Minute Chicken and Shrimp Jambalaya
This quick jambalaya recipe is not authentic, but that doesn't mean it's short on flavor. Some of the best meals are those one-pot recipes you can make and get on the table in minutes. This chicken and shrimp jambalaya recipe is that recipe.
Below is a list of the ingredients in this recipe, most of which are quick-cooking versions or pre-cut options. These ingredient swaps will cut down on the prep and cooking time of the recipe.
Microwavable 90-Second Rice: the type and brand of microwavable rice are entirely up to you but I prefer to use brown rice or some kind of long-grain version. Using this quick rice is one of the main factors in cutting down on time. There are many organic brands of this type of rice as well.
Olive Oil: I recommend using a good quality olive oil if you have one since this recipe is not cooking at very high heat or for very long. Adding this will help boost the flavor of the entire recipe.
Kielbasa Sausage: this type of sausage cooks very quickly and you can also purchase it in different flavors, which will only add to the dish.
Pre-cut Holy Trinty Mix: many grocery stores will sell this mix of diced onions, chopped celery, and green bell pepper in the produce section. If you can't find any you can make your own easily and with only adding a little bit of time to the overall recipe. Click the link for the quick recipe.
Minced Garlic Cloves: you can purchase minced garlic in small containers that can be stored in your refrigerator.
Canned Crushed Tomatoes
Rotisserie Chicken, shredded (or already pulled chicken): Costco is famous for its 2 lb bag of pulled rotisserie chicken, but you can easily purchase a freshly roasted one from your grocery and shred the chicken yourself.
Hot Sauce
Cajun Seasoning: this spice blend is sold in grocery stores on the spice aisle. If you can't find any I've included a recipe to make just enough below. Many authentic recipes cajun and creole recipes, such as red beans and rice, call for "Slap Ya Mama" seasoning, which is the perfect cajun blend.
Worcestershire sauce: this southern sauce staple adds a strong flavor burst to the recipe.
Frozen Peeled Shrimp: I prefer to get tails-on, peeled, and deveined shrimp. Just thaw your shrimp before you make this recipe.
How to Make Chicken and Shrimp Jambalaya
Time needed: 15 minutes.
Prep
Prep the Rice

Microwave the rice for 90 seconds or according to package directions.

Cook Shrimp

Heat the olive oil in a large skillet over medium-high heat and saute the shrimp for 1 minute on each side. Remove from skillet and set aside.

Saute

Add the sausage and Holy Trinity mix to the skillet and cook for 4 minutes, stirring occasionally. Add the minced garlic and cook for an additional 30 seconds.

Quick Simmer

Add the remaining ingredients (crushed tomatoes, chicken, hot sauce, cajun seasoning, and Worcestershire sauce and let simmer for 5 minutes until the sauce thickens.
Tips for Making Quick Jambalaya
Thaw the shrimp well before you plan on making the recipe. Thawing time will add significantly to the prep.
Place ALL the ingredients for this recipe on the counter and open any cans so you're ready to go.
Slice the sausage before starting to cook. This also applies to the Holy Trinity mix if you have to make your own.
Glance through the ingredients list for this recipe and use the suggestions for type. For example, using the minced garlic in a jar versus having to do it yourself will save you time.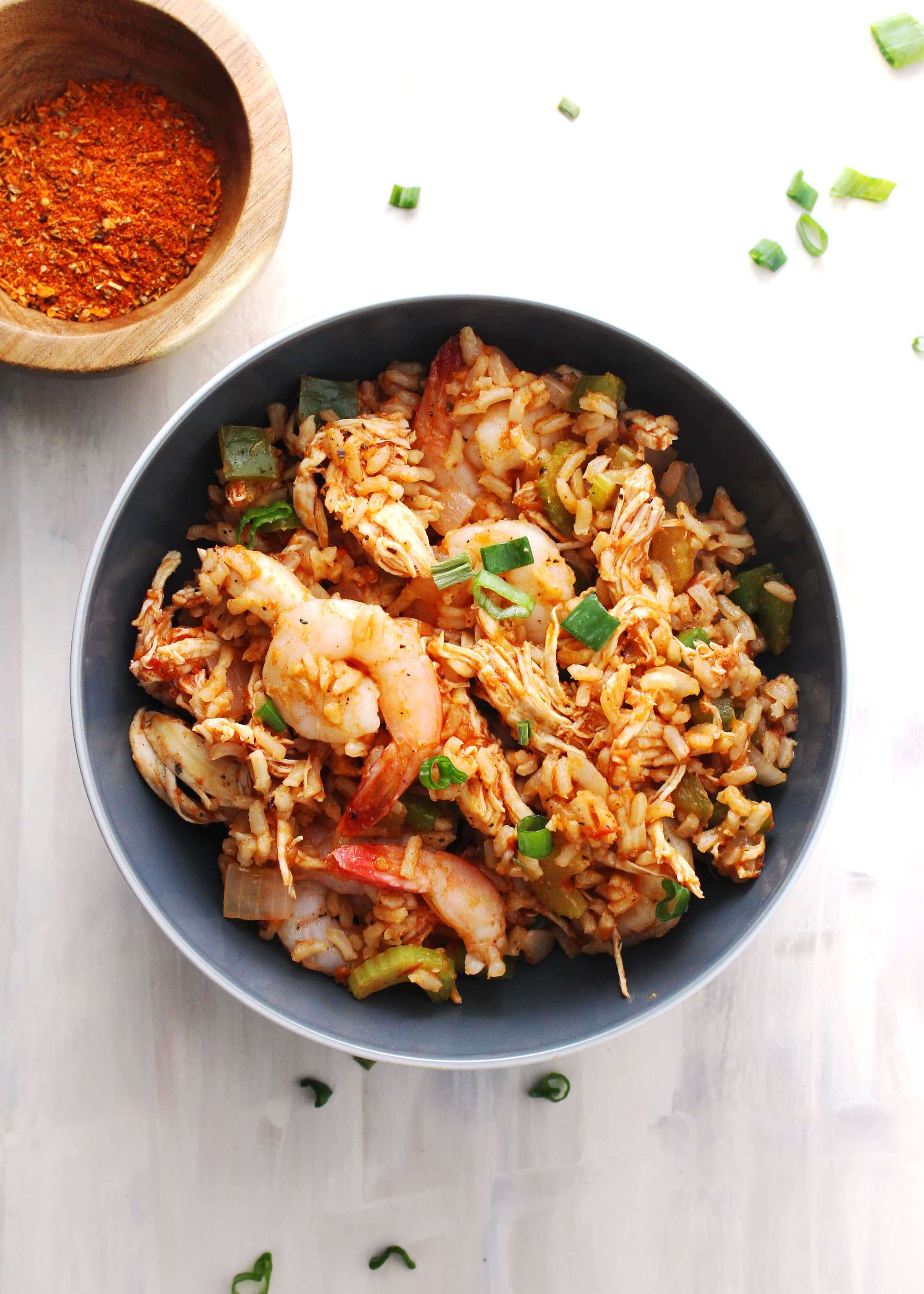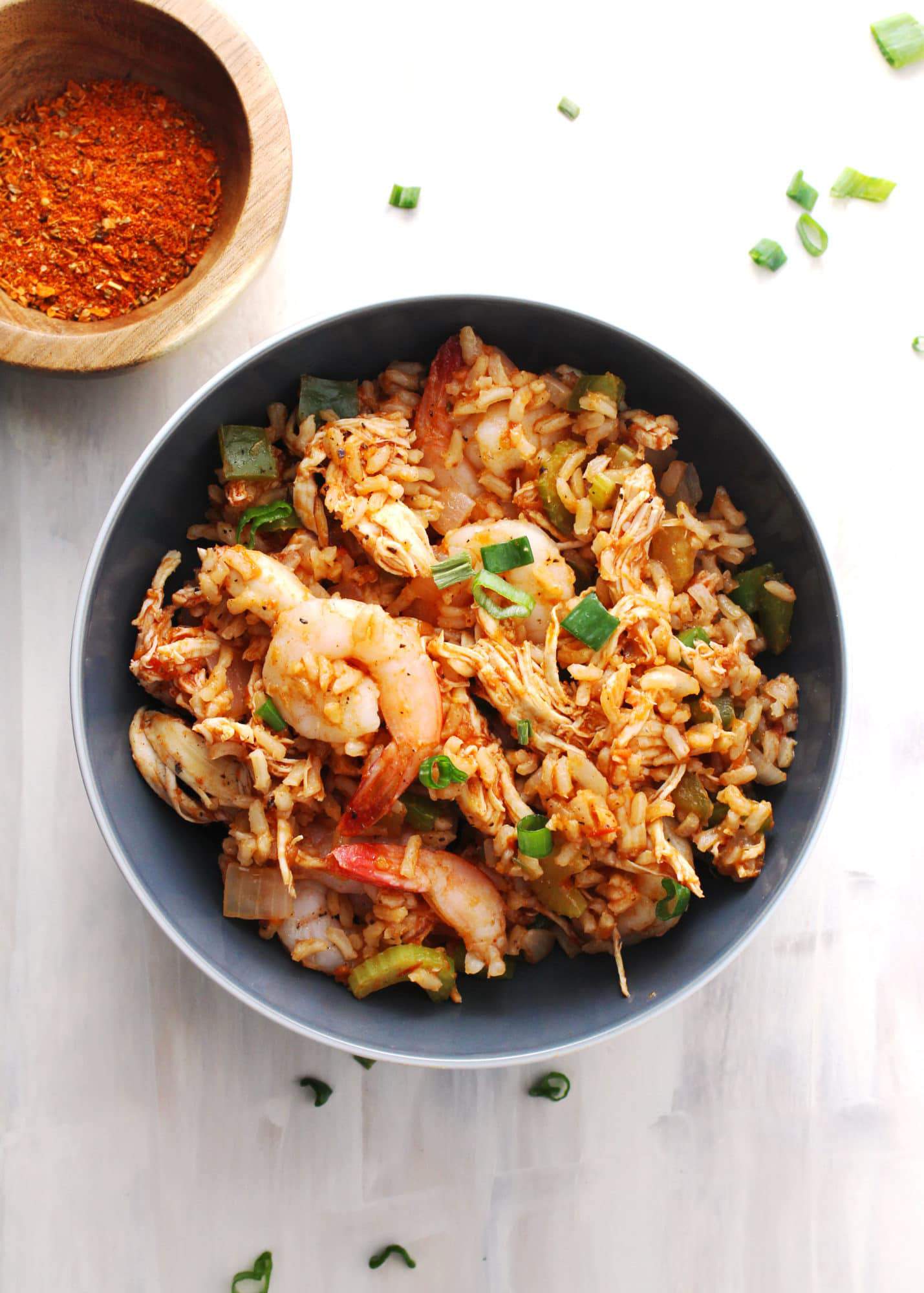 FAQ's for Making Chicken and Shrimp Jambalaya
How to Make Homemade Cajun Seasoning Recipe
This seasoning mix is a key ingredient in preparing chicken and shrimp jambalaya. You can purchase cajun seasoning at most grocery stores in the spice aisle, however, you can also make your own. If you'd prefer to just make enough for this recipe below is the mixture you'll need.
1/4 teaspoon Salt
1/2 teaspoon Garlic Powder
1/2 teaspoon Paprika
1/4 teaspoon Ground Black Pepper
1/2 teaspoon Onion Powder
1/8 teaspoon Cayenne Pepper
1/4 teaspoon Dried Oregano
1/4 teaspoon Dried Thyme
What is Holy Trinity Mix?
Similar to mirepoix, the Cajun and Creole mix is comprised of equal parts onion, green bell pepper, and celery. You can easily make your own, however, many grocery stores sell this mixture pre-cut in the produce section.
You could also use frozen chopped onions. Often stores will have chopped bell peppers and celery that you can then toss together.
If you can't find this combination at your local store I have a fresh option below. This amount is enough for this recipe.
1/2 white onion, diced
2 celery stalks, chopped
1 green bell pepper, seeded and chopped
What is the difference between gumbo and jambalaya?
Both gumbo and jambalaya have long cooking times to let the flavors simmer together. Similarly, they both have rice as a key ingredient. However, gumbo is more of a thick stew served over rice, and jambalaya has the rice cooked directly into the dish.
What to serve with easy jambalaya?
Jambalaya has so many delicious ingredients from proteins to vegetables to rice that it's quite a complete meal. Traditionally the dish is served with a side of southern cornbread. Conversely, you could also serve up some southern side dishes such as okra, collard greens, or even green beans.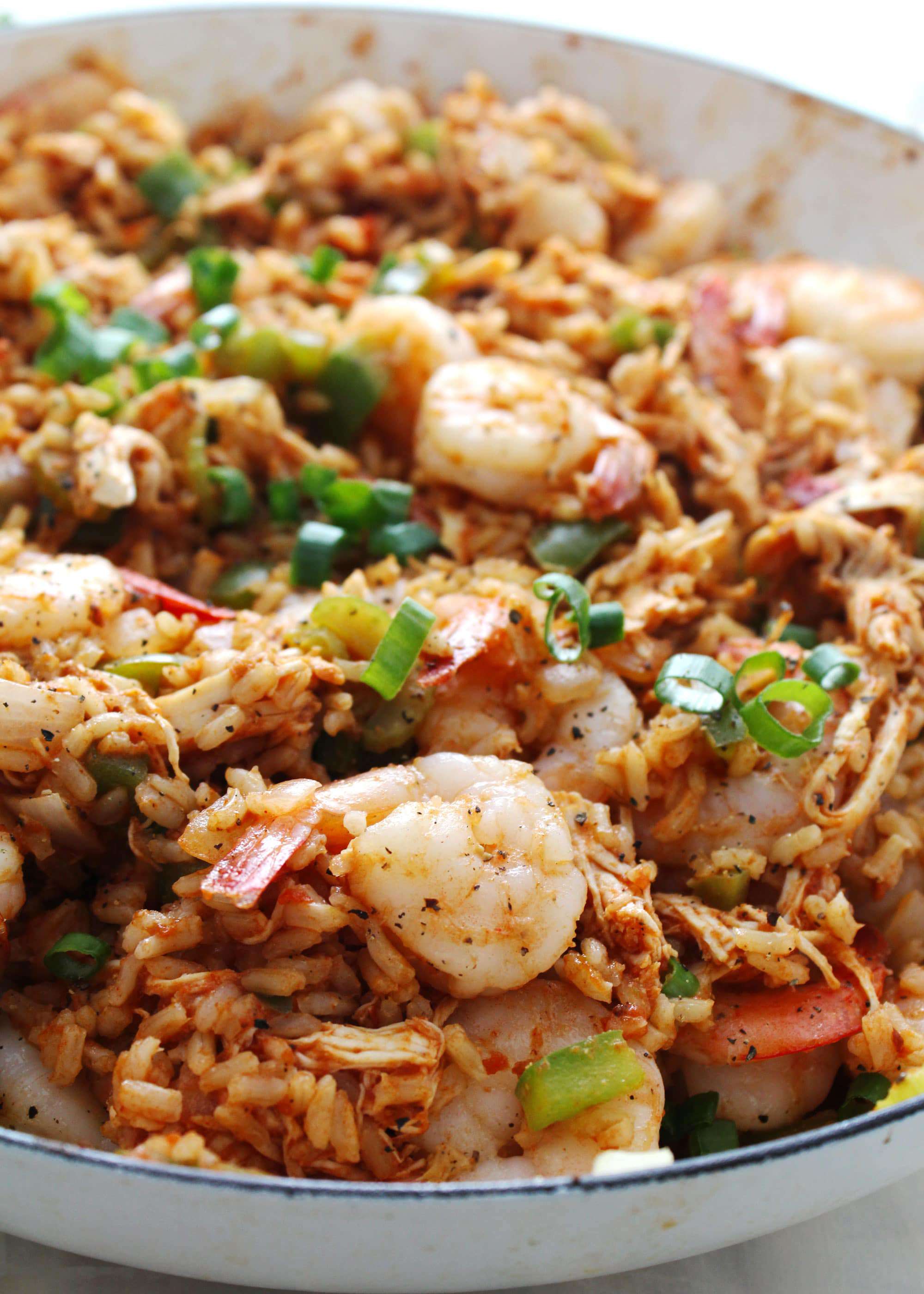 Ingredients
2

8.5 ounce

Ready Rice

2

tablespoons

Olive Oil

1

lb

Shrimp

13 – 15 count

1

lb

Kielbasa Sausage

sliced

8

ounces

Holy Trinity (green bell peppers, celery, onion)

2

Garlic Cloves

minced

1

15 ounce

Can Crushed Tomatoes

1

cup

Rotisserie Chicken

shredded

2

teaspoons

Hot Sauce

2

teaspoons

Cajun Seasoning

1

tablespoon

Worcestershire Sauce
Instructions
Microwave the rice for 90 seconds or according to the package directions and set aside.

Heat the olive oil in a large skillet over medium-high heat and add the shrimp in 1 layer (Note: make sure to thaw the shrimp before starting the recipe). Cook for 1 minute and flip to the other side for 1 additional minute. Use a slotted spoon to remove from the skillet and set aside.

Add the sausage and Holy Trinity mix to the skillet and cook, stirring occasionally, for about 4 minutes.

Next add the minced garlic to the skillet and cook for an additional 30 seconds, stirring occasionally.

Reduce the heat to medium-low and pour the crushed tomatoes, chicken, hot sauce, cajun seasoning, and Worcestershire sauce. Cook for 5 more minutes, stirring, until the mixture begins to thicken. Add additional seasoning if desired.
Notes
Cajun Seasoning Recipe:
1/4 teaspoon Salt
1/2 teaspoon Garlic Powder
1/2 teaspoon Paprika
1/4 teaspoon Ground Black Pepper
1/2 teaspoon Onion Powder
1/8 teaspoon Cayenne Pepper
1/4 teaspoon Dried Oregano
1/4 teaspoon Dried Thyme
Holy Trinity Mix Recipe:
1/2 Onion, diced
1 Green Bell Pepper, seeded and chopped
2 stalks Celery, chopped
Nutrition
Serving:
2
cups
|
Calories:
457
kcal
|
Carbohydrates:
6
g
|
Protein:
38
g
|
Fat:
31
g
|
Saturated Fat:
9
g
|
Cholesterol:
281
mg
|
Sodium:
1453
mg
|
Potassium:
333
mg
|
Fiber:
1
g
|
Sugar:
2
g
|
Vitamin A:
328
IU
|
Vitamin C:
8
mg
|
Calcium:
132
mg
|
Iron:
3
mg