This healthy gumbo-like Instant Pot Shrimp and Lentil Stew pack a powerful flavor with spices such as cayenne pepper and Old Bay seasoning mixed together. It can be made in under 15 minutes and tastes even better the next day as leftovers.
Instant Pot Lentil Stew
When I first received my Instant Pot as a Christmas gift I was unsure where to even begin. The warning labels alone were quite daunting. Making a simple stew seemed the best option, which is where this shrimp and lentil stew began.
I've since made this sausage and lentil stew in the Instant Pot and have fallen so much in love with lentils.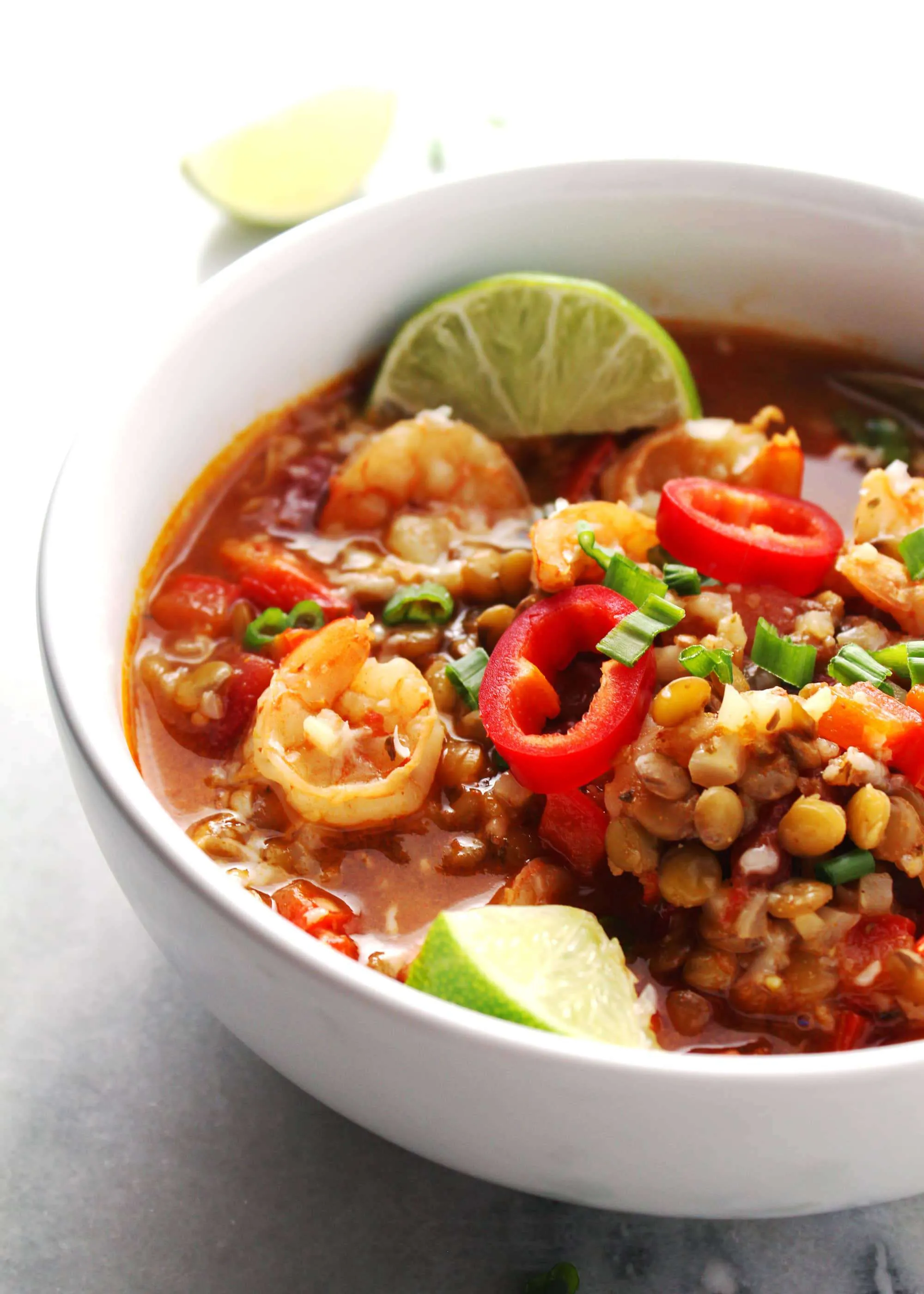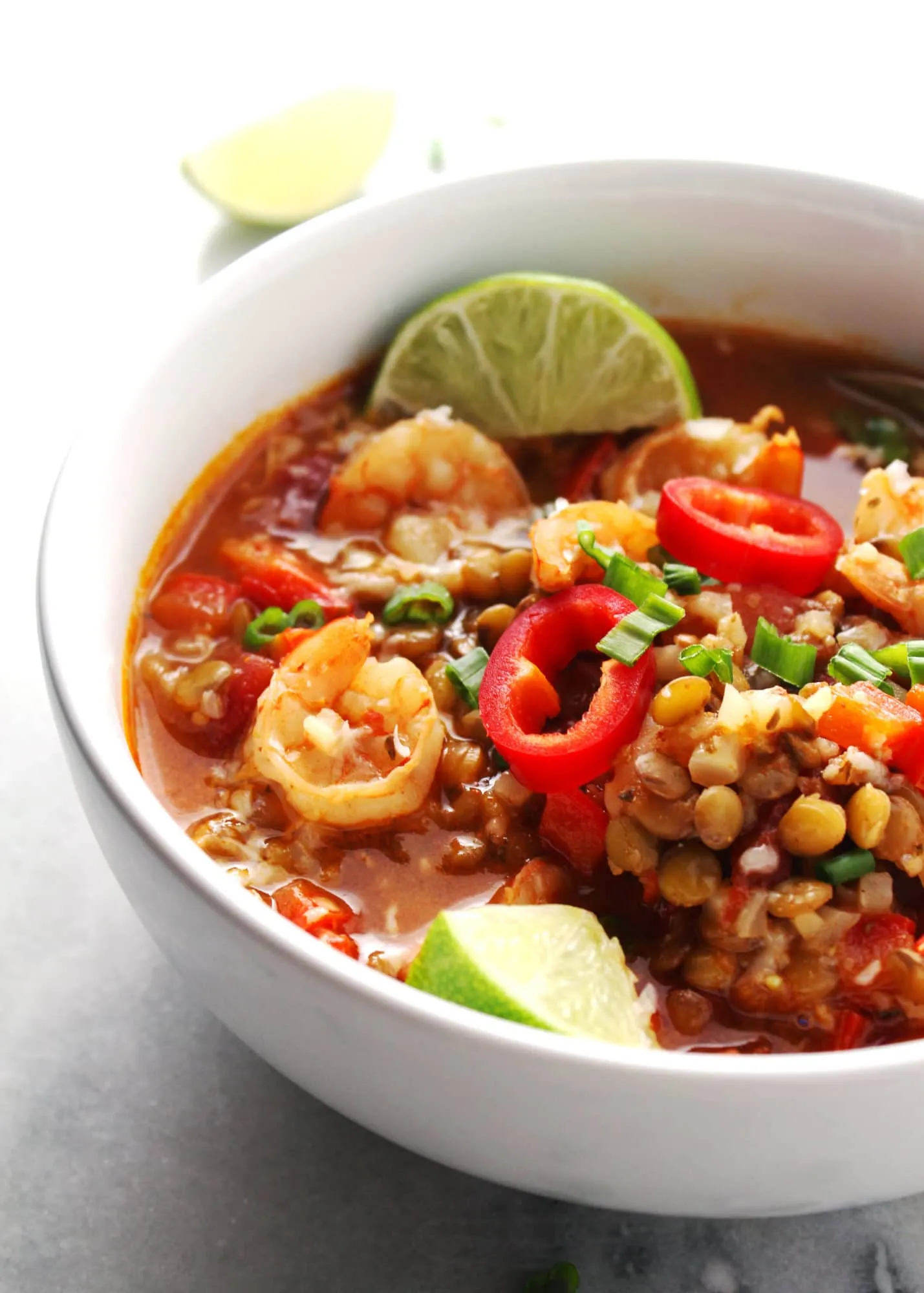 Oh hey, there brand new shiny Instant Pot I got for Christmas like everyone else in the world. Little did I know how fun this little kitchen appliance was going to be.
I get it, the last thing you need is another appliance to shove in your already jam-packed kitchen cabinets, but really you should consider a little corner space for this one. I mean, this shrimp and lentil stew is good enough reason for me.
If you need more convincing…
This soup/stew, maybe kinda both, was made in 12 minutes! You read that right 12 MINUTES!!!! ⏱⏱⏱ That's faster than the drive-through at Chick-fil-a and a good bit healthier too, unless you're getting one of their salads in which case kudos to you for not eating a chicken sandwich.
But that's the kind of fast we need in our busy/hectic/insane lives! A couple of nights ago I made perfect basmati rice in 4 minutes! #MindBlown
Here's the deal though, you can make this in a slow cooker or on your stove top (instructions are included) so it's not entirely necessary to have the Instant Pot (but oh how I think you should get it). It's a little, okay a lot, slower and a little more high maintenance, but you can still do it AND it is just as good.
But we're really here to discuss what turned out to be a huge hit of a dinner in my household and when that kind of meal happens it's like unicorns are dancing around my dinner table.
I have toddlers and that means one day the could love something and the next push it away in disgust. Love them, but they can be moody when it comes to meals. I think I won them over with the flavorful spice mix all combined with the tomatoes, lentils, and shrimp.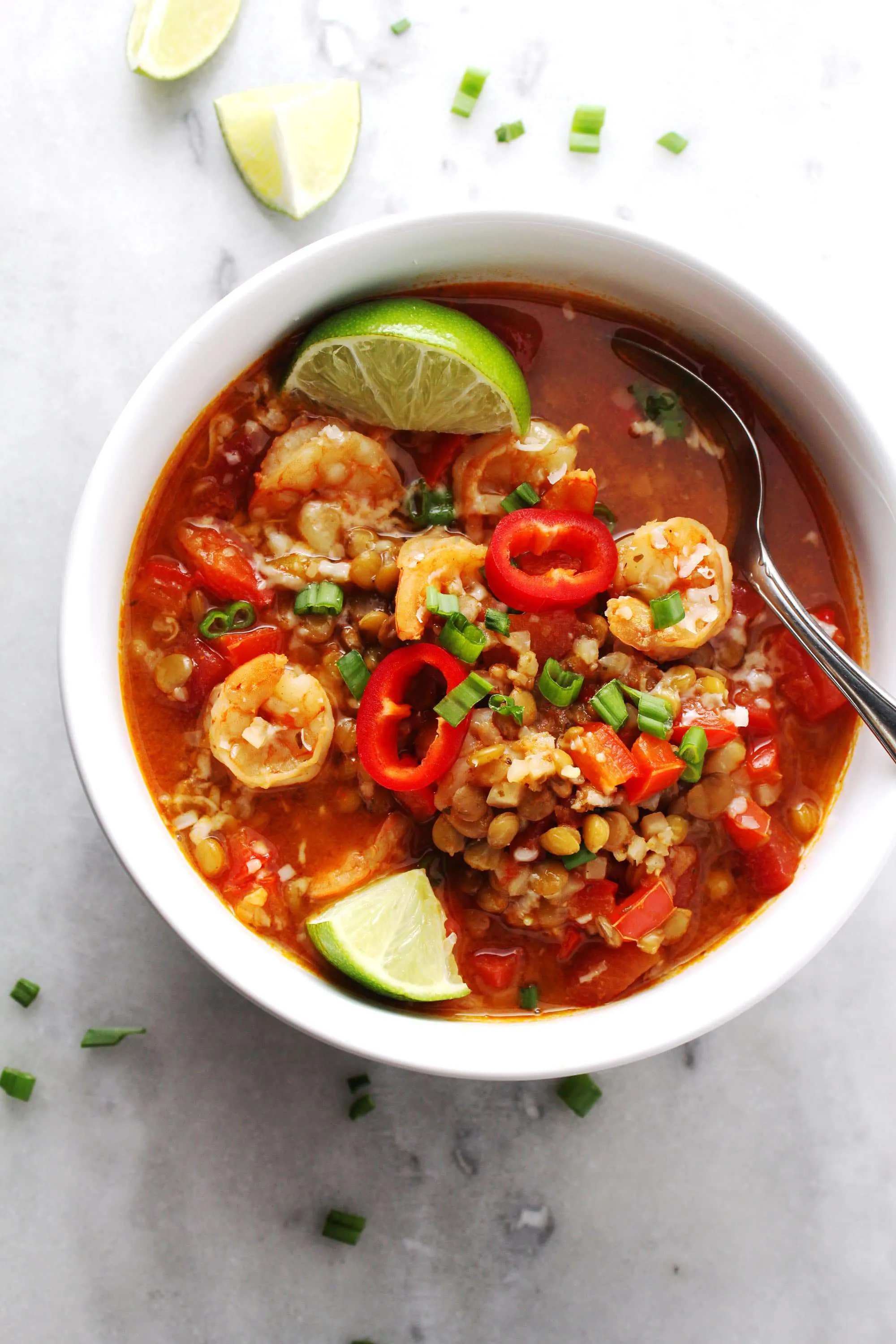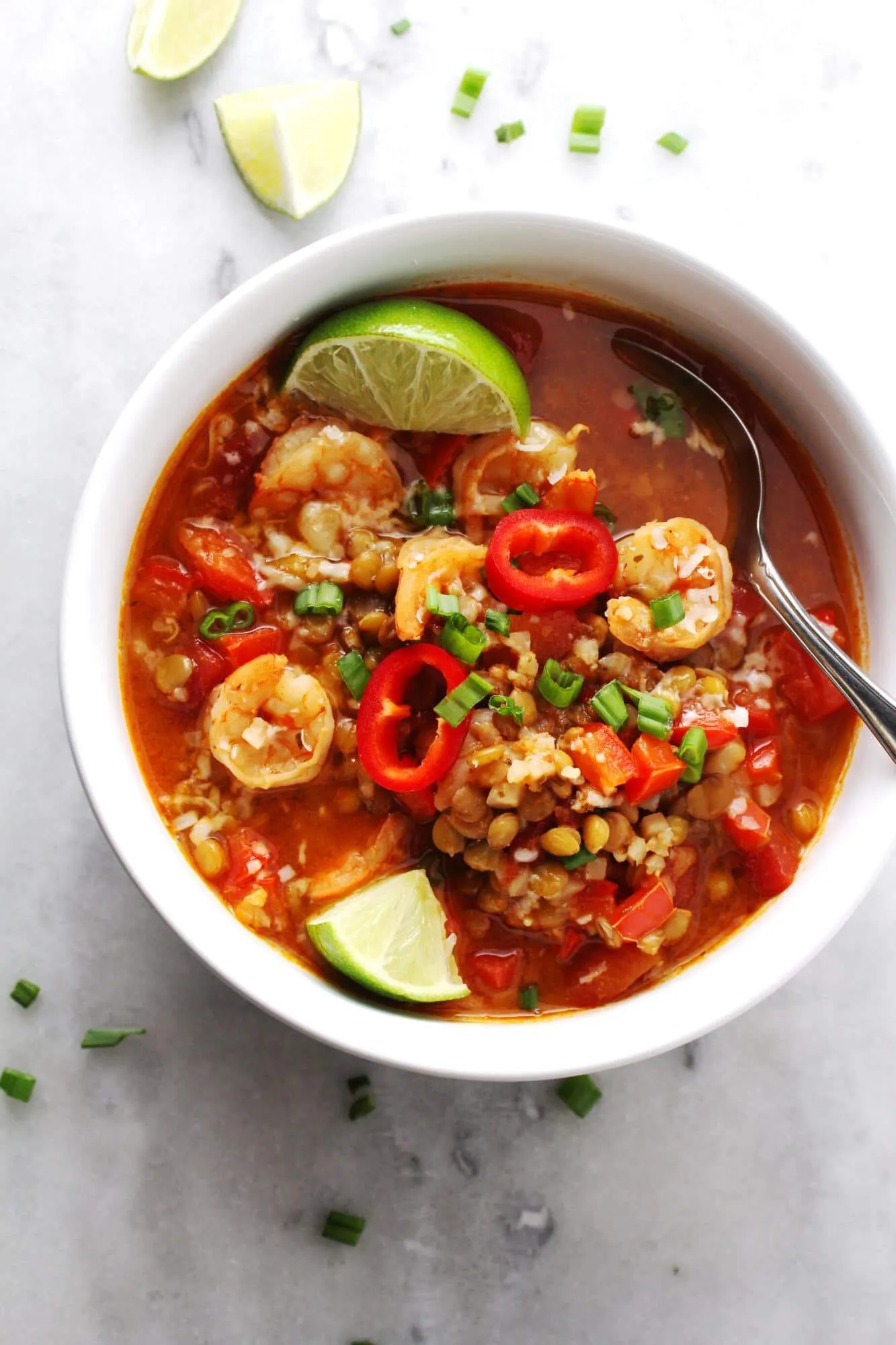 This shrimp and lentil stew have a tomato-y type broth base that's mixed with a thyme/oregano/old bay/cayenne flavorful spice mix, which really kicks up the taste. Because you've got your lentils and shrimp you're going to be full eating some strong proteins, but hey, if you want to go vegetarian leave out that shrimp. It's that good that it's still GONNA be good even without.
Here's a little surprise though, and one those toddlers of mine still don't know about (our little chef secret), this has riced broccoli in it as well as onions and bell pepper. Holy vegetables!! They ate them. They really ate them. I WOULD NOT LIE TO YOU about this dinnertime miracle.
I totally get how Sam I Am feels in Green Eggs and Ham when the guy finally tries the meal and actually likes it because this is my sentiment every time my kids eat all their dinner, which isn't mac and cheese or Chick-fil-a.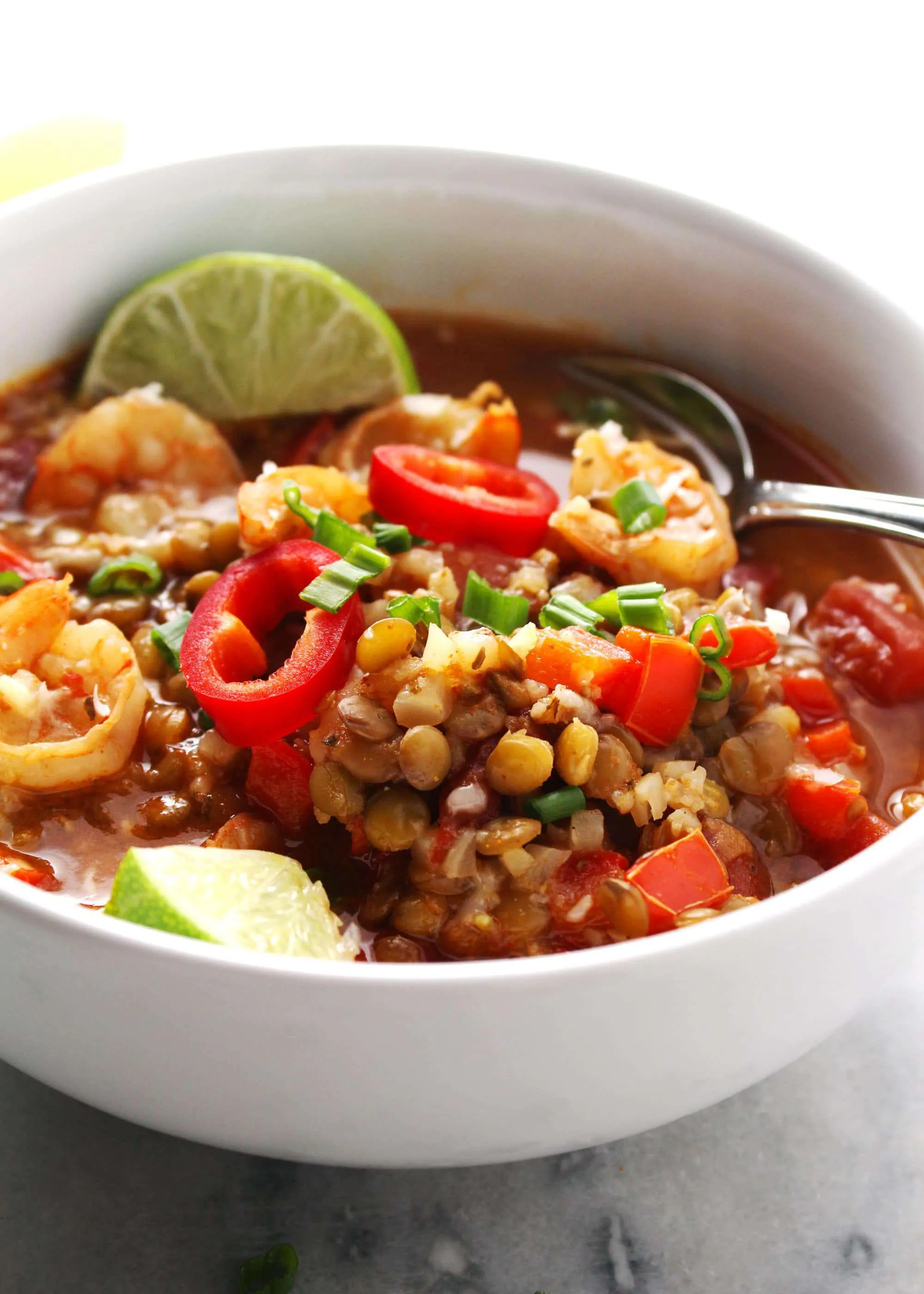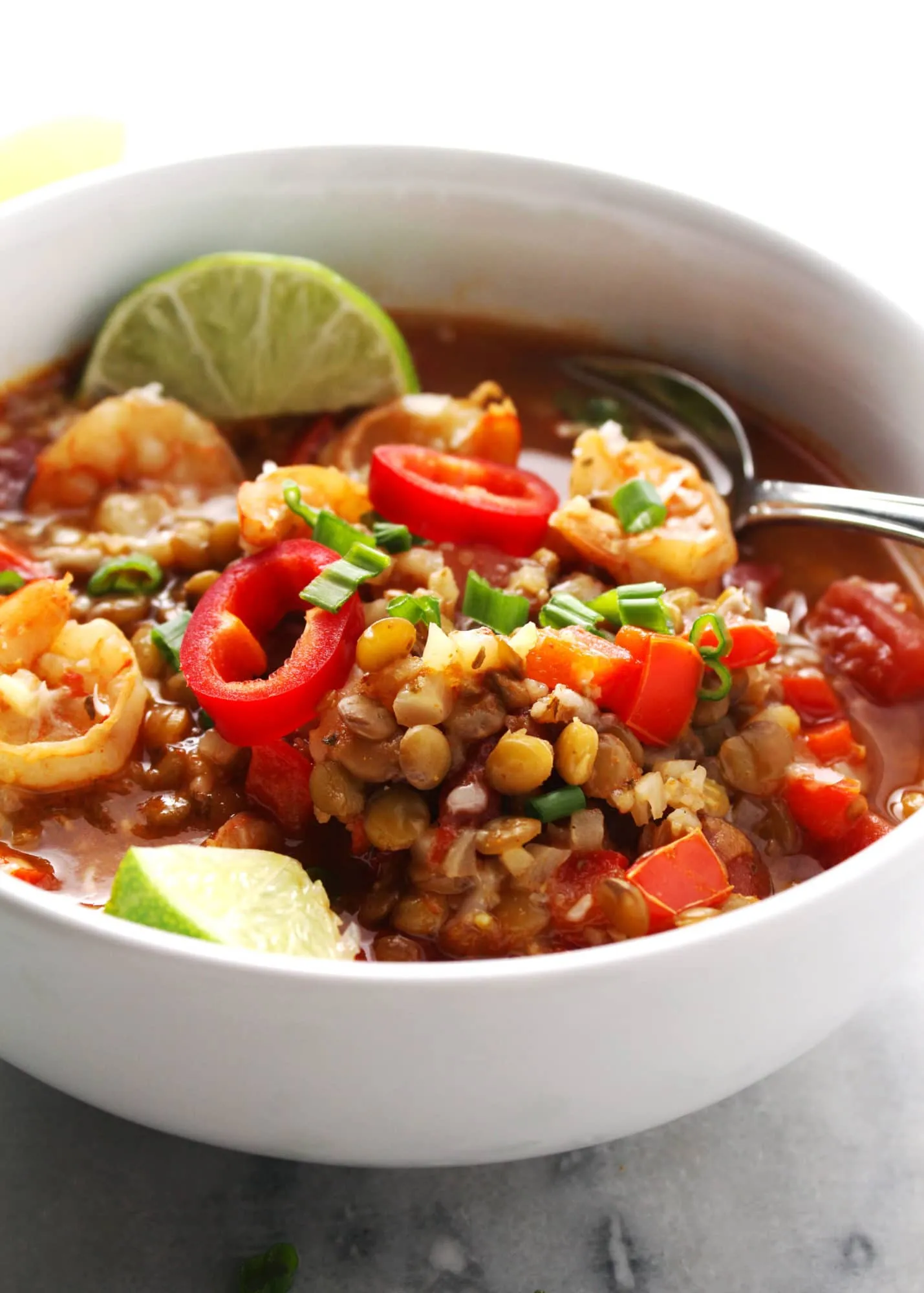 Did you get an Instant Pot for Christmas? If so what are you making? I'm looking for every excuse to pull my pot out and if you haven't taken yours out of the box then let me strongly hint at this shrimp and lentil stew cause I'm fairly confident you're gonna love it (maybe even your whole family/friends/co-workers too!).
More Lentil Stew Recipes: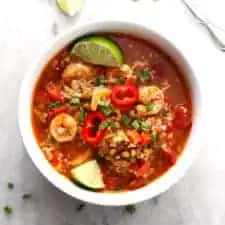 Instant Pot Shrimp and Lentil Stew Recipe
Hello, EASY and HEALTHY weeknight Instant Pot Shrimp and Lentil Stew your whole family (toddlers included) will love. Done in less than 15 minutes!!
Print
Pin
Rate
Ingredients
1

tablespoon

Olive Oil

3

cloves

Garlic

minced

1

Onion

chopped small

1

Red Bell Pepper

chopped

1

tablespoon

Thyme

2

teaspoons

Oregano

2

teaspoons

Old Bay Seasoning

1/2

teaspoon

Cayenne

1

cup

Lentils

1

lb

Shrimp

deveined and peeled

3

cups

Chicken Broth

or vegetable

1 15

oz

can Diced Tomatoes

drain slightly

1/2

cup

Tomato Sauce

2

tablespoons

Worcestershire Sauce

1

cup

Frozen Riced Broccoli
Instructions
Set your Instant Pot to the "saute" setting and add the Olive Oil, Garlic, Onion, and Bell Pepper and saute for 5 minutes, or until ingredients are softened. Add the Thyme, Oregano, Old Bay, and Cayenne and toss to mix. Continue to saute for an additional 1 minute.

Place the Lentils, Shrimp, Chicken Broth, Diced Tomatoes, Tomato Sauce, Worcestershire Sauce and Riced Broccoli into the Instant Pot. Using the "manual" setting set the temperature to "high" and cook for 12 minutes. Release the steam and season with Salt and Pepper.
Notes
Don't add the salt and pepper to the stew until AFTER it's done with cooking because the lentils will fall apart otherwise.
Vegetarian Option: remove the shrimp, and swap out the chicken broth for vegetarian broth.
Stove Top Directions: Heat Olive Oil in a Dutch Oven or large pot over medium-high heat. Add the Garlic, Onion, and Bell Pepper. Saute until soft and tender, about 5 minutes. Mix in the Thyme, Oregano, Old Bay and Cayenne, toss to coat. Pour in the Chicken Broth and Lentils. Bring to a boil, cover, and then reduce heat to a simmer. Continue to simmer for 25 minutes or until lentils have cooked through. Add the Shrimp, Diced Tomatoes, Tomato Sauce, Worcestershire Sauce, and Riced Broccoli and increase the heat to medium. Cook for an additional 10 minutes. Season with Salt and Pepper.
Nutrition
Calories:
198
kcal
|
Carbohydrates:
17
g
|
Protein:
31
g
|
Fat:
3
g
|
Cholesterol:
145
mg
|
Sodium:
573
mg
|
Sugar:
5
g