This one-pot meal packed with shredded chicken, green enchilada sauce, and chopped green chilis are mixed together with melted cheese. Chicken Enchilada Skillet has all the delicious flavors of enchiladas without the fuss of preparing them.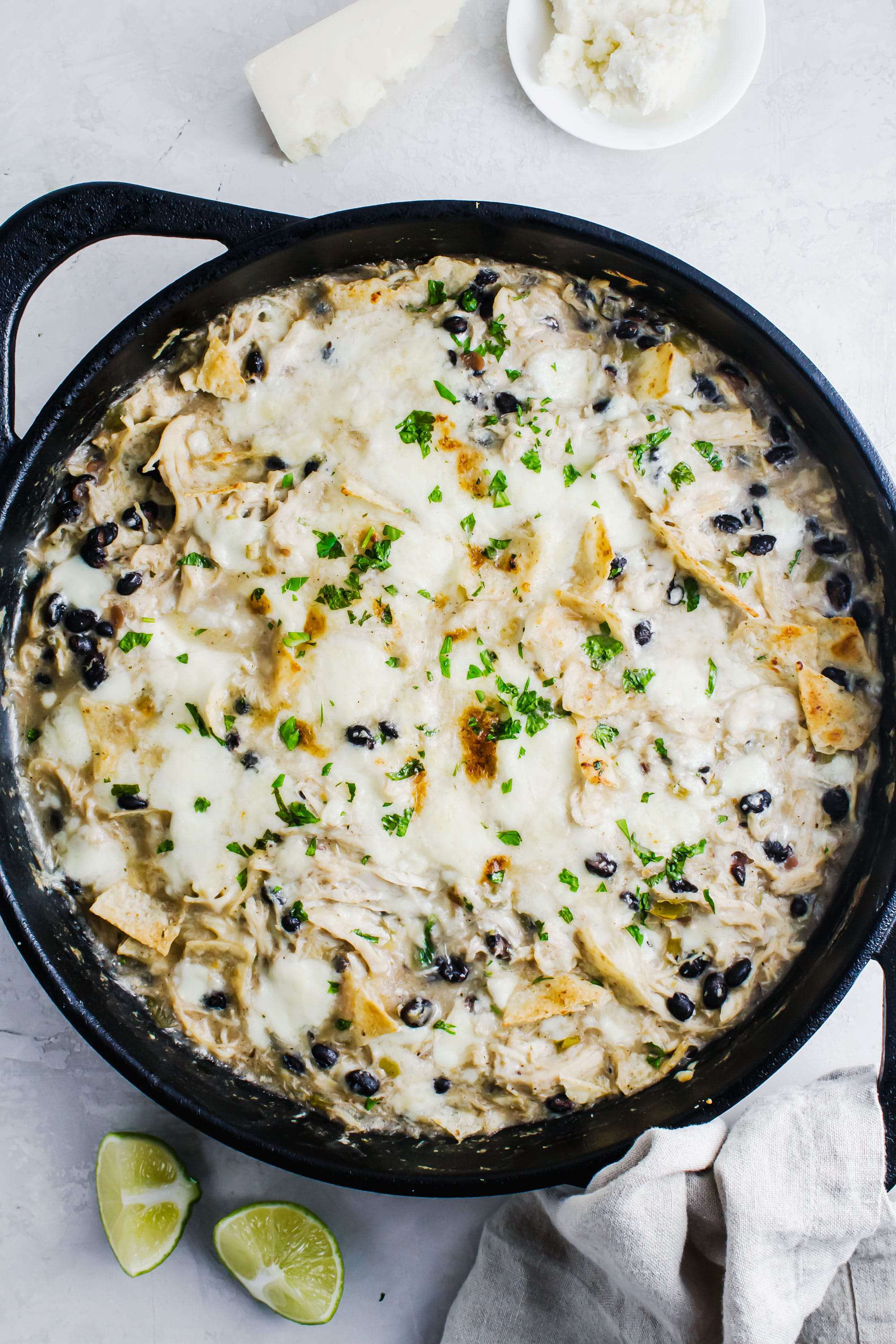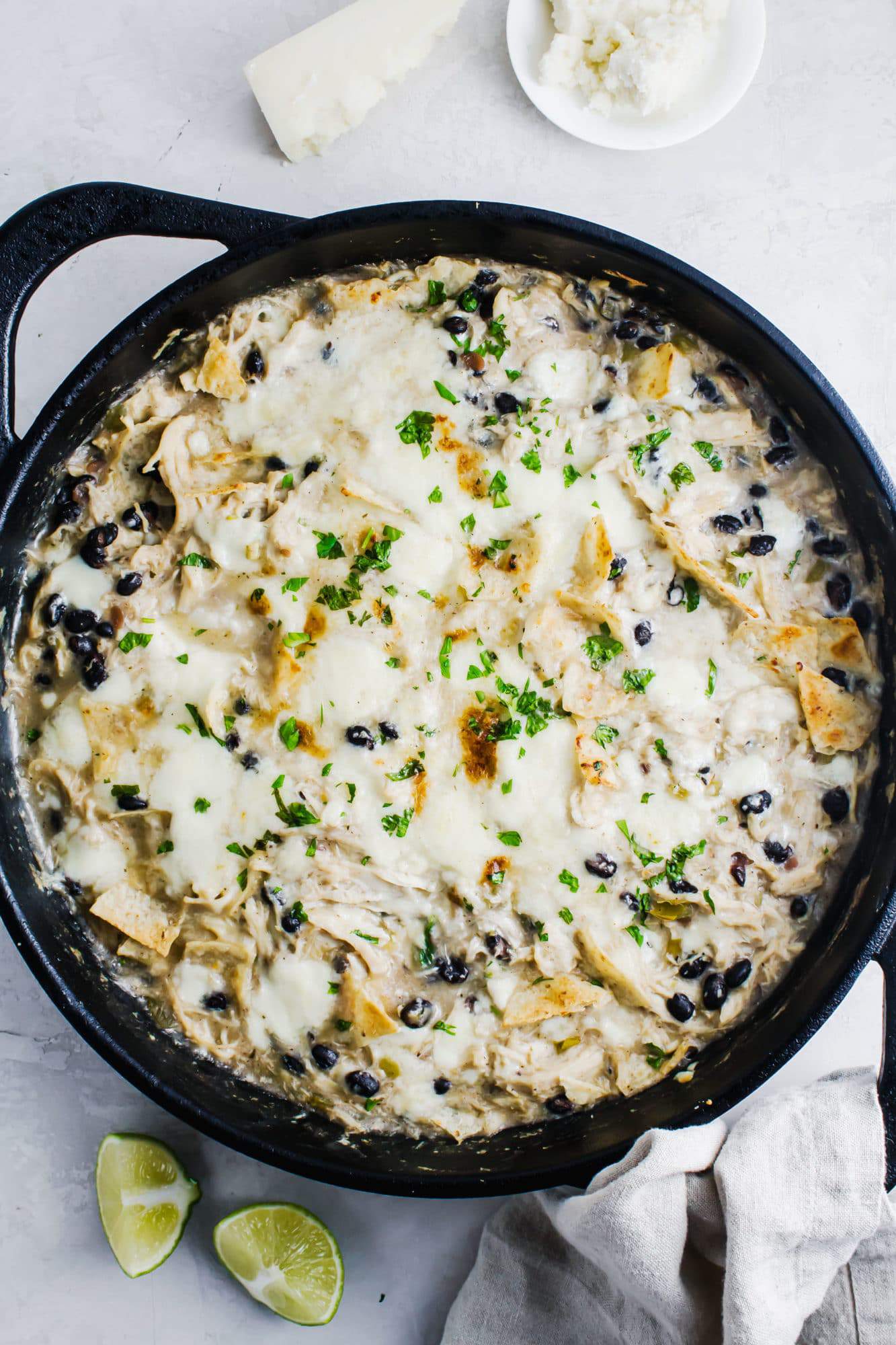 When your husband, whom I consider is a picky eater (he says he's not but we all have our differences), says "this is one of my favorite dinners" in reference to the Chicken Verde Enchilada Skillet you see here, despite containing green chilies (note: he doesn't like green chilies), you want to make it ALL THE TIME!
Let me boast it's other magical dinner properties:
At the base this dinner is healthy-ish and the ONLY reason I'm not giving it the "100% healthy gold star" is because it contains dairy (cheese and sour cream).
This meal comes together in ONE skillet thus making it a one-pot recipe.
It takes less than 25 minutes to prepare and I need all the time I can get right now. So 30 minute meals like this shrimp and sausage spanish rice or this chicken enchilada skillet are a dream.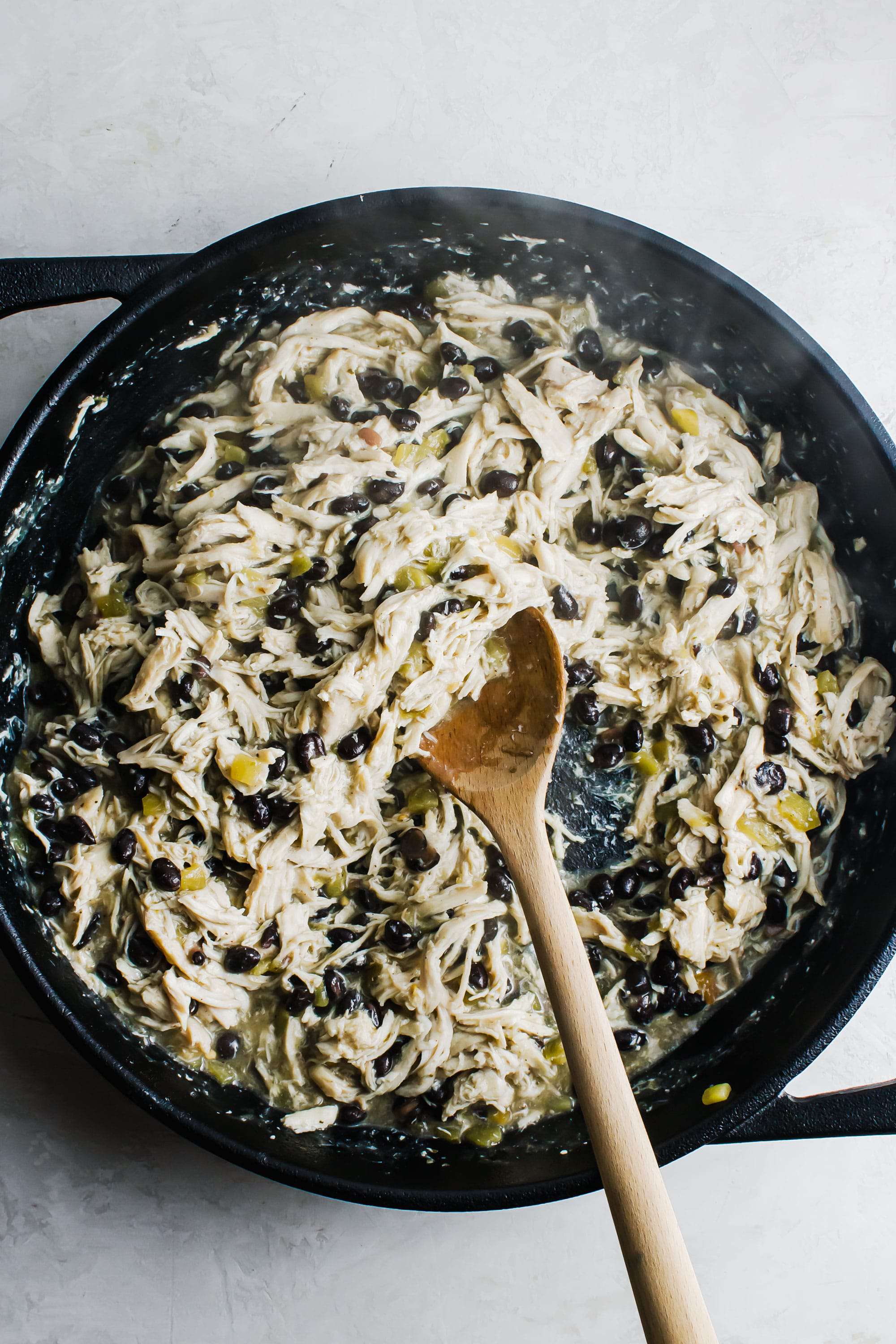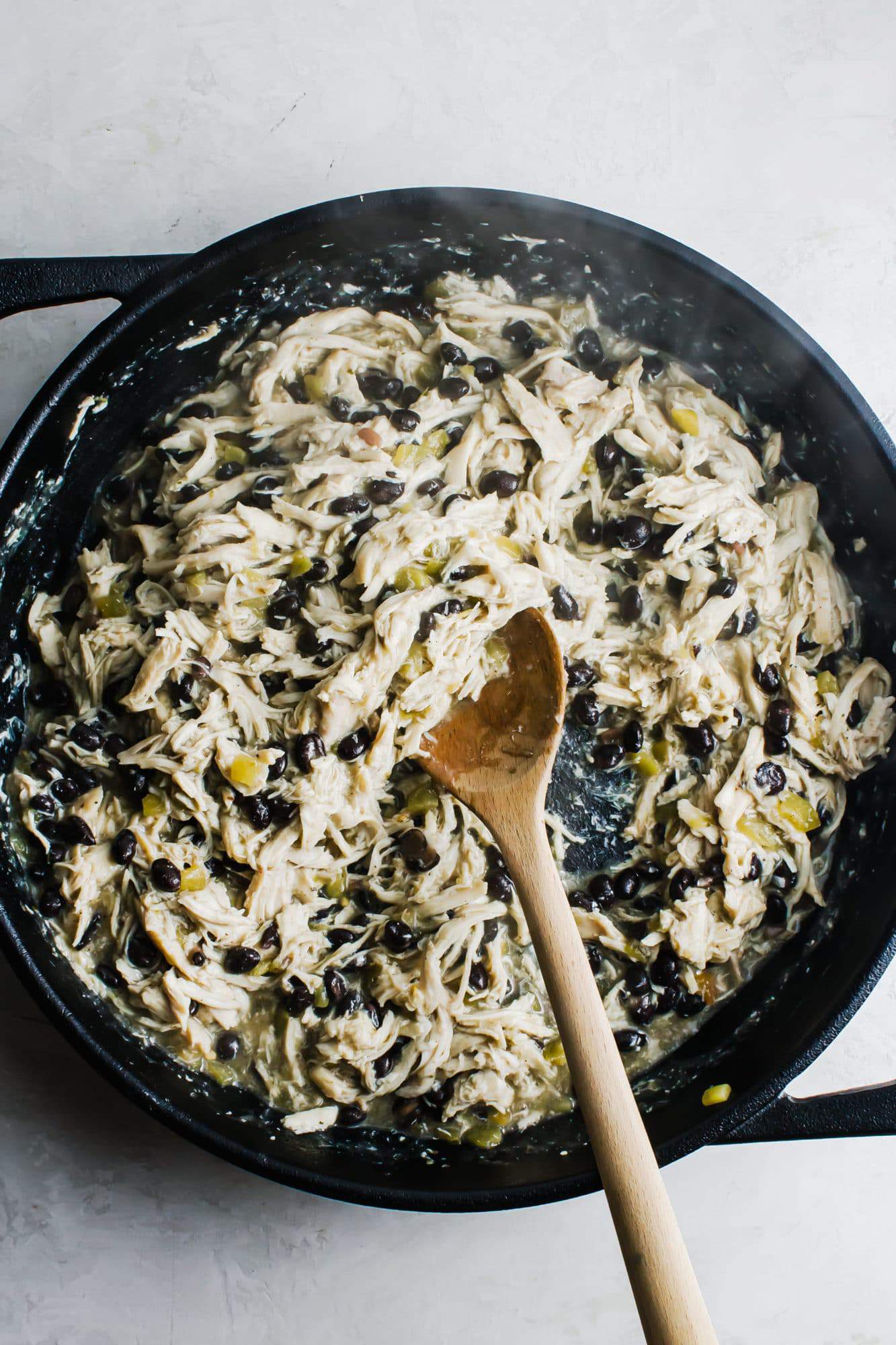 January is when life is supposed to slow down… Right? It's when all the holiday chaos is supposed to subside, but NO, apparently, according to oh, I don't know, I guess myself, I'm supposed to have all of 2019 figured out and my goals set so that 9 days into the year I'm crushing life…
I don't have it all figured out…
I'm not completely crushing life (some areas yes, but all NOT EVEN CLOSE!).
When I sat down to meal plan this week I knew I need several simple meals that would compliment the healthy habits I'm working on finally establishing in the year of 2019. As I mentioned above the ONLY criteria this recipe did not meet is dairy-free, which I'm okay with because this is the only meal that didn't check all the boxes.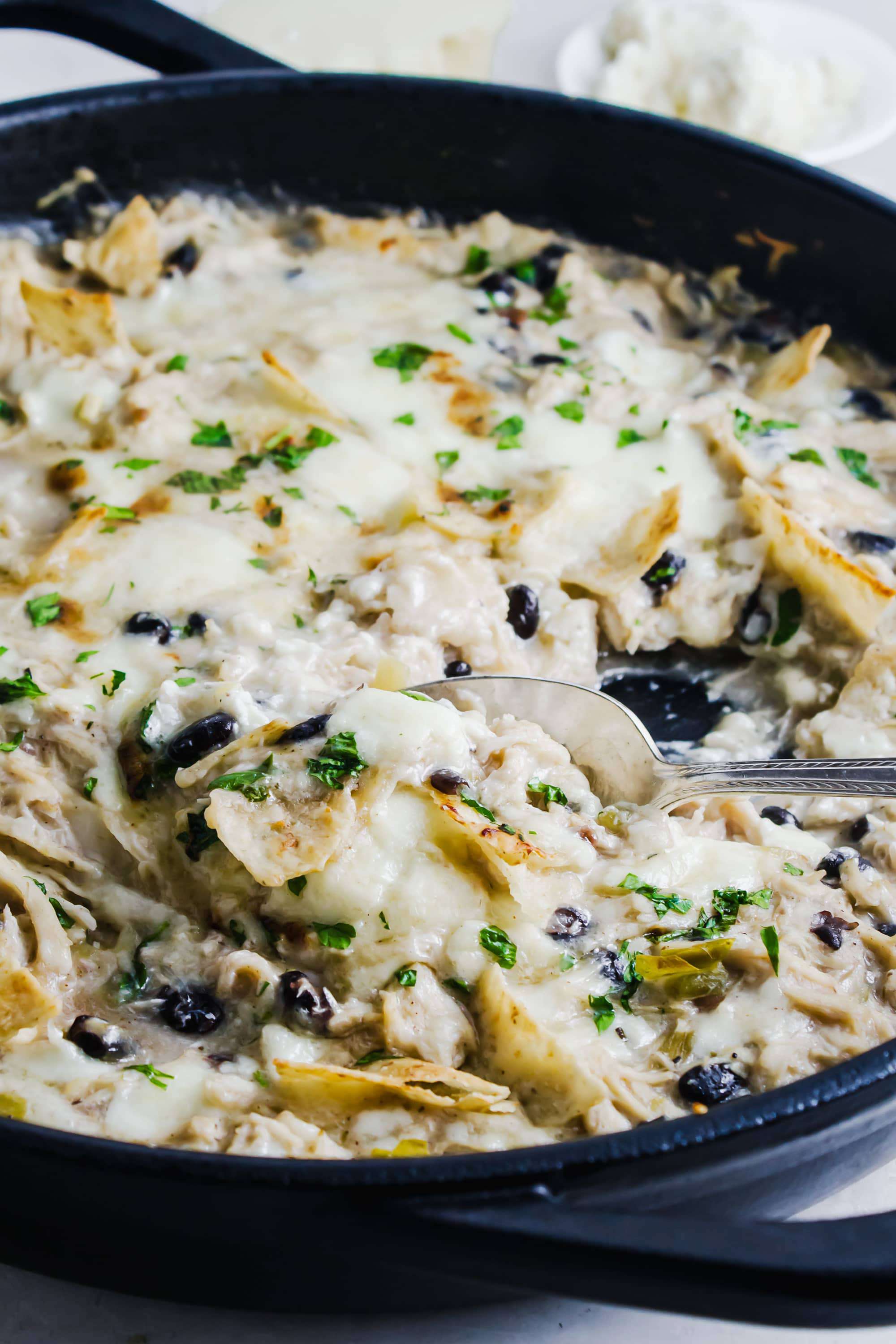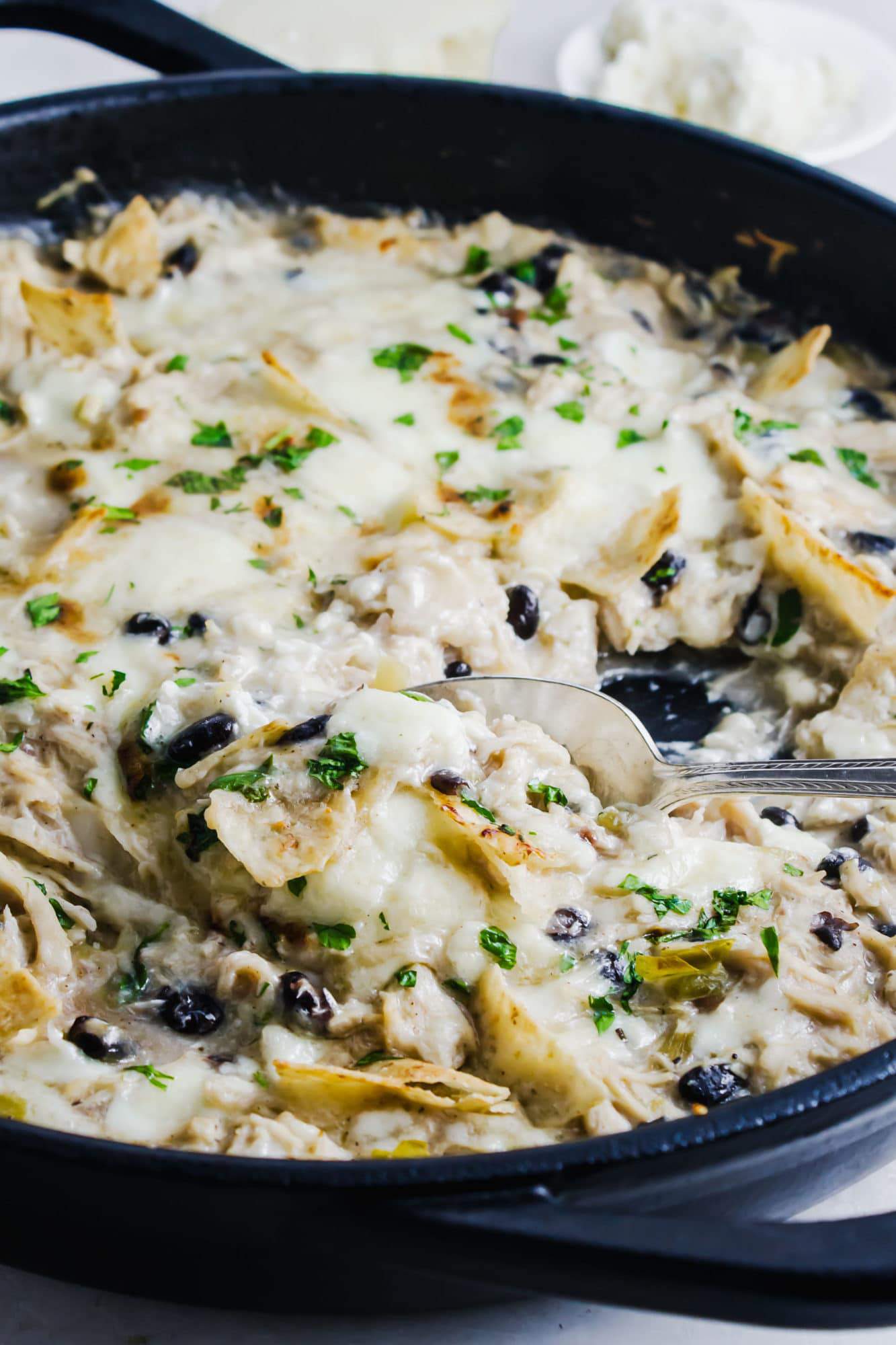 Now that you know what this meal is not (dairy-free, in case you forgot), here's what it is…
Gluten-Free
High in protein
Low in sugar
Clean
One healthy habit I'm reinstating in 2019 is reading labels to make sure I'm not eating any science experiment-type ingredients. When I give a recipe a "clean" label it means all the ingredients are recognizable and not contrived in a lab somewhere.
Ingredients such as the broth, chicken, sour cream, and tortilla chips are all items that can easily become franken-food, which means it's filled with all kinds of non-clean ingredients. If you reading your labels, as I did when buying these ingredients, you'll clean up your diet in a MAJOR way.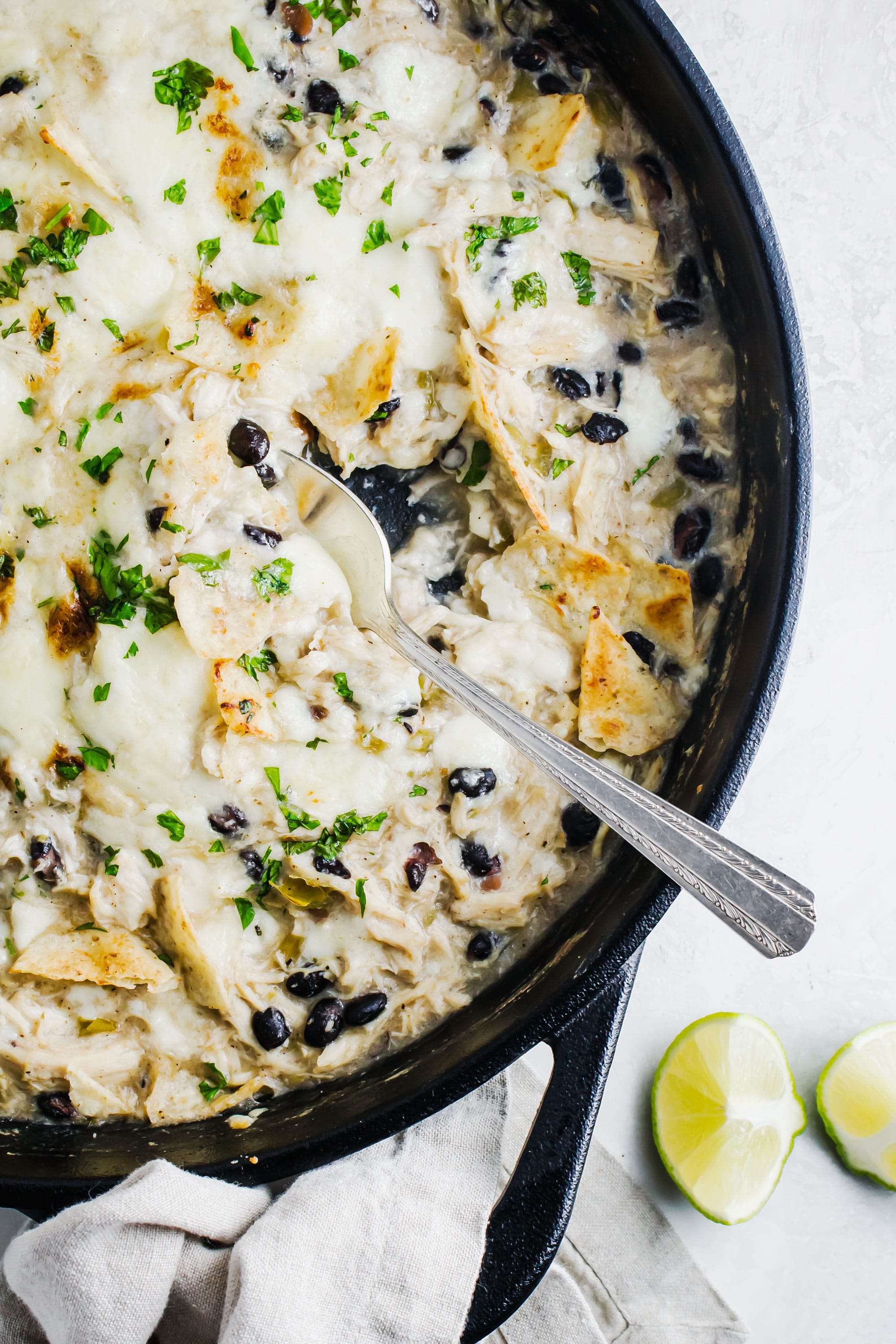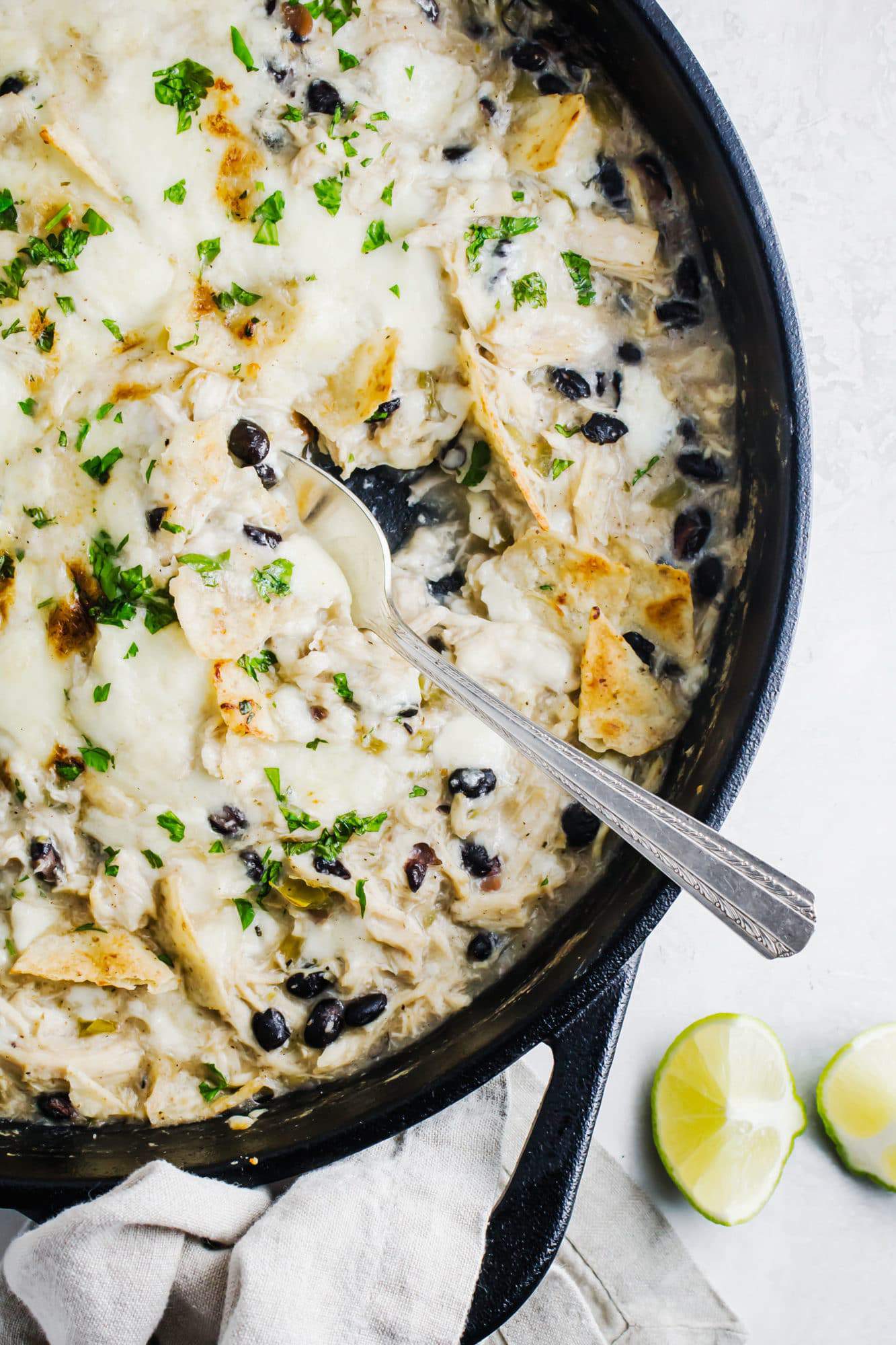 Before I close out there is one more magical property… This chicken verde enchilada skillet is family-friendly! Place your skillet directly on the table with a serving spoon and your table is set.
Now, who's ready to eat…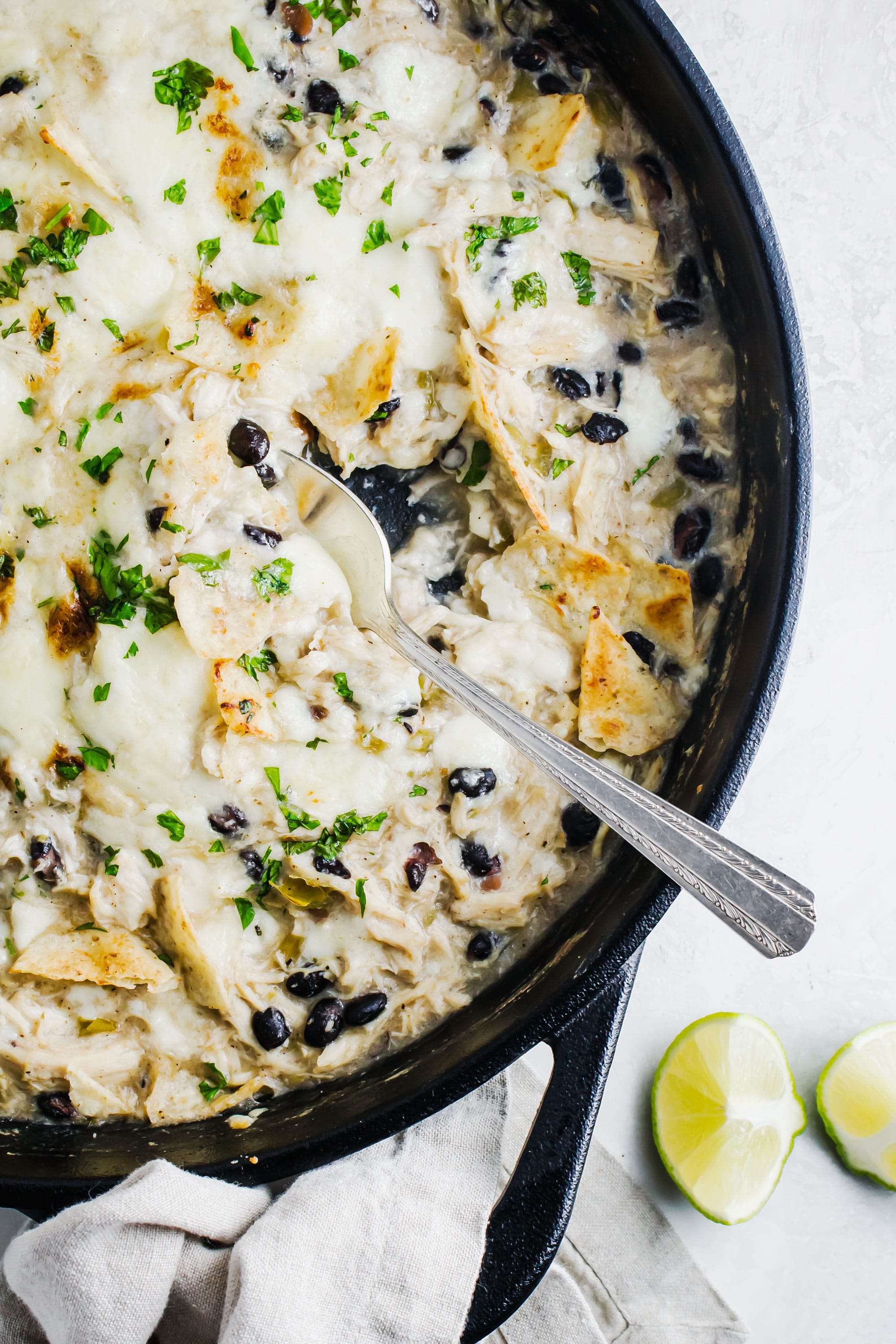 Ingredients
2

tablespoons

Olive Oil

1

small

Yellow Onion

diced

4

cups

Shredded Rotisserie Chicken

1

tablespoon

Taco Seasoning

4

ounce

Can Diced Green Chilies

19

ounce

Can Green Enchilada Sauce

15

ounces

Black Beans

rinsed and drained

8

Corn Tortillas

cut into strips

1

cup

Shredded Mexican Cheese

Cilantro
Instructions
Preheat the oven to 350ºF.

Heat the olive oil in an oven-safe skillet over medium heat. Add the diced onions and cook for about 5 minutes until transluecent.

Place the chicken, taco seasoning, green chilies, black beans, and enchilada sauce into the skillet and toss to combine. Allow the mixture to come to a boil and reduce the heat to a simmer. Add the tortilla strips to the skillet and cook for an additional 2 minutes.

Sprinkle the cheese on top and place the skillet into the heated oven and bake for 25 minutes.
Nutrition
Serving:
1
serving
|
Calories:
520
kcal
|
Carbohydrates:
26
g
|
Protein:
51
g
|
Fat:
24
g
|
Saturated Fat:
7
g
|
Cholesterol:
169
mg
|
Sodium:
1568
mg
|
Potassium:
97
mg
|
Fiber:
5
g
|
Sugar:
8
g
|
Vitamin A:
762
IU
|
Vitamin C:
5
mg
|
Calcium:
154
mg
|
Iron:
1
mg