This heartwarming and wholesome breakfast is filled with protein and will keep you satisfied until lunch. Filled with healthy ingredients such as flaxseeds, nut butter, and oats this Flaxseed Oatmeal will become your new favorite way to start the day.
I love healthy oatmeal recipes like Apple Cinnamon Baked Oatmeal or these Blueberry Oatmeal Muffins, especially for breakfast. It's great for filling you up in the morning and starting your day off well.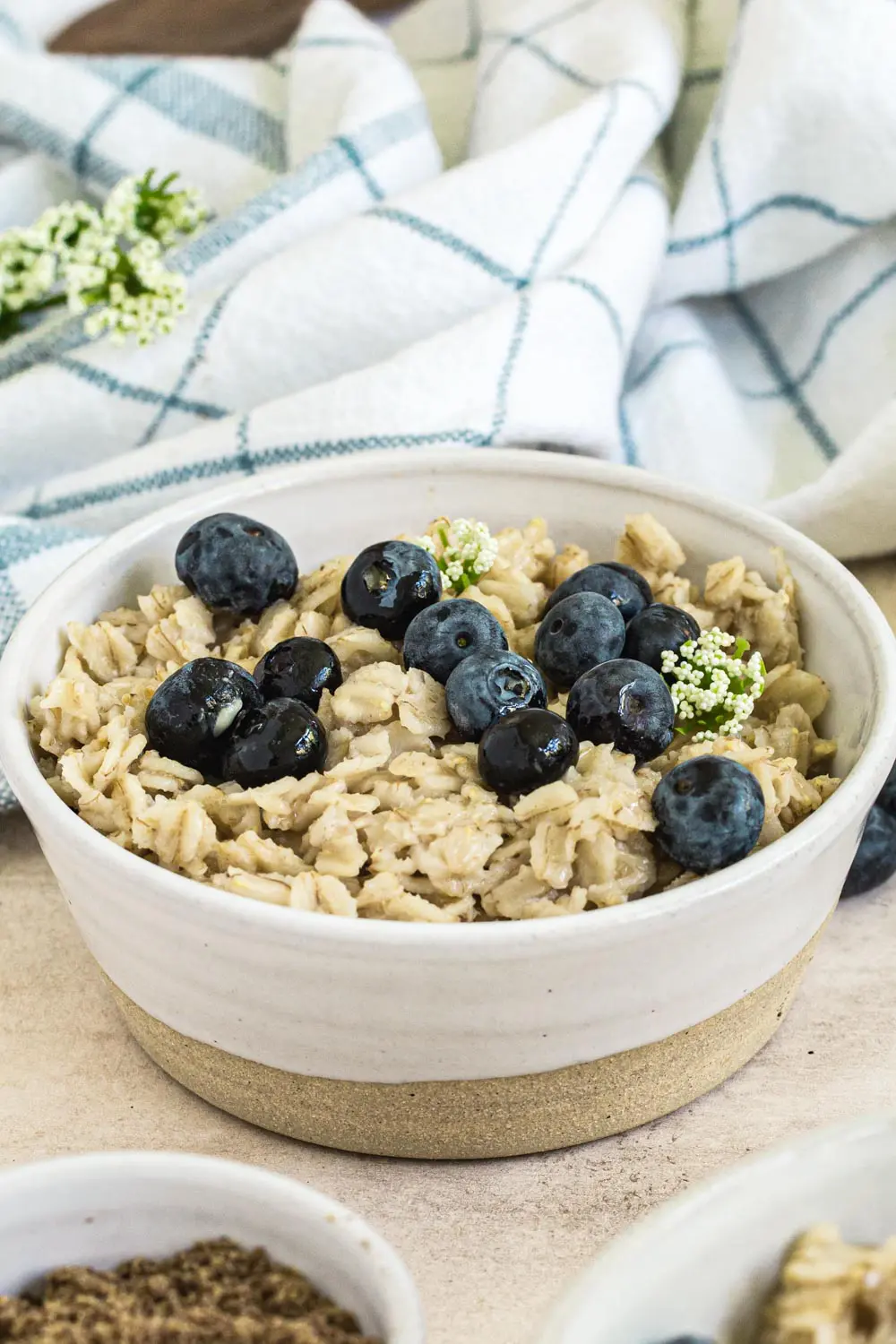 Flaxseed Oatmeal
Not only is this breakfast heartwarming but it's also customizable so you can beat breakfast boredom. Instant oatmeal is a great option for your morning meal, but there's something infinitely better about making this delicious stovetop oatmeal version.
Flaxseed oatmeal is filled with healthy ingredients so it keeps you full for hours, and it's extremely easy to prepare. There are a few tricks to achieving the perfect texture that's not mushy or chewy, but perfectly fluffy. All of these tricks are listed below along with a step-by-step guide on making it just right each time.
Oatmeal with Flaxseed Benefits
Below are 5 main benefits for consuming flaxseed in your oatmeal. These are just the highlights too. There are several other possibilities such as they may lower blood pressure and potentially improves cholesterol.
Loaded with nutrients.
High in Omega-3 fats.
Rice in dietary fiber.
Contain high-quality protein.
Keeps hunger in check.
All of these great benefits make this meal the way to kick off your day.
Flaxseed Oatmeal Ingredients
The base of this oatmeal recipe is very basic, which allows you to create your own version and add whatever toppings you like. For example, if you want to make it dairy-free you can substitute in a dairy-free milk option, or leave it out entirely.
The same goes for sugar. If you want to cut down on your sugar intake that you can leave this out and add in some dates or strawberries for sweetness.
Ingredients List
Oats – for this recipe you need to use rolled oats, not the quick-cooking kind or steel-cut oats. They won't create the same texture and both of those versions require a different cooking process than this recipe.
Water – you can make the liquid for this recipe be all water, all milk, or half and half. This is entirely up to you. The water softens the oats and turns them into a thick texture that somewhat melts together.
Milk (optional) – for a creamier version of oatmeal adding the milk is key. Personally, I like to do half milk and half water to strike the right balance of creaminess and low calories. You can also use a dairy-free version such as coconut milk, almond milk, oat milk, or any other milk alternative.
Sugar – (I like to use coconut palm sugar) granulated sugar, brown sugar, coconut sugar, honey, or even maple syrup will work in this recipe, but it can also be left out if you're trying to cut down on sugar.
Nut Butter – this ingredient is also optional, but if you're making the standard flaxseed oatmeal if brings a nice subtle flavor to the dish. You can use and version of nut butter or nut-free butter option too.
Cinnamon – (only use if making the basic flaxseed oatmeal, omit if making one of the flavor combinations below). This spice compliments the nut butter and sugar for super simple oatmeal.
Ground Flaxseed – the key ingredient in this stovetop oatmeal is the ground flaxseed, which adds in bulk and is the main reason for keeping you full long after you've finished eating it.
How to Make Healthy Oatmeal
Making the perfect stovetop oatmeal is extremely simple and very quick. I like to have my toppings ready so the second the oatmeal is prepared I can quickly stir them in and get to eating.
Boil the Water: first you want to bring the water to a rolling boil before adding in the oats. This keeps them from absorbing too much of the water and becoming too mushy.
Simmer: After you add the oats to the boiling water turn the heat down to simmer, stirring occasionally for 3 to 5 minutes. Then remove from the heat.
Cover: Place a lid on the cooked oats to allow them to continue steaming and absorbing the water for an additional 5 minutes.
Top it Off: Now that the oats are fully cooked add in your favorite toppings and enjoy.
These 4 simple steps are the key to making the perfect pot of stovetop oatmeal every time.
Other Healthy Add-ins:
One of the absolute best qualities of flaxseed oatmeal is the endless toppings you can add. You can make a fully loaded healthy oatmeal or indulge a bit and go truly decadent.
Raisins: though raisins fall into the dried fruits category they deserve their own call-out because they pair so perfectly with oatmeal. The chewy texture and slight sweetness add a delicious taste.
Nuts: sliced almonds, macadamia nuts, walnuts, pecans, or even crushed cashews add the perfect crunch as well as many health benefits.
Dried Fruits: any dried fruit will work well, but some of my favorite options are apricots and pineapple.
Shaved Coconut: this ingredient will add a tropical twist to your morning oatmeal and goes great with a splash of coconut milk.
Yogurt: often a yogurt parfait it's topped with granola, which sometimes includes oats. This makes adding yogurt to your oatmeal and a nice treat.
Shaved Chocolate: make your morning a little more decadent by adding some shaved chocolate. Keep it healthy by using dark chocolate that's about 70% or higher in cocoa.
Spices: nutmeg, cinnamon, allspice, pumpkin spice, ground cloves
Additional Sweeteners: brown sugar, maple syrup, agave, or even honey.
Butter: butter makes everything better and flaxseed oatmeal is no different. A small knob of butter adds a delicious taste.
Delicious Oatmeal Combinations
Sometimes the flaxseed oatmeal options can be quite overwhelming because they are literally endless. However, I've put together some of my favorite versions below. You also don't have to dine on only sweet oatmeal options either, some savory versions are just as delicious.
Sweet Oatmeal
These delicious sweet stovetop oatmeal options make a deliciously healthy and heartwarming breakfast. You can decide the amounts of each ingredient too.
1/4 c Pumpkin (canned) + 1 tsp cinnamon + 2 tbsps coconut milk + 1 tbsp shaved coconut
1 Freshly Sliced Peach + 1 tbsp Almond Butter + 2 tsp Wheat Germ
2 tsp Cocoa Nibs + 1 tsp Cocao Powder + 1 tbsp Peanut Butter + Splash of cold Cream
1/2 Sliced Apples + 1/4 c Crème Fraîche + 1 tbsp Maple Syrup + 1 tbsp Pecans
2 tbsps Raisins + 1 tbsp Butter + 1 tbsp Brown Sugar
1/2 Sliced Banana + 1 tbsp Diced Mango + 1 tbsp Coconut Flakes + 1 tbsp Crushed Macadamia Nuts + Splash of Coconut Milk
Savory Oatmeal
1 Fried Egg + 2 strips Crumbled Bacon + Shredded Cheddar Cheese
1/4 c Sauteed Onions + 1/4 c Sauteed Peppers + 1/4 c Cooked Polish Sausage
2 tbsps Sundried Tomato + 2 tsp Pesto + 1-ounce Grated Parmesan Cheese
2 oz Sautéed Mushrooms + 1/4 c Caramelized Onions + 2 slices Crumbled Cooked Bacon
1 cup wilted Spinach (in oil) + 2 tbsps cooked Peas + 1 tsp chopped Chives + Few Sprigs of Mint
1 oz Goat Cheese + 1/4 c Sauteed Onions + 2 oz Wilted Kale (in oil)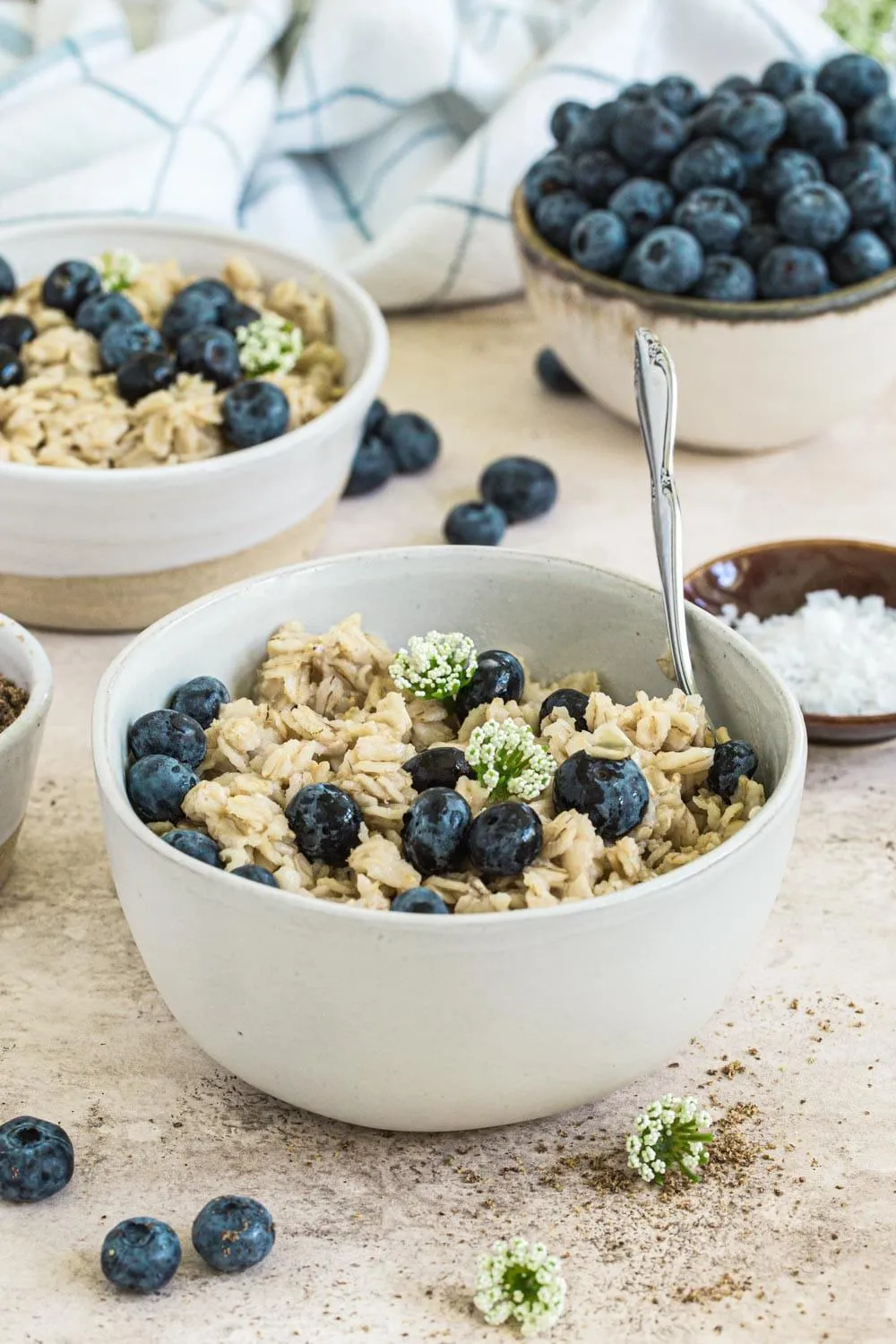 Tips for Making Flaxseed Oatmeal
Make sure to use rolled oats for this recipe and not quick-cooking or steel-cut oats.
Use a pot that's big enough if you're making more than 2 servings or plan on making enough to freeze later. A 2-quart pot is good for 4 servings.
If your oatmeal begins to thicken too much add a small amount of water until the desired consistency is reached.
Use a 2 qt pot to boil the water and oats.
How to Freeze Oatmeal
Freezing your oatmeal makes mornings even faster and far more simple. By making a large batch of this basic flaxseed oatmeal and freezing it you'll end up with individual servings for a grab-and-go option.
To do so follow these simple steps below. I prefer to keep my frozen oatmeal stored in a large silicone ice cube tray that comes with a lid.
Cook up a double (or triple) batch of this flaxseed oatmeal and let it cool for about 15 minutes.
Scoop the oatmeal into a silicone ice cube tray or muffin tin (that can also be silicone) and place in the freezer.
Once the oatmeal is frozen either keep it stored in the tray until your ready to cook it or move it to an air-tight container or zip-top bag.
About 2 to 3 or the large cubes will equally a decent serving. The frozen flaxseed oatmeal will last up to 3 months in the freezer.
To reheat frozen oatmeal place the cubes in a microwave-safe bowl and heat it for 1 to 2 minutes. If the consistency is too thick add some cold milk or even water to thin it down. You can also heat the oatmeal on the stovetop in a small saucepan.
FAQ's About Making Flaxseed Oatmeal
Can this oatmeal be made dairy-free?
Absolutely, you can use water only. Make sure to check the labels of any toppings you add to make sure there isn't any hidden dairy.
Can Flaxseed Oatmeal be turned into overnight oats?
You can't use this recipe to make overnight oats.
Is flaxseed oatmeal gluten-free?
It certainly can be made gluten-free. Make sure to purchase gluten-free oats and check the packaging of any toppings you add.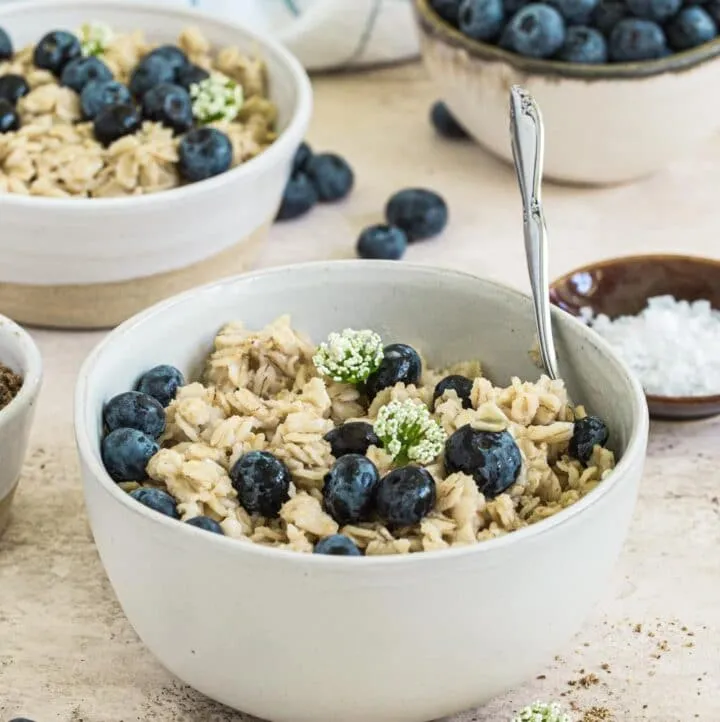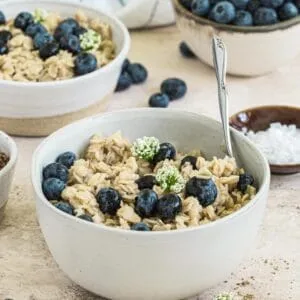 Flaxseed Oatmeal
This protein-packed Flaxseed Oatmeal is super satifiying and filled with heathy ingredients to start your day off well and keep you filled up for hours.
Print
Pin
Rate
Equipment
Medium-sized Pot

Wooden Spoon

Measuring Cups and Spoons
Ingredients
3

cups

Water

1/4

teaspoon

Salt

2

cups

Oats

gluten-free if possible

2

tablespoons

Ground Flaxseed

2

tablespoons

Coconut Palm Sugar

or brown sugar

2

tablespoons

Almond Butter

or any nut butter

1

teaspoon

Cinnamon
Instructions
Bring the water to a soft boil over medium-high heat using a small saucepan.

Stir in the oats and reduce heat to a simmer and continue to cook for 3 minutes, stirring occasionally.

Remove the saucepan from the heat and cover with a lid to steam for an additional 5 minutes.

Stir in the ground flaxseed, sugar, almond butter, and cinnamon.
Notes
Sugar Options: you can use the sugar your prefer for this recipe and can even substitute in maple syrup or honey as well. I prefer to use coconut palm sugar when cooking healthier recipes due to its health benefits. Making Basic Stovetop Oatmeal: to make an even simpler version of this oatmeal omit the sugar, almond butter, and cinnamon. You can then add any toppings you desire or create any of the oatmeal combinations from above.
Nutrition
Serving:
1
bowl
|
Calories:
247
kcal
|
Carbohydrates:
37
g
|
Protein:
8
g
|
Fat:
9
g
|
Saturated Fat:
1
g
|
Sodium:
173
mg
|
Potassium:
235
mg
|
Fiber:
6
g
|
Sugar:
6
g
|
Calcium:
68
mg
|
Iron:
2
mg