This hearty stew is packed full of vegetables that blend perfectly into the broth for a deliciously healthy meal. A slightly smokey flavor with spicy notes makes this filling Instant Pot Sausage and Lentil Stew the absolute best.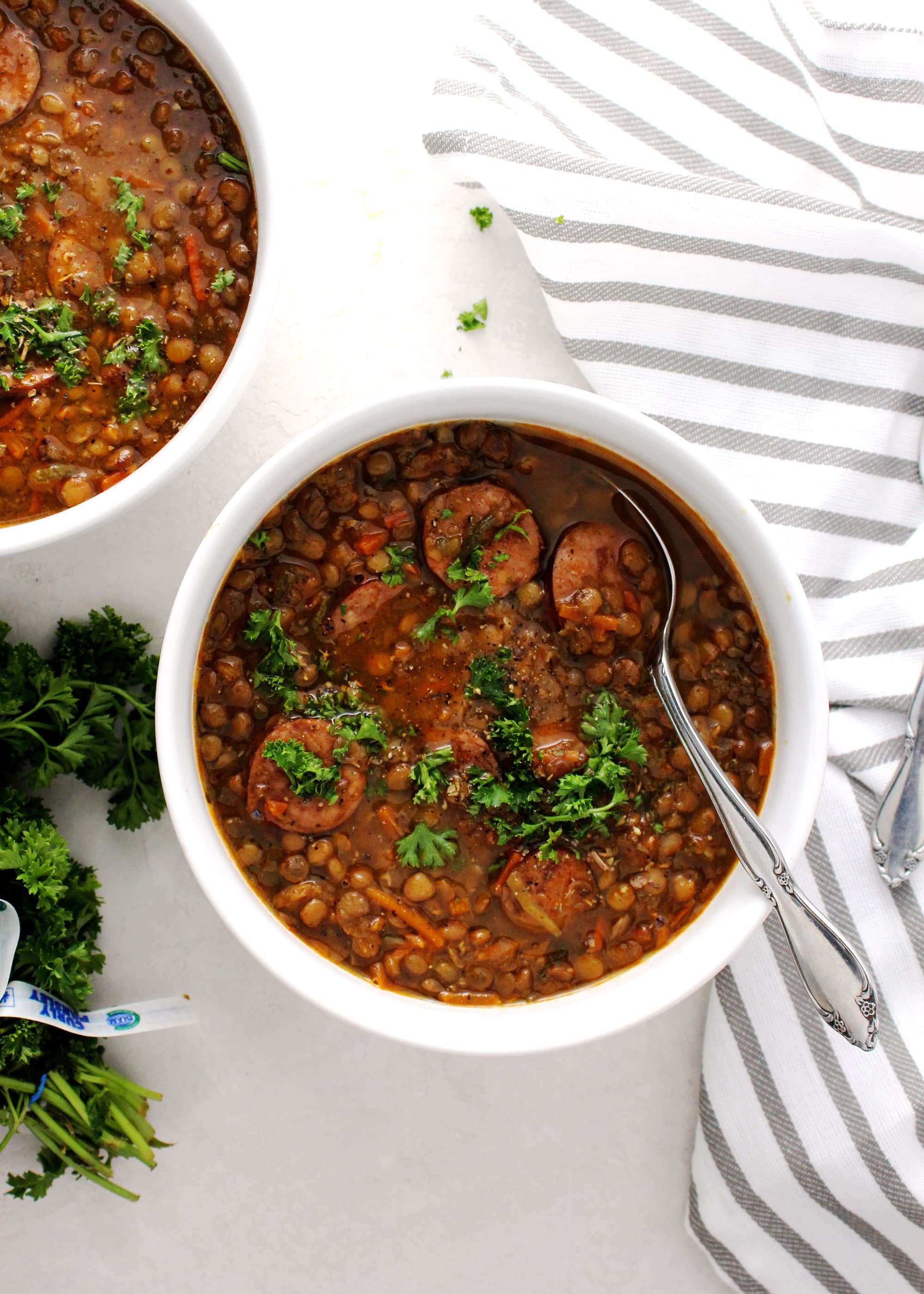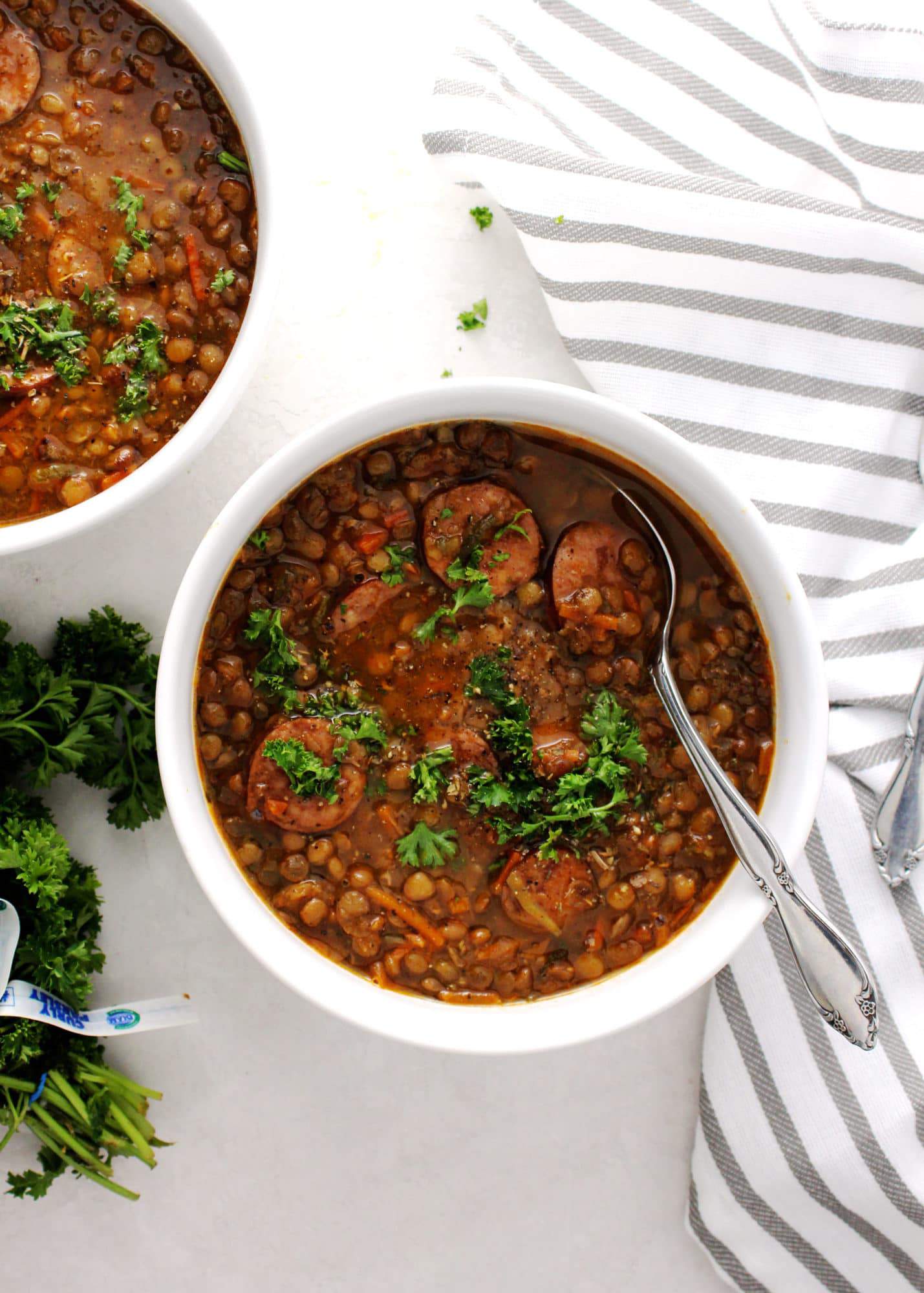 Instant Pot Lentil Soup with Sausage
I always find it surprising when I prepare a meal solely for my own cravings and adult taste buds that my children also enjoy. When I began to prepare this recipe I had myself in mind and hopes that my children would eat it. Though this Instant Pot Sausage and Lentil Stew is bursting with fresh vegetables, which my kids usually reject, the bold flavors make each spoonful a delicious one.
The smokey and salty flavors of this stew make it unique and the added health benefits are a bonus. Mainly, though I was just happy my whole family enjoyed eating it.
To prepare this dish I used the basic 6-quart Instant Pot, however, any version will work the same.
Ingredients in Instant Pot Sausage and Lentil Stew
This simple Instant Pot sausage and lentil stew are comprised of some powerful flavors, but once sautéed and cooked together they marry for a delicious blend.
Olive Oil
Vegetables: Celery, bell peppers, and carrots are the healthy additions that bulk up this stew and add a delicious flavor.
Tomato Paste: the almost meaty flavor of this paste adds body to the stew and is used in the early sautéing of the vegetables to bring out the extra flavor of the paste. Here's more information on using tomato paste the right way.
Smoked Sausage: the smoked sausage brings a delicious earthy flavor that compliments the Worcestershire sauce.
Dried Lentils: since you're preparing this dish using the Instant Pot you need to use dried lentils. Usually, cooking them takes a while, but not with this quick recipe.
Worcestershire Sauce: the savory and sweet sauce with a vinegar tang adds a unique twist to the stew.
Spices: adding cumin, paprika, and cloves to this stew bring out a strong aromatic flavor and is a delicious spice combination.
Beef Broth: you can use any type of broth for this stew, however, the beef will have a more earthy flavor that brings out all the others.
Beef Stock Cube: these little cubes are packed with herbs and spices that enhance the natural flavor of your stew and add an extra kick.
Brown Sugar: add this simple ingredient to balance out the saltiness of the stew.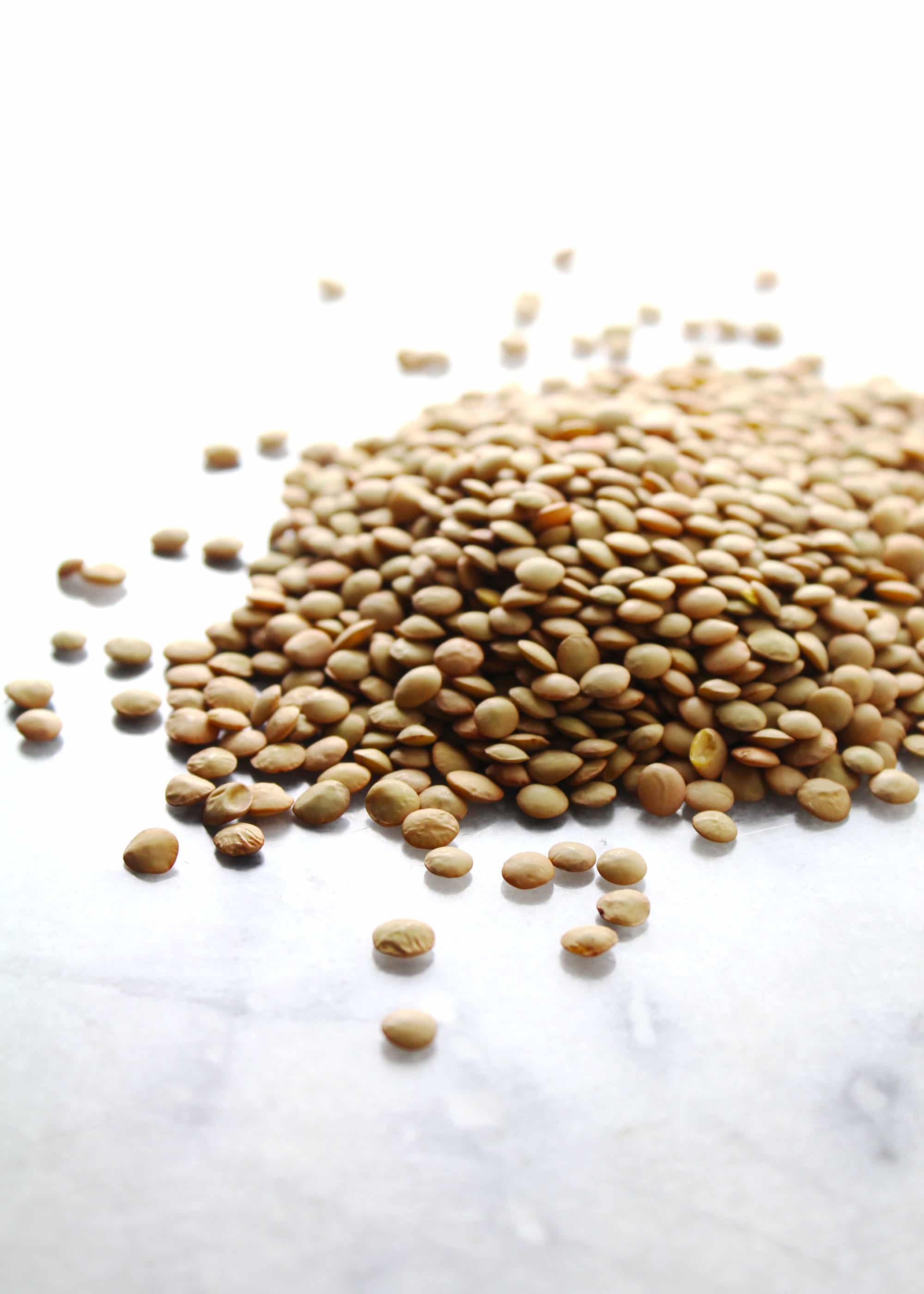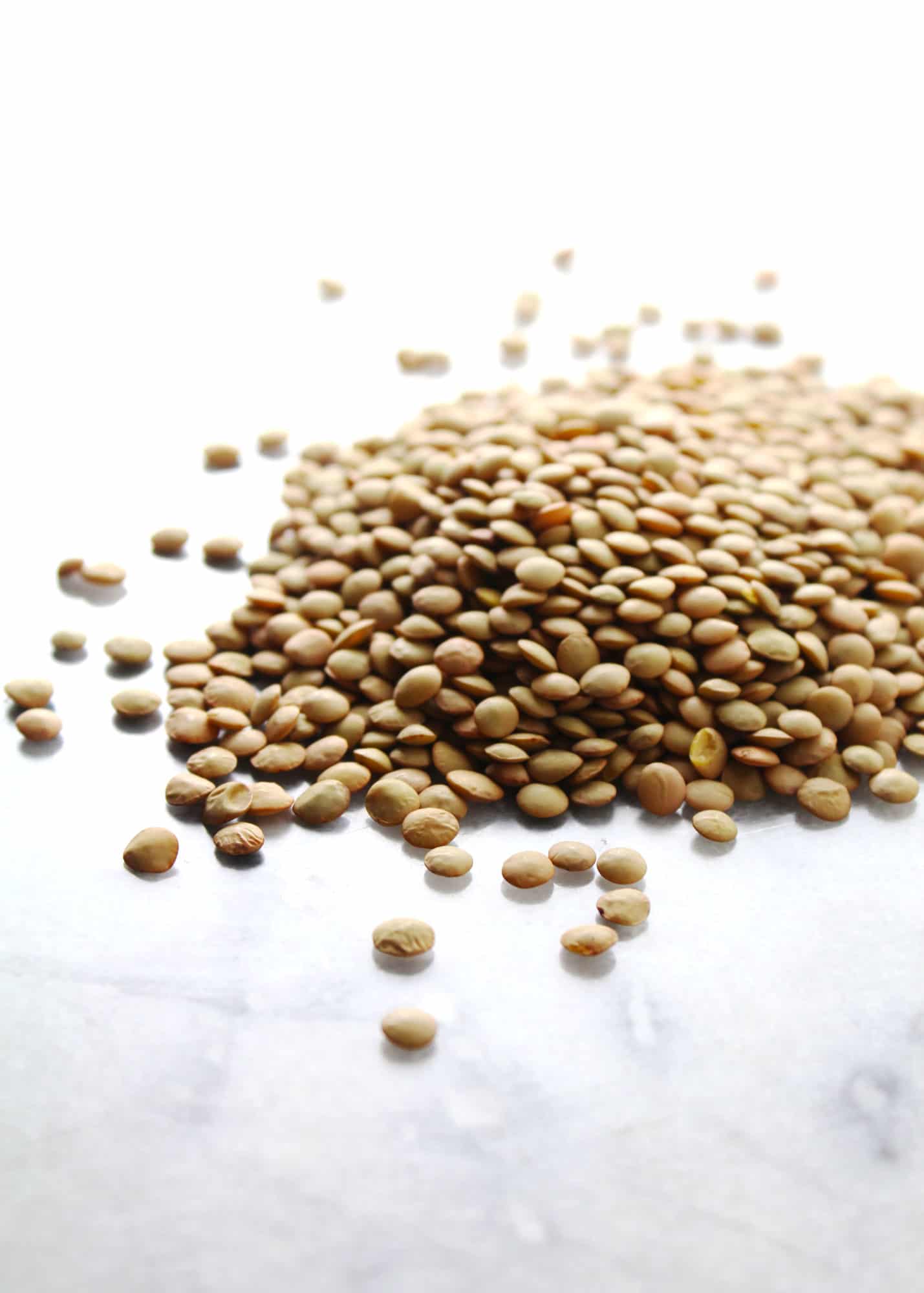 What are Lentils?
Similar to beans, soybeans, and chickpeas, lentils are legumes used in many popular Eastern dishes such as dahl and Ethiopian stew. They're great for adding protein to a dish or even bulking up soups and stews.
Different Types of Lentils
Green Lentils: Also known as "French lentils," these take about 40 to 45 minutes to cook and are the type of lentil used in this recipe. Due to their long cooking time they'll turn out slightly firmer and intact.
Red and Yellow Lentils: These sweeter flavored lentils tend to fall apart when cooked and take about 20 to 30 minutes to cook. They will work in this recipe, but will not retain their shape through the cooking process.
Brown Lentils: these quick-cooking lentils, which take about 20 to 25 minutes to cook, are the most common. If you use this version of lentils they will come out very soft since they cook quickly.
Black Lentils: These earthy-flavored lentils are also known as beluga lentils and are a good complement to other proteins or meatier vegetables.
Nutritional Benefits of Lentils
This hearty and smokey-flavored sausage and lentil stew are filled with healthy ingredients and this includes the lentils. This high-protein legume is a great source of iron, fiber, folic acid, and magnesium, which are some of the key vitamins we need.
Do I have to soak the lentils?
No. Since this legume is lower in PHA, they do not need to be soaked before placing them in this recipe. Soaking them does aid in digestion, however, you will need to reduce the cooking time if you do pre-soak them.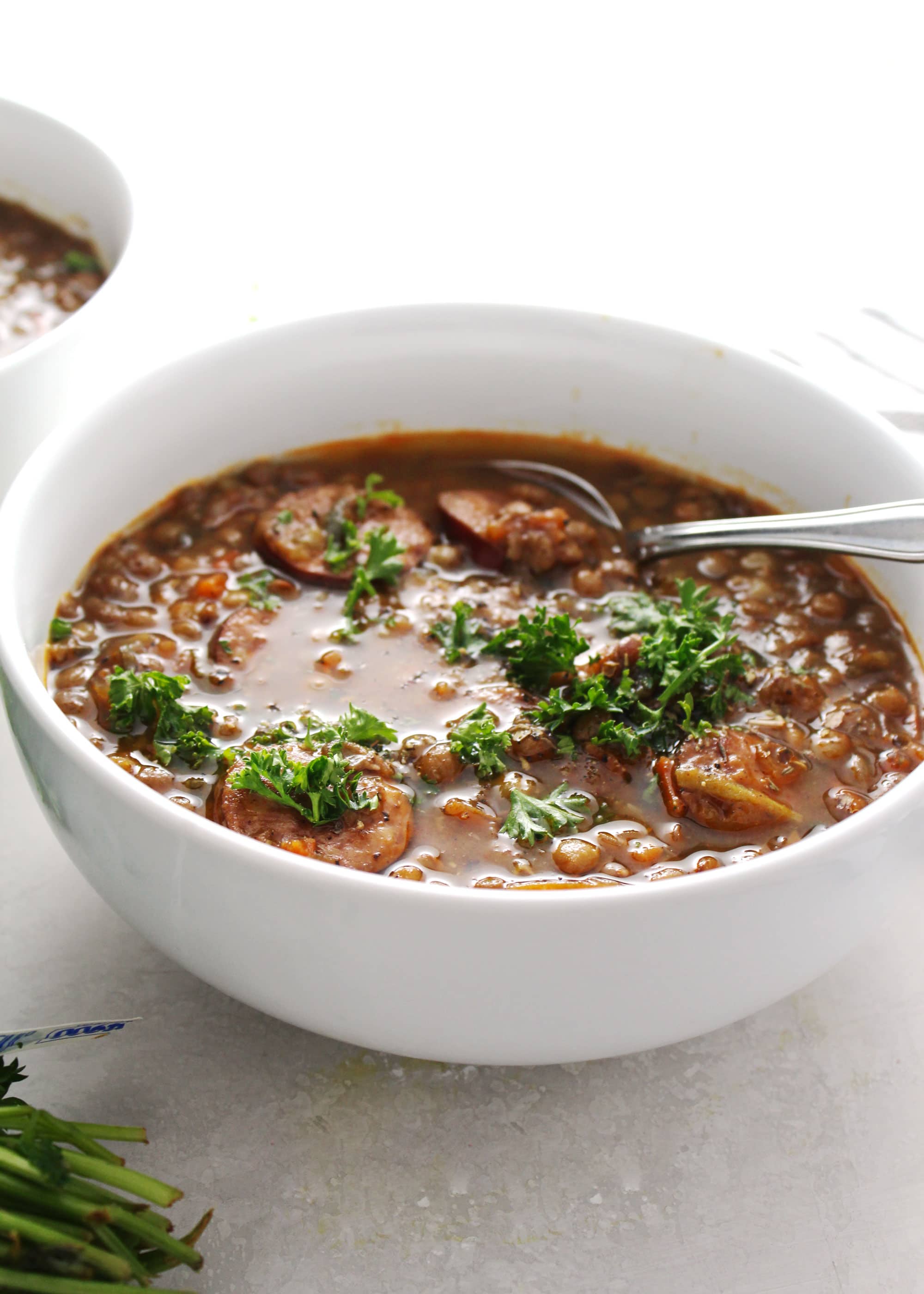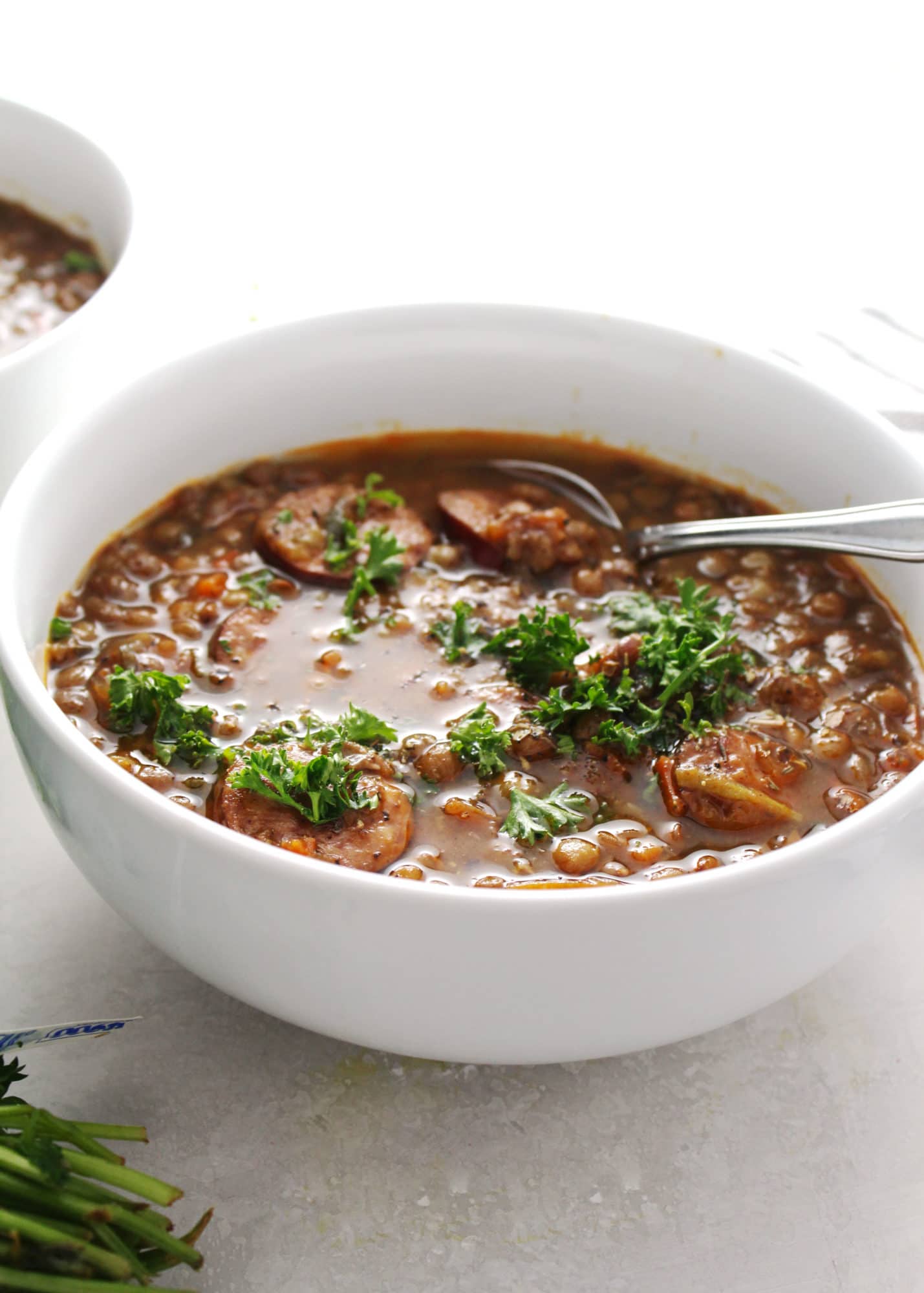 How to Make Instant Pot Sausage and Lentil Stew
Time needed: 53 minutes.
This simple recipe requires only a small amount of prep work and then everything is placed into the instant pot to cook. The time needed to prepare this recipe is around 53 minutes, which includes the pre-heat time and the release time for the Instant Pot.
Prep

Mince, dice, and slice the vegetables and smoked sausage then set aside so they're ready for cooking.

Sauté

Set the Instant Pot to SAUTÉ and add the olive oil. Let it heat for about 30 seconds before adding the celery, bell pepper, carrots, and garlic. Let cook for 5 minutes, stirring occasionally.

Brown

Add the smoked sausage and tomato paste and cook, stirring occasionally for an additional 3 minutes.

Cook

Add the lentils, Worcestershire sauce, spices, broth, beef stock cube, and brown sugar then set the dial to MANUAL and set the time for 15 minutes.

Release

Once the cooking has finished release the steam manually for about 10 minutes before opening the valve and removing the top.
What is the difference between soup and stew?
The main difference is the liquid. Soup can be fully pureed or liquid base and if it has bulky ingredients they are submerged in the soup. Stew is much heartier and thicker than soup and can be served over mashed potatoes or rice.
Other Vegetables to Add to this Sausage and Lentil Stew
This lentil stew has strong flavors mixed together such as cumin, Worcestershire sauce, and a salt mix from the beef stock cube. If you'd like to sneak some additional vegetables in you could, which would then bulk up the soup. Some delicious options for additional vegetables are below.
Zucchini
Sweet Peas
Butternut Squash
Sweet Potatoes
Spinach
Kale
Broccoli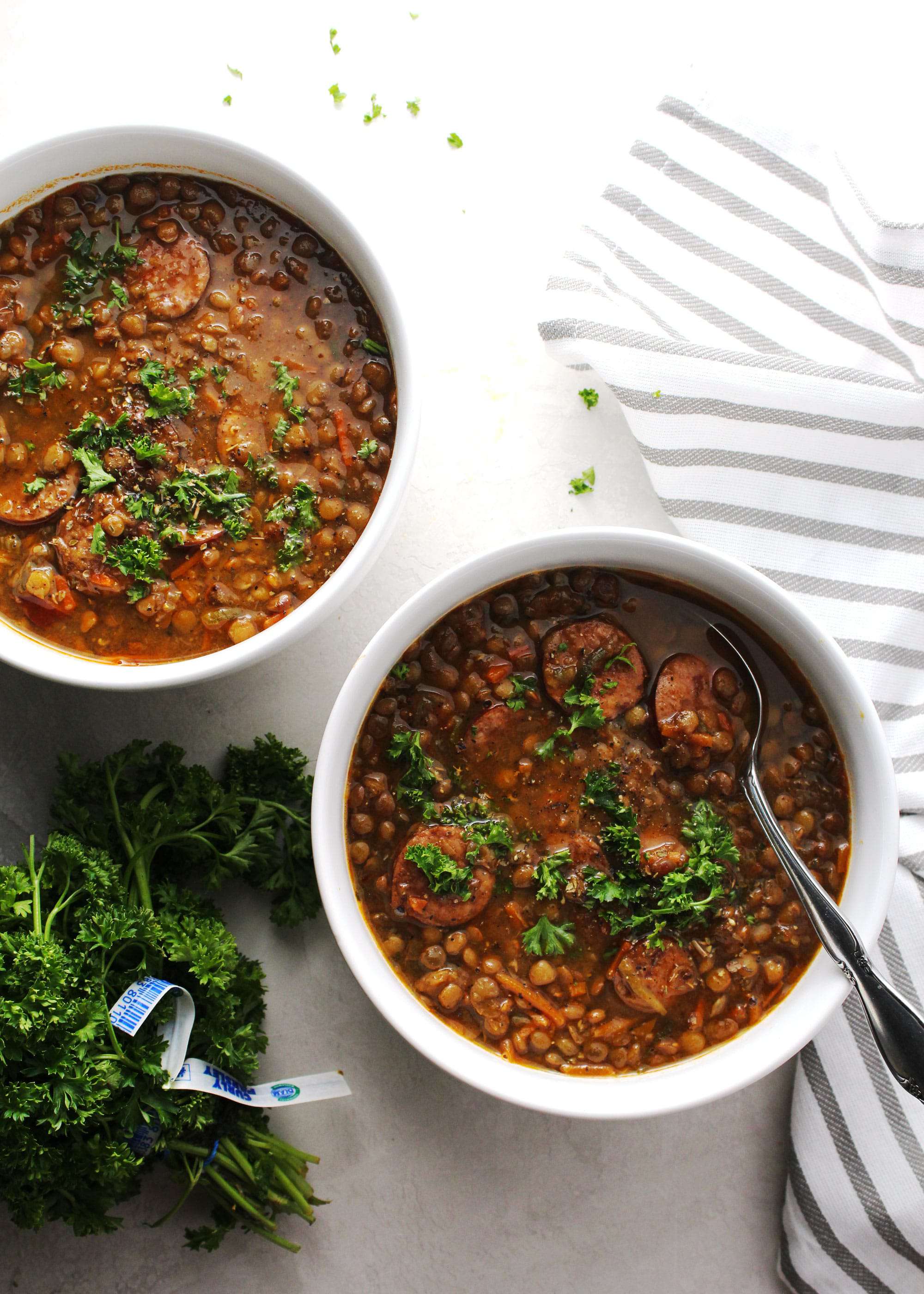 FAQ's for Making Instant Pot Sausage and Lentil Stew
What to serve with lentil soup with sausage?
Lentil soup with sausage is a hearty meal already so side dishes aren't entirely necessary. If you're looking to vary your meal though most rolls are a great option as well as the sides from the below list.
Southern Cornbread
Naan Bread
Side Salad
Dinner Rolls
Can you freeze lentil soup with sausage?
Yes. This easy stew is simple to store in the freezer and can be kept in a freezer-safe bag for up to 2 months. Let the soup cool before placing it in the freezer bag for storage.
Can this stew be made vegan?
Absolutely! Just remove the sausage and you will still have a delicious smokey-flavored lentil stew.
Tips for Making Instant Pot Lentil Stew
This stew can be stored in an air-tight container in the refrigerator for up to 3 days.
Cut the vegetables into larger pieces. Since all the ingredients are cooking in the instant pot you want larger pieces so they don't become mushy.
Use the tomato paste in the sautéing process which brings out the flavors of the paste.
Stir in some sour cream for a creamy soup.
To reduce the time it takes for your Instant Pot to build up to pressure go ahead and turn it on prior to sautéing.
More Lentil Recipes
If you enjoy this easy stew the try this Easy Beef and Lentil Stew next or even this Instant Pot Shrimp and Lentil Stew.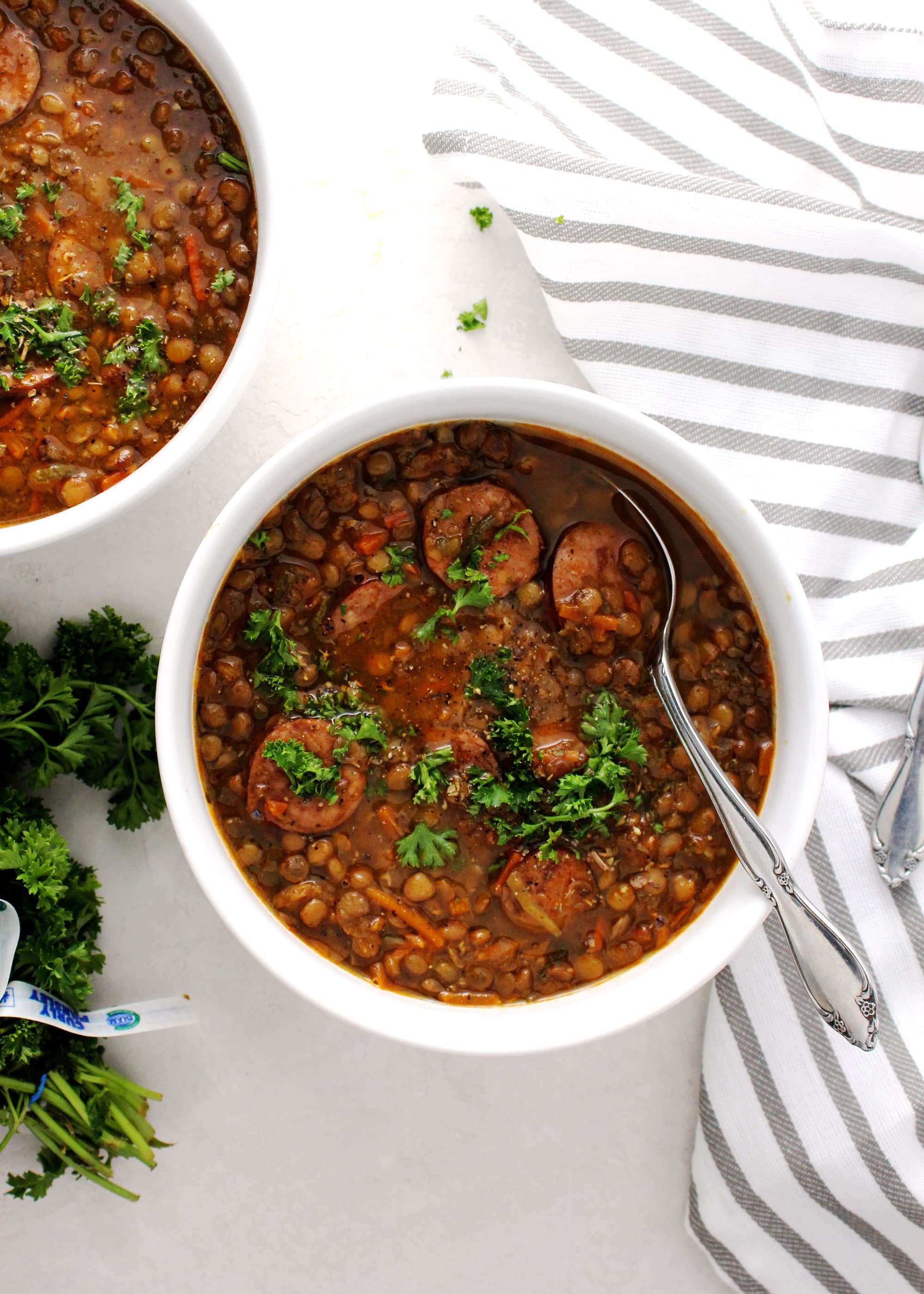 Ingredients
2

tablespoons

Olive Oil

6

Garlic Cloves

minced

1/2

cup

Celery

diced

1

Red Bell Pepper

seeded and diced

4

cups

Carrots

diced

1

lb

Smoked Sausage

sliced

2

cups

Dried Lentils

2

tablespoons

Worcestershire Sauce

1

tablespoon

Paprika

2

teaspoons

Cumin

2

quarts

Low Sodium Beef Broth

1

Beef Stock Cube

optional

1

tablespoon

Tomato Paste

1

tablespoon

Brown Sugar

2

teaspoons

Ground Black Pepper
Instructions
Set your Instant Pot to "saute" and add the Olive Oil, Garlic Cloves, Celery, Red Bell Pepper, and Carrots, cook for 5 minutes, tossing occasionally. Add the Smoked Sausage and continue to cook for an additional 3 minutes.

Add all the remaining ingredients to the Instant Pot (Lentils, Worcestershire Sauce, Paprika, Cumin, Beef Broth, Stock Cube, Tomato Paste, Brown Sugar, Salt, and Pepper). Using the "manual" setting set the time to 15 minutes. Release all the steam once done and season with any additional spices.
Notes
Since the sodium is on the high end for this soup recipe you can omit to the beef stock cube to cut it down even more, and make sure to use low-sodium beef broth.
Nutrition
Serving:
1
serving
|
Calories:
584
kcal
|
Carbohydrates:
56
g
|
Protein:
33
g
|
Fat:
26
g
|
Saturated Fat:
8
g
|
Cholesterol:
54
mg
|
Sodium:
1529
mg
|
Potassium:
1854
mg
|
Fiber:
23
g
|
Sugar:
9
g
|
Vitamin A:
15563
IU
|
Vitamin C:
36
mg
|
Calcium:
96
mg
|
Iron:
7
mg