Well, not quite literally, but this Maple Bourbon Barbecue Sauce is so rich in smokey barrel-aged flavor with a tangy twist you'll want to slather it on just about any meat to land on your plate. The no-ketchup thick texture makes this sauce great for grilling, smoking meats, or even dipping.
Maple Bourbon Barbecue Sauce
In the south, the saying "slap your grandma" is the highest form of praise for something that tastes good so being southern, I don't use it lightly.
Unlike vinegar-based bbq sauce, this bourbon barbecue sauce has no ketchup. It's laced with a rich smokey flavor with tangy side notes. The subtle spices such as the traditional garlic powder and onion powder make it the perfect sauce to slather on just about any smoked meat. It makes the perfect sandwich sauce for a pulled pork sandwich or pairs perfectly with chicken wings.
Not only is this richly-flavored bbq sauce the perfect condiments it also makes a big batch so canning is a great option. It's up to you whether you want to share it with friends or not.
Ingredients in Maple Bourbon Barbecue Sauce
Dark Brown Sugar: this recipe is heavy on the molasses flavor similar to Blueberry BBQ Sauce, which is why it calls for dark brown sugar. This sugar tones down the acidity and tanginess of the vinegar. You can substitute light brown sugar.
Spices: Salt, Onion Powder, Garlic Powder, Chili Powder, Black Pepper. These are the key spices when making any standard bbq sauce.
Cornstarch: the cornstarch helps to thicken the barbecue sauce so it's perfect for spreading and coating any meat.
Maple Syrup: to achieve a sweet maple flavor I recommend using a high-quality pure grade maple syrup.
Molasses: This robust and slightly sweet flavor of molasses brings the smokey undertones of this recipe and is a key ingredient in many bbq sauces.
Tomato Sauce: by substituting tomato sauce for ketchup, you make sure there are no unnecessary added ingredients such as extra sugar. It simplifies the recipes so there aren't any additional competing flavors.
Bourbon: this main ingredient cooks down into the sauce adding to the smokey flavor and giving it a unique barrel-aged flavor. Any bourbon brand will work, but I suggest using one of your favorites.
Apple Cider Vinegar: some will argue the addition of vinegar in barbecue sauce, however, for this recipe it's key. It helps to neutralize the sweet and tangy flavors. It's also a key ingredient if you plan on canning this sauce.
How to Make Homemade Barbecue Sauce
Making barbecue sauce is so easy, you might wonder why you ever purchase store-bought processed versions. With 3 simple steps to mix, boil, and simmer it's easy to prepare.
Mix the Spices: In a medium-sized bowl whisk the brown sugar, salt, onion powder, garlic powder, chili powder, black pepper, and cornstarch together.
Boil: In a large heavy-bottomed pot like a Dutch oven, bring the maple syrup, molasses, tomato sauce, bourbon, and vinegar to a boil over medium-high heat.
Simmer: Reduce the heat to a simmer and stir in the spice mixture. Let the sauce continue to simmer, stirring occasionally, for 45 minutes to an hour.
Recipe Variations for Barbecue Sauce
This deliciously thick maple bourbon barbecue sauce already boasts a strong flavor, however, some slight variations can be made. For example, if you'd like an even thicker sauce or one without vinegar see the guidelines below.
How to Make it Thicker: if your sauce just needs to be a little thicker then you can continue to let it simmer until the liquid cooks down. To make it much thicker then whisk 1 tablespoon of cornstarch and 1 tablespoon of water together. Add that mixture to the bbq sauce and let it continue to simmer. The cornstarch will act as a thickening agent for the bread.
How to Thin the Sauce: to thin the sauce you can add water or more tomato sauce 2 ounces at a time until the desired consistency is reached.
Gluten-Free BBQ Sauce: This recipe is gluten-free! According to the beyondceliac.org website, distilled bourbon, even if made with wheat, barley, or rye, added to the "mash" is still gluten-free. Most bourbons will be safe because of the distillation process. As for the other ingredients just make sure to double-check your labels for any hidden gluten.
Vegan BBQ Sauce: This is also a vegan recipe, but again check your labels for any hidden animal products.
Sweeter BBQ Sauce: To make this sauce sweeter increase the brown sugar and maple syrup.
No-vinegar BBQ Sauce: Some don't like vinegar in their barbecue sauce, which is absolutely okay, and it can be substituted for water instead. If you do decide to substitute the vinegar for water though you can't can the jars. Due to the acidity of the sauce, it needs vinegar in the mixture to make it suitable for canning.
What to Use Maple Bourbon Barbecue Sauce On
Smoked Meat
Pulled Pork or Chicken
Roasted Salmon
Hamburgers
Steak
Canning Barbecue Sauce
The method used for this recipe is water bath canning. It will make 3 16-ounce jars of sauce.
Prepare the Sauce: Make the maple bourbon barbecue sauce according to the recipe instructions.
Set up the Water Bath: while the barbecue sauce is simmering fill your water bath with water and heat on medium-high heat.
Wash and Sterilize: Wash your jars and lids with warm soapy water. Sterilize the jars by placing them into the heated water and leaving them there until ready to fill. Don't boil the jars.
Fill: Using a ladle and funnel scoop the prepared sauce into the clean sterilized jars leaving 1/2-inch headspace. With a small spatula remove the air bubbles. Wipe the rim with a damp cloth. Center the lid on the jar and screw the band on until fingertip tight (meaning screwed on but not completely/super-tight).
Process: Make sure the water bath water is boiling and use tongs to lower the jar into the canner and place the lid on top. Process the jars in boiling water for 20 minutes. Remove the jars from the water bath and set them on a cloth to cool for 12 to 24 hours.
Check the lids to make sure they're sealed. They should not flex when the center is pressed.
Water Bath Canning Equipment
Canning sometimes seems overwhelming, but the steps are pretty simple. Once you go through the process you'll be a pro. Below is the water bath canning equipment I use.
Canning Kit: includes a funnel, lid lifter, jar lifter, wrench, and tongs.
Ball Mason Jars with Lids
FAQ's for Making Homemade BBQ Sauce
Below are some of the questions I often get in reference to preparing this recipe. If you have one you don't see answered here, please email or send me a message via social media to ask.
Yes. This barbecue sauce recipe has enough vinegar in it to sustain canning and last on your shelves for a long time.
How long does canned BBQ sauce last?
Canned barbecue sauce will last from 12 to 15 minutes if kept in a cool and generally dark stop. In other words, don't store it in a steamy garage or where direct sunlight will hit it ever.
Do you have to refrigerate homemade BBQ sauce?
Yes, after you open the jars, especially if you choose not to can them, the sauce will need to be kept in the refrigerator for up to 1 week.
If the vinegar taste is too strong
Add 1/8 teaspoon of baking soda, stir it in and wait for the foam to dissipate. Taste the sauce and if it still has too strong of a vinegar flavor then add some more baking soda.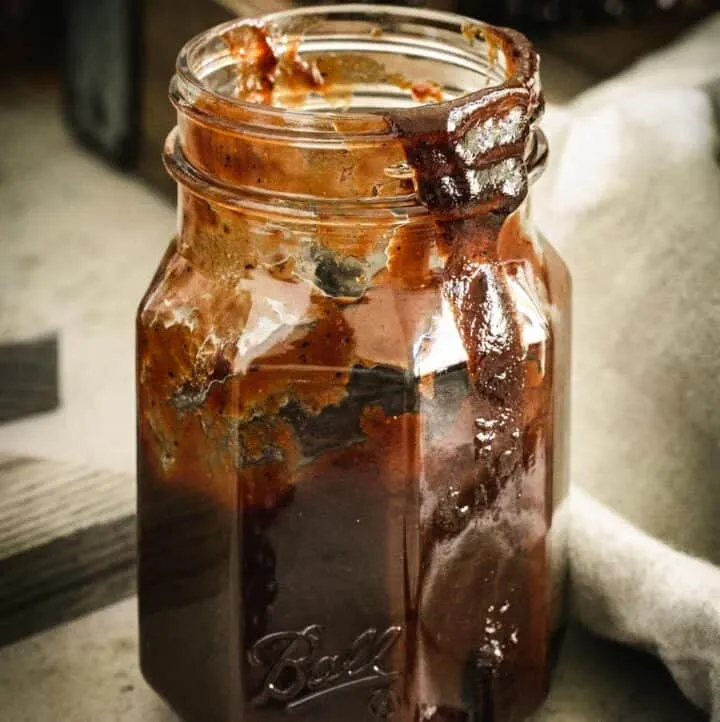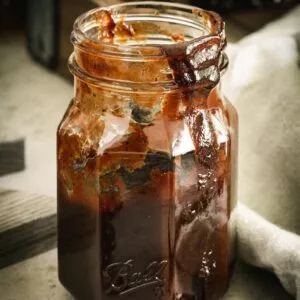 Maple Bourbon Barbecue Sauce
This Maple Bourbon Barbecue Sauce is rich in a deep smokey flavor and perfect for any time of year grilling and pairs well with any meat.
Print
Pin
Rate
Equipment
Measuring Spoons and Cups

Medium-Sized Bowl

Whisk

Large Heavy-Bottomed Pot (Dutch Oven) with Lid

Water Bath Canner with Rack

Rubber Tongs

Small Spatula
Ingredients
1/2

cup

Dark Brown Sugar

1/2

teaspoon

Salt

1/4

teaspoon

Onion Powder

1/4

teaspoon

Garlic Powder

1/4

teaspoon

Chili Powder

2

teaspoons

Black Pepper

2

tablespoons

Cornstarch

1/3

cup

Maple Syrup

1/2

cup

Molasses

15

ounces

Tomato Sauce

1/4

cup

Bourbon

1½

teaspoons

White Vinegar

1

cup

Water
Instructions
In a small bowl whisk the brown sugar, salt, onion powder, garlic powder, chili powder, pepper, and cornstarch together and set aside.

Using a large saucepan bring the maple syrup, molasses, tomato sauce, bourbon, white vinegar, and water to a boil over medium-high heat.

Add the spice mixture to the sauce and stir to combine.

Reduce heat to a simmer and continue to cook for 45 minutes, stirring occasionally.
Nutrition
Serving:
1
ounce
|
Calories:
63
kcal
|
Carbohydrates:
14
g
|
Protein:
1
g
|
Fat:
1
g
|
Saturated Fat:
1
g
|
Sodium:
147
mg
|
Potassium:
180
mg
|
Fiber:
1
g
|
Sugar:
13
g
|
Vitamin A:
83
IU
|
Vitamin C:
1
mg
|
Calcium:
26
mg
|
Iron:
1
mg