There's no need to make your own dough or sauce to get a restaurant-quality homemade pizza. Using these 8 simple store-bought ingredients you can make a Prosciutto Mozzarella Pizza that's just as quick and tasty as ordering takeout.
Prosciutto Mozzarella Pizza
Pizza, with it's fluffy and soft bread crust, covered in thick tomato sauce and a blanket of melted cheese is one of the most famous American Italian style meals. With every possible combination imaginable some of the most simple is the best, like this prosciutto mozzarella pizza.
Some may think 8 ingredients seem like a bunch when all you really need is dough, sauce, and cheese. While this is true, in this recipe we're going for a restaurant-quality flavor so you're going to add just a few more ingredients.
Not all pizzas are the same though, as anyone who is from New York or Chicago will tell you. As a former New Yorker myself, I struggle to find a pizzeria comparable to the mom and pop pizza shops of the city.
These family-owned pizzerias often used family recipes, that were simple in nature. Not every ingredient was homemade, and though the ingredients were specific, just as they are in this recipe, they are easy to find.
What is Prosciutto?
If you've ever enjoyed a charcuterie board, you've most likely eaten cured meats before. Prosciutto is a ham that has undergone the dry-curing process of rubbing the meat with a mixture used to preserve it. It is often served uncooked, making it a perfect addition for any charcuterie board.
Ingredients in Mozarella Pizza
Pizza Dough: This pre-made dough ball can be found in either the frozen section of your grocery store, next to the bread and rolls, or in the deli. It will always be refrigerated. Using fresh dough is the difference-maker in this recipe to achieve the perfect crust.
Semolina Flour or Cornmeal: You can choose whichever you prefer here, the important factor is you use it to keep the crust from sticking to the pan or tearing. Some have strong feelings about using cornmeal on their pizza and really either one will work.
Marinara Sauce: this recipe calls for the most basic pasta sauce instead of pizza sauce. The reason is that the pasta sauce has a deeper richer flavor and requires less seasoning than pizza sauce. Here is more information on the differences between the two.
Mozzarella Cheese: Choose a low-moisture mozzarella cheese, which is often referred to as shredded mozzarella. More on why this is the best choice here.
Prosciutto: this dry-cured ham adds a salt meaty flavor to the pizza
Grated Parmesan Cheese
Dried Oregano
Fresh Basil Leaf
Pizza Dough vs. Pizza Crust. What is the Difference?
In order to achieve that restaurant quality pizza taste, it's best to use freshly made pizza dough, which you can often find in the bakery or in the frozen foods section with all the bread. The dough comes in a ball-like shape that you will need to shape into a crust.
You can also use a premade pizza crust to prepare this mozzarella pizza, however, it won't taste quite as authentic as using fresh dough. There are other versions such as this European style dough or even the Pillsbury Pizza Crust that is slightly closer to the dough ball.
What is the difference between pizza sauce and pasta sauce?
Cooking. Pizza sauce is uncooked and pasta sauce, which also tends to have more herbs and flavors is cooked and often simmered. By cooking the sauce it creates a sweeter and richer flavor.
This recipe calls for marinara pasta sauce, which is the most basic of tomato sauces. By using it you're going to have a richer flavored sauce, similar to that of a pizzeria.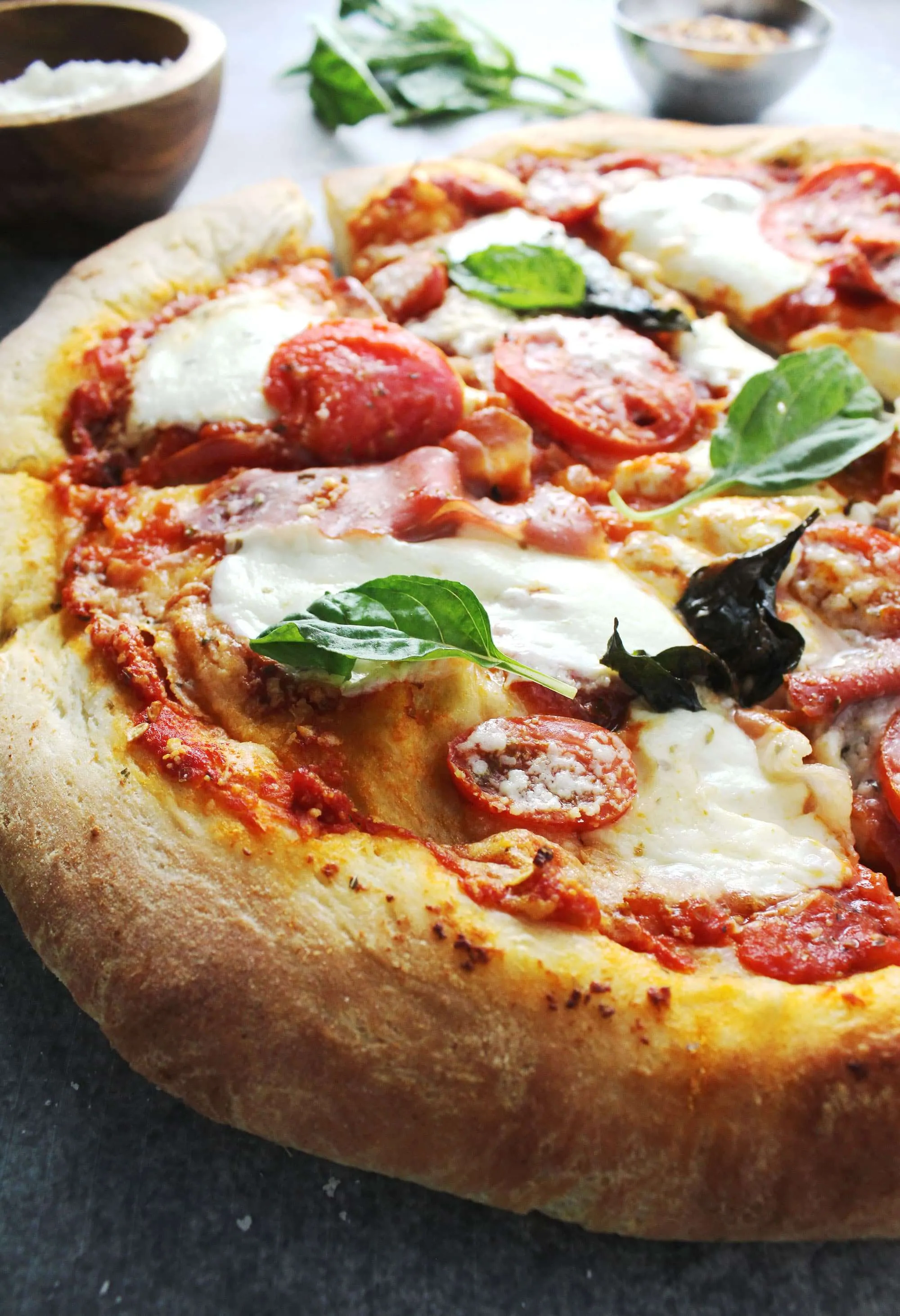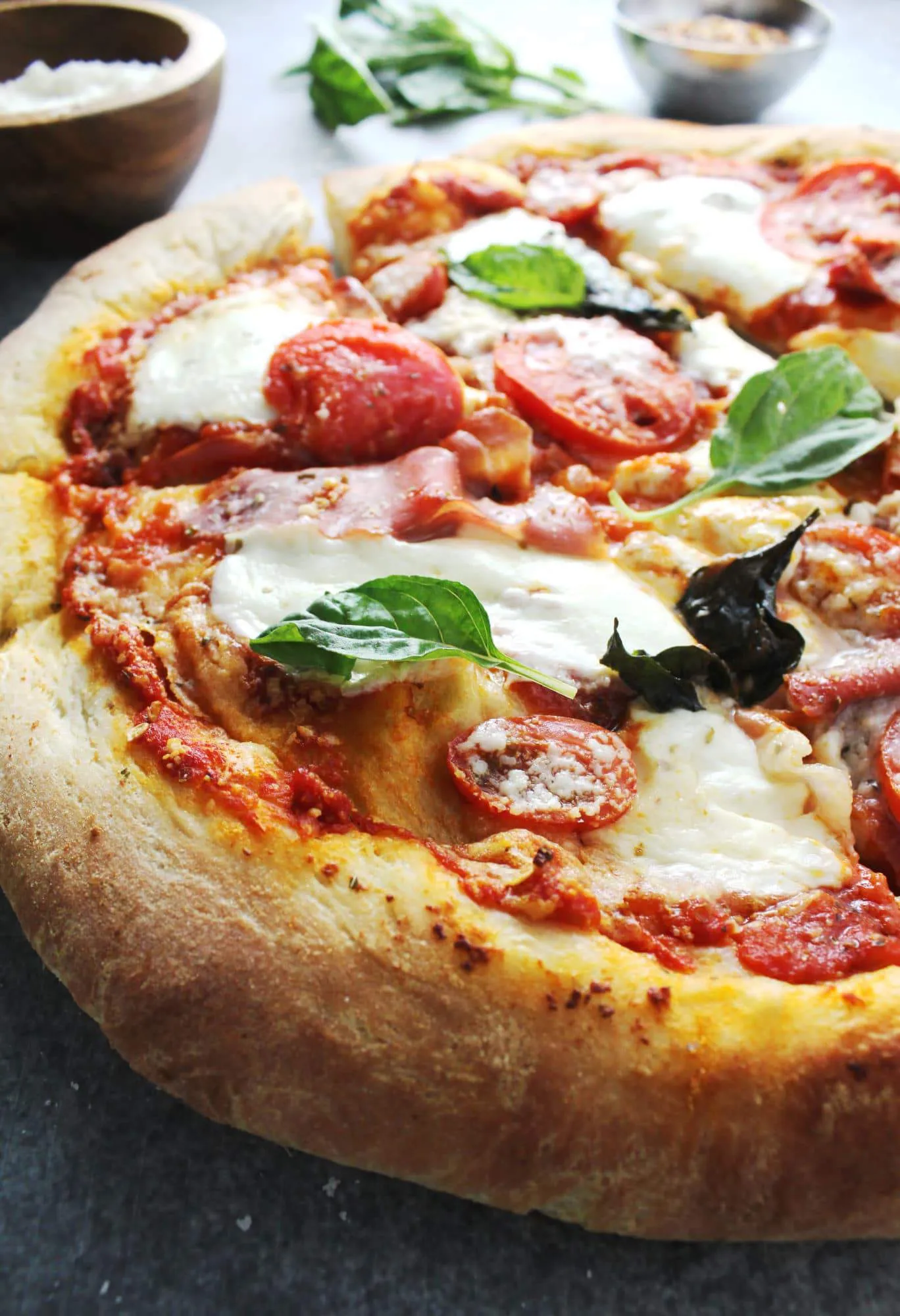 Other Toppings to Add to Mozzarella Pizza
This prosciutto mozzarella pizza is extremely simple, but don't let that stop you from adding some additional toppings. Below are some ideas for extra ingredients that complement this pizza nicely.
More Cheese: not just any cheese though, try adding some provolone, goat cheese, gouda, gruyere, or even ricotta cheese.
Different types of tomatoes: load up on a variety of tomatoes such as heirloom or grape, by slicing them and layering them on.
Other Cured Meats: If meat-lovers style pizza is your favorites to order then you may want to add some other cured options such as pepperoni, salami, bresaola.
Red Pepper Flakes: this familiar heated spice is a common staple on most tables at a pizzeria for a reason. Red pepper flakes add some heat but are also a spice that brings out the other flavors in the pizza.
What is the best mozzarella for pizza?
Low-moisture mozzarella is best for making a classic pizza. This version of cheese has been aged longer and therefore, as the name suggests, has less water. The dense texture and tangy salty flavor melt perfectly and become stretchy and elastic for that perfect cheese pull.
You can purchase low-moisture mozzarella cheese in a shredded or block form. If you're averse to using shredded cheese because of the additives then purchase a block and shred your own using a cheese grater.
FAQ's for Making Mozzarella Pizza
Why do you make pizza with cornmeal?
Cornmeal is sprinkled on top of a pizza stone or baking pan so it sticks to the dough and keeps the dough from sticking to the pan. The flavor of cornmeal also pairs perfectly with pizza.
What can I use instead of cornmeal for pizza?
You don't have to use cornmeal on the crust of your pizza if you don't like it. Some people do and some don't. The majority of pizza consumers prefer not to use it and so a better option is to use flour or semolina flour.
What is semolina flour? It is a coarsely ground wheat that doesn't char easily while baking. This flour is used to dust the baking surface so the pizza doesn't stick. It also doesn't leave behind a gritty residue.
Can I make my own pizza dough?
Absolutely! If you're willing to go the extra mile to make homemade pizza dough then you're really going to achieve a high-quality restaurant flavor. Though it isn't necessary, fresh is always best when it comes to making pizza.
Can I use a gluten-free pizza crust?
Of course! If you need to make this a gluten-free pizza there are now several options to choose from. Some stores, that tend to have more specialty or gluten-free options, will also have a dough ball without gluten that you could use.
Will a cauliflower crust work?
Yes, and if you need to cut gluten, or are looking to cut calories a cauliflower pizza crust is a great and delicious option. You can use a store-bought version or make your own. There's so much flavor in a cauliflower crust that it will only complement the prosciutto mozzarella pizza.
This delicious cauliflower crust will also work for a pizza. You just need to add one more step.
First, you will need to shape the crust into a flat disc on a baking sheet.
Bake the crust at 475ºF on your baking sheet then carefully remove it from the oven and place another baking sheet on top of the crust and flip it over (Make sure to use oven mittens because it will be hot).
Bake for another 5 minutes and remove to begin layering the dough.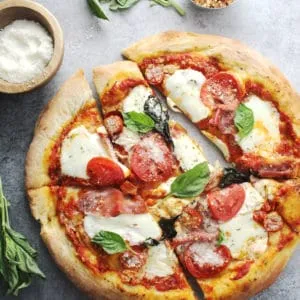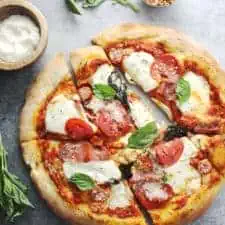 Prosciutto Mozzarella Pizza
There's no need to make your own dough or sauce to get a restaurant-quality homemade pizza. Using these 8 simple store-bought ingredients you can make a Prosciutto Mozzarella Pizza that's just as quick and tasty as ordering takeout.
Print
Pin
Rate
Ingredients
1

Pizza Dough

1

tablespoon

Cornmeal

1/4

cup

Marinara Sauce

1

cup

Mozzarella Cheese

2

ounces

Prosciutto

1/4

cup

Grated Parmesan Cheese

1/4

teaspoon

Dried Oregano

4

Fresh Basil Leaves
Instructions
Preheat the oven to 425ºF and flour the surface you plan to roll the pizza dough out on. Using a rolling pin roll the dough out into a disc-like shape.

Cover the baking sheet or pizza pan with the cornmeal (or flour) and place the dough on a baking sheet or pizza pan.

Spread the marinara sauce onto the prepared dough leaving 1/2 inch edge. Sprinkle half the mozzarella cheese on to the pizza.

Tear the prosciutto and spread it on top. Add the remaining mozzarella cheese and cover with the grated parmesan cheese. Sprinkle with the dried oregano.

Bake for 20 to 25 minutes or until the crust begins to brown and the cheese begins to bubble. Remove from the oven and top with fresh basil. Let cool for 10 minutes before slicing.
Nutrition
Serving:
1
slice
|
Calories:
212
kcal
|
Carbohydrates:
25
g
|
Protein:
9
g
|
Fat:
8
g
|
Saturated Fat:
4
g
|
Cholesterol:
18
mg
|
Sodium:
576
mg
|
Potassium:
50
mg
|
Fiber:
1
g
|
Sugar:
4
g
|
Vitamin A:
165
IU
|
Vitamin C:
1
mg
|
Calcium:
105
mg
|
Iron:
2
mg