The irresistible sweet and salty crunch of Saltine Toffee Bark makes the perfect holiday treat or party appetizer. With a crunchy toffee layer sandwiched between chocolate and saltine crackers, you won't be able to eat just one.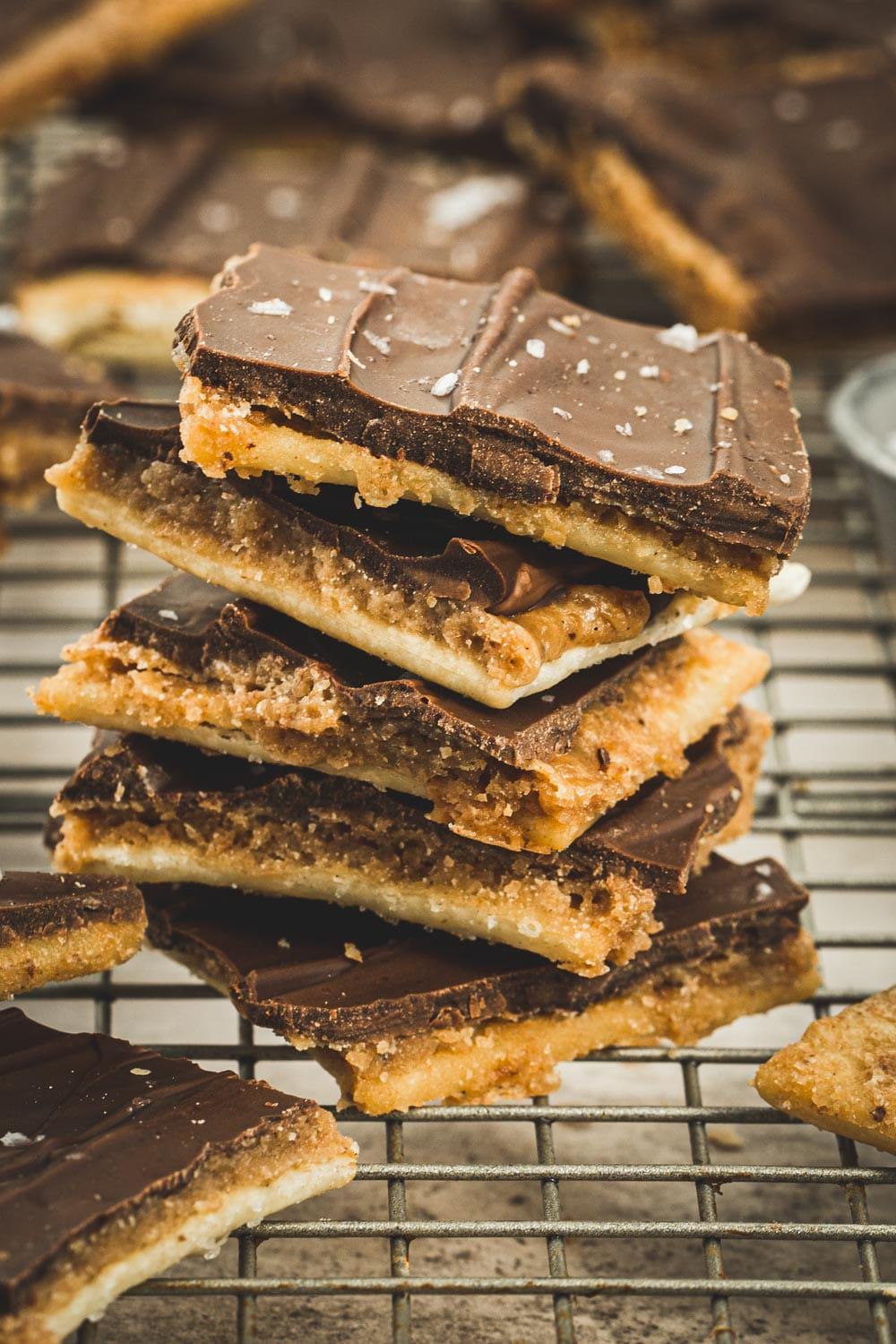 Christmas Crack Candy
Cozy gatherings this time of year are some of the most heartwarming moments. Where shared stores of the year and great times past are exchanged. Preparing delicious treats whether it is a charcuterie board filled to the edges or traditional treats like peanut brittle and this saltine toffee bark, make those moments that much sweeter.
Also known as Christmas Crack Candy, this toffee bark is layered with the perfect mixture of salty and sweet. A chocolate coating over a crunchy toffee layer that's smeared over saltine crackers is the simple mixture this candy makes.
What is Christmas Crack
I can wholeheartedly attest to this toffee bark being insanely addicting. You go to bed dreaming about it and wake up craving it in the morning. The name came from its addicting powers and because it makes the perfect holiday treat or even gifts it was called Christmas Crack.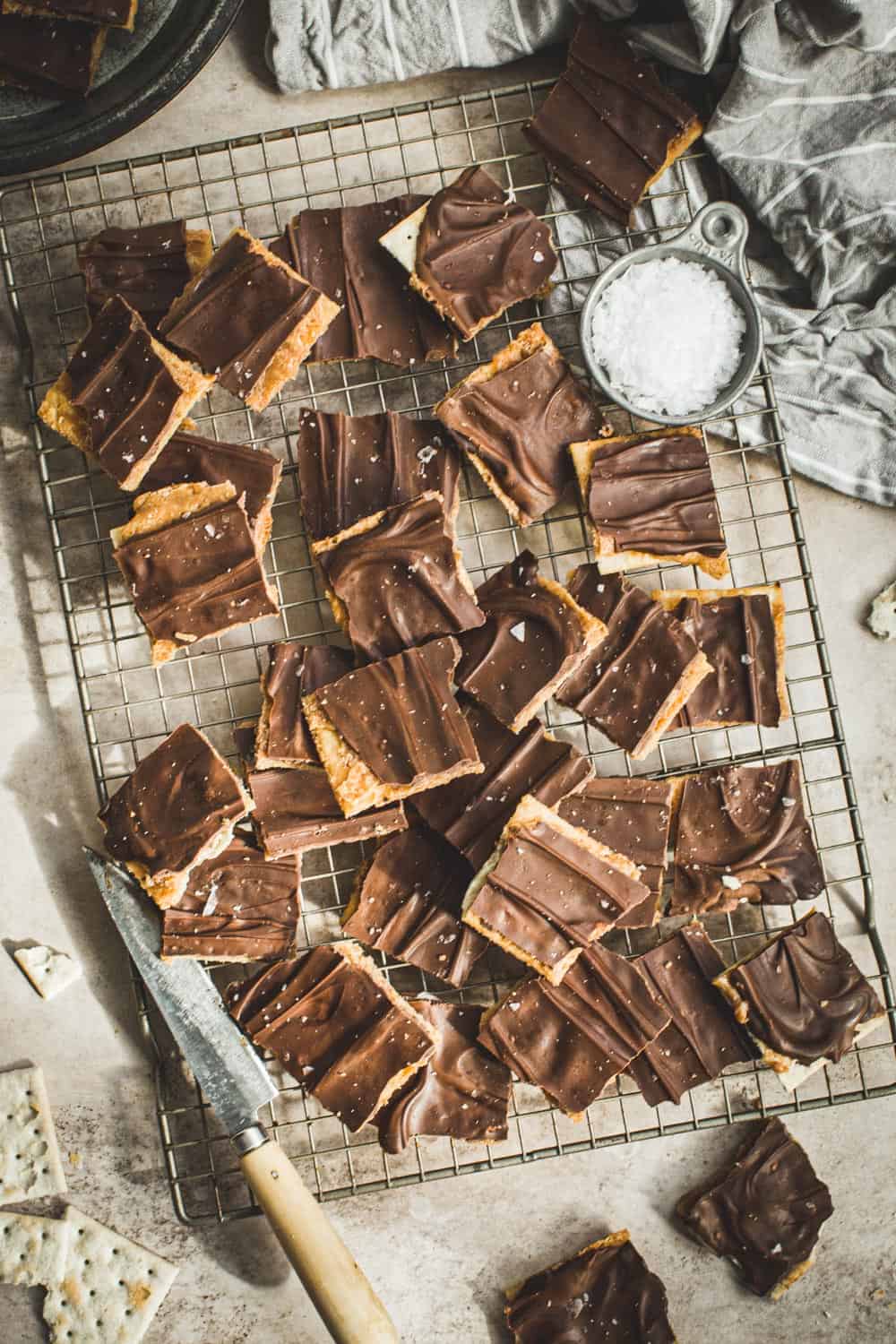 Ingredients in Saltine Toffee Bark
Not only is this bark easy to prepare, but most of the ingredients are simple pantry staples.
Saltine Crackers: I prefer to use saltine crackers, however, you can use unsalted crackers too. Here are some other suggestions if you'd prefer to try something else. The saltines remain crispy and add some extra saltiness to the flavor.
Butter: use unsalted butter for this recipe, which is mixed with the brown sugar to form the toffee glaze that's poured over the crackers.
Dark Brown Sugar: either light brown sugar or dark brown sugar will work. The brown sugar is dissolved in the butter to make a delicious toffee glaze.
Chocolate Chips: for this recipe, I choose to mix both semi-sweet and regular chocolate chips so there's a sweetness balance. You can choose to use just one though.
Coarse Salt
How to Make Saltine Toffee Bark
Prep: preheat the oven to 400ºF and line a rimmed baking sheet with aluminum foil. Coat the foil in cooking spray.
Saltine Layer: lay the saltine crackers face down on the prepped baking sheet.
Toffee Mixture: boil the butter and brown sugar until bubbly.
Chocolate Layer: bake the crackers for 5 minutes and spread the chocolate chips on top. Sprinkle with salt flecks.
Chill: place the baking sheet in the fridge to chill for about 30 minutes. Let the bark come to room temperature before breaking it apart.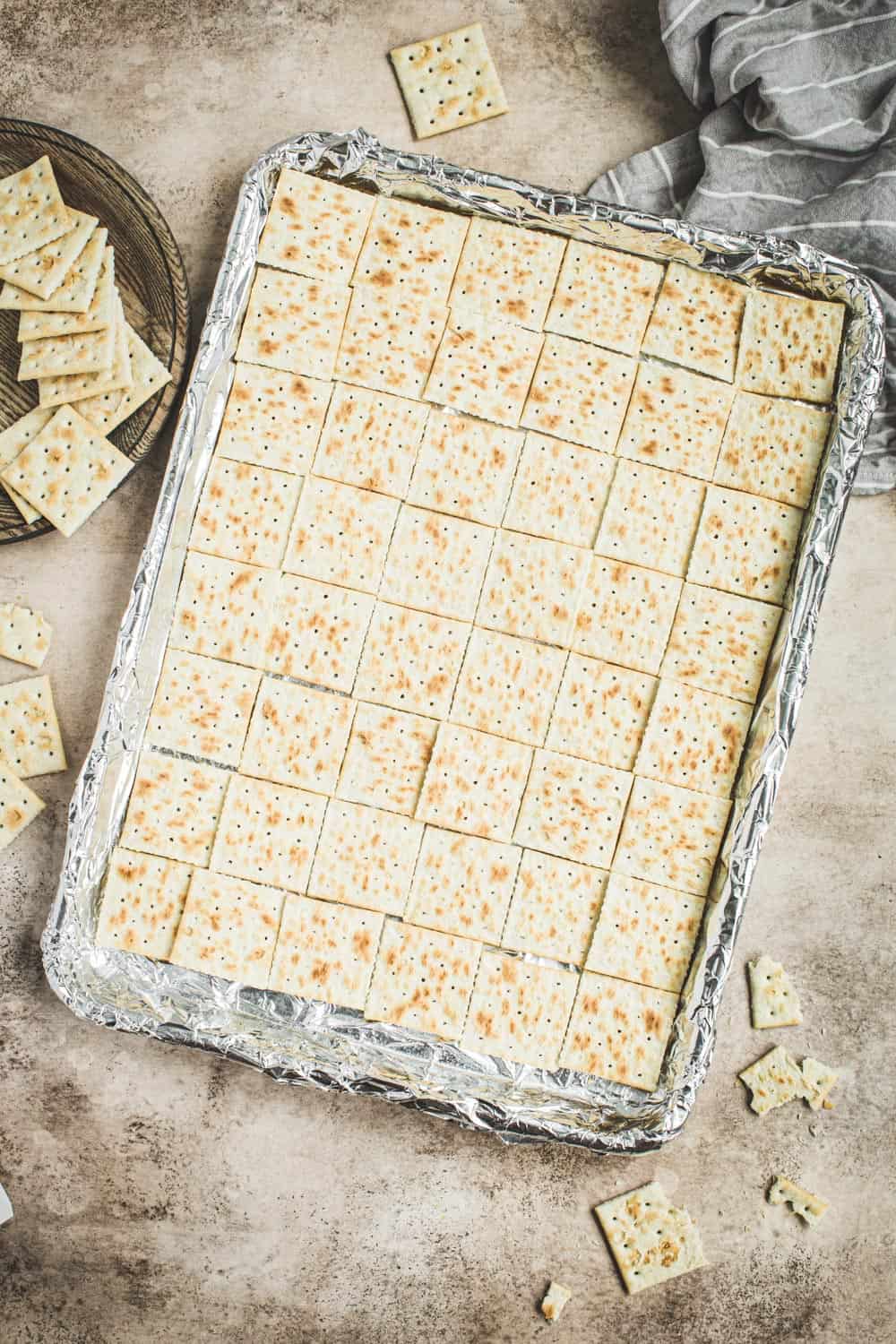 How to Store Crack Candy
Place the saltine toffee bark in an air-tight container and keep it stored in the refrigerator. Let it come to room temperature for about 20 minutes before you plan on serving it. The bark will last up to 1 week stored in the fridge.
Additional Toppings to Add
This recipe is a simple version of the fun Christmas Crack Candy and you can easily add additional toppings. Below are a few ideas on how to add some more flavor to your bark.
Broken Pretzels
A drizzle of white chocolate
Shaved Coconut
Sprinkles
Chopped Nuts
Crushed Oreos
M&Ms
Tips for Making the Best Saltine Toffee Bark
Line the Pan. Use a heavy-duty aluminum foil to line the rimmed baking sheet, which makes it easier to lift the cracker candy out of the pan.
Spray the Sheet Pan: once you've lined the pan don't forget to spray it with cooking spray.
Making the toffee. Once the butter and brown sugar begin to boil time it for 5 more minutes. This allows the excess moisture to evaporate.
Breaking apart the bark. After the bark has chilled and the chocolate is firm remove it from the fridge and let it come to room temperature slightly. Then it will be easier to break apart. If the chocolate is too hard it will crumble into very small pieces.
Saltine Toffee Bark Variations
White Chocolate Toffee Bark: instead of using semi-sweet chocolate chips and regular chocolate chips use 12 ounces of white chocolate chips to top the crackers.
Butterscotch Toffee Bark: change the chocolate chips for 12 ounces of butterscotch chips. Instead of using salt flecks use Heath Toffee Bits.
Peanut Butter Chocolate Swirl: after spreading the chocolate chips on the baked toffee crackers place drops of creamy peanut butter on top too. Use a butter knife to spread the chocolate chips and peanut butter as well as swirl them together.
Peppermint Toffee Bark: swap the chocolate chips for 12 ounces of white chocolate chips and spread the top with crushed candy canes.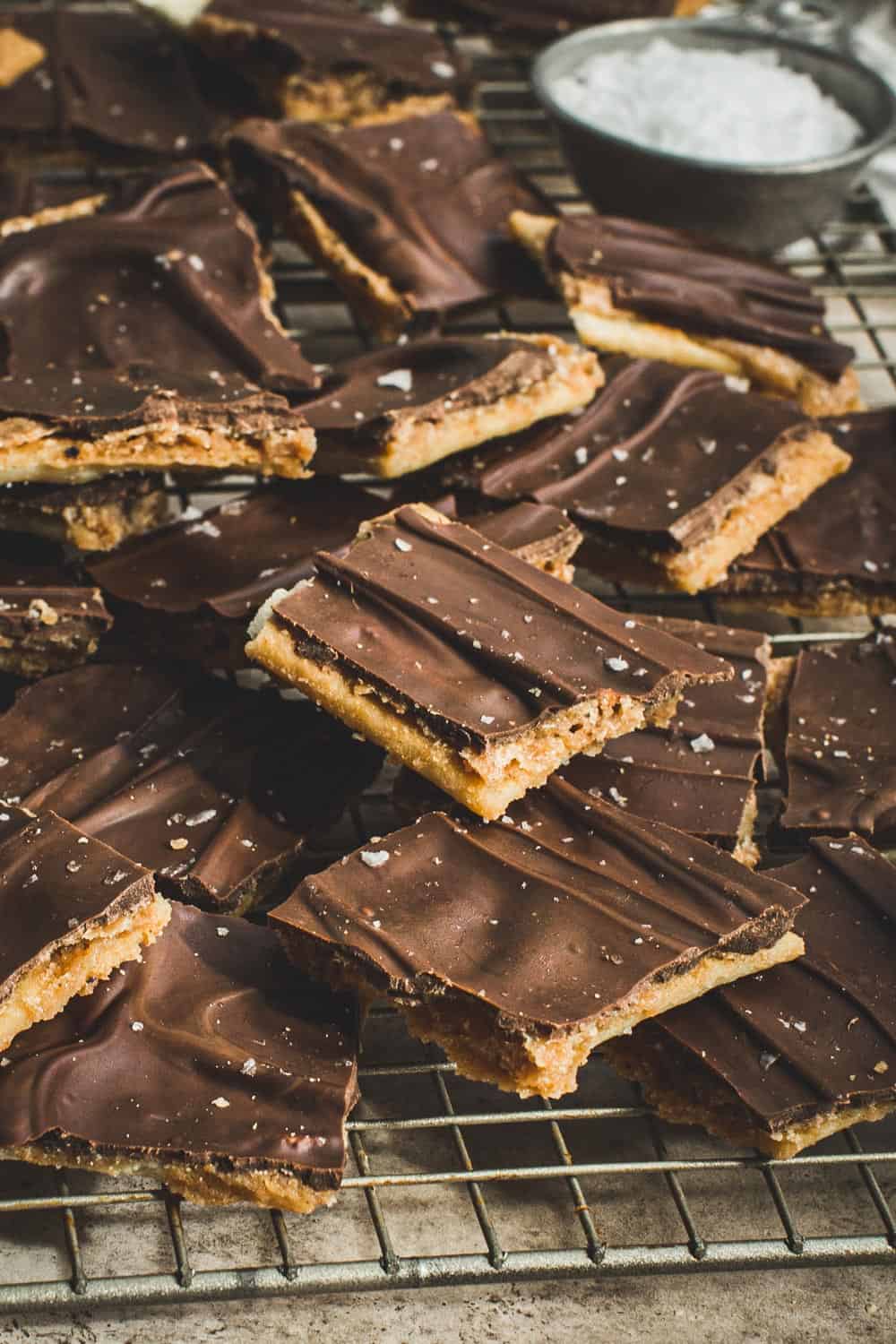 Can I use light brown sugar?
Yes. Either light brown sugar or dark brown sugar will work for this recipe. The dark brown sugar has a richer taste though that's more prominent in this bark.
Can I use a different cracker?
Certainly. You don't have to use saltine crackers, however, their square shape fits perfectly onto the baking sheet making it easy to assemble and break apart. You can also use Ritz crackers or graham crackers.
Can saltine toffee bark be frozen?
Yes, it can be frozen, however, the crackers will become a tad soft after they're thawed. The flavor is still delicious, but it won't have that extra crunch to it.
Here are some other cookies and holiday gift ideas: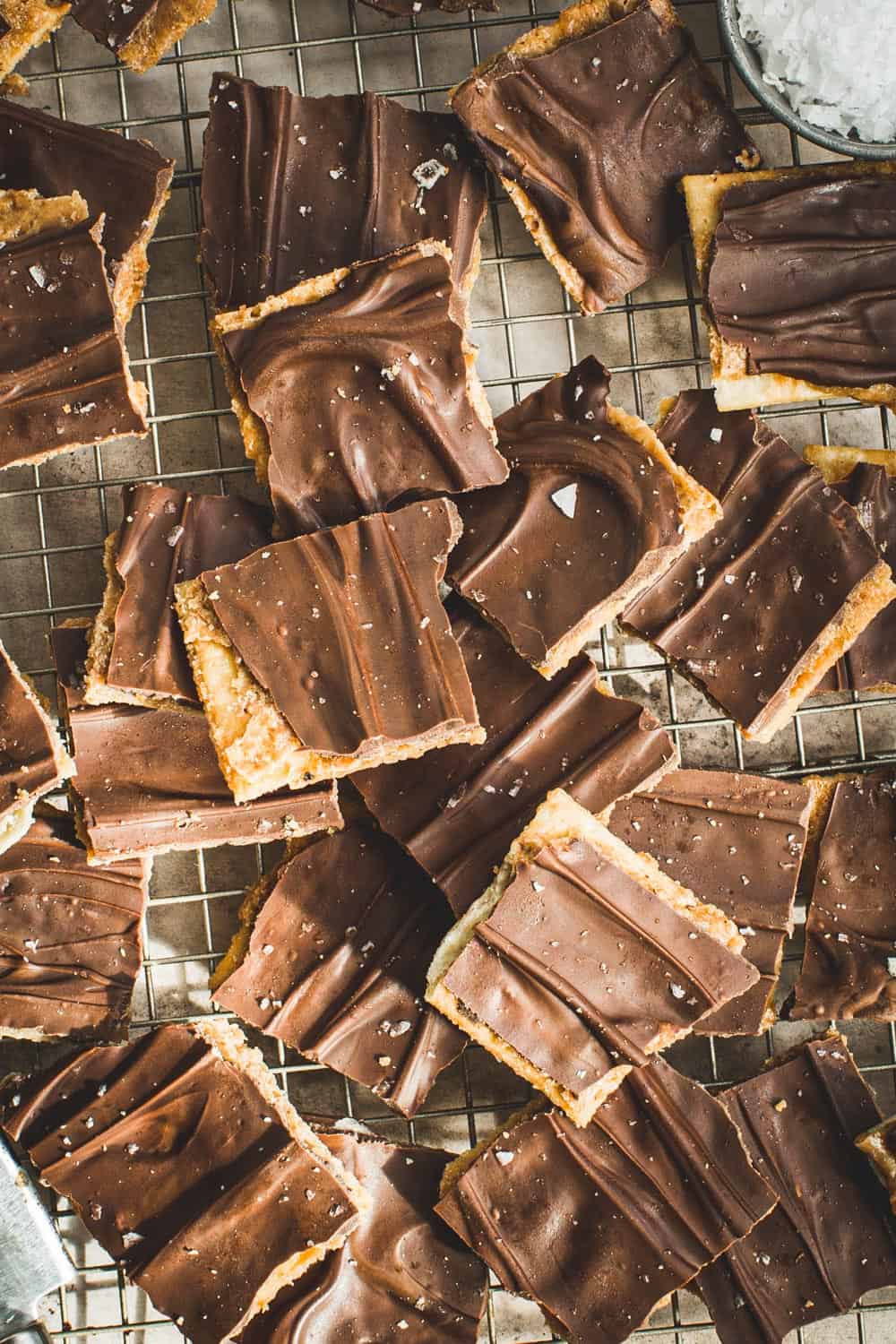 Ingredients
1½

sleeves

Saltine Crackers

1

cup

Butter

2 sticks

1

cup

Dark Brown Sugar

6

ounces

Semi-Sweet Chocolate Chips

6

ounces

Chocolate Chips

2

tablespoons

Coarse Salt
Instructions
Preheat the oven to 400ºF.

Line a rimmed baking sheet with aluminum foil and coat with cooking spray.

Placing the saltine crackers salt side down lay them flat in an even layer until the entire baking sheet is covered. It's okay if they don't perfectly cover the pan.

In a skillet or medium-sized saucepan melt the butter completely. Add the brown sugar and bring to a rolling boil. Continue to boil for 4 to 5 minutes until the mixture becomes lighter in color and is bubbling.

Carefully pour the mixture over the saltine crackers. Place in the oven to bake for 5 minutes.

Let the crackers cool for 1 to 2 minutes before sprinkling both the chocolate chips on top. Let sit for about 2 minutes to warm the chocolate (you can also slide the baking sheet back into the oven for 30 seconds).

Using a spatula spread the chocolate over the tops of the crackers until smooth and every cracker is covered. Sprinkle salt flakes on top of the crackers.

Let cool completely or place in the fridge to chill for 30 minutes. Allow the crackers to come to room temperature before breaking them apart.
Nutrition
Serving:
1
serving
|
Calories:
180
kcal
|
Carbohydrates:
18
g
|
Protein:
1
g
|
Fat:
12
g
|
Saturated Fat:
7
g
|
Cholesterol:
22
mg
|
Sodium:
658
mg
|
Potassium:
55
mg
|
Fiber:
1
g
|
Sugar:
16
g
|
Vitamin A:
256
IU
|
Vitamin C:
1
mg
|
Calcium:
22
mg
|
Iron:
1
mg