Ground beef tacos with a slightly crispy and slightly soft waffle shell are a whimsical take on a traditional taco. Waffle Taco Recipe can be made in minutes and one everyone will devour. Make these delicious waffle tacos for your next Taco Tuesday and include your favorite toppings.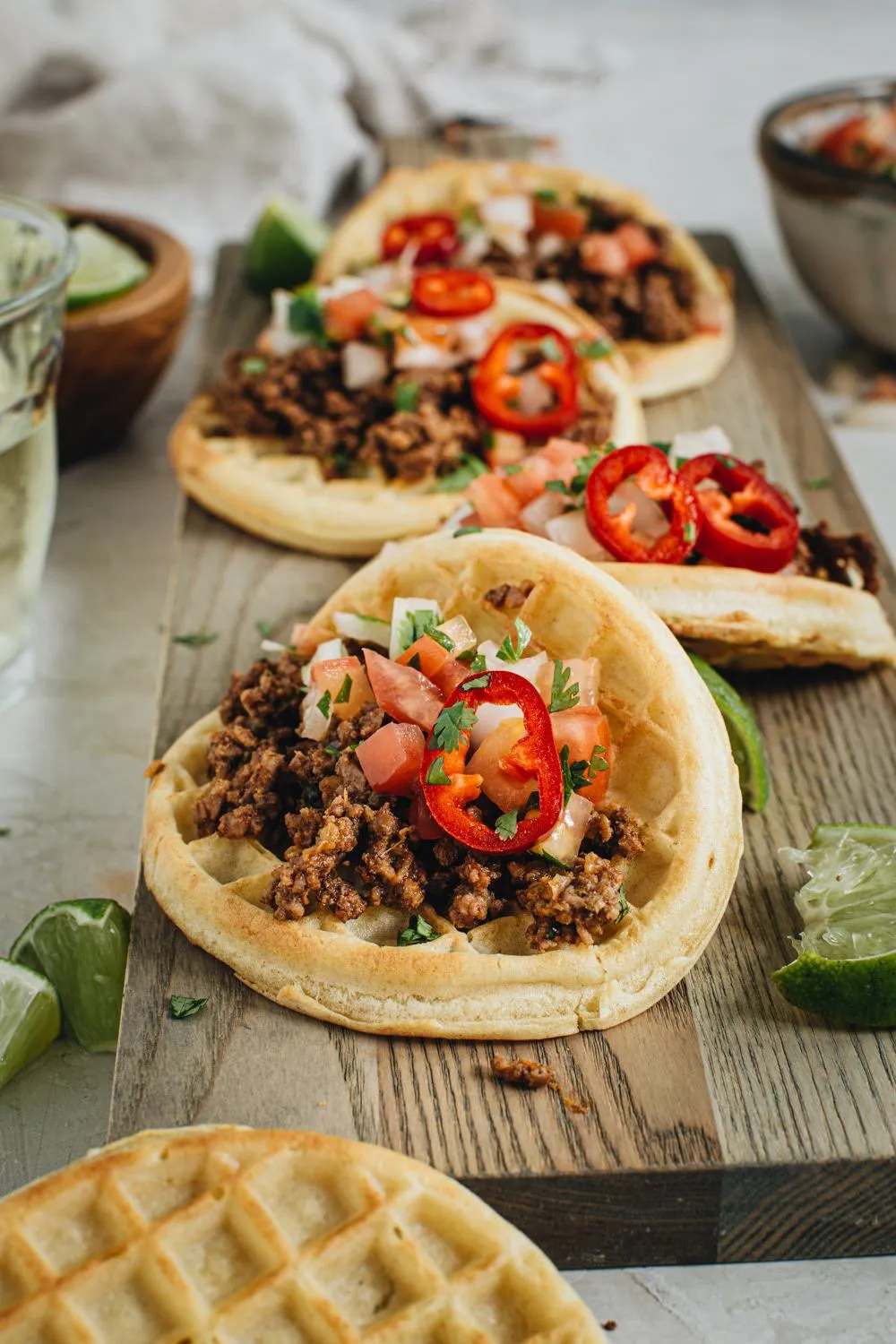 Comfort foods are where my family and I are finding comfort in those moments we need it most. Now that I've found myself stuck in the middle of having far too much time on my hands and "where did the day go," I'm relying on recipes I have memorized and ones I can practically throw together. This is not limited to making up new food groups such as waffle tacos.
I can't take credit though for this delicious taco idea though. I will take the fictitious award for winning dinner after my kids lost their minds with excitement and ate every last bite of this meal.
What is a Waffle Taco?
Just as the name suggests, a waffle taco is quite literally a taco with a waffle shell. Just about any version of the taco recipe will work on a waffle shell, however, the most basic Americanized ground beef version is my favorite.
Slightly toast both sides of the waffle in the oven or toaster and then gently shape into a taco.
Where Did this Waffle Taco Recipe Come From?
Being in the recipe development industry I often receive recipe recommendations and requests. Many times I see these suggestions as fun challenges or an opportunity to learn something new.
When my friend Courtney text me the other day with pictures of her children eating breakfast "waffle" tacos, an idea inspired by her son Luke, I knew I had to make them too.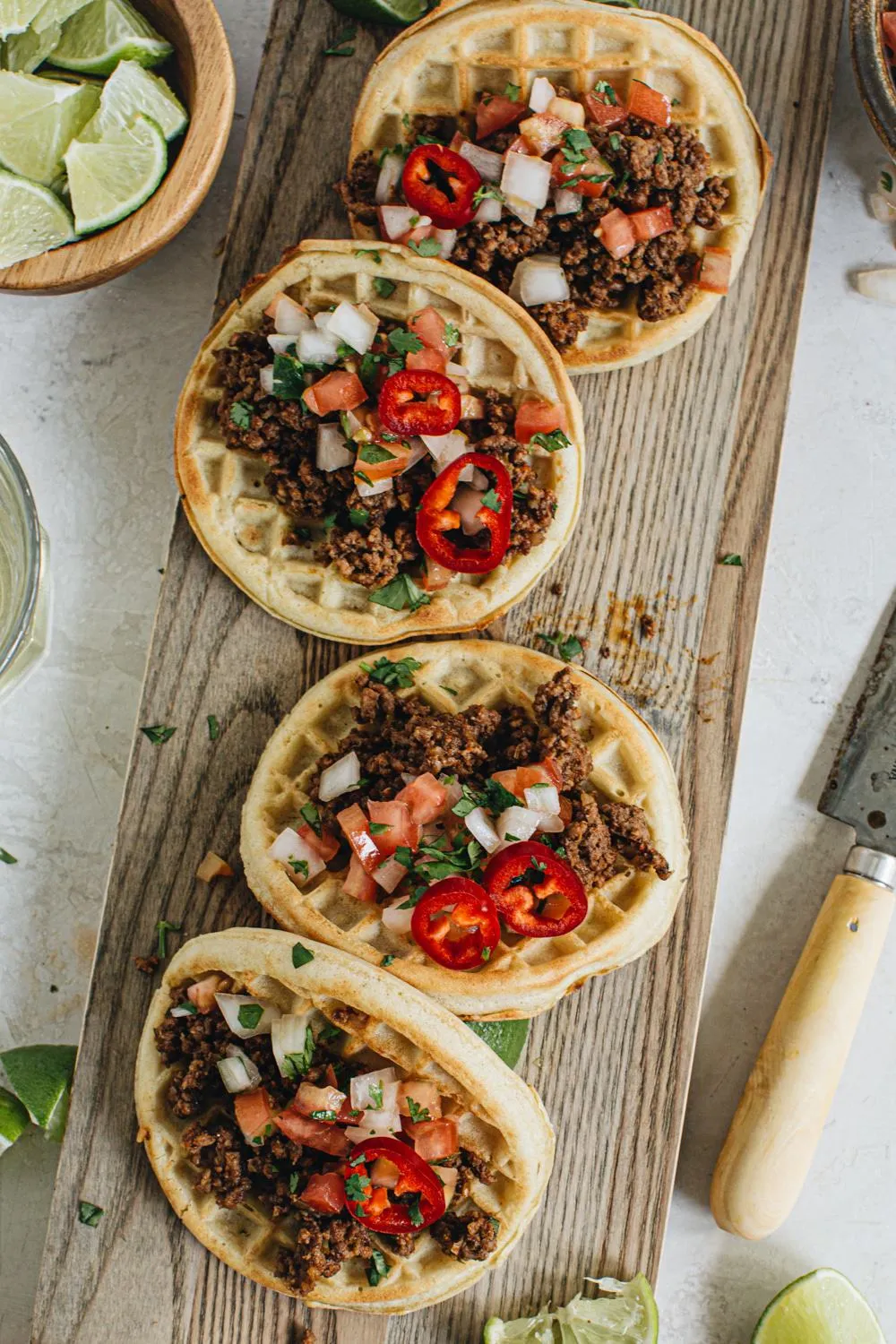 Ingredients in Waffle Tacos
You can make this simple recipe however you like by including your own favorite taco ingredients and toppings. This recipe calls for the most basic ingredients and is listed below as well as some additional options.
Ground Beef
Taco Seasoning (homemade or store-bought)
Diced Onions (optional)
Pico de Gallo
Sour Cream
Taco Sauce
How to Make Waffle Tacos
This taco waffle recipe is the most basic ground beef version, however, you can change up the ingredients. These can be made with beans, vegetarian, or even shredded chicken,
You can also layer on any sauce you prefer such as taco sauce, guacamole, salsa, or even one of my personal favorites dairy-free lime crema.
Brown the Meat. Brown the meat and saute the onions. Drain out the fat.
Season. Add the taco seasoning.
Prepare Pico de Gallo. Chop and dice the tomatoes and onions. Mix with lime juice, oil, and salt.
Toast the Waffles. Lightly toast both sides of the waffles in the oven or a toaster.
Assemble. Layer the ground beef mixture, sour cream, pico de gallo, sour cream, chilies, and any other toppings you like.
Homemade Taco Seasoning Recipe
If you're someone who likes to make your own seasonings then here is a quick and easy recipe for taco seasoning. Just combine these ingredients in a small bowl and use what you need for the recipe.
2 tablespoons Chili Powder
1 tablespoon Ground Cumin
1 1/2 teaspoon Smoked Paprika
2 teaspoons Garlic Powder
1 teaspoon Onion Powder
1 teaspoon Salt
1/2 teaspoon Black Pepper
1/2 teaspoon Dried Oregano
Pico de Gallo Recipe
Often you can find pico de gallo at the grocery store in the produce section, but this is one of those recipes best made fresh. It only takes a few minutes to chop up and mix the ingredients that add so much flavor.
1 lb Roma Tomatoes
1/2 Onion, diced
1/4 cup Fresh Cilantro, chopped
2 tablespoons Fresh Lime Juice
1 tablespoon Olive Oil
1/2 teaspoon Salt
Tips for Preparing the Best Taco Waffle Recipe
Can I use homemade waffles?
Yes. You can just as easily use homemade waffles as frozen waffles. A round-shaped waffle will work best for this recipe, but if you have a square waffle maker those will work too. Just lightly toast the waffles before assembling them into tacos to get a slightly crispy and sturdier shell.
Which waffles are best for making the shell?
Any brand of frozen waffle will work for this recipe, just make sure it is plain flavored. For this recipe, I used Eggo brand waffles and they tasted delicious. As long as the waffles have no added flavors, such as vanilla or cinnamon they will work. Some of my favorite brands are below:
Van's
Nature's Path
Eggo
365 Organic Homestyle Waffles
Kodiak
How to Make the Perfect Waffle Taco Shape
Let the waffles thaw and carefully bend them over the edge of a rimmed baking sheet. Carefully place the baking sheet in an oven set to BROIL and toast until it begins to brown. Flip the shell over and set it in the middle of the baking sheet to toast the inside.
Can I use a whole grain or gluten-free waffle?
Yes. As long as there is no added flavor any type of frozen waffle will work.
More Delicious Taco Recipes to Try: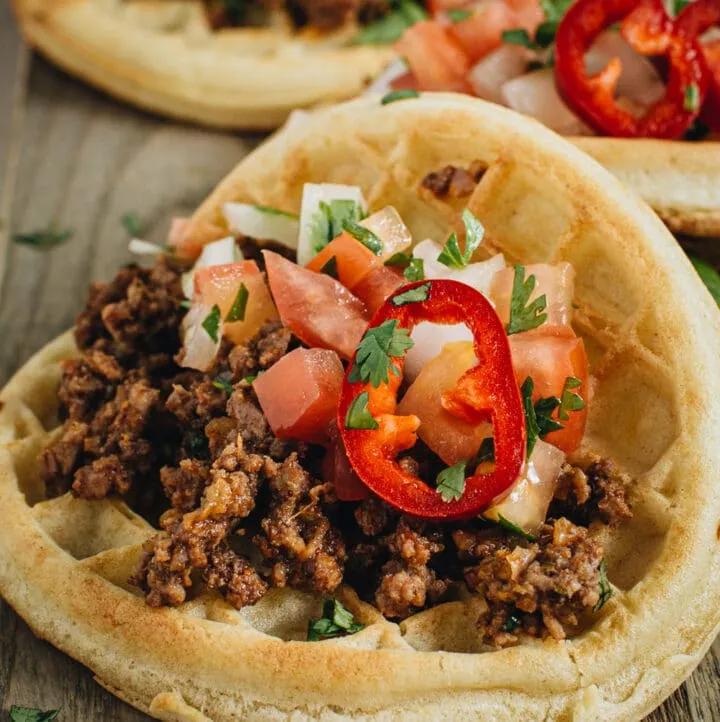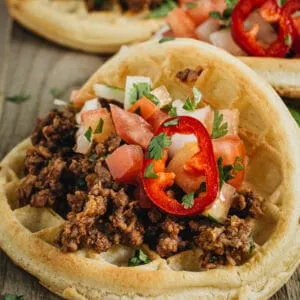 Waffle Taco Recipe
Ground beef tacos with a slightly crispy and slightly soft waffle shell are a whimsical take on a traditional taco. This Waffle Taco Recipe can be made in minutes and one everyone will devour.
Print
Pin
Rate
Ingredients
1

lb

Ground Beef

1/4

cup

Onion

chopped

1

ounce

Package Taco Seasoning

or 2 tablespoons homemade

8

Frozen Waffles

1

Chili Pepper

seeded and sliced (optional)

1/4

cup

Sour Cream

optional
Pico de Gallo
3

Roma Tomatoes

diced

1/2

White Onion

diced

1/4

cup

Cilantro

chopped

2

tablespoons

Fresh Lime Juice

1

tablespoon

Olive Oil

1/2

teaspoon

Salt
Instructions
Place the ground beef in a medium-sized skillet over medium-high heat and break apart with a wooden spatula as it browns. Continue to cook and break apart for about 5 minutes, or until the meat has completely browned. Drain and return to heat.

Add the diced onions to the skillet and cook for an additional 1 minute, then add the taco seasoning. Remove from heat and set aside.
Pico de Gallo
As the meat is cooking prepare the pico de gallo by placing the diced tomatoes, onions, cilantro, lime juice, olive oil, and salt into a medium bowl and stiring to mix evenly.
Taco Assembly
Allow the frozen waffles to come to room temperature or defrost. Set the oven to broil and place the waffles on a baking sheet. Let them brown and flip to the other side. This takes less than a minute so make sure to watch them as they can burn quickly.

Spoon some of the ground beef mixture on top of each of the waffles. Layer with sour cream and pico de gallo. Top with chili pepper if desired.
Nutrition
Serving:
1
taco
|
Calories:
290
kcal
|
Carbohydrates:
19
g
|
Protein:
13
g
|
Fat:
18
g
|
Saturated Fat:
6
g
|
Cholesterol:
53
mg
|
Sodium:
683
mg
|
Potassium:
284
mg
|
Fiber:
2
g
|
Sugar:
3
g
|
Vitamin A:
1191
IU
|
Vitamin C:
15
mg
|
Calcium:
103
mg
|
Iron:
4
mg