Savory melted cheese with sweet leftover cranberry sauce mixed together in this bread appetizer makes the perfect holiday treat. Cranberry Brie Pull-Apart Bread is a decadent option for using up every last bit of the traditional Thanksgiving sauce.
To make a gourmet pull-apart bread version, full of flavor, use this maple bourbon cranberry sauce recipe and this cinnamon roasted pecans recipe.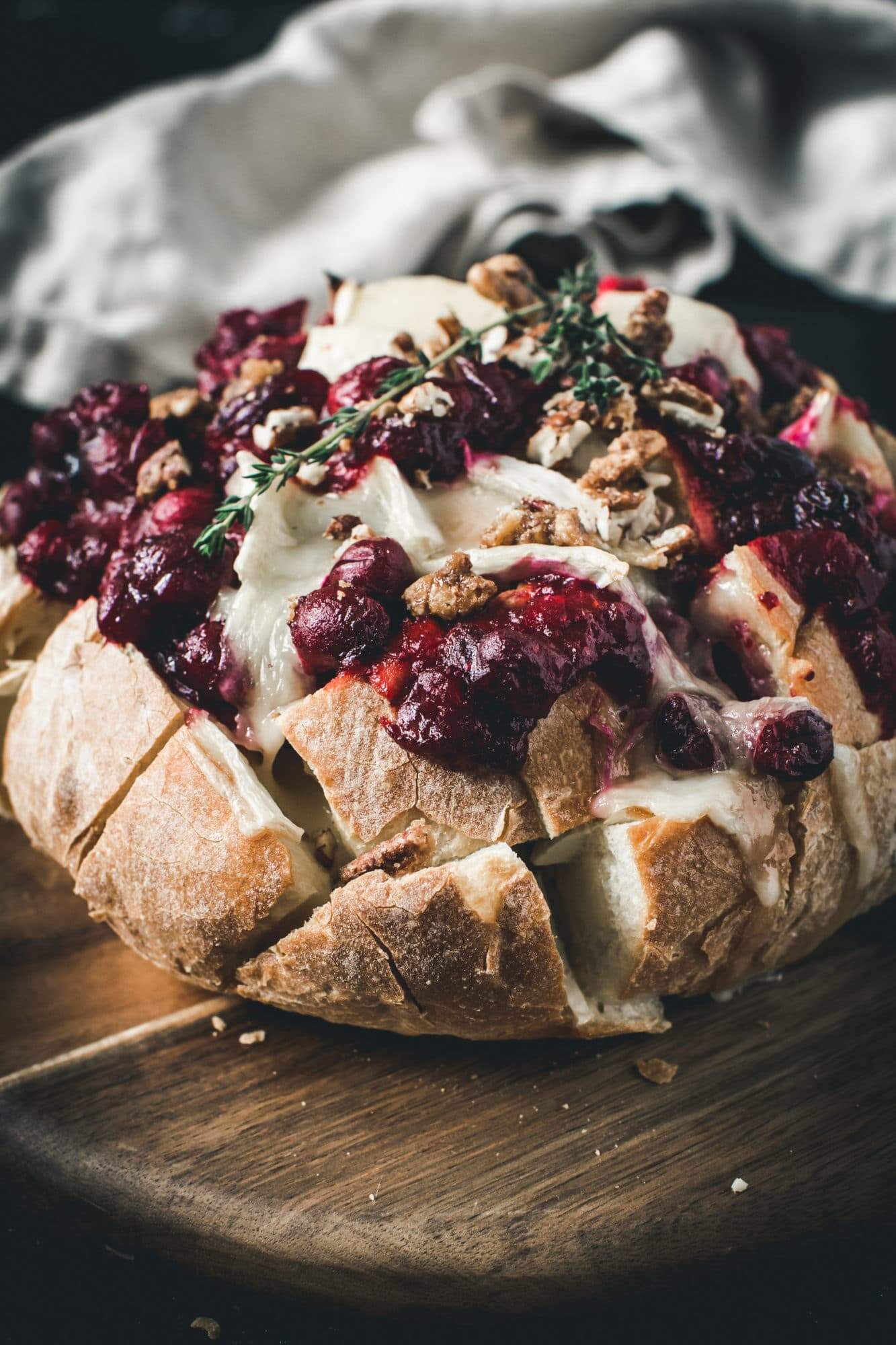 Cranberry Brie Pull-Apart Bread
As slowly wake from a deep slumber I always soak in the morning after Thanksgiving. The hustle to prepare is over and quietness has laid a thick blanket over the day.
Maybe I'll have a cup of coffee for breakfast and perhaps a slice of pumpkin pie. One thing is certain though and that is the day will be filled with delicious leftovers from the day before.
Usually, I shy away from cranberry sauce being slightly timid of the canned gelatinous kind, but this year I tried something different. This year I made my own version of cranberry sauce and opened my eyes to new delicious and fresh flavors.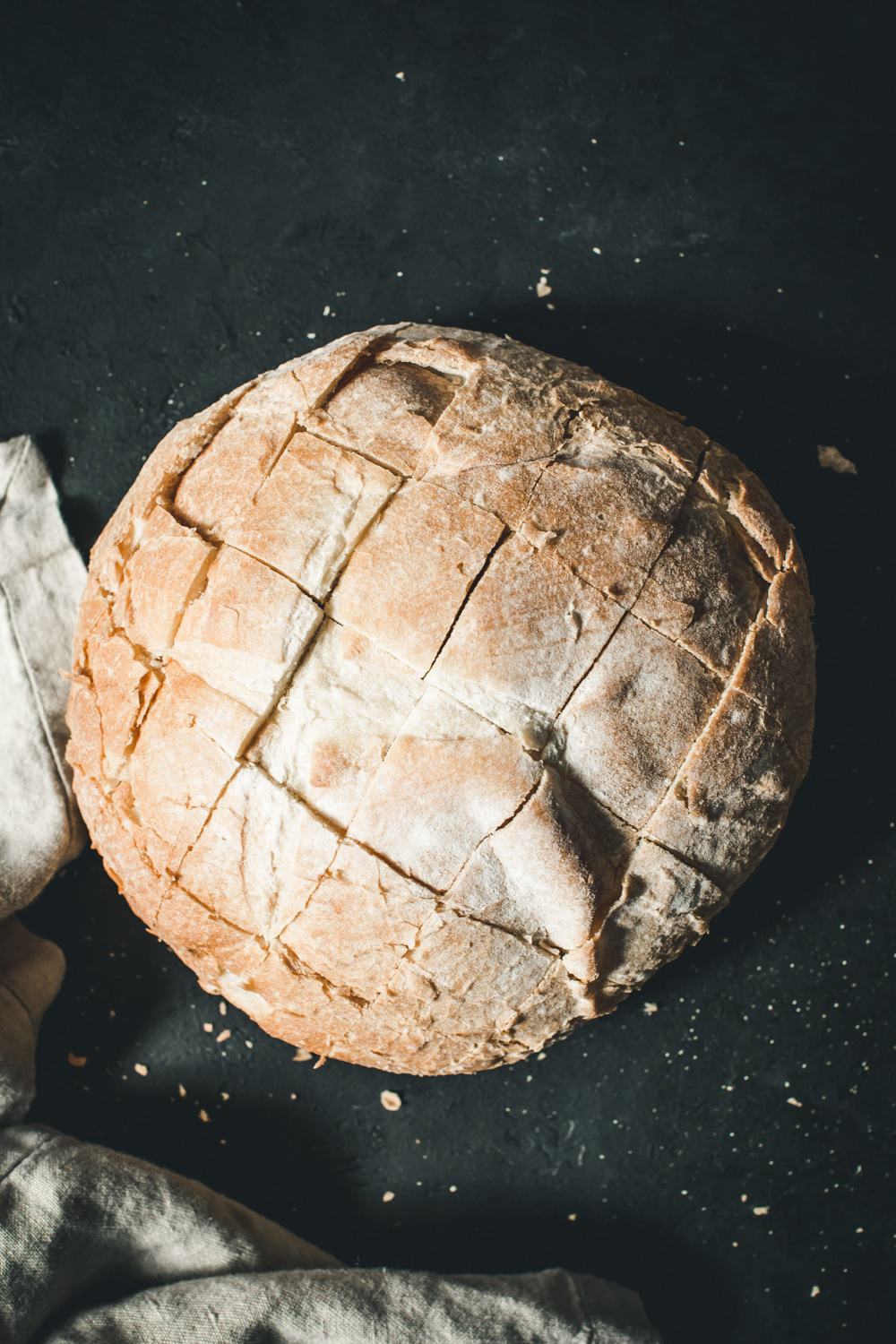 How to Slice the Bread
To slice the bread start cutting at the middle side. Slice almost all the way through but stopping about 1/2 inch from the bottom. Make the next slice 1 1/2 inches over and continue until you reach the edge. Turn the bread and cut diagonally to make a grid.
Which Bread to Use
When choosing a loaf of bread for this recipe choose a larger option. Sourdough bread is the best. A large baguette or French bread loaf will work for this cranberry brie pull-apart bread as well.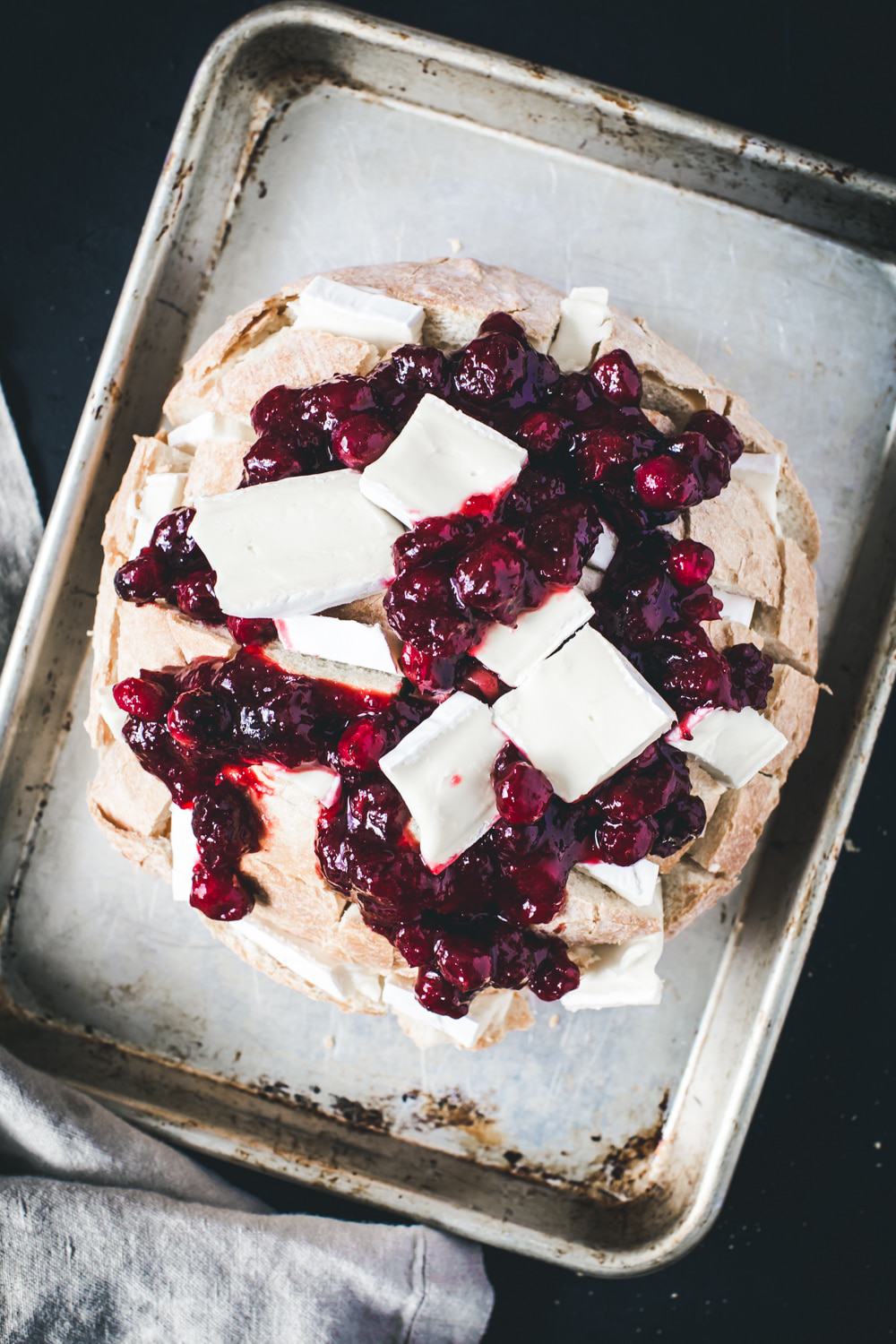 What if I don't Have Leftover Cranberry Sauce?
If all your cranberry sauce was gobbled up on Thanksgiving or you don't have any on hand you can use dried cranberries or make a quick cranberry sauce.
To make a quick sauce combine 2 cups of fresh cranberries in 1 1/2 cups of water. Bring to a boil and cook for 5 minutes. Turn heat to low and simmer for 10 more minutes. Remove from heat and stir in 2 tablespoons sugar and 2 teaspoons vanilla.
Can I use Different Cheese?
Yes. Make sure to choose a cheese that melts well. Some of the best options that complement this recipe are gruyere, fontina, provolone, gouda, and Havarti.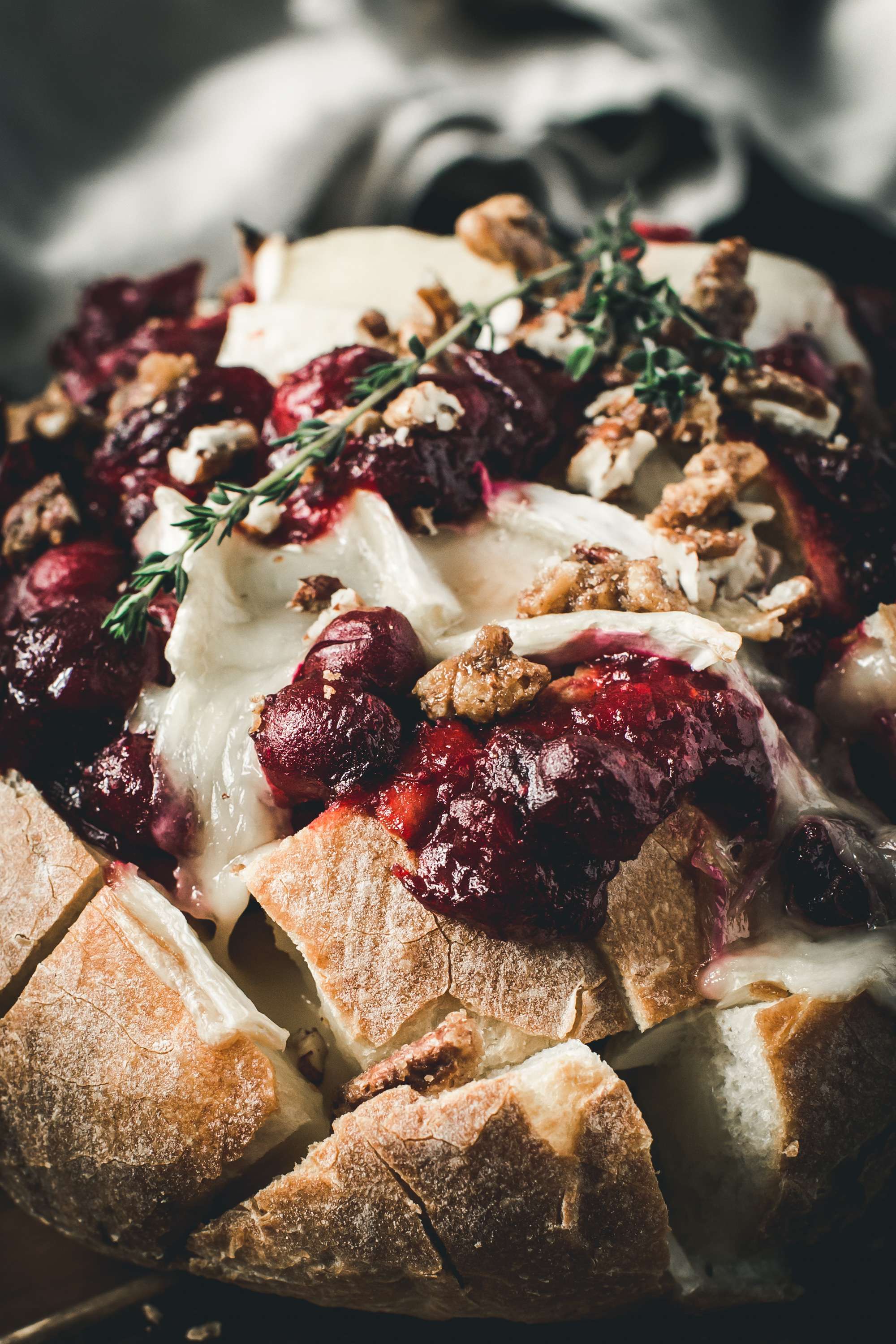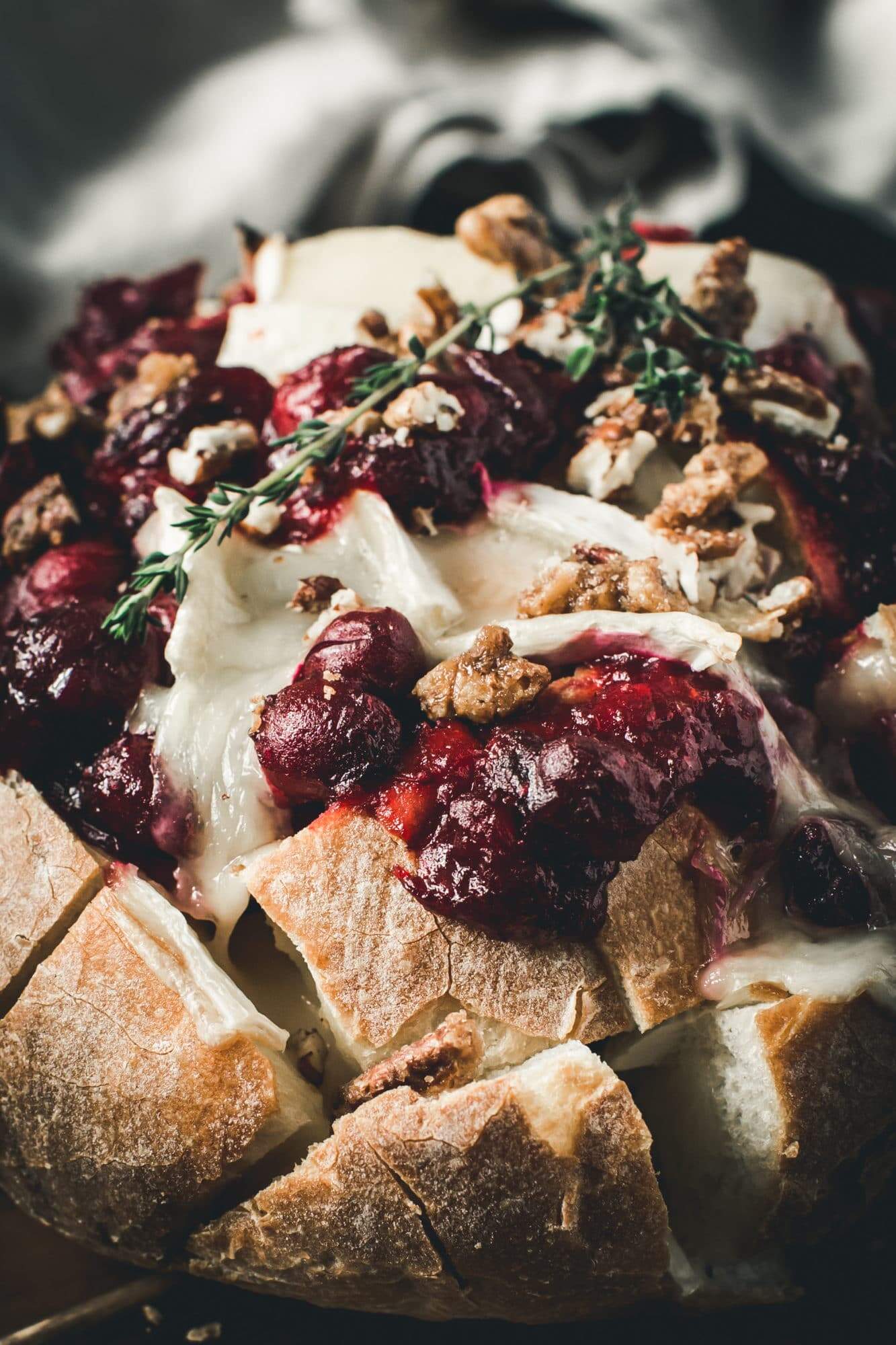 PRO Tips for Making Pull-Apart Bread for a Party
This cranberry brie pull-apart bread can easily be prepared ahead of guests' arrival using these simple tips.
If making this bread for a party you can easily set it up before and store it in the fridge if wrapped tightly. Add 5 minutes to the bake time.
When making the bread ahead of time, used softened butter instead of melted and spread it between the cracks with a knife.
This bread can also be baked in advance and reheated in the microwave.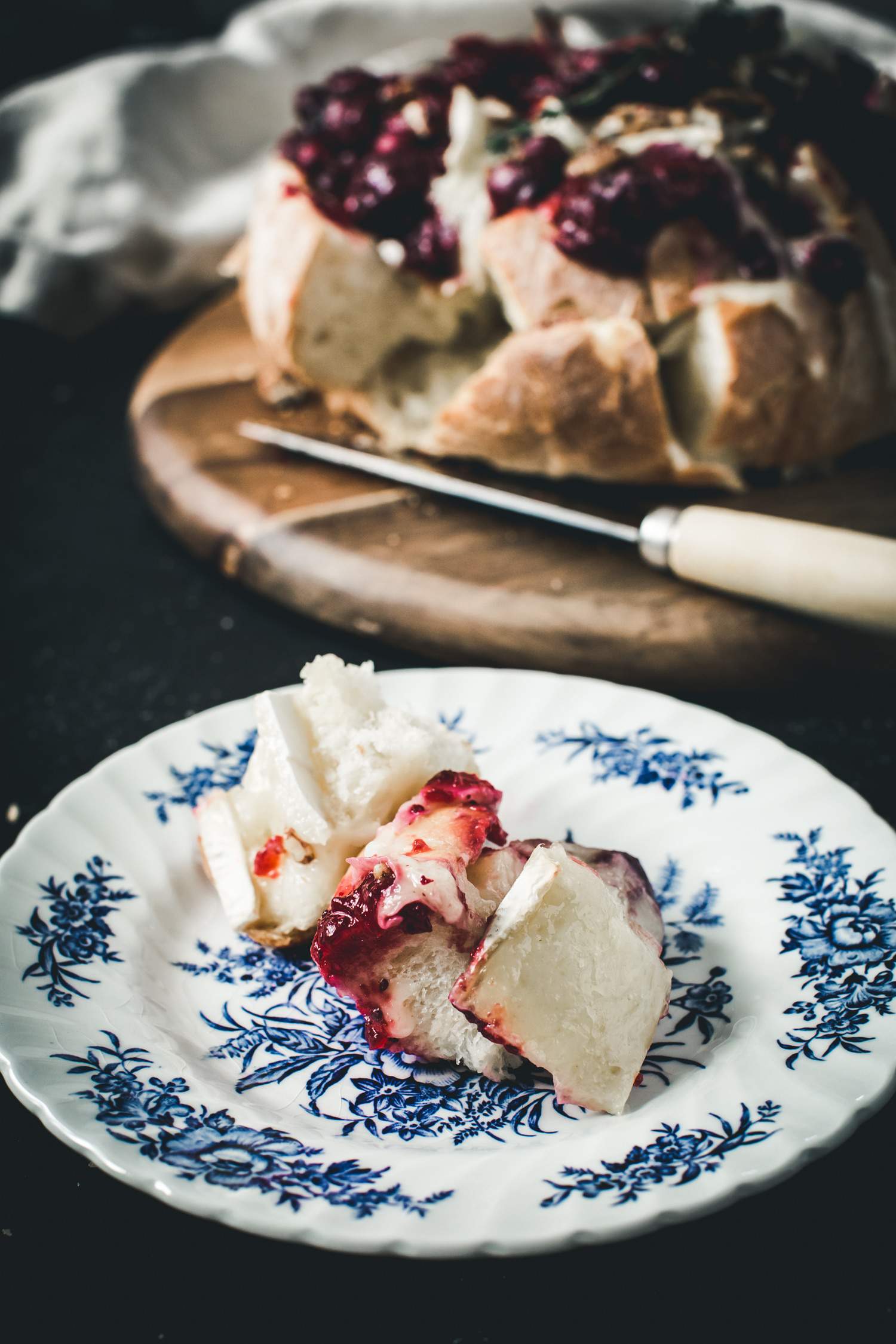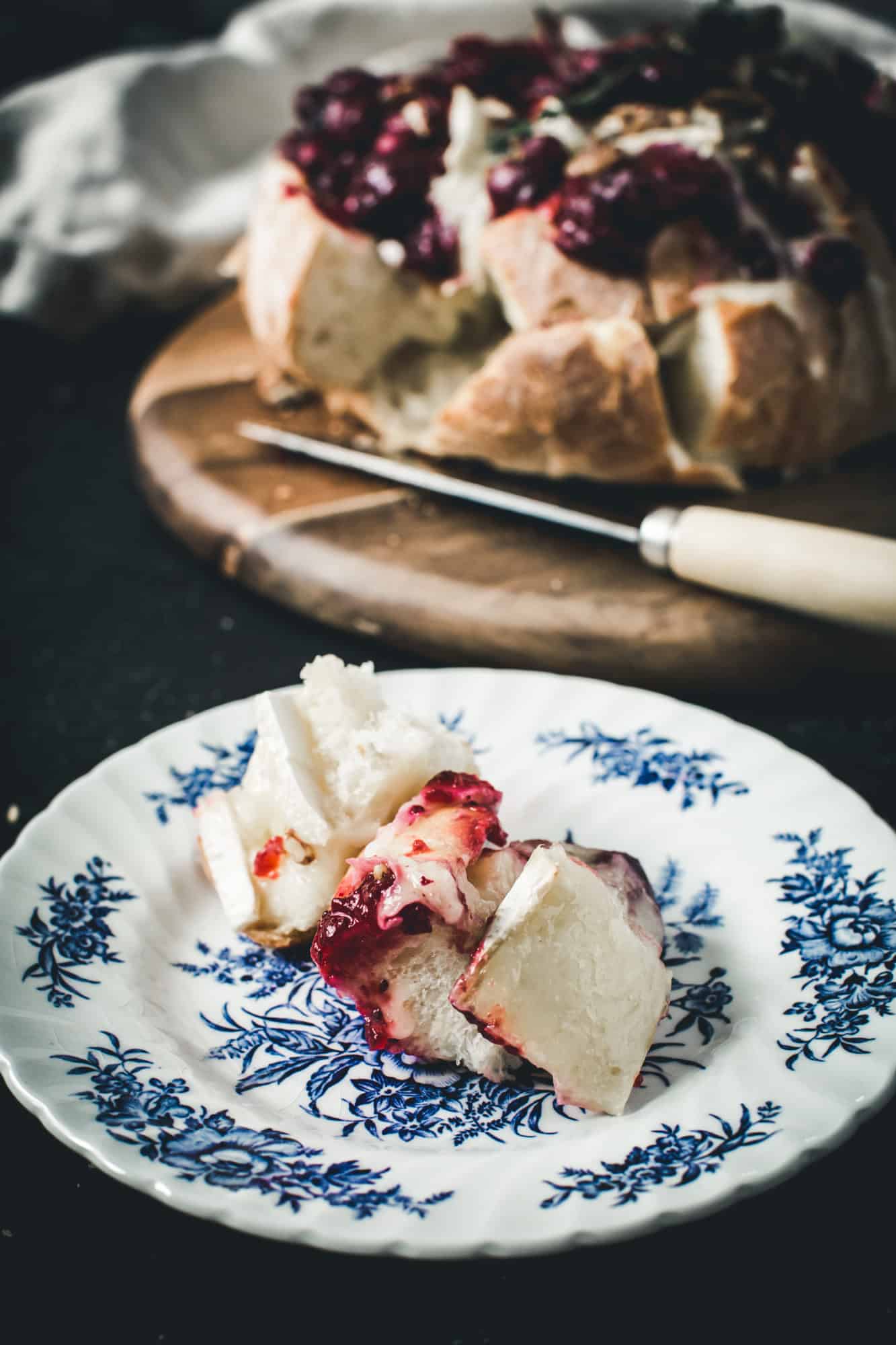 Other Ideas of What to Do with Leftover Cranberry Sauce
Yogurt Parfait with Cranberry Sauce
Use as a sauce for cooking chicken or beef
Make turkey and cranberry sauce sandwiches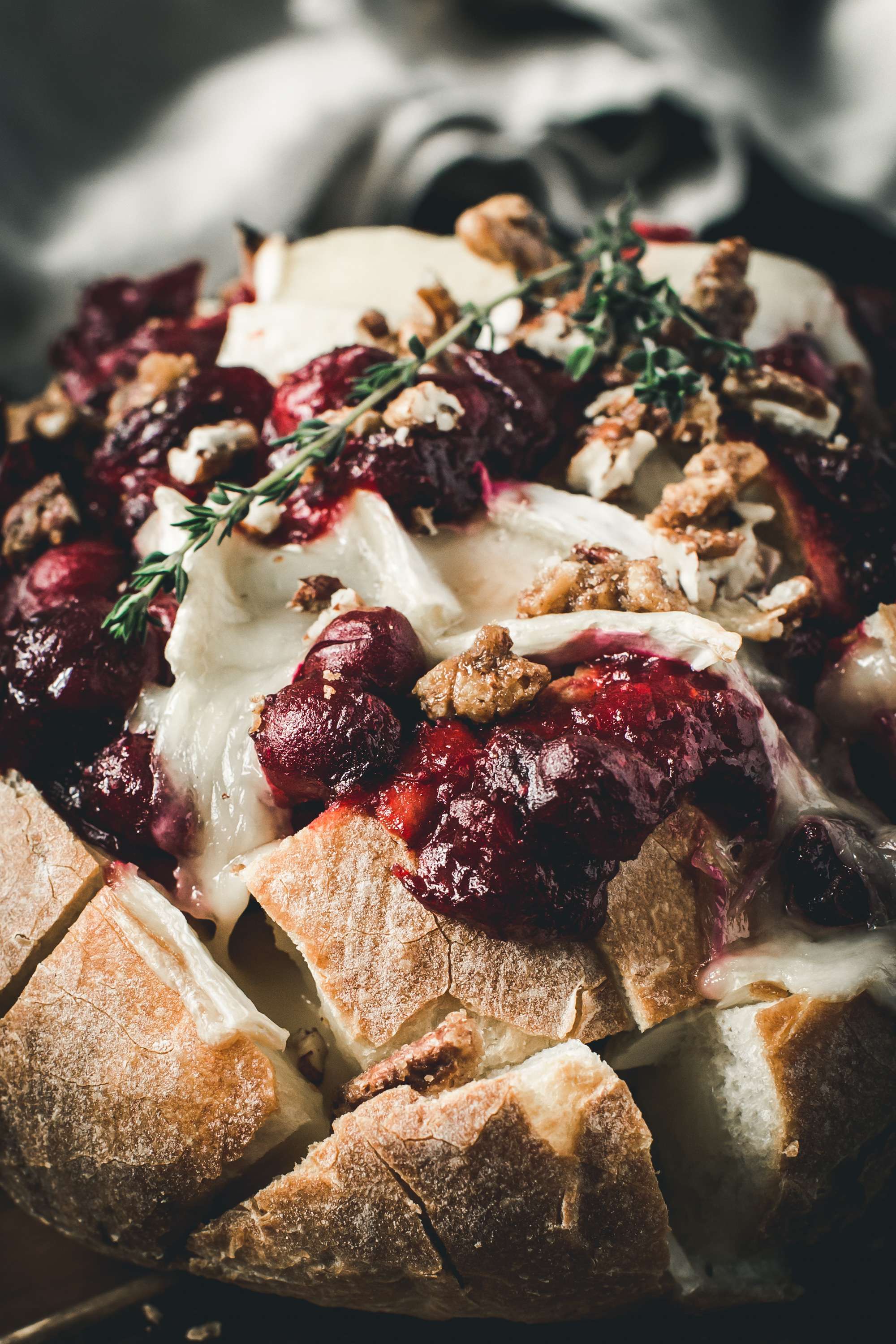 Ingredients
1

Round Loaf Sourdough Bread

1/4

cup

Butter

melted

16

ounces

Brie Cheese

1½

cup

Cranberry Sauce

2

tablespoons

Butter

melted

3

tablespoons

Brown Sugar

1/4

cup

Chopped Pecans
Instructions
Preheat the oven to 350℉.

Slice the bread horizontally almost to the bottom, but not all the way, and then vertically creating a grid. Place on a rimmed baking sheet. Use a spoon to drizzle the melted butter between all the cut pieces.

Slice the brie into small squares or pieces and wedge in between the cut bread slices, top with cranberry sauce or dried cranberries. Add more cheese to the top of the cranberry sauce to create layers of cheese.

In a small bowl combine the melted butter, brown sugar and chopped pecans. Sprinkle on top of the bread.

Bake for 15 to 20 minutes or until the brie begins to melt.
Nutrition
Serving:
2
pieces
|
Calories:
244
kcal
|
Carbohydrates:
26
g
|
Protein:
8
g
|
Fat:
12
g
|
Saturated Fat:
7
g
|
Cholesterol:
35
mg
|
Sodium:
329
mg
|
Potassium:
85
mg
|
Fiber:
1
g
|
Sugar:
12
g
|
Vitamin A:
277
IU
|
Vitamin C:
1
mg
|
Calcium:
62
mg
|
Iron:
1
mg