Maple Bourbon Cranberry Sauce is maple syrup sweetened cranberries simmered into a jam with a musky bourbon flavor. This decadent sauce is perfect to serve over roasted turkey, chicken, or pork and great for Thanksgiving.
Some of my other favorite Thanksgiving dishes include these brown butter mashed potatoes and these southern green beans.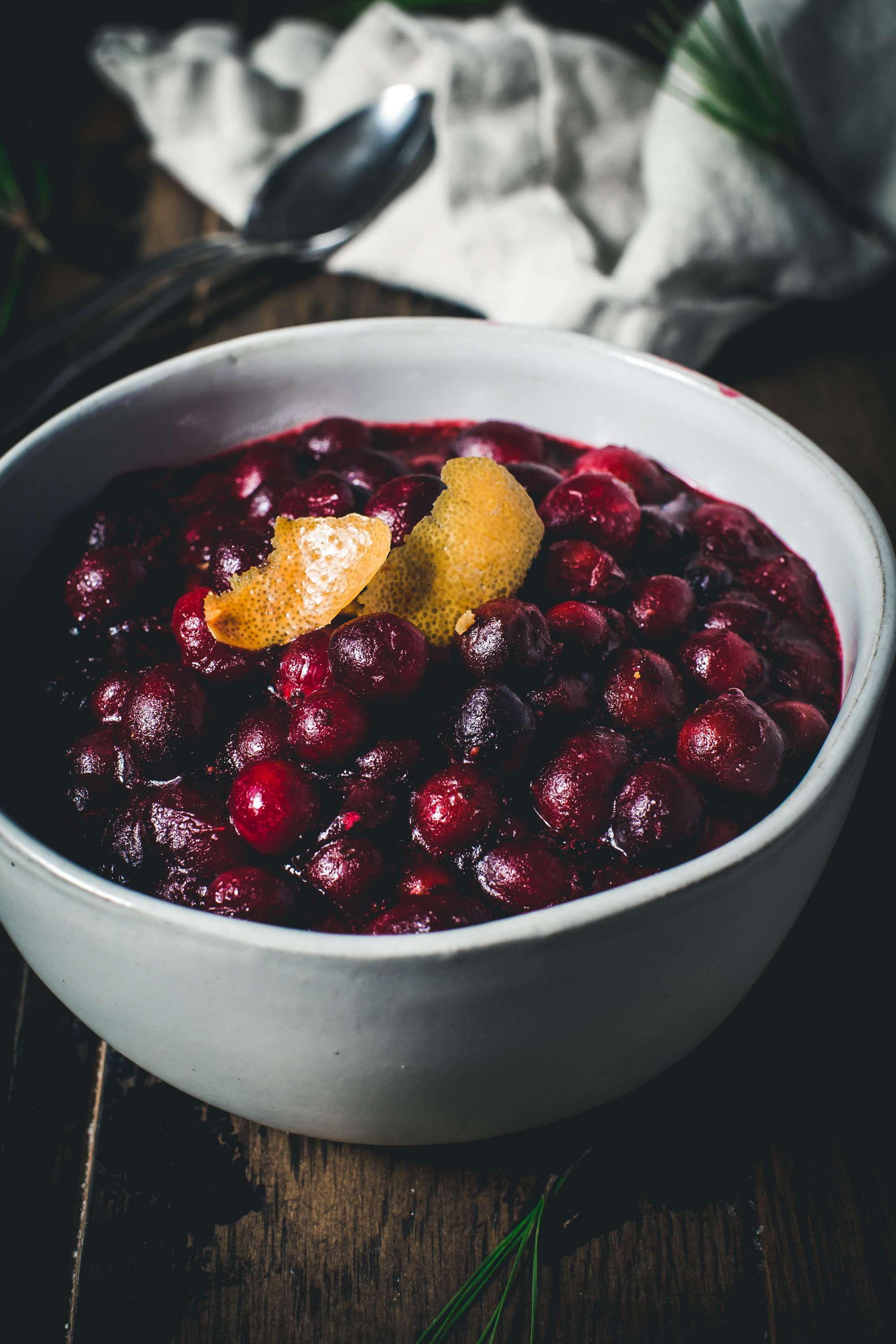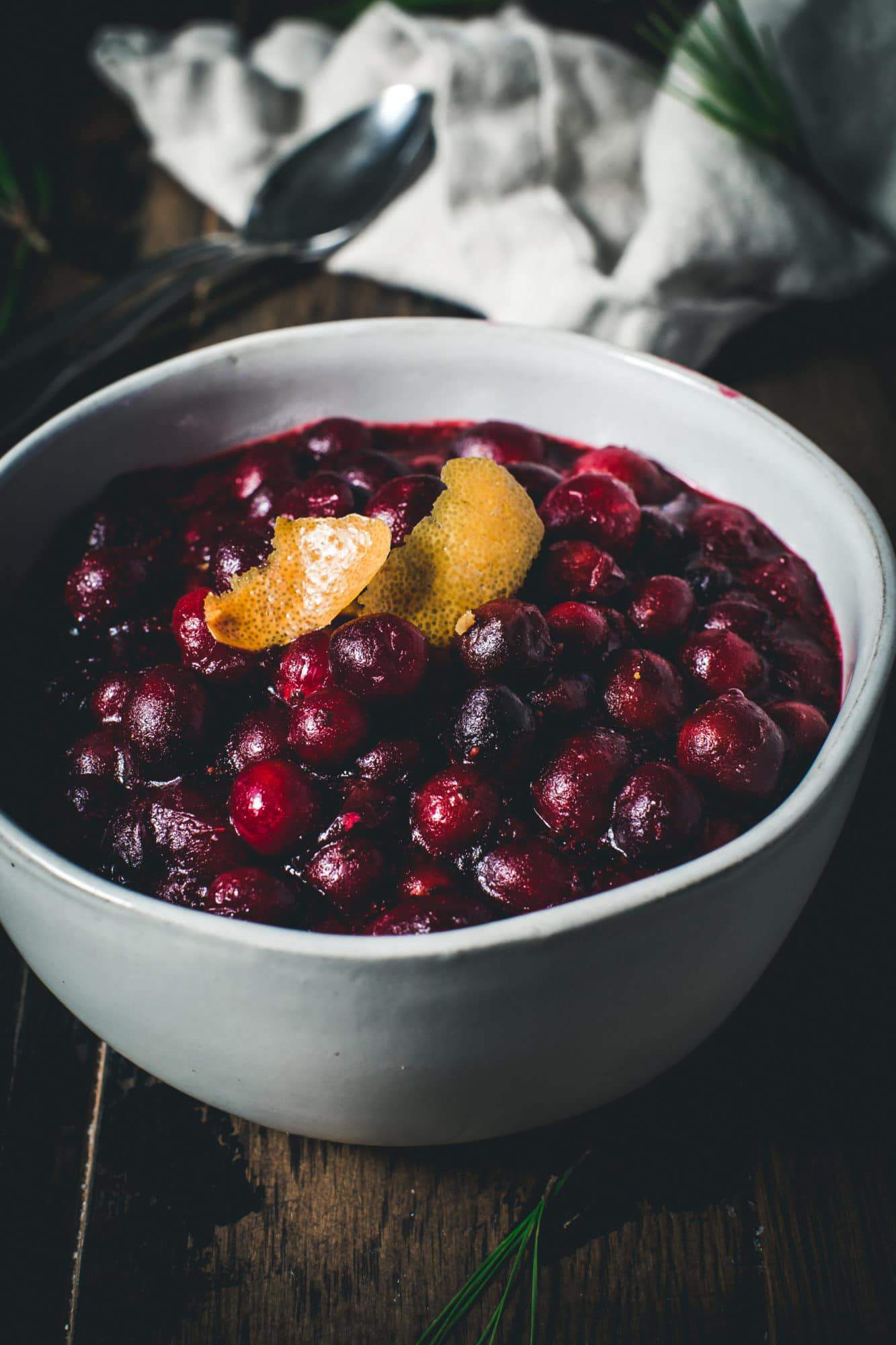 Maple Bourbon Cranberry Sauce
Cranberry sauce can easily get overlooked during the holidays especially with family members who love the distinct taste of the canned version. However, preparing this side dish sauce is simple. Below are several delicious suggestions for the leftover sauce. I suggest making a large batch to ensure leftovers are around.
This Maple Bourbon Cranberry Sauce boasts a musky barrel-aged flavor from the bourbon. The taste, however, is sweet with the maple syrup and cinnamon sugar mixed in.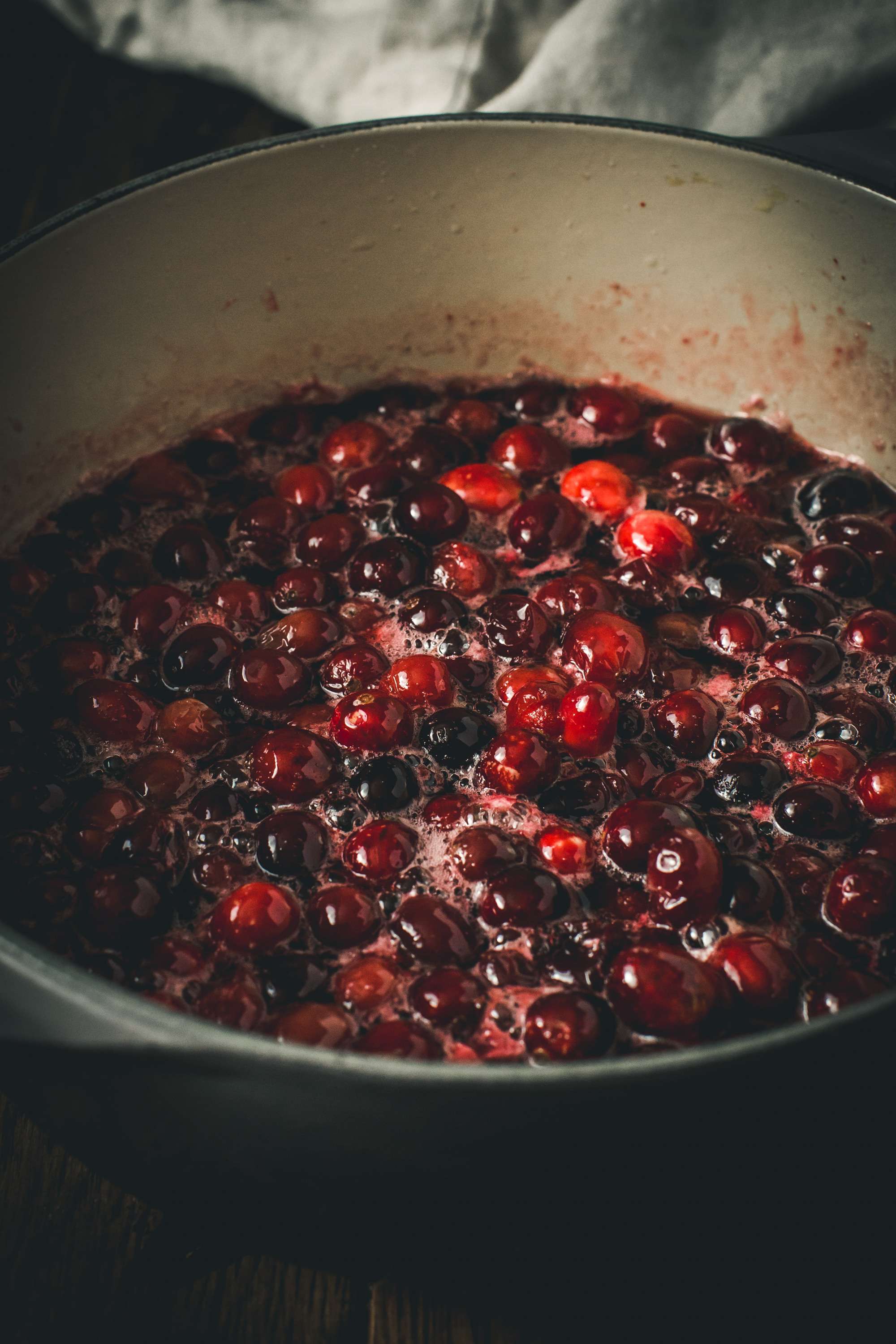 How to Make Maple Bourbon Cranberry Sauce
Some infamous Thanksgiving recipes can seem daunting, however, cranberry sauce is not one of them to be afraid. Making a delicious homemade sauce far superior to the canned version is easy. Follow the guidelines below.
Boil: Bring the water and sugar to a boil for 1 minute, until sugar dissolves. Add 3/4 of the cranberries and maple syrup and cook 1 minute more.
Simmer: Reduce the heat to a simmer and continue to cook for 10 minutes. Let the cranberries burst.
Blend: Use an immersion blender or traditional stand blender to blend about half of the cranberries into a sauce. Making sure to leave some berries whole. Add the remaining berries and simmer for 5 more minutes.
Stir: Remove the sauce from the heat and stir in the salt, cinnamon, vanilla, and bourbon.
PRO TIP: To make a traditional cranberry sauce add all of the cranberries initially. Then blend the entire sauce mixture so no berries remain intact.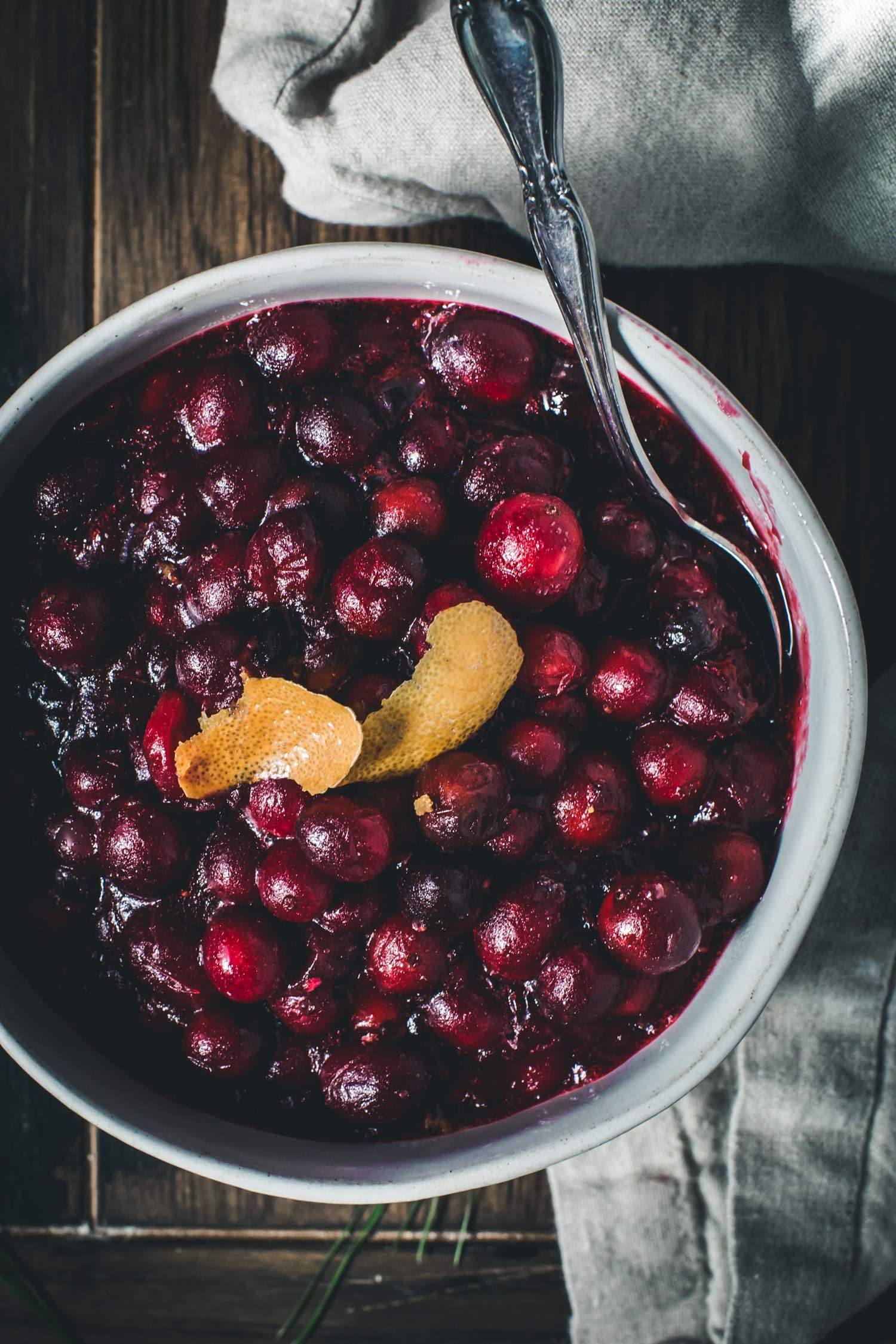 PRO TIP: For a thicker sauce let the mixture continue to simmer until it reaches a thicker consistency.
PRO TIP: For a stronger bourbon taste, just add more!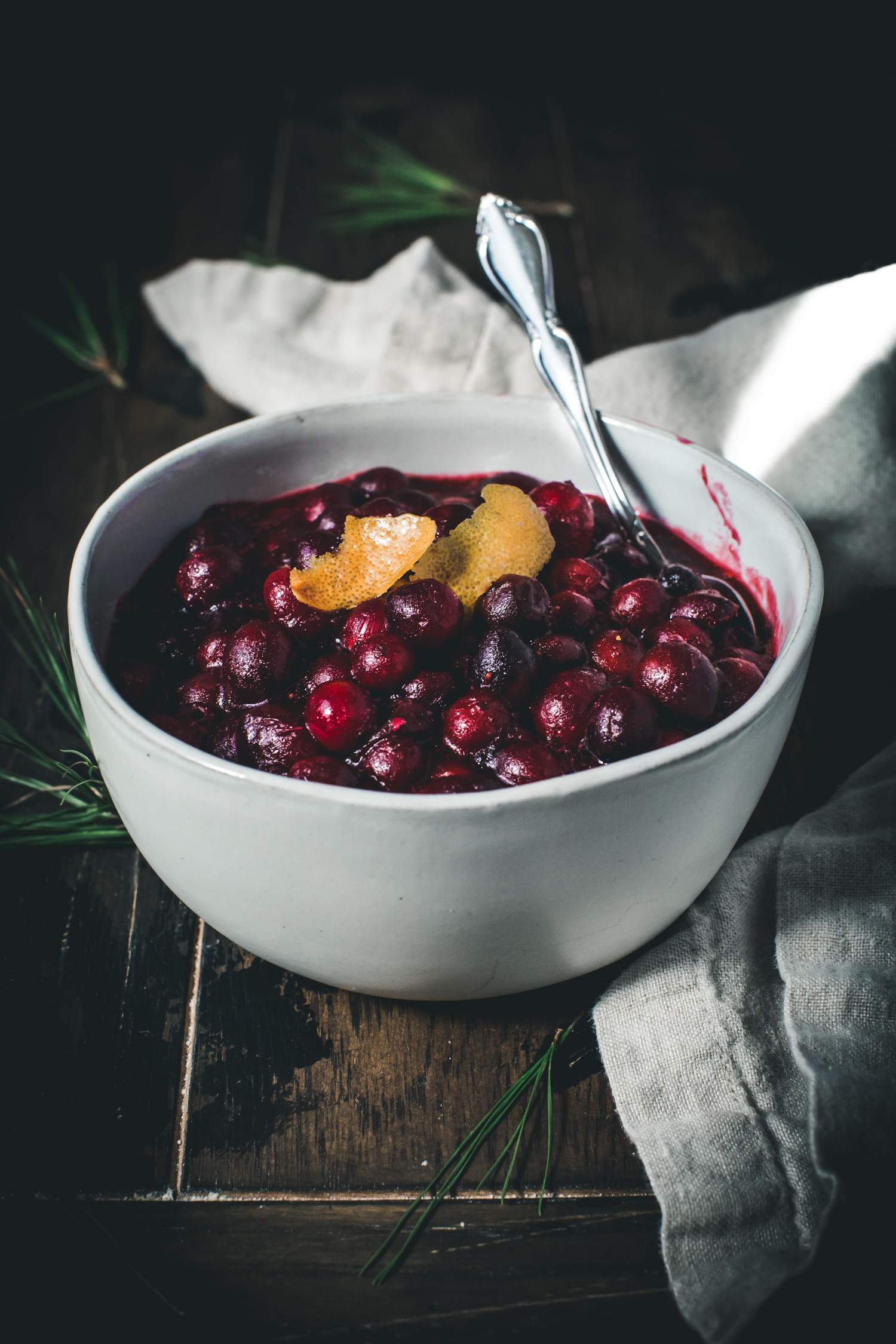 What to do with Leftover Cranberry Sauce
Enjoying the Thanksgiving leftovers the next day when all is calm and everyone has gone home is delightful. The food majestically tastes better the next day, especially if you change up the meal slightly.
Turkey and Cranberry Sauce Sandwiches: this classic sandwich has become almost as famous as the turkey itself. No explanation needed, just load up all your favorites from the day before between two slices of bread.
Cranberry Meatballs: This show-stopping appetizer is delicious and one your guests will love, even the ones who don't favor cranberry sauce.
Cranberry Brie Pull-Apart Bread: make some simple appetizers with the leftover cranberry sauce. Use this cranberry brie pull-apart bread recipe and then you'll have plenty of room for pie.
Yogurt Parfaits with Cranberry Sauce: if you're craving something slightly healthier make a parfait. Use vanilla yogurt, leftover cranberry sauce, and top with some cinnamon roasted pecans.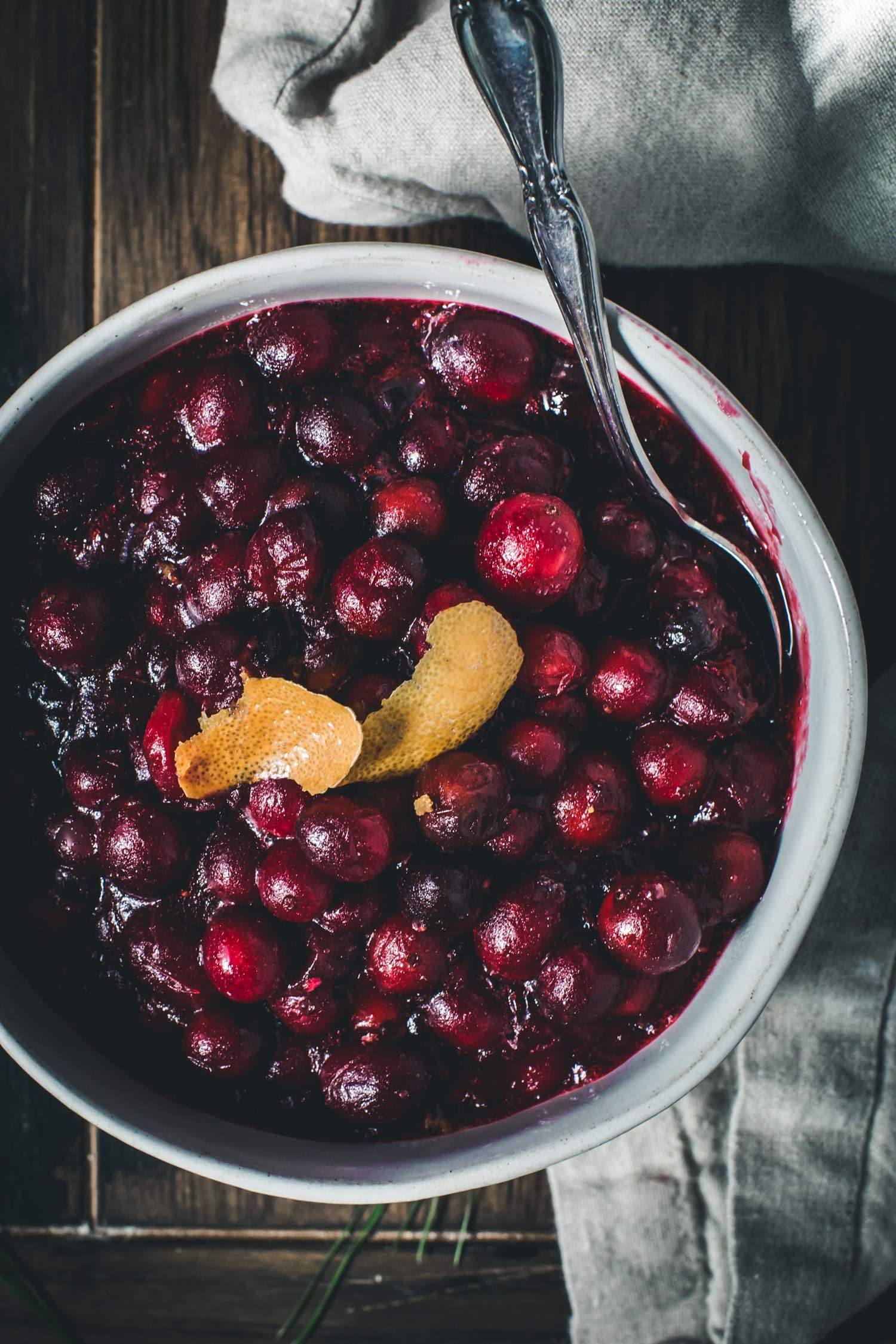 Ingredients
3/4

cup

Sugar

1

cup

Water

1/4

cup

Maple Syrup

24

ounces

Fresh Cranberries

1/8

teaspoon

Salt

1/4

teaspoon

Cinnamon

1/2

teaspoon

Vanilla Extract

3

tablespoons

Bourbon
Instructions
Place the water and sugar in a large pot over medium heat and bring to a boil.

Add the maple syrup and 3/4 of the cranberries to the pot and boil for 1 minute, then reduce heat to a simmer and continue cooking for 10 minutes, or until the cranberries begin to burst.

Using an immersion blender or a stand blender, blend some of the cranberry sauce but leave some berries remaining. Add the last of the cranberries (as well as the blended cranberries if using a blender) to the pot and let simmer for 5 more minutes.

Remove from heat and stir in the salt, cinnamon, vanilla, and bourbon. Let the sauce sit until cooled to room temperature before serving or storing.
Notes
For a more traditional cranberry sauce without whole cranberries included in the sauce add all of the cranberries to the boiling water.
Nutrition
Serving:
0.5
cup
|
Calories:
122
kcal
|
Carbohydrates:
29
g
|
Protein:
1
g
|
Fat:
1
g
|
Saturated Fat:
1
g
|
Sodium:
33
mg
|
Potassium:
76
mg
|
Fiber:
3
g
|
Sugar:
23
g
|
Vitamin A:
41
IU
|
Vitamin C:
9
mg
|
Calcium:
14
mg
|
Iron:
1
mg