You can easily bake the best Sweet Irish Soda Bread in 6 simple steps, using ingredients you probably already have in your pantry. This slightly sweet dense bread with its crispy outer crust is best served warm with melted butter. This soda bread is not exactly like the traditional version it has its own unique and decadent taste.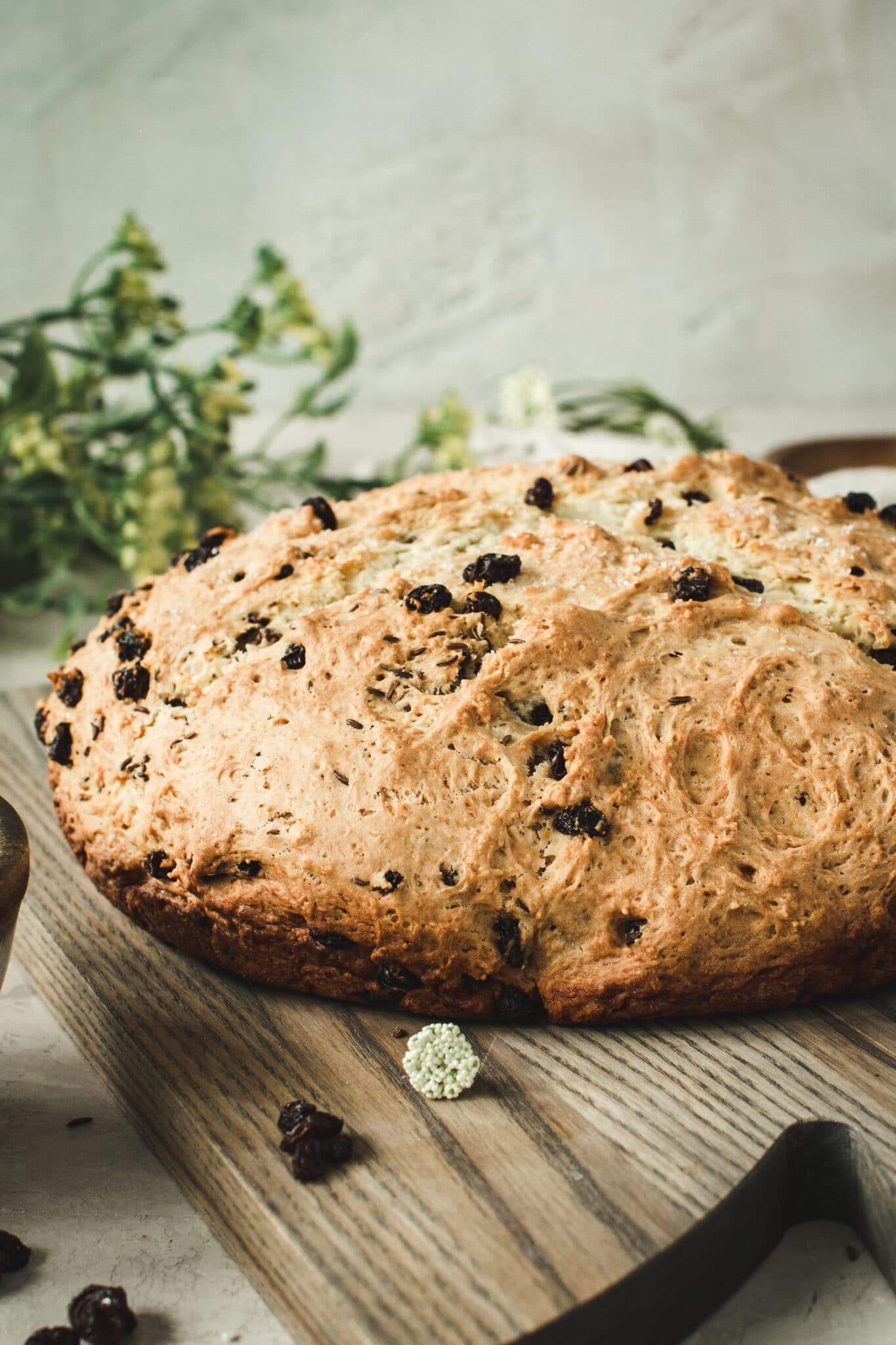 Best Irish Soda Bread Recipe
My first attempt at preparing Irish Soda Bread was laced with nerves because I'd never made any kind of bread and found all types of bread-making at the time intimidating.
The ingredients seemed simple though. There was no waiting outside of the bake time and certainly no yeast.
This initial baking took place around St. Patrick's Day and was inspired by the bread served at one of my favorite restaurants. Tucked away in a small carriage house in Hoboken, NJ is Court Street.
Though the restaurant isn't Irish, neither is the Irish Soda Bread they once served. This bread was also sweet and one I knew I'd have to recreate later.
After pulling that first steaming loaf from the oven and tasting the still warm slice, I knew this would be a recipe I'd repeat. This Sweet Irish Soda Bread, though it's not exactly a traditional version is one of my favorites. The preparation is simple and you're rewarded with a delicious loaf of sweet bread.
What is Irish Soda Bread?
This recipe is an Americanized version of classic Irish bread. The traditional bread only requires flour, baking soda, salt, and buttermilk. It was first cited as a recipe in 1836 in Farmer's Magazine out of London.
It's said to have been an inexpensive bread to bake during times of poverty in Ireland. Baking it also didn't require a stove. You only needed a cast-iron skillet or oven placed over a fire.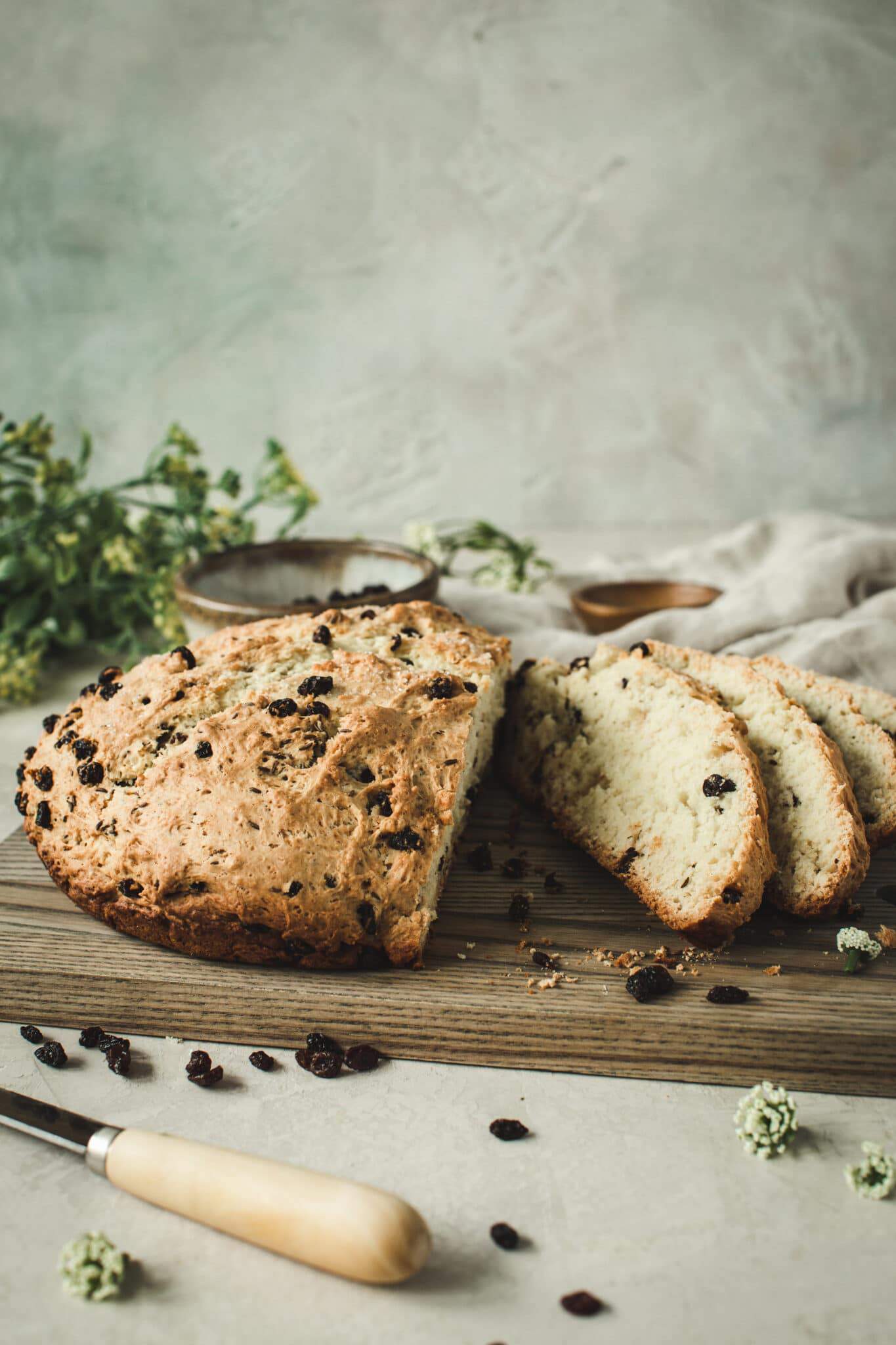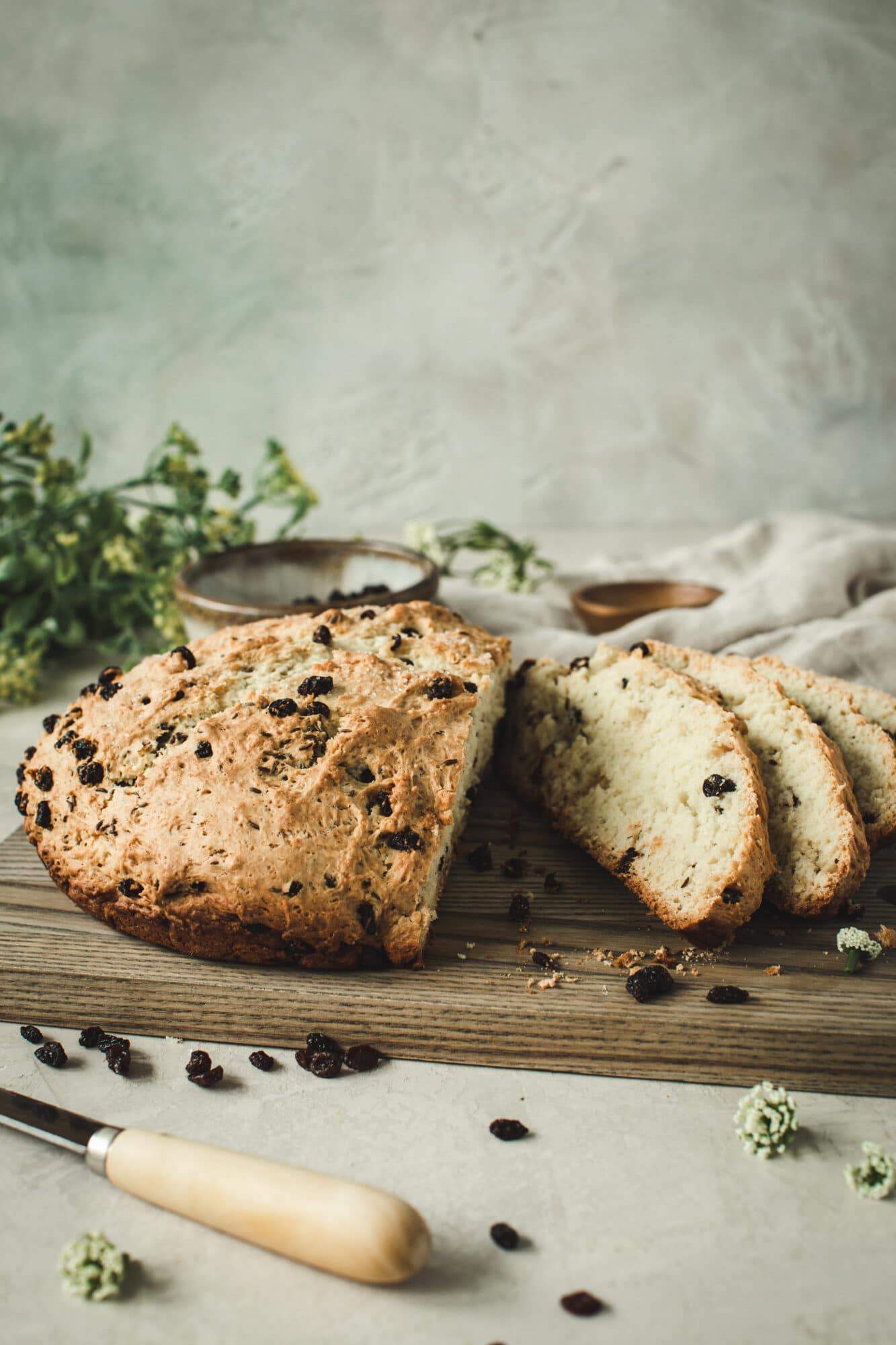 What Do You Put in Irish Soda Bread?
These basic bread recipes require only the most simple ingredients. For additional texture and flavor you can add dried fruits, chocolate morsels, and caraway seeds, however, these ingredients are optional.
The essential ingredients are listed below and are ones you likely have in your pantry or refrigerator already. If you don't I buttermilk, I've got an easy solution detailed below.
Flour
Sugar
Baking Powder
Baking Soda
Salt
Butter
Buttermilk
Egg
Dried Currants, Raisins, or Cranberries (optional)
Caraway Seeds (optional)
The thick dough is formed by mixing these ingredients together and dried fruits such as cranberries, raisins, or currants can be added in before baking.
You can make this sweet Irish soda bread without raisins, currants, or cranberries though. This is very much an American version of a traditional Irish classic.
How to Make Soda Bread in 6 Simple Steps
Preparing this Irish-inspired bread is extremely simple and a delicious treat to serve any time of year. It is also best served around St. Patrick's Day.
Prep: Preheat the oven to 350 degrees and coat an iron skillet in butter.
Mix: Whisk the flour, sugar, salt, baking soda, and baking powder together and form a well in the middle.
Melt: Melt the butter and let cool.
Whisk: Whisk the buttermilk and egg into the cooled butter and then pour into the dry ingredients.
Knead: Knead the dough together with your hands to form a very thick batter. Stir in the currants and caraway seeds.
Bake: Form the dough into a ball and place it in the center of the skillet. Use a sharp knife to slice a cross on the top of the bread. Bake for 1 hour or until it begins to turn a light golden color.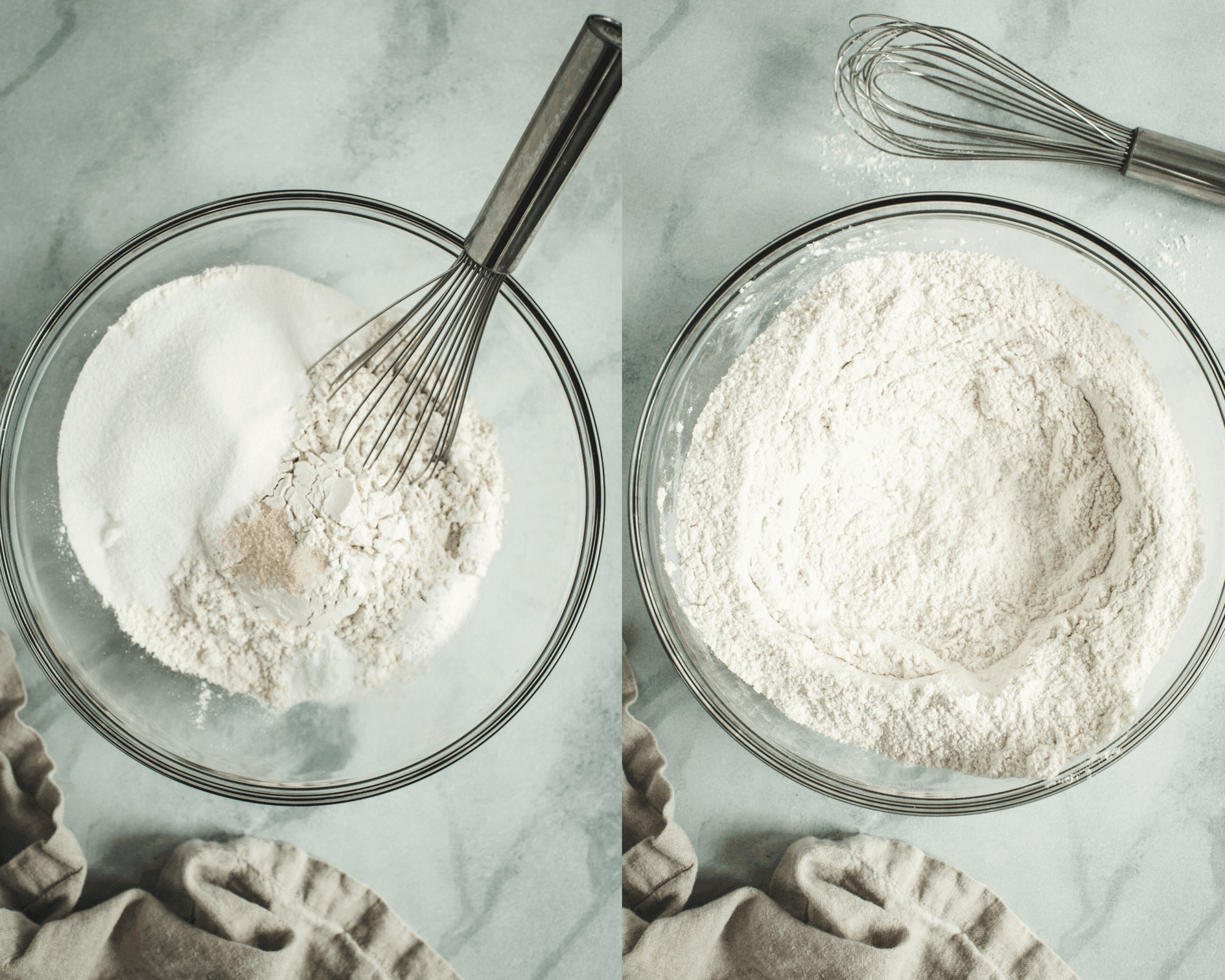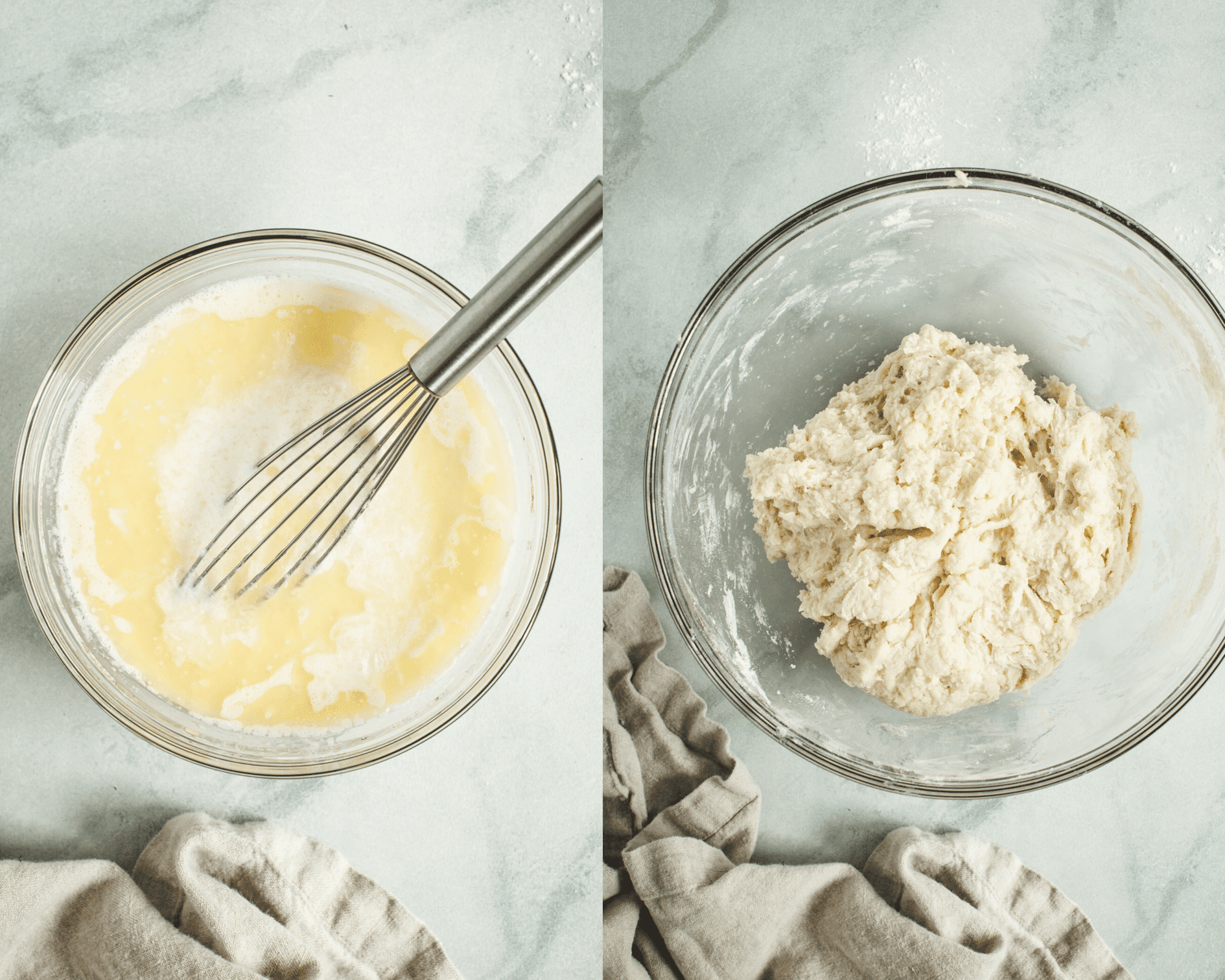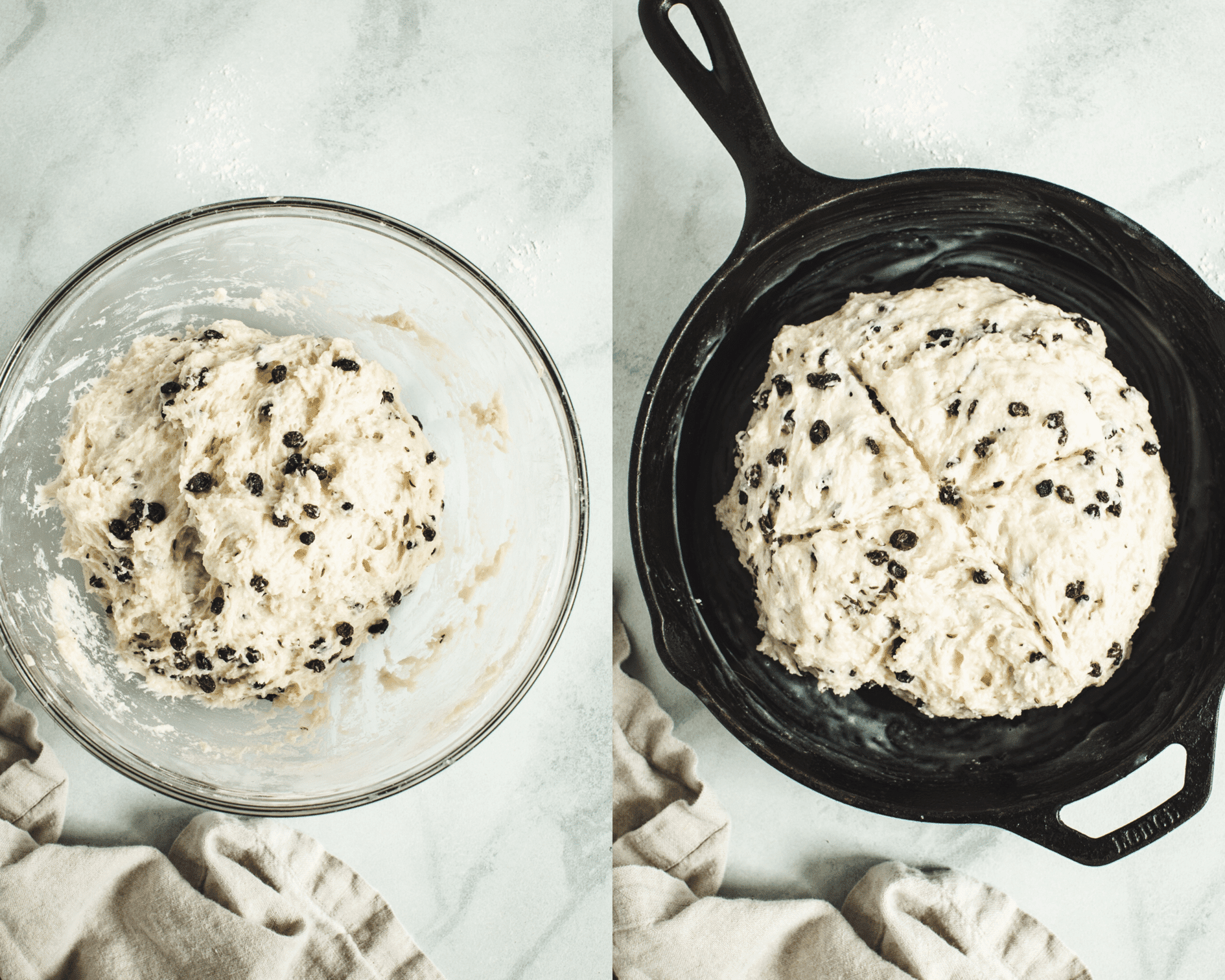 Do You Have to Use an Iron Skillet?
No. You have several different options when baking this bread and in fact, can use a simple greased loaf pan.
The cast-iron skillet will work best, however, a 9″ round cake pan can work almost as well. If you don't have any of these options place a piece of parchment paper on a baking sheet and shape the dough into a ball. Set the dough in the center of the baking sheet before baking.
How to Make Quick Buttermilk
Often I don't want to purchase a full carton of buttermilk when a recipe calls for such a small amount. For this recipe, you will need 1 1/3 cup of buttermilk.
I highly recommend making the actual purchase, but if you don't want to or decide to make the bread and are missing this one ingredient then you can make your own. Whisk 1 cup of milk with 1 tablespoon of lemon juice. Let sit for 1 minute before adding to the recipe.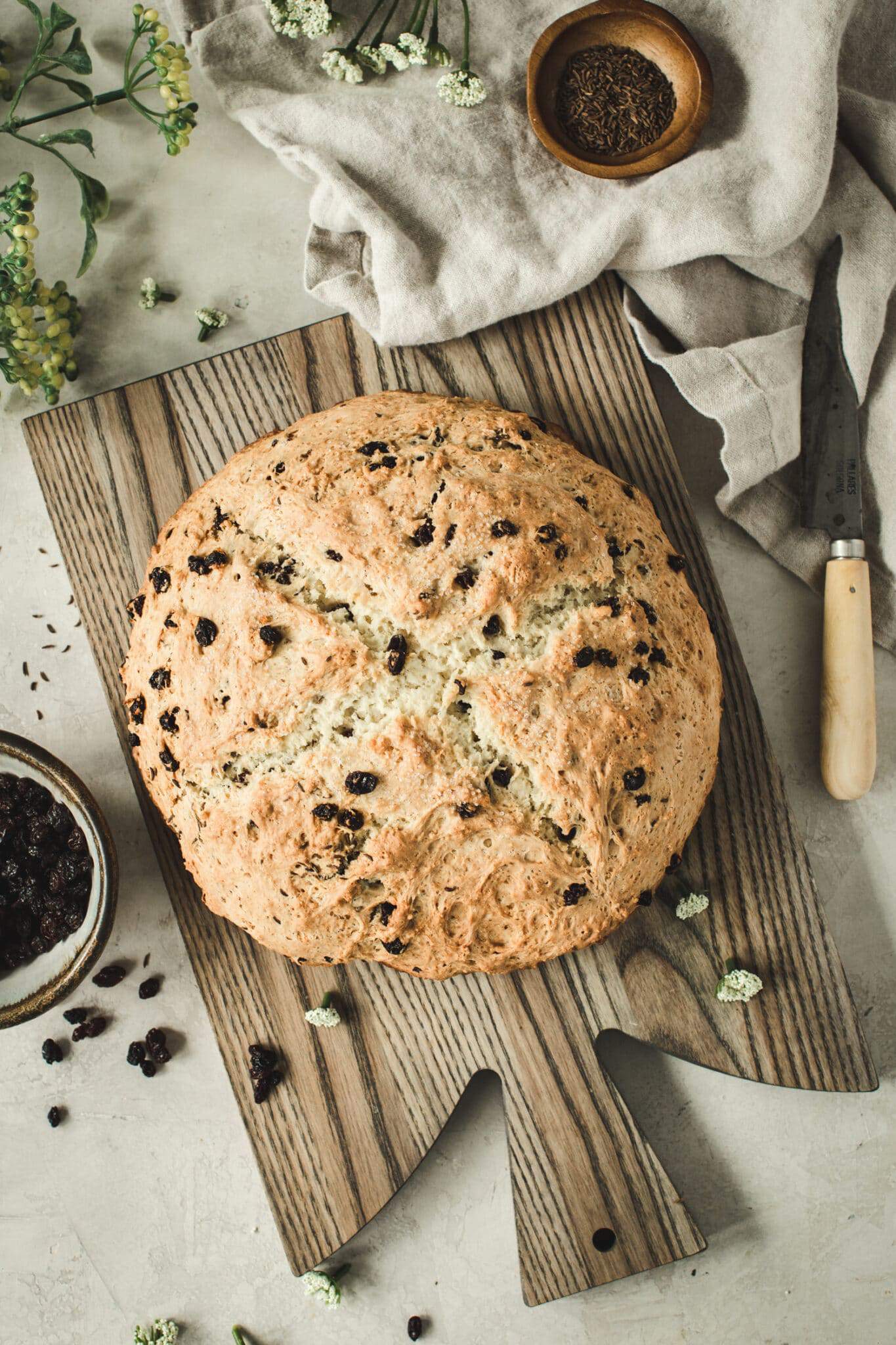 Is Irish Soda Bread really Irish?
Somewhat yet and somewhat no. The American version of Irish Soda Bread is sweet and made often with white flour. However, true bread soda as it's referred to by the Irish is made with whole-meal flour, baking soda, buttermilk, and salt.
It resembles more of standard table bread. Because the bread could be made in cast iron it allowed those who didn't have a stove back in the 1800s, which was most, to prepare it.
Why is there a Cross on Top of the Bread?
It could be interpreted as a blessing or thought to ward off the devil. This simple mark is one of the hallmarks of traditional soda bread making it distinct.
Most likely though, the cross is to help the bread bake evenly and not split in the baking process.
More Sweet Irish Soda Bread Combinations
The currants and caraway seeds in this recipe are purely optional. You can leave them out entirely and the bread will still be sweet or you could try one of the delicious bread combinations below.
Dried Cherries + White Chocolate Chips
Chocolate Chips + Coconut Flakes
Pistachios + Vanilla Icing Glaze
White Chocolate Chips + Macadamia Nuts
Toffee + Chocolate Chips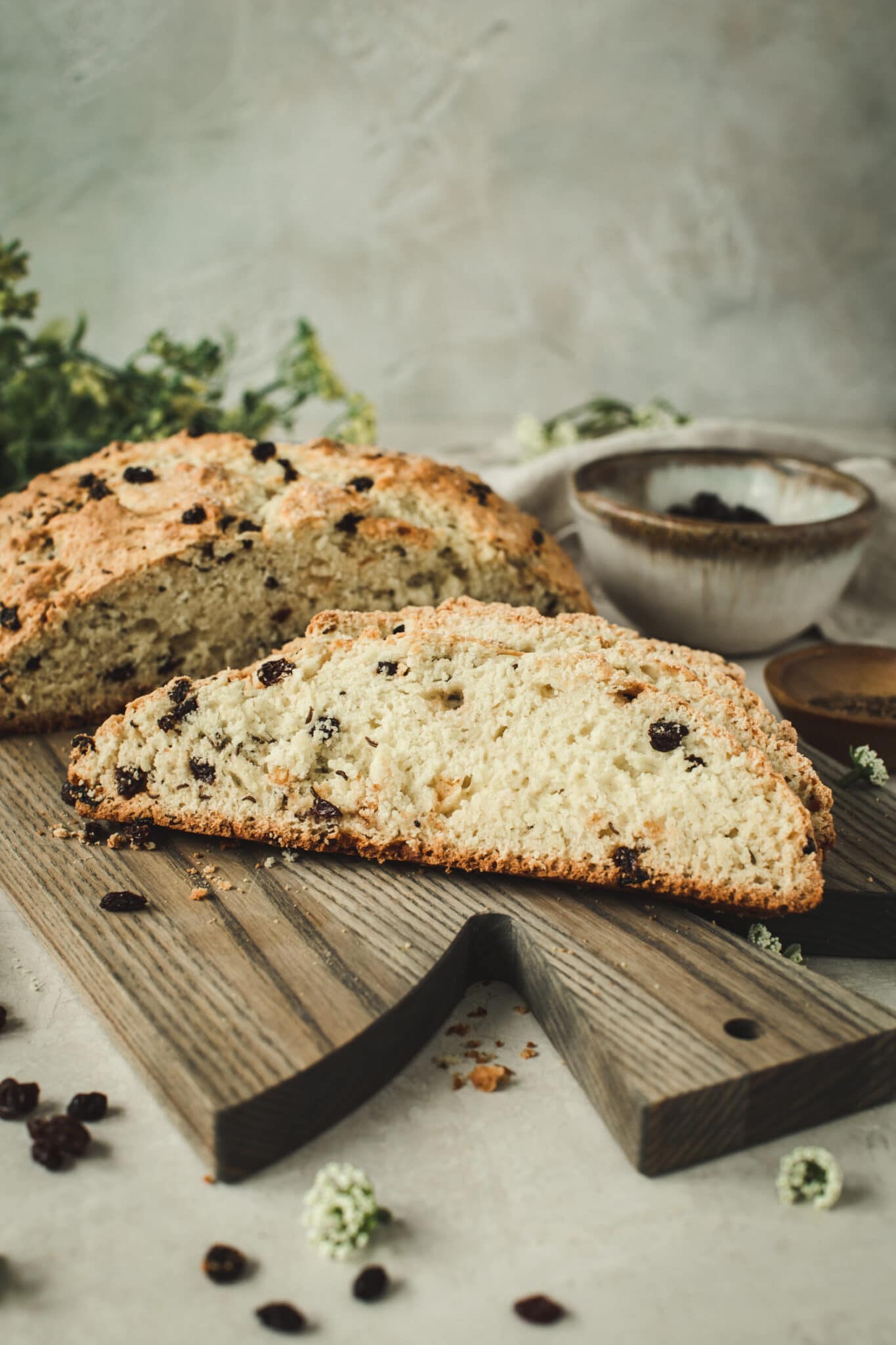 Other Decadent Irish Recipes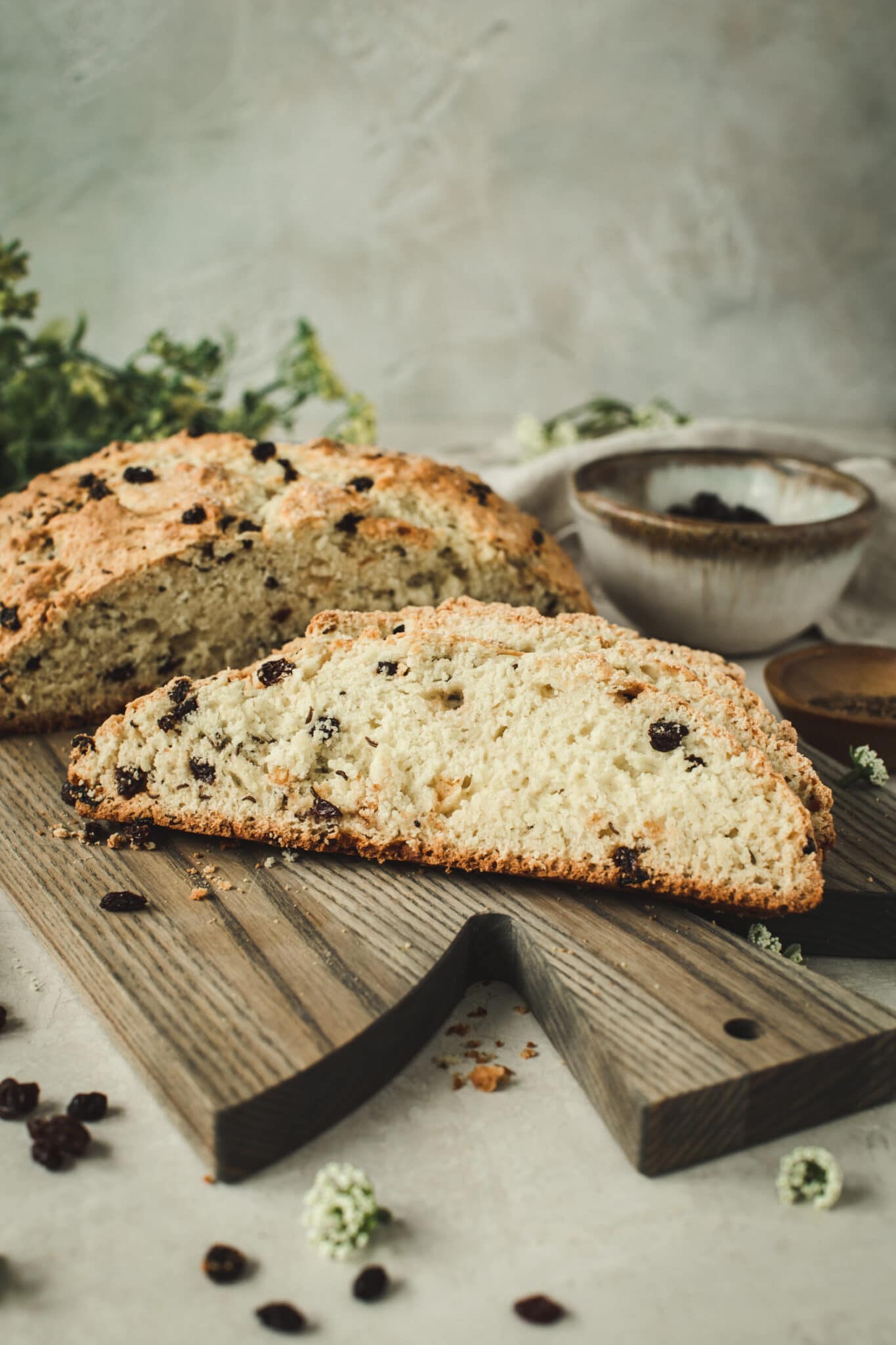 Ingredients
4

cups

Flour

1

cup

Sugar

1

teaspoon

Baking Powder

1

teaspoon

Baking Soda

1/4

teaspoon

Salt

1/3

cup

Unsalted Butter

melted

1⅓

cup

Buttermilk

1

Egg

1

cup

Dried Currants

2

teaspoons

Caraway Seeds
Instructions
Preheat the oven to 350ºF and coat a cast iron skillet in butter.

In a large bowl whisk the flour, sugar, baking powder, baking soda, and salt together until just combined. Make a well in the middle for combining the wet ingredients.

Melt the butter in a small saucepan over low heat. Let cool before beating in the buttermilk and egg.

Pour the butter mixture into the dry ingredients and stir until the dough becomes very thick. Begin to knead the dough with your hands to form it into a ball to fully combine the ingredients. Add in the dried currants and caraway seeds and knead until mixed throughout.

Form the dough into a ball and place in the center of the cast iron skillet. Using a sharp knife slice a cross on the top of the bread.

Bake for 1 hour to 1 hour and 1o minutes or until the outer layer begins to turn a light golden.
Notes
The currants and caraway seeds are optional. You can also switch them out for any dried fruits or even chocolate chips.
Nutrition
Serving:
1
slice
|
Calories:
319
kcal
|
Carbohydrates:
59
g
|
Protein:
6
g
|
Fat:
7
g
|
Saturated Fat:
4
g
|
Cholesterol:
30
mg
|
Sodium:
176
mg
|
Potassium:
231
mg
|
Fiber:
2
g
|
Sugar:
26
g
|
Vitamin A:
230
IU
|
Vitamin C:
1
mg
|
Calcium:
68
mg
|
Iron:
2
mg