This classic comfort food is a simple main dish to prepare with a heartwarming taste. Traditional Meatloaf Recipe has a sweet brown sugar glaze coating over tender slices of beef and is simple in preparation.
With the temperatures cooling it's time to start preparing heartier comfort foods. Try this Southern Chicken and Dumplings recipe next or even this Chicken Tetrazzini.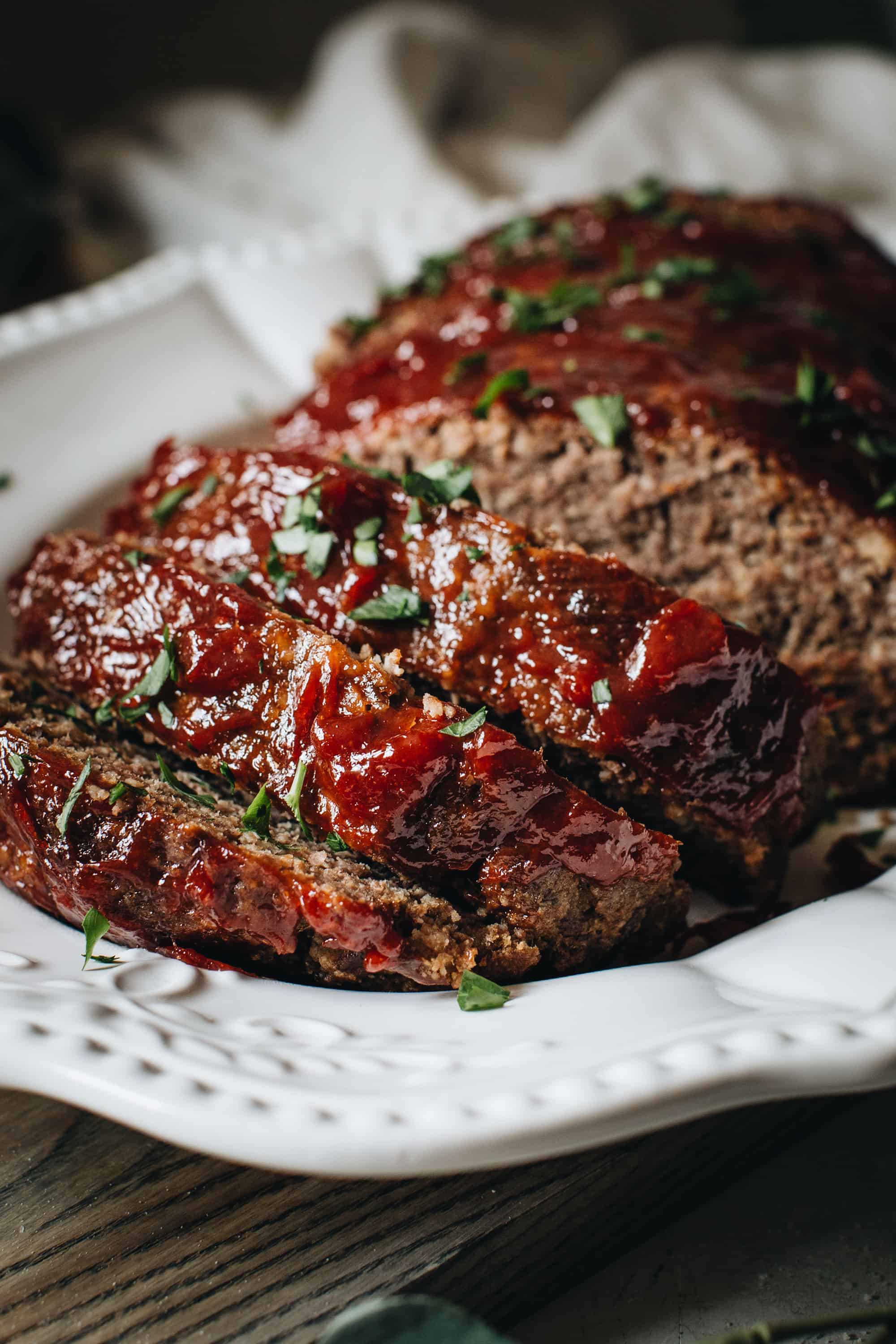 Traditional Meatloaf Recipe
Meatloaf, with its slightly boorish name and halfway appealing appearance, still remains a true comfort food. The comfort comes down to the indisputable delicious taste.
Tender slices of meat packed with onion and complimentary spices of garlic powder and paprika make this a quintessential comfort food. Especially, if this meal is paired with mashed potatoes.
Growing up I remember eating this meal frequently and when I prepare it now for my family I feel as if I'm passing the recipe onward. Perhaps, I didn't quite appreciate the meal as much then as I do know, but hopefully one day it will strike the same feelings of nostalgia in my own children.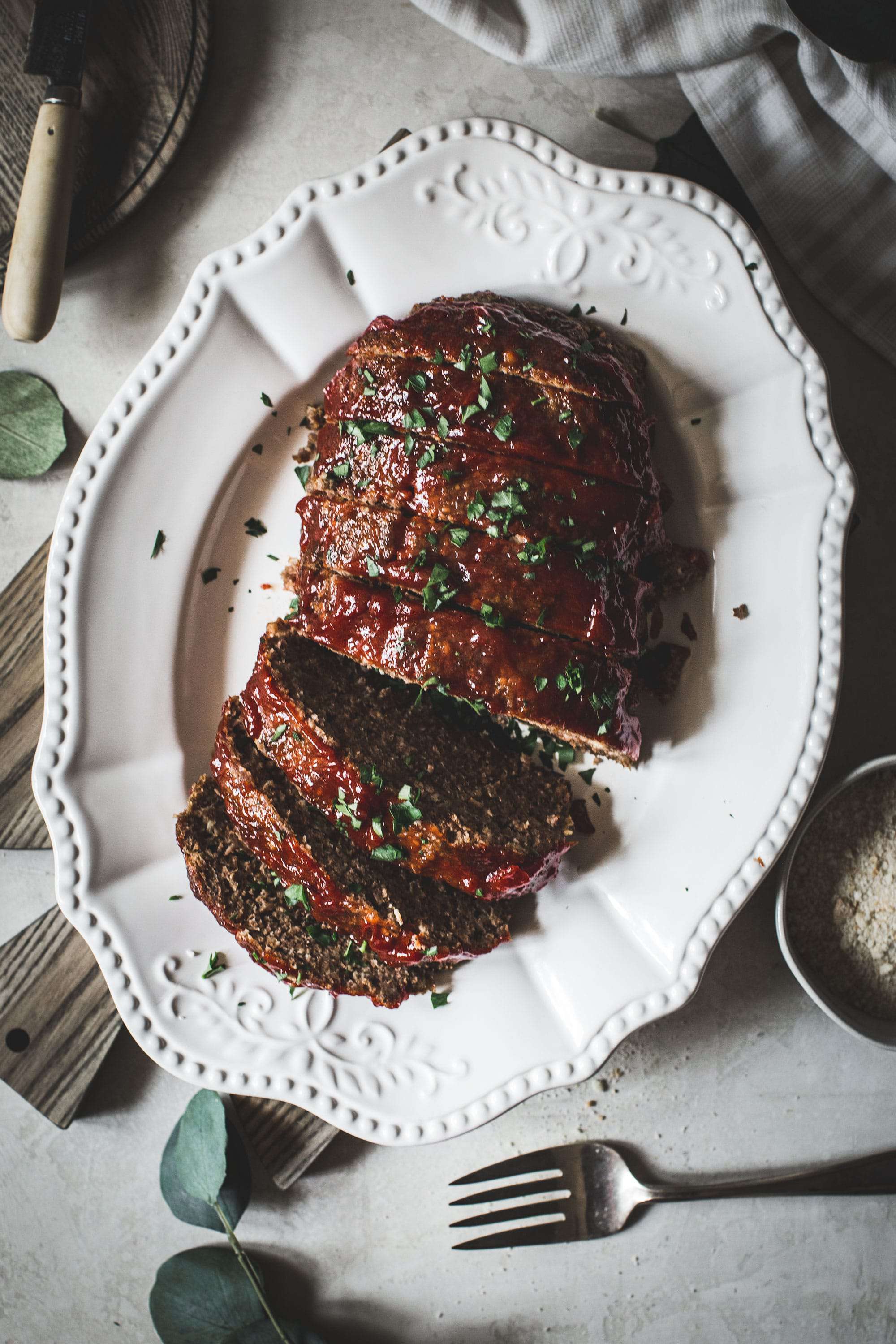 How to Make Traditional Meatloaf
This traditional meatloaf recipe with breadcrumbs is so widely popular because it's so very easy to prepare. There are also only a few simple ingredients. Follow the guidelines below for how to make this traditional meatloaf.
Ingredients in Traditional Meatloaf
Ground Beef
Breadcrumbs
Eggs
Chopped Onion
Garlic Cloves
Oregano
Paprika
Garlic Powder
Ground Pepper
Meatloaf Sauce Recipe Ingredients
Ketchup
Worcestershire Sauce
Olive Oil
Brown Sugar
Prepare the loaf: Most of the ingredients will be combined initially to form the meatloaf. In a large bowl using your hands, mash the ground beef, breadcrumbs, onion, garlic, oregano, paprika, garlic powder, pepper, 1/4 cup ketchup, 1 tablespoon Worcestershire sauce, and olive together.
Form the meatloaf: cover a rimmed baking sheet with foil and then spray with a light coating of cooking oil or lightly grease with oil. Place the meatloaf mixture into the center of the prepared pan and form into an oval-shaped loaf. You can also place it in a baking dish, however, the meat is more tender when prepared the suggested way.
Bake: Bake for 30 minutes at 350 degrees.
Make the Glaze: Whisk the remaining ketchup, Worcestershire sauce, and brown sugar together. Brush onto the meatloaf after the first 30 minutes of baking. Return to the oven and continue baking for 25 more minutes.
Rest: Once the meatloaf reaches an internal temperature of 160℉ remove it from the oven and let sit for 10 minutes before serving.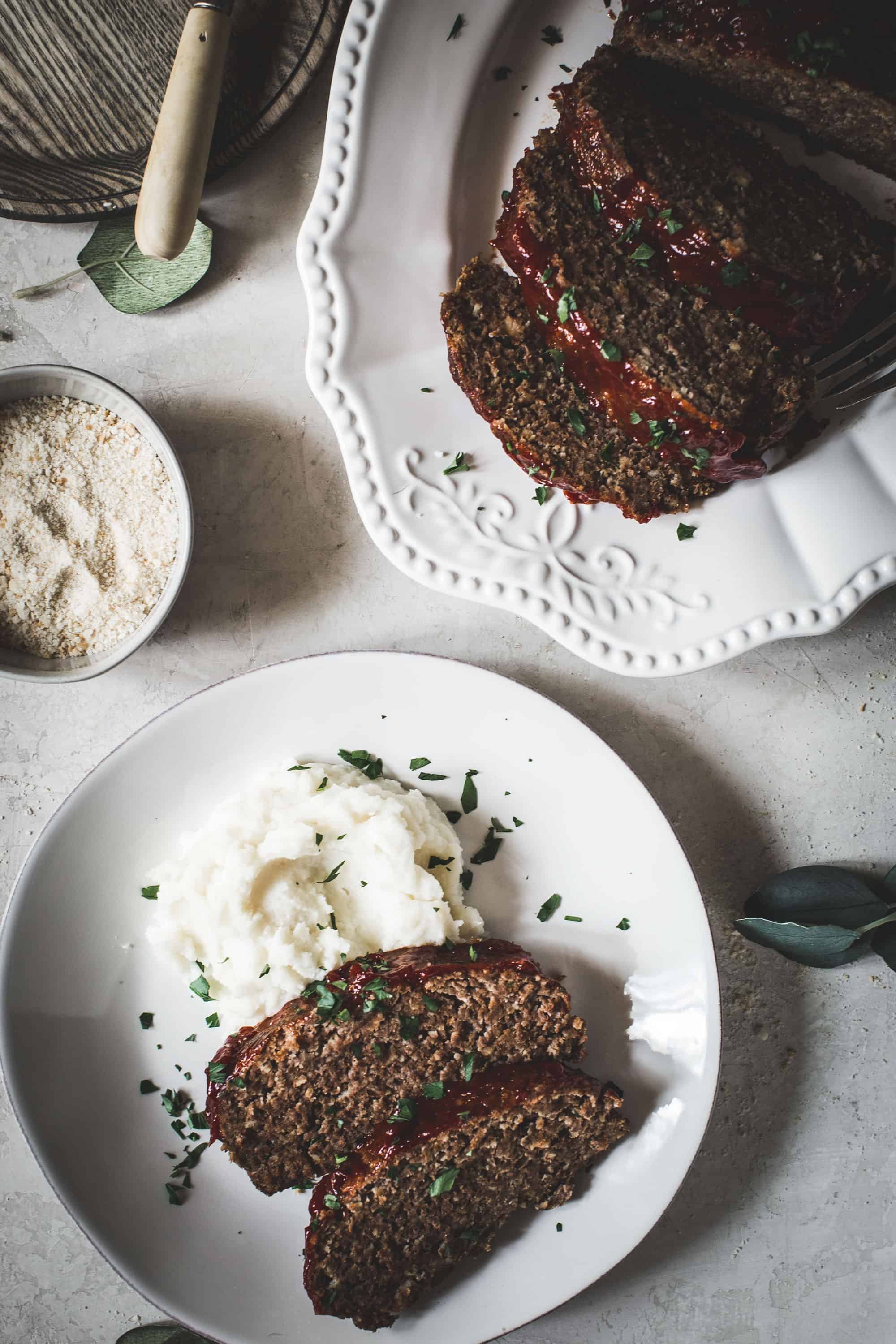 How Long Do You Cook Meatloaf?
Once the loaf has been formed set the oven to 350ºF and bake it for 30 minutes. Check to see if the meat has reached an internal temperature of 165ºF. If not place it back in the oven to cook for an additional 5 minutes.
Easy Meatloaf Variations
The recipe in this post is for preparing the most traditional version of meatloaf, however, there are many other options such as this Chicken Quinoa Meatloaf. Below are some variations you can use to change up this recipe.
Gluten-Free: to make this recipe gluten-free swap out the breadcrumbs for a gluten-free version or make you're own. To make your own pulse 3 slices of gluten-free bread along with 1 tablespoon of oil in a food processor until it reaches a crumb-like consistency. Bake in the oven on a rimmed baking sheet at 350℉ for about 5 to 7 minutes or until golden brown. You will also need to switch out the Worcestershire sauce as it has gluten in it. You can use a steak sauce or mix 1 tablespoon tabasco sauce + 1/4 teaspoon of sugar.
Ground Turkey: Easily swap out the ground beef to make a ground turkey version of this meatloaf.
Ground Chicken: To cut the calories significantly switch the ground beef for ground chicken.
Individual Meatloaf Guidelines
To prepare individual portions of meatloaf after step 3 divide the mixture between 4 mini aluminum foil loaf pans, coated with cooking spray. Divide the glaze mixture between each pan when ready.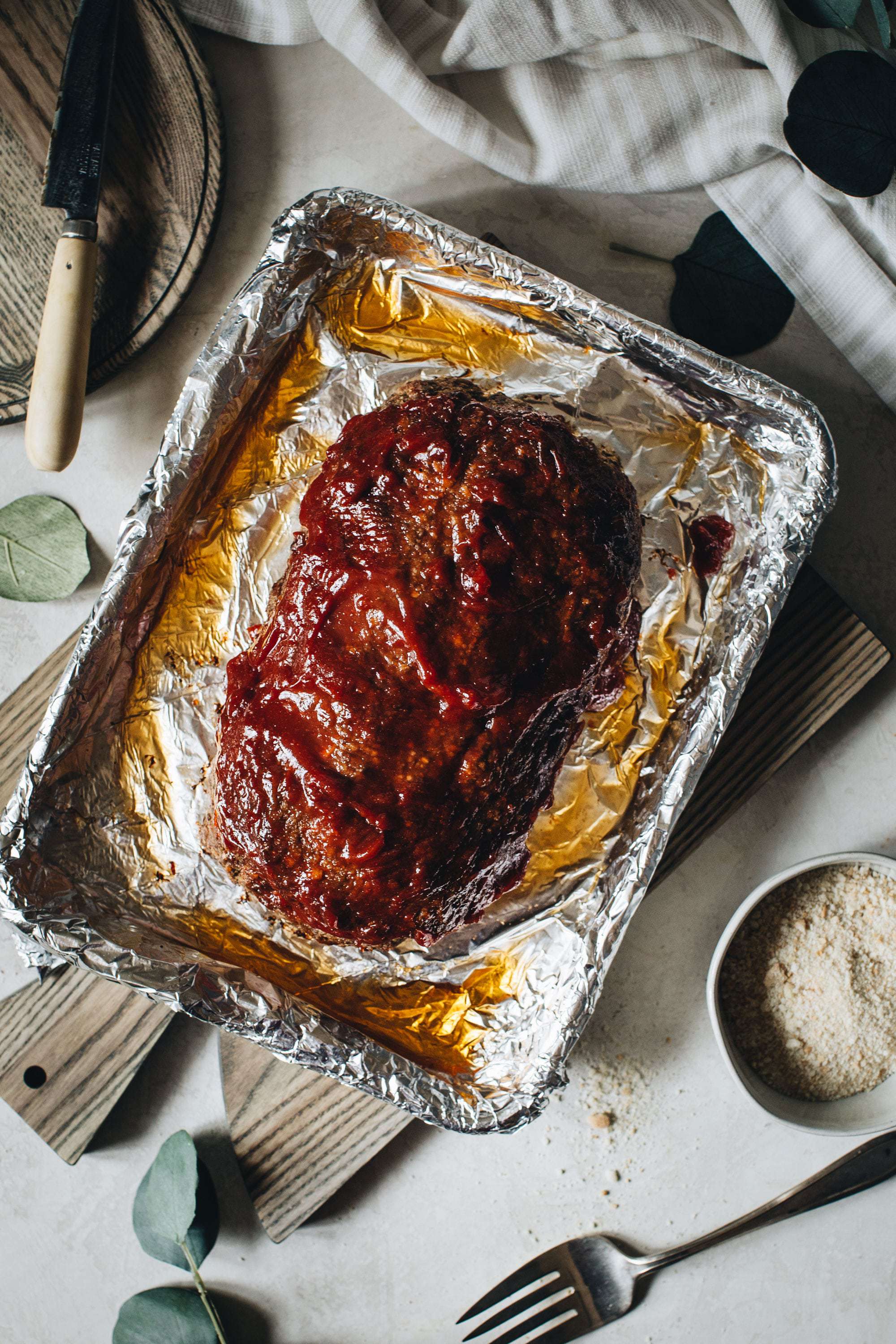 How to Freeze Meatloaf
To freeze meatloaf you can either cook it fully and allow it to cool before wrapping or prepare it without cooking it and then wrap it. Prevent freezer burn or contamination from raw meat, by wrapping the meatloaf tightly. When ready to prepare let it defrost thoroughly in the refrigerator before baking or reheating.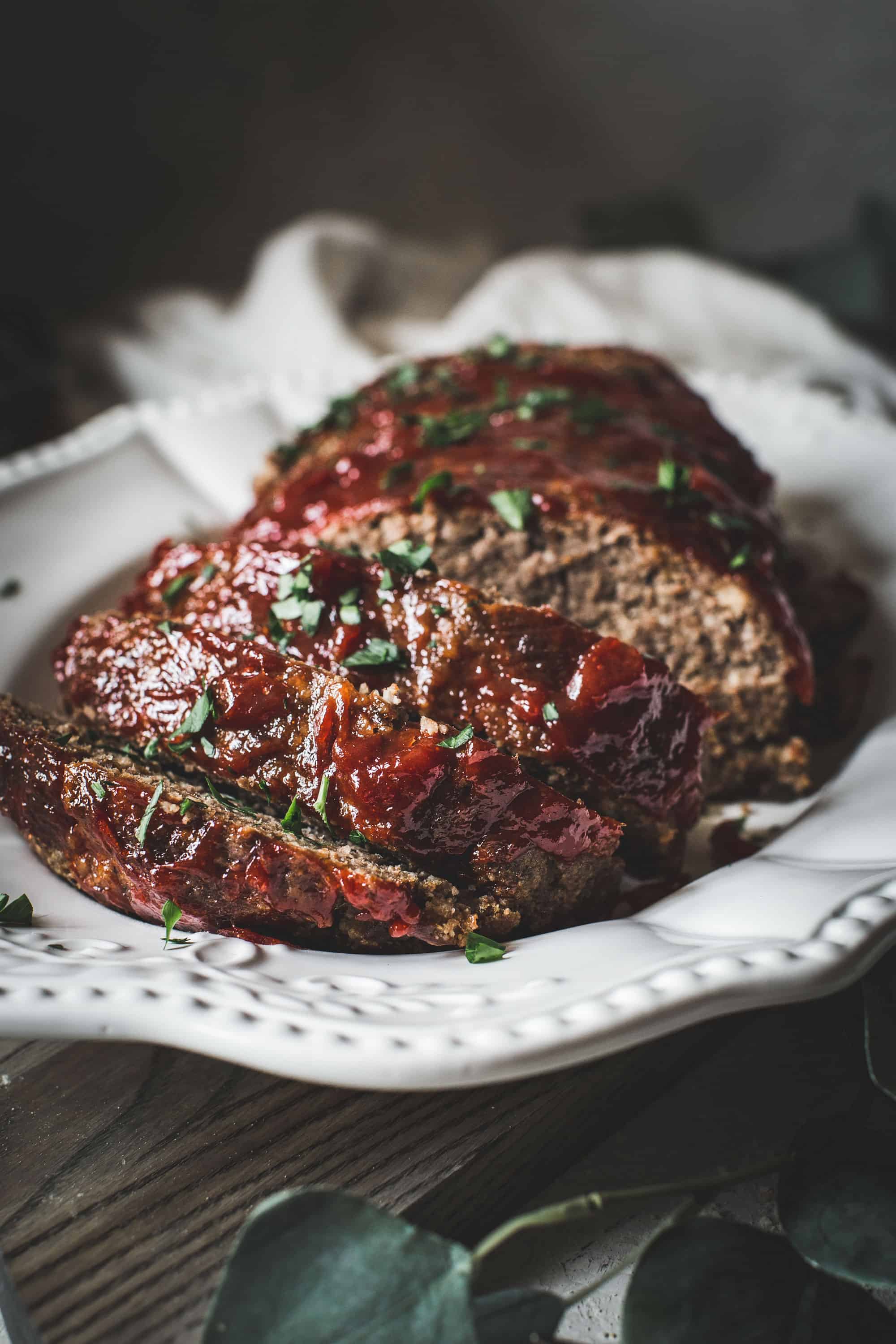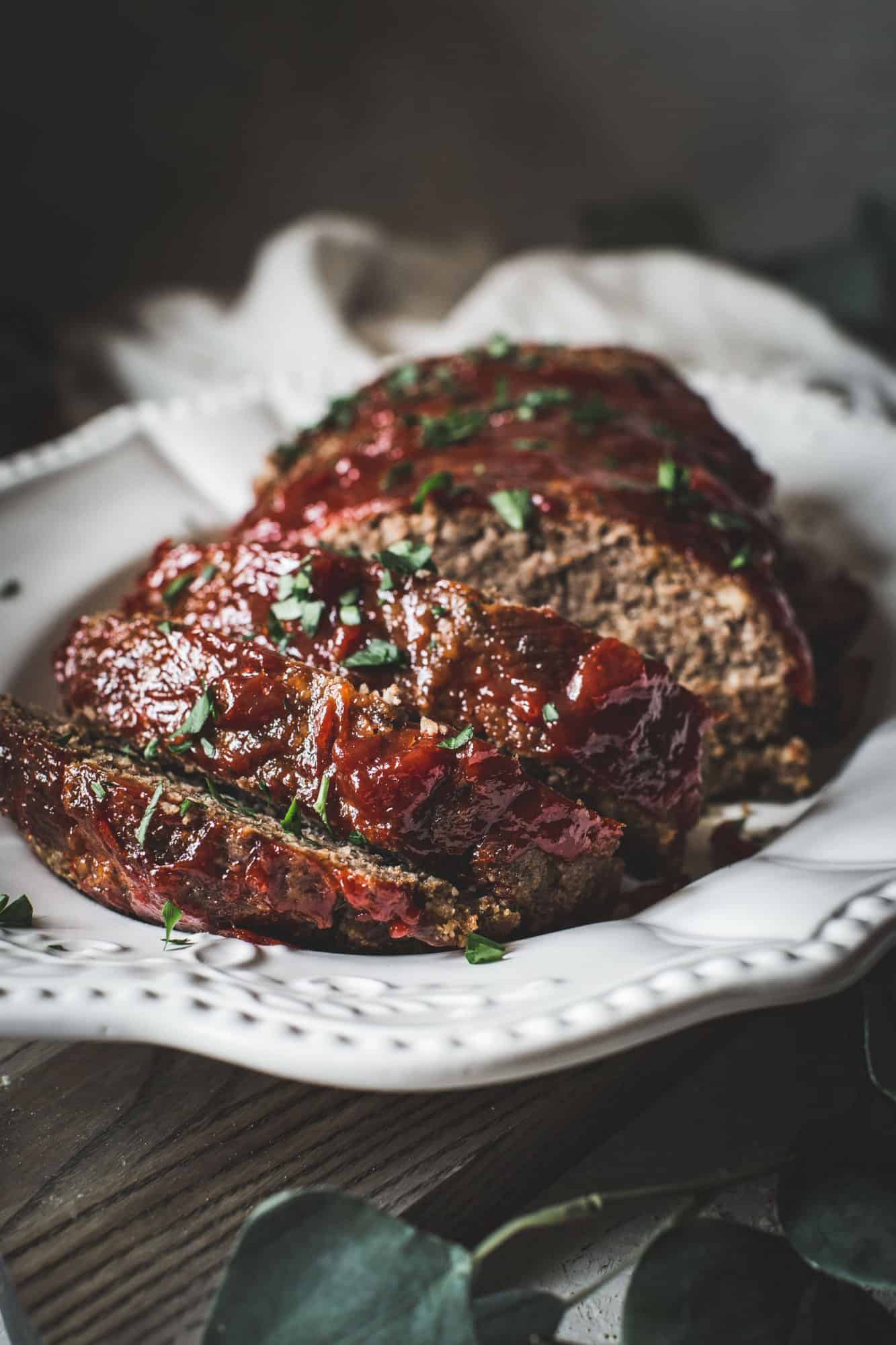 What Serve with Meatloaf
Southern Green Beans: Cook these flavorful green beans along with your meatloaf for a delicious meal.
Creamed Corn: Pairing creamed corn with meatloaf is the ultimate comfort food meal.
Mashed Potatoes: basic mashed potatoes are the perfect side to meatloaf.
Sweet Potatoes: if you're looking for something slightly sweeter to serve with your meal then try some sweet potatoes.
Cornbread: This Traditional Southern Cornbread will crumble nicely right on top of your meatloaf.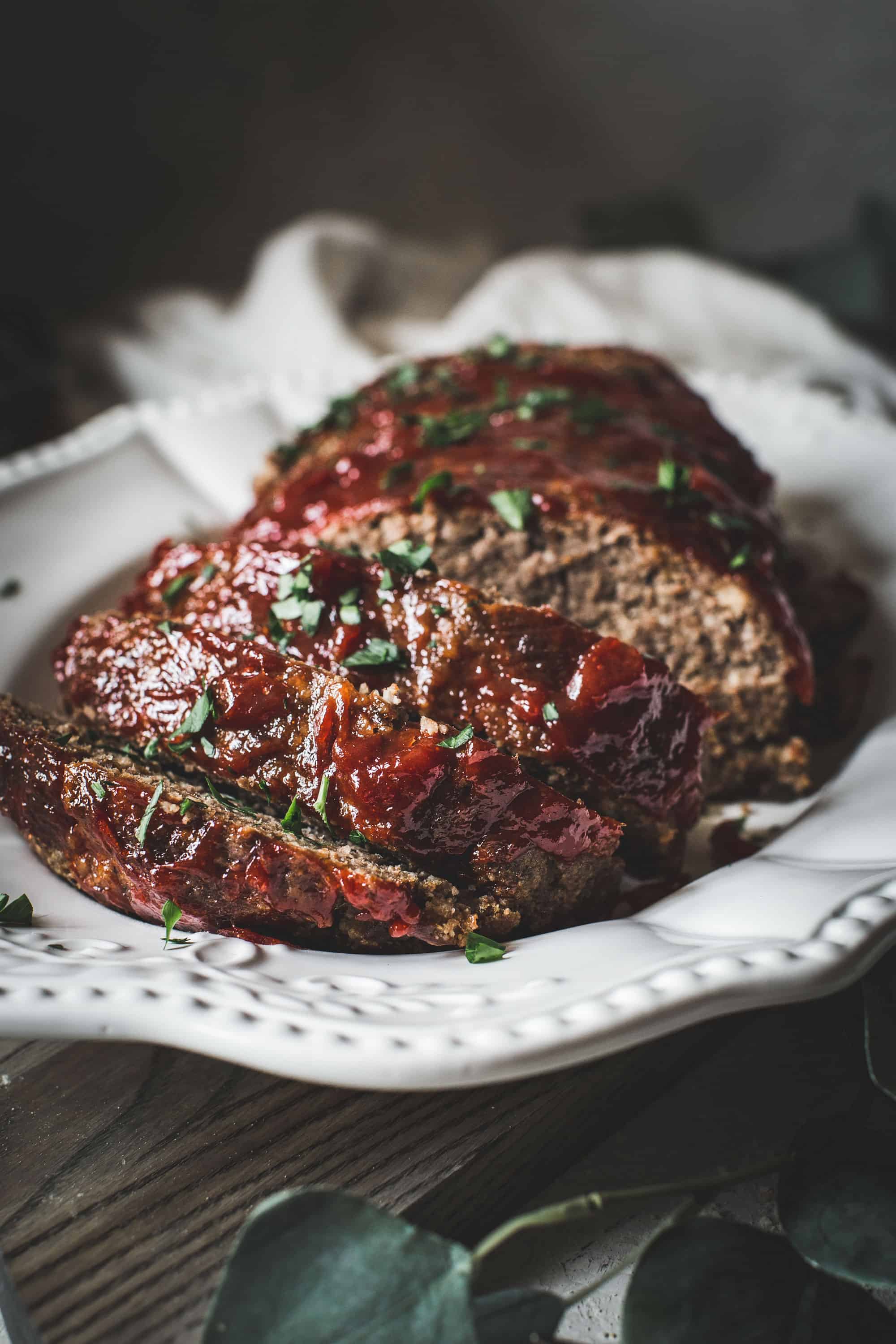 Ingredients
2

lbs

Ground Beef

1/2

cup

Breadcrumbs

2

large

Eggs

slightly beaten

1

medium

Onion

grated

3

Garlic Cloves

minced

1

tablespoon

Oregano

1/2

teaspoon

Paprika

1

tablespoon

Garlic Powder

1/2

teaspoon

Ground Pepper

3/4

cup

Ketchup

2

tablespoons

Worcestershire Sauce

2

tablespoons

Olive Oil

2

teaspoons

Brown Sugar
Instructions
Preheat the oven to 350℉ and line a rimmed baking sheet with foil. Spray with cooking spray or lightly coat with oil.

In a large bowl combine the ground beef, breadcrumbs, eggs, onion, garlic, oregano, paprika, garlic powder, pepper, 1/4 cup of ketchup, 1 tablespoon Worcestershire sauce, and olive oil.

Form the mixture into an oval-shaped loaf and place it in the center of the prepared baking sheet. Place in the oven and bake for 30 minutes

In a small bowl whisk the remaining 1/2 cup ketchup, 1 tablespoon Worcestershire sauce, and brown sugar together. Brush evenly on top of the loaf. Return to the oven and continue to bake for an additional 25 minutes or until the center reaches an internal temperature of 160℉. Let sit 10 minutes before slicing and serving.
Notes
To save time cut the onion into quarters and place in a food processor with the garlic. Pulse a few times until the texture resembled grated onion.
Nutrition
Serving:
1
slice
|
Calories:
411
kcal
|
Carbohydrates:
16
g
|
Protein:
23
g
|
Fat:
28
g
|
Saturated Fat:
10
g
|
Cholesterol:
133
mg
|
Sodium:
393
mg
|
Potassium:
488
mg
|
Fiber:
1
g
|
Sugar:
7
g
|
Vitamin A:
264
IU
|
Vitamin C:
3
mg
|
Calcium:
64
mg
|
Iron:
3
mg