Cinnamon and nutmeg seasoned apples together with a gooey thick apple juice mixture make this recipe the best apple pie filling. Perfect for canning or making into a pie instantly.
Two of my other fall favorite dessert recipes are this Jack Daniels Fudge Pie and this healthy raspberry crisp.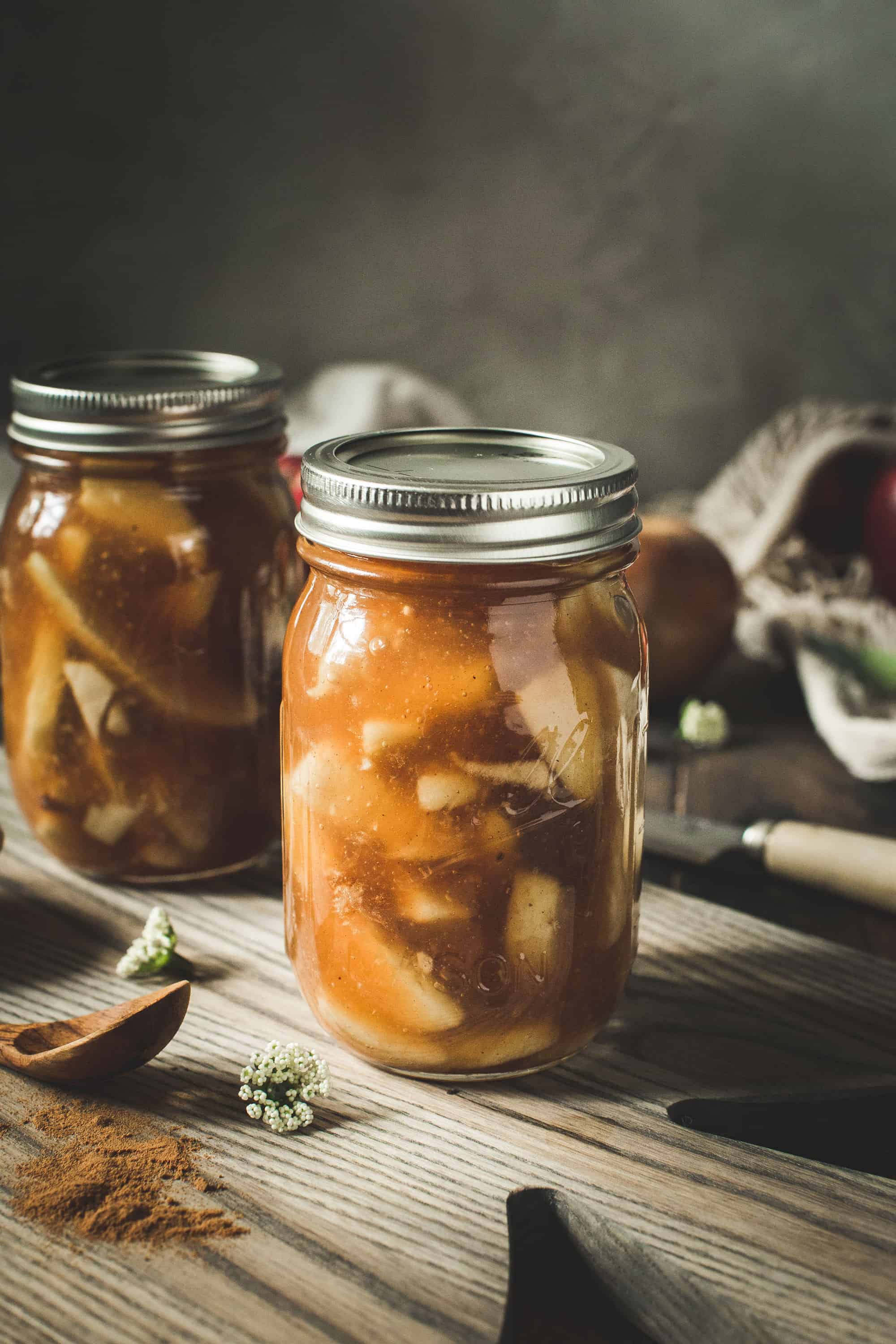 Best Apple Pie Filling
School starts this week for us and it brings a new schedule and lifestyle since we're transitioning from preschool to grade school. Thoughts of crips fall weather, football games, and back to school are swirling in my mind. Family dinners, big Saturday breakfasts, and fall desserts are mixed in with this seasonal swirl of thinking.
Apple pie is one of my most favorite desserts and one I have some of the fondest memories attached. After moving to New York in my early 20's my roommate and I would often indulge in a shared slice of apple pie a la mode at the diner around the corner.
We had big ideas and no better plans at the time. It was every bit dreamy, delicious, and fun.
These fond memories have stayed fresh, which is why I always desire to have apple pie around. Making apple pie filling is simple and it makes preparing an apple pie infinitely easier.
With this filling already prepared and canned, you can easily set up the perfect pie crust like this one and just pour in the filling.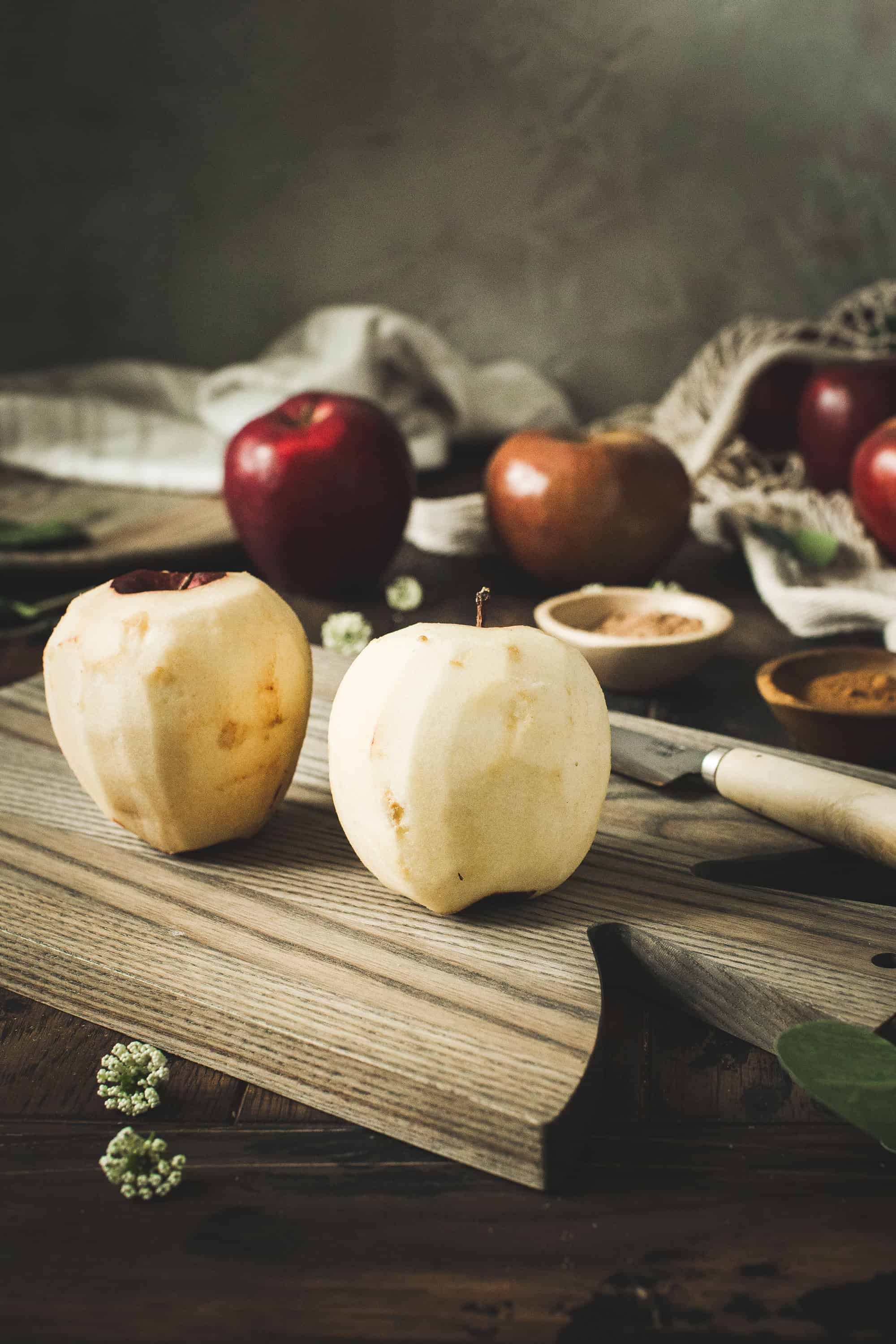 What is the Best Recipe for Gooey Apple Pie?
Cornstarch vs clear gel. There is no right or wrong recipe for making apple pie filling, there are just preferences. When it comes to canning though, swap out the cornstarch for clear gel. Cornstarch doesn't do well when canned with apple pie and it's safer to use clear gel. King Arthur has a good clear gel I prefer to use.
Brown sugar vs granulated sugar. When it comes to sugars and fall baking I almost always lean towards the sweetened maple taste of brown sugar. This is a preference though. You can use either brown or granulated sugar in this recipe.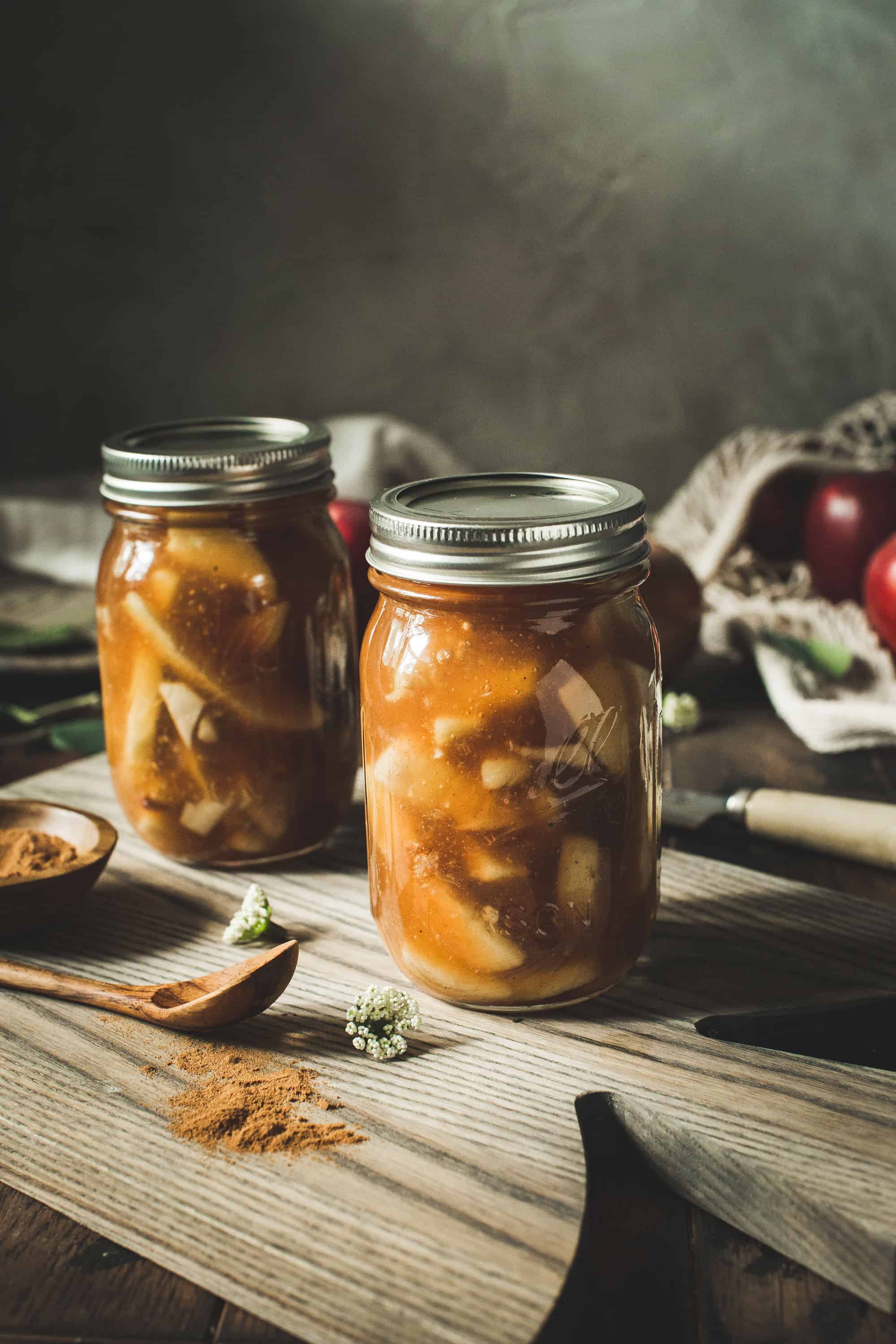 Best Apples to Use for Filling
Again, this choice comes down to preference on taste, which is always optional. I prefer to choose a mixture of firm tart and firm sweet varieties of apples for my pie filling. However, crisp apples, whether sweet or tart flavored are always recommended.
A mushy apple pie just doesn't taste as delicious. Choose a combination of apples, or just one type, below and you'll end up with amazing apple pie filling.
Granny Smith
Northern Spy
Idared
Pink Pearl
Ginger Gold
Esopus Spitzenburg
Golden Delicious
Jazz
Jonagold
Pink Lady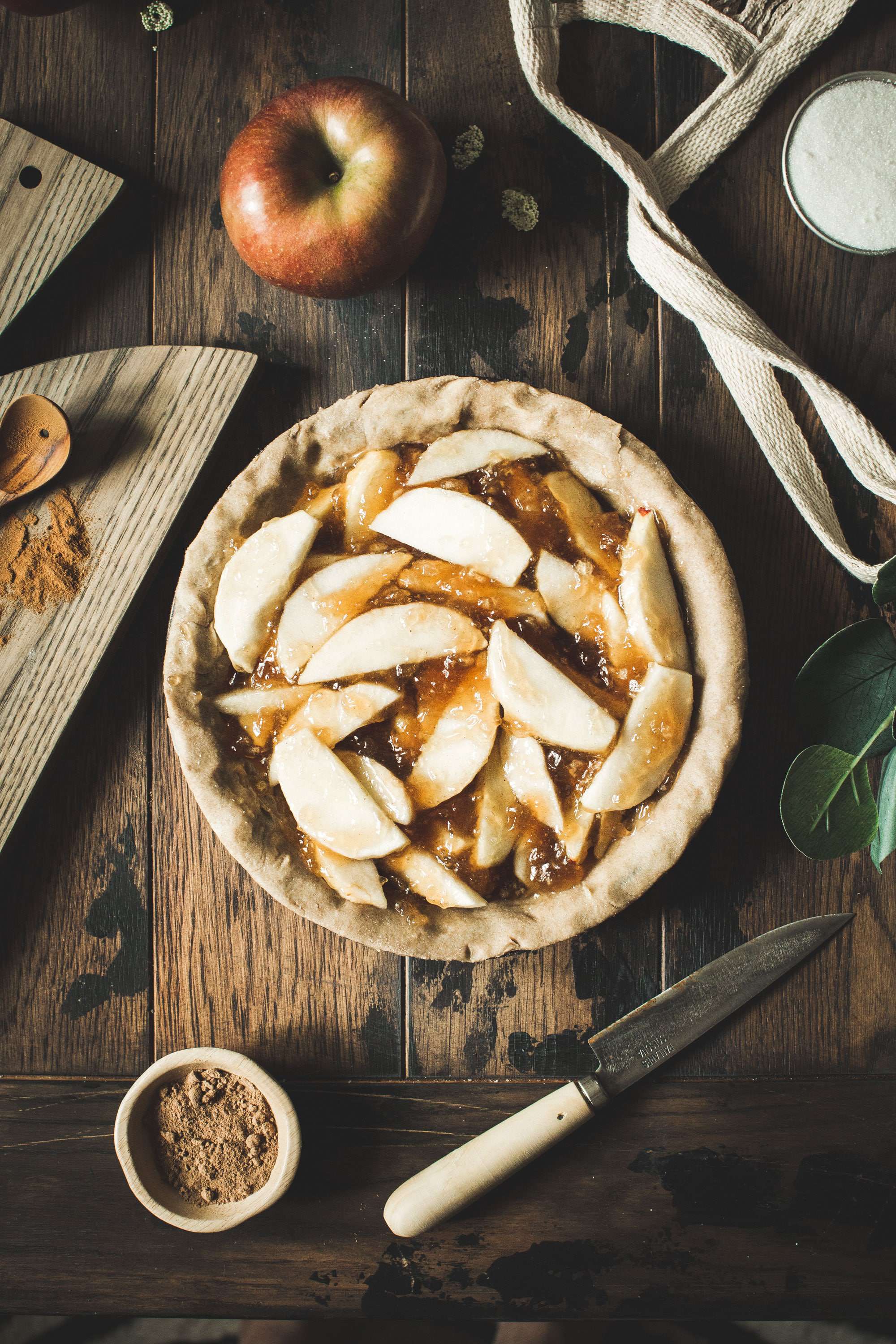 Other Fall Favorite Recipes to Try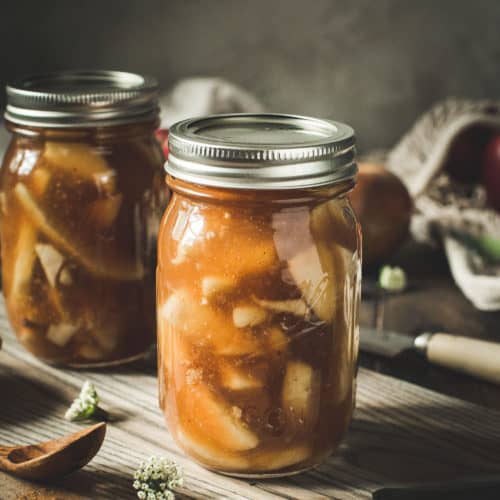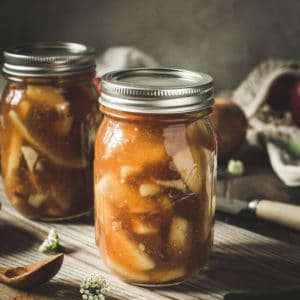 Apple Pie Filling
Cinnamon and nutmeg seasoned apples together with a gooey thick apple juice mixture make this recipe the best apple pie filling. Perfect for canning or making into a pie instantly.
Print
Pin
Rate
Ingredients
11

cups

Apples

peeled and sliced thin

2

teaspoons

Lemon Juice

1 ¾

cup

Brown Sugar

1

cup

Granulated Sugar

1

cup

Clear Gel

1/2

teaspoon

Ground Cinnamon

1/2

teaspoon

Ground Nutmeg

1¼

cups

Cold Water

2½

cups

Unsweetened Apple Juice

1/2

cup

Lemon Juice
Instructions
Prepare Jars
Prewash all pint jars and lids and feat the jars in a simmering water bath until ready for use. Do not boil. Set washed lids and rings aside.
Blanch Apples
Working with 6 cups of apples at a time, blanch in a large pot of boiling water for 1 minute. Remove using a slotted spoon and set aside.
Make the Filling
Combine the brown sugar, granulated sugar, clear gel, cinnamon, and nutmeg in a large saucepan. Mix the cold water and apple juice in and bring to a boil over medium-high heat, stirring continuously. Cook until the filling begins to thicken and bubble, about 10 minutes. Add 1/2 cup of lemon juice, return to a boil and cook for an additional 1 minute.

Drain the apple slices if using the lemon juice and water bath listed in the notes and stir into the filling.
Fill Jars
Ladle the filling into the pint jars using a funnel. Leave 1-inch headspace. Remove air bubbles. Wipe the rim and center the lid on the jar. Apply band and tighten until fingertip tight. Repeat until all jars are filled.
Process
Place jars in the water canning bath with 2 inches of water above the jars. Bring water to a boil and process in the boiling water for 25 minutes. Remove and let cool for 12 hours on a towel. Check lids for seal. The lid should not move up and down.
Notes
To prevent browning of the apples submerge them in 1/4 cup lemon juice and 4 cups of water.
Nutrition
Serving:
1
pint
|
Calories:
627
kcal
|
Carbohydrates:
161
g
|
Protein:
1
g
|
Fat:
1
g
|
Saturated Fat:
1
g
|
Sodium:
27
mg
|
Potassium:
456
mg
|
Fiber:
6
g
|
Sugar:
130
g
|
Vitamin A:
124
IU
|
Vitamin C:
20
mg
|
Calcium:
75
mg
|
Iron:
1
mg