This simple southern dish is a showstopper dessert perfect for picnics or gatherings. With layers of bananas, mixed in with pudding topped with homemade whipped cream and vanilla wafers, this Banana Pudding Trifle is a must-make dessert.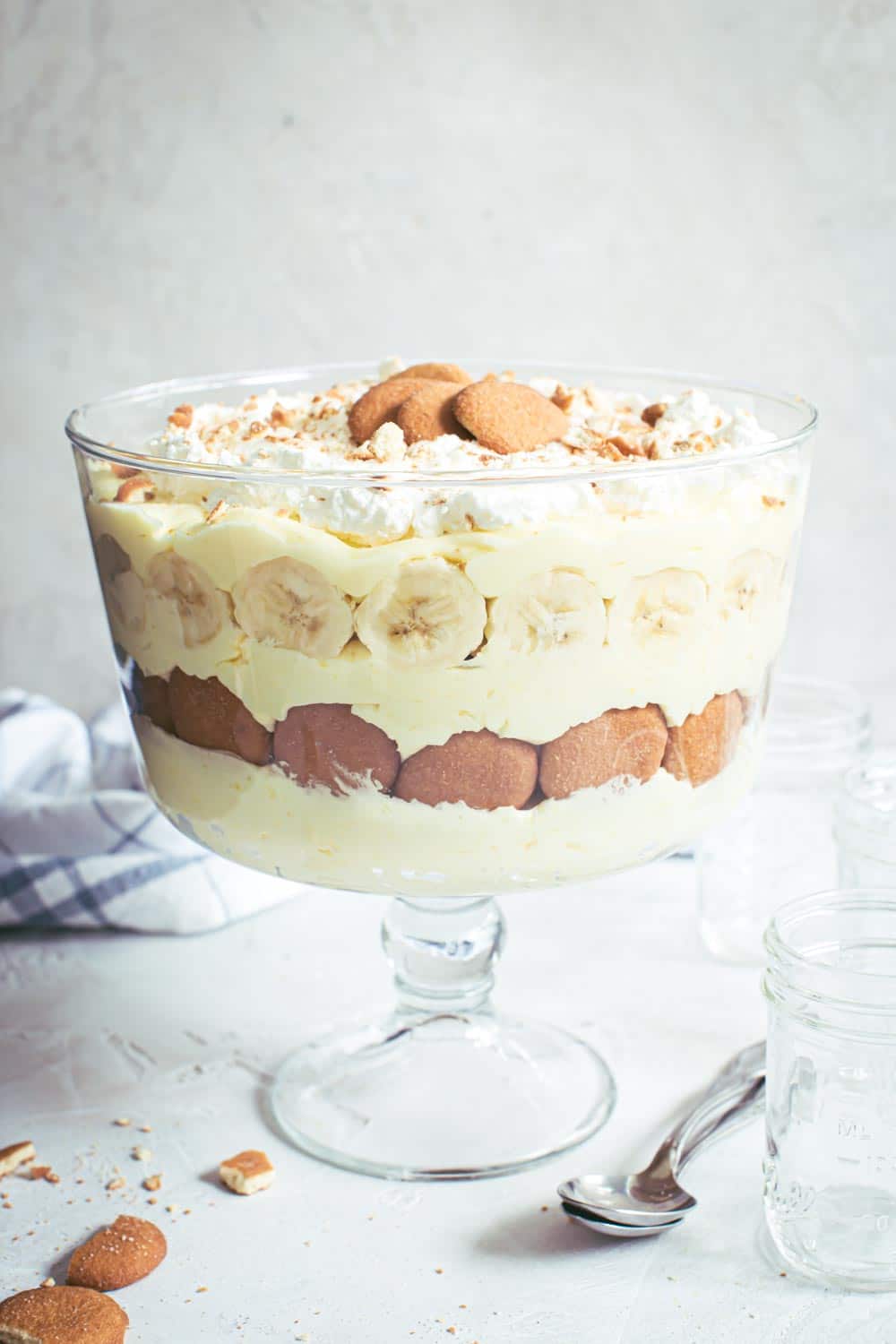 Banana Pudding Trifle
I don't think I could even consider myself southern if I didn't have a recipe for banana pudding. While I have several, which I promise to get posted soon, this one is a more modern quick version perfect for picnics and entertaining.
This banana pudding trifle is a rich and creamy dessert with layers of fluffy pudding and crunchy wafer cookies. Topped with a sweetened homemade whipped cream this dessert is a showstopper.
This modern version of banana pudding can be prepared easily and quickly and makes a large amount. It's perfect for sharing.
Why is Banana Pudding considered southern?
How banana pudding originated is slightly hazy, however, considering it a southern delicacy isn't. Similar to ambrosia, banana pudding started to show up around the 19th century when exotic ingredients such as mandarin oranges, coconut, and of course bananas became more readily available as well as affordable.
There are some similarities between English trifle and banana pudding and chefs began to place the still exotic fruit into fancier dishes such as this custard-style dessert.
The earlier pudding recipes used more authentic, and what we now refer to as "clean" ingredients. Later, when pudding mixes and ingredients such as Cool Whip were introduced the recipes began to take on a life of their own and became more widespread.
Here's a quote from Serious Eats on how it started to become more of a Southern icon:
As the Jell-O ad indicates, somewhere along the way banana pudding became closely associated with the American South. That seems to have happened just after World War II. During the early 20th century, hundreds upon hundreds of banana pudding recipes were published in newspapers all over the country, and the dessert wasn't portrayed as Southern in any way.

Serious Eats, "History of Southern Banana Pudding"
For a more in-depth history, you can read the exact article here.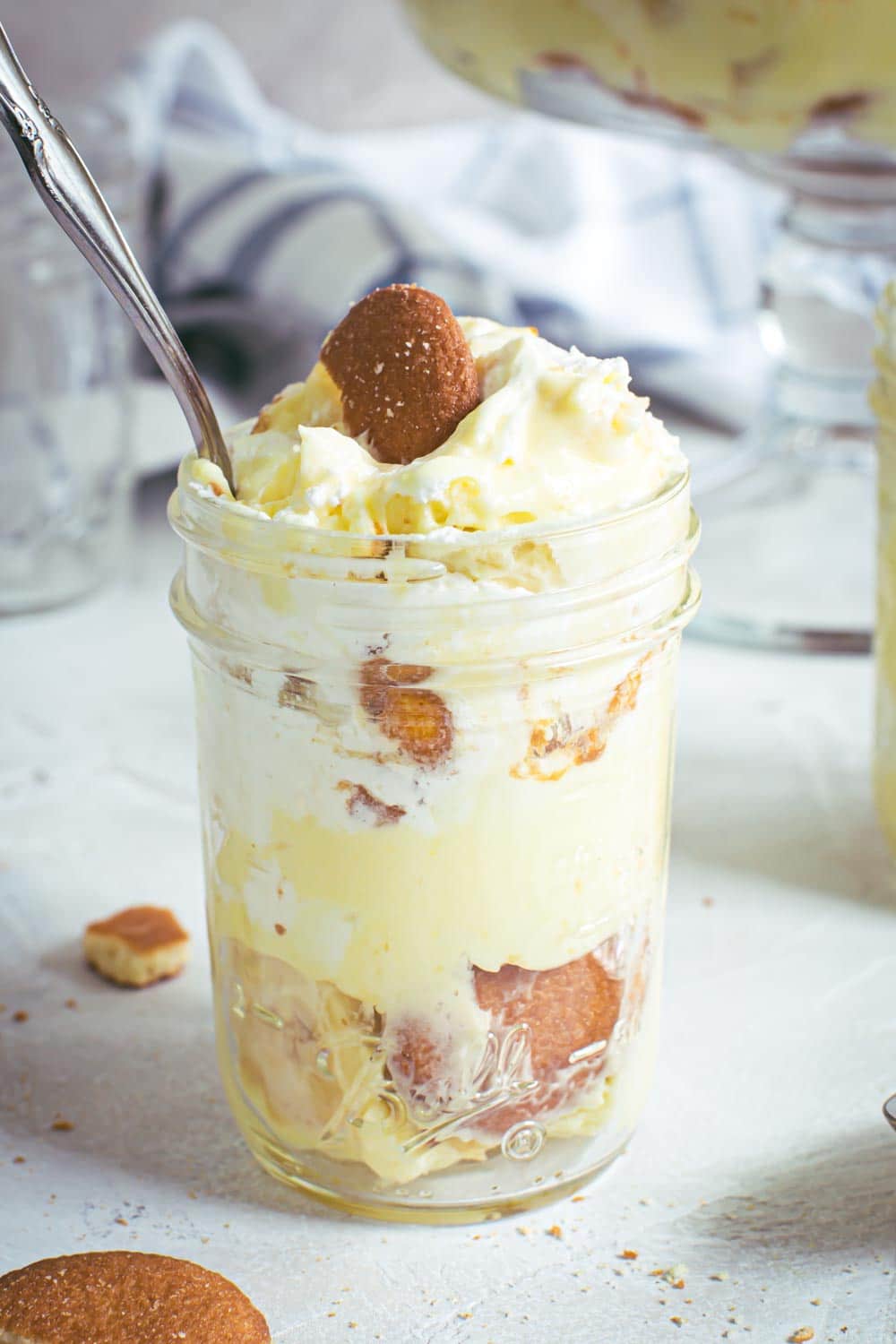 How to Make Banana Pudding Trifle
Make the pudding: vigorously whisk the instant pudding, milk, and sweetened condensed milk until no lumps remain. Place in the refrigerator to firm slightly. 5 minutes should be plenty of time. You don't want it completely firm.
Whip the cream: using an electric mixer fitted with the whisk attachment or a handheld mixer beat the heavy cream and vanilla until stiff peaks begin to form. Separate 1/3 of the whipped cream and set aside.
Combine the whipped cream and pudding: using a spatula fold the remaining 2/3 whipped cream into the pudding until combined.
Arrange the trifle: begin by layering the bottom of the trifle dish with vanilla wafers followed by 1/4 of the pudding mixture. Top with another layer of wafers, 1/4 pudding, and then a layer of bananas. Continue to layer on the ingredients until you reach the top of the trifle.
Make the topping: stir the 1 tablespoon of sugar into the remaining 1/3 whipped cream and spread on top of the trifle. Crumble some wafers on top.
Chill: place the trifle in the refrigerator to chill for a minimum of 3 hours.
Ingredients in Banana Pudding Trifle
Most of the ingredients in this delicious and decadent banana pudding are the easy-to-prepare quick-cooking or packaged kind. There are no secret or obscure ingredients and some of them are interchangeable, which I'll discuss below.
Whole Milk: the milk is used to make the pudding and I always prefer to use good quality grass-fed whole milk when possible. Because there are no additives the flavor is clean and pure.
Instant Vanilla Pudding Mix: make sure you purchase the 5.1 oz box of pudding mix instead of the smaller box. Vanilla adds a nice smooth flavor to the banana, but if you really wanted to increase the banana flavoring you could also use a banana pudding mix or even a cheesecake flavored one.
Sweetened Condensed Milk: this canned milk adds a delicious creamy sweetness to the recipe and also thickens the consistency.
Heavy Cream: the cream in this recipe is similar to the milk, meaning, the better the quality the better the taste. Just as with the milk I like to choose an organic heavy cream, even better if it's from a local farmers market. In this recipe, you'll whip the heavy cream into a whipped cream, which is then folded into the pudding mixture.
Vanilla Extract: Using pure vanilla extract will heighten the flavor of the vanilla pudding, however, you could also use almond extract or other nutty flavors such as hazelnut extract. It is not necessary to use vanilla extract too as long as you scrape some of the seeds from a vanilla bean into the mixture.
Vanilla Wafer Cookies: I prefer to use the standard vanilla wafers, however, you can also use sliced pound cake, ladyfingers, or even chessmen cookies to layer in the trifle. Use a mixture of all of the ingredients for an even more beautiful trifle.
Bananas: For this recipe, you will only need 4 bananas, however, if you would like the decorative sides with the slices you'll need to add an additional banana.
Sugar: Sugar makes everything taste better and this recipe is no different. The sweetened condensed milk and vanilla pudding both have sugar in them however this small addition is for sweetening the remaining whipped cream to place on the top of the trifle.
Step-by-Step Photos:
Making this trifle is extremely easy and so is assembling it. You can place the layers however you prefer, especially if you're using additional add-ins.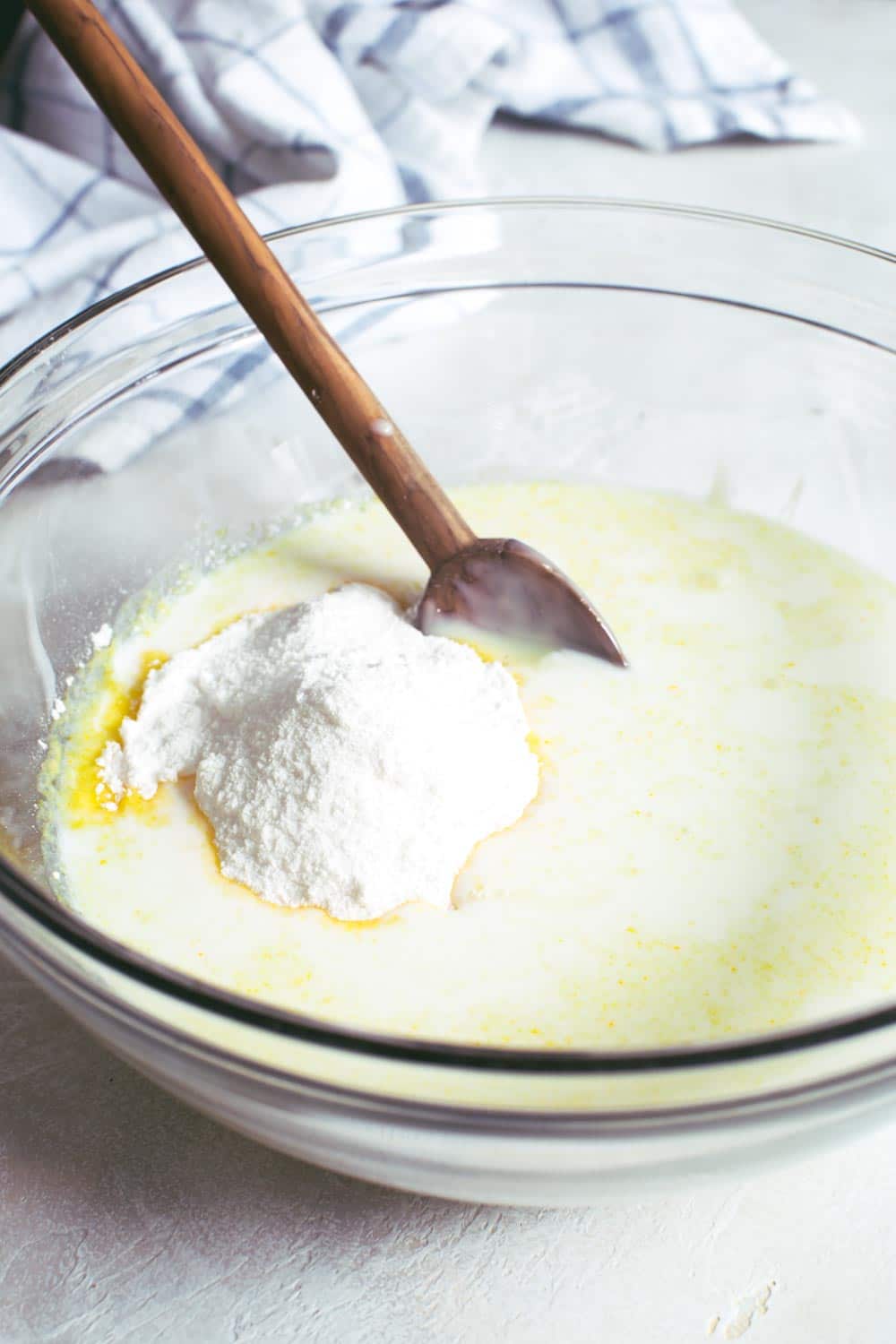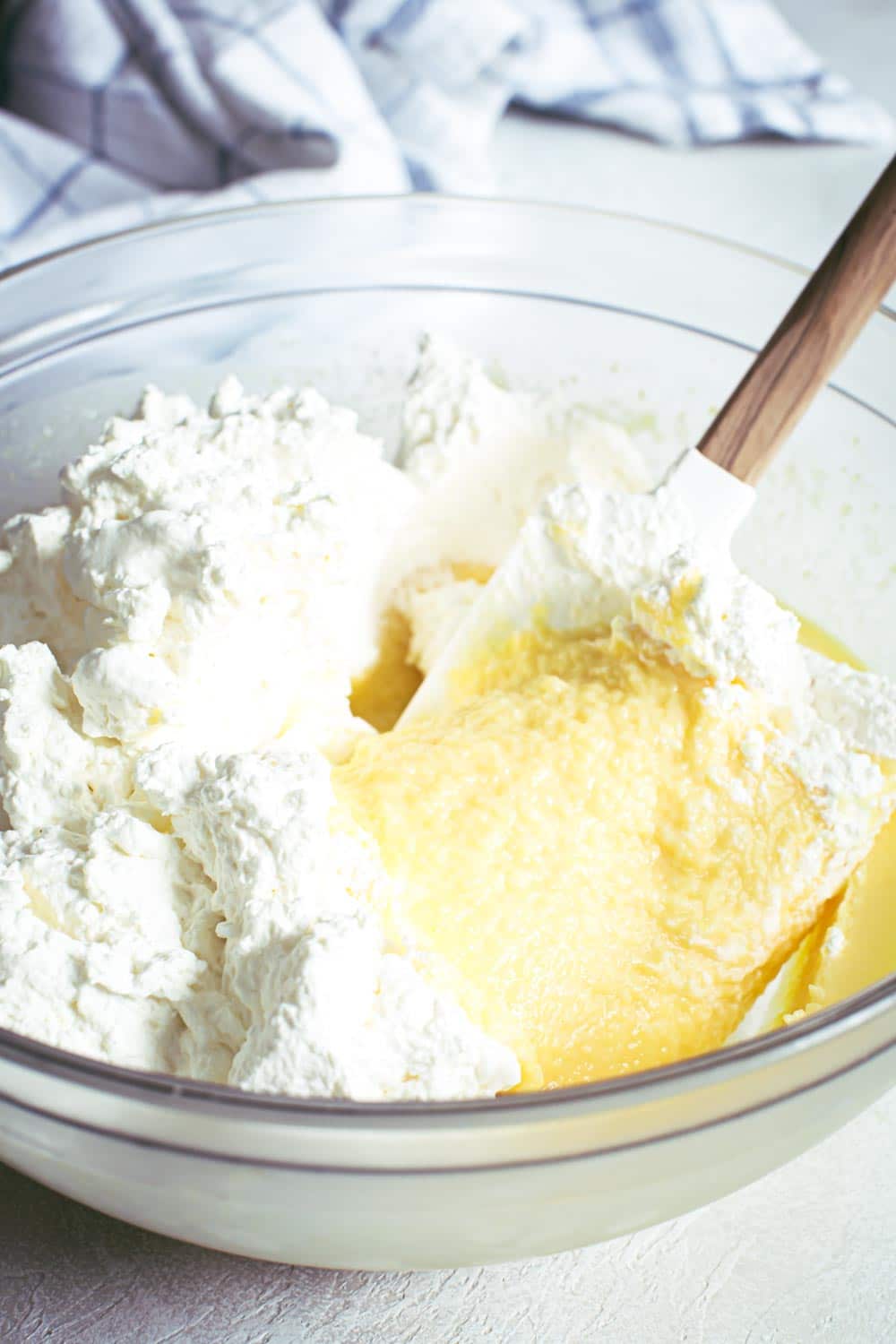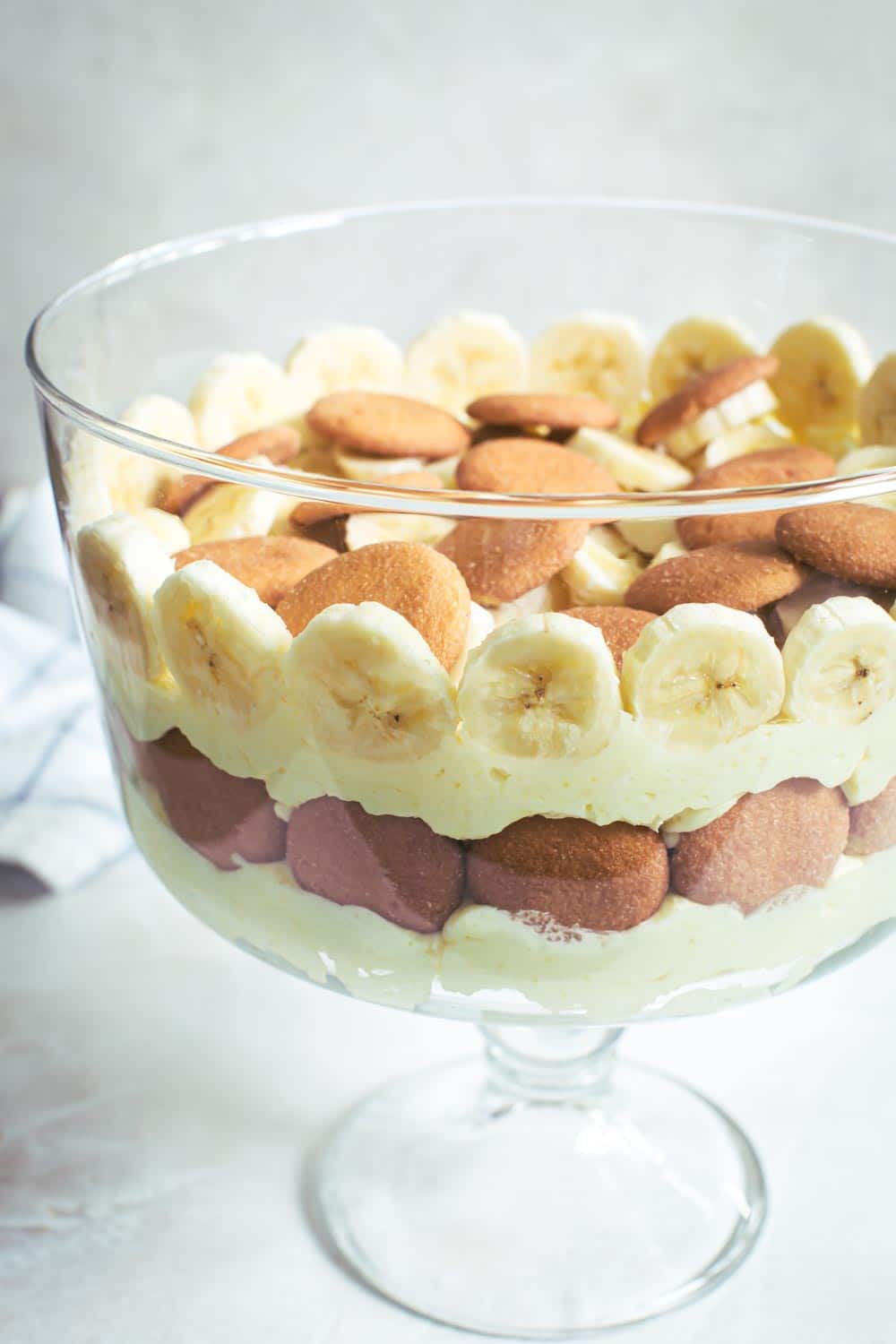 FAQ about making banana pudding:
Can You Make Banana Pudding Ahead?
Yes. In fact, I recommend making this dish the day before you plan on serving it because of the time it takes to set. Don't make it more than 2 days before though because the bananas will then begin to lose moisture and potentially turn brown.
Do I have to use a trifle dish?
Not at all! Trifles are a showstopping dessert that seduces you with its many sweetened layers, however, using an actual trifle dish isn't necessary. Any clear glass baking dish or standard baking dish will work just as well.
Can I make personal-sized banana pudding jars?
Absolutely! Since this recipe makes a substantial amount of banana pudding you can just as easily scoop out the layers into clear glass jars for individual servings.
How to store banana pudding trifle
If you have a large enough refrigerator you can cover the top of your trifle with plastic wrap and store it for up to 4 days. You could also transfer your trifle, though it won't be as pretty later, into an air-tight container and keep it in the refrigerator as well.
How long does banana pudding keep?
It will last up to 4 days kept in the refrigerator if kept in an air-tight container. Any longer and the wafers become very mushy.
Can you freeze banana pudding?
Yes! Banana pudding freezes best when it's fresh. Before using the bananas, slice them and then dip them into a bowl of lemon juice. This helps keep them from turning brown while it freezes.
Make the pudding according to the recipe and instead of layering it in your trifle dish place it in a freezer-safe container. Cover the container with plastic wrap before placing the lid on top.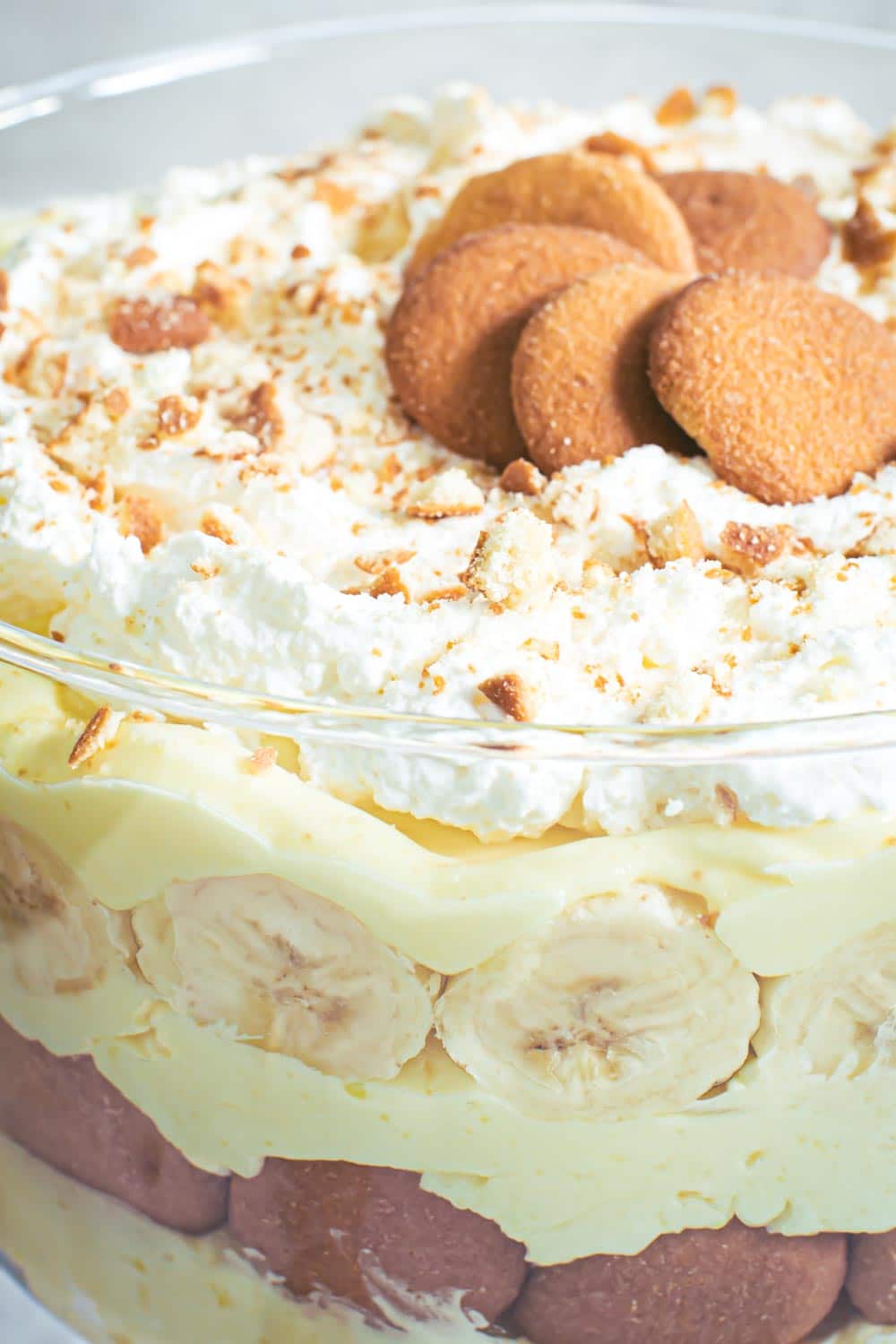 Tips for Making the best Banana Pudding Trifle
Use instant pudding. When purchasing the pudding packet make sure it says instant. Regular pudding needs to be heated and then cooled to firm up, because of this it creates a runnier pudding than instant does.
Use homemade whipped cream. This recipe details how to make your own whipped cream using heavy cream, which is then folded into the pudding, and the leftover amount is spread on top of the trifle. You can also use Cool Whip, however, it will create a fluffier less dense version of pudding.
Use a combination of ladyfingers, vanilla wafers, and Chessmen Cookies for a decorative trifle. You can also add in pound cake for a layered cake-like trifle.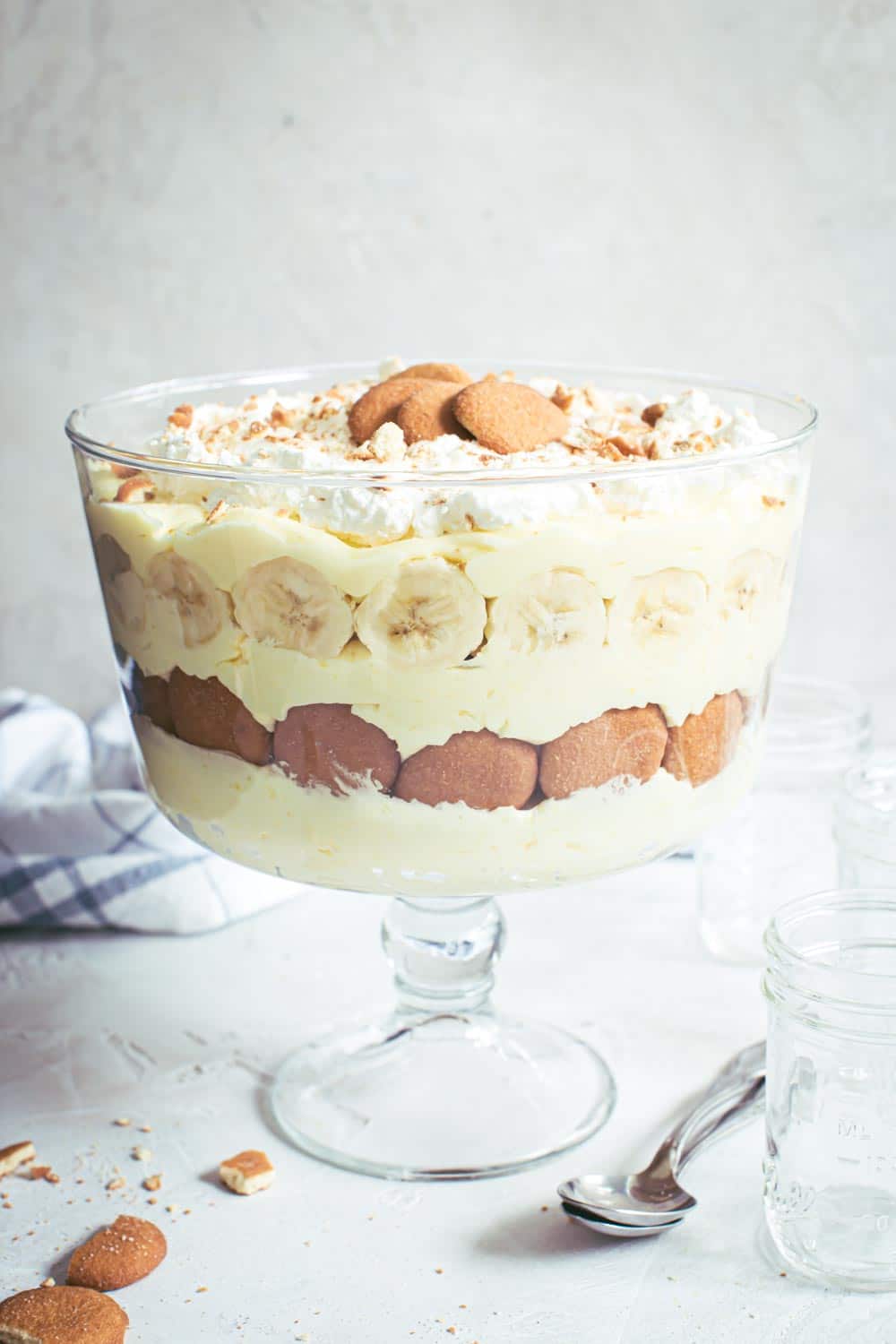 Ingredients
1⅓

cup

Whole Milk

1

5.1 ounce

Package Instant Vanilla Pudding Mix

1

14 ounce

can Sweetened Condensed Milk

3

cups

Heavy Cream

1

teaspoon

Vanilla Extract

1

12 ounce

box Vanilla Wafers

4

Bananas

sliced

1

tablespoons

Sugar
Instructions
In a large mixing bowl, whisk the milk, vanilla pudding mix, and sweetened condensed milk until the contents are smooth and all the lumps are gone. Refridgerate for a minimum of 5 minutes until set.

Using an electric mixer or a handheld mixer, beat the heavy cream and vanilla together until stiff peaks form. Place 1/3 of the mixture into a separate bowl and set aside for later. Gently fold the remaining whipped cream into the pudding mixture until it's completely folded in.

Begin to arrange the trifle by placing a later of the vanilla wafers on the bottom of the dish. Top the wafers with 1/3 of the pudding mixture and then cover with another layer of vanilla wafers. To get a nice side later stand some of the cookies up against the side of the dish. Place a layer of sliced bananas next.

Continue to layer the pudding, vanilla wafers, and bananas until the top of the trifle is reached. You may also want to stand some bananas up on the side similar to the wafers.

Stir in 1 tablespoon of sugar to the last 1/3 of whipped cream. Use a spatula to spread on top of the trifle and top with some crumbled wafers for added appeal.

Place the trifle in the refrigerator for 3 hours or overnight to firm and set.
Notes
To get the layered look with the wafers and bananas standing up you will need an extra banana or two and potentially more vanilla wafers depending on how large your trifle dish is. To store: cover with plastic wrap or transfer to an air-tight container and keep in the refrigerator for up to 4 days. The bananas will begin to brown after about 48 hours, but the dessert is still just as delicious.
Nutrition
Serving:
1
cup
|
Calories:
263
kcal
|
Carbohydrates:
13
g
|
Protein:
3
g
|
Fat:
23
g
|
Saturated Fat:
14
g
|
Cholesterol:
84
mg
|
Sodium:
36
mg
|
Potassium:
221
mg
|
Fiber:
1
g
|
Sugar:
7
g
|
Vitamin A:
944
IU
|
Vitamin C:
4
mg
|
Calcium:
71
mg
|
Iron:
1
mg