The Black Widow Cocktail is a sleek and sinister Halloween beverage with a sharp bite. The smooth blackcurrant liqueur mixed with the vodka and coffee-flavored Kahlua makes an unforgettable cocktail.
Plan a perfect spooky evening with these Halloween treats Halloween Bark Recipe and Soft Pumpkin Cookies.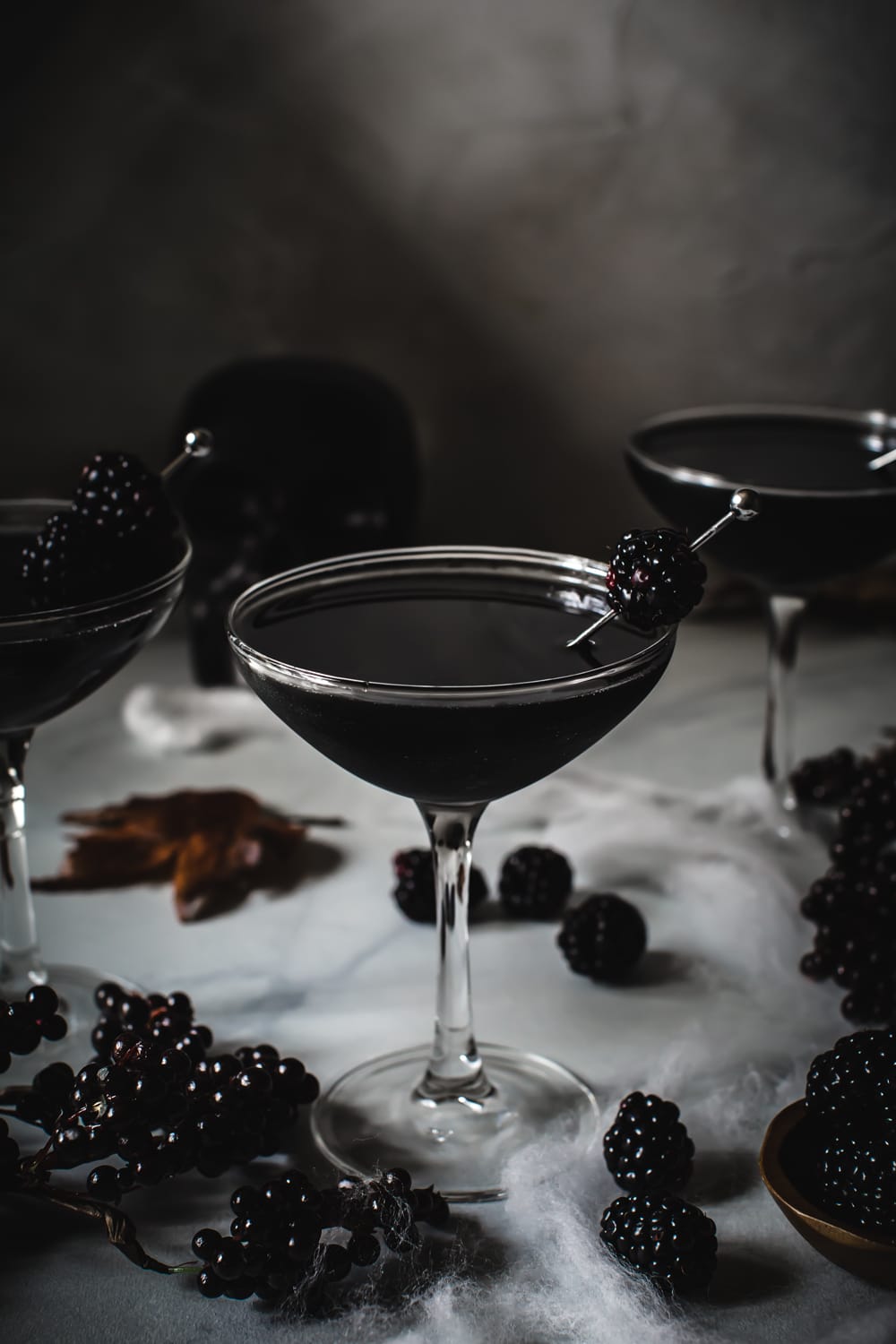 Black Widow Cocktail
I've never been one to dress up for Halloween in my adult years, however, I still take every opportunity to prepare delicious treats and decorate for this fun day.
Years after moving to Charleston we have an annual tradition to spend Halloween evening with the same dear friends. They always host and have the most wonderful spread of food and each year there's a new cocktail to sip before heading out to trick-or-treat with our children.
This year I've been testing my own drinks and this simple vodka Halloween cocktail is as delicious as it is beautiful.
The rich color comes from using activated charcoal, which creates a deep black Halloween cocktail that also detoxifies. I can't exactly confirm nor deny, but I think the activated charcoal makes this a better cocktail option than most.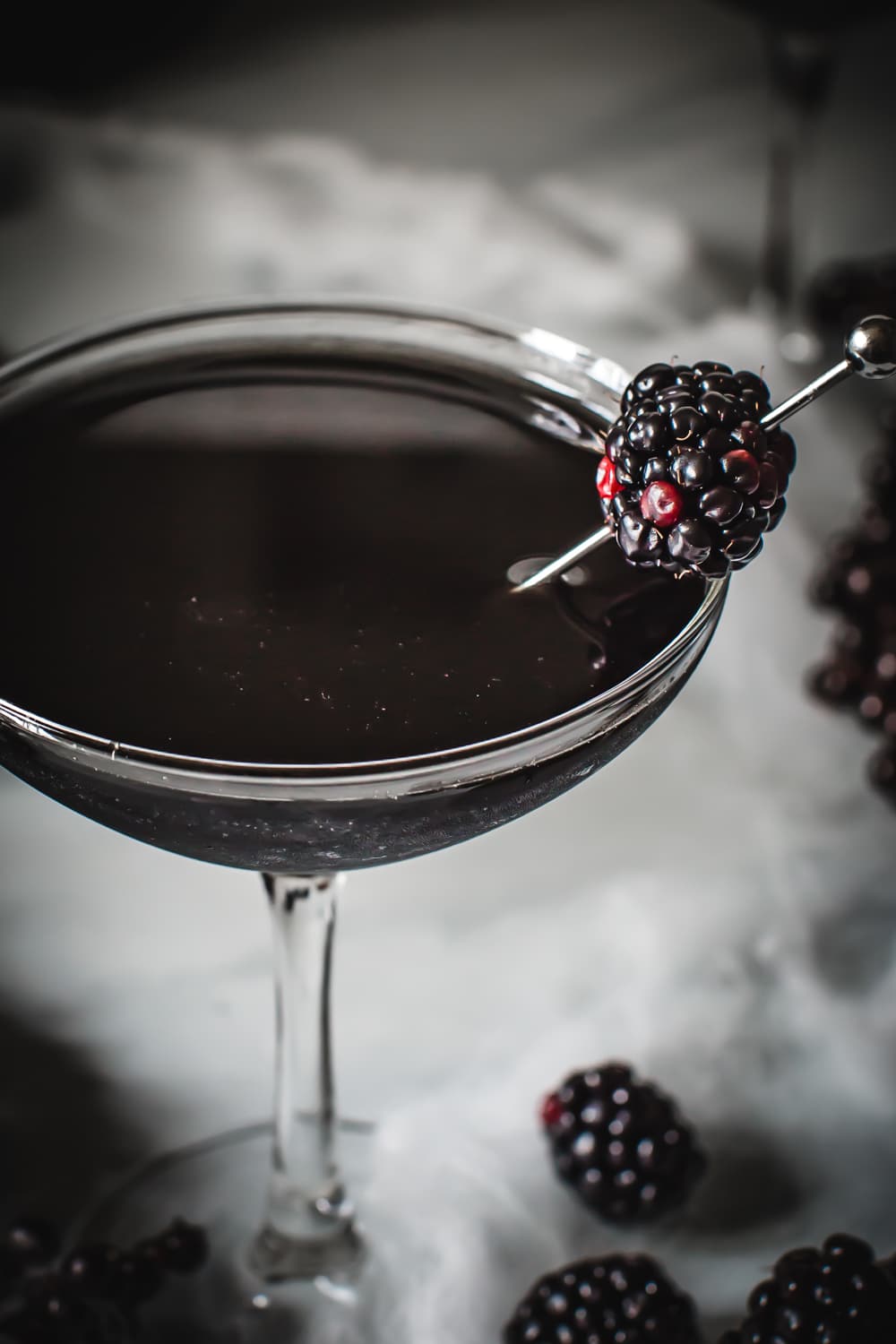 Ingredients in Black Widow Cocktail
This easy Halloween cocktail is composed of a unique mix and simply shaken in a cocktail shaker filled with ice and then strained into a glass.
Vodka: I always prefer to use high-quality vodka. Simple dirty martinis are my favorite cocktail so I always have some on hand.
Creme de Cassis: A sweet, dark red liqueur made from blackcurrants. Most widely used in making the french Kir Royale and can be found in most liquor stores.
Kahlua: A slightly sweet coffee liqueur used in making White Russians (one of my other favorites), but also perfect for fall drinks.
Activated Charcoal: A fine odorless and tasteless powder made from selected natural hardwood trees that have been exposed to very high temperatures in an airless environment. It is pure carbon specially processed to make it highly absorbent of particles and gases in the body's digestive system. Basically, it gives the cocktail the deep black color as well as helps you detoxify.
Ginger Beer: Just a splash of this soda gives the cocktail a tiny sparkle and an extra sweet taste.
How to Make a Black Widow Halloween Cocktail
There are only two steps to making this devilishly delicious black Halloween cocktail.
Shake: Pour the vodka, cream de cassis, activated charcoal, and Kahlua into a cocktail shaker filled with ice. Shake vigorously for 1 minute and strain into a martini glass.
Garnish: Splash the top of the cocktail with ginger beer and garnish with blackberries.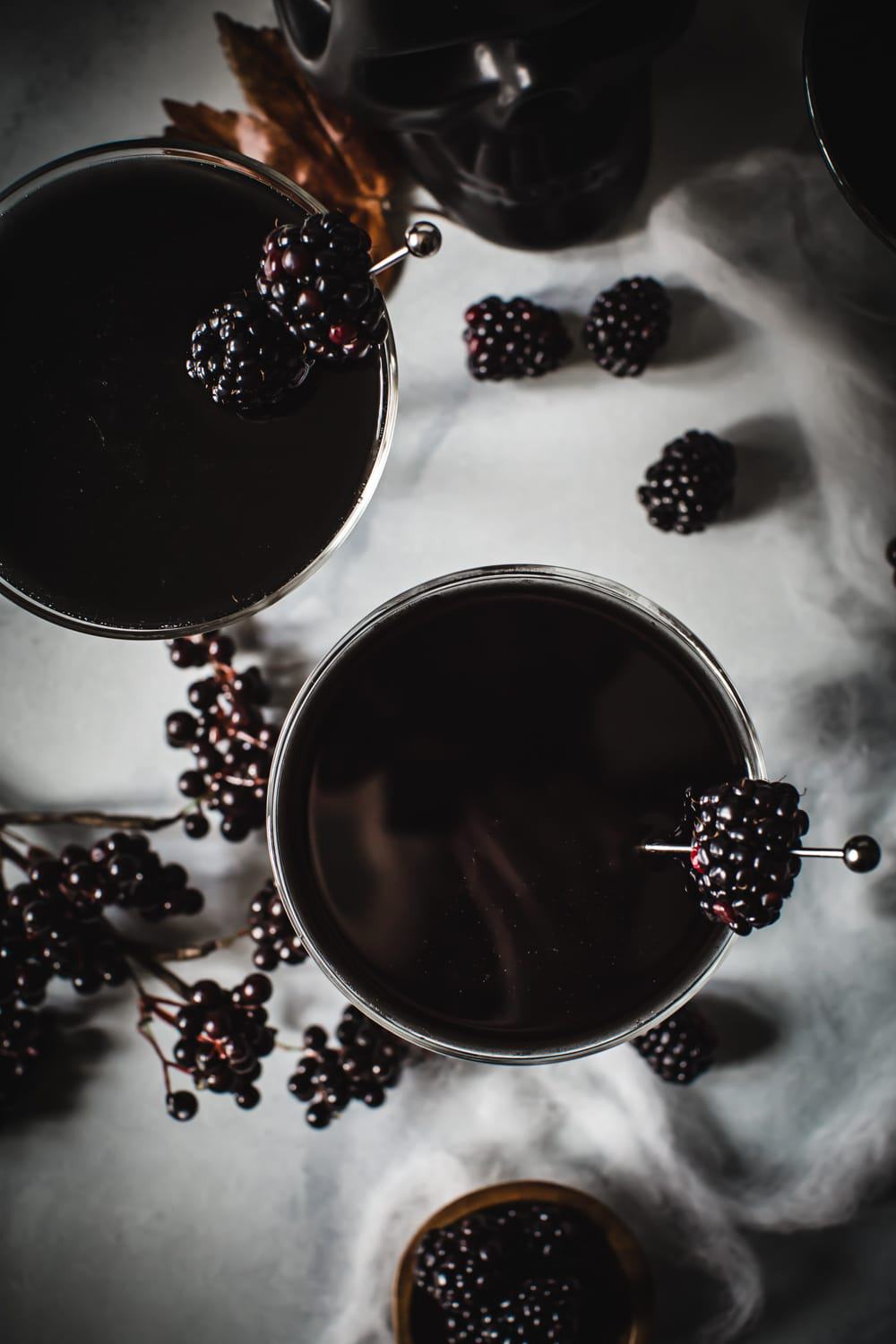 FAQ's about Making the Black Widow Cocktail
Can I Use Rum Instead of Vodka?
Absolutely! This will make your beverage slightly sweeter, but the two are interchangeable in this recipe.
Do I Have to Use Activated Charcoal?
Not at all! The activated charcoal is actually tasteless, but not necessary for making this drink. I used it solely to achieve a dark color.
Tips for Making the Best Black Halloween Cocktail
When shaking the ingredients in your cocktail shaker, make sure you have plenty of ice (it should more than cover the liquid), and shake vigorously for 1 minute. If your arms get tired when shaking you're doing it correctly.
I always recommend using high-quality ingredients. Using a good brand of ginger beer is key for those perfect bubbles.
More Devilish Halloween Cocktails
If you love Halloween cocktails then try some of these other treats. I promise there's no trick!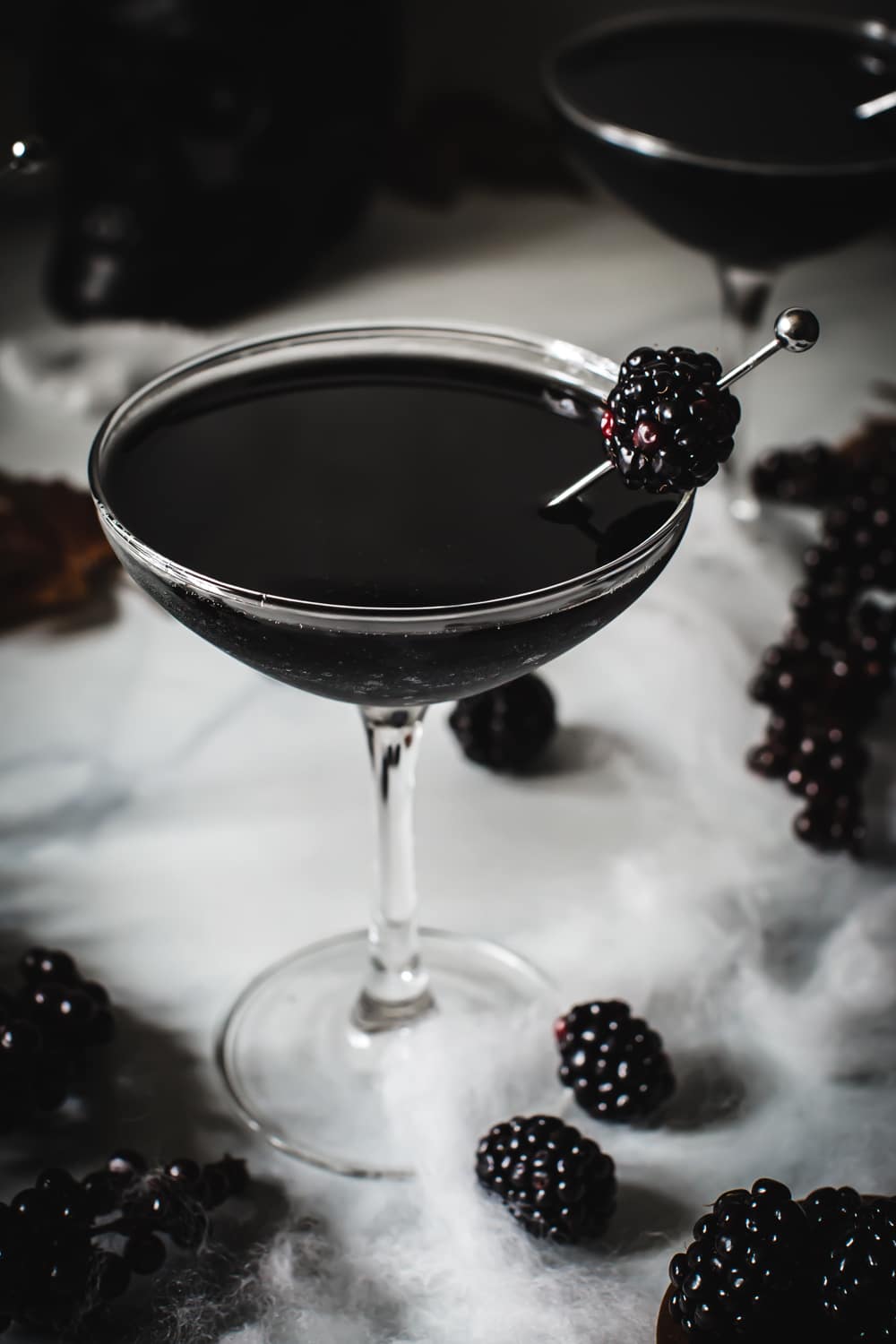 Ingredients
2

ounces

Vodka

3

ounces

Cream de Cassis

1

ounce

Kahlua

1/2

teaspoon

Activated Charcoal

optional

1

ounce

Ginger Beer

2

Blackberries
Instructions
Pour the vodka, cream de cassis, activated charcoal, and Kahlua into a cocktail shaker filled with ice. Shake vigorously and strain into a martini glass.

Splash the top of the cocktail with the ginger beer and garnish with blackberries.
Nutrition
Serving:
1
cocktail
|
Calories:
502
kcal
|
Carbohydrates:
44
g
|
Protein:
1
g
|
Fat:
1
g
|
Saturated Fat:
1
g
|
Sodium:
12
mg
|
Sugar:
43
g
|
Vitamin C:
1
mg