Simple cod seared in a blackening spice, topped with a sweet coleslaw and sandwiched between a toasted bun is a light and flavorful dish. This Blackened Fish Sandwich is a spicy and sweet combination.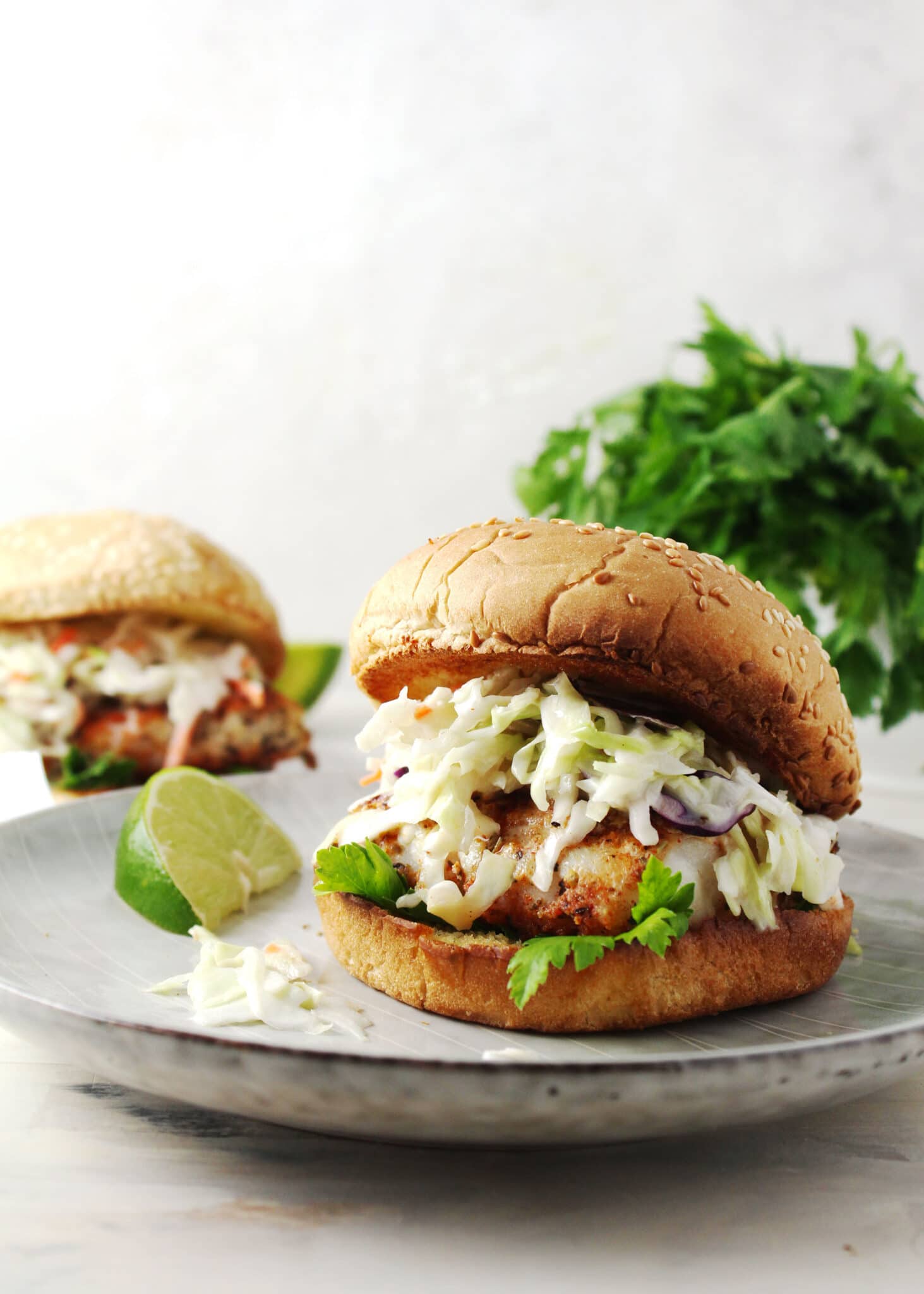 Blackened Fish Sandwich Recipe
This simple sandwich is a meal you can prepare quickly and a nice option to spice up your weekly meal plan. The blackened fish comes sandwiched between a toasted bun and is topped with sweet coleslaw, which softens the flavor.
I used a mild-flavored cod for this recipe to allow the blackened seasoning to bring out the flavor, however, you can also use several other fish options. How you arrange the sandwich is entirely up to you and blow I've got several other toppings you may wish to try.
This is a 30-minute meal making it perfect for weeknights when you want to spice it up or even a light weekend meal.
What is Blackened Fish?
The name "blackened" comes from the bold seasoning mixture coated on the outside of the fish before it's cooked. Once the spices are mixed and then cooked they resemble a black color and have a strong spicy flavor.
In order to prepare fish, or even chicken, in this way you simply coat the fish with oil and then spread the seasoning on top. Heat an iron skillet over medium-high heat and then cook the fish on each side for 4 minutes.
Blackened Seasoning Recipe
There are many spices I like to have on hand that I've mixed up myself and this blackening spice is one of them. It's perfect for searing fish and chicken and is the key to this fish sandwich recipe.
You can purchase blackened seasoning but often the blend will include additives that are unnecessary. Making your own ensures a more pure flavor.
2 tablespoons Black Pepper
2 tablespoons Salt
1 tablespoon Onion Powder
1 tablespoon Garlic Salt
1/2 to 1 tablespoon Paprika (use less to cut down on the spice)
2 teaspoons Oregano
2 teaspoons Dried Parsley
1 teaspoon Cayenne Pepper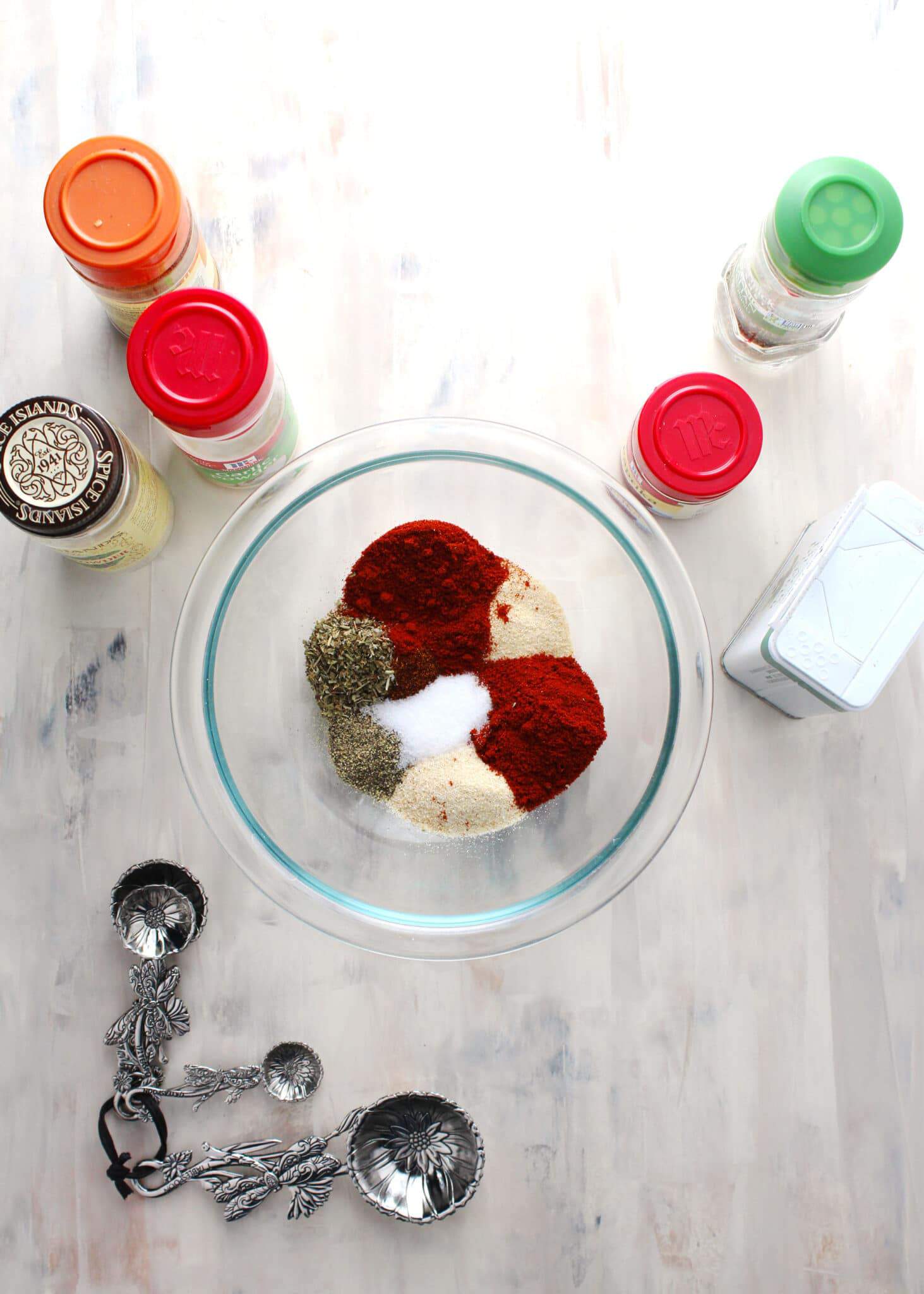 Ingredients in this Blackened Fish Sandwich Recipe
The base ingredients for this recipe are simple and if you don't use pre-made coleslaw or blackened seasoning then you can just as easily prep your own.
Sweet Coleslaw: this delicious and simple side dish also works perfectly for topping sandwiches. You can easily make your own or purchase some at your local grocery store.
Blackened Seasoning: this spice is the key to the sandwich, which brings a strong spicy flavor to the fish and is balanced by the coleslaw.
Cod Fillets: fresh or frozen, this mild-flavored fish is the perfect filler for this sandwich.
Olive Oil: the oil is used to coat the fish and allows the seasoning to stick during the cooking process.
Butter: optional, but used to cover the buns for toasting.
Sesame Seed Buns: use a sesame seed bun or choose your favorite sandwich option.
How to Make a Blackened Fish Sandwich
Prepare the Coleslaw: In a small bowl whisk the mayonnaise, sugar, and apple cider vinegar together until combined. Then toss with the coleslaw mix until it is fully coated. Set aside.
Make the Blackened Seasoning: stir the black pepper, salt, onion powder, garlic salt, paprika, oregano, dried parsley, and cayenne pepper together in a small bowl and set aside.
Cook the Fish: Coat both sides of the cod with oil and then spread the blackened seasoning generously on top. Heat a skillet over medium-high heat and then cook the fish on each side for 4 minutes.
Assemble: Cover each side of the bun with butter and toast in an oven set to broil. Layer the fish on the bottom side of the toasted bun and top with the sweet coleslaw, and remaining bun half.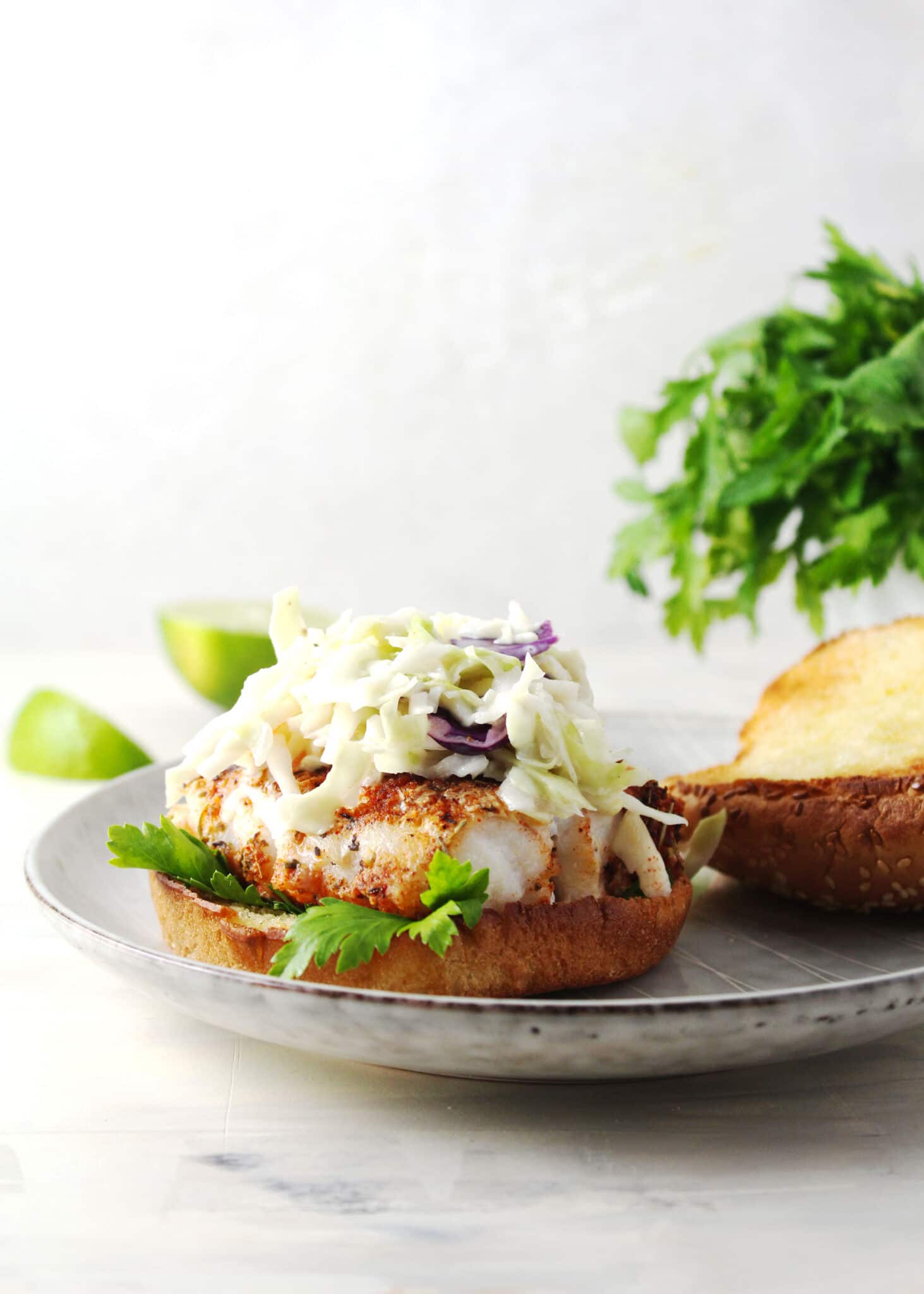 Fish Sandwich Toppings
This blackened cod sandwich in this recipe is super basic, but you can get really creative with your toppings. Below are some tasty options to top your sandwich, many of which can be combined.
Sweet Coleslaw
Tartar Sauce
Sliced Pickles
Shredded Lettuce
Sliced Tomatoes
Cheddar Cheese
Spicy Mayo
Avocado
Lettuce
FAQ's for Making this Blackened Fish Sandwich Recipe
Side Dish for Fish Sandwich
There are so many options for side dishes. If you can serve it with a burger or sandwich you can serve it with this blackened fish sandwich. Though this is a lighter sandwich, I still prefer to add lighter sides such as a simple potato salad or tomato salad. Below are some other options to consider.
Chips
Fries
Tater Tots
Baked Beans
Which fish works best for this sandwich?
Since you're cooking this fish with a blackening spice you'll want to choose a mild-flavored one such as cod. Below are some other options that work perfectly for this recipe. Both cod and tilapia will be the less expensive versions.
Cod
Halibut
Snapper
Bass
Tilapia
Can I use frozen fish?
Yes. Just let the fish thaw in the refrigerator completely before preparing the recipe.
Can I use pre-made coleslaw?
Absolutely! If you're short on time or just want to purchase a small amount of coleslaw you can and it won't alter the taste much. Usually, you can find this side item in the deli section of your grocery store.
What's the difference between cajun seasoning, creole spice, and blackened seasoning?
All three spices contain paprika, ground pepper, garlic, and onion powder in varying ratios, but the difference in taste comes down to the spiciness of each combination. The cajun seasoning tends to be the hottest and blackened seasoning is in the middle of the range.
Tips for Preparing this Blackened Cod Sandwich
Make sure to turn on your oven fan or ventilation because the fish will smoke during the cooking process due to the spices.
Use a fish spatula when cooking the fish. It helps keep it in one piece and make it easier to flip while cooking.
Save your leftover blackened seasoning by placing it in a spice jar and storing it for later use (I recommend making blackened chicken).
Use the leftover coleslaw and buns to make some delicious sloppy joes the following night.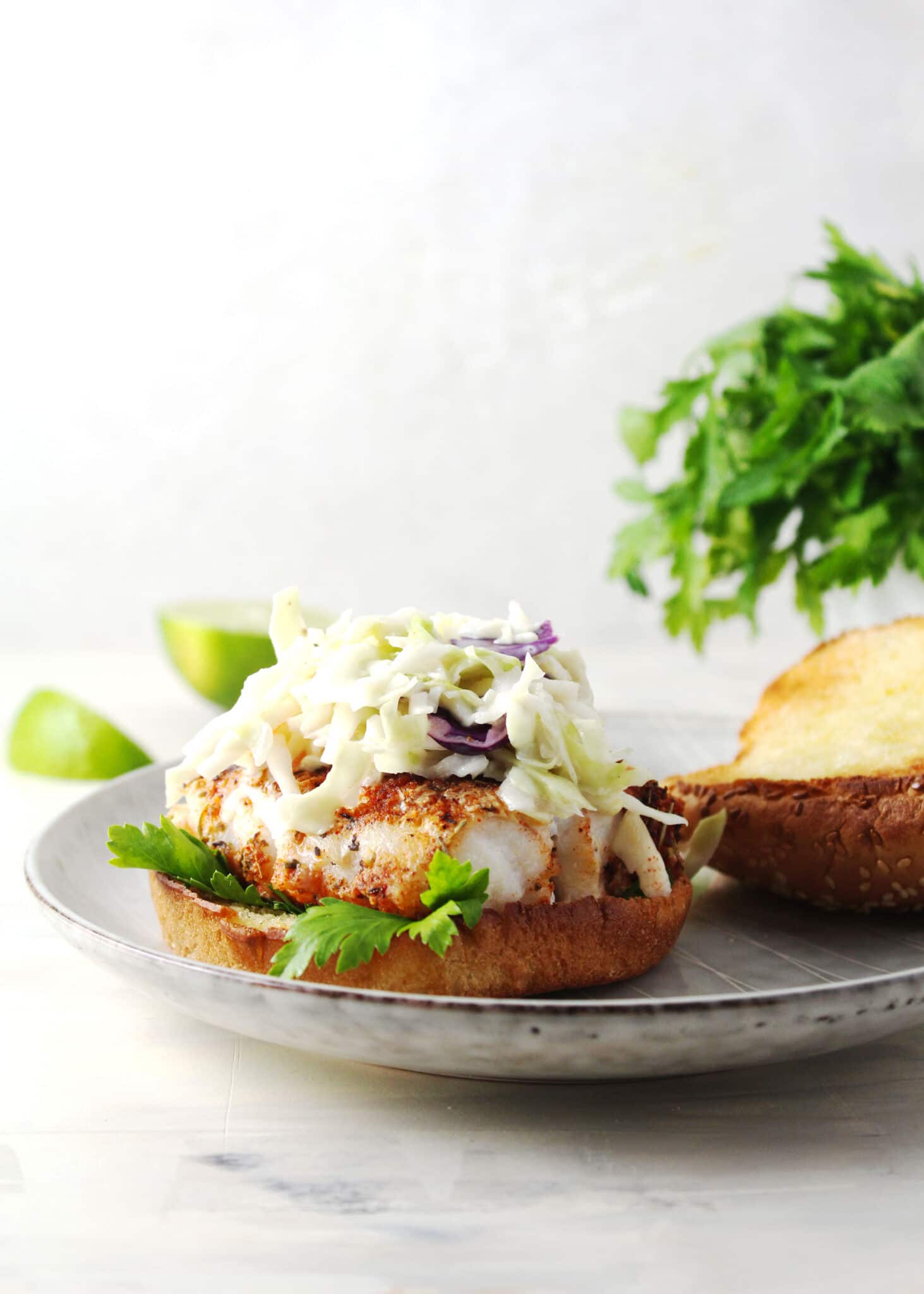 Ingredients
Sweet Coleslaw
14

ounces

Coleslaw

in a bag

1/3

cup

Mayonnaise

3

tablespoons

Sugar

2

tablespoons

Apple Cider Vinegar
Blackened Seasoning
2

tablespoons

Ground Black Pepper

2

tablespoons

Salt

1

tablespoons

Onion Powder

1

tablespoon

Garlic Salt

1

tablespoons

Paprika

2

teaspoons

Oregano

2

teaspoons

Parsley

1

teaspoon

Cayenne Pepper
Cod Sandwich
4

Cod Fillets

2

tablespoons

Olive Oil

2

tablespoons

Butter

4

Sesame Seed Hamburger Buns
Instructions
Prepare the Sweet Coleslaw
In a small bowl whisk the mayonnaise, sugar, and apple cider vinegar together until well combined.

Place the coleslaw mix into a large bowl and pour the mayonnaise mixture on top. Toss until fully coated and set aside.
Make Blackened Seasoning
In a small bowl stir together all the spices in the blackened seasoning until even.
Cook Fish
Cover each side of the fish in olive oil and then using 2 tablespoons of the blackened seasoning generously spread it on each side of the fish.

Heat a heavy-bottomed or iron skillet over medium-high heat. Cook the cod on each side for 4 minutes (flip it only once).
Arrange the Sandwich
As the fish is cooking set the oven to BROIL and cover each half of the buns with butter and toast in the oven until lightly golden in color.

Layer the cooked fish fillet on the bottom of each bun and top with a little less than 1/4 cup of the sweet coleslaw. Cover with the bun top.
Notes
Make sure you have proper ventilation when cooking the fish. The spices will cause it to smoke slightly.
Nutrition
Serving:
1
sandwich
|
Calories:
511
kcal
|
Carbohydrates:
41
g
|
Protein:
23
g
|
Fat:
29
g
|
Saturated Fat:
7
g
|
Cholesterol:
73
mg
|
Sodium:
5955
mg
|
Potassium:
342
mg
|
Fiber:
6
g
|
Sugar:
16
g
|
Vitamin A:
1376
IU
|
Vitamin C:
38
mg
|
Calcium:
153
mg
|
Iron:
3
mg