The Classic Daiquiri is a timeless and elegant drink with an exquisite blend of rum, zesty lime, and a touch of simple syrup. This cocktail is often overcomplicated, but has only 3 ingredients making it a cocktail that's more than just a drink, it's a journey back in time.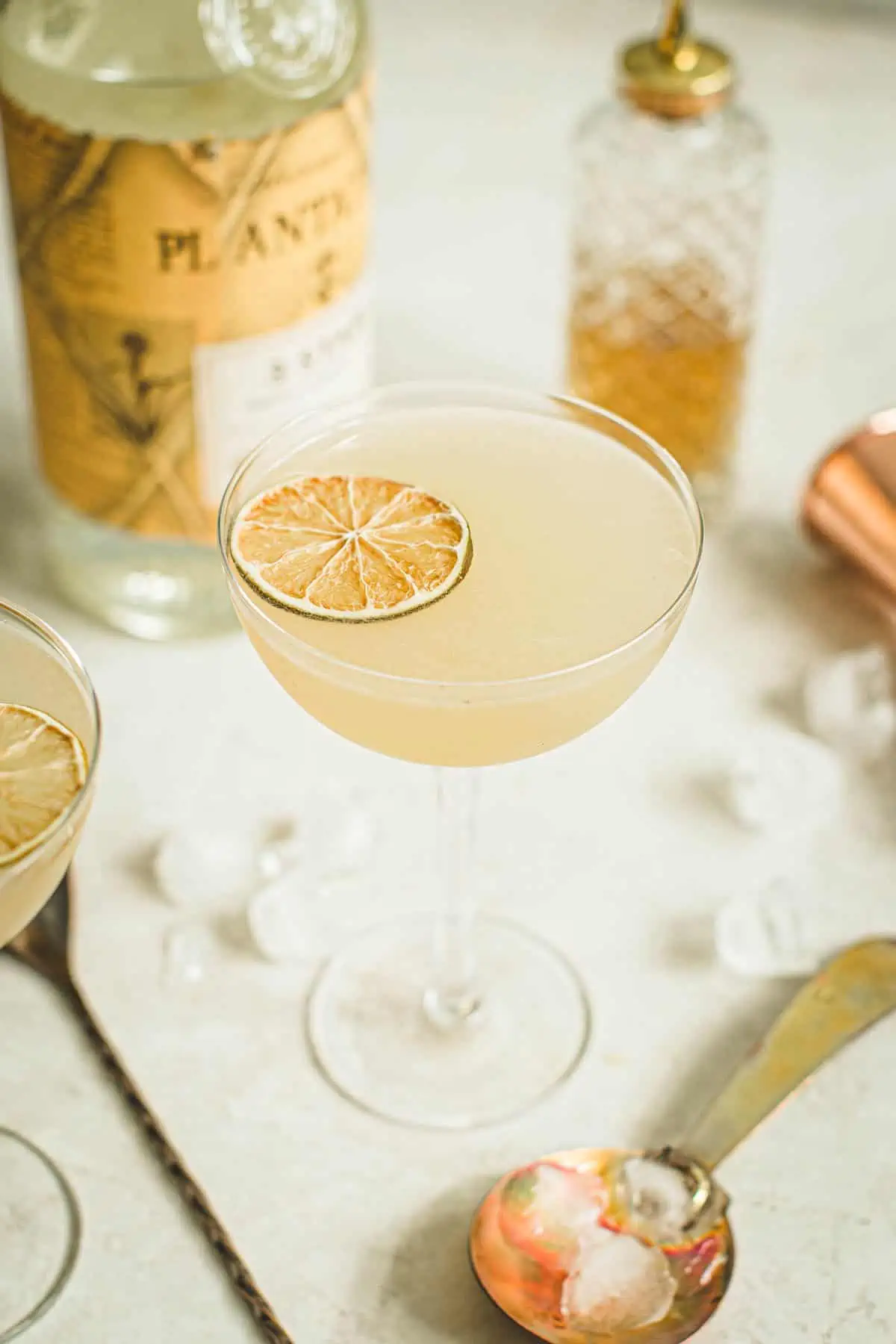 What is a daiquiri made of?
A Daiquiri is made of three primary ingredients: white rum, freshly squeezed lime juice, and Simple Syrup. These components are skillfully combined to create a balanced and refreshing cocktail.
To craft the best original daiquiri, opt for top-notch ingredients such as high-quality rum, recently squeezed lime juice, and your very own Homemade Simple Syrup. Achieving a perfectly balanced daiquiri involves finding the ideal harmony between sweetness and tartness, a blend that you can easily tailor to suit your individual palate preferences.
What goes in a Daiquiri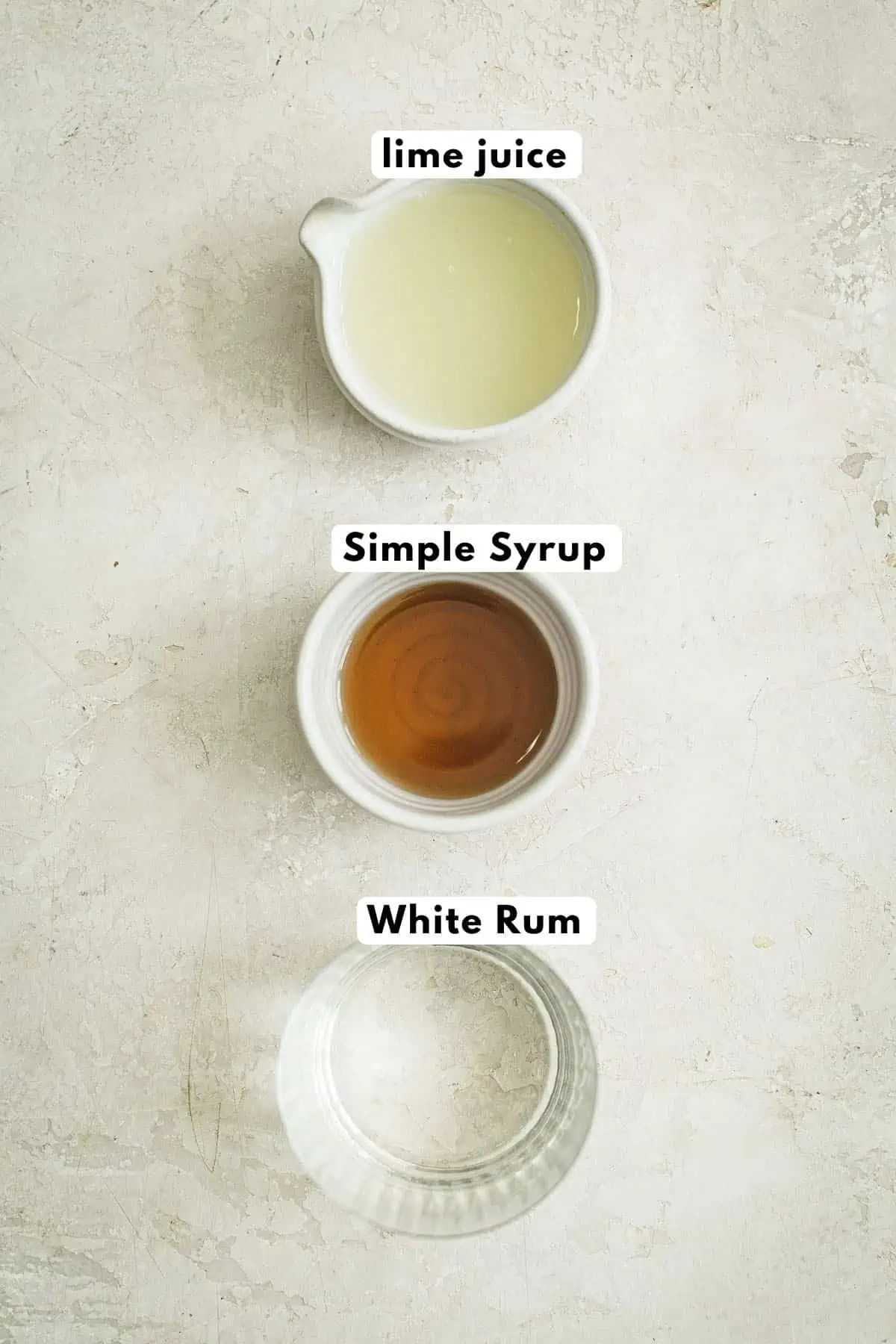 White Rum – When selecting rum for a classic daiquiri, opt for a high-quality white rum, also known as light rum. Its clean and smooth profile allows the natural flavors of lime and simple syrup to shine. Some of my favorite brands are Plantation 3 Stars Silver Rum, Ten to One White Rum, and Bacardí Superior White Rum.
Lime Juice – Using freshly squeezed lime juice in a daiquiri is essential to achieve vibrant and authentic flavors. Pre-packaged lime juice lacks the depth and brightness that only freshly squeezed juice can provide.
Simple Syrup – Opting for homemade simple syrup in a classic daiquiri ensures a customized sweetness that perfectly complements the other flavors. You can learn How to Make Simple Syrup or even try Demerara Syrup, which introduces a subtle caramelized depth, adding a nuanced complexity to your daiquiri.
How to Make a Daiquiri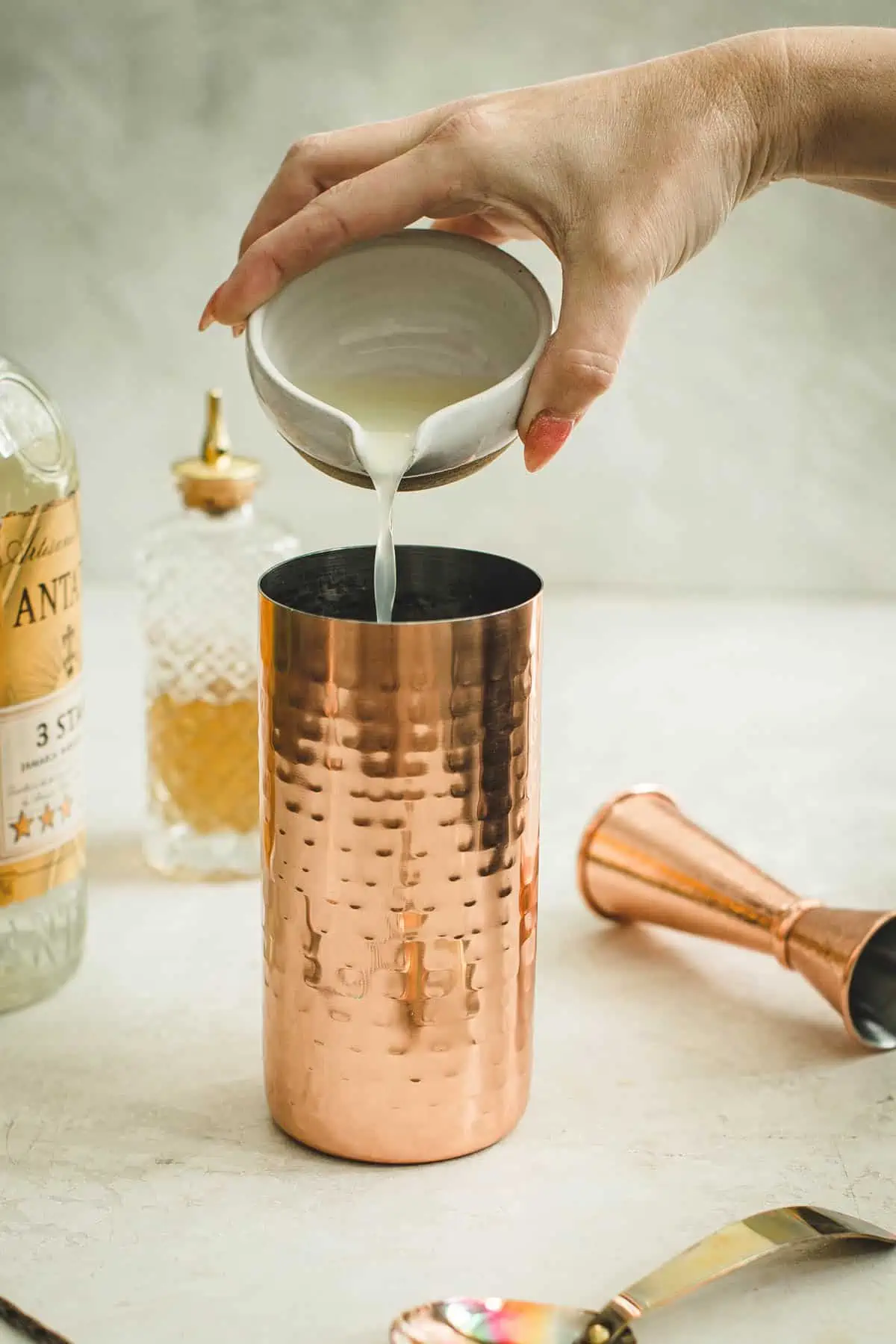 Add the ingredients to a cocktail shaker. Add a generous amount of ice cubes to a cocktail shaker and pour in the rum, lime juice, and Simple Syrup.
Shake vigorously. Shake the mixture vigorously for 10-15 seconds.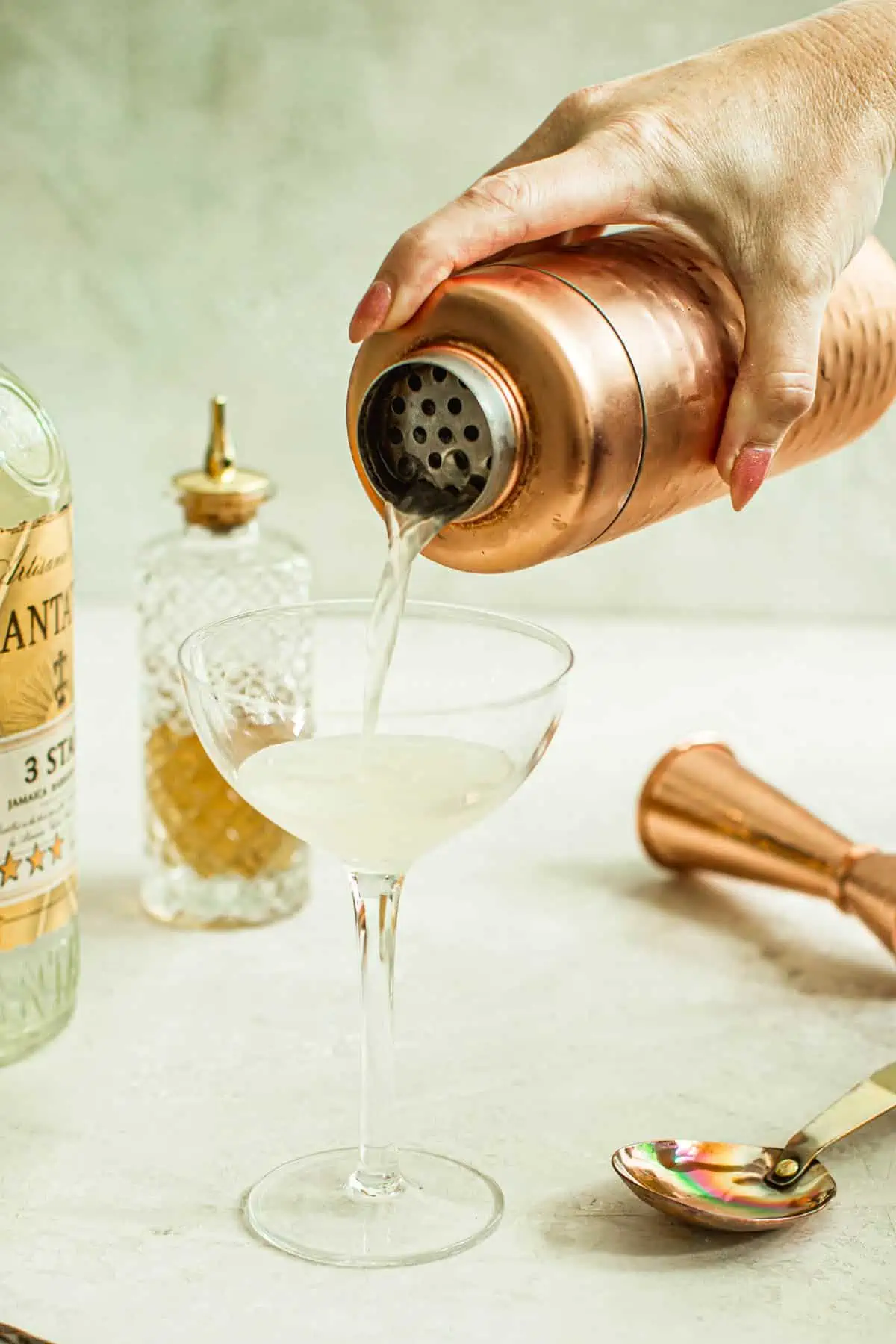 Strain the cocktail. Strain the daiquiri into a chilled cocktail glass and garnish with a lime wheel or dehydrated lime.
Recipe Notes and Tips
Daiquiri Drinkware: Serve in a chilled cocktail glass or a coupe glass. Chilling the glass beforehand keeps the drink cold longer.
Fresh Lime Juice: Always use freshly squeezed lime juice. Bottled lime juice lacks the vibrancy and complexity of fresh citrus.
Demerara Syrup Option: For a twist, substitute regular simple syrup with Demerara Syrup. It adds a rich, slightly caramelized flavor.
Presentation: While garnishes are not typically associated with daiquiris, considering a lime wheel, dehydrated lime, or a gracefully twisted lime peel can be a tasteful choice.
If your drink is too tart or too sweet: Should your beverage veer towards excessive tartness, more syrup can restore balance. Conversely, if sweetness dominates, a dash more lime juice can harmonize the flavors. The choice of simple syrup matters: a luscious 2:1 ratio demands less than its 1:1 counterpart in crafting your daiquiri's impeccable equilibrium.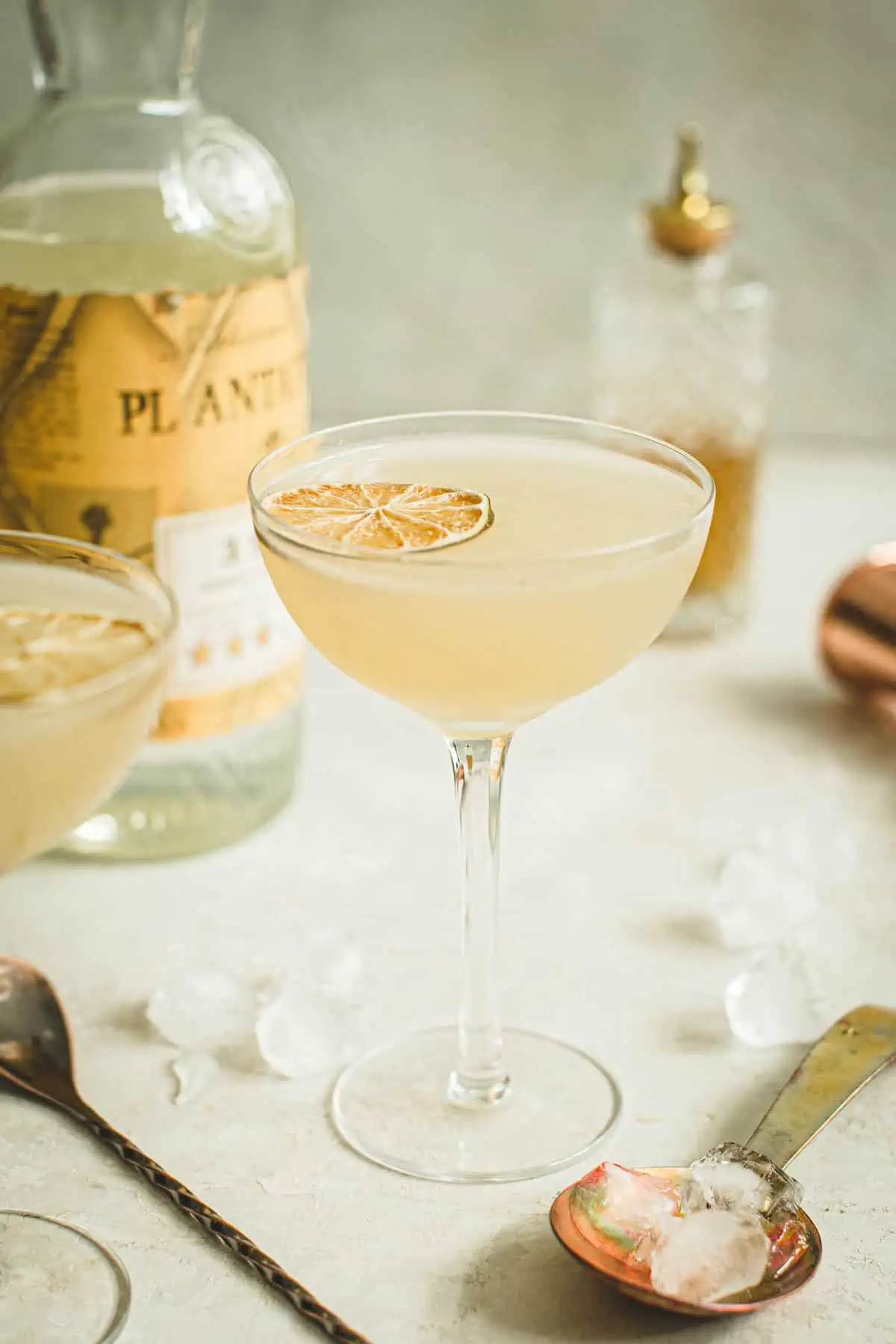 Daiquiri Cocktail History
Back in the late 1800s in Cuba, the daiquiri started making waves. They named it after a little town near Santiago. Now, there are two stories floating around about how it came to be. Some say it was whipped up for medicinal reasons, while others think it happened because there wasn't any whiskey or gin around, so they spiced up the local rum. But, like many cocktail stories, it's hard to know which one's true. Maybe both have a bit of truth to them, adding to the mystery of how this drink came about.

One of the biggest daiquiri fans in history was none other than Ernest Hemingway. There's even a daiquiri spin-off named after him. They call it the Hemingway Daiquiri. In this version, they toss in grapefruit juice and maraschino liqueur, taking the flavors up a notch.
Recipe Variations
Spiced Daiquiri – Similar to the original daiquiri recipe this version uses freshly squeezed lime juice and Simple Syrup, but adds an exotic twist using spiced rum instead of white.
Hemingway Daiquiri – This version adds a twist with the inclusion of grapefruit and maraschino liqueur and offers a tangy and slightly bittersweet profile that sets it apart from the traditional daiquiri.
Strawberry Daiquiri – The strawberry daiquiri takes the classic formula up a notch by blending in frozen strawberries, creating a lusciously fruity and frozen concoction. There's also the Raspberry Daiquiri, which uses Raspberry Syrup instead of frozen fruit.
Banana Daiquiri – The banana daiquiri is a tropical delight that blends frozen bananas with the zing of lime juice and the smoothness of rum, resulting in a frosty and indulgent cocktail.
FAQS
How strong is a daiquiri?

Don't underestimate the potency of this drink. A typical daiquiri, made with 80-proof rum, packs a punch at around 20% alcohol by volume (equivalent to 40 proof), so it's wise to keep tabs on consumption. Flavored daiquiris, incorporating ingredients like strawberries, bananas, or extra fruit juice, often sport a lower alcohol content due to the presence of non-alcoholic elements.
What flavor is a classic daiquiri?
A classic daiquiri boasts a balanced blend of flavors that is both tangy and refreshing. It showcases the lively combination of zesty lime juice, the subtle sweetness of Simple Syrup, and the rich warmth of white rum.
What's the difference between a margarita and a daiquiri?
While both margaritas and daiquiris are popular cocktails, they have distinct differences in terms of ingredients and flavor profiles. A margarita typically includes tequila, orange liqueur, and lime juice, resulting in a vibrant and citrus-forward taste with a hint of sweetness. On the other hand, a daiquiri features white rum, lime juice, and simple syrup, delivering a balanced blend of tartness and sweetness, accentuated by the rum's character. Here is more information about the Daiquiri vs Margarita.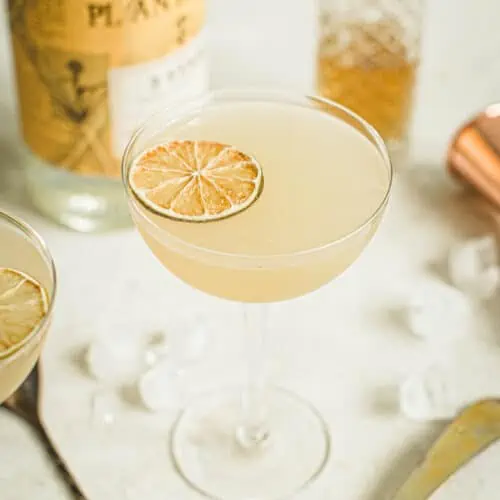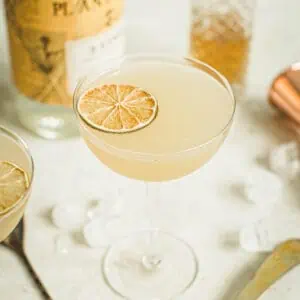 Classic Daiquiri Recipe
Elevating elegance through time, the Classic Daiquiri harmonizes the rich notes of rum, the lively zest of lime, and a delicate hint of simple syrup. Amidst the realm of mixology's intricacies, this cocktail stands tall with its mere trio of components.
Print
Pin
Rate
Ingredients
2

ounces

Light Rum

1

ounce

Lime Juice

freshly squeezed

3/4

ounce

Simple Syrup
Instructions
Add the ingredients to a cocktail shaker. Add a generous amount of ice cubes to a cocktail shaker and pour in the rum, lime juice, and

Shake vigorously. Shake the mixture vigorously for 10-15 seconds.

Strain the cocktail. Strain the daiquiri into a chilled cocktail glass and garnish with a lime wheel or dehydrated lime.
Nutrition
Serving:
1
serving
|
Calories:
195
kcal
|
Carbohydrates:
18
g
|
Protein:
0.1
g
|
Fat:
0.02
g
|
Polyunsaturated Fat:
0.01
g
|
Sodium:
13
mg
|
Potassium:
48
mg
|
Fiber:
0.1
g
|
Sugar:
16
g
|
Vitamin A:
14
IU
|
Vitamin C:
9
mg
|
Calcium:
7
mg
|
Iron:
1
mg