Crumbly and sweet, these Easter Bunny Cinnamon Puff Pastry Twists, are a perfect brunch treat for this holiday. They're simple to prepare and make an adorable statement for any spread.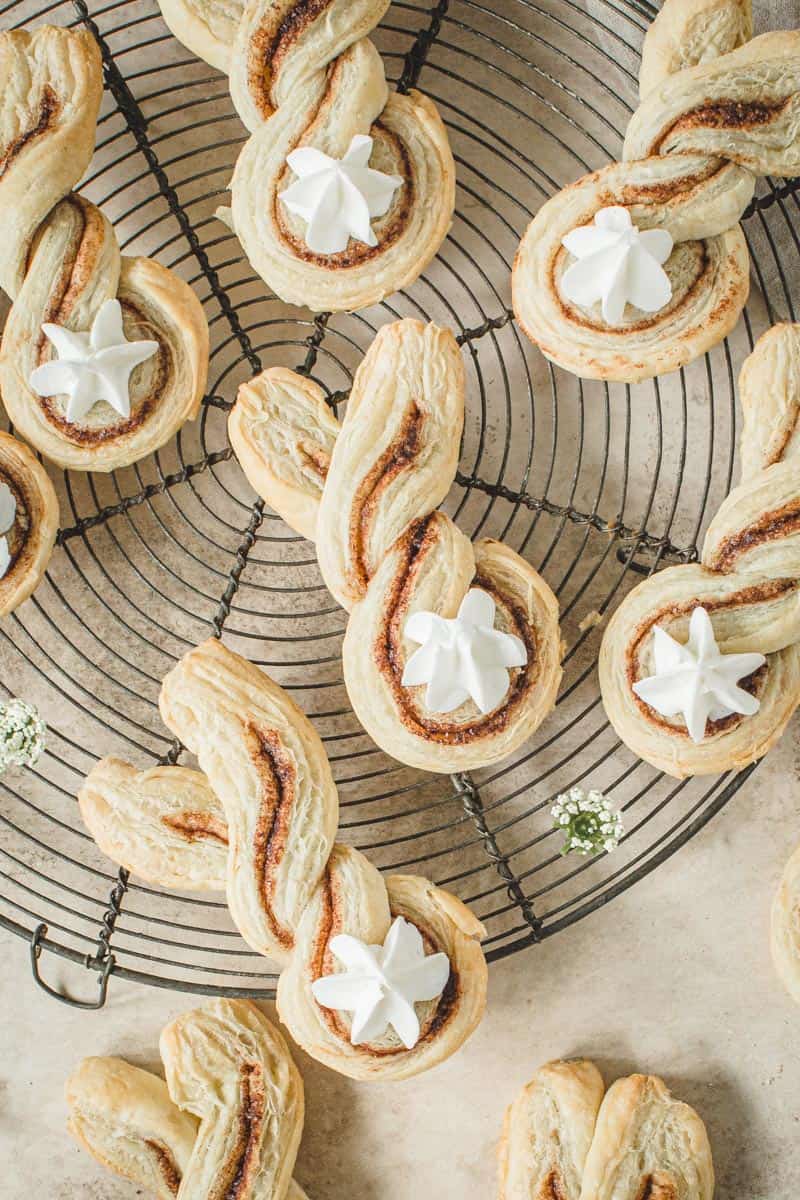 Brunch brings up memories of late breezy weekend mornings filled with friends gathering over bottomless drinks and plates full of delicious food. Whether I'm dining out or entertaining at home it's one of my favorite meals to enjoy.
I find Easter brunch to be one of the brunch main events where you can go all out with no excuse needed. When I was searching for bread recipes to serve for this special morning I stumbled across a version of these cinnamon twists on It's Always Autumn and knew they were perfect.
These Easter bunny sweets are made of puff pastry coated in a buttery cinnamon sugar spread and twisted into a bunny-like shape. Each pastry is topped off with a bit of frosting for a cute tail.
They're best served slightly warm. With their crispy and croissant-like taste, they make a wonderful and fun addition to any Easter brunch.
What You'll Need
You'll only need 5 ingredients to make these adorable Easter bunny cinnamon puff pastry twists. There's also no need to make your own frosting unless of course, you want to. For this recipe, I purchased the frosting from the baking aisle of the grocery store. I grabbed the frosting tips sitting right next to the tubes as well.
Frozen Puff Pastry Sheets
Butter
Cinnamon
Sugar
Frosting
For this recipe, you will also need a pastry brush and a pizza cutter or a long knife. My pizza cutter is broken so I used a long knife to cut out the strips.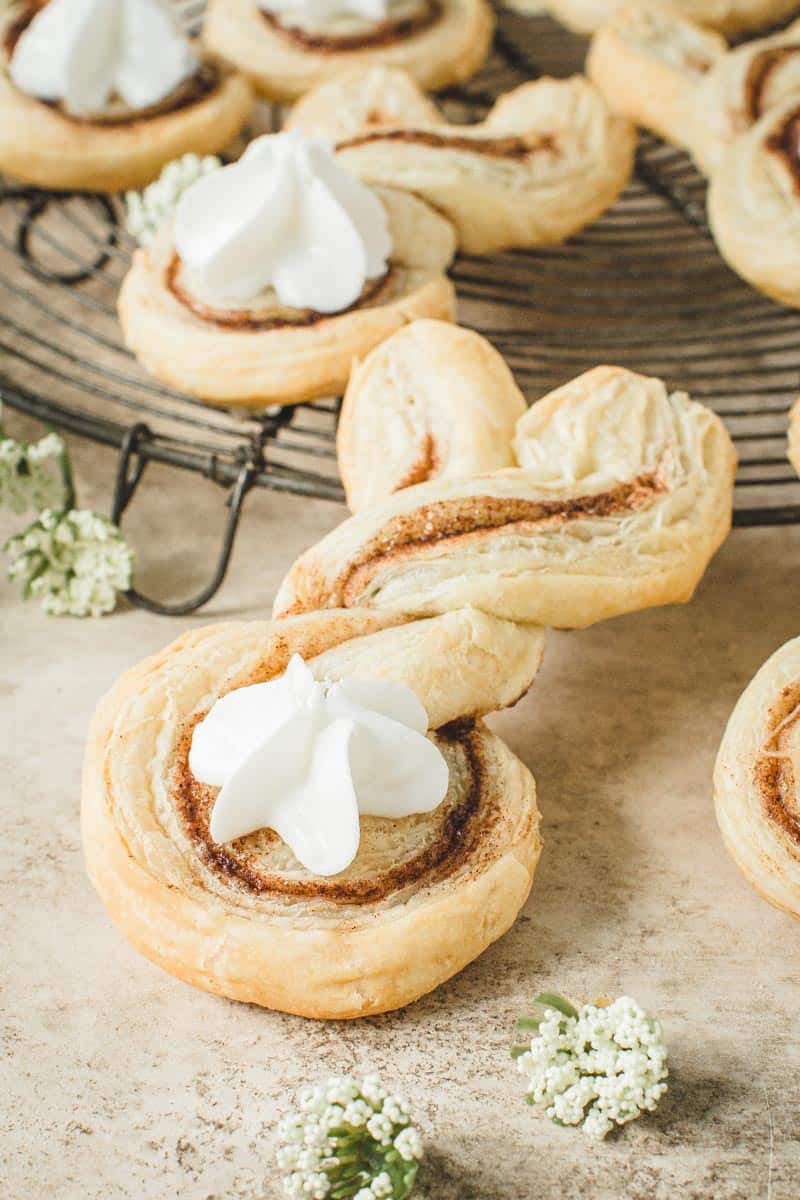 How to Make
This recipe is a breeze and comes together in minutes. In fact, it's a fun recipe the entire family could help prepare, especially kids.
Lay each sheet of puff pastry out lengthwise and coat with the melted butter, but leave a 1-inch edge clean on both sides of the pastries.
In a small mixing bowl combine the cinnamon and sugar and sprinkle on one pastry over the melted butter.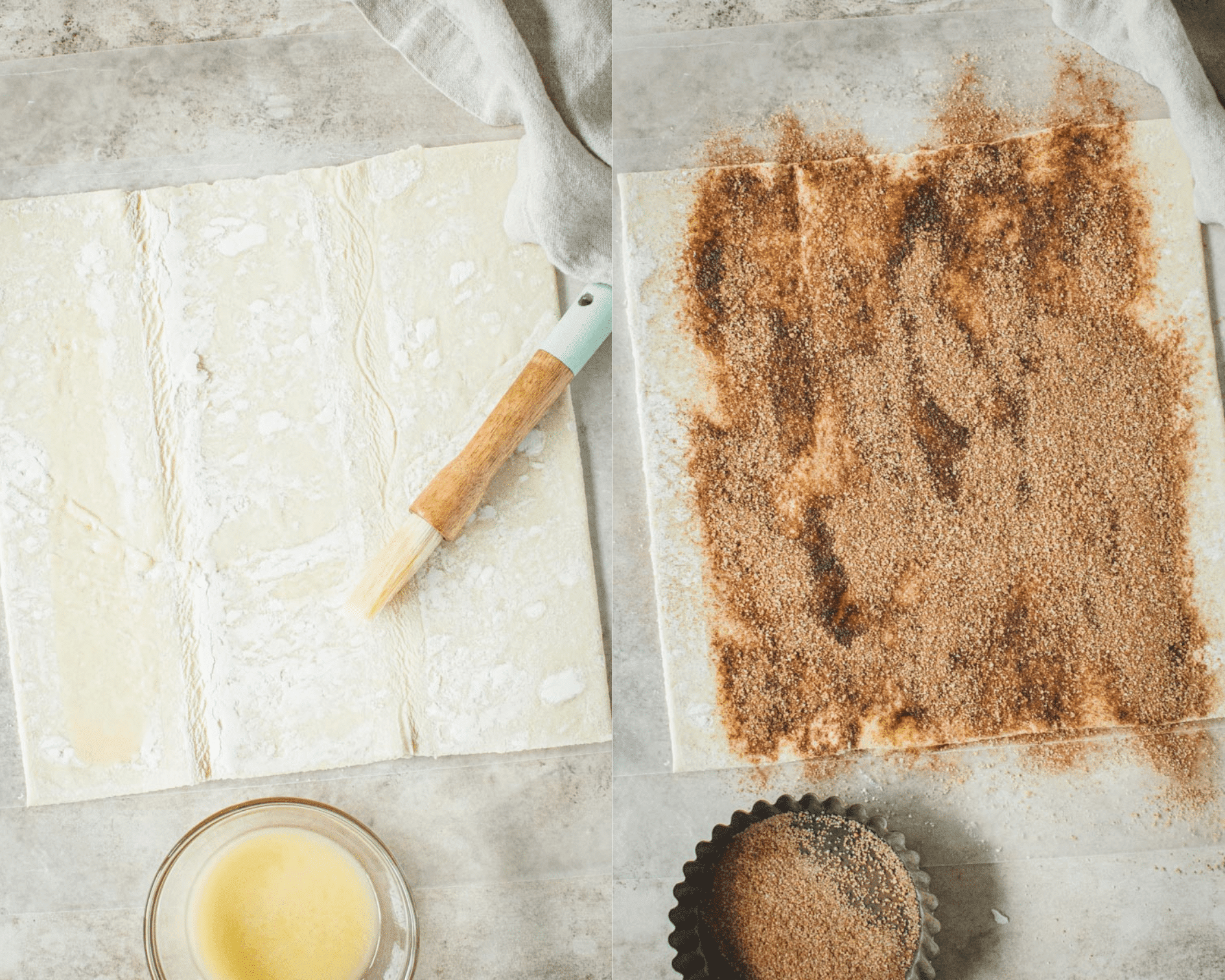 Brush the edges of the same pastry with water.
Carefully layer the other pastry, butter-side down, on top, and use a fork to crimp the water-coated edges together. Gently press the middle of the pastry together using the palms of your hands.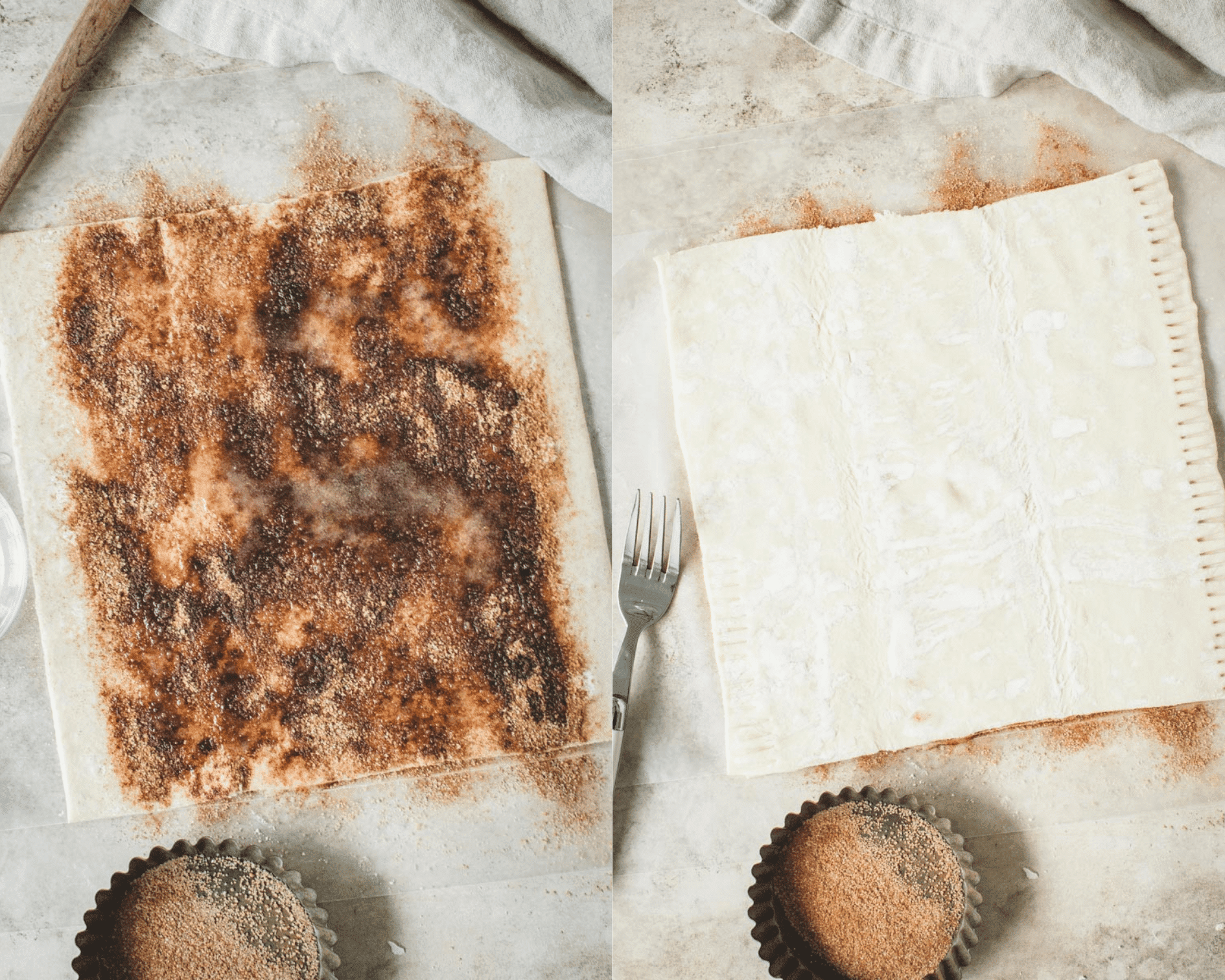 Using a pizza cutter or long knife slice the pastry in half cutting from one crimped edge to the other. Then slice the pastry into 16 long strips.
Twist each strip twice and leave the edges apart and the bottom a large open circle. Place the twists with the cinnamon sugar center facing up.
Bake at 400ºF for 17 to 18 minutes until they begin to puff up and turn a light brown.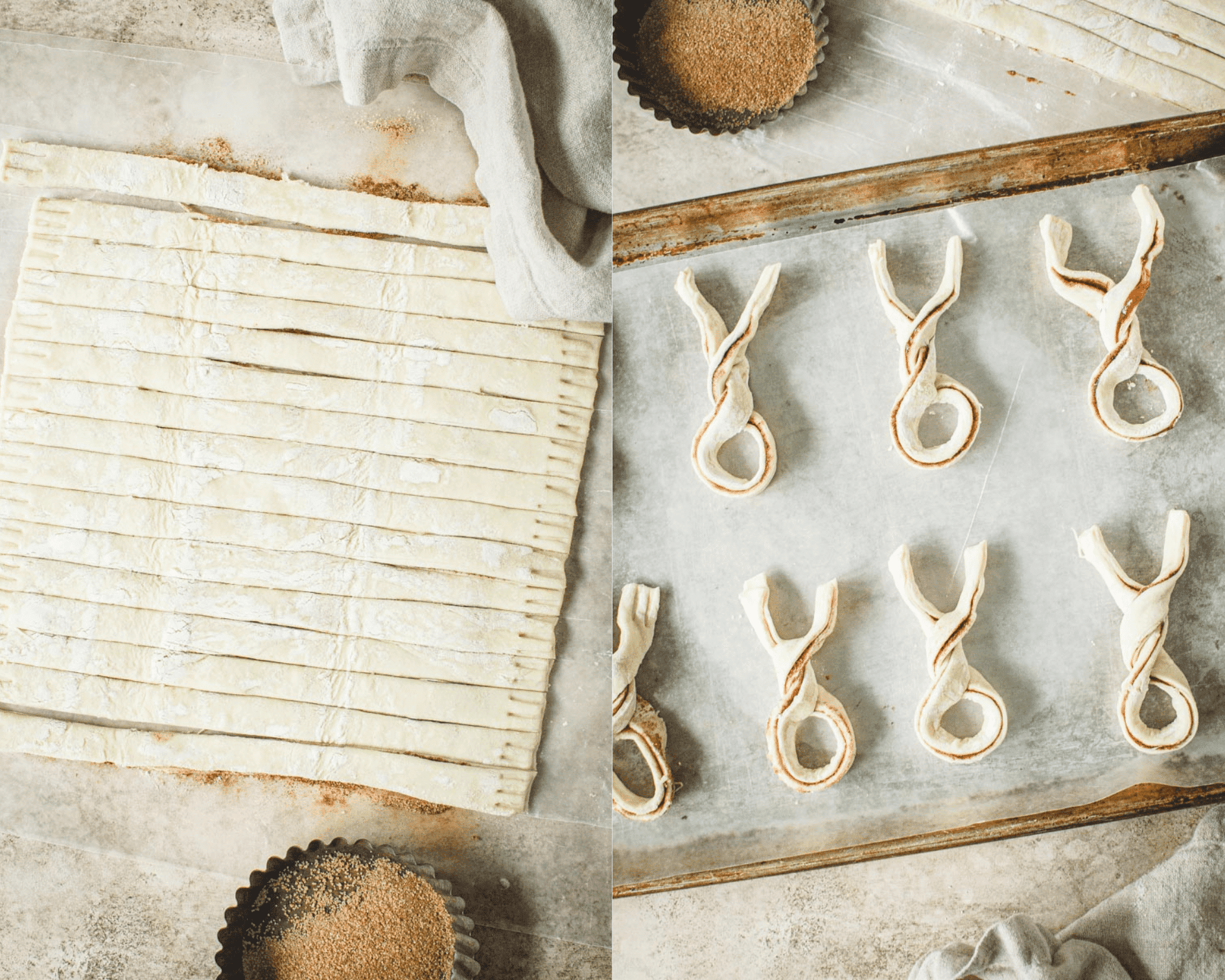 If you'd like to make your own frosting you certainly can. I recommend making it super thick so the tails are firm and stay in place. The get the tail design I used a star tip.
I also say the more frosting the better so you could easily pipe more frosting onto each bunny or prepare a glaze using powdered sugar and milk that each bunny could be dipped into. It is Easter after all, which usually starts with a sugar-induced coma.
Storage Information
These are best served not too long after they've come out of the oven. If you have leftovers then place them in an airtight container for storage. The pastries will last for about a day before they begin to harden. You can gently heat them back up for about 10 seconds in the microwave, however, the frosting will melt. They still will taste great though!
Recipe Tips and Tricks
Allow the pastry to thaw for about 30 minutes before you plan on using it. It should still be cold, but not frozen.
If the pastry starts to separate as you pull the strips apart gently press the dough together before twisting it into the bunny shape.
As the pastries bake they'll puff up and the center will come together.
No need to make your own frosting (unless of course, you want to) just grab a tube of frosting from the grocery store and the large flower-shaped tip.
As I mentioned I love brunch, especially Easter brunch and some of my other favorite things to serve alongside these Easter bunny sweets are Bunny Mary cocktails and this lemon ricotta almond cake.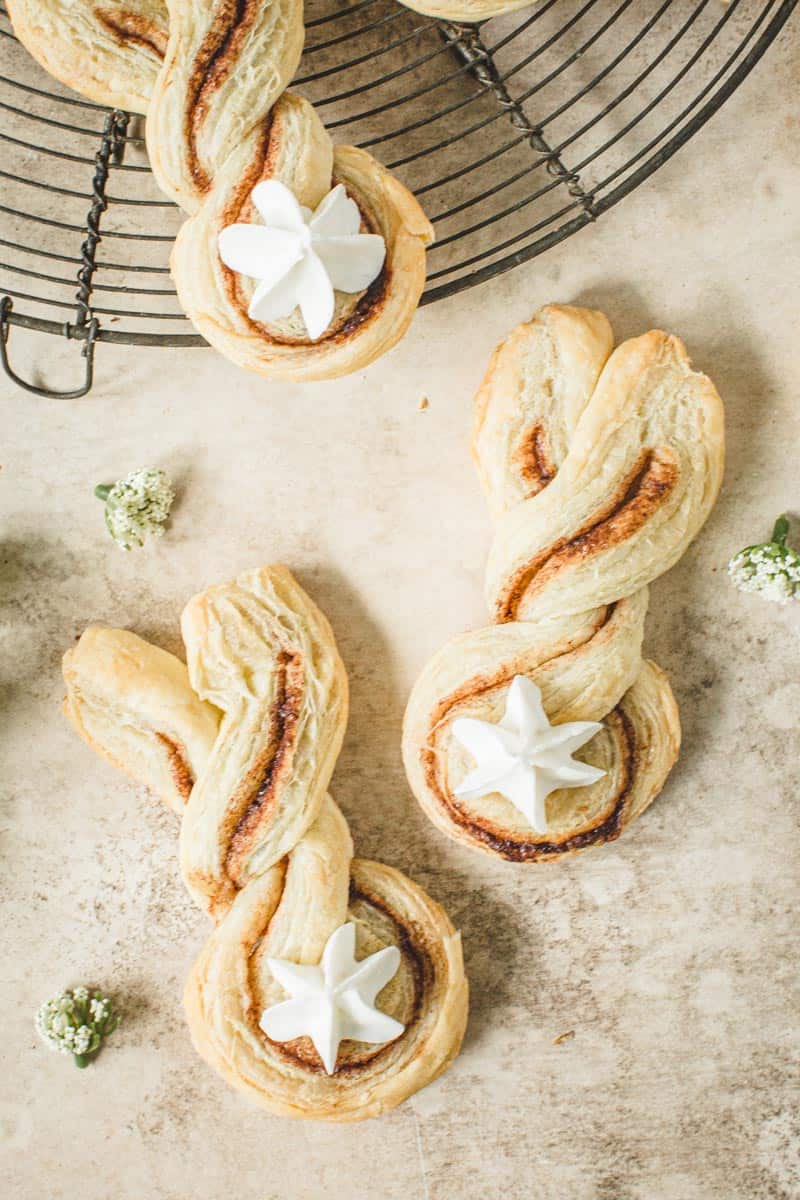 Equipment
Small Mixing Bowls

Pastry Brush

Pizza Cutter

Star Tip for frosting
Ingredients
17.3

ounces

Puff Pastry

1 frozen package with 2 sheets

2

tablespoons

Butter

melted

1

tablespoon

Cinnamon

1

tablespoon

Sugar

2

tablespoons

Water
Instructions
Preheat the oven to 400ºF and line two baking sheets with parchment paper.

Allow the puff pastry to thaw for 30 minutes prior to using and then roll out both sheets lengthwise onto a flat surface covered with parchment paper.

Brush the center of each pastry with the melted butter leaving 1 inch of the edges clean.

In a small bowl mix the cinnamon and sugar together. Sprinkle on top of the butter on one of the pastry sheets.

Brush water on the clean edges of the pastry you just added the cinnamon sugar mixture to. Then layer the other puff pastry, butter side down, on top and gently press the water-coated edges together.

Use a fork to crimp the edges you brushed with water together. Then use your hands to gently press down on the rest of the pastry so it's secure and slightly sealted together.

Using a long knife or a pastry cutter slice the pastry in half from one crimped side to the other and then continue to slice the pastry into 16 long strips.

Twist each strip twice leaving the edges separated and a large hole at the bottom. Keep the sides facing up so you can see the cinnamon sugar layer. Place the twists on the prepared baking sheets and bake, one at a time, for 17 to 18 minutes until the pastry begins to slightly brown.

Allow the pastries to cool for 20 minutes before piping the frosting into the bottom round area of the pastry.
Notes
To create a pretty bunny tail use a star tip. 1 4-ounce tube of frosting is enough to pipe tails on all of the bunnies.
You could easily pipe more frosting onto the bunnies using a different tip.
Nutrition
Serving:
1
serving
|
Calories:
186
kcal
|
Carbohydrates:
15
g
|
Protein:
2
g
|
Fat:
13
g
|
Saturated Fat:
4
g
|
Trans Fat:
1
g
|
Cholesterol:
4
mg
|
Sodium:
89
mg
|
Potassium:
21
mg
|
Fiber:
1
g
|
Sugar:
1
g
|
Vitamin A:
46
IU
|
Vitamin C:
1
mg
|
Calcium:
9
mg
|
Iron:
1
mg