Out of nutmeg? Nutmeg serves as a versatile spice, lending its warm essence to both sweet and savory recipes. However, should you find yourself without this essential ingredient, don't worry! Instead, explore these Nutmeg Substitutes.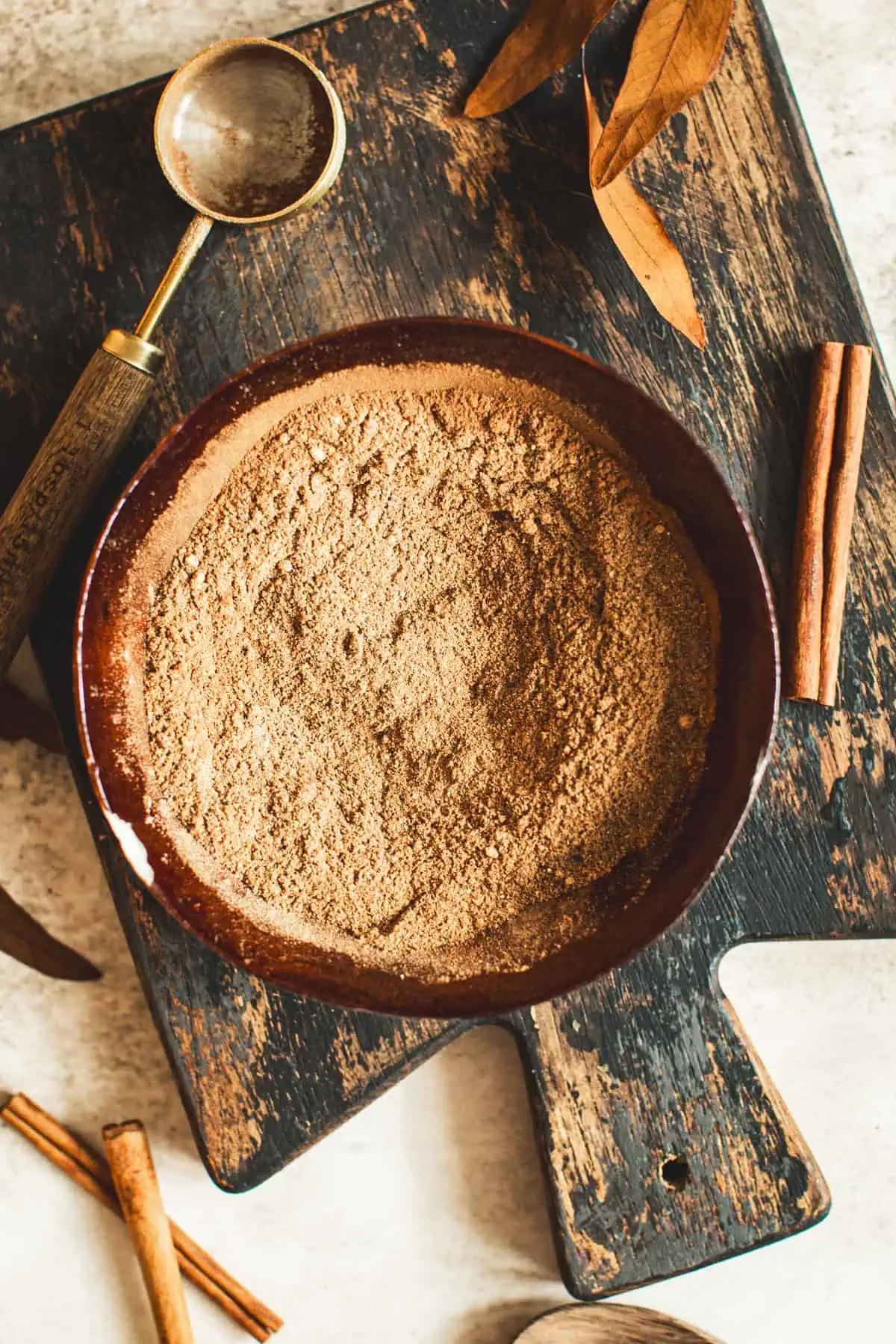 Derived from the seed of an evergreen tree, this aromatic spice exudes a distinctly Christmas-like aroma, which is why it's a key spice when making holiday drinks such as Homemade Eggnog. Available in both whole seed and ground forms, many individuals favor the whole seed variety due to its extended shelf life and the ability to freshly grate it for maximum flavor.
Substitute for Nutmeg
Nutmeg, a spice with remarkable versatility, can enhance the flavors of both savory and sweet culinary creations. Remarkably, many of the substitutes listed below possess an equal degree of adaptability, making them suitable replacements for nutmeg.
When seeking an optimal replacement for your recipe, take into account the intended purpose of the nutmeg. Is it intended to enhance the sweetness or savoriness of the dish? This thoughtful consideration will guide you in selecting the most suitable flavor substitute for your culinary creation.
1. Mace
Mace, which originates from the outer layer of the nutmeg seed, serves as a sensible alternative to ground nutmeg. Possessing a comparable warm and sweet flavor, it frequently stands in as an equal-part substitute in various recipes.
This near-identical flavor substitute seamlessly replaces ground nutmeg in any recipe with a straightforward 1:1 exchange.
2. Cinnamon
Although both cinnamon and nutmeg impart warmth to both sweet and savory dishes, they each possess distinct flavor profiles. Initially use half the amount of cinnamon compared to nutmeg, and then adjust to taste if you desire a more pronounced flavor.
3. Pumpkin Pie Spice
The quintessential autumn spice blend typically comprises cinnamon, ginger, allspice, cloves, and, surprisingly, nutmeg. Indeed, nutmeg is a component of Pumpkin Pie Spice, so opting for it as a substitute will infuse your dish with authentic nutmeg undertones.
You can readily replace nutmeg with pumpkin pie spice in a straightforward 1:1 ratio.
4. Apple Pie Spice
Much like Pumpkin Pie Spice, the Apple Pie Spice blend is a harmonious medley of warming spices. The primary distinction lies in the inclusion of cardamom within apple pie spice. When used judiciously, it serves as a commendable alternative to nutmeg.
To begin, use half the recommended nutmeg quantity, and adjust to your taste preference as you progress.
5. Garam Masala
Garam masala can serve as a suitable substitute for nutmeg because it contains warm, aromatic spices, including cinnamon, cardamom, and cloves, which contribute to a similar flavor profile. While it's not an exact match, the complex and warming notes of garam masala can provide a pleasing and flavorful alternative to nutmeg in various dishes.
You can employ it as a direct 1:1 replacement for nutmeg.
6. Allspice
Allspice can be a good substitute for nutmeg because it has a warm, spicy flavor profile reminiscent of nutmeg, cloves, and cinnamon combined. Its name itself reflects its ability to mimic a medley of spices. When used in recipes that call for nutmeg, allspice can provide a similar depth of flavor and warmth, making it a convenient alternative in a pinch.
You can use this substitute in a 1:1 ratio for nutmeg in both sweet and savory recipes.
7. Ground Cloves
Ground cloves can act as a substitute for nutmeg due to their intense, warm, and slightly spicy flavor. While cloves have their unique taste, their aromatic and rich qualities can complement recipes that typically call for nutmeg, providing a similar depth of warmth and complexity to dishes. However, cloves are potent, so it's essential to use them sparingly as a substitute.
8. Ground Ginger
Ground ginger can serve as a substitute for nutmeg because it imparts a warm and slightly spicy flavor similar to nutmeg. To use it as a substitute, you can typically replace nutmeg with an equal amount of ground ginger in recipes. However, be mindful that ginger has a slightly different taste profile, so the final dish may have a hint of ginger's distinctive spiciness, which can be desirable in some recipes.
You can substitute ginger for nutmeg in a 1:1 ratio. If you're new to using ginger, begin with half the recommended amount and adjust to achieve your desired flavor.
9. Cardamom
Cardamom can be a substitute for nutmeg because it offers a warm and aromatic flavor with a hint of citrus and herbal notes. It's one of the key spices in Chai Spice Mix. To use cardamom as a substitute for nutmeg, you can typically replace it in equal amounts in recipes. However, keep in mind that cardamom has a unique flavor profile, so it may impart a slightly different taste to the dish, which can be pleasant in certain recipes. Adjust the quantity to your taste preference accordingly.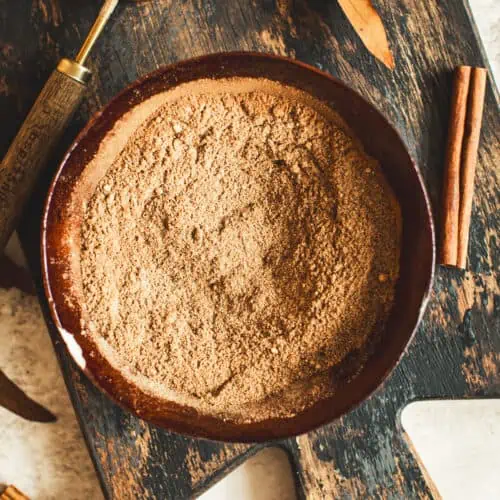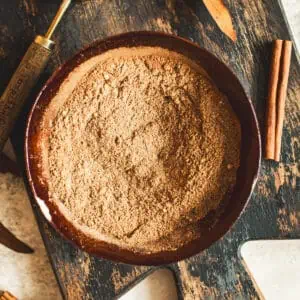 How to Grate Nutmeg
Grating nutmeg involves using a small, specialized kitchen tool called a nutmeg grater or a fine grater with a very small, sharp perforated surface.
Print
Pin
Rate
Equipment
Microplane Zester

Nut Grinder
Instructions
Grater Method
For grating whole nutmeg, the ideal tool is a stainless steel microplane zester, also known as a microplane grater. Alternatively, you can make use of the smallest perforations on a regular cheese grater. To begin, place the nutmeg seed on a cutting board and crack open its shell by applying firm pressure using a large knife or a heavy pan. Once the shell is removed, proceed to finely grate the whole nutmeg seed at a forty-five-degree angle.
Nut Grinder Method
A nut mill can serve as an alternative to a microplane grater, producing a similarly fine result when grating nutmeg. Begin by removing the outer shell of the nutmeg seed, and then load the whole seed or seeds into the nutmeg grinder. Turn the crank of the grinder until you achieve finely grated nutmeg.
Notes
To preserve whole nutmeg seeds effectively, place them in a tightly sealed container. It's advisable to allocate a separate jar exclusively for nutmeg. Storing it alongside other spices, such as cardamom or cinnamon, can lead to flavor mingling and is best avoided.
Grating nutmeg at a forty-five-degree angle is recommended. This angle allows a larger surface area of the nutmeg to come into contact with the blades of your microplane grater, ensuring efficient grating. Additionally, it minimizes the risk of accidental finger cuts while grating.
Grate just the quantity of nutmeg required for your immediate use, as freshly grated nutmeg retains its flavor better. If you happen to grate an excess amount, it's advisable to incorporate it into additional recipes. While nutmeg is commonly associated with winter classics like Eggnog and Pumpkin Pie, it can enhance a wide range of dishes. 
Nutrition
Serving:
1
serving
|
Calories:
21
kcal
|
Carbohydrates:
2
g
|
Protein:
0.2
g
|
Fat:
1
g
|
Saturated Fat:
1
g
|
Polyunsaturated Fat:
0.01
g
|
Monounsaturated Fat:
0.1
g
|
Sodium:
1
mg
|
Potassium:
14
mg
|
Fiber:
1
g
|
Sugar:
1
g
|
Vitamin A:
4
IU
|
Vitamin C:
0.1
mg
|
Calcium:
7
mg
|
Iron:
0.1
mg