No allspice? No problem. Discover the perfect Allspice Substitute that is a flavorful alternative you probably already have in your pantry.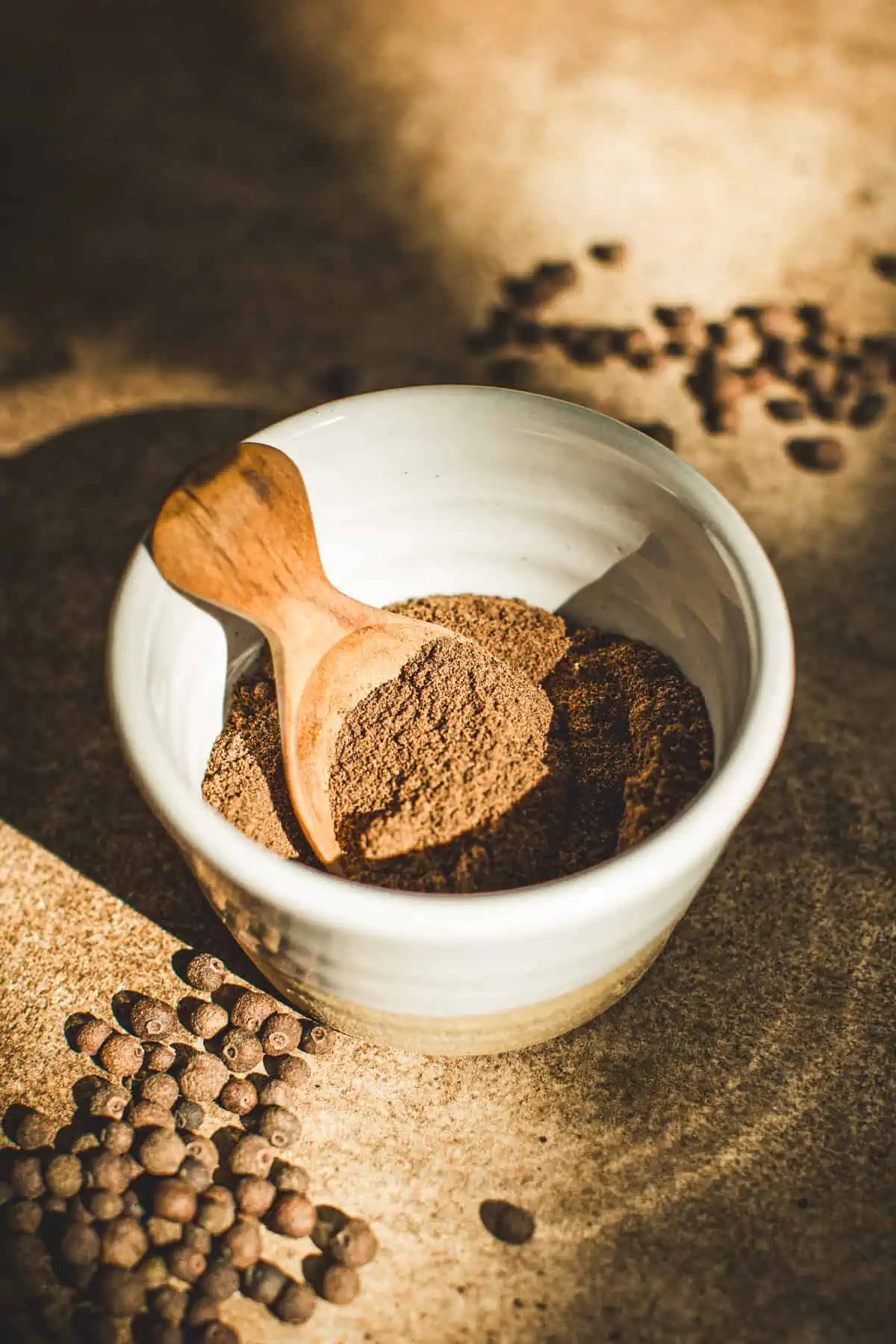 What can I use instead of allspice?
Creating a dish that requires allspice but finding yourself without it? Fret not, as we have fantastic substitutes ready for you! While allspice may seem like a medley of spices, akin to Pumpkin Spice or Chai Spice Mix, it's fascinatingly derived from a single berry!
The allspice berry is a small, dark brown berry native to the Caribbean, Central America, and parts of South America. It derives its name from its unique flavor, which combines hints of cinnamon, nutmeg, and cloves, hence the "allspice" moniker.
As a substitute for allspice, you can use a mixture of cinnamon, nutmeg, and cloves to replicate its unique flavor profile. Read more about making an Allspice Recipe to get the right mixture.
Substitute for Allspice
1. Homemade Allspice
Recreating the intricate flavor of allspice is straightforward, even when you're without the spice itself, thanks to its distinctive character. If you're out of nutmeg you can use a Nutmeg Substitute. The same goes for clove. You can also use a Substitute for Cloves. Replace each 1 teaspoon of allspice with the following Allspice Recipe:
2. Cinnamon
Cinnamon on its own is the closest alternative to allspice, although it lacks the intricate complexity of allspice, it can still serve as a suitable replacement.
Substitute 1 teaspoon of cinnamon for 1 teaspoon of allspice
3. Clove
Cloves make an excellent substitute for allspice due to their similar warm and aromatic flavor profiles, adding depth and complexity to dishes.
Substitute whole, dried cloves for allspice berries or ground cloves for powdered allspice, but be mindful that cloves have a slightly bitter taste, so you may need to use a smaller amount compared to what your recipe specifies for allspice.
Substitute 1/2 teaspoon of cloves for 1 teaspoon of allspice
4. Mace
Ground mace, closely related to nutmeg, frequently serves as a flavorful alternative in both sweet and savory dishes, boasting a delicate sweetness that can be likened to cinnamon, making it a suitable replacement for allspice when nutmeg is not available.
Substitute 1 teaspoon of mace for 1 teaspoon of allspice
5. Whole Allspice Berries
While it may seem straightforward, if you find yourself without ground allspice, start by examining your supply of whole allspice, as you can easily grind approximately 6 allspice berries to yield ¼ to ½ teaspoon of ground allspice by employing a pepper mill, spice grinder, or coffee grinder to finely pulverize the berries into a powder.
Substitute 6 allspice berries for 1/4 to 1/2 teaspoon of allspice.
Other Similar Substitutes for Allspice
If you simply don't have any of the other spices about perhaps you'll have one of these blends below. Almost all of these blends contain allspice but also have that strong aromatic flavor akin to allspice. In a pinch, you can use any of these as a replacement for allspice.
1. Pumpkin Pie Spice
You can use Pumpkin Pie Spice as an allspice substitute by using it in equal amounts to replicate the warm and aromatic flavor profile.
2. Apple Pie Spice
Apple Pie Spice can be used as an allspice substitute by using it in equal amounts to infuse your dishes with a similarly warm and aromatic flavor.
3. Five Spice Powder
You can use Five-Spice Powder as an allspice substitute by using it in smaller quantities, as it's a more potent blend, to impart a unique and complex flavor profile to your dishes.
4. Chai Spice Mix
Use Chai Spice Mix as a substitute for allspice by incorporating it in equal amounts to infuse your recipes with a blend of warming, aromatic flavors reminiscent of allspice.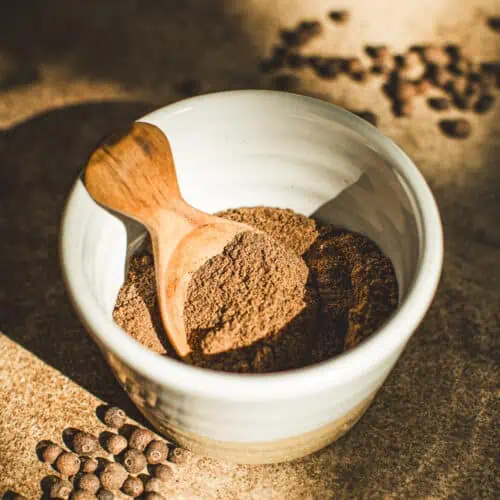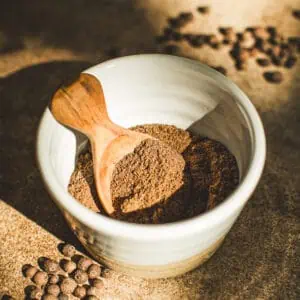 Homemade Allspice
Allspice running low? Not an issue! Find a delightful allspice substitute right in your pantry, offering a flavorful alternative you likely already have on hand.
Print
Pin
Rate
Ingredients
2

tablespoons

Ground Cinnamon

1

tablespoon

Ground Nutmeg

1

tablespoon

Ground Cloves
Instructions
Mix the spices together. Simply measure and whisk the various spices together, and then store the mixture in an airtight container.
Notes
Freshness: Use freshly ground spices for the most robust and vibrant flavor. Grind whole cloves and nutmeg if possible.
Storage: Store your homemade allspice blend in an airtight container, away from heat, light, and moisture to maintain its potency. A spice jar with a tight-sealing lid or a glass container works best.
Labeling: Don't forget to label your homemade blend with the date of preparation to track its freshness.
Nutrition
Serving:
1
serving
|
Calories:
31
kcal
|
Carbohydrates:
7
g
|
Protein:
0.5
g
|
Fat:
1
g
|
Saturated Fat:
1
g
|
Polyunsaturated Fat:
0.2
g
|
Monounsaturated Fat:
0.1
g
|
Trans Fat:
0.01
g
|
Sodium:
6
mg
|
Potassium:
52
mg
|
Fiber:
4
g
|
Sugar:
1
g
|
Vitamin A:
21
IU
|
Vitamin C:
0.3
mg
|
Calcium:
70
mg
|
Iron:
1
mg