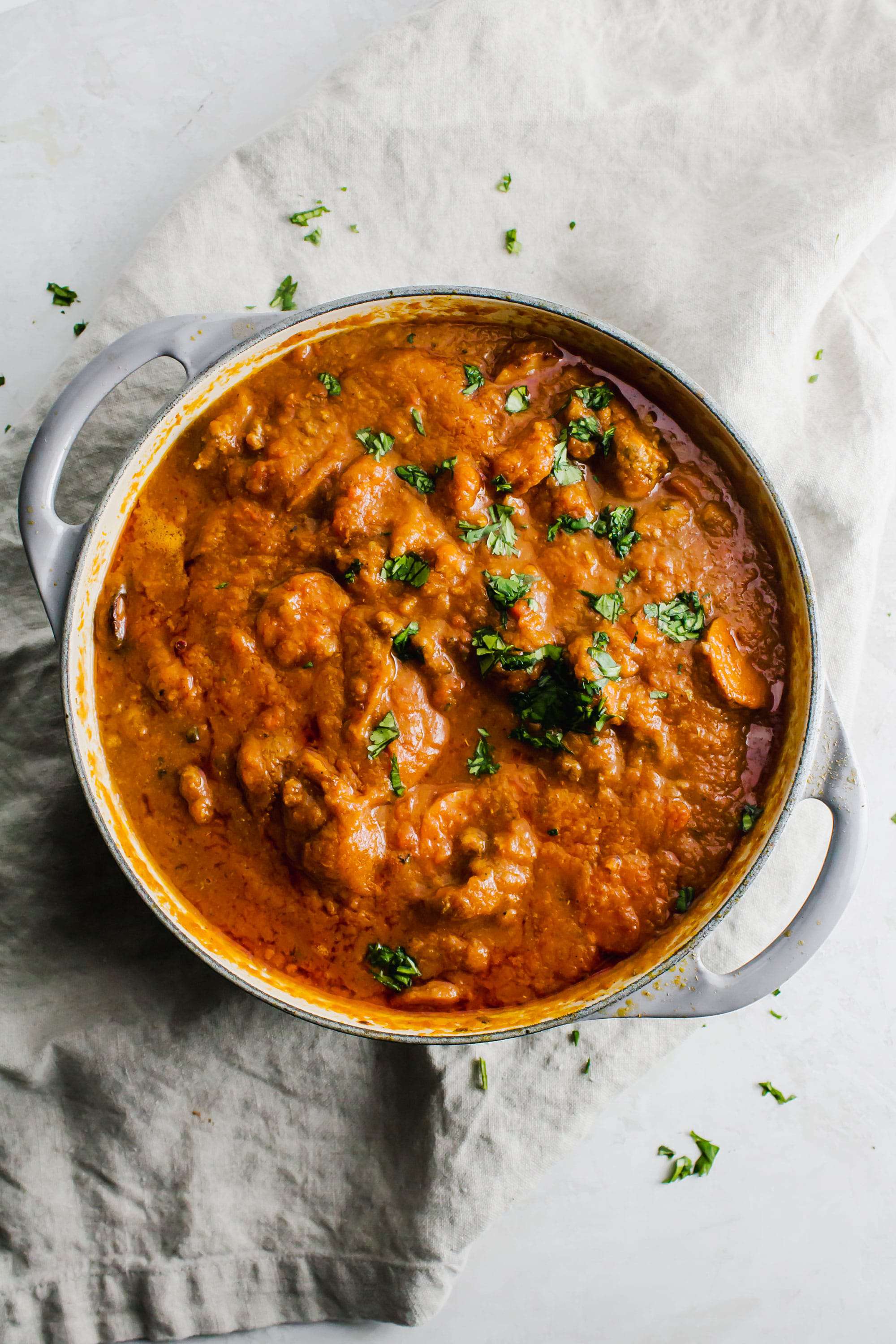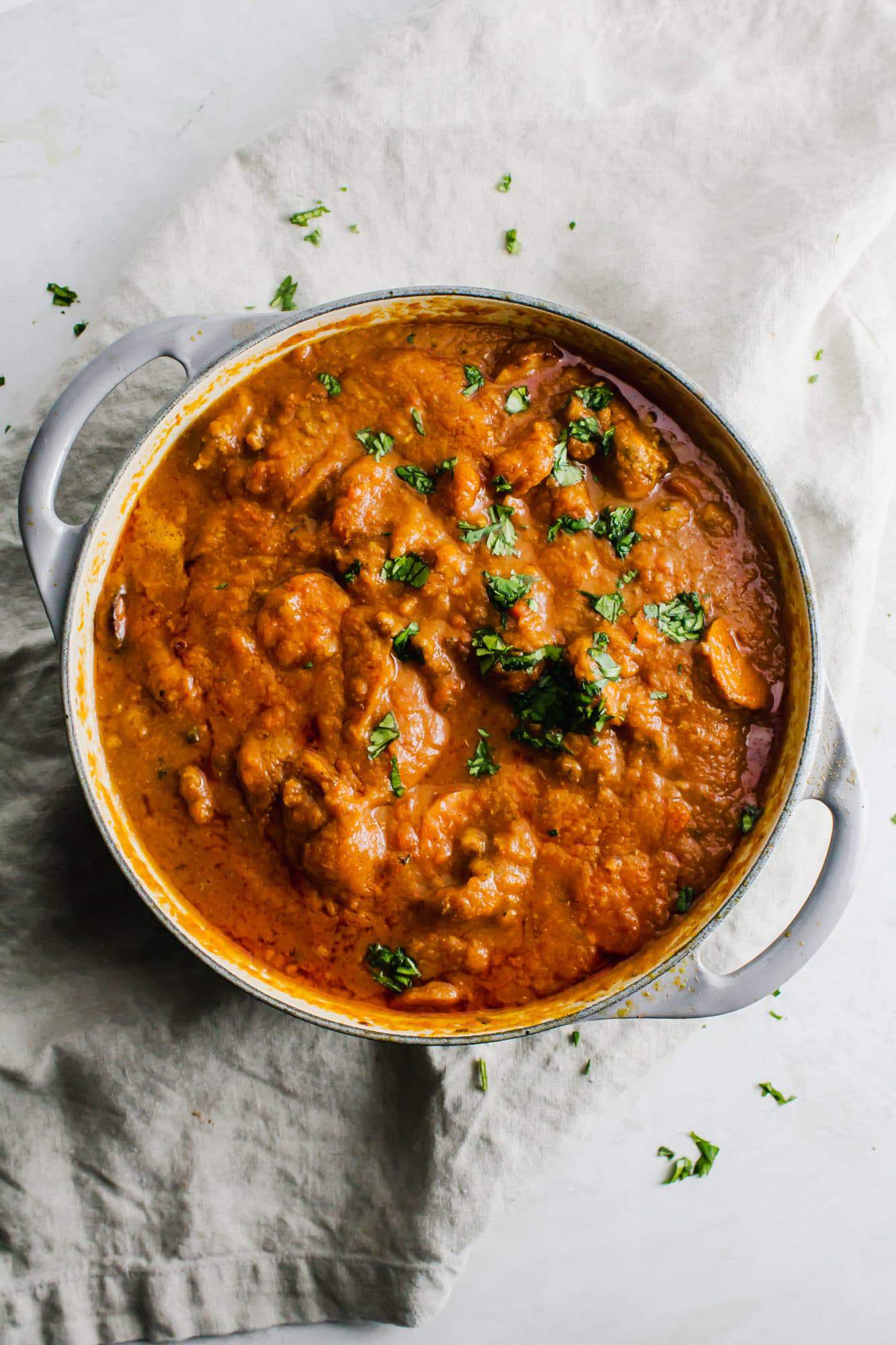 Pumpkin season is in full effect and this pumpkin-loving-fiend is making it my job, quite literally, to make as many dishes including pumpkin as possible. I'm glad I'm not the only one who shares such squash loving sentiments and so this Pumpkin Sausage Chili is for you my pumpkin pals!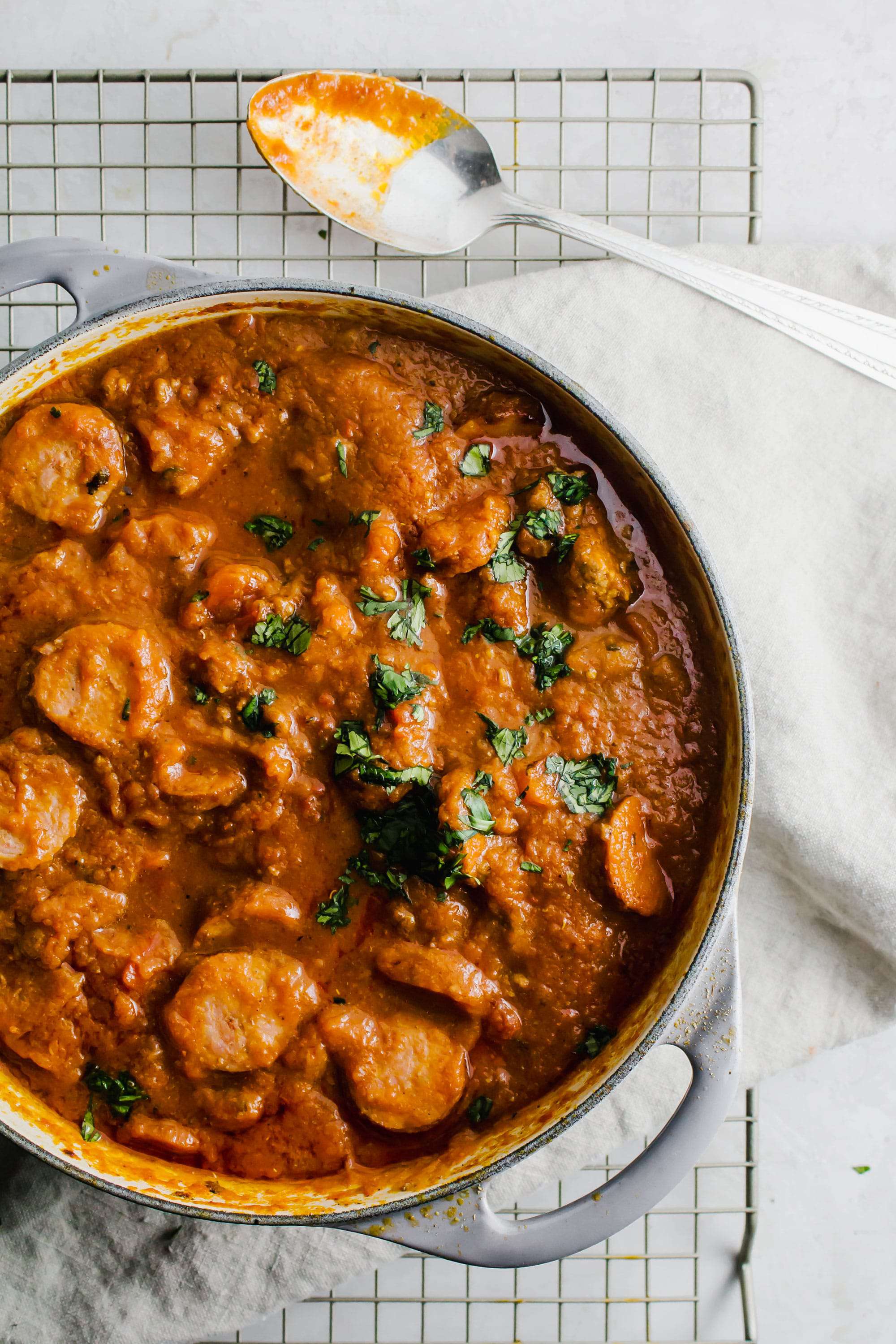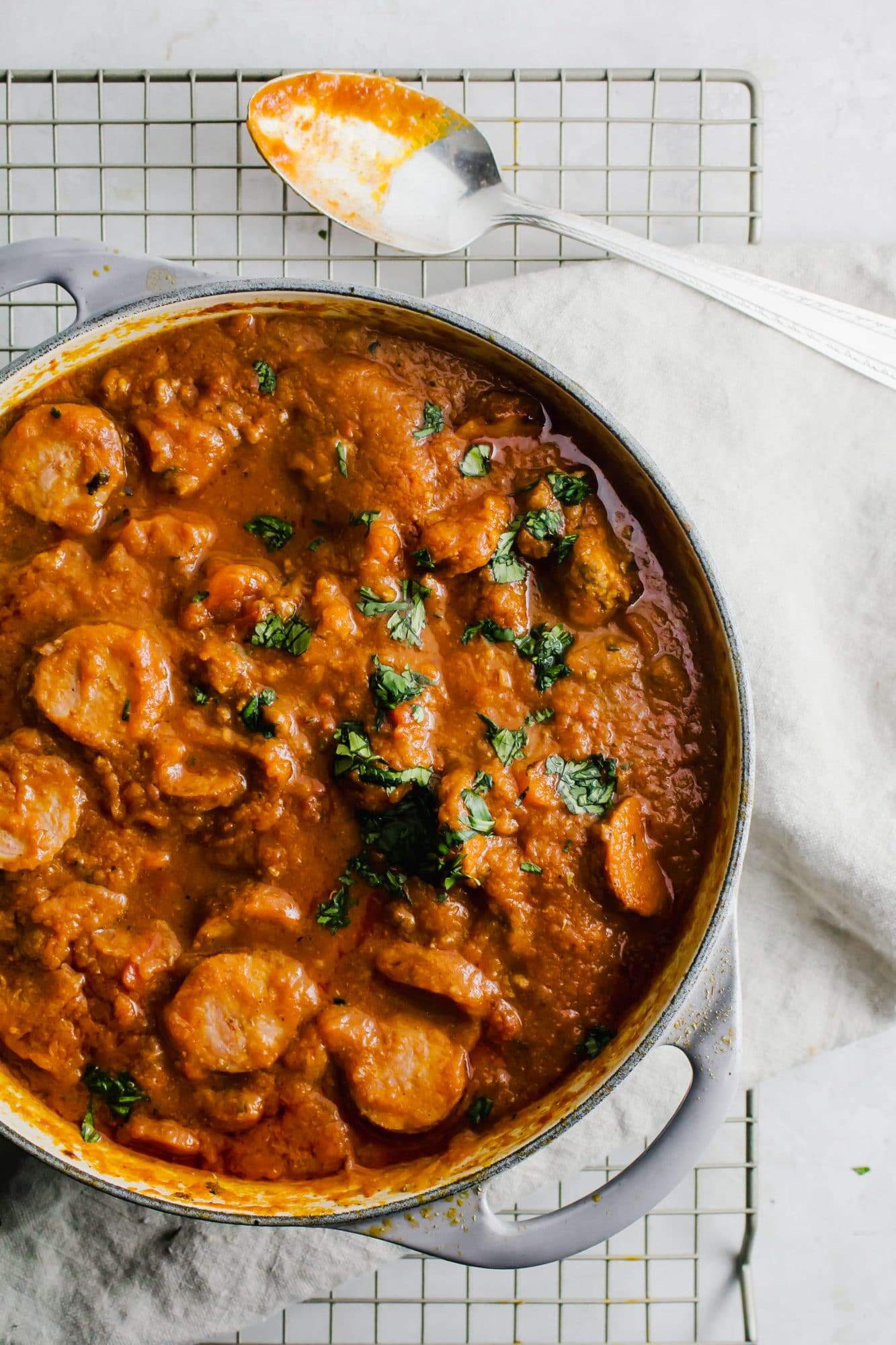 Let me tell you about the most magical place, and no it's not Disney Land, it's the Le Creuset Factory to Table sale, which I attended a few weeks ago. I'd heard the urban legend of this unicorn-type event but never believed it was real until my friend sent me a link to purchase tickets. What?!?!? I'd been told of "mystery boxes" and 70% off unique colors and styles, but shrugged it off as mythical at best.
It exists friends and I'm living proof of attending such an event. The thrill of finding some of the most wonderful pieces to add to my very small Le Creuset collection was a high I can barely describe without pulling out picture after picture of my new finds, which I will happily do from here forward. Oh and the mystery box, yeah, not only is it real but when I opened it in my friend's trunk, cause there was no way we could wait until we got home, I was in a whole new euphoric state as I pulled out 3, yes 3, beautiful 2 3/4 quart dutch ovens in white, flame, and oyster.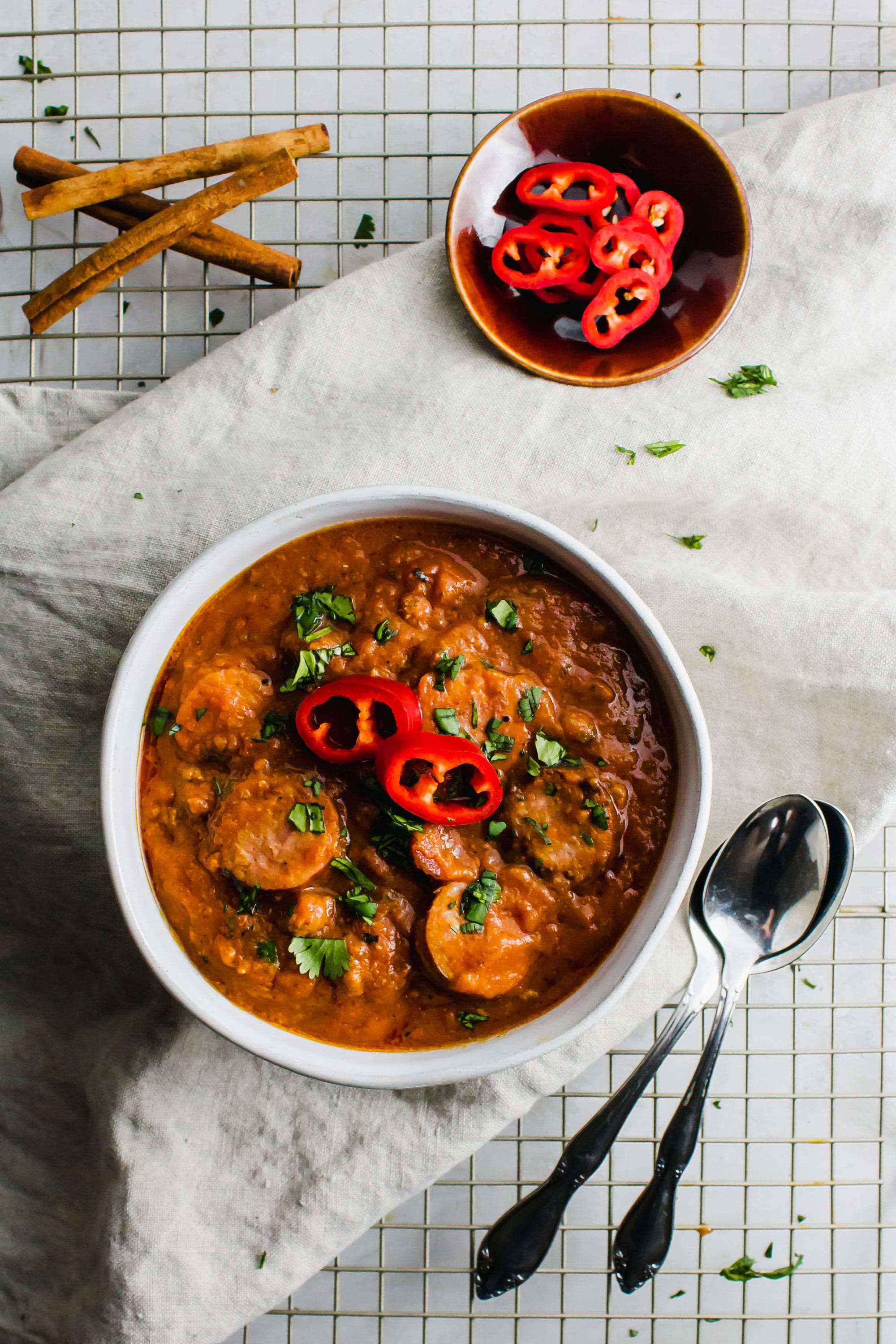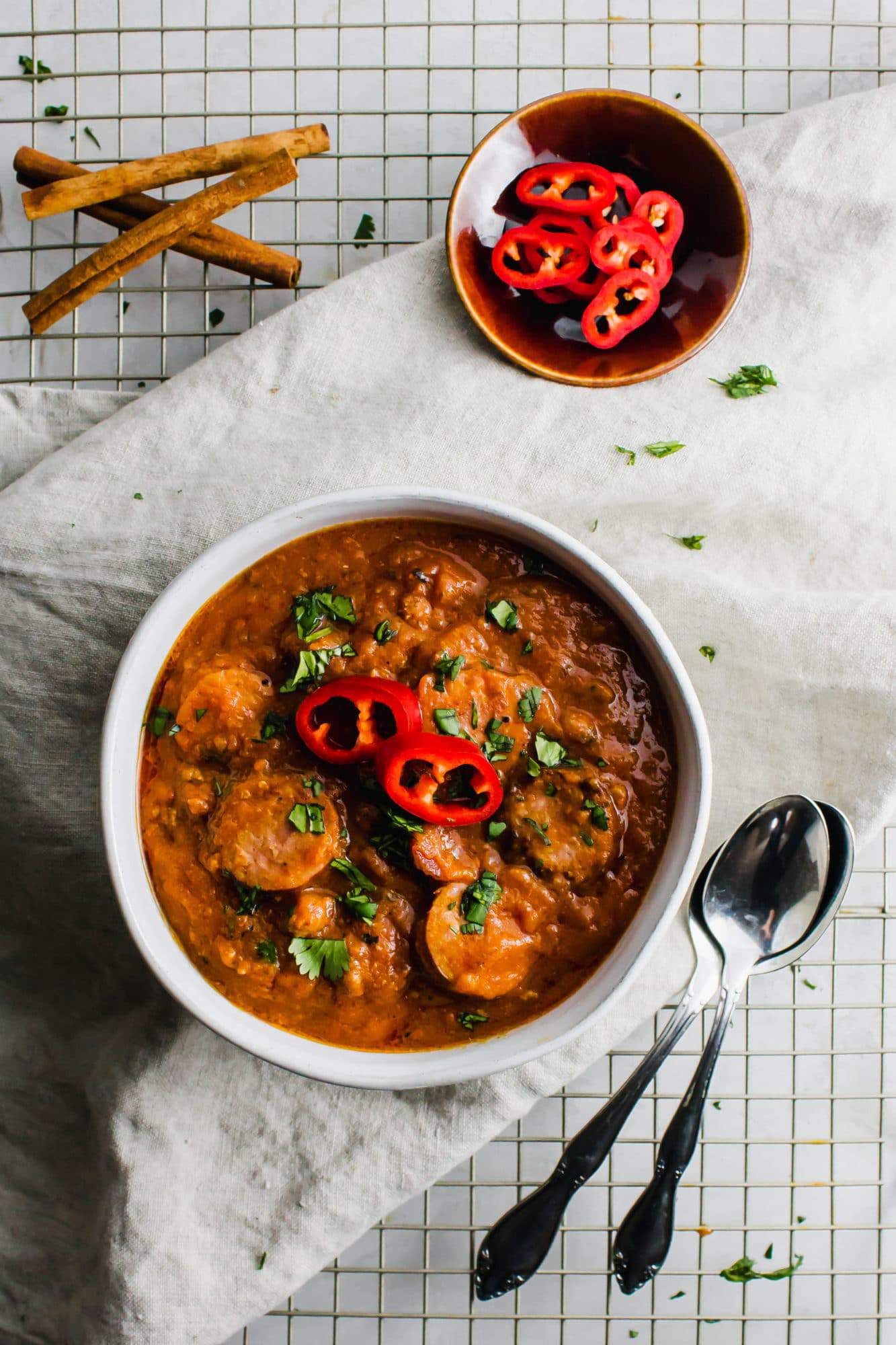 Since this magical night, I've been thinking up any and every reason to pull out my new Le Creuset pieces and incorporate them into a post. "Oh, should I make a creamy butternut squash soup maybe a chili, pumpkin chili? Definitely a pumpkin chili and, yes, obviously it should go in my grey 2 3/4 quart Dutch oven, obviously."
I tried to describe this chili last night and a friend said "so it's like a savory sweet kind of chili," and I thought "yes, that's exactly what it is!" You've got the sausage, beef, and tomatoes, but mixed in as well are the pumpkin and my secret, but not really cause I'm telling you, ingredient cinnamon. This is quite frankly the quintessential fall chili if I may so boldly suggest. The smell alone could put any fall scented candle to shame.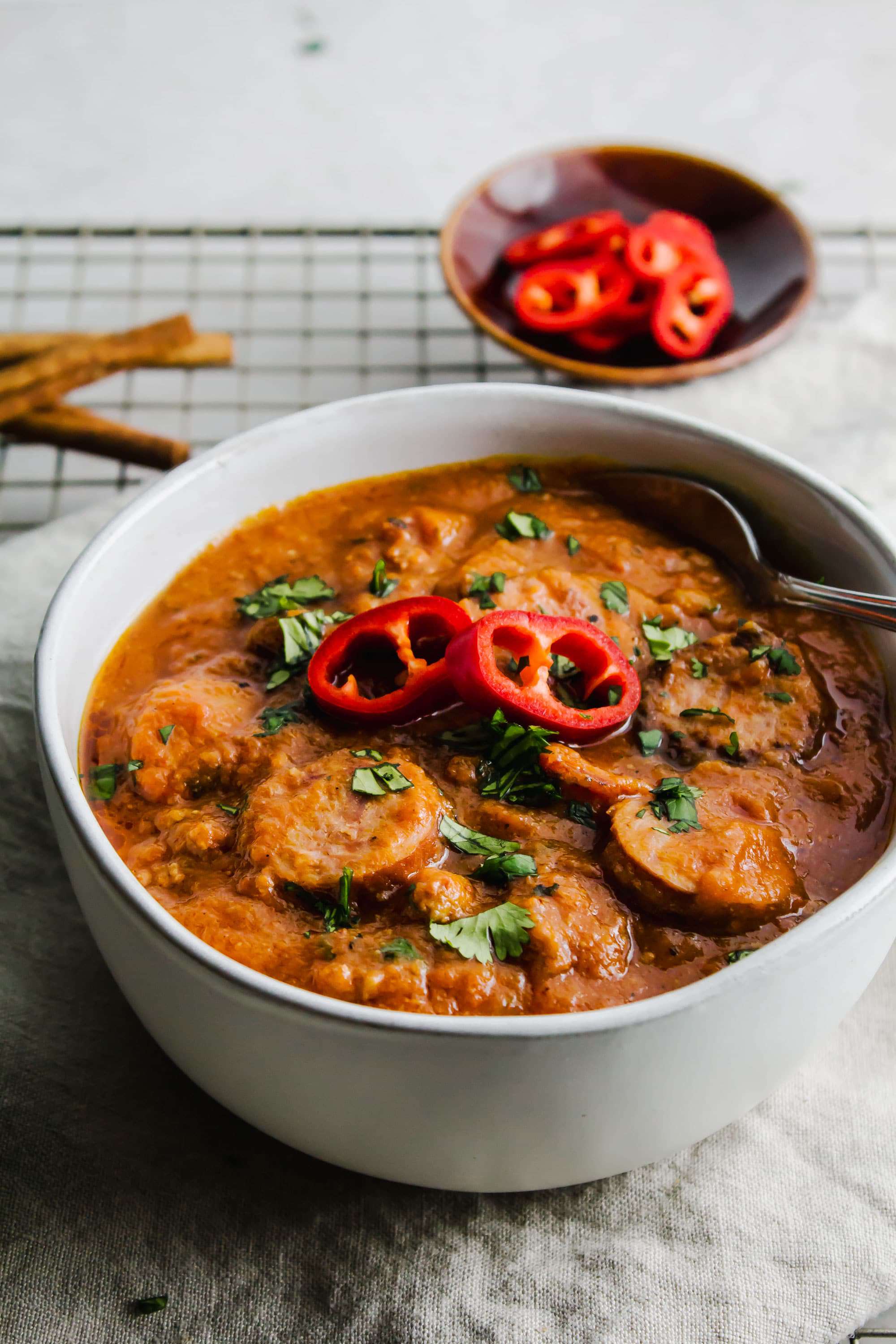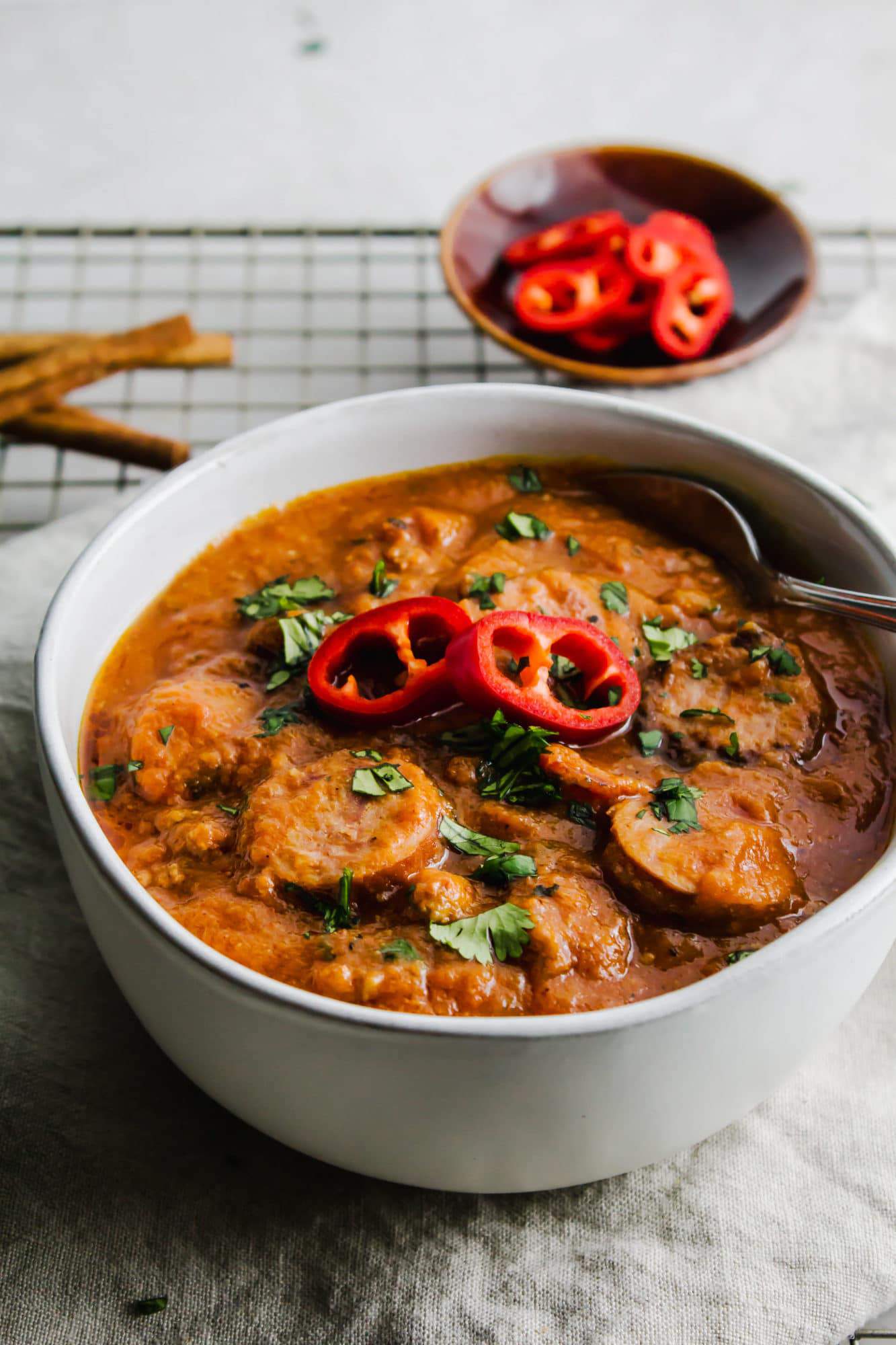 This pumpkin sausage chili isn't one that requires a long slow simmer period either. You're looking at a quick 30-minute turn-around from start to finish AND it's even better the following night so go ahead and make a big batch!
Print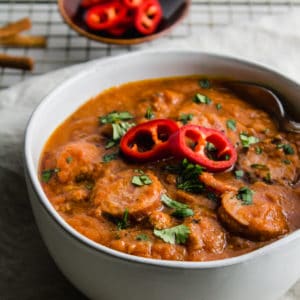 Pumpkin Sausage Chili
Prep Time:

5 Mins

Cook Time:

25 Mins

Total Time:

30 Mins

Yield:

6

Servings

1

x
---
Description
Pumpkin Sausage Chili is the quintessential fall chili with strong spices such as cumin and cinnamon, which gives it a savory sweet finish. There's also a quick simmer time for this stew and so it's done in less than 30 minutes.
---
Scale
Ingredients
1

lb Ground Beef

1

lb Smoked Sausage

1

28-ounce can Crushed Tomatoes

1

14-ounce can Pumpkin

1

14-ounce can Fire Roasted Diced Tomatoes

1 tablespoon

Cumin

1 tablespoon

Cinnamon

2 teaspoons

Chili Powder
Salt and Pepper, seasoning
---
Instructions
In a large dutch oven over medium heat brown the Ground Beef and Sausage, until the beef is no longer pink, about 4 to 5 minutes.
Add the Crushed Tomatoes, Pumpkin, Diced Tomatoes, Cumin, Cinnamon, and Chili powder to the pot and stir to combine. Bring to a soft boil and lower the heat to a simmer. Cover and let simmer for 20 to 25 minutes. Taste and season with salt and pepper as well as add more of the other spices if needed.
---