Is Apple Pie Spice the same as Pumpkin Pie Spice? Ever wondered what's the difference? There are some key differences between the two and I'll explore Apple Pie Spice vs Pumpkin Pie Spice so you'll know everything there is to know.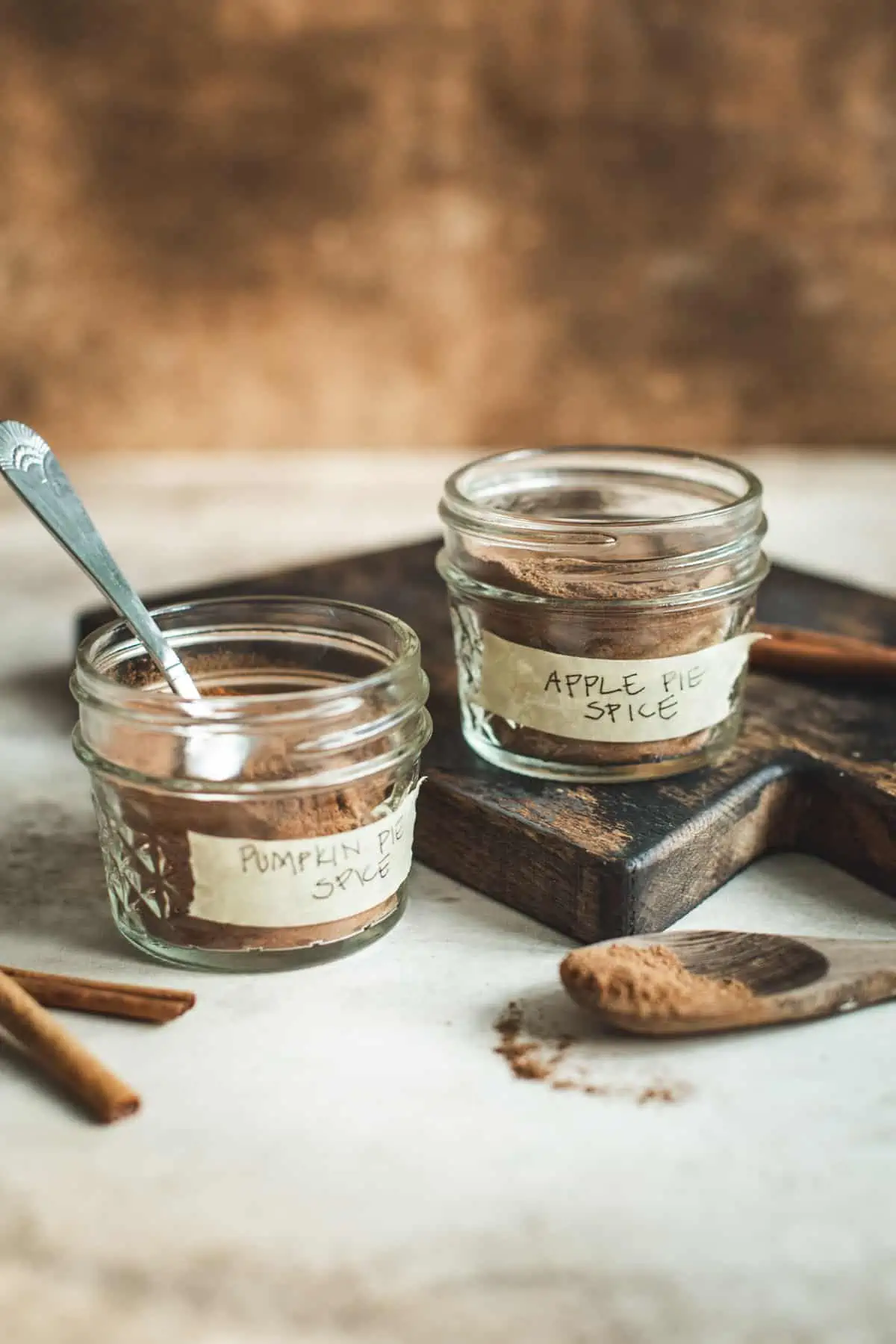 What's the difference between Apple Pie Spice and Pumpkin Pie Spice?
Apple Pie Spice and Pumpkin Pie Spice are both aromatic blends of spices commonly used in baking, but they have distinct flavor profiles tailored to specific types of desserts. Below are some of the main differences between apple pie spice vs pumpkin pie spice.
Main Ingredients: Apple pie spice typically includes a combination of ground cinnamon, nutmeg, and cloves as its primary components.
Flavor Profile: This spice blend imparts warm, sweet, and slightly spicy notes to recipes. The cinnamon provides a warm, comforting aroma, while the nutmeg adds a subtle earthiness, and the cloves contribute a hint of spiciness and depth.
Main Ingredients: Pumpkin pie spice is a blend of ground cinnamon, ground ginger, ground nutmeg, ground allspice, and sometimes cloves.
Flavor Profile: This spice blend delivers a more complex and earthy flavor profile. The cinnamon provides warmth, while the ginger adds a subtle spiciness and depth. Nutmeg contributes a rich, nutty flavor, and allspice imparts a hint of clove and pepper-like notes.
What is Apple Pie Spice Used For
Apple pie spice is ideal for enhancing the flavor of apple-based desserts, such as apple pie, apple crisp, applesauce, and apple turnovers. It complements the natural sweetness of apples and helps create a cozy, fall-inspired flavor.
What is Pumpkin Pie Used For
Pumpkin pie spice is designed to enhance the flavor of pumpkin-based desserts, such as pumpkin pie, pumpkin bread, pumpkin spice lattes, and pumpkin muffins. It complements the natural earthiness of pumpkin and creates a quintessential fall taste.
Can you substitute one for the other?
You can Substitute Apple Pie Spice for pumpkin pie spice and vice versa in recipes, but remember that the flavor profiles differ. Apple pie spice, composed mainly of cinnamon, nutmeg, and cloves, is sweeter and less complex than pumpkin pie spice. When using apple pie spice instead of pumpkin pie spice, consider using a bit more to maintain the desired spiciness.
Conversely, pumpkin pie spice, with additional ingredients like ginger and allspice, is spicier and more complex. If substituting pumpkin pie spice for apple pie spice, use a little less to avoid overpowering the apple flavor. While the flavors won't be identical, these substitutions work well in recipes, allowing you to adjust quantities for the desired taste and twist in your dishes.
FAQS
What is similar to Apple Pie Spice?
Cinnamon is the primary spice that is similar to apple pie spice. Apple pie spice typically contains cinnamon as its main ingredient and cinnamon alone can impart a warm, sweet, and slightly spiced flavor similar to what you'd find in apple pie spice. If you're in a pinch and don't have apple pie spice on hand, using cinnamon as a substitute can still provide a delightful flavor.
Are there specific desserts that each spice is best suited for?
Yes, apple pie spice is ideal for apple-based desserts, while pumpkin pie spice complements pumpkin-centric creations, each enhancing the natural flavors of their respective ingredients.
What is the primary difference between apple pie spice and pumpkin pie spice?
The primary difference lies in their spice compositions and the flavor profiles they impart to desserts.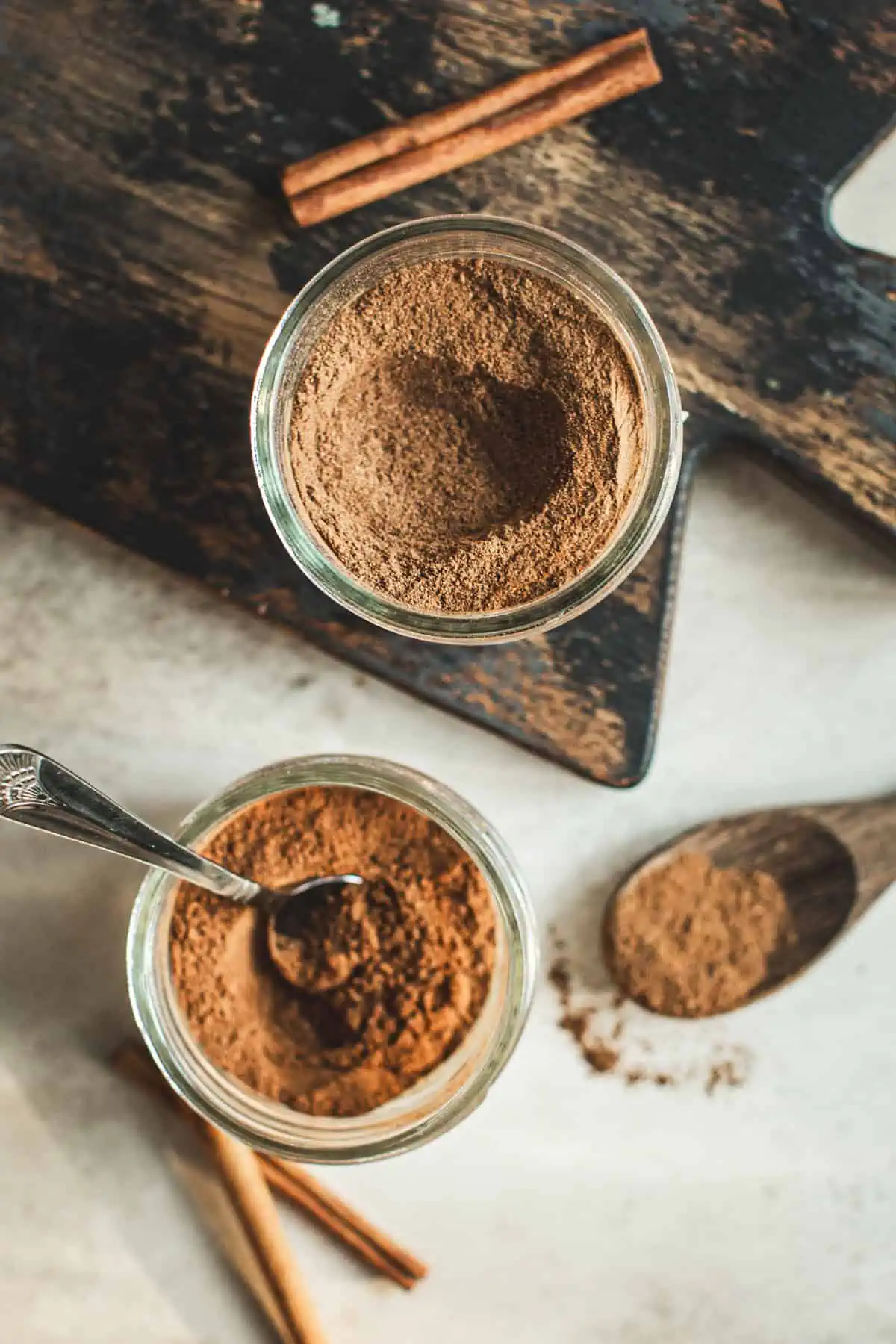 Recipes Using Apple Pie Spice
Recipes Using Pumpkin Pie Spice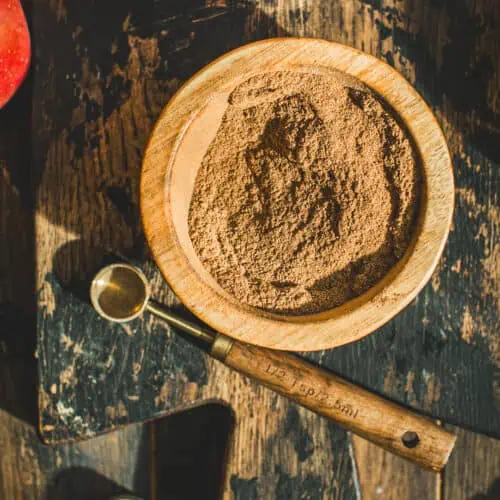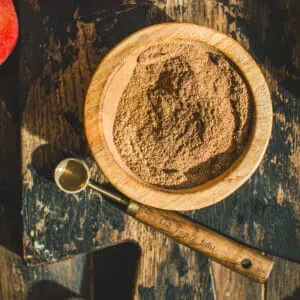 Homemade Apple Pie Spice
Elevate your baking adventure with this simple yet exquisite homemade Apple Pie Spice blend. Unveil the secret to crafting flawless apple pies, infusing each delectable bite with a delightful blend of comforting warmth and sweetness.
Print
Pin
Rate
Ingredients
4

tablespoons

Ground Cinnamon

1½

teaspoons

Ground Nutmeg

1½

teaspoons

Ground Cardamom

1

teaspoon

Ground Ginger

1/2

teaspoon

Ground Allspice
Instructions
Mix the spices together. There's nothing complicated about this recipe. Just measure out and whisk together the assorted spices, then store the blend in an airtight container.
Notes
Check your spices. Checking the freshness of your ground spices is crucial. Examine their expiration dates and take a moment to evaluate their aroma. As spices lose their potency over time, if they no longer enhance the flavor of your dishes, it's best not to include them.
Nutrition
Serving:
1
serving
|
Calories:
23
kcal
|
Carbohydrates:
6
g
|
Protein:
0.4
g
|
Fat:
0.4
g
|
Saturated Fat:
0.2
g
|
Polyunsaturated Fat:
0.02
g
|
Monounsaturated Fat:
0.05
g
|
Sodium:
1
mg
|
Potassium:
44
mg
|
Fiber:
4
g
|
Sugar:
0.3
g
|
Vitamin A:
21
IU
|
Vitamin C:
0.5
mg
|
Calcium:
69
mg
|
Iron:
1
mg